Fire up your Traeger because today we're making a roasty, toasty, homemade Traeger Bloody Mary Mix! You can make it as spicy as you want to, and this recipe is a perfect base to what will soon be the best Bloody Mary you've ever had. Perfect for game day, brunch, or your next BBQ gathering! Make an excuse to have friends over in the morning because your mind is about to be blown.
Traeger Homemade Bloody Mary Mix Recipe
A typical Bloody Mary is a popular alcoholic cocktail typically made with tomato juice, vodka, Worcestershire sauce, and a mixture of spices, such as salt, pepper, horseradish, and hot sauce. The drink is usually served in a tall glass over ice, and garnished with ingredients such as celery, olives, lemon, or pickled vegetables.
For this recipe, we added a depth of flavor that is unmatched by traditional tomato juice by using our pellet grill to roast the tomatoes and garlic.
The flavor of this Traeger Bloody Mary Mix is savory, slightly spicy, and slightly sour, with the roasted tomatoes providing a base that is balanced by the umami in the beef broth and the heat from the spices and hot sauce. Often consumed for brunch, the Bloody Mary is known for its versatility, as the ingredients can be adjusted to individual tastes.
Overall, this Traeger Bloody Mary Mix makes a unique and flavorful cocktail, or base for a zesty tomato soup, flavoring for your next batch of Bloody Mary Buffalo Sauce, and so much more.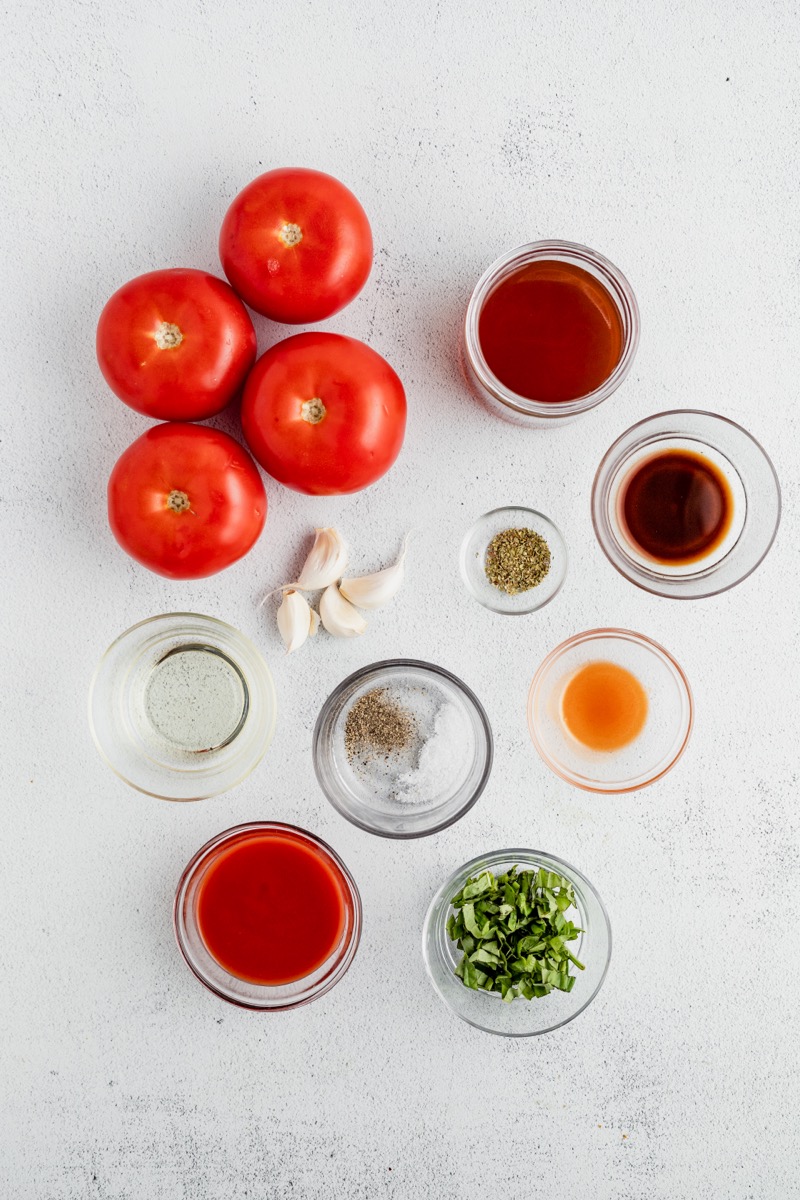 Traeger Roasted Garlic Bloody Mary shopping list
Wondering if you have to hit the store? Here's the list of items you'll need to make this recipe. For specific amounts, please refer to the printable recipe card at the bottom of the post.
beefsteak tomatoes
garlic
olive oil
fresh basil leaves
beef broth
tomato sauce
hot sauce
worcestershire sauce
oregano
sea salt & pepper
horseradish (optional)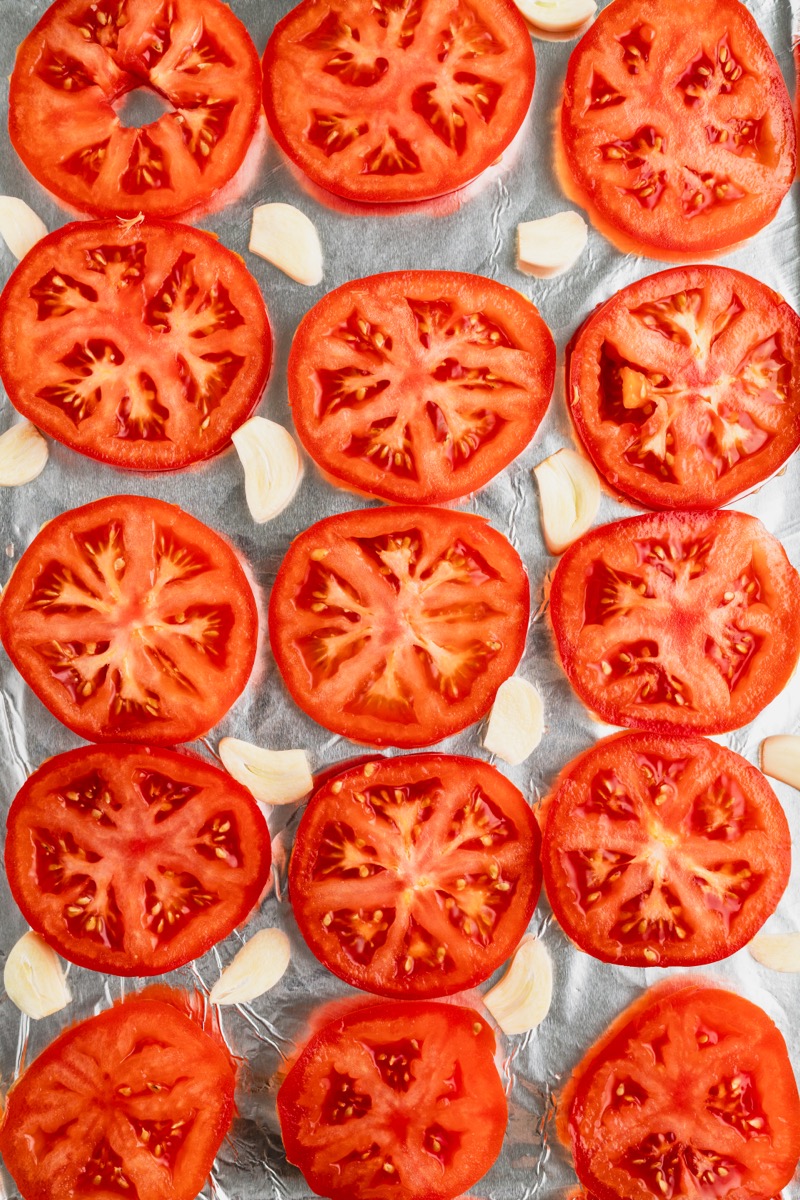 How to make Homemade Bloody Mary Mix
This is just the overview so you can see what you're actually getting into here. When you are cooking, you'll want to use the full recipe at the bottom of the page.
Preheat
Fire up that Traeger and set it to 350°F.
Roast
Slice your tomatoes, chunk up your garlic, and put them all on a foil-lined sheet pan that is grill-safe. Roast in the pellet grill for 15 minutes.
Crank it up
Crank the heat up to 450°F for a few minutes to give the edges a little browning. (You can also use the broiler for this if you'd rather!)
Simmer
Put the tomatoes, garlic and the rest of the mix ingredients into a saucepan. Simmer for 10 minutes. Let cool.
Blend
Use an immersion blender and blend until smooth.
Serve
Rim a tall glass with your favorite Bloody Mary Seasoning Blend. Put ice in the glass. Pour in 2-3 ounces of high-quality vodka. Top with some of the Traeger Homemade Bloody Mary Mix.
Garnish with your favorite smoked olives, pickled asparagus and pickled green beans, our Traeger Spicy Candied Bacon.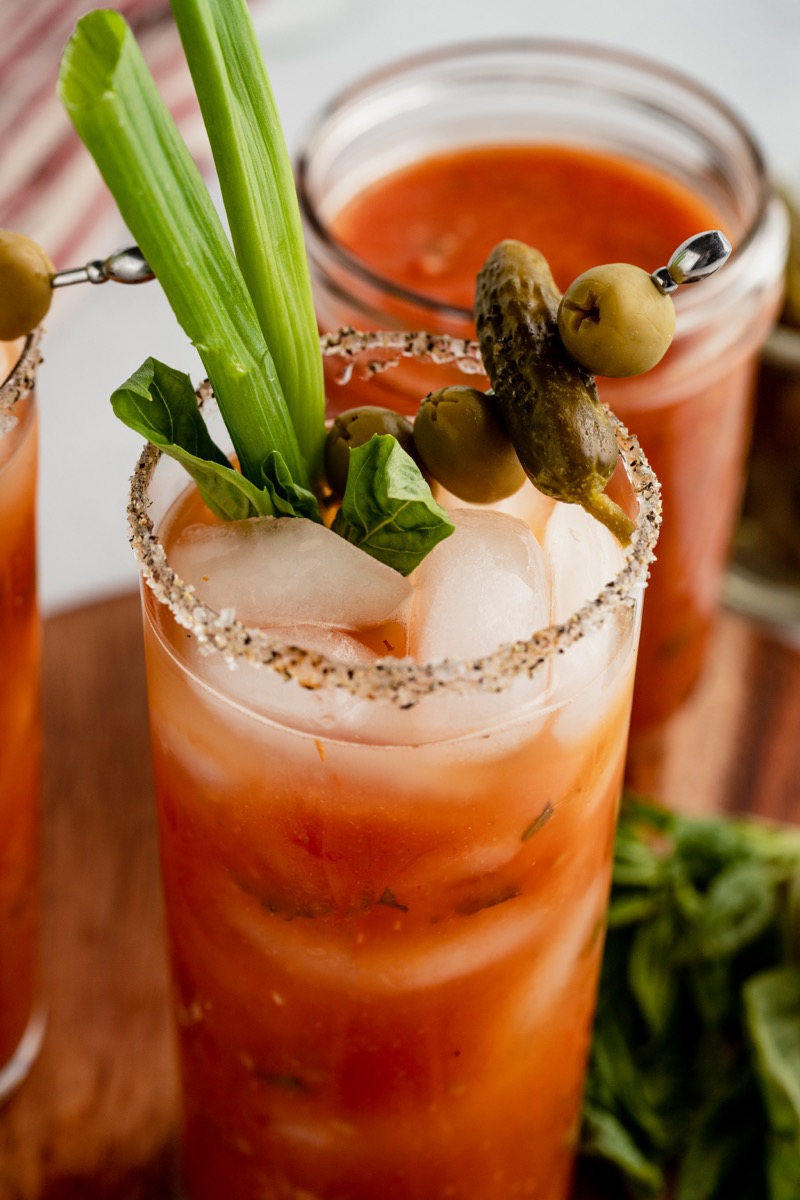 Traeger Bloody Mary Mix FAQ
How should you store leftovers?
These leftovers will keep in the fridge for 2-3 days. It will keep in the freezer for months, however, so if you want to make a big batch feel free to freeze it! Ice cube trays work really well for this too.
HELP! My grill is buried in snow!
No worries! You can make this recipe in the oven if your grill is frozen or otherwise inaccessible because of the weather. It'll still be delicious!
Can you double or triple this recipe?
You sure can! Just make sure to save the excess, and use or freeze it promptly.
What other mix-ins can I add?
Mix in more hot sauce, celery salt, horseradish, or a shot of pickle juice to the mix to really change it up.
Can you turn this into a Caesar?
Yes! To turn your Bloody Mary Mix into a Caesar Mix, add in a few ounces of clam juice.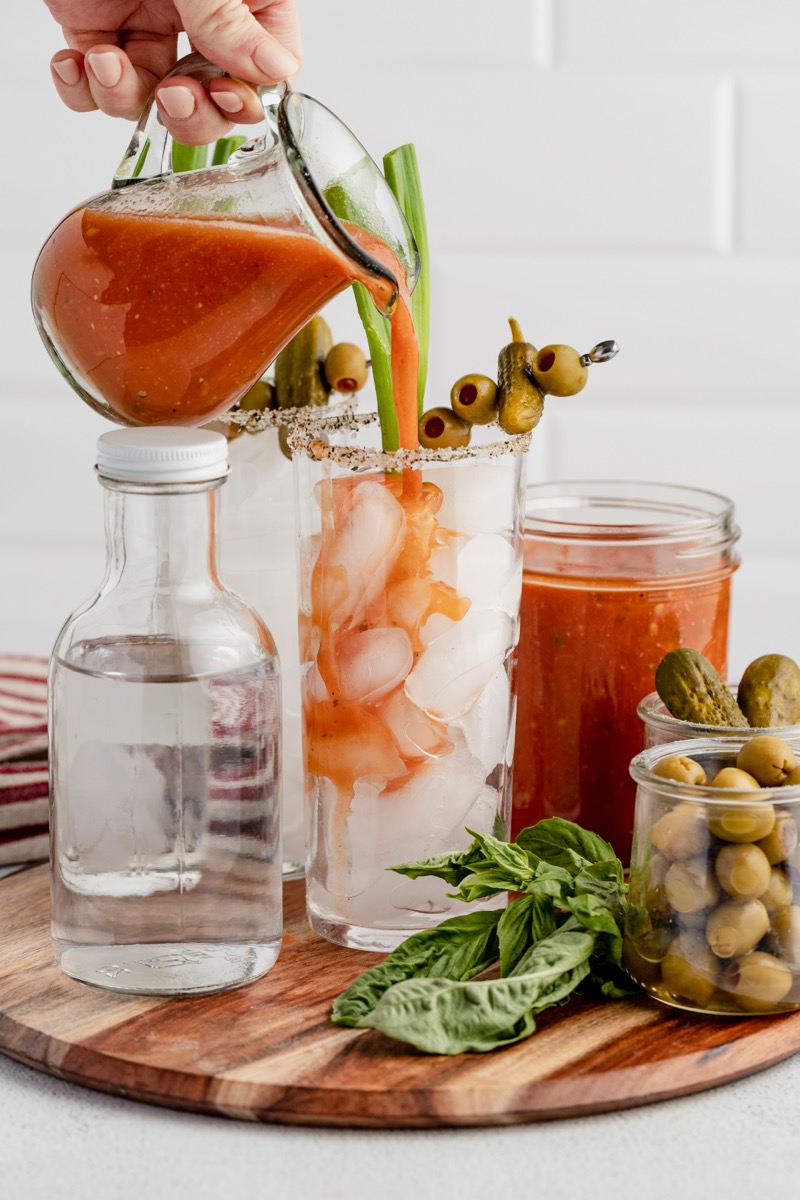 Have a cocktail!
More great brunch recipes to love!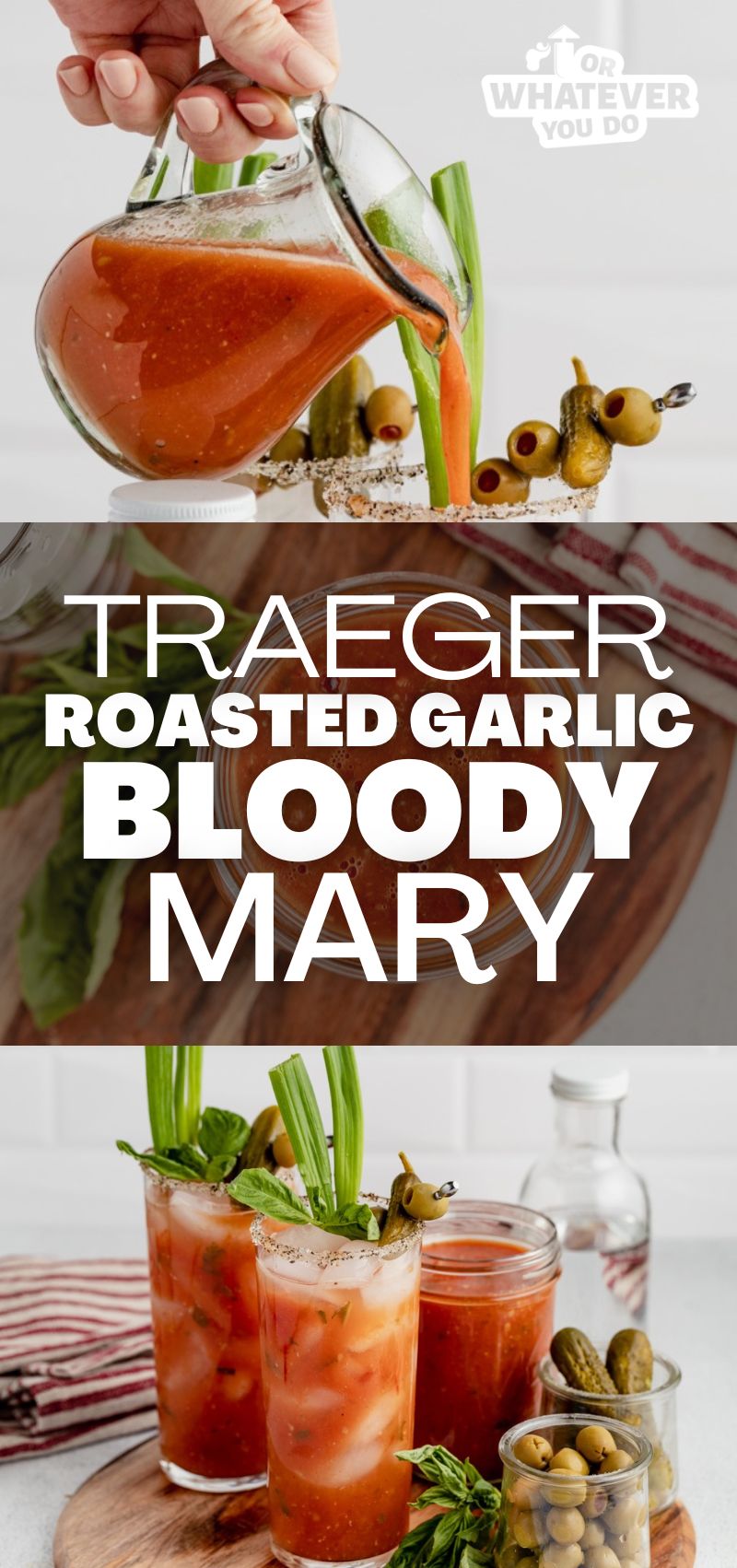 Yield: 4 servings
Traeger Roasted Tomato Bloody Mary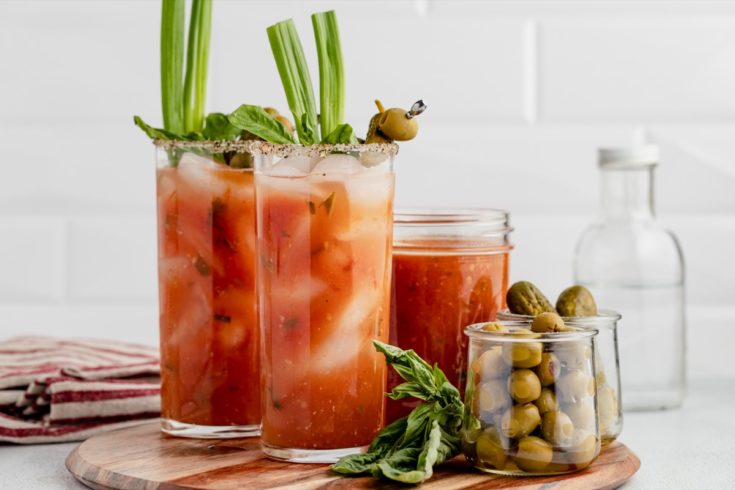 Get ready for warmer weather with this delicious and hearty take on a Bloody Mary! Perfect for a sunday afternoon or hosting a party! With bold flavors like roasted garlic and tomatoes, oregano and fresh basil, your readers will never go back to the bland store bought mix! This recipe is freezer friendly and perfect for using up all that fresh garden produce!
Additional Time
50 minutes
Total Time
1 hour
40 minutes
Ingredients
Bloody Mary Mix
4 large beefsteak tomatoes or larger tomatoes
4 cloves garlic, peeled and smashed
2 tablespoons olive oil
1/4 cup fresh basil leaves, chopped
2 cups beef broth
1⁄2 cup tomato sauce
1 teaspoon hot sauce
2 teaspoon worcestershire sauce
1⁄4 tsp dried oregano
1/4 tsp sea salt
1⁄8 tsp ground pepper
Bloody Mary
Ice
Vodka of choice (we like Tito's or Gray Goose)
Garnish Options (pickles, olives, cheese cubes, celery sticks, green onions, etc.)
Salt & pepper, for rim
Instructions
Make the mix
Preheat the Traeger to 350°F, and line a sheet pan with foil.
Gently wash the tomatoes and cut them into 1⁄2 inch thick slices. Arrange the tomato slices evenly on the prepared baking sheet.
Peel and slice the garlic into large pieces.
Arrange the garlic pieces around the tomato slices.
Drizzle the 2 tablespoons of olive oil gently over the tomatoes. Place the baking sheet in the preheated grill (or oven) and roast for 15 minutes (or until tender).
Crank the heat up to high (400-450°F). Cook for an additional couple minutes until the edges start to brown a bit.
Remove from the grill.
In a medium saucepan, add your roasted tomatoes and garlic, basil, broth, tomato sauce, hot sauce, worcestershire sauce, dried oregano, and the salt and pepper.
Heat over medium heat, and simmer for about 10 minutes. Remove from the heat and let cool.
With an immersion blender, blend the tomato mixture until smooth. Pour into a container or jar.
Chill before serving.
Assemble Bloody Mary:
To make the bloody mary cocktail, fill a tall glass with ice. Add 2 ounces of vodka with 6 ounces of homemade roasted-garlic bloody mary mixer.
Top with your favorite garnishes, such as green onions, pickles, dried meats, olives, cheese and limes. Serve immediately.
Notes
To prevent garlic from burning, make sure to not cut the garlic too small. This is why
pressing thick slices is best.
If you like thinner bloody mary mix, add additional broth during step 3 until you reach your desired consistency. Different tomato varieties will impact the amount of juices that are naturally produced.
Storage: Store leftover bloody mary mix in a jar or airtight container.
Refrigerate for up to one week.
You may freeze the bloody mary mix in a freezer safe storage container or storage bag for up to 3 months.
Thaw in the refrigerator before serving.
Like your bloody mary spicy? Add some more spice by adding additional hot sauce or add some dried red pepper flake during simmering in step 3.
This recipe is not adapted for safe canning practices. Please only store in the freezer for
long term use.
Recommended Products
As an Amazon Associate and member of other affiliate programs, I earn from qualifying purchases.
Nutrition Information:
Yield:
4
Serving Size:
1
Amount Per Serving:
Calories:

146
Total Fat:

8g
Saturated Fat:

1g
Trans Fat:

0g
Unsaturated Fat:

6g
Cholesterol:

0mg
Sodium:

851mg
Carbohydrates:

12g
Fiber:

3g
Sugar:

7g
Protein:

4g
Nutrition data provided here is only an estimate.