This Traeger Banana Bread takes my classic sour cream banana bread and moves it to the Traeger pellet grill for a rustic, wood-kissed flavor that brings out the sweetness of the banana in the best way.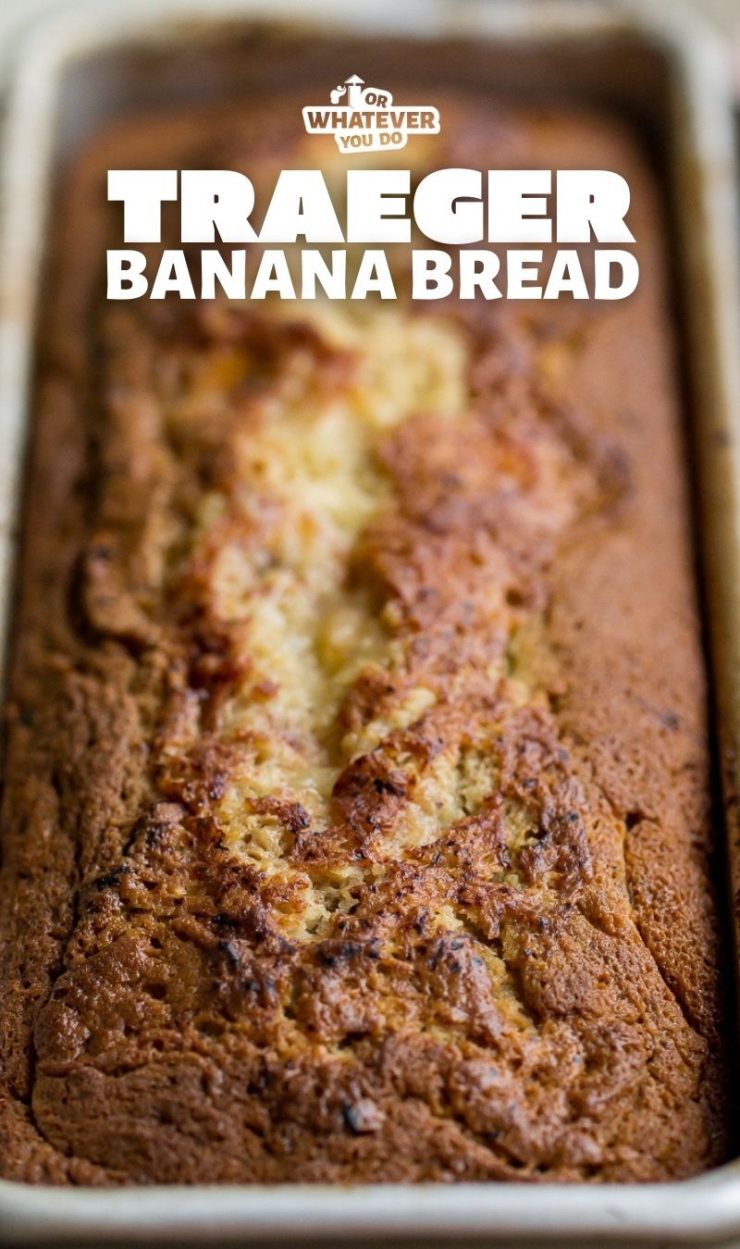 Traeger Banana Bread Recipe
This easy recipe has been adapted specially for your pellet grill, so whether it is the height of summer or late in the fall, if your grill is accessible and able to be fired up you can have great banana bread.
My banana bread recipe has sour cream in the mix and includes a swirl of cinnamon sugar that is definitely not optional.
(Just kidding, it'll be awesome without it, I just love it so much!)
More Easy Traeger Recipes here!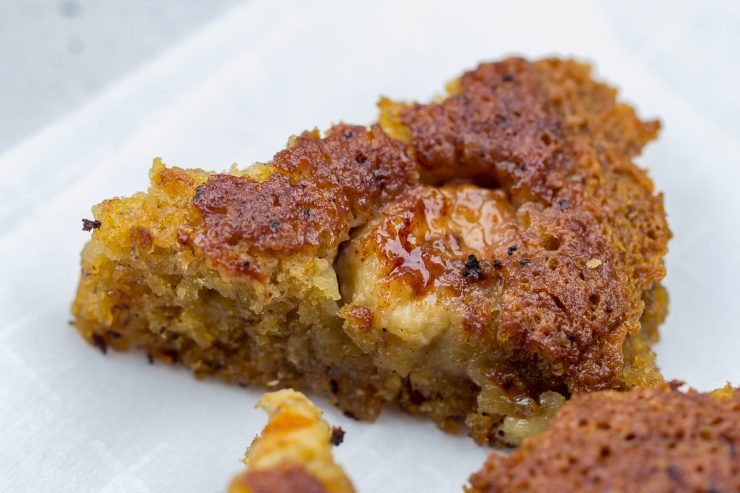 Pellet Grill Banana Bread shopping list
Brown bananas
Flour
Sugar (white & brown)
Vanilla
Eggs
Canola oil
Sour cream
Baking soda
Cinnamon
More great BREAKFAST RECIPES here!
Why use brown bananas?
Bananas sweeten as they ripen as the starch turns to sugar in the fruit. However, the texture suffers once they start to become more brown than yellow. These make brown bananas the perfect addition to your baked goods. Sweet, soft, and delicious.
If you don't have brown bananas around and are desperate for banana bread, you can go ahead and throw in your yellow bananas. I won't tell anyone.
Follow me on Instagram!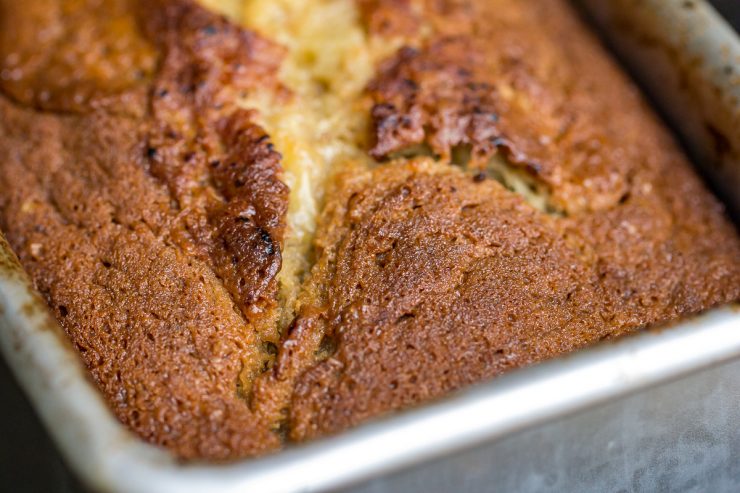 How to make banana bread
I love this bread. It is almost cake-like, in fact, and would be perfect for a spread of cream cheese icing. We usually serve it with a pat of salted butter or the cinnamon butter below.
Banana bread is one of my favorite baked goods to make because it is SO easy, and you just throw ALL of the ingredients into a mixing bowl and mix for a couple of minutes.
There's no sifting. No dirtying three different bowls to make sure you can mix wet ingredients, sift dry ones, and all of that stuff.
I love baking, but sometimes it is overwhelming with all the dishes and how particular you usually have to be with all of the steps. I can bake that way, but I have to be in the right mood for it.
This recipe is a snap. Just measure, put it all in one bowl, and mix it up. So simple!
Join our Easy Traeger Recipes Facebook Group!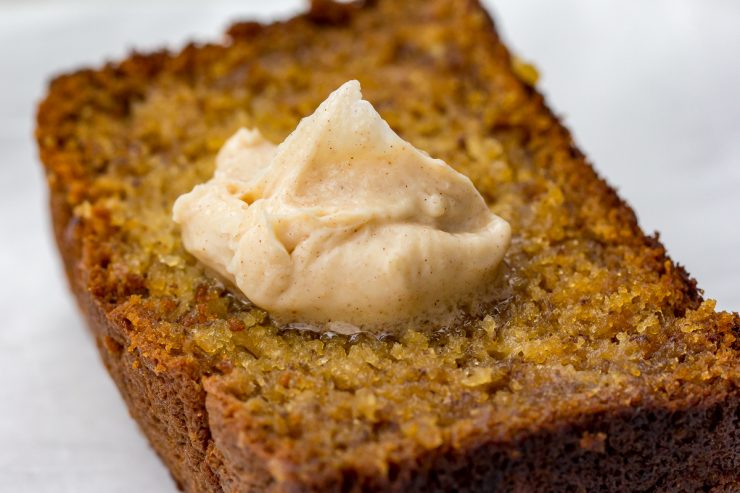 The perfect spread for banana bread
When you've got a warm loaf of banana bread that you've just pulled off the grill, now is the time to whip up a dish of this cinnamon butter.
I used 2 tablespoons of Spiceology's Apple Cinnamon blend and mixed it in with 1/2 cup of salted butter. It is a perfect mix with the sweet banana bread.
If you don't have any of that and don't want to wait to order it, you can mix up a little batch of cinnamon sugar butter instead. Just mix 1/2 teaspoon cinnamon with 1/2 cup of butter and 1/3 cup of honey, or to taste. You'll find a happy medium.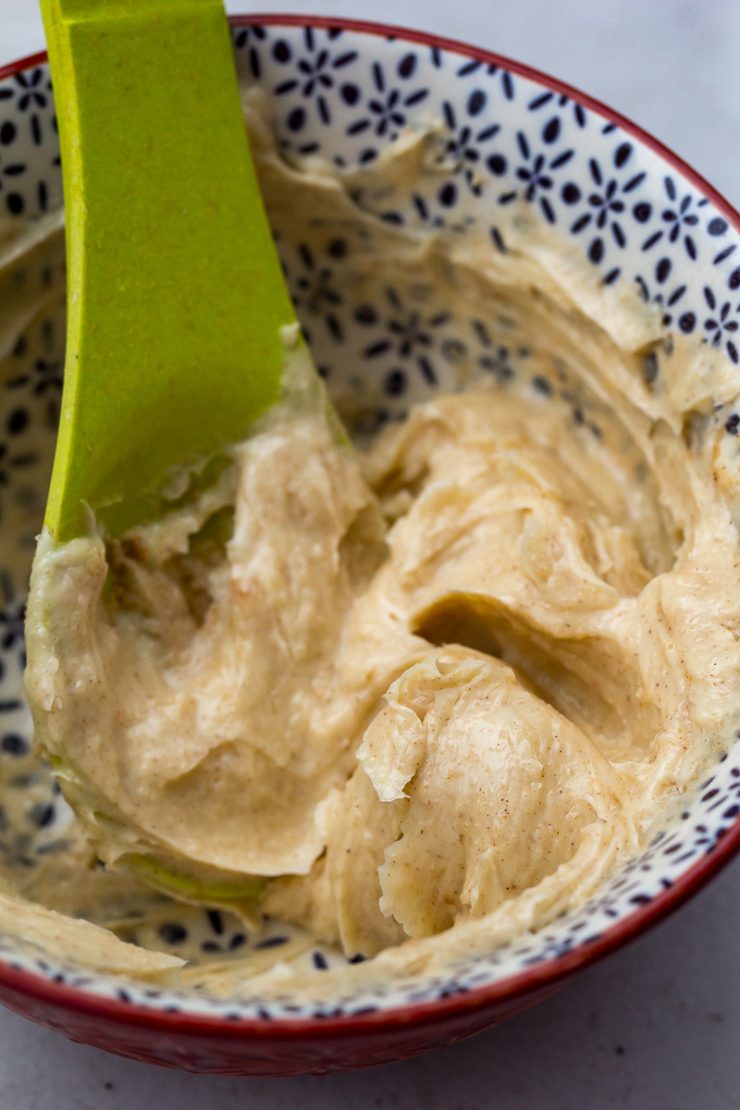 Substitutions and additions
As with most of my recipes, feel free to play with this one too. If you don't have sour cream, you can substitute equal amounts of yogurt. Something like Noosa or another full-fat yogurt would be best. I haven't tried it with a fat-free Greek yogurt so I can't vouch there.
If you aren't into cinnamon, you can skip that too.
Like nuts? Mix some chopped walnuts or pecans into the batter and go crazy.
Want a brulee top? Sprinkle some raw sugar over everything before you bake it.
I haven't tested this with any gluten-free anything, so if that's a need of yours I'd find a recipe specially designed for gluten-free flours and adapt that one for the grill instead of trying to make this recipe gluten-free.
Check out our OWYD shop!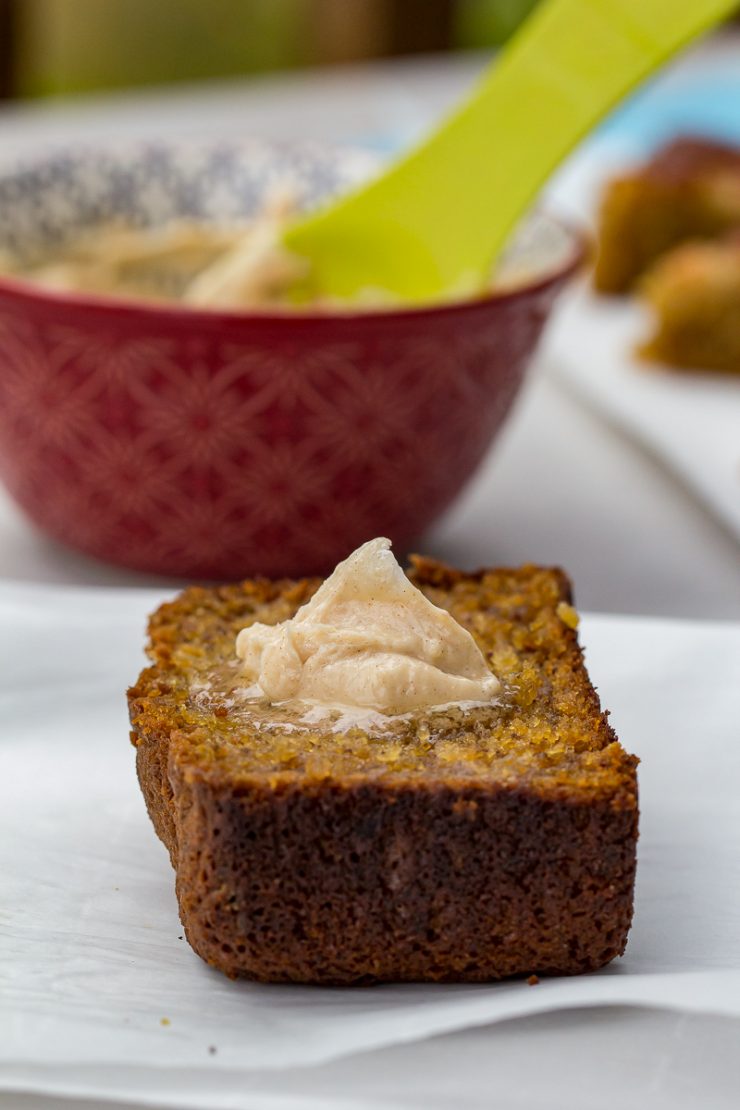 Tips for baking in your Traeger
A pellet grill is basically just a big wood-fired outdoor oven, but baking in it needs a few special considerations to keep in mind.
Use the top rack
Baked goods and casseroles have a tendency to scotch on the bottom sometimes. If you use the top rack, if you have one, it'll create some welcome separation between the fire and your pan to help prevent that.
No top rack? No worries.
Invert a high-sided rectangular baking pan. Like this (click the image to buy):
This creates enough separation to prevent burning in most cases. I keep a closer eye on things using this method than I do when I use the top rack though, just so you're aware.
It is a good idea to place the pans in the areas that are NOT directly above the fire pot, to be on the safe side.
Buy Pellets here!
What kind of pans can you use to bake this banana bread?
I've made this bread in traditional loaf pans, 9×13 cake pans, round cake pans, bundt pans, and even in muffins and mini loaves. The pan you use will impact how long the bread takes to bake, but as long as you keep an eye on things you will be good.
Love banana? Try this Banana Crumb Cake!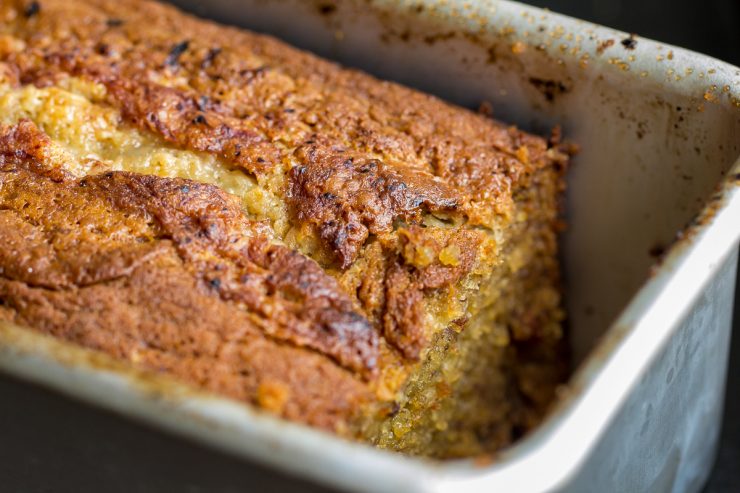 How do you know that your banana bread is done?
Banana bread is one of the most forgiving quick breads, ever. If you overcook it by a few minutes, it'll still be great as long as it doesn't actually burn.
The best way to tell if it is done or not is to first check for jiggle. If you give the pan a light tap, does any part jiggle? If so – it isn't done.
If there's no jiggle, the next thing you need to do is to stick a wooden toothpick or small wooden skewer into the bread. It shouldn't have any batter when it comes out with moist crumbs on it.
Can you make this in an oven?
You sure can! If you don't have a pellet grill, or just don't feel like firing it up, you can definitely cook this in an oven.
Get all of my easy dessert recipes here!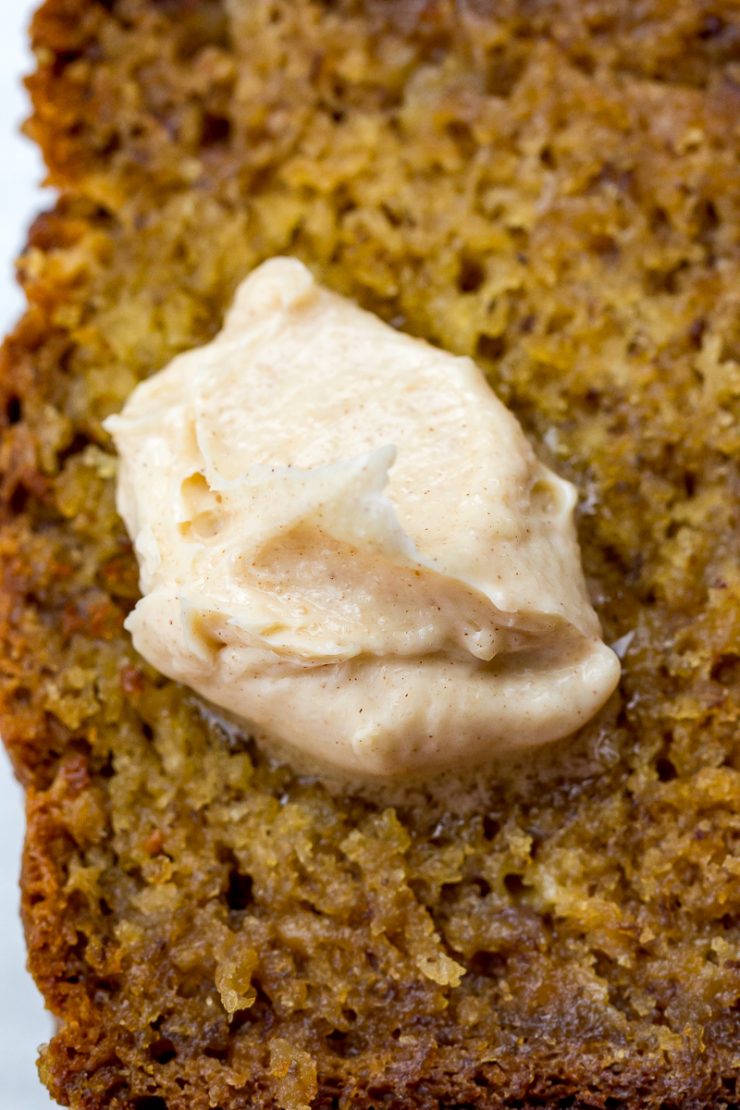 How do you store banana bread?
I always keep mine right on the counter, covered lightly with plastic wrap. It doesn't last more than a day or so on my counter though, so I'd suggest moving it to the fridge if you think it'll be around more than a day or two.
You can also wrap tightly in several layers of plastic wrap and then place it into a freezer bag to save it for longer in your freezer.
Once you want to eat it, put it in the fridge overnight and then reheat in your oven on low heat. (The "warm" setting is usually great for that, but you know your oven best!)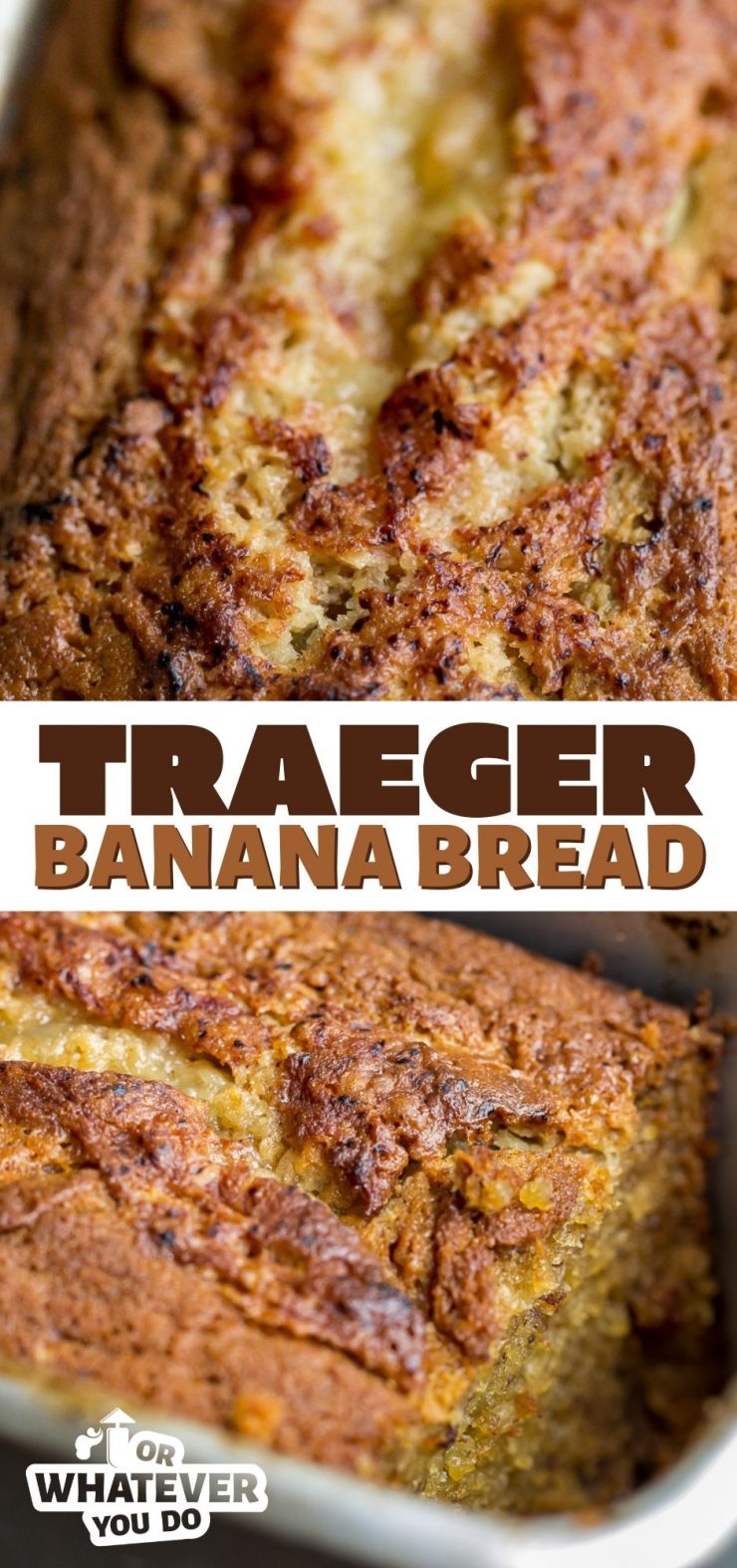 Yield: 8 people
Traeger Banana Bread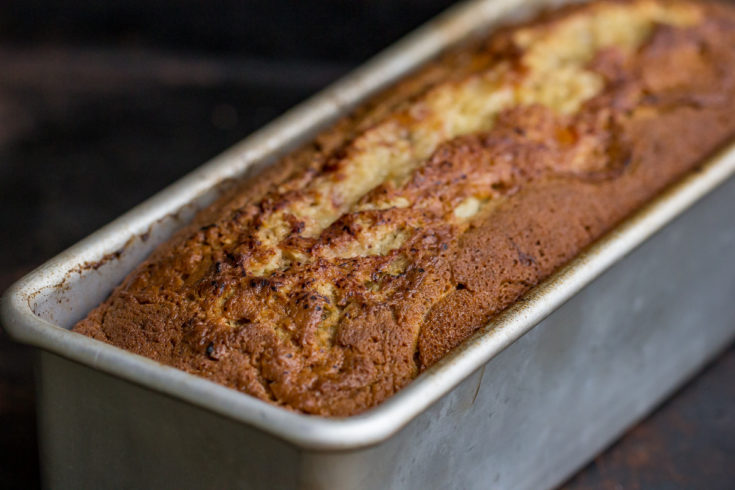 My homemade cinnamon-swirl banana bread recipe is baked right in your Traeger pellet grill!
Total Time
1 hour
10 minutes
Ingredients
4 extra ripe bananas
4 large eggs
1 1/2 tablespoons vanilla
1 cup canola oil
1 cup sour cream
1 cup white sugar
1 cup dark brown sugar
3 cups flour
2 teaspoons baking soda
Cinnamon Topping
2/3 cup white sugar
1 teaspoon cinnamon
Instructions
Preheat your Traeger to 350 degrees following factory instructions.
Mix all of the bread ingredients together (NOT the Cinnamon Topping) for 2-3 minutes using a mixer.
Pour half of the batter into a prepared bundt pan. Combine the cinnamon and sugar and sprinkle half over the batter. Cover with the rest of the batter, and spread gently if necessary. Sprinkle on the rest of the cinnamon sugar topping.
Bake on the top rack (or if you don't have a rack, bake on top of an inverted rectangular cake pan to create some additional space between the fire and the food) for about 1 hour, rotating halfway through. Cook until a toothpick comes out with moist crumbs. The exact time will vary based on many factors.
Watch carefully! Your bread might take a little less time, or a little more time depending on the grill and your specific pan.
Recommended Products
As an Amazon Associate and member of other affiliate programs, I earn from qualifying purchases.
Nutrition Information:
Yield:
12
Serving Size:
1
Amount Per Serving:
Calories:

530
Total Fat:

22g
Saturated Fat:

3g
Trans Fat:

0g
Unsaturated Fat:

18g
Cholesterol:

68mg
Sodium:

245mg
Carbohydrates:

77g
Fiber:

2g
Sugar:

49g
Protein:

7g