Fluffy scrambled eggs are not only possible, but also really simple to prepare if you know a few of the tricks for making them just right! Read on to find the best method for making perfect scrambled eggs, right at home.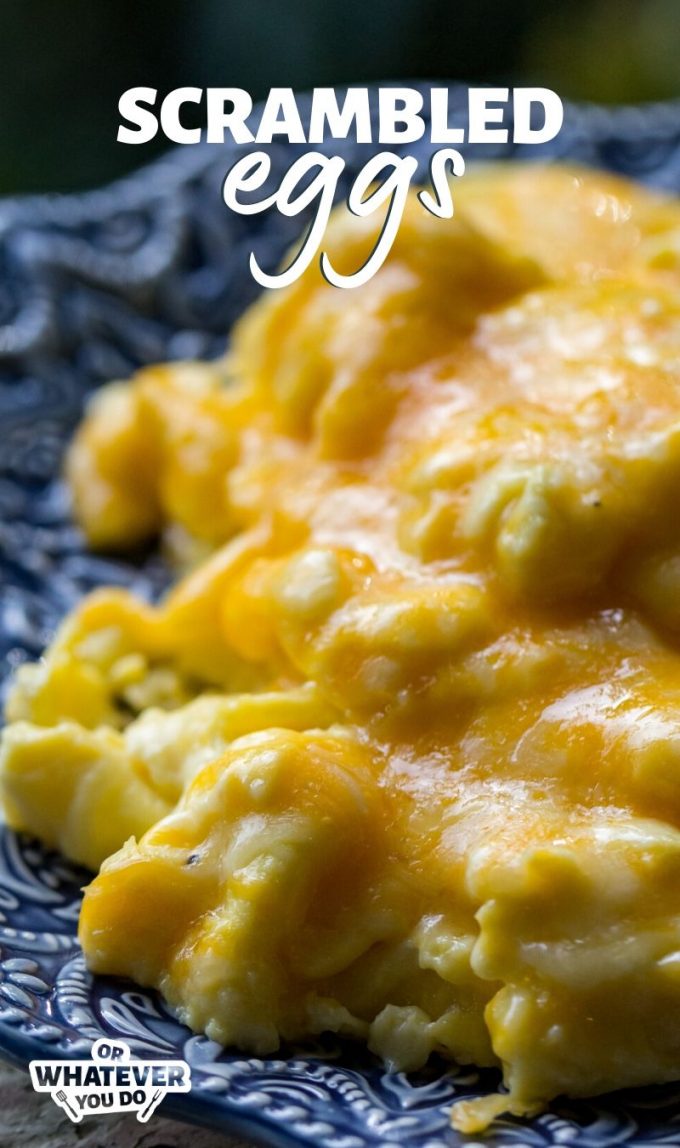 Perfect Scrambled Eggs
My favorite scrambled eggs are mixed with whole milk or half-and-half, and then slow-cooked over low heat with only moderate levels of stirring to get large, fluffy curds. Seasoned at the end of the cook, right before the cheese is added on top. Personally, I think these scrambled eggs are perfect for any time of day.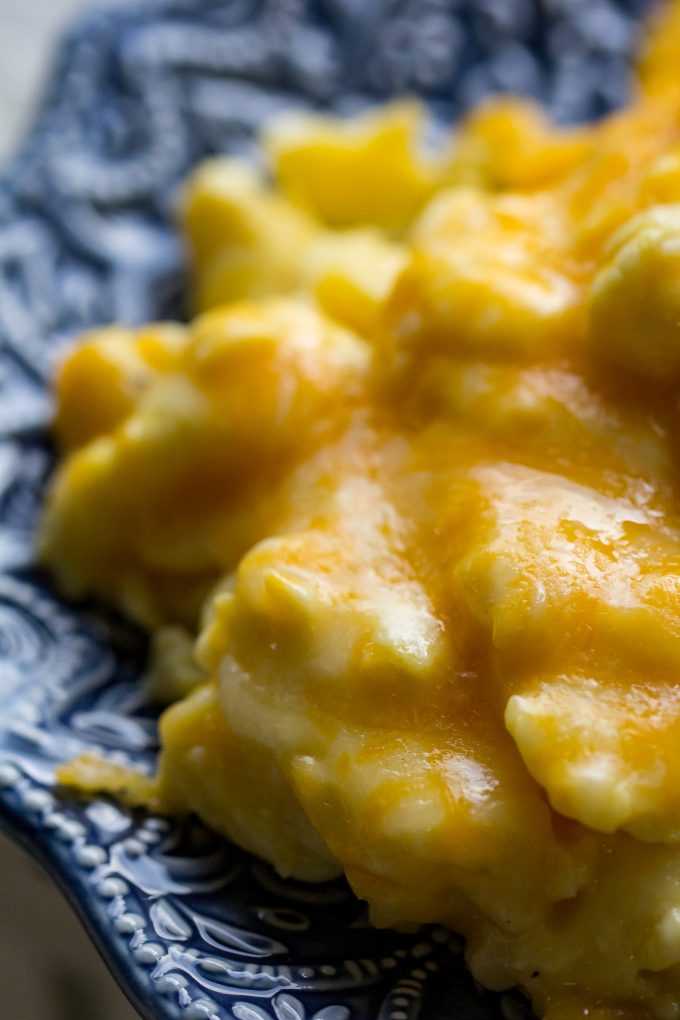 Scrambled Eggs Shopping List
Farm fresh eggs, if you can swing it!
Half-and-half or Milk
Butter or cooking oil for the pan
Salt, pepper, and or other seasonings of your choice
cheese
Brilliant BREAKFAST recipes here!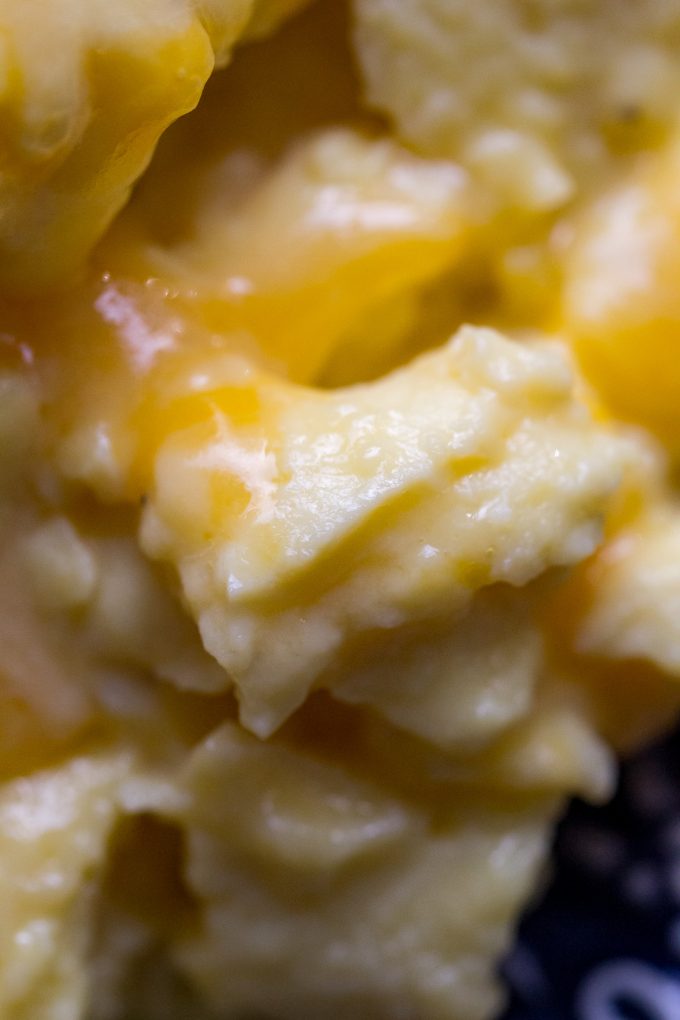 How many ways can you scramble an egg?
There are several ways to scramble an egg. Back in my waitressing days, some regular visitors would order their scrambled eggs runny, soft, or well-cooked. The first time I giggled because I thought scrambled was just, well… scrambled, but that was many years ago.
Over the years I have learned there are different levels of scrambled. For example, these eggs net you large, fluffy, soft curds. They are light and tender and everything you should want in an egg. They take a while to cook, but are worth the wait.
Other scrambled eggs are whisked a LOT to incorporate a lot of air into the mix, and then cooked over medium heat and stirred much more frequently. These are more comparable to what you'd get on a buffet line. The curds are much smaller and looser.
The higher the temperature you use on your cook top, the less large and fluffy the eggs get. It also has a lot to do with stirring.
There are also different mix-ins you can use in scrambled eggs. Some people swear by milk or cream, others add water and say that produces the best scramble, I've even added mayo before and had great results.
Make with one of these unique waffle recipes!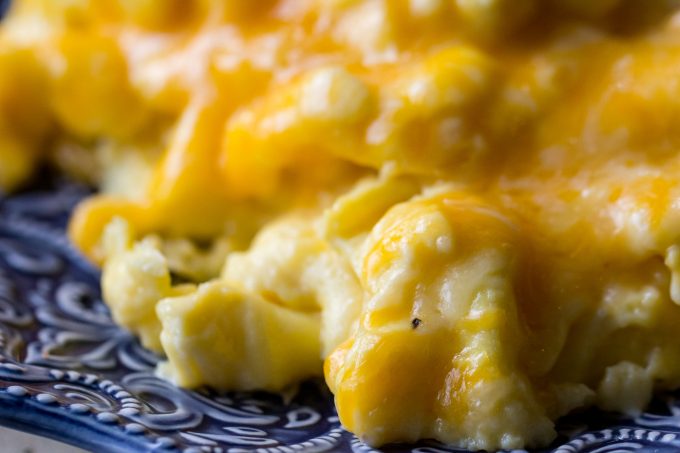 How to cook light and fluffy scrambled eggs
The key to getting your breakfast to a super light and fluffy consistency (aka, perfect) is to mix them well before they hit the pan, and then stir them only once in a while to allow for the large curds to form.
To do this, pour them into a non-stick pan with butter on the bottom, and your stove set at a medium-low to low heat.
Now. . . . . . . . . . . don't stir them! Let them cook for a minute or two, and then using a rubber scraper stir them by scraping the bottom of the pan 2-3 times.
Next be patient again, and let cook another minute or two before repeating the stirring pattern by scraping the bottom of the pan.
Once the eggs start solidifying, you can add a flip to the end of the stir so the eggs on the top are now on the bottom.
Once the eggs are still wet-looking, but are not runny, sprinkle on your salt and pepper, cover with cheese (if desired), and cover the pan and remove from the heat.
Need coffee with your eggs? Try it with my Vanilla Sweet Cream Coffee Creamer!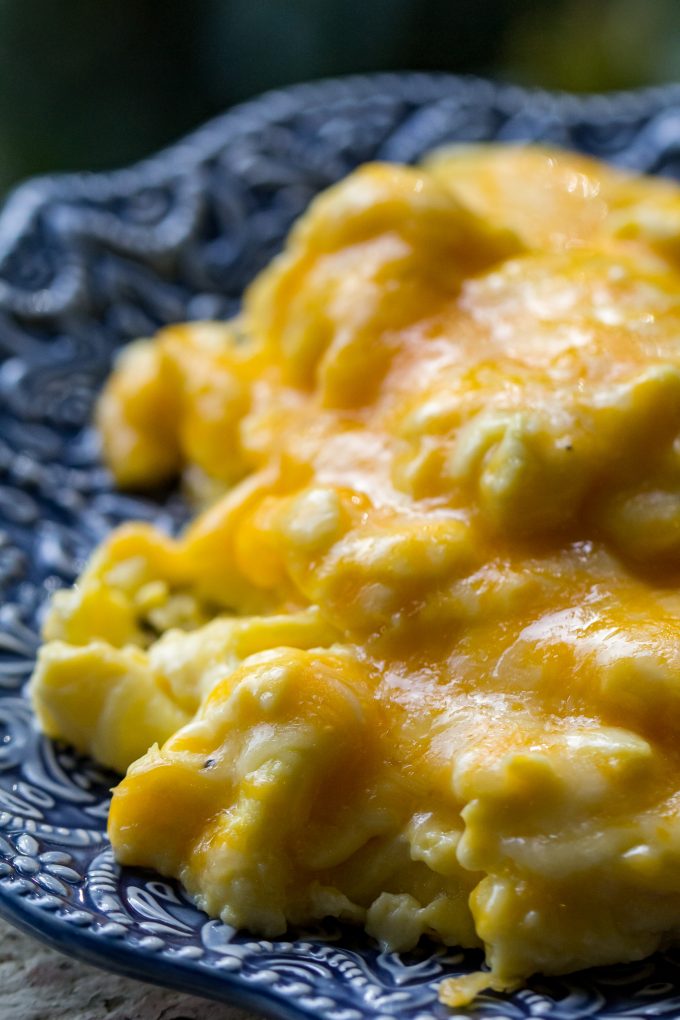 When to add the mix-ins
When you add the mix-ins will have a big impact on the final results of your scrambled eggs. One very important thing you need to do is to PRECOOK the mix-ins, in a different pan.
I know, it is another dirty pan to wash, but it'll be worth it. Pre-cooking your mix-ins are going to give them a chance to get hot and not impact the texture of the eggs.
Also, things like mushrooms release a sigifnicant amount of water during their cooking, and that would definitely water down the scramble a lot if you don't cook them first.
Even browning up diced or sliced ham will add another layer of flavor to the end result.
So make sure to pre-cook your mix-ins, and gently fold them in at the very end, right before you put the cheese on top and cover the pan.
Know what goes well with eggs? Blueberry Muffins!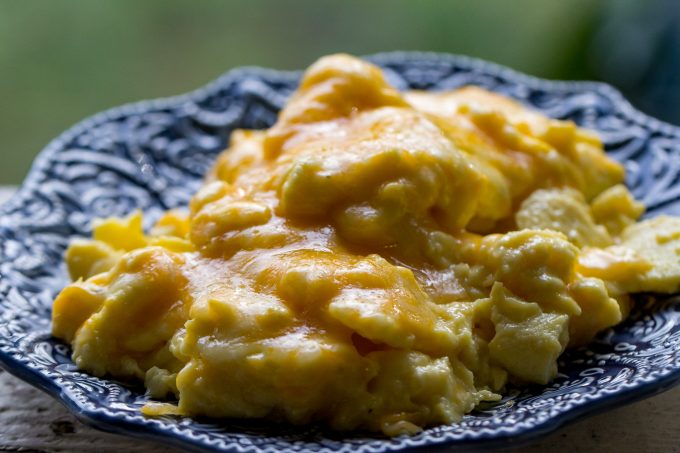 What type of pan is best for scrambled eggs?
For proper scrambled eggs you really need a GOOD non-stick pan, or a well-seasoned cast iron that won't allow anything to stick.
Sticking to the bottom is the enemy of a good scrambled egg, and stuck eggs get brown and browned scrambled eggs are bad scrambled eggs.
Make my Traeger Banana Bread too!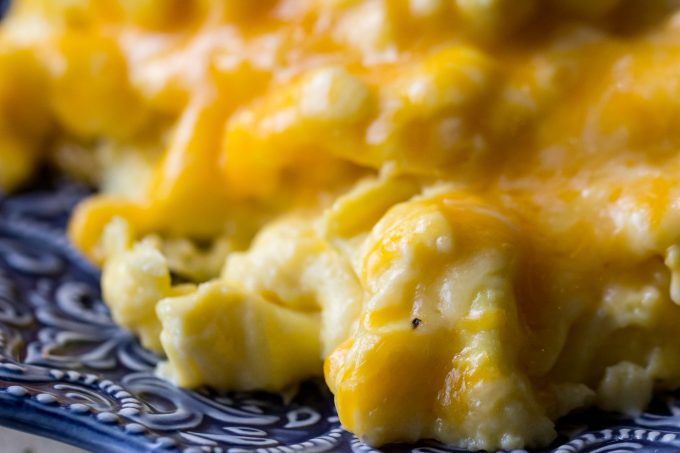 What should I serve with these perfect scrambled eggs?
One of the recipes I recommend serving with these eggs is the pancakes made from my Homemade Dry Pancake Mix. They are easy to whip out, and make plenty of filling pancakes for the whole crew. Top off the pancakes with some butter and syrup of your choice.
Another way to use these delicious scrambled eggs is with my Bacon Egg Breakfast wrap.
My Easy Fresh Hashbrowns also go extremely well with this, as would my Butter Swim Biscuits and Gravy!
Serve up with some toast, and it's a perfect, delicious, nutritious breakfast. Eggs are a great source of protein, quick and easy for every meal too. Fresh fruit served in a bowl will also help to satisfy even the biggest appetites, and even on a tight time schedule.
Get all of my BLACKSTONE RECIPES here!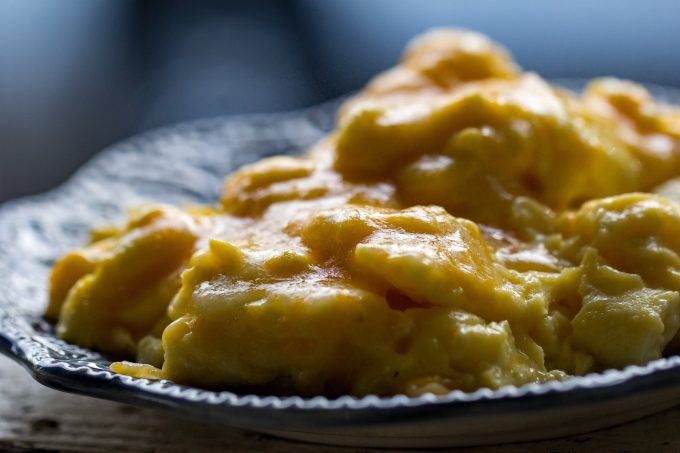 What can I substitute for the…
half and half

milk or cream or a combination of the two
mayo
water + dry milk
just water if you are desperate

cheese

you can omit cheese if you don't have any. Still delicious!

eggs

Nothing, crazy person. You need eggs to make scrambled eggs. Buy some chickens. 😉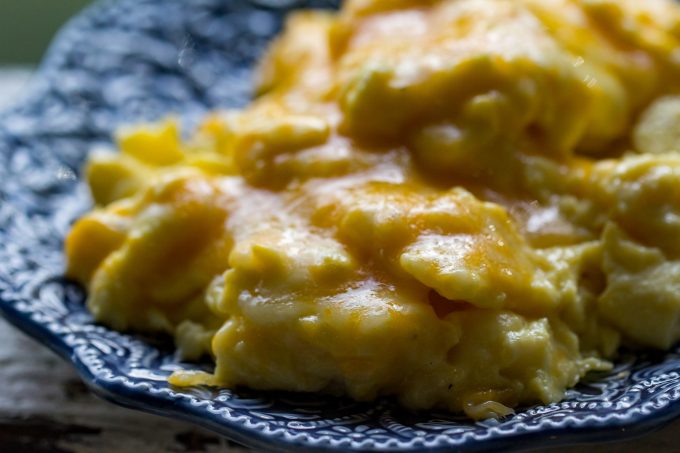 So what's the final verdict? What do you need to do to make fluffy scrambled eggs?
Whip the eggs well prior to cooking, to work some air into the mix.
Cook in a non-stick pan over low to medium-low heat.
Don't stir too much!
Season after the eggs are cooked.
Don't overcook them!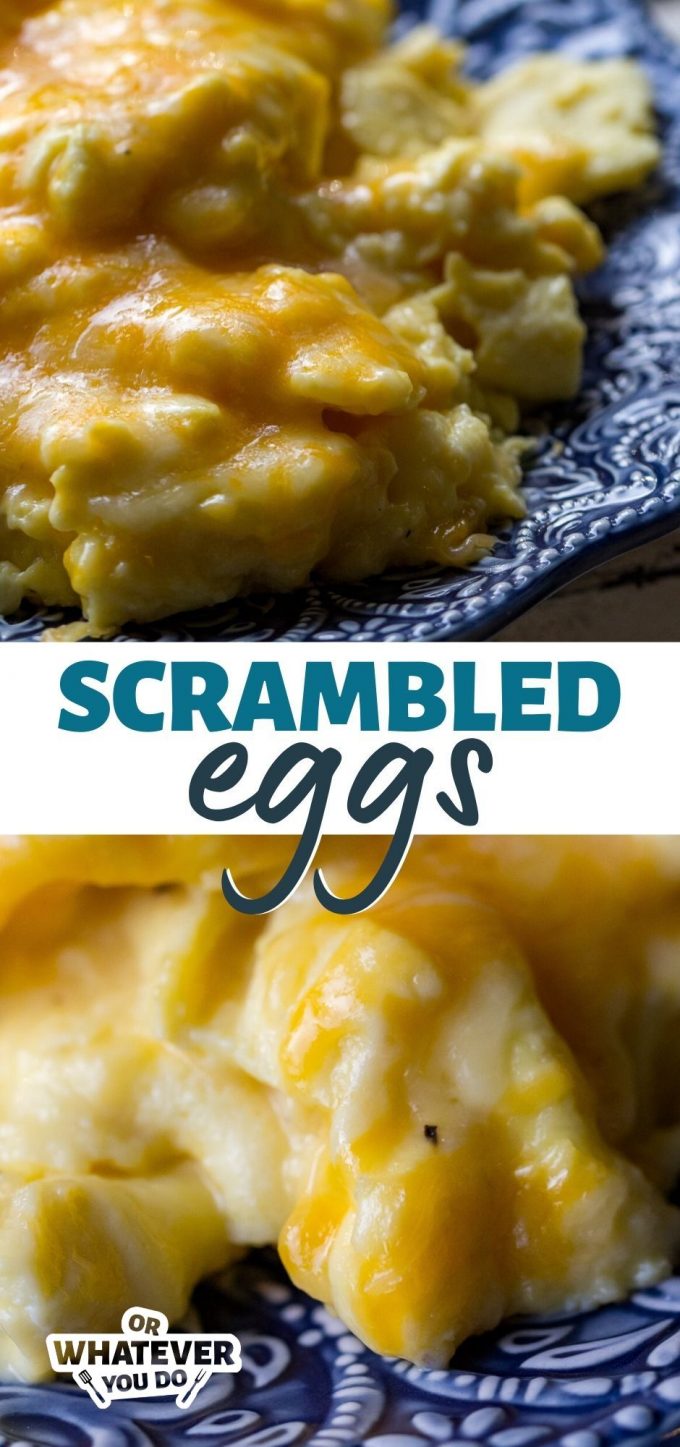 Yield: 6 servings
Perfect Fluffy Scrambled Eggs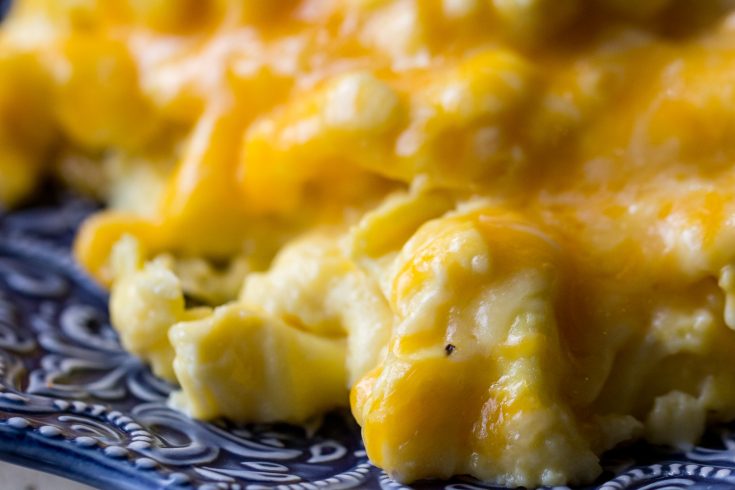 These fluffy scrambled eggs are my favorite breakfast foods! With a few tips and tricks, you can make perfectly fluffy scrambled eggs too!
Ingredients
6 large fresh farm eggs (if possible! Store-bought eggs will work too)
1/4 cup half and half
3 tablespoons salted butter
1/2 teaspoon salt
1/4 teaspoon freshly ground pepper
1/2 cup shredded cheese
Instructions
Whisk together the eggs and half and half well. You want to vigorously whisk them for 1-2 minutes by hand to incorporate some air into the mix.
Melt the butter in a medium-sized non-stick pan over low to medium-low heat.
Pour in the eggs, and cook slowly stirring very occasionally by using a rubber scraper and dragging it across the bottom of the pan to loosen the eggs from the pan.
Keep stirring every minute or two until the eggs start to solidify, and then do the gentle drag and flip.
Once the eggs are set, but still look a little wet, add the salt and pepper and gently stir, top with cheese, cover, and remove from the heat.
Let sit for 3-4 minutes, and serve warm!
Recommended Products
As an Amazon Associate and member of other affiliate programs, I earn from qualifying purchases.
Nutrition Information:
Yield:
3
Serving Size:
1
Amount Per Serving:
Calories:

346
Total Fat:

29g
Saturated Fat:

15g
Trans Fat:

1g
Unsaturated Fat:

12g
Cholesterol:

428mg
Sodium:

721mg
Carbohydrates:

2g
Fiber:

0g
Sugar:

1g
Protein:

18g
Nutrition data provided here is only an estimate.