My shelf-stable Homemade Dry Pancake Mix is easy to throw together, and makes pancakes a snap. Keep a batch of this on your shelf for those hungry teenagers to raid, and just add water, and egg, and oil and you are in business.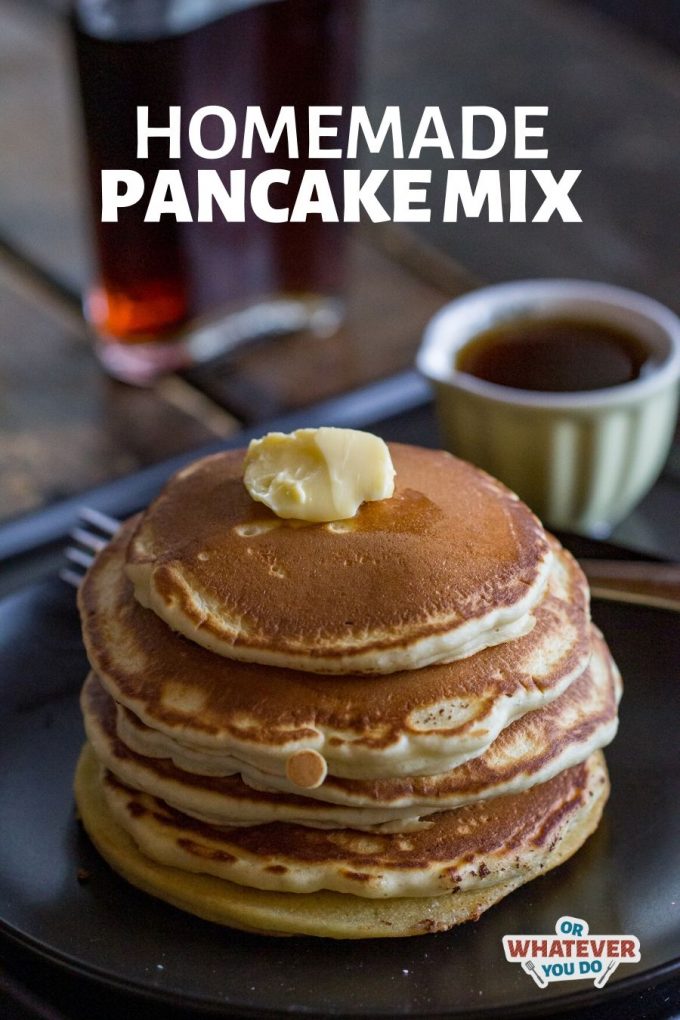 Dry Pancake Mix
One of my favorite things to do on a lazy weekend (or during school vacations) is make a BIG breakfast for the family. This Homemade Dry Pancake Mix is the perfect thing to have on hand for just these occasions.
It takes only minutes to make up and is so much better than store bought mixes. So whip up a batch this weekend and you will thank yourself when it comes time for that big hearty breakfast we all love.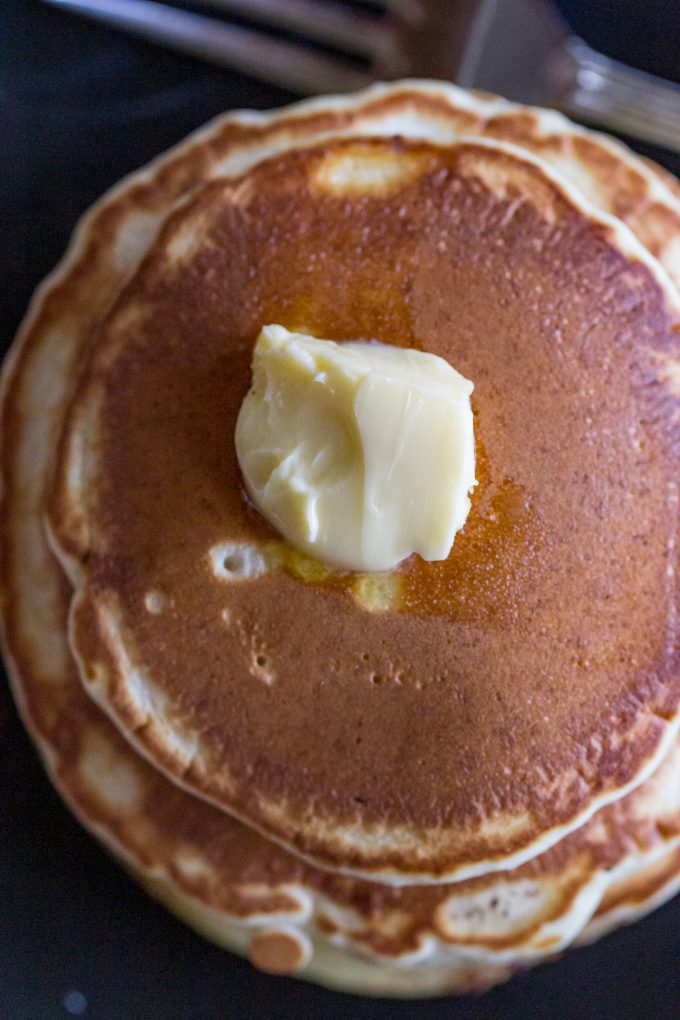 Measure the ingredients carefully!
As with all flour-based recipes, careful measuring is important. Spoon the flour into the measuring cup lightly, and use a butter knife to level it off.
The same goes for when you are measuring the pancake mix also. Don't just scoop. Spoon, level, repeat.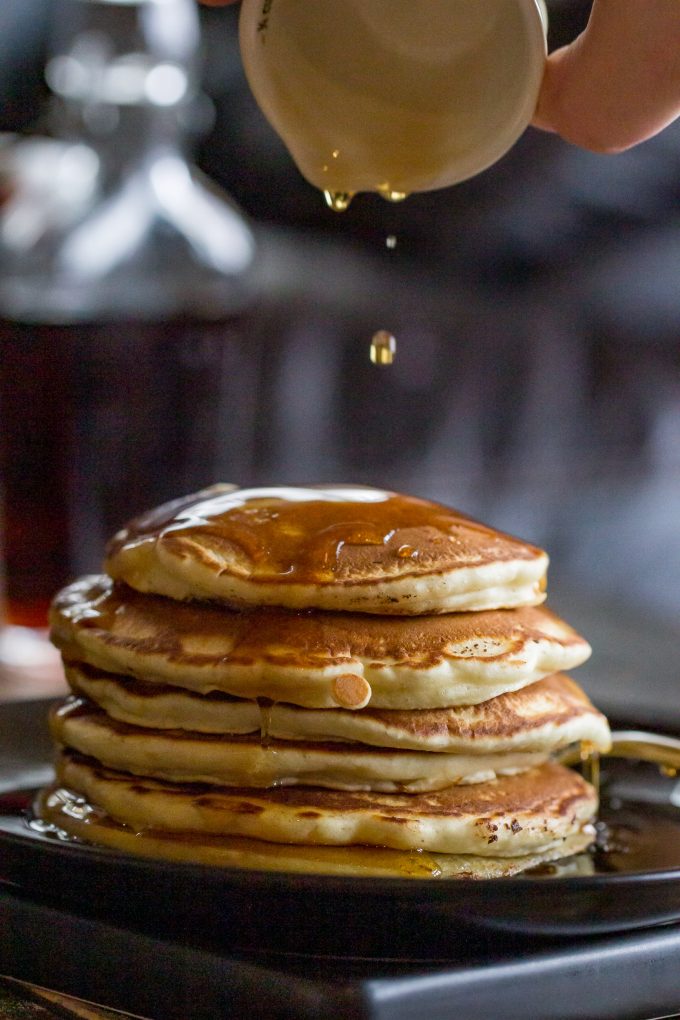 Pancake Mix Shopping List
Flour
Sugar
Buttermilk Powder
Baking Powder
Baking Soda
Vanilla Powder (you can skip this and use liquid vanilla if you need to!)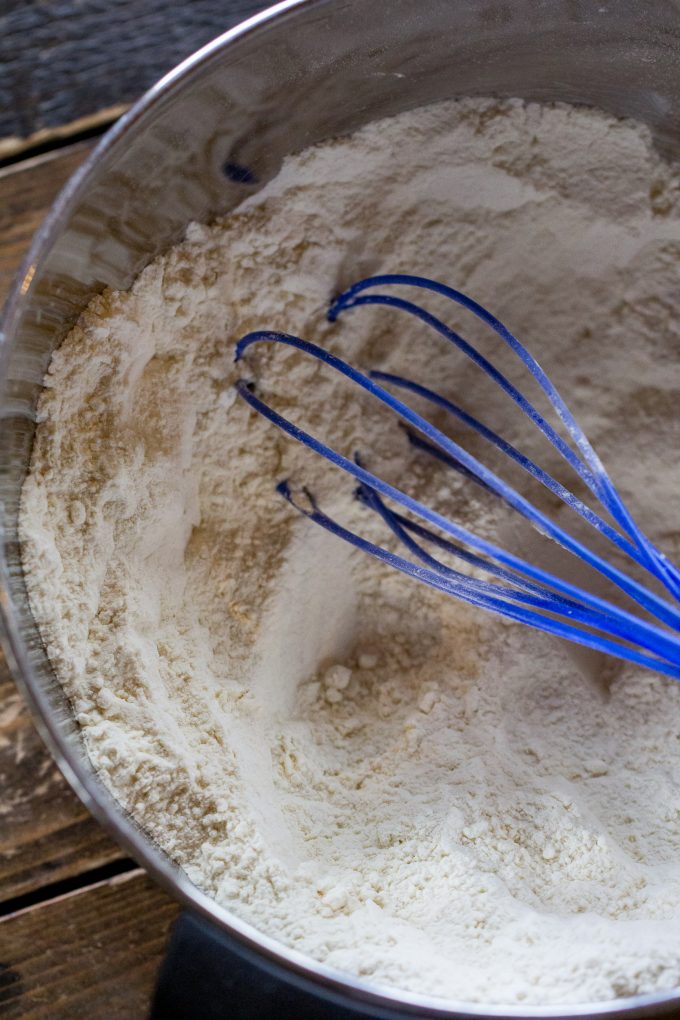 How do I store this pancake mix?
Store in an airtight container in a cool, dry environment such as your cupboard or pantry.
If you need to store for an extended period of time, maybe you don't make pancakes weekly or monthly, then you should store in any air-tight bag or container and place in your refrigerator. This will keep the leavening ingredients fresher and active for up to 6 months.
Anything longer than that, use your freezer. Yup, I said freezer. Your homemade pancake mix, if stored in air-tight freezer bags or containers, will last up to 24 months!
I would recommend storing in portion sizes so you can just whip out a bag from the freezer, already measured, and there you go.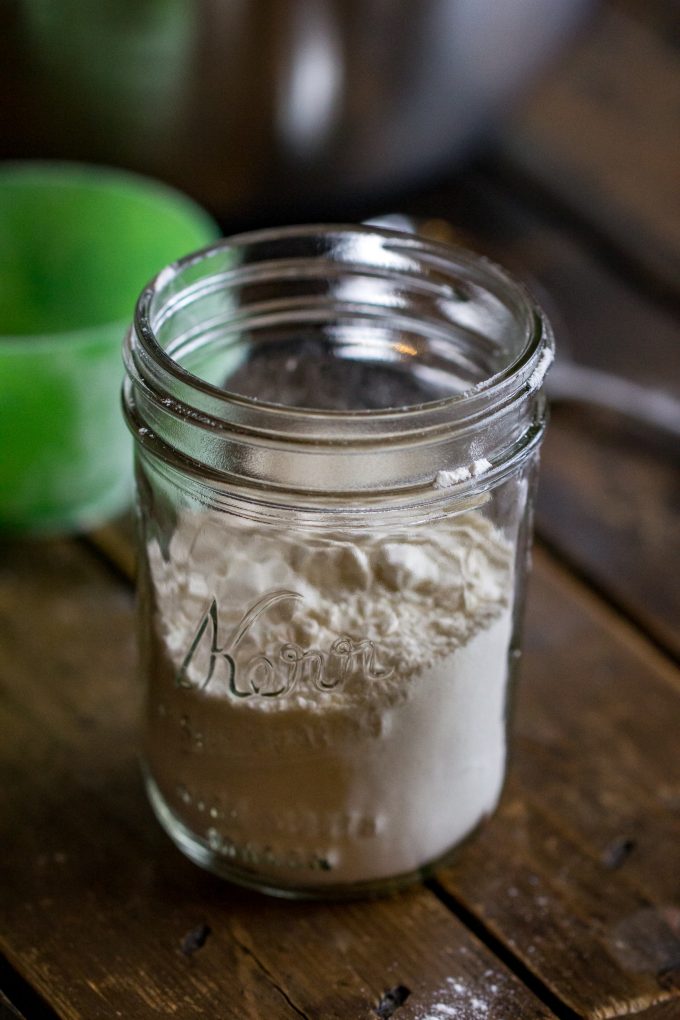 What other ingredients do I need to make this pancake batter?
For a batch of 4-8 pancakes, you will need 2 Cups of pancake mix, 1 1/4 cups water, and one large egg. Mix until moistened. Don't over mix there will be a few lumps and that's okay. You don't want your pancakes to be tough.
Fire up your griddle or skillet, pour about a ½ cup of batter onto hot griddle (or more depending on how big you want your cakes). Allow some bubbles to form on top then check the bottom, you want them to be golden brown, and flip!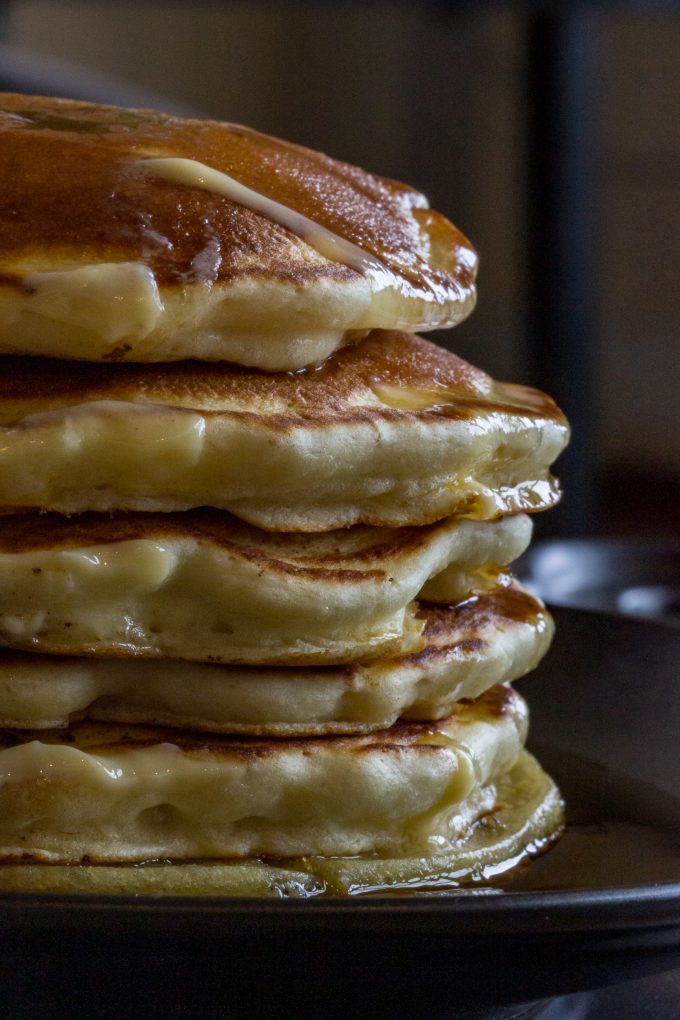 What kind of toppings?
The adults in the house love to use real maple syrup. There's nothing better to top pancakes with. But the kids in the house prefer the fake corn-syrup kind that you buy, and since pancakes are a treat we don't fight them on it.
Really, they are your flapjacks, top them with whatever you want. I've even seen people top their pancakes with honey.
You can serve them with fresh fruit on top, any kind of fresh berries such as blueberry, blackberry, raspberry, strawberry or kiwi. I love mine with this homemade blueberry syrup, in fact. I also want to try them with some of this cinnamon syrup from Sugar Dish Me!
Sprinkle with powdered sugar, or add a dollop of whipped cream.
If you like blueberry pancakes, feel free to add them to the mix. I like to use fresh blueberries but frozen will do. You can also add some chocolate chips and be the favorite mom on the block. Chocolate chips + maple syrup is basically magic, and kids love that option. Or mine do at least.
Grab a couple of cans of pie topping such as blueberry or cherry, warm them slightly, and serve on the side in place of syrup.
Almost anything goes when it comes to topping your pancakes.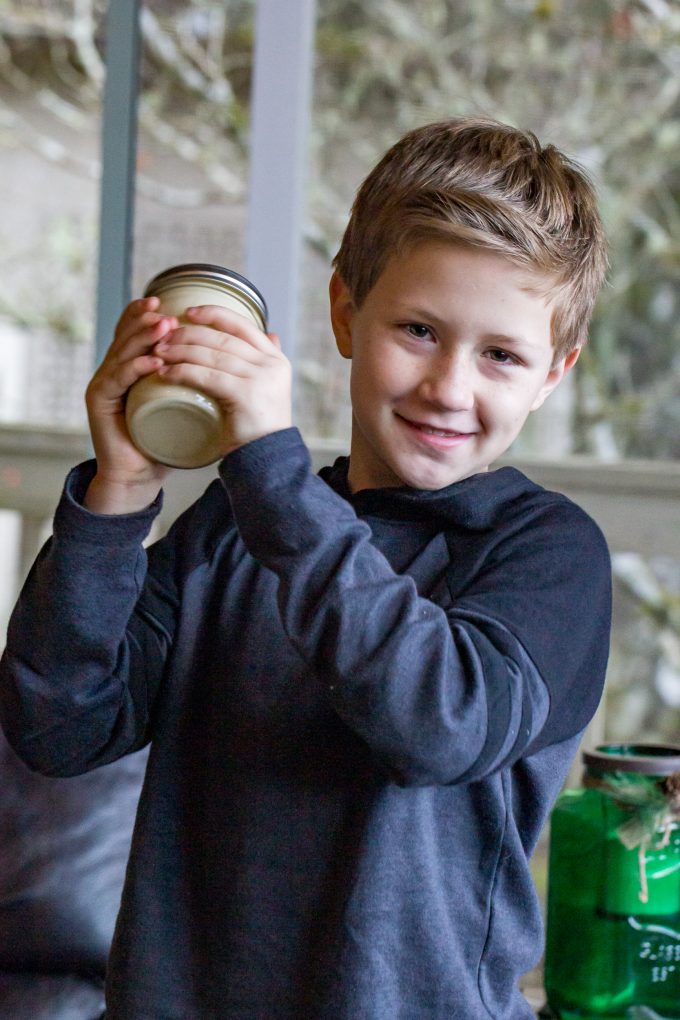 What should I serve with these pancakes?
When we do pancakes sometimes that is the complete breakfast. Pancakes and that's it.
If you want to set out a full breakfast spread, I have some great ideas for you:
These are wonderful options for a crowd or Sunday brunch. And if brunch is your thing, don't forget to throw a little mimosa on it too.
If you like your more traditional spread, just fry up some bacon and sausage, scramble some eggs, (homemade hashbrowns for brownie points) and serve next to your golden, delicious homemade pancakes.
What a great way to spend a Sunday with family and friends!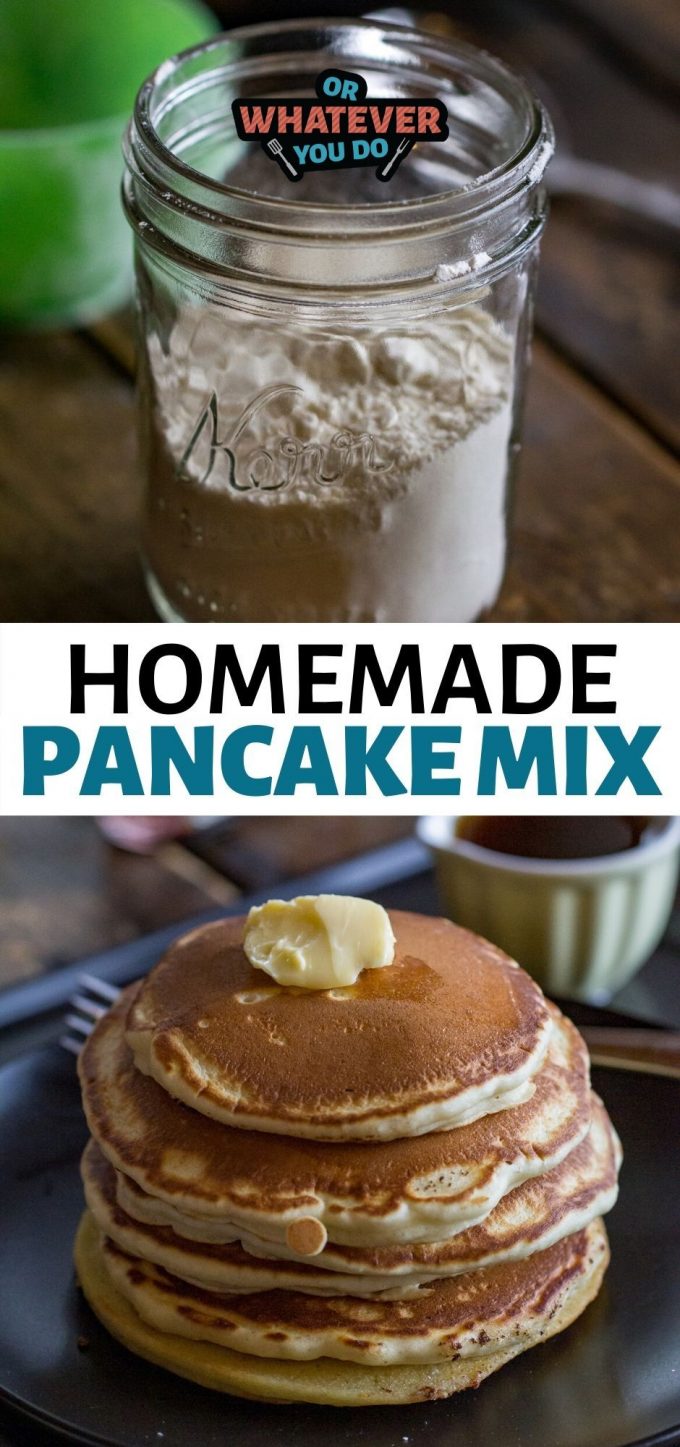 Yield: 12 servings
Dry Pancake Mix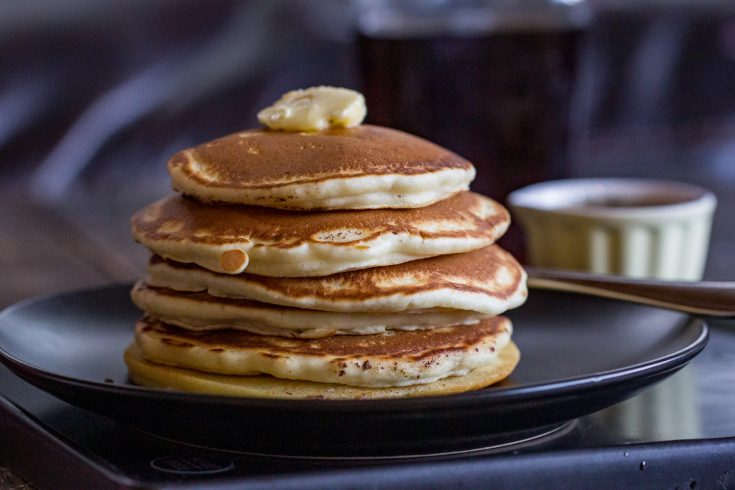 Easy shelf-stable dry pancake mix, all made at home! All you need is an egg, some water, and some oil and you've got the fluffiest diner-style pancakes that will ever come off of your stove.
Ingredients
Dry Mix:
5 1/2 cups all-purpose flour
1 1/2 cups buttermilk powder
1/2 cup white sugar
1/4 cup baking powder
2 tablespoons baking soda
1 tablespoon salt
2 tablespoons vanilla powder (optional)
To make pancakes:
2 cups dry mix
1 egg
1 1/4 cup water
2 tablespoons oil or melted butter
Instructions
Mix all of the dry mix ingredients together until well combined. Store in an airtight container in a cool, dry, place.
When you are ready to make pancakes, take 2 cups of the dry mix and combine with an egg, 1 1/4 cups of cold water, and 2 tablespoons of oil.
Stir until well-combined.
Pour 1/3 cup of the batter into a hot pan that's been greased lightly with butter. A griddle is also a great option for cooking pancakes.
Cook on one side until there are bubbles forming and popping on the top of the cake and the edges touching the griddle/pan don't look wet. Carefully flip once, and cook for 2-3 minutes on the other side.
Remove and serve hot with a slab of butter and all of the syrup.
Recommended Products
As an Amazon Associate and member of other affiliate programs, I earn from qualifying purchases.
Nutrition Information:
Yield:
12
Serving Size:
1
Amount Per Serving:
Calories:

343
Total Fat:

5g
Saturated Fat:

2g
Trans Fat:

0g
Unsaturated Fat:

3g
Cholesterol:

28mg
Sodium:

1739mg
Carbohydrates:

61g
Fiber:

2g
Sugar:

16g
Protein:

12g
Nutrition data provided here is only an estimate.