Break out the stand mixer and fire up the Traeger because today we are making the best Traeger Caramel Rolls EVER. Simple ingredients, and the end result is very much worth the effort of making these at home!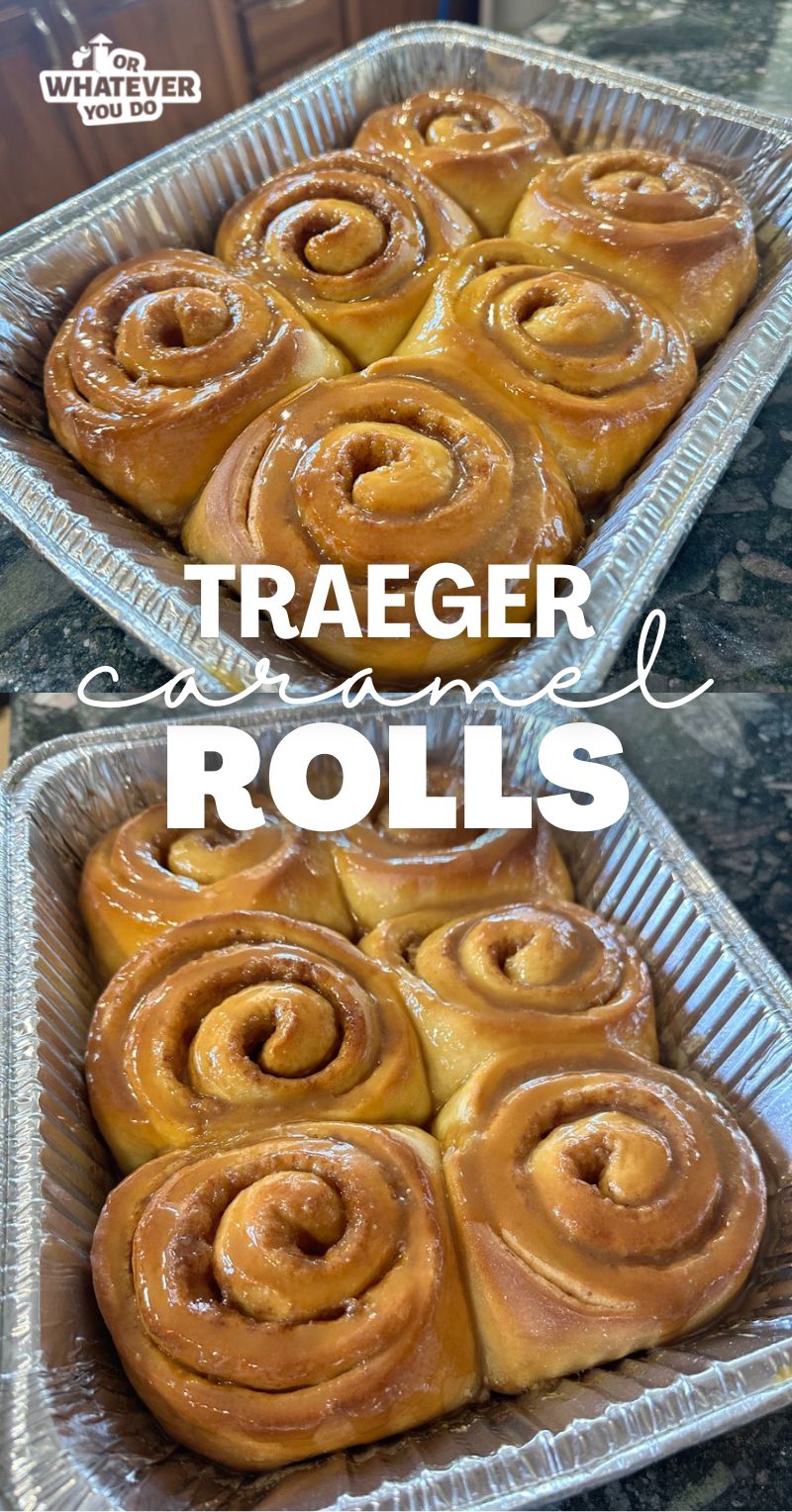 Traeger Caramel Rolls
Homemade caramel rolls are one of those treats that I usually only whip out once a year, at best. In fact, I haven't made a pan of these for several years until this week, and I'd almost forgotten how much better they are when you make them at home and can eat one fresh out of the oven (or in this case, the Traeger!)
This would be the perfect treat for Christmas morning. Don't let the process intimidate you. They are easy to make and worth the time and energy you'll put into making them too.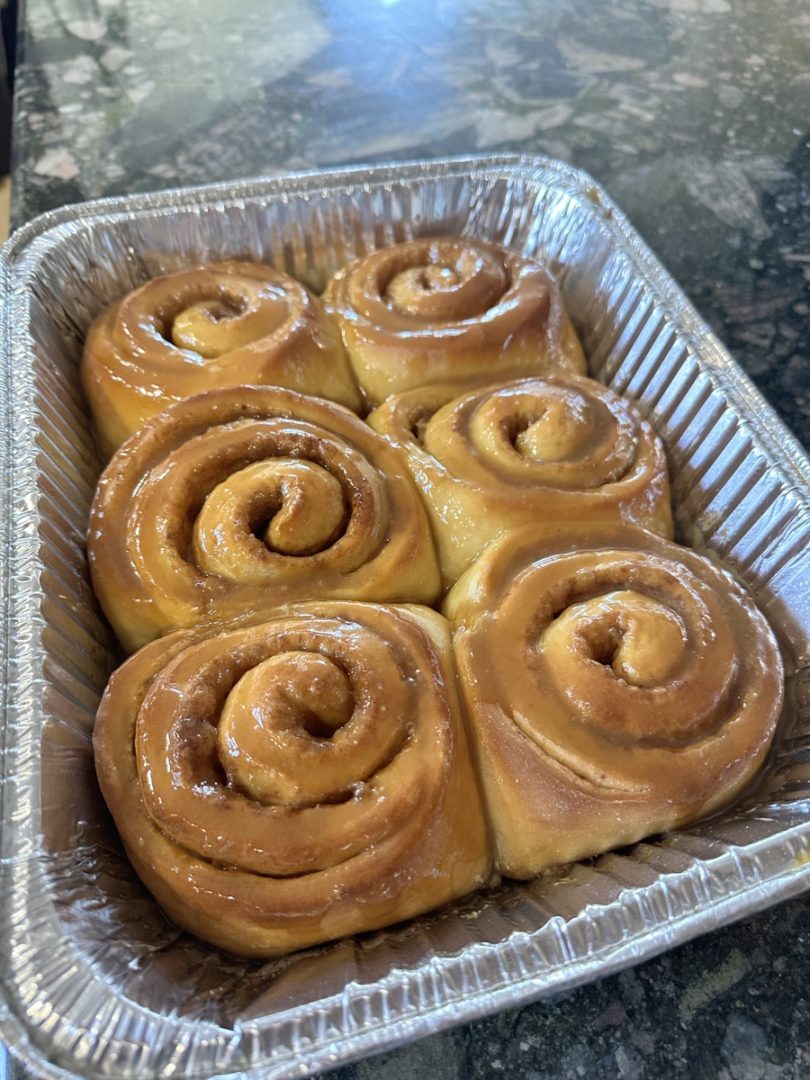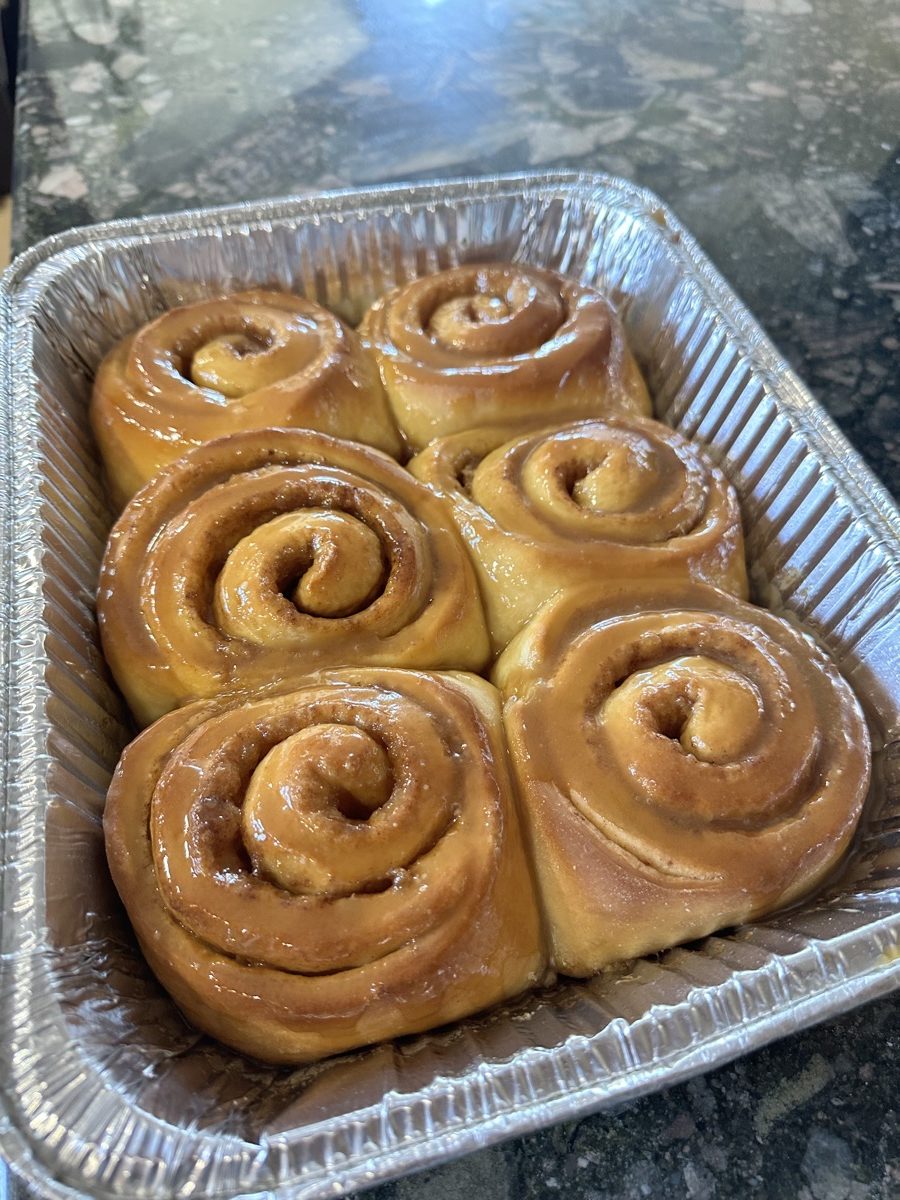 Traeger Caramel Rolls shopping list
Wondering if you have to hit the store? Here's the list of items you'll need to make this recipe. For specific amounts, please refer to the printable recipe card at the bottom of the post.
milk
yeast
egg
sugar
salt
bread flour
baking powder
butter
cinnamon
brown sugar
heavy cream
vanilla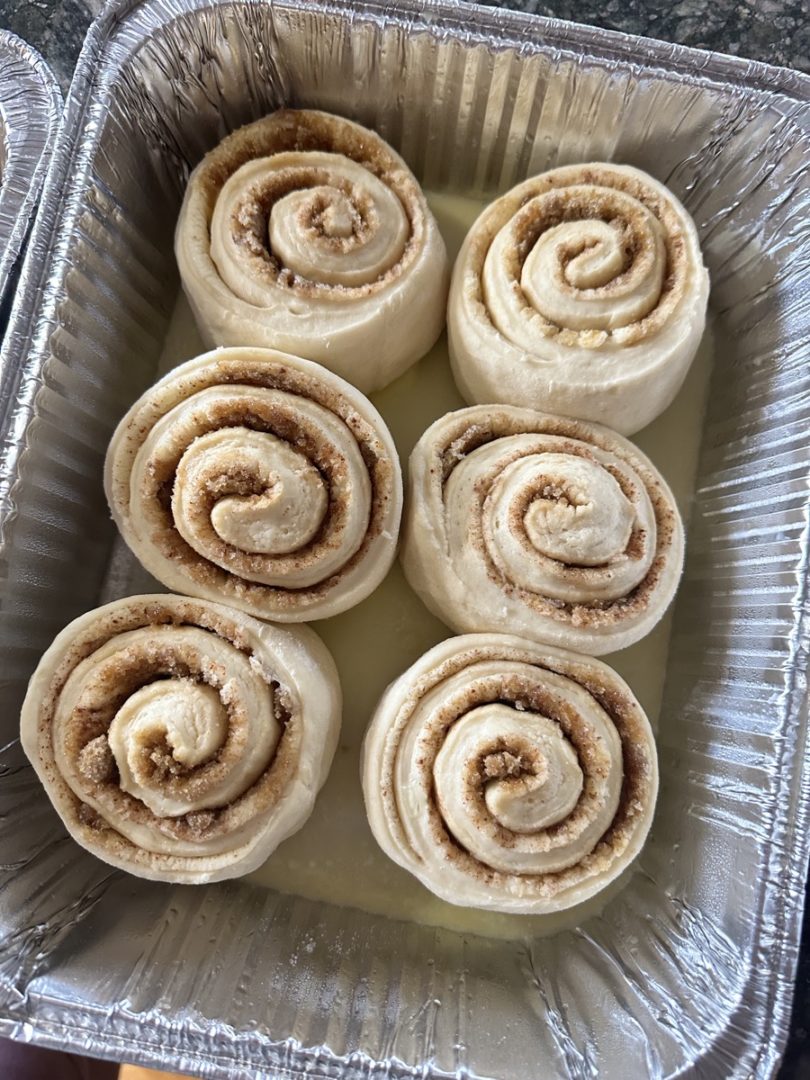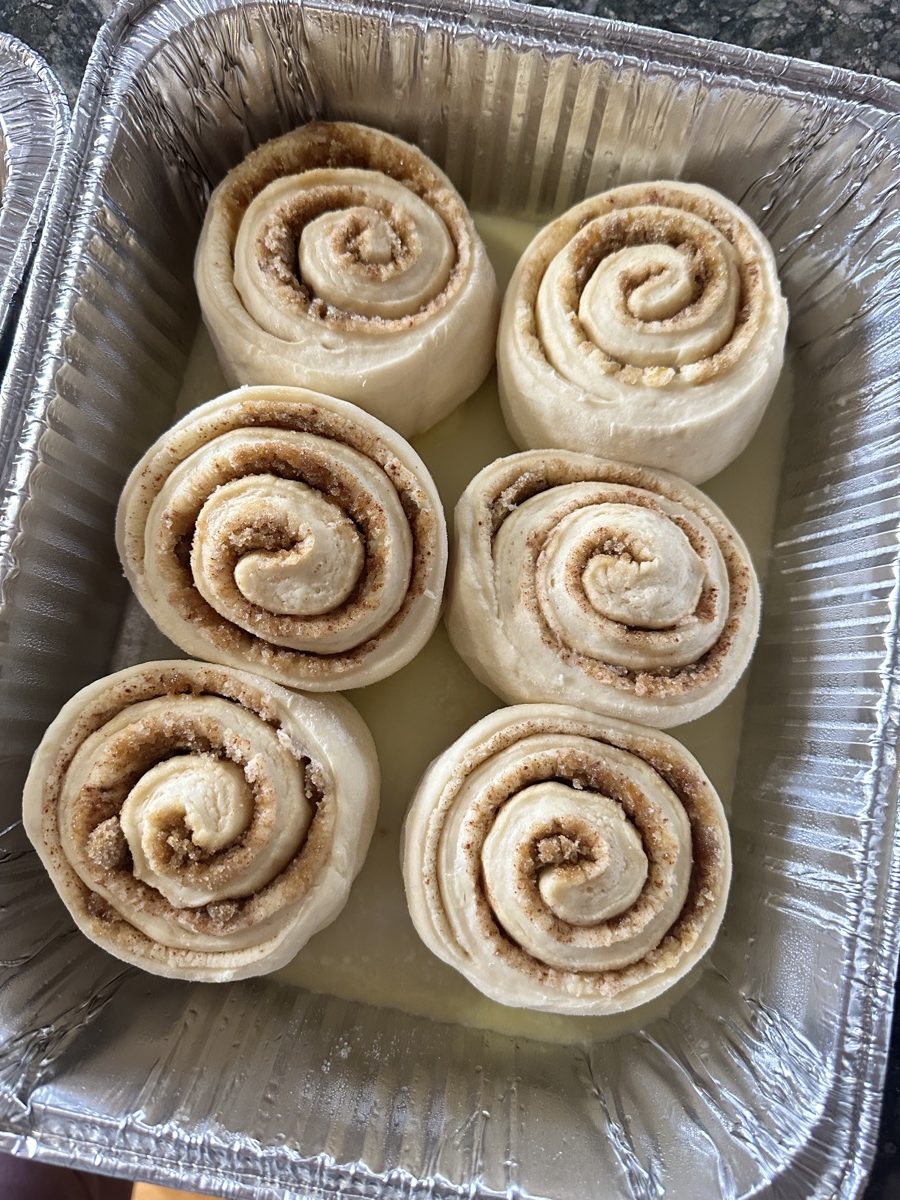 How to make Homemade Traeger Caramel Rolls
This is just the overview so you can see what you're actually getting into here. When you are cooking, you'll want to use the full recipe at the bottom of the page.
Mix the dough
Mix up the dough in your stand mixer following the directions in the recipe card below.
Let rise & form rolls
Let the dough rise until doubled, and then roll out, fill with cinnamon, sugar, and butter, roll up, and cut into rolls.
Let the rolls rise
Put the cut rolls into buttered pans and let rise again until doubled. I like to do this in the fridge, covered, overnight so I can bake them fresh in the morning, but if you are impatient you can do it the same day and let them rise on the counter.
Bake
Preheat your Traeger to 350°. Place the pans of rolls in, and bake until lightly golden brown.
Caramel time!
While the rolls are cooking, make your caramel sauce. Pour the prepared caramel sauce over the rolls after they come out of the oven.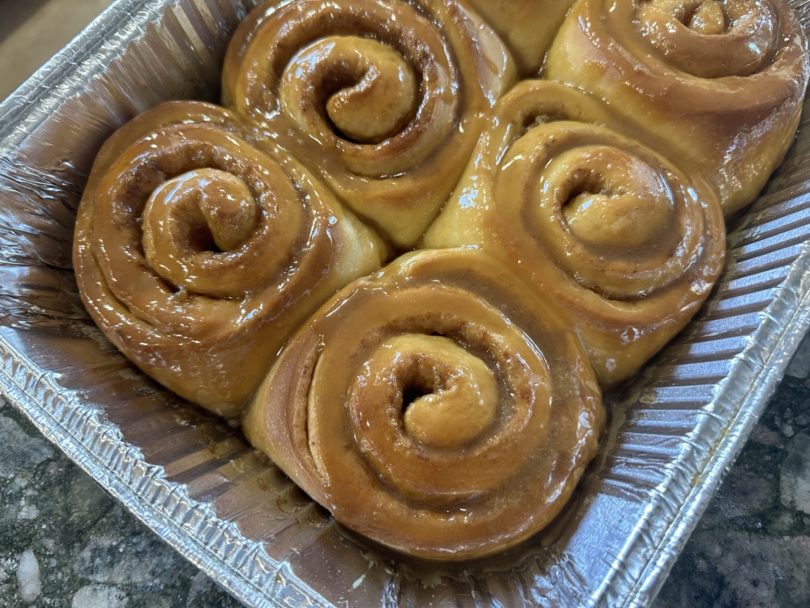 Traeger Caramel Rolls FAQ
Can you make these in the oven?
Yup! You sure can! The Traeger part is optional. These bake up just as well in your oven indoors.
What's the best way to store these?
We keep these on the counter, covered. Try and eat them within a day or so. They are definitely best fresh!
Can you ice with frosting instead of coat with caramel?
You sure can! If you are more in the mood for cinnamon rolls, just whip up some icing like this Cream Cheese Icing Recipe from Julie Blanner!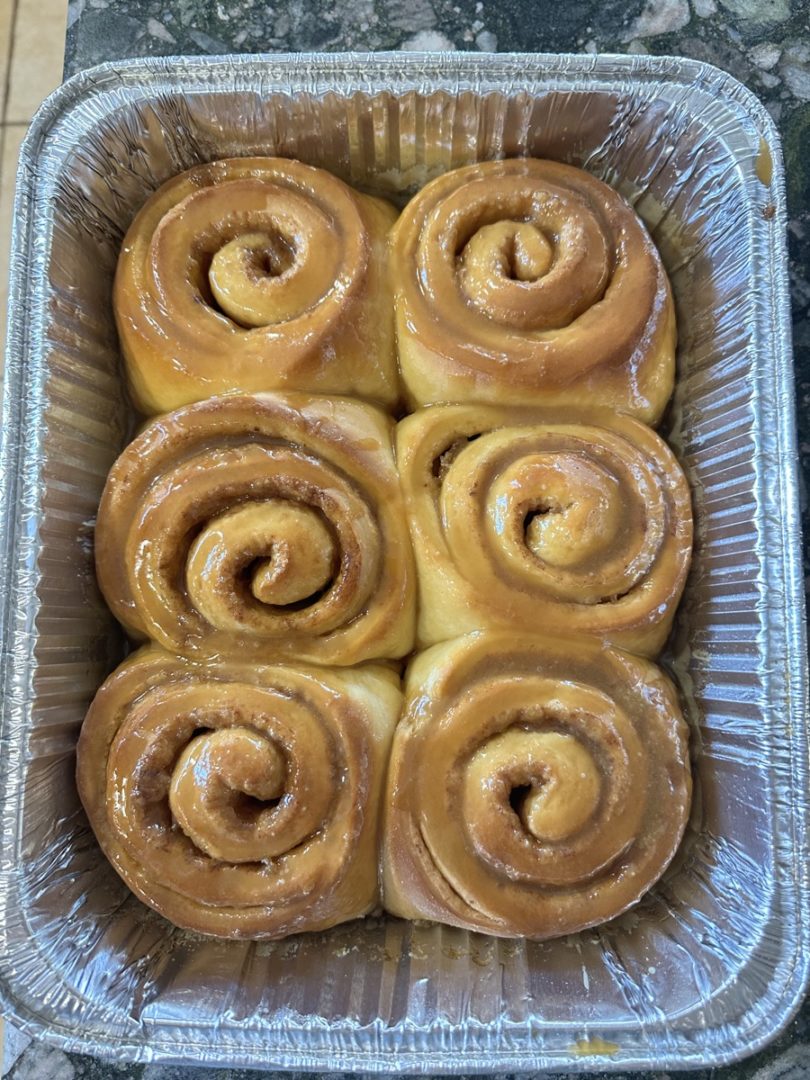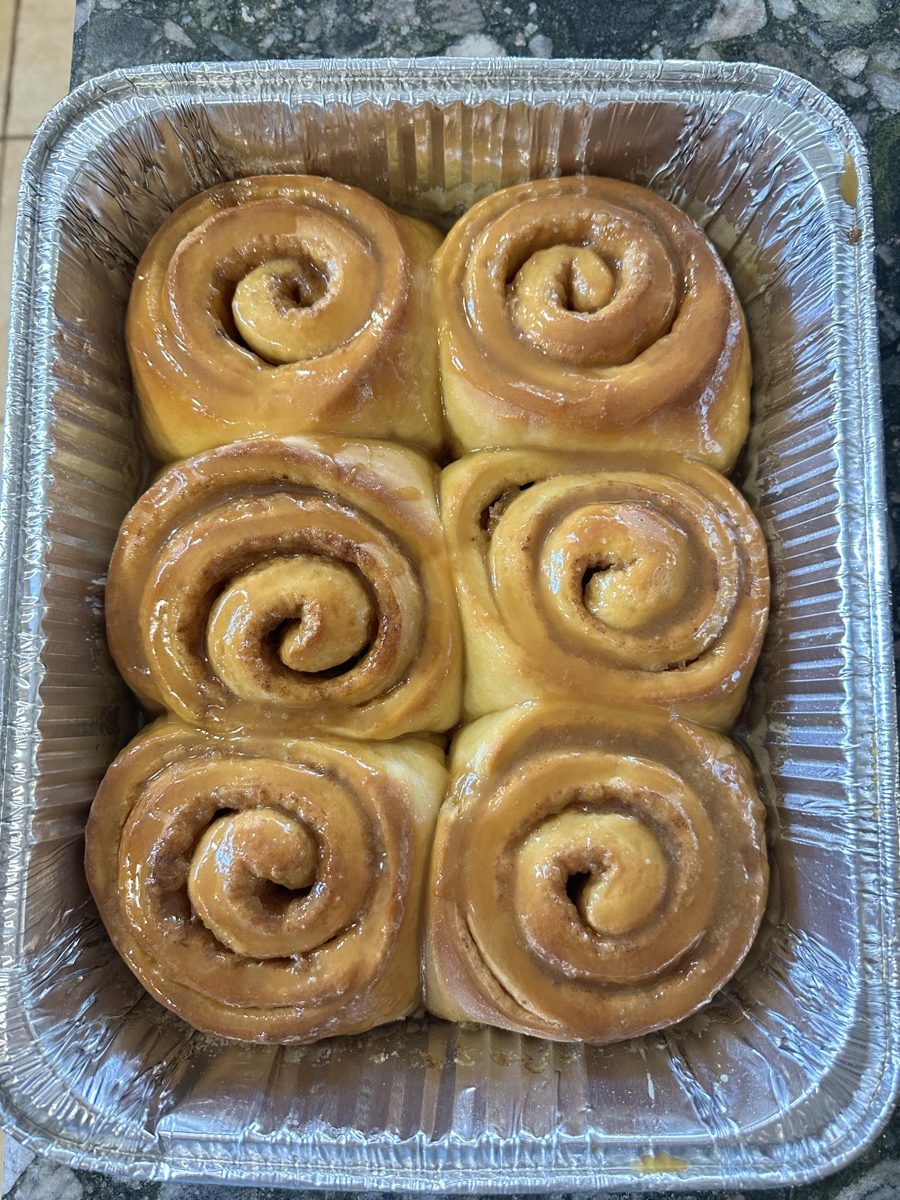 Make these alongside your caramel rolls for an epic breakfast feast!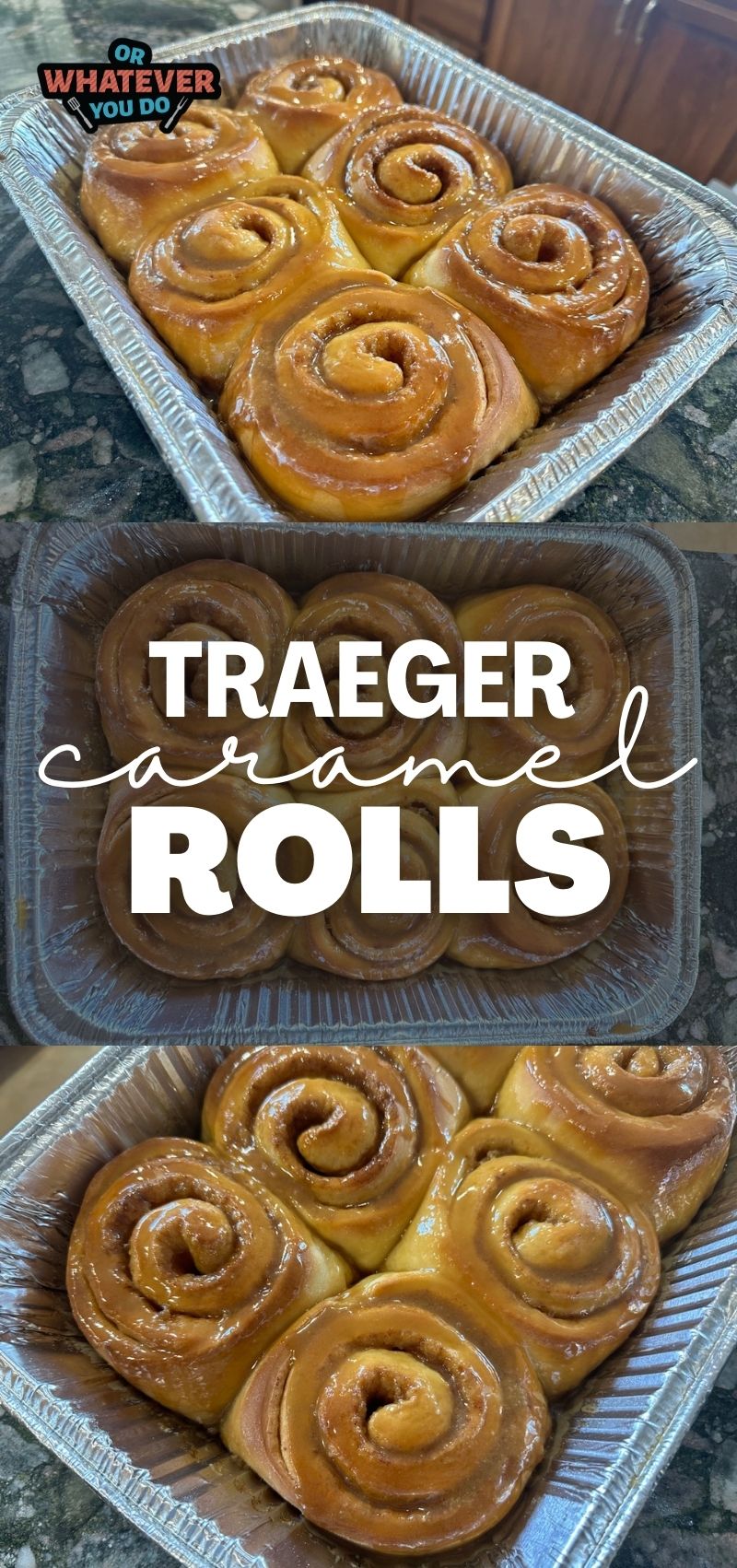 Yield: 18 servings
Traeger Caramel Rolls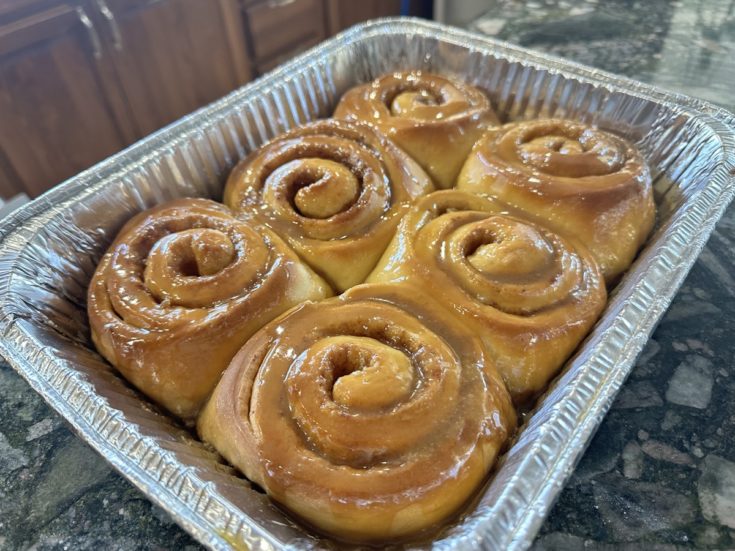 These homemade caramel rolls are a special treat, made from scratch, and cooked right on the Traeger.
Total Time
2 hours
55 minutes
Ingredients
Dough:
3 cups warm milk
2 1/2 tablespoons yeast
1 large egg
1 cup sugar
2 tsp salt
8 cups bread flour (can use up to 10 cups to get the dough the right consistency)
1 teaspoon baking powder
1/2 cup salted butter, melted
Filling:
1 cup salted butter, melted
1 1/2 tablespoon cinnamon
3 cups brown sugar
Topping:
2 cups brown sugar
1 cup butter
2 cup heavy cream
1 tablespoon vanilla
Instructions
Put the warm milk, yeast, egg, sugar, and salt into a mixer with the dough hook attached. Beat until egg is incorporated. Mix the baking soda into the flour.
Add approximately 1/2 of the flour into the dough and mix until combined.
Next, slowly drizzle in melted (and cooled) butter into the dough and mix until the butter is fully incorporated into the dough.
Add in more flour in 1/2 cup increments until a soft dough forms that cleans the sides of your mixer.
Let rise, covered, until doubled.
Put some flour down on your counter. Roll out the dough into a large rectangle, approximately 1/4 inch thick.
Spread the melted butter over the dough to cover. Leave a small 1/2 inch strip on the far edge of the dough without butter to help with sealing.
Sprinkle the cinnamon and brown sugar over the dough evenly. Leave that 1/2 inch of unbuttered dough alone though.
Roll up, starting with the side closest to you. Seal the seam well. You can brush a little water over the seam to make it a little sticky if you need to.
Use some dental floss (or fishing line, in my case) and wrap around the dough to cut. Cut into 2-3 inch sections. You can also use a bread knife, gently, if you find yourself out of floss and fishing line.
Place the cut rolls into 3 greased foil baking pans or 2 10x13 inch baking pans. Make sure to leave some space between the rolls, these will grow quite a bit during the rise. Cover and let rise until doubled. This can be done overnight in the fridge if you want freshly baked rolls for breakfast.
Preheat your Traeger to 350°. Bake the caramel rolls until lightly golden brown, about 20-25 minutes, depending on the size of the rolls and the size of your pans. Turn and rotate the pans halfway through to avoid hot spots. If your grill tends to burn baked goods or pizza on the bottom, bake the rolls on top of some large inverted cake pans to create some additional space between the bottom of the pans and the fire.
Make the caramel sauce by combining the brown sugar, butter, cream, and vanilla in a saucepan and heating over medium-low heat until simmering.
Stir frequently, and let simmer for 10 minutes until slightly reduced and the sugar is fully dissolved.
Pour over rolls after they come out of the oven.
Recommended Products
As an Amazon Associate and member of other affiliate programs, I earn from qualifying purchases.
Nutrition Information:
Yield:
18
Serving Size:
1
Amount Per Serving:
Calories:

805
Total Fat:

37g
Saturated Fat:

23g
Trans Fat:

1g
Unsaturated Fat:

11g
Cholesterol:

111mg
Sodium:

535mg
Carbohydrates:

109g
Fiber:

2g
Sugar:

63g
Protein:

11g
Nutrition data provided here is only an estimate. If you are tracking these things for medical purposes please consult an outside, trusted source. Thanks!