Our Stuffed Breakfast Croissant with steak takes steak and eggs to a whole new buttery, flaky level. The perfect grab-and-go breakfast, we take fluffy farm-fresh scrambled eggs, toss in some cubed ribeye, and then throw down all the cheese for a filling, hearty, breakfast.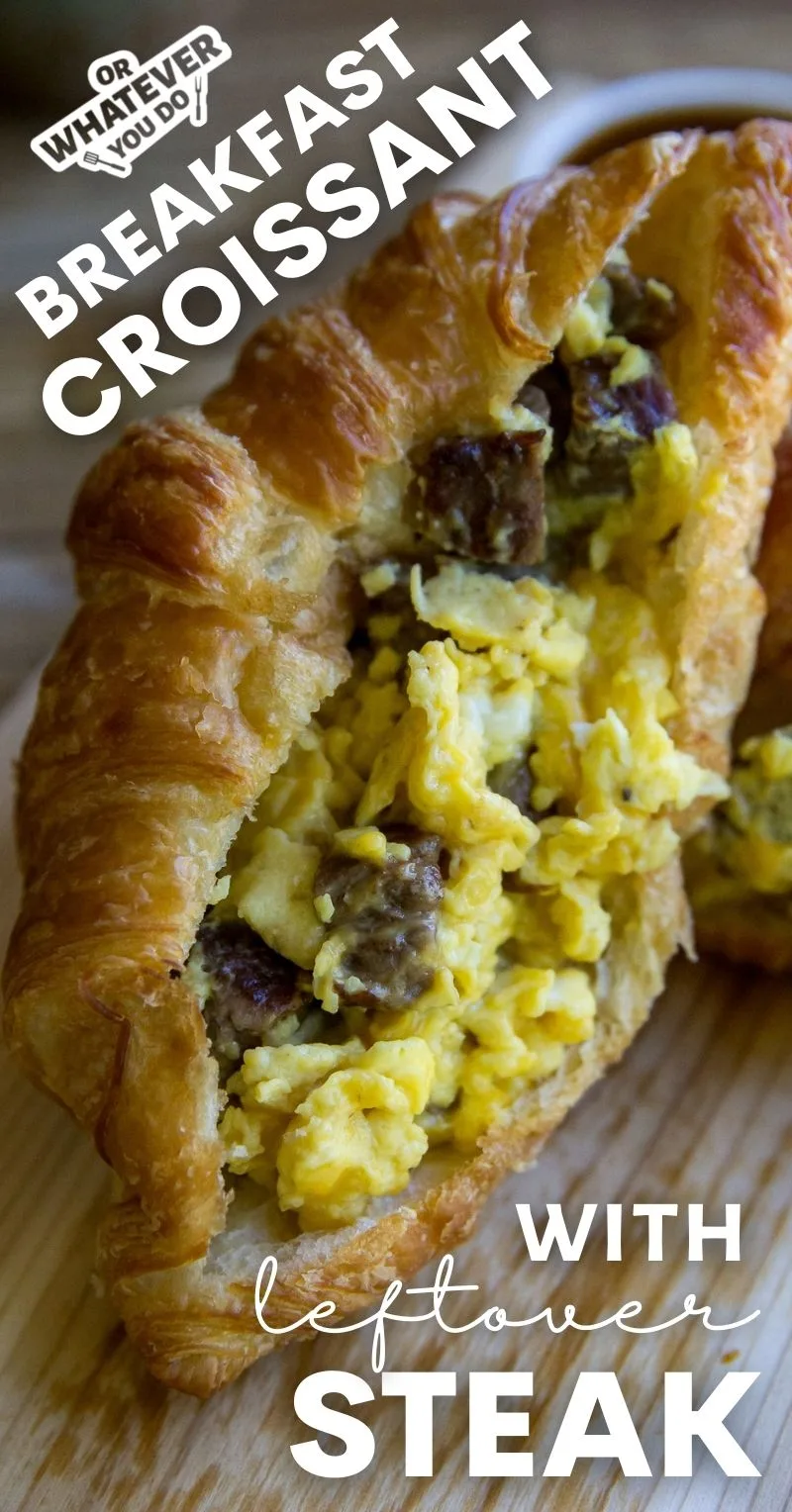 Breakfast Croissant with Steak, Egg, and Cheese
When it comes to easy breakfasts, saying this is right up my alley is a massive understatement. These were about as close to a perfect breakfast as one can get, and I'm not even really a steak and eggs kind of gal.
Who could resist making a very easy exception when faced with fluffy scrambled eggs, a smoked ribeye, and all of the cheese you can throw at it? Not me, nor would I want to try. Jeremiah makes a lot of amazing things around here, but he has a special affinity for breakfast and on the rare occasion I decide to partake, I never regret it.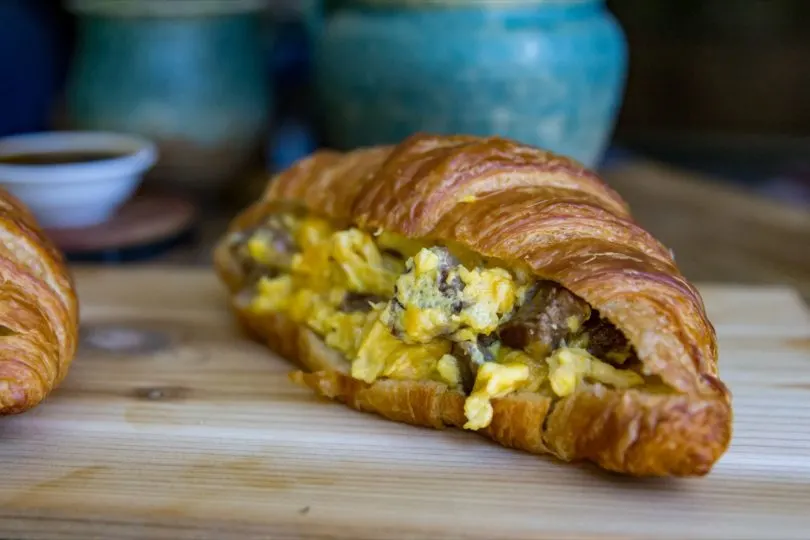 Steak and Egg Breakfast Croissants shopping list
Wondering if you have to hit the store? Here's the list of items you'll need to make this recipe. For specific amounts, please refer to the printable recipe card at the bottom of the post.
croissants
ribeye steak (leftover is fine here!)
butter
eggs
whole milk
black pepper & garlic salt
shredded cheddar cheese
Get more RECIPES with EGGS here!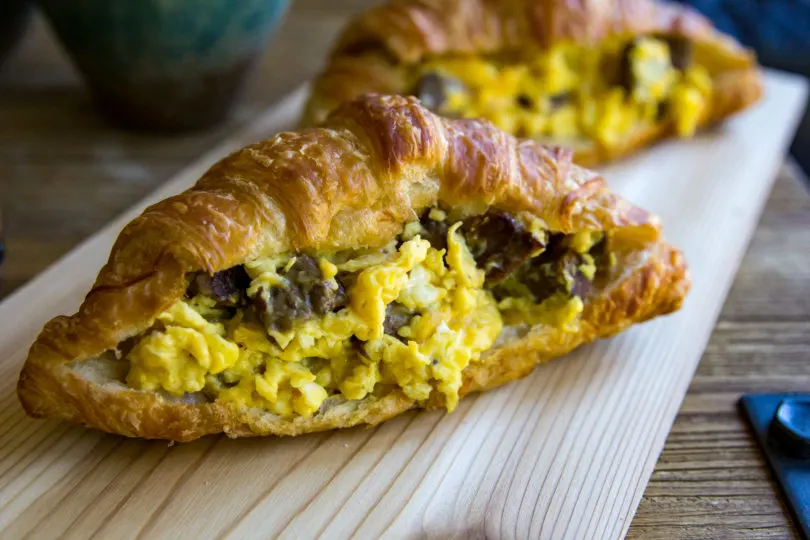 How to make Breakfast Croissants with steak, egg, and cheese
This is just the overview so you can see what you're actually getting into here. When you are cooking, you'll want to use the full recipe at the bottom of the page.
Warm your croissants & cube your cooked steak
In the oven or grill, whatever suits you. The steak should be cubed into bite-sized pieces. It is okay if it is pre-cooked leftover steak. That works great here! Also great would be leftover prime rib, tri-tip, or brisket too.
Whip the eggs, melt the butter
Whip the eggs, milk, and salt and pepper. Melt the butter in a cast-iron skillet (or on your Blackstone.)
Steak down first, followed by the eggs
Cubed steak goes into the melted butter. If it is cooked, just let it get warm before putting the eggs down. If it is raw steak, let it get to about medium-rare before adding the eggs.
Scramble, cheese, and stuff
Stir your eggs in the pan, cheese them, and cook until they are soft set. Stuff the eggs into the croissants, and then stuff your face with said croissants.
More great BREAKFAST RECIPES here!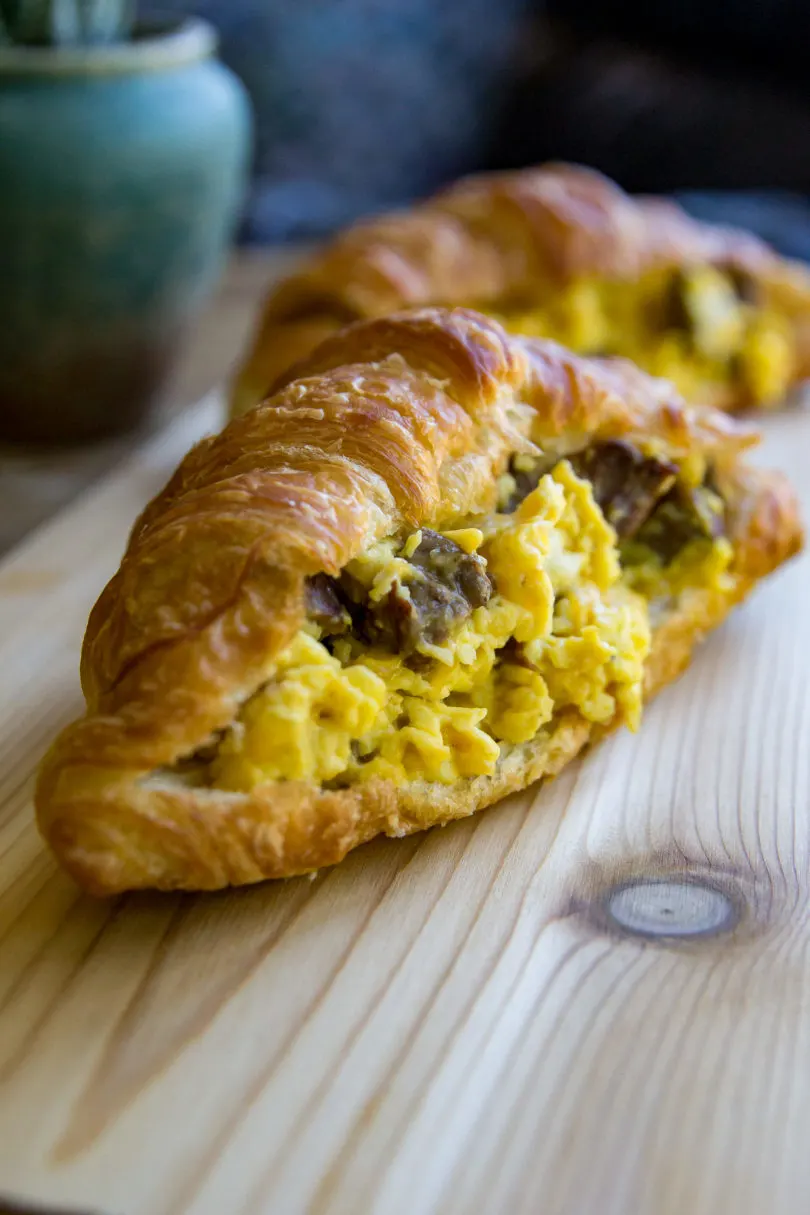 What else can you serve with steak, egg, and cheese croissants?
This would be an incredible addition to any breakfast spread. Not only is it quick and easy to throw together, but it holds over well covered on a tray in a warm oven, wrapped in foil and stuck in a crock pot, or in your air fryer.
That doesn't have to be the end of it though.
I suggest my Traeger No-Flip Bacon, for one. There's no such thing as "too many breakfast meats" in my book, so bring on the bacon. Have someone who really loves bacon coming over? Try our spicy smoked candied bacon out on them and score some serious brownie points.
If you need something sweet to go along with this savory, our Traeger French Toast is super popular, easy to whip together anywhere (even camping), and is perfect alongside these savory sandwiches.
Don't want to fire up the grill? Head inside and make some of my homemade Buttermilk Pancakes.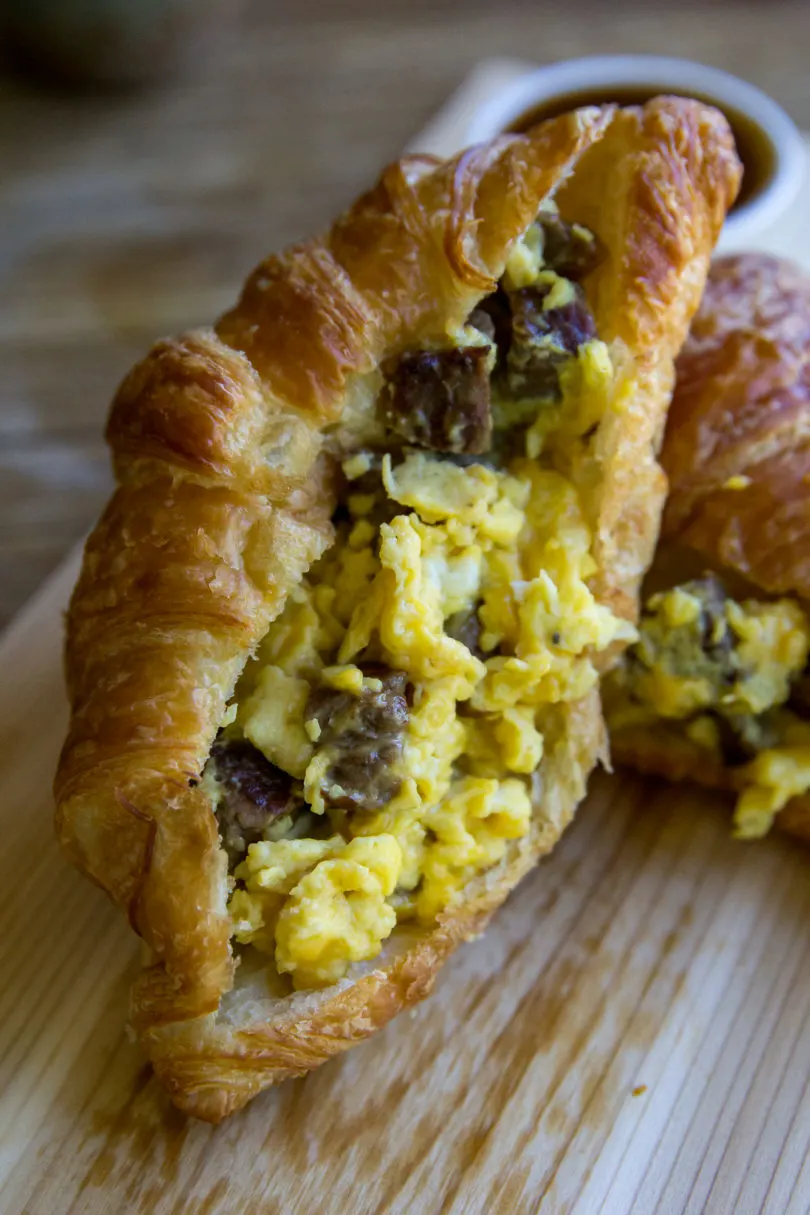 Leftover Steak & Egg Croissants FAQ
Can you keep these egg croissants for leftovers?
Absolutely! If you want to make a heap of these for breakfasts all week long, just wrap them in foil and pop them in the fridge or freezer. Then when you need a quick breakfast, just thaw overnight and throw the whole foil packet in your airfryer for 10-12 minutes. Skip the drive-thru!
Are there any other mix-ins that I'd suggest?
These are begging for customizations, and are great for using up the last of any veggies you have laying around in your fridge too. Spinach, peppers, onion, and mushrooms would be incredible here, as would a clove of my smoked garlic or smoked caramelized onions.
Do farm eggs REALLY taste better?
YES. And if anyone tells you any differently, know it is okay to eject toxic people from your life. No one needs that level of drama.
We had chickens for a long time, and not only were they hilarious and fun to watch and care for, they ruined me for store-bought eggs too. When we moved back in February of 2020 (good timing, huh?) and didn't have the set-up for chickens at our new house, I pretty much quit eating eggs. Recently we found a local source again, thank goodness, and when the kids are feeling particularly breakfast-happy we'll go through 3-4 dozen a WEEK. We love our egg lady! (Also our family who are still on the chicken bus! They bring us farm eggs too so we're extra spoiled.)
Make our Traeger Ribeye for this recipe!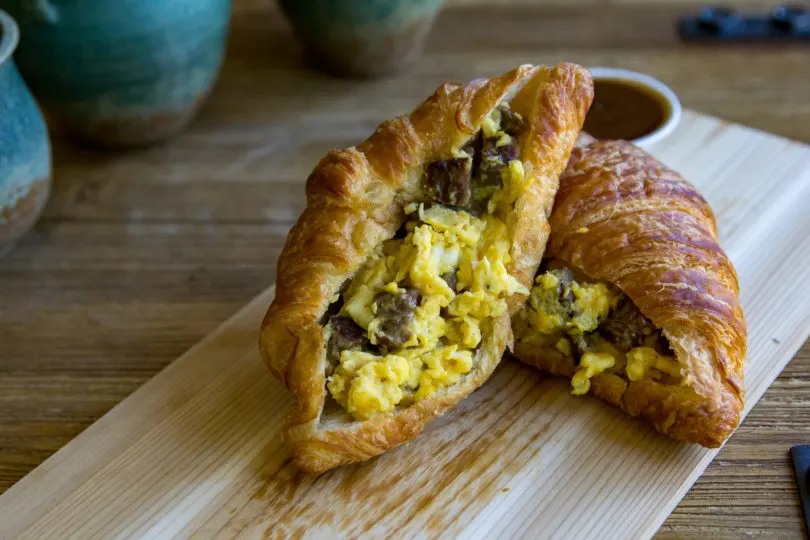 More recipes to love!
More recipes to love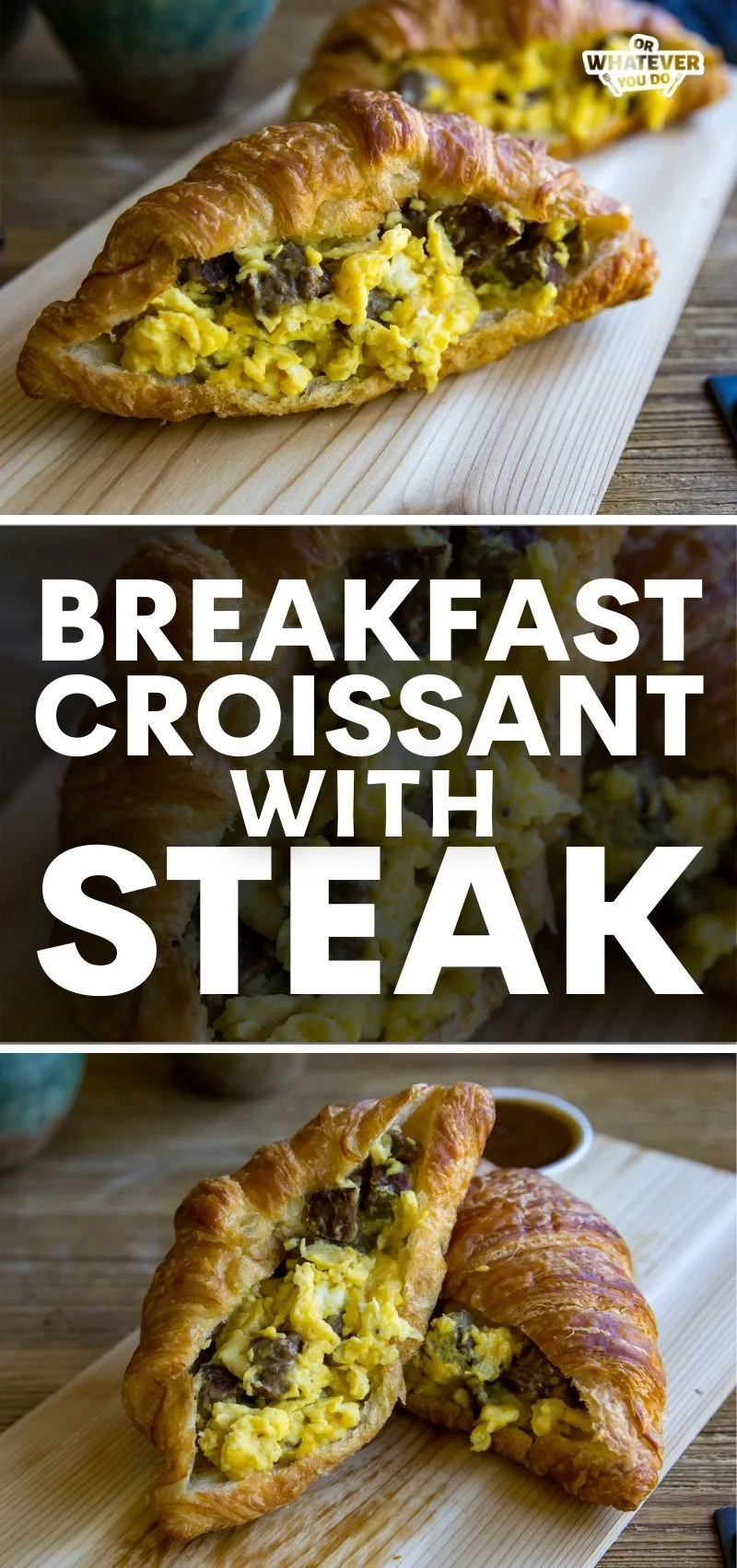 Yield: 4 servings
Stuffed Breakfast Croissant with Steak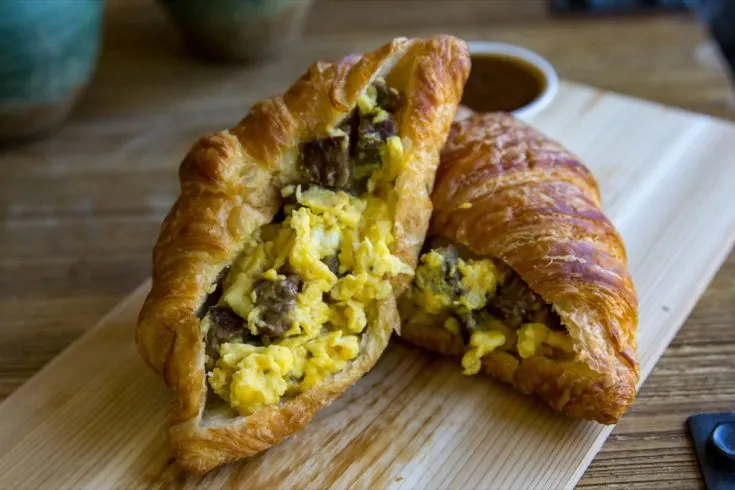 These simple breakfast sandwiches are easy to make for a crowd and so delicious!
Ingredients
4 croissants
6 ounces ribeye steak, cooked
2 tablespoons butter
8 large eggs
1/4 cup whole milk
1/4 teaspoon black pepper
1/4 teaspoon garlic salt
4 ounces shredded cheddar cheese
Instructions
Turn your oven to low or warm, and place the croissants inside.
Cube up your cooked steak and set aside.
Melt the butter in a medium-sized non-stick skillet or on your Blackstone griddle over low to medium-low heat.
While the butter is melting, whisk together your eggs, milk, and salt and pepper.
Place the steak into the melted butter and let sizzle for a minute or two in the butter. Flip over,
Pour the eggs over the melted butter, and using a rubber spatula, slowly stir the eggs to scramble.
Flip once and mix in the shredded cheese.
Cover and cook over low heat until the cheese is melted and the eggs are set.
Remove the croissants from the oven and split them. Stuff the scrambled eggs inside. Serve hot!
Recommended Products
As an Amazon Associate and member of other affiliate programs, I earn from qualifying purchases.
Nutrition Information:
Yield:
4
Serving Size:
1
Amount Per Serving:
Calories:

706
Total Fat:

47g
Saturated Fat:

24g
Trans Fat:

1g
Unsaturated Fat:

19g
Cholesterol:

495mg
Sodium:

816mg
Carbohydrates:

33g
Fiber:

2g
Sugar:

9g
Protein:

36g
Nutrition data provided here is only an estimate.