Blackstone Raspberry Pancakes are delicious homemade pancakes with fresh, juicy raspberries dropped in while they cook! Top with Raspberry Syrup for the ultimate raspberry breakfast experience.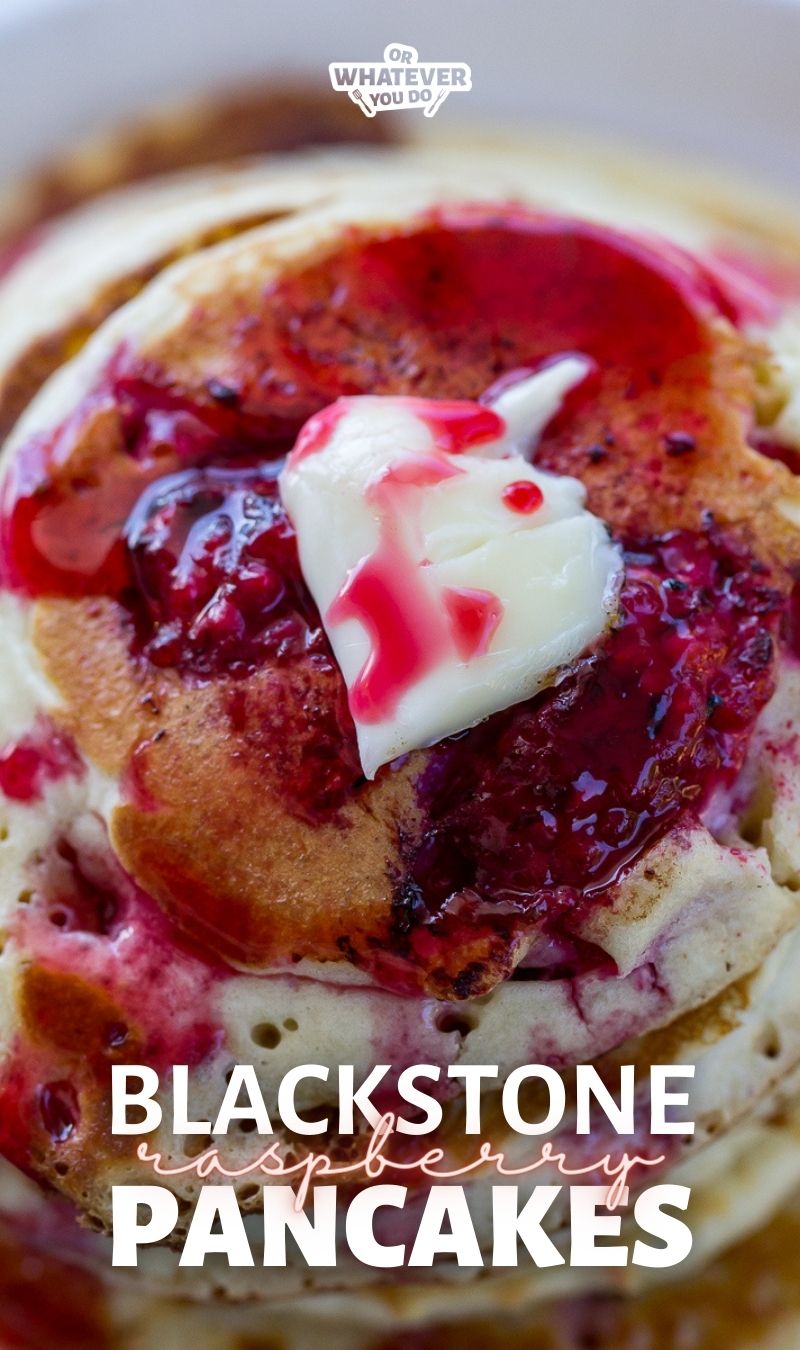 Blackstone Raspberry Pancakes Recipe
Pancakes are the ultimate breakfast food, and on the Blackstone Griddle, they become easy to do (even for a crowd), fast to throw together, and as close to diner-style as you can possibly get.
The batter is simple to throw together, and you can use it with real buttermilk or with buttermilk powder. It is really easy to adjust!
Get all of my BLACKSTONE RECIPES here!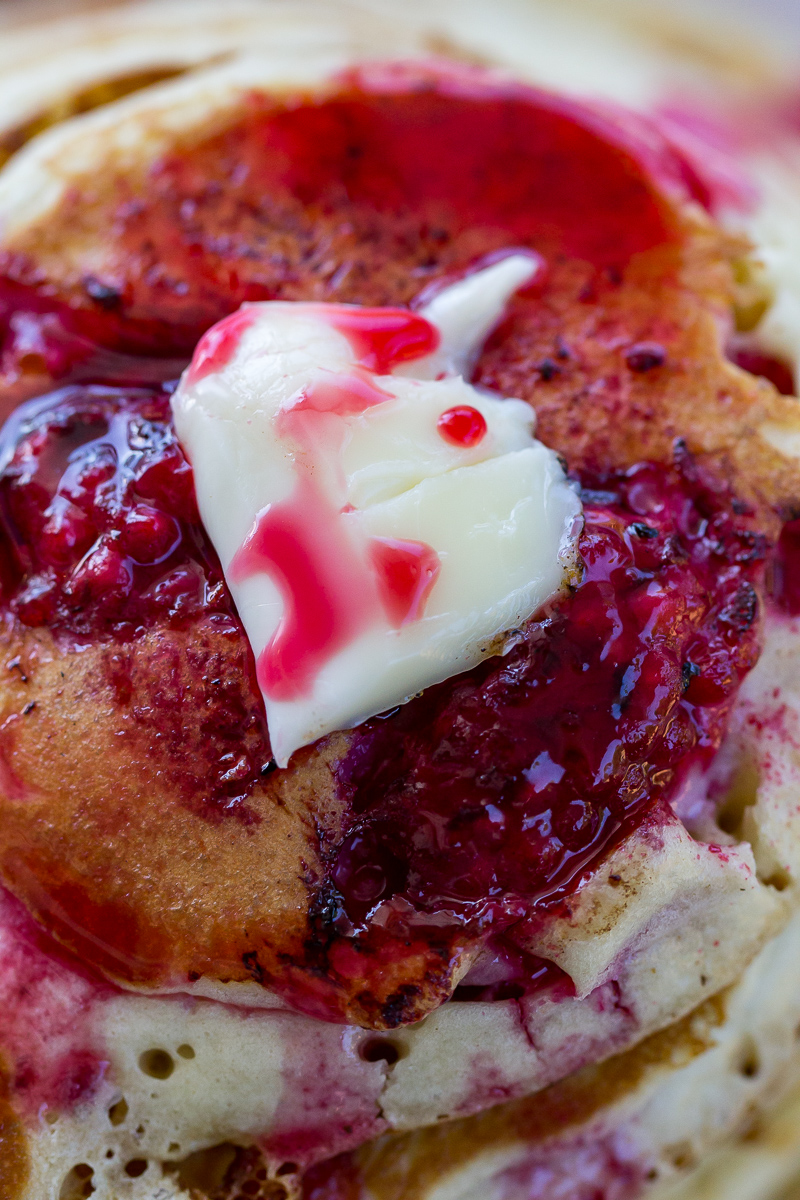 Blackstone Raspberry Pancakes shopping list
5 eggs
milk
butter
buttermilk
vanilla
flour
baking powder
baking soda
sugar
2 pints raspberries
More great BREAKFAST RECIPES here!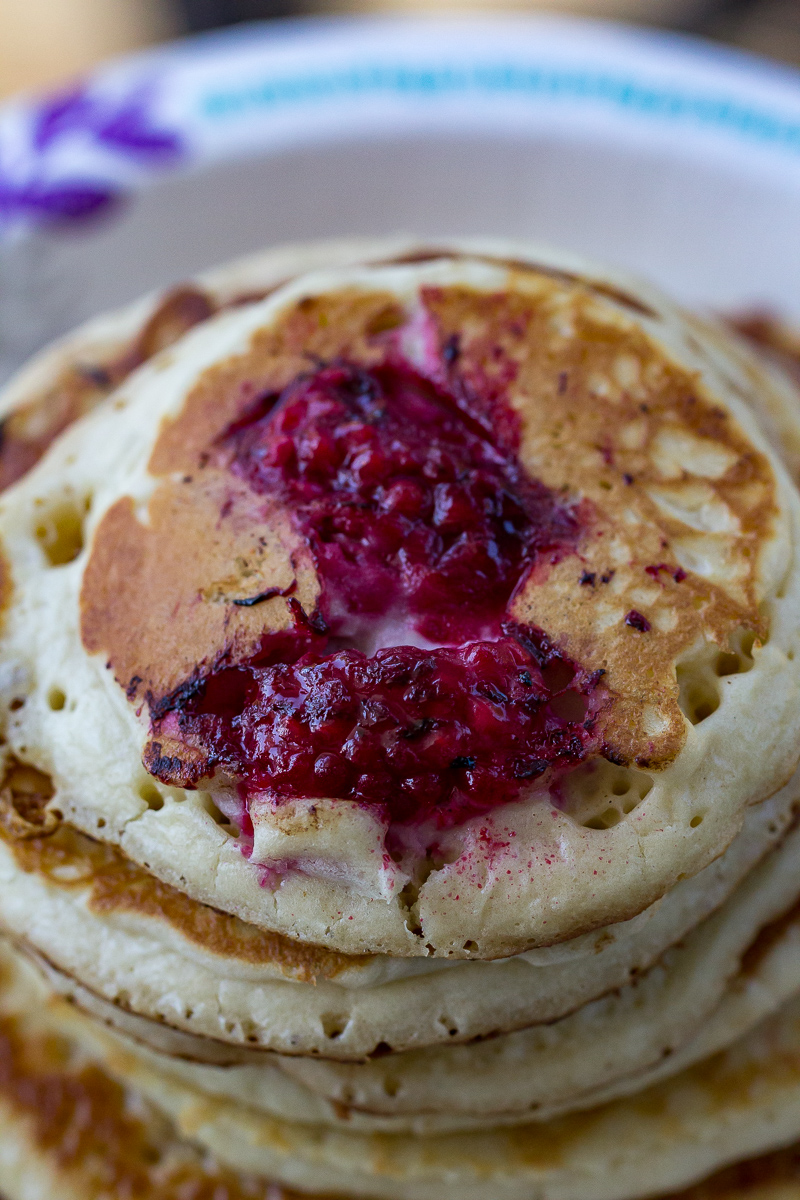 How to make perfect pancakes on the Blackstone griddle
Preheat your griddle over low heat for about 10 minutes.
Mix your batter.
Spread some butter over your griddle in all the spots where you'll be putting pancakes.
Spoon ladles of batter over those spots. Drop a few raspberries into the wet batter.
Let cook until bubbles form, rise to the surface, and pop. Flip when golden brown.
Cook for a few more minutes until the center is cooked and the bottom is also golden brown.
Serve hot with butter and raspberry syrup.
How about some Homemade Dry Pancake Mix for your pantry?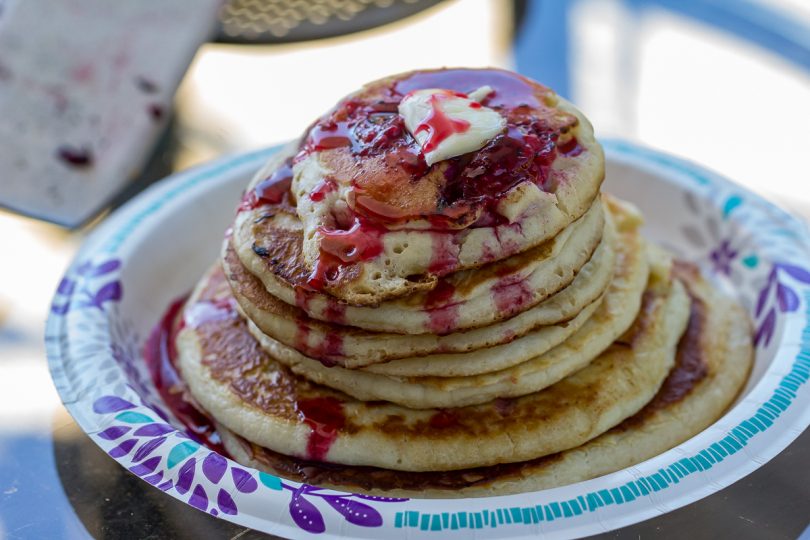 Tips for success!
Make sure your griddle is clean and well-seasoned. I like to wipe mine with oil and paper towels when I fire it up until the paper towels start coming off fairly clean.
Don't overmix your batter, or your pancakes will be tough.
Thicker batter = thicker, fluffier pancakes. Thinner batter = thinner, more crepe-like pancakes.
A LARGE griddle spatula is your friend. There's one in the recipe card linked that I LOVE. Buy it!
Only flip a pancake ONCE! Make it count!
I have a pellet grill, and fire it up over medium heat with a cookie sheet in it to keep my pancakes warm until they are all done, if I'm cooking in batches.
The best friend of a griddle cook is their "runner". Tag a kid or a neighbor to be the one to fetch you things and carry in food as needed.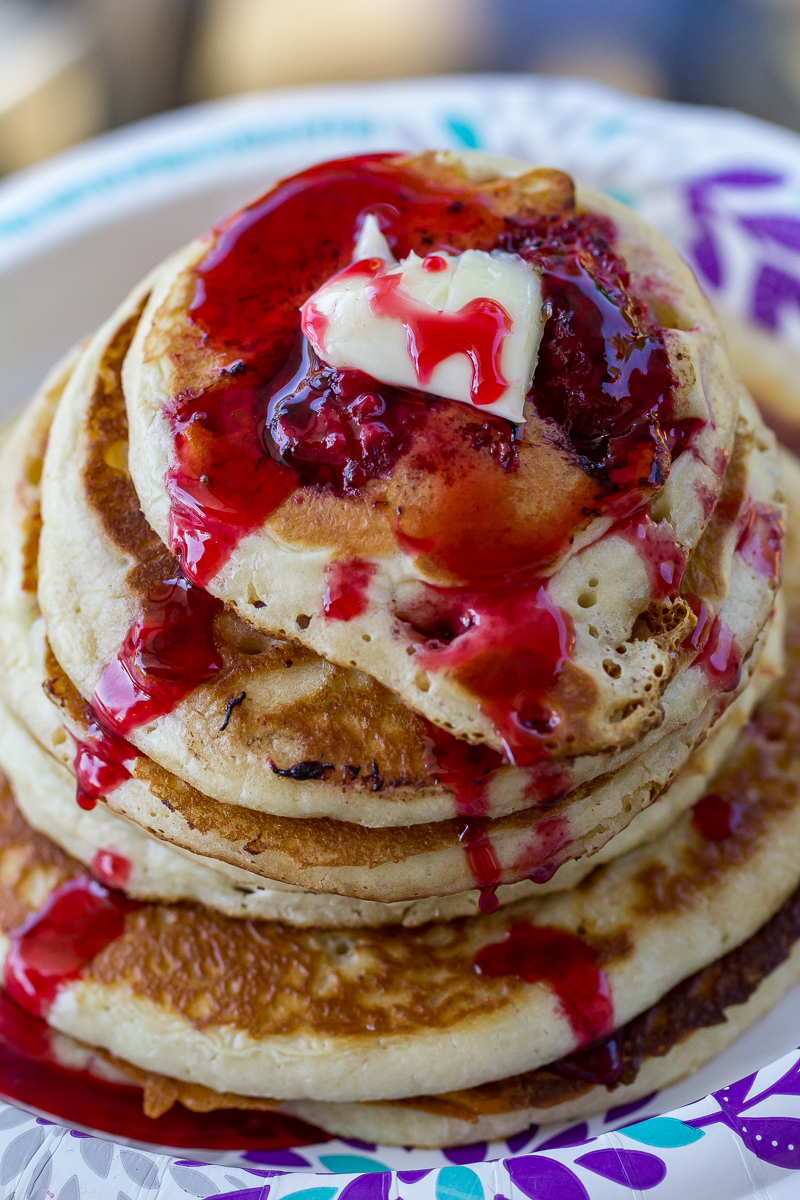 Can you use other fruits or add-ins?
Absolutely! Blueberry pancakes are a personal favorite of mine. You can also stir in some sauteed cinnamon apples for a cinnamon apple pie pancake too. A personal favorite of my kids is milk chocolate chips in their pancakes with real maple syrup. Get creative! Make smores pancakes with some mini marshmallows, chocolate chips, and chocolate syrup (with graham crumbles on top).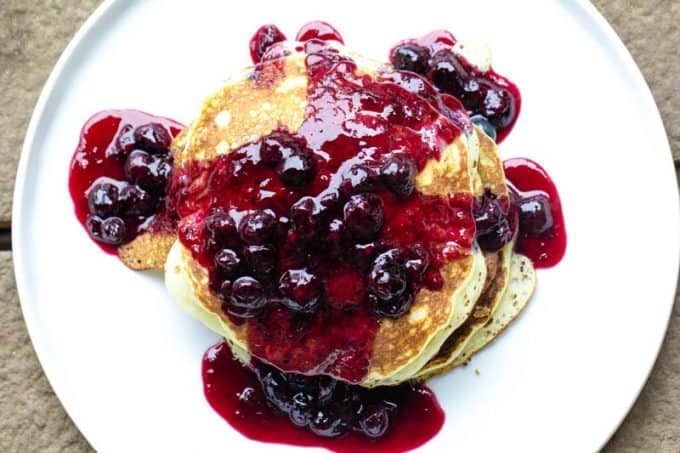 Can you use an electric griddle to make pancakes?
You can, but it'll be a slower go as electric griddles are typically much smaller and less powerful than their gas-powered siblings.
Can you use a regular stove to make pancakes?
Absolutely! I recommend a well-seasoned cast iron pan for this quest, and I don't advise cooking pancakes one-by-one if you are cooking for a crew! Breakfast can get exhausting on those mornings.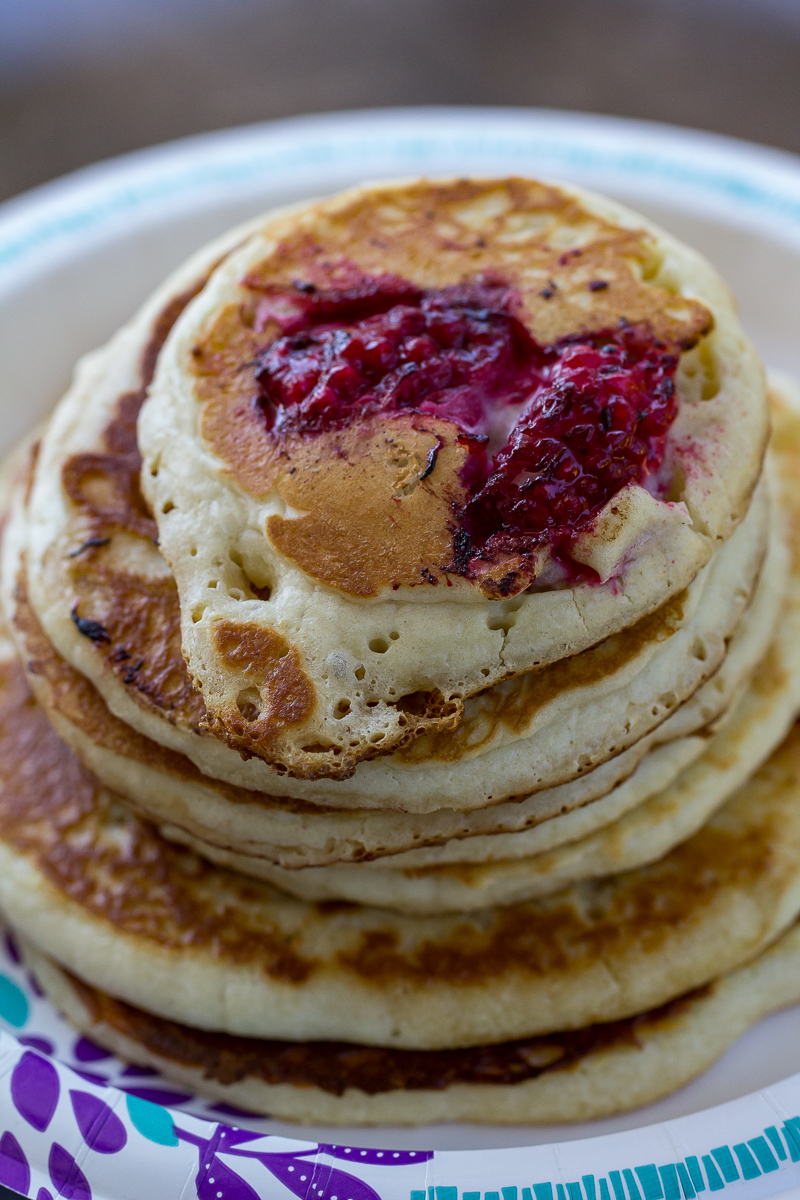 What should you serve with Raspberry Pancakes?
Raspberry pancakes BRING the sweet. In the best ways. But they pair best with super savory sides.
I highly recommend this Tater Tot Breakfast Casserole. It is the BEST breakfast casserole I've ever personally had and is definitely going to be a thing for us every Christmas morning and Easter brunch for years to come. Can't love it more, in fact.
Our Eggs Benedict would also be pretty amazing next to these pancakes too. The Smoked Salmon Benedict could make this into a realllly special treat for your loved ones too!
Our No-Flip Traeger Bacon would also be perfect, with some Butter Swim Biscuits to match.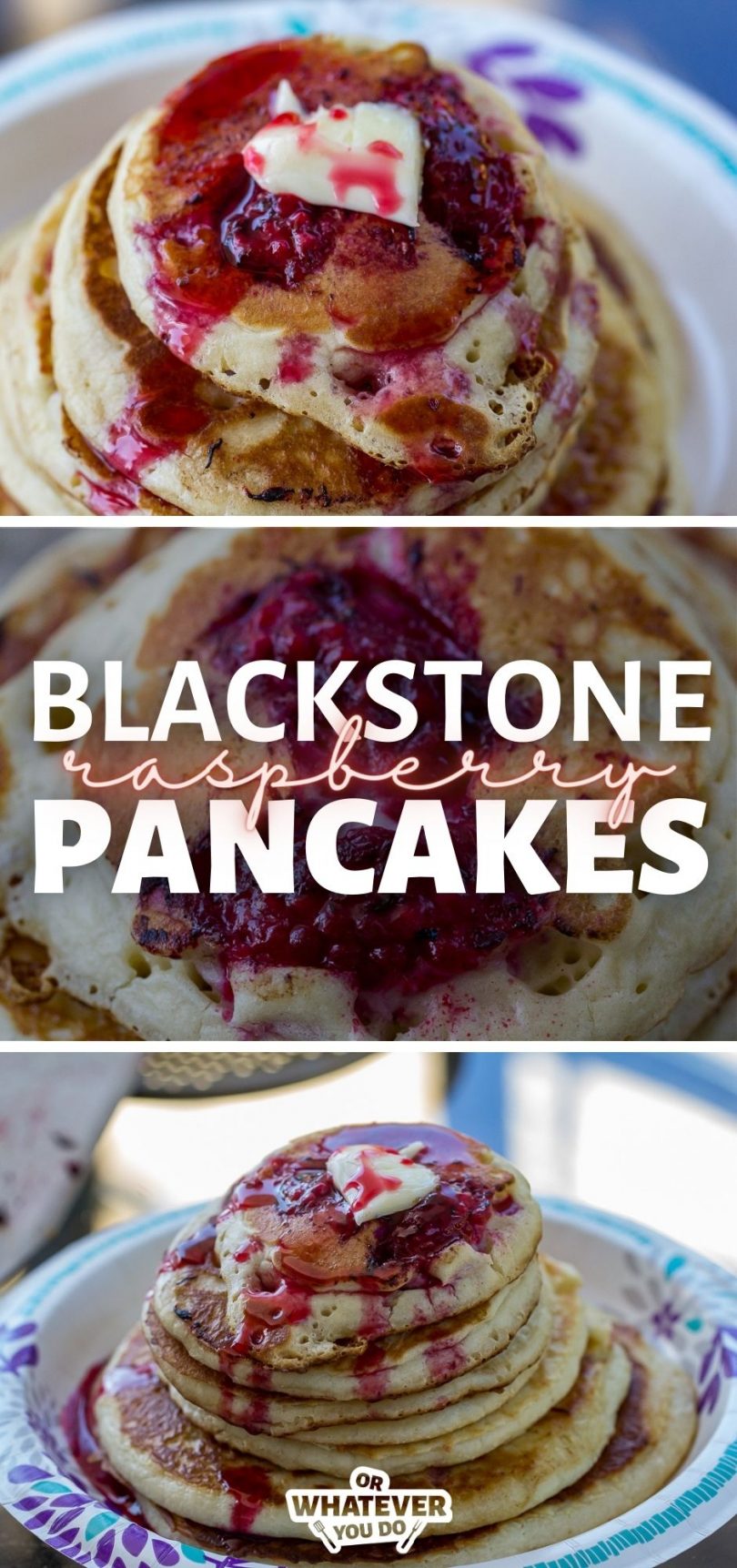 Yield: 12 servings
Blackstone Raspberry Pancakes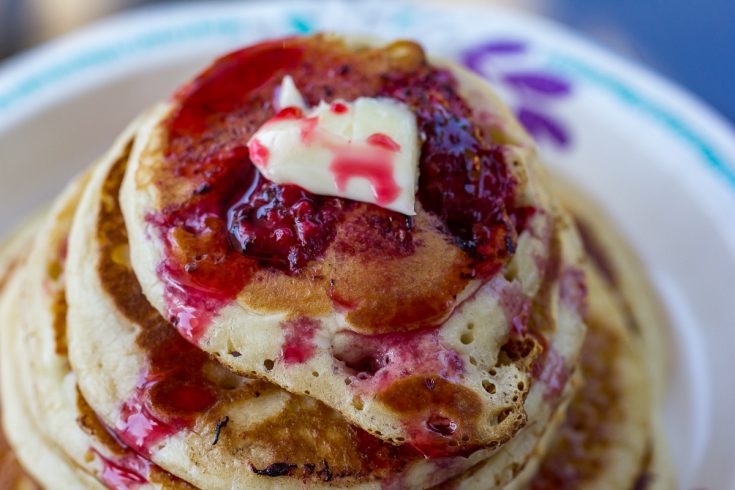 Homemade raspberry buttermilk pancakes made right on the Blackstone Griddle and feature raspberry sauce and made-from-scratch buttermilk pancake mix. Make these! You need them!
Ingredients
Raspberry Syrup
1-pint raspberries (can be frozen, but fresh is best)
1/2 cup water
1/2 cup sugar
1 teaspoon vanilla
juice of 1 lemon
1 teaspoon corn starch
1 tablespoon cold water
Pancakes
5 eggs
1 1/2 cups milk
1/2 cup butter, melted
5 cups buttermilk
1 TBSP vanilla
5 cups flour
5 tsp baking powder
5 tsp baking soda
1/4 cup sugar
1 pint fresh raspberries
Instructions
Combine all of the ingredients for the sauce except for the cornstarch and cold water. Heat over medium-low heat and bring to a simmer. Turn the heat to low, and let simmer for 15-20 minutes while you mix up the pancakes.
Combine all of the pancake ingredients together in a bowl except for the fresh berries, and stir.
Preheat your griddle over low heat. Give it a swipe of butter in all the spots where there will be a pancake, once it is fully pre-heated.
Ladle a small amount of batter onto the griddle, and place some raspberries on top. Let cook for 2-3 minutes, or until the bottom is browned.
Carefully flip with a spatula and let the other side cook.
Continue cooking until all of the pancakes are done.
To finish the raspberry sauce, mix the cold water and cornstarch into a slurry, and stir into the sauce. Let it simmer until thickened.
Pour the sauce over the pancakes and serve hot.
Nutrition Information:
Yield:
12
Serving Size:
1
Amount Per Serving:
Calories:

854
Total Fat:

24g
Saturated Fat:

13g
Trans Fat:

1g
Unsaturated Fat:

9g
Cholesterol:

209mg
Sodium:

2060mg
Carbohydrates:

134g
Fiber:

5g
Sugar:

46g
Protein:

26g