Homemade Apple Fritters are fried donuts filled with freshly chopped apples and then dunked in a sweet apple-cinnamon glaze.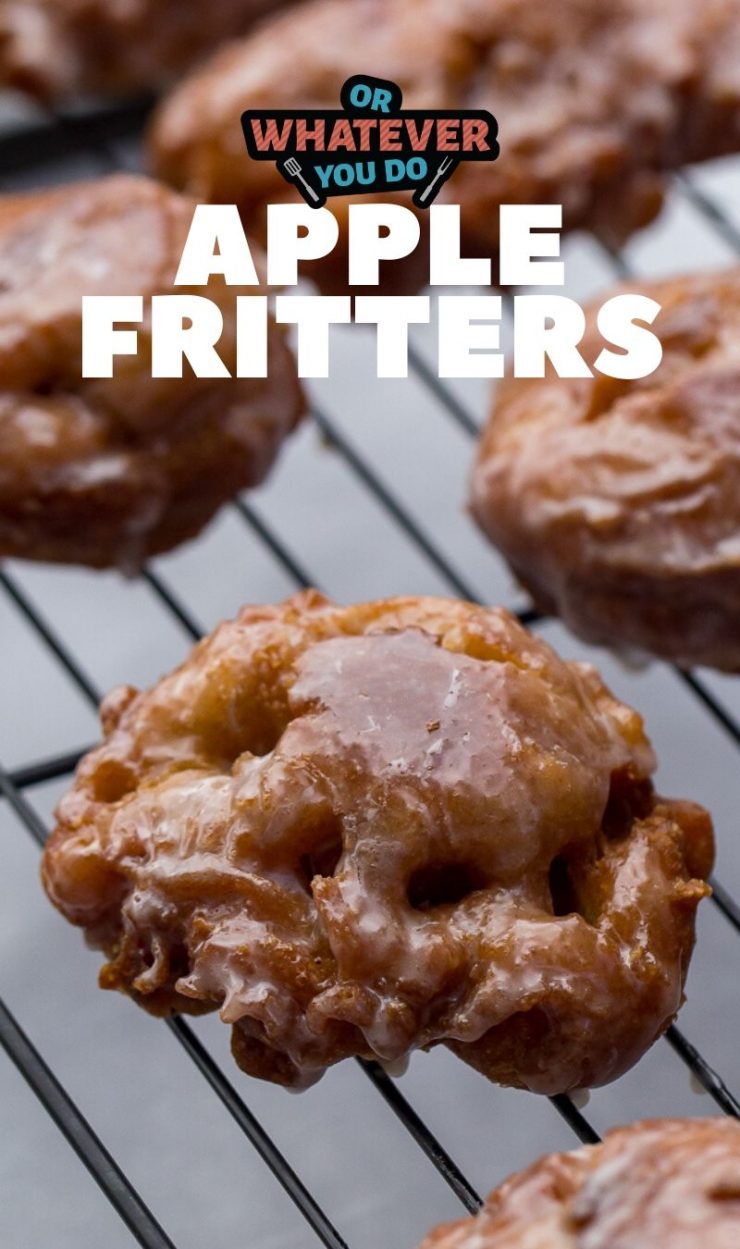 Apple Fritters Recipes
Apple fritters are one of my favorite pastries. In a donut shop, I will admire all the donuts and eclairs, and everything else. But it is the apple fritter that will finally be the one I walk out with. So of course I had to nail down being able to do them at home.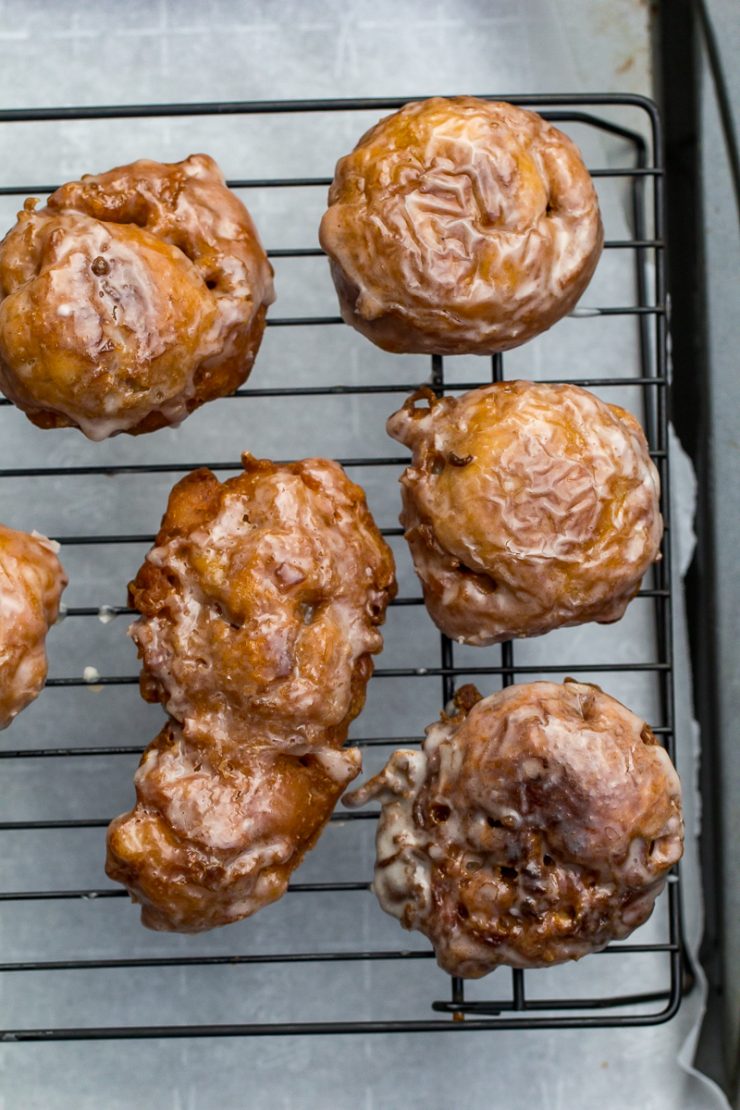 Homemade Apple Fritters
An apple fritter and a donut do share some common traits, but then they go their separate ways. Both start with essentially a "Pâte à choux" pastry batter. This is the light and buttery batter at the heart of all great pastries.
Once you master this french-style pastry batter, a wonderful world of delicious fancy treat making opens up to you.
More great BREAKFAST RECIPES here!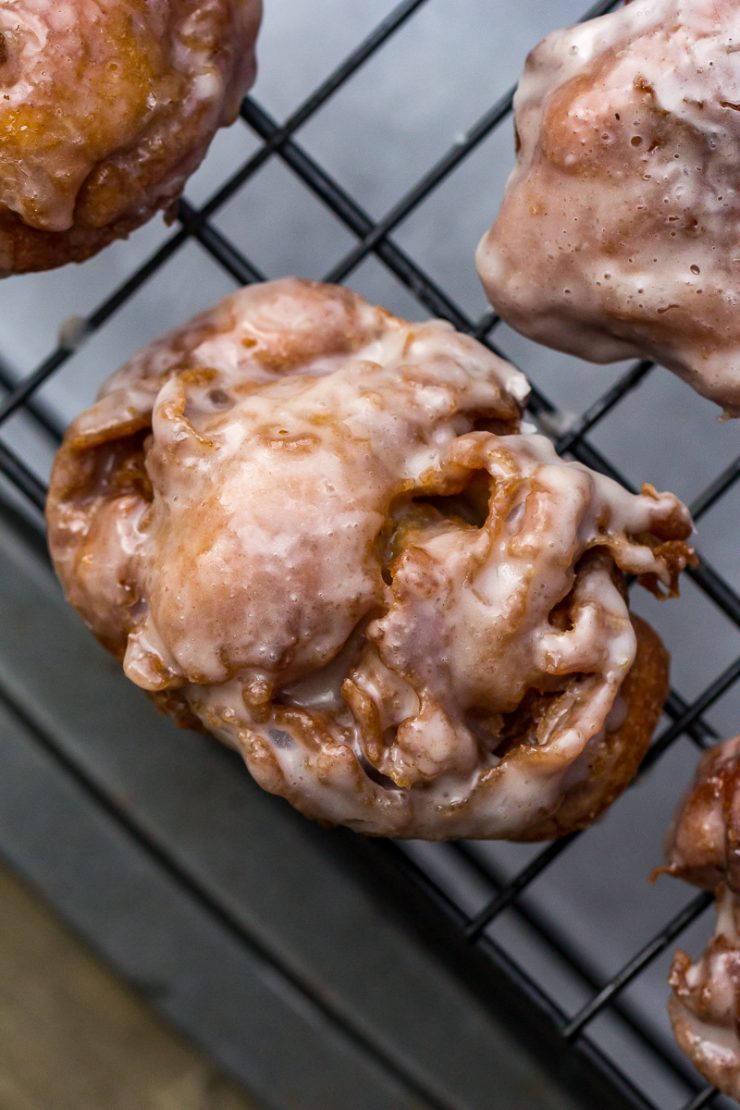 What's the difference between a fritter and a donut?
A donut and a fritter are shaped differently, but they both start with a choux batter. The difference goes beyond the shape of the finished pastry though.
In this case, a fritter contains fruit in the dough. Not in between the dough or inside the dough, which is what you get with jelly or cream-filled donut. Fritters mix a portion of the fruit into the batter.
Fritters can contain all sorts of things besides apples. If you like fritters, then feel free to try a savory version with other ingredients like corn or even little bits of ham. You'll want a less sweet dough base, but you can see where I'm going with this.
Fritter away!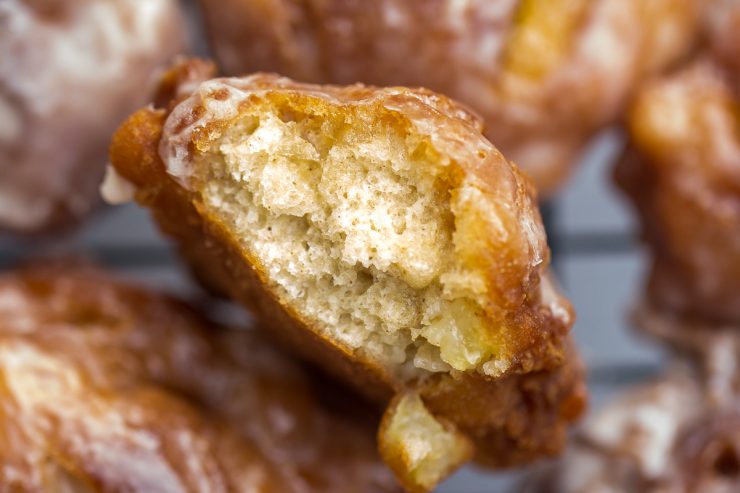 Apple Fritters Shopping List
The ingredients are few in these, so chances are good you won't even have to leave the house to whip this up!
Apples
Flour
Brown Sugar
White Sugar
Cinnamon
Eggs
Milk
Butter
Vanilla
Baking Powder
Okay, so maybe "few" was a poor description, but common is definitely a good one. I have all of those things in my kitchen about 364 1/2 days a year, so I bet you do too.
Below, you'll find a couple of optional but optimal ingredients below that make these even better.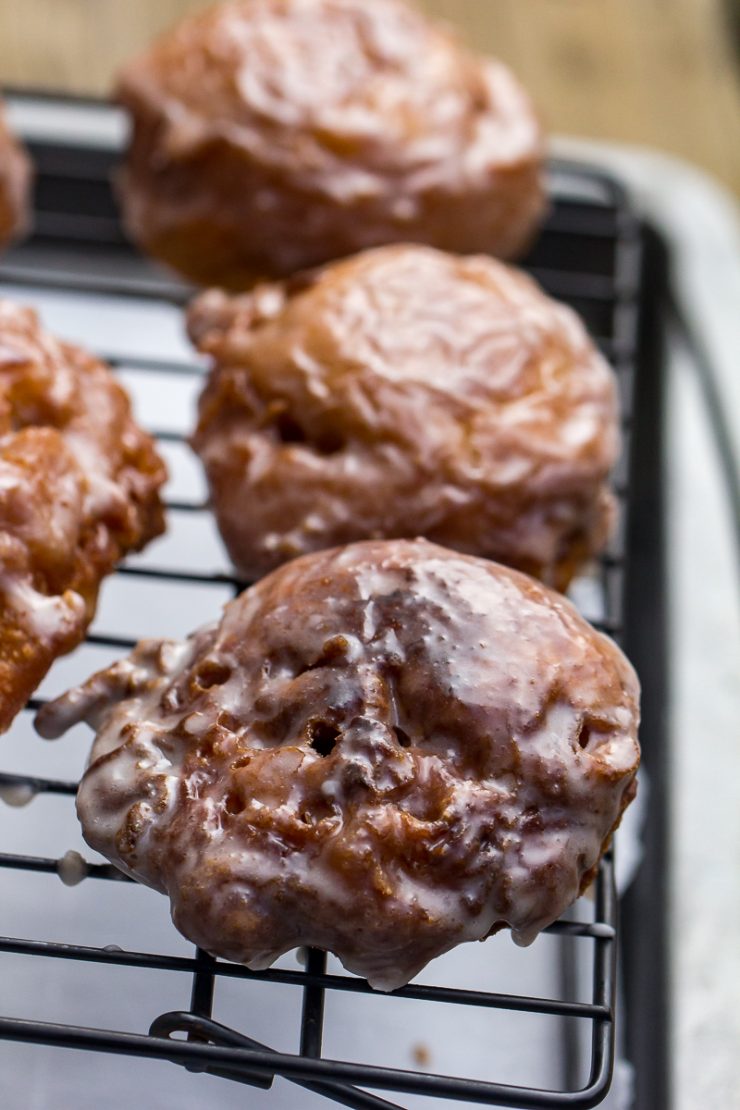 Spiceology Apple Pie Spice
I have said it before and I will say it again, Spiceology is awesome. I have a slight problem, and my spice pantry is overflowing, but MAN. They do so many wonderful spice blends that I have used on other recipes like Nashville hot chicken mac and cheese and a ton of my recipes using Greek Freak.
With their Apple Spice blend, you get all the flavors of mom's apple pie. Cinnamon, nutmeg, allspice, basically everything you need to season the apples perfectly. They nail just the right balance of each so it takes the guesswork out of the equation.
The apple spice blend works great for my spiced apple waffles recipe too by the way!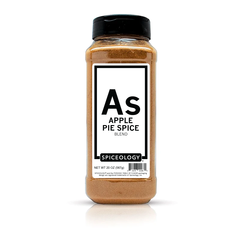 Apple Pie Spice from Spiceology is my favorite Apple Pie Spice! Fresh, delicious, and can be used in so many things.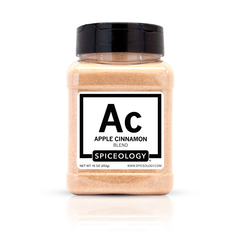 This Apple Cinnamon Blend from Spiceology is one of my new favorites! Use it on toast (OMGosh), in the glaze of my Apple Fritters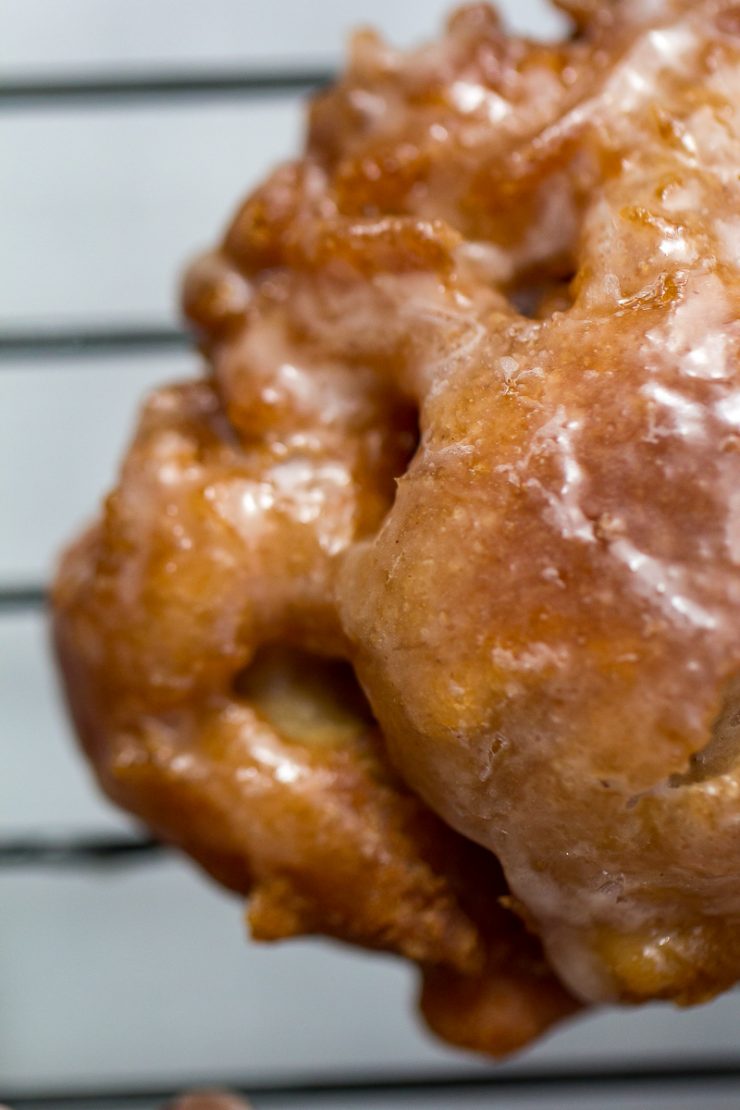 Apple Fritter Frying Tips
There are a few things to keep in mind if you want good consistent fritters coming out of the hot oil.
Make sure your oil is 360-375°. Use a proper thermometer to get the temp right. Keep checking the temp to make sure your oil isn't cooling too much as you add in the fritters. If you don't then you risk them coming out greasy. Too hot and the outside cooks but the inside is still raw dough.
Make sure the apple bits are well distributed through the batter. You don't want some fritters coming out with too much or too little fruit inside.
When you dunk the cooked fritter in the glaze, make sure it has cooled enough. Otherwise your glaze just becomes too liquid and won't stick on thickly enough. We did two coats on most of them and it was perfect.
Start with nice cold eggs. The colder the eggs the slower the gluten develops, so you get a better texture.
Don't over-mix the batter. Again, you don't want to overdevelop the gluten in the flour, or else you get a less fluffy texture.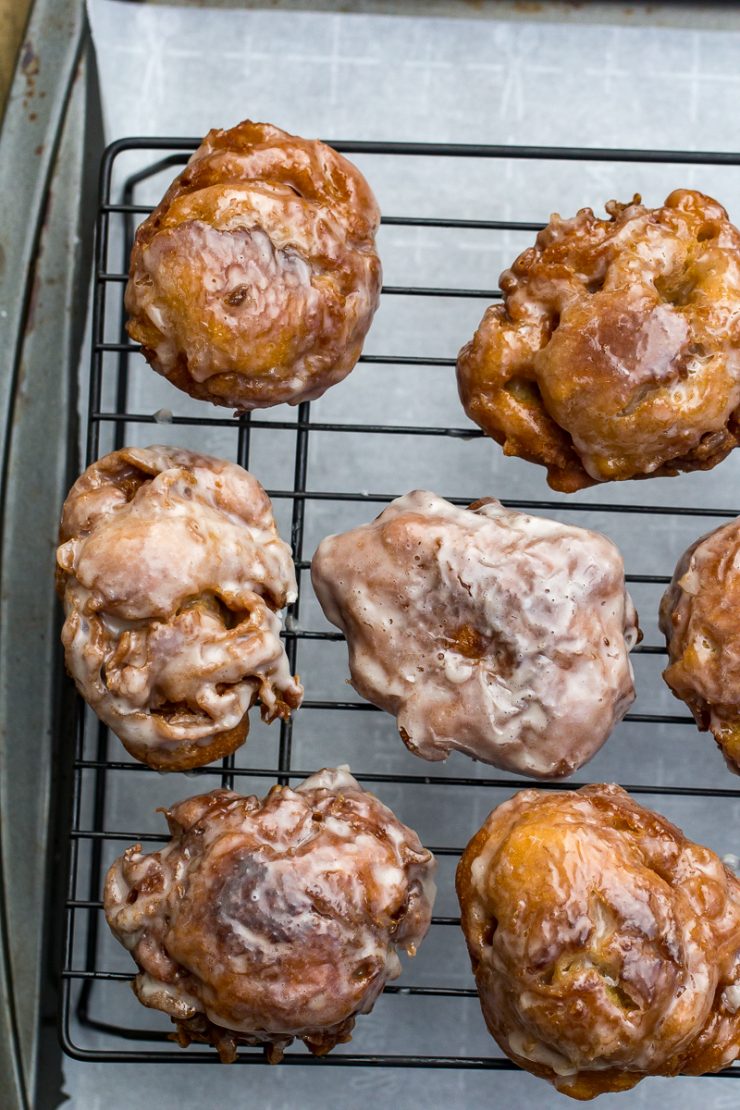 More Dessert And Snack Ideas To Try
Many people don't think they can do pastries or make desserts, but once you see how simple making dough for fritters is, hopefully, you won't have that issue anymore. If you do need some more recipes to try, then I have a few suggestions.
If you want to check out a bunch of recipes from some of my favorites, then here is my dessert idea roundup. For a dessert that requires only four ingredients and couldn't be any simpler, then try my easy berry dessert. It doesn't get any easier than that!
Try some of these Breakfast Sweets!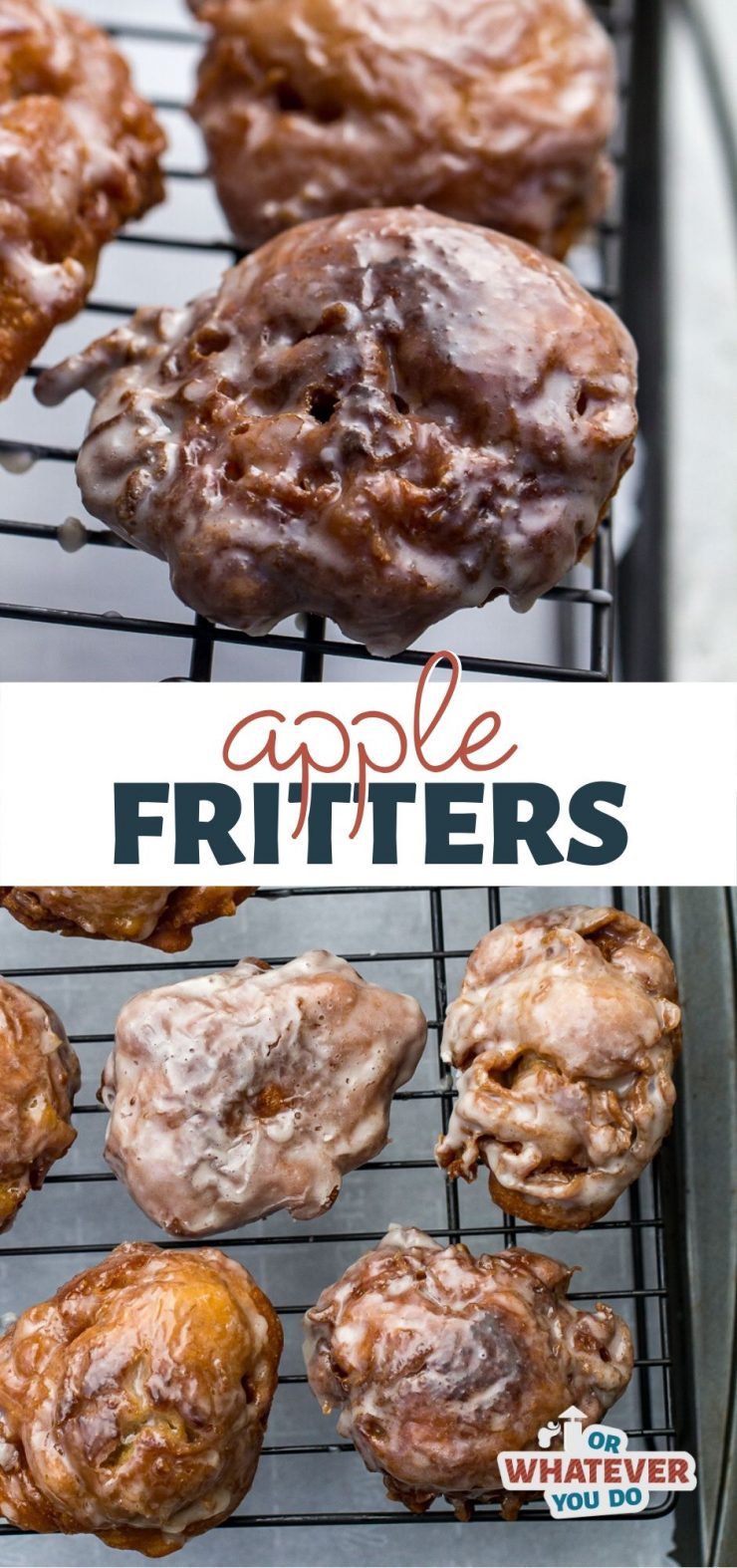 Yield: 12 servings
Apple Fritters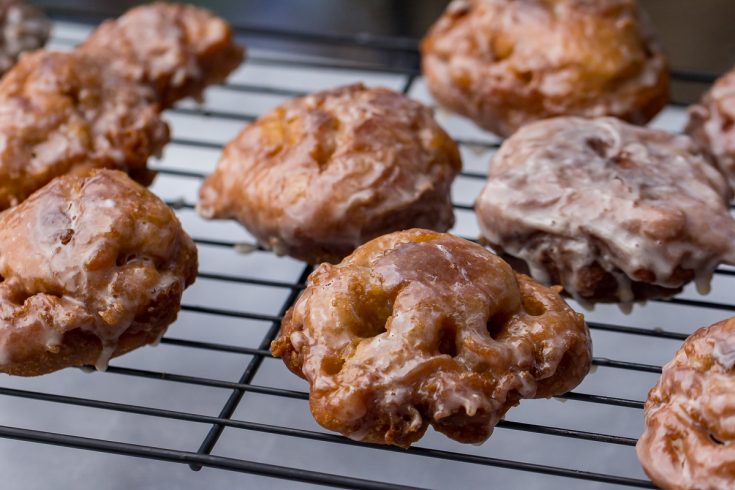 Homemade Apple Fritters are a Sunday morning's best friend. These homemade fried donuts are easy to whip together, and taste amazing.
Ingredients
Oil to fill a pan 2 1/2 - 3 inches high
2 cups flour
1/2 cup white sugar
1/4 cup brown sugar
2 1/2 teaspoons baking powder
2 teaspoons apple pie spice
1 1/2 teaspoons salt
2 large eggs
3/4 cup whole milk
1/4 cup melted butter
1 tablespoon vanilla extract
2 large apples (peeled, cored, and diced)
Glaze
Instructions
Preheat your oil to 360-375°.
Combine the flour, sugars, baking powder, cinnamon, and salt in a large bowl.
In a separate bowl, whisk together the eggs, milk, melted butter, and vanilla.
Gently combine the wet and dry ingredients, just until the lumps are gone. Don't overmix!
Fold in the diced apples.
Carefully spoon 1/4 cup dollops of batter into the oil. Fry for 3-4 minutes, or until golden brown and cooked through.
Remove with a heat-proof slotted spoon to a wire rack to cool slightly.
Combine the powdered sugar, apple cinnamon blend (if you are using it), and the milk and whisk until smooth.
Dip the fritters into the glaze, and set back on the rack. Double dip, if you like a bit more glaze after the first layer dries for 4-5 minutes.
Recommended Products
As an Amazon Associate and member of other affiliate programs, I earn from qualifying purchases.
Nutrition Information:
Yield:
12
Serving Size:
1
Amount Per Serving:
Calories:

445
Total Fat:

8g
Saturated Fat:

3g
Trans Fat:

0g
Unsaturated Fat:

5g
Cholesterol:

43mg
Sodium:

420mg
Carbohydrates:

90g
Fiber:

2g
Sugar:

71g
Protein:

4g
Nutrition data provided here is only an estimate.