Fisher Fair scone waffles use the incredible Fisher Fair Scone Mix to make waffles. I know that almost sounds like an oxymoron. Afterall, what does a scone and a waffle have in common besides a few ingredients?
Fair Scone Waffles
To further confuse things, most people make scones with the density of marble, and the flavor of paste. In reality, the only real difference is the shape and the method of cooking. But, still, many people would never assume a scone mix could create such a fantastic waffle.
Many people assume there is no such thing as a good scone either, but I digress (and they are wrong).
To make your Fisher Scone Waffles even more incredible? Serve it up with one of my easy blackberry or raspberry jam recipes!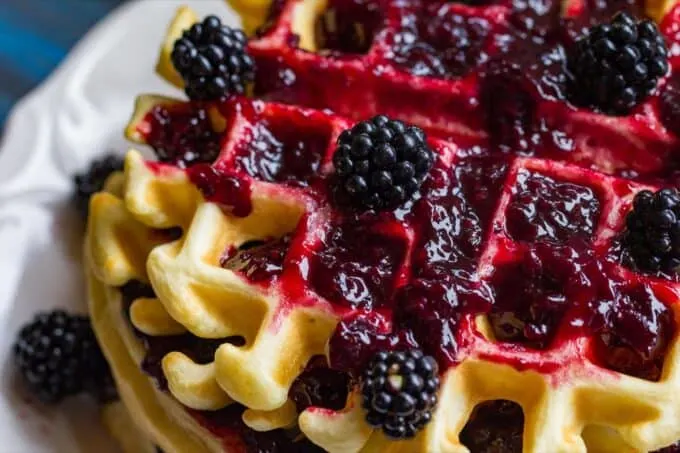 Use Fisher Scone Mix for Waffles too
I am pretty sure Fisher Scone had to search the earth for the Grandma recipe like no other. But you would have to go back a few generations of Grandmas to get the same quality of ingredients.
Fisher Fair scone mix is made from wheat grown on small family farms. They only use organic and sustainable and environmentally stable sources. No preservatives. No additives. No GMOs. No extra sugars hidden in names you can't pronounce.
So, you essentially get the flavors of the way things used to taste. We are talking before everything became so processed the flavor was finally processed out.
I was seriously blown away when I first tried it.
Like these waffles? Try my Fair Scone Pancakes too!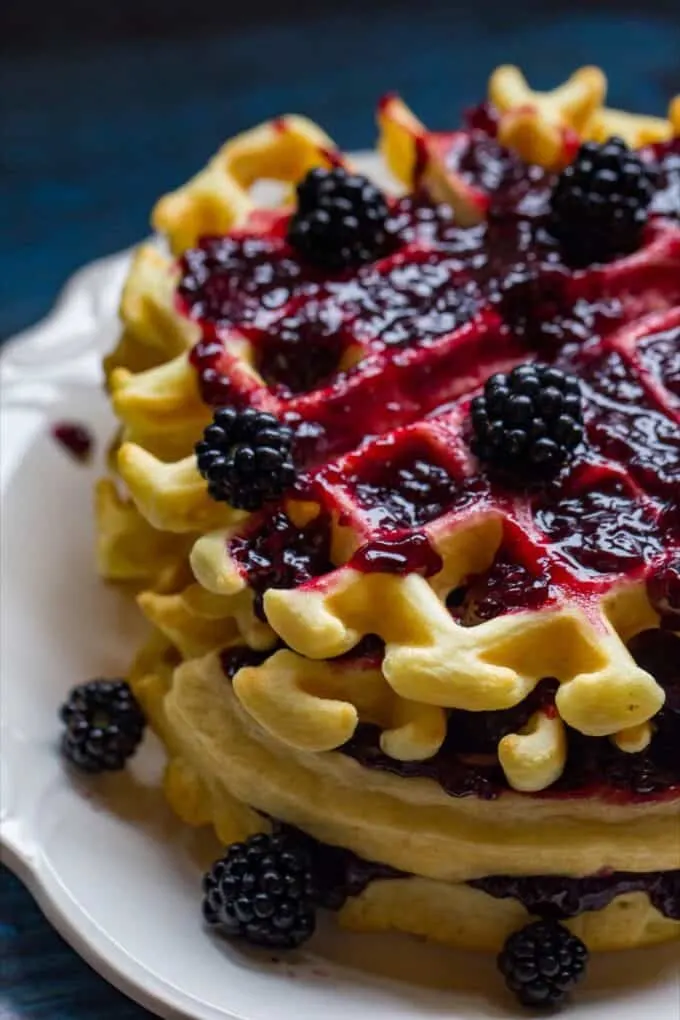 How do you like your waffles?
Some folks like their waffles a bit spongy, while others prefer them to be a bit toasty and with some crunch. Whichever you prefer, learn the "tells" of doneness for perfect waffles the way you like them.
A waffle isn't like a pancake. You look at a pancake cooking. You see the bubbles. You have an idea when to turn it. All good. But a waffle presents a bit of a mystery.
You pour the waffle batter into a cast iron or teflon coated waffle grill. You seal it up. Then it cooks away. If you are at home, or standing in line for waffles on the business trip while at the hotel, you wonder. "When will my waffles be ready?"
To compound the problem, those waffle makers that use a timer to tell you it's ready rarely make the waffle the way you like. So, to learn waffle iron mastery, follow the steam.
The amount of steam coming out of the waffle iron tells you all you need to know. If you like your waffles a bit on the soft side. Wait until the steam stops chugging out like the house is on fire.
When you see just wisps of steam coming out, and the hissing noise dies down, then open up for waffles on the softer side. But if you like them crisped up, then wait a minute to two minutes after you see the steam stop coming out.
Trust me, you are smarter than any timer.
More amazing BREAKFAST recipes here!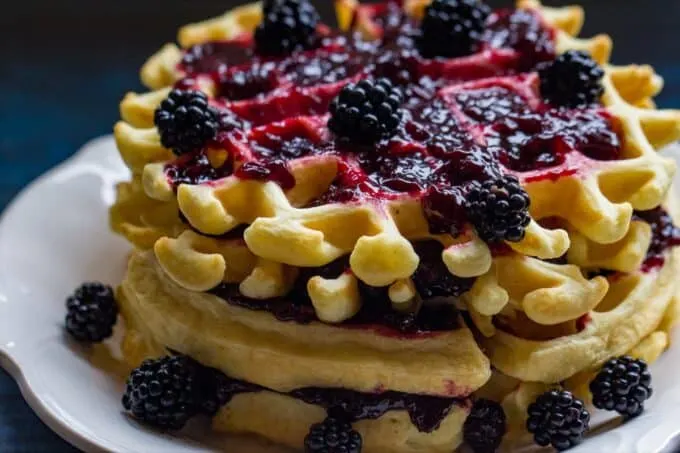 Ways to get creative with your Fisher Fair Scone Waffles
Now that you have the wonderful Fisher Fair scone mix, and ready to make waffles, get creative! I love waffles so of course I have a bunch of waffle recipes to choose from.
The simple waffle offers endless opportunities for creativity. You can add ingredients into the waffle or get funky, freaky, and wild with whatever you choose to put on top.
Here are some of my favorite suggestions:
Apple pie spiced waffles – add an easy spice twist to your Fisher Fair scone waffles
Instant pot strawberry sauce – step out of the box with a homemade strawberry sauce that makes the waffle so good people will have to resist licking the plate. (Oh, go ahead. It's that good!)
Chocolate waffle cake – Build a cake out of waffles! Amazingly easy. You never have to worry about whether or not the inside is done yet.
Serve these alongside a big plate of my Butter Swim Biscuits and Gravy!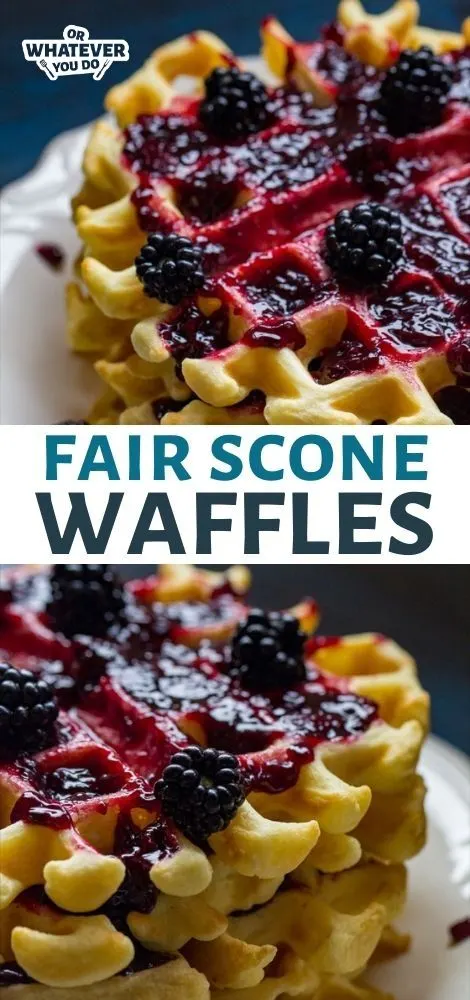 Yield: 6 servings
Fair Scone Waffles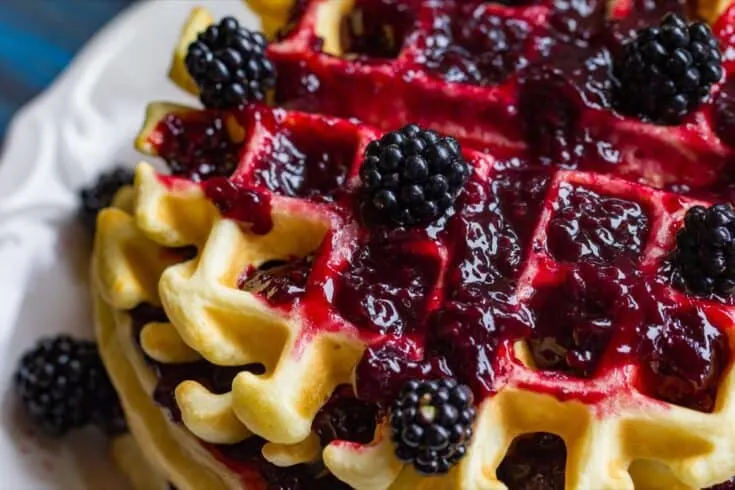 These fluffy waffles are made with Fisher Fair Scone mix! Top with berries or homemade jam, and whip up a batch of these for your next brunch.
Ingredients
1 package Fisher Scone Mix
2 cups cold water
4 large eggs
1/2 teaspoon vanilla
blackberry or raspberry jam
Instructions
Mix together the scone mix, water, eggs, and vanilla with a whisk until the ingredients are combined. The batter might be slightly lumpy. Don't overmix.
Preheat your waffle iron, give it a quick spray with cooking spray, and pour in the recommended amount of batter for your machine. For mine, it is about 1/3 - 1/2 cup.
Close the waffle iron and let cook until the steam stops escaping out the sides.
Serve hot with fresh jam.
Recommended Products
As an Amazon Associate and member of other affiliate programs, I earn from qualifying purchases.
Nutrition Information:
Yield:
6
Serving Size:
1
Amount Per Serving:
Calories:

125
Total Fat:

6g
Saturated Fat:

2g
Trans Fat:

0g
Unsaturated Fat:

4g
Cholesterol:

125mg
Sodium:

149mg
Carbohydrates:

12g
Fiber:

0g
Sugar:

2g
Protein:

5g
Nutrition data provided here is only an estimate. If you are tracking these things for medical purposes please consult an outside, trusted source. Thanks!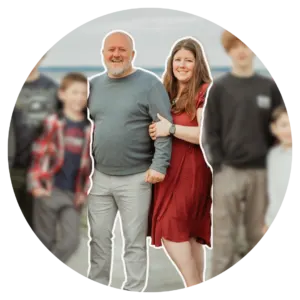 Nicole Johnson, a self-taught expert in grilling and outdoor cooking, launched Or Whatever You Do in 2010. Her blog, renowned for its comprehensive and creative outdoor cooking recipes, has garnered a vast audience of millions. Nicole's hands-on experience and passion for grilling shine through her work. Her husband, Jeremiah Johnson, also plays a pivotal role in recipe development, adding his culinary flair to the mix. Together, they form a dynamic duo, offering a rich and varied outdoor cooking experience to their followers.