This easy Blackstone French Toast Recipe takes a fresh loaf of cinnamon swirl brioche, soaked in a sweet egg wash, and then browned right on the Blackstone griddle!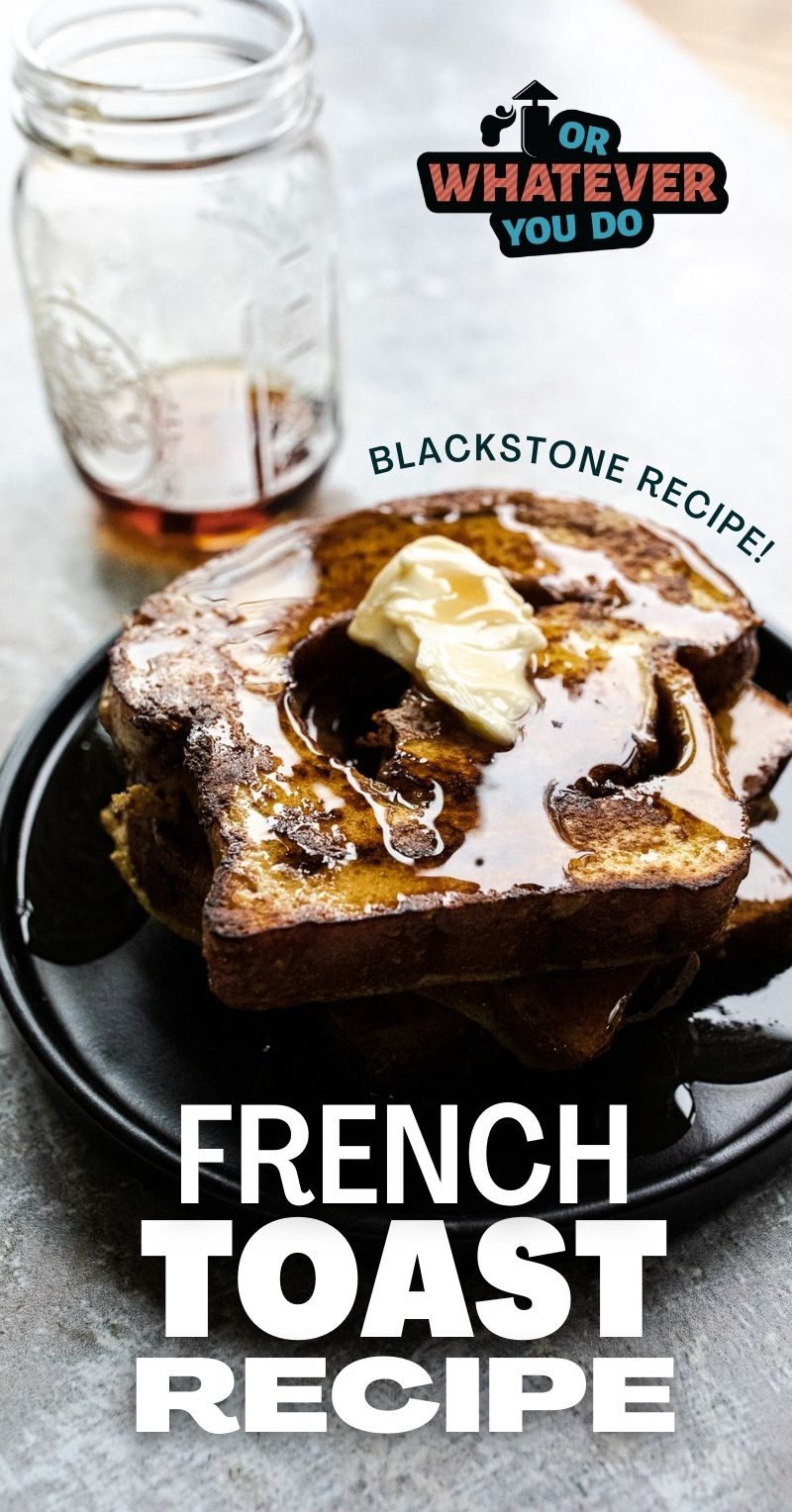 Blackstone French Toast Recipe
Whether it is Saturday morning breakfast for the family, or a random Tuesday brinner, you are going to love this homemade French toast!
You can use whatever your favorite bread is for our French toast, but if you want to really make it the BEST version that it could possibly be, I recommend fresh bakery brioche. In this case, we used a Cinnamon Swirl Brioche from Macrena Bakery in Seattle. I've never actually been to one of their physical locations, but if you're ever near one I highly recommend it. We pick up their breads from a local grocery store, and it is incredible.
Most of the time we use regular old grocery store white bread though. Don't let the lack of the fanciest cinnamon loaf in the country stop you from enjoying French toast!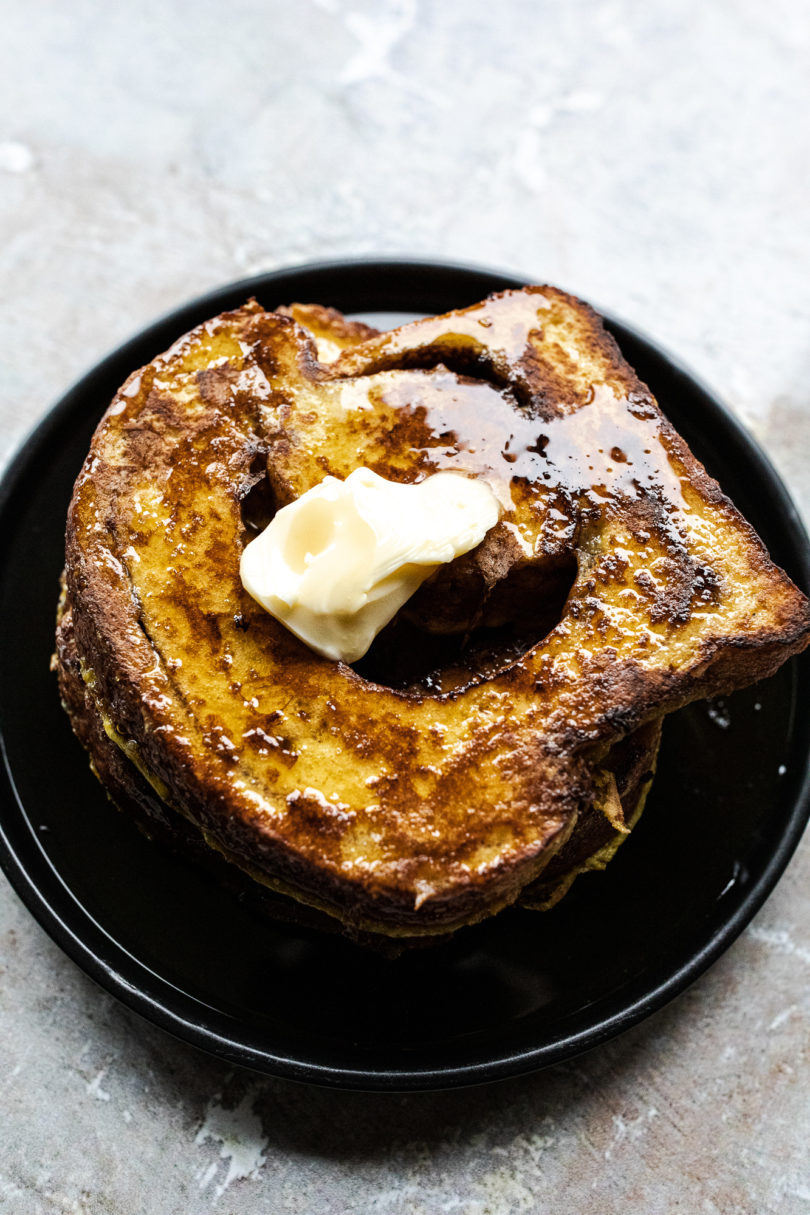 Homemade French Toast shopping list
Wondering if you have to hit the store? Here's the list of items you'll need to make this recipe. For specific amounts, please refer to the printable recipe card at the bottom of the post.
oil
eggs
cinnamon
sugar
salt
bread
butter
maple syrup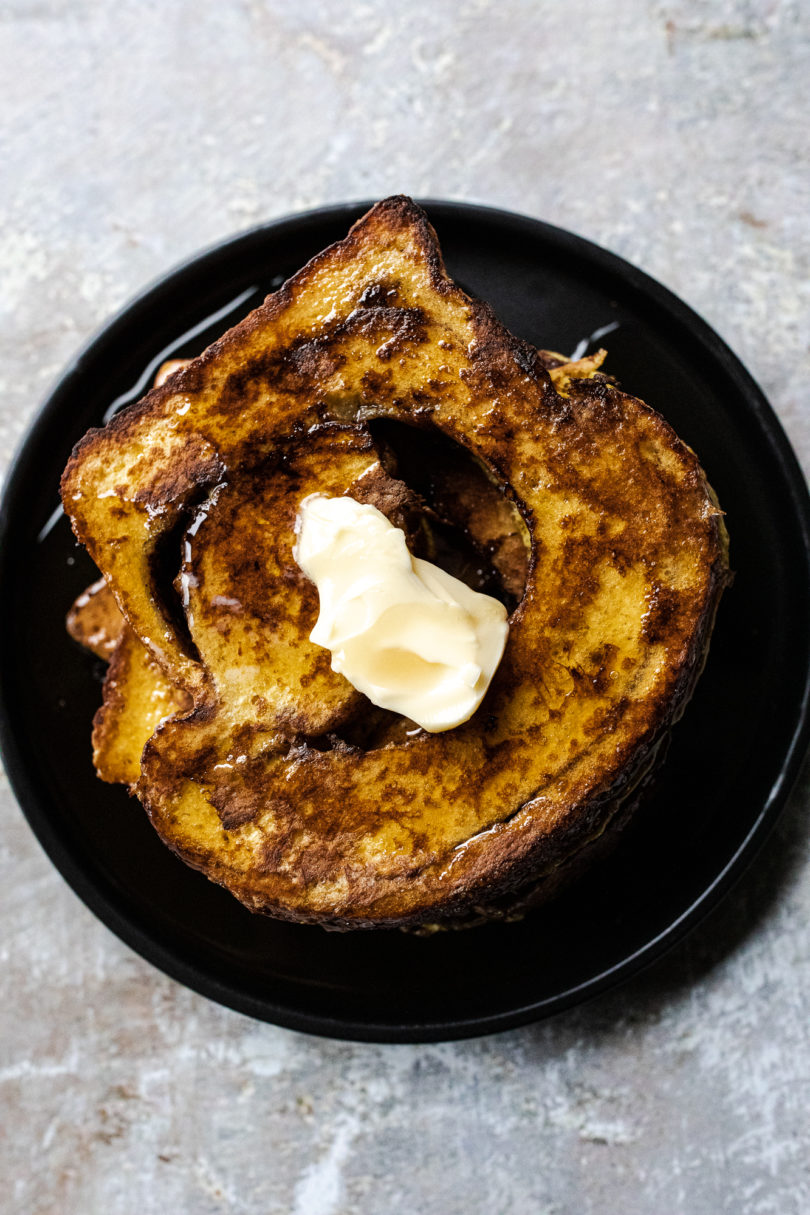 How to make French Toast on the Blackstone
This is just the overview so you can see what you're actually getting into here. When you are cooking, you'll want to use the full recipe at the bottom of the page.
Whip it
Whip it good.
The eggs, cinnamon, sugar, salt, and vanilla, that is. Make sure you beat it with a whisk for 2-3 minutes, vigorously. You don't want to be able to differentiates between the eggs whites and other ingredients when you lift the whisk out of the egg wash.
Preheat the griddle
Low to medium-low is about right. The French toast should take 2-3 minutes per side to brown if the temperature is right.
Soak and cook
Place a pat of butter down on the griddle surface and spread it around the entire area that will soon be covered with French Toast.
Soak the bread slices on both sides and place onto the griddle.
Flip after 2-3 minutes when the first side is golden brown, put down a little more butter, and cook the other side. Cook another 2-3 minutes until both sides are browned.
Enjoy
Serve hot with warm, real maple syrup and a pat of melty butter on top.
FREE Weeknight Blackstone Recipe E-Book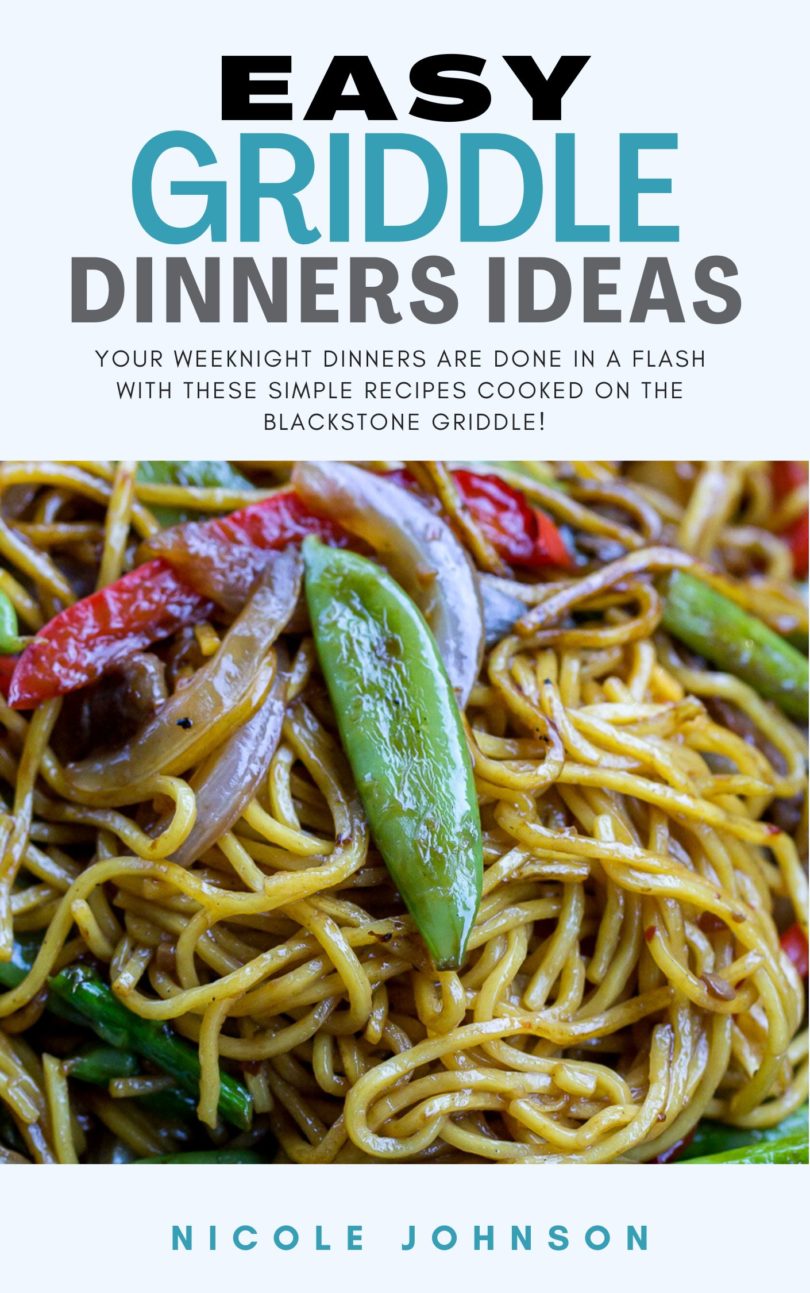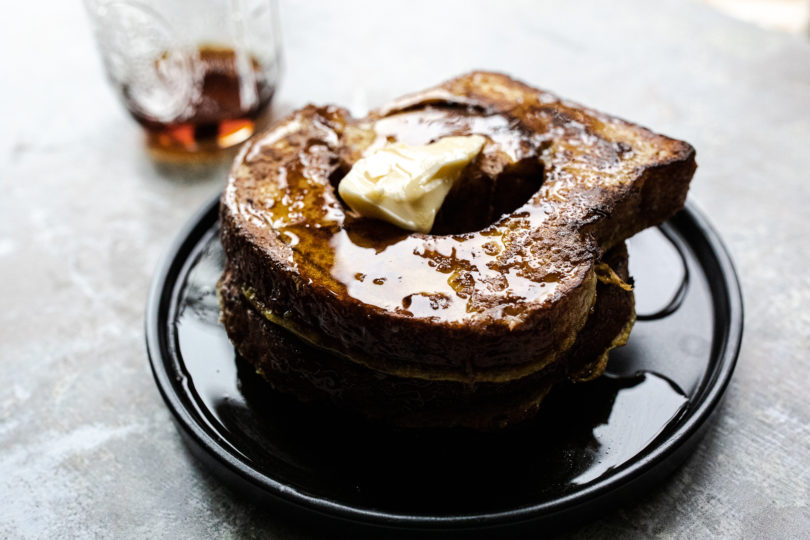 Homemade French Toast FAQ
How do you store leftovers?
French Toast keeps so well! You can make a giant batch and freeze it in freezer bags for a quick breakfast anytime. You can also refrigerate this for a few days too if you know you'll eat it fairly quickly.
What's the best way to reheat leftovers?
We prefer using the toaster. Gets everything nice and warm and slightly crisp on the outside. The microwave also works, as would your air fryer on a lower temperature.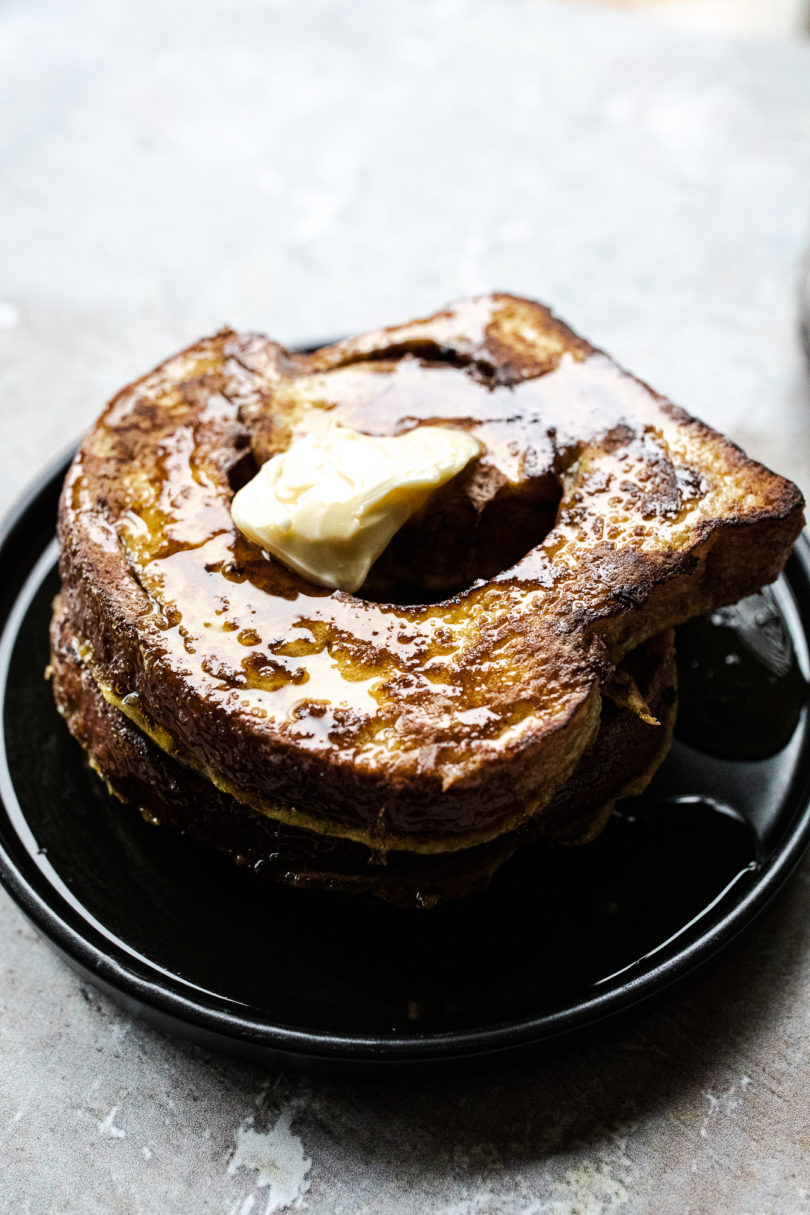 Make this French Toast with. . . . . . . . . . .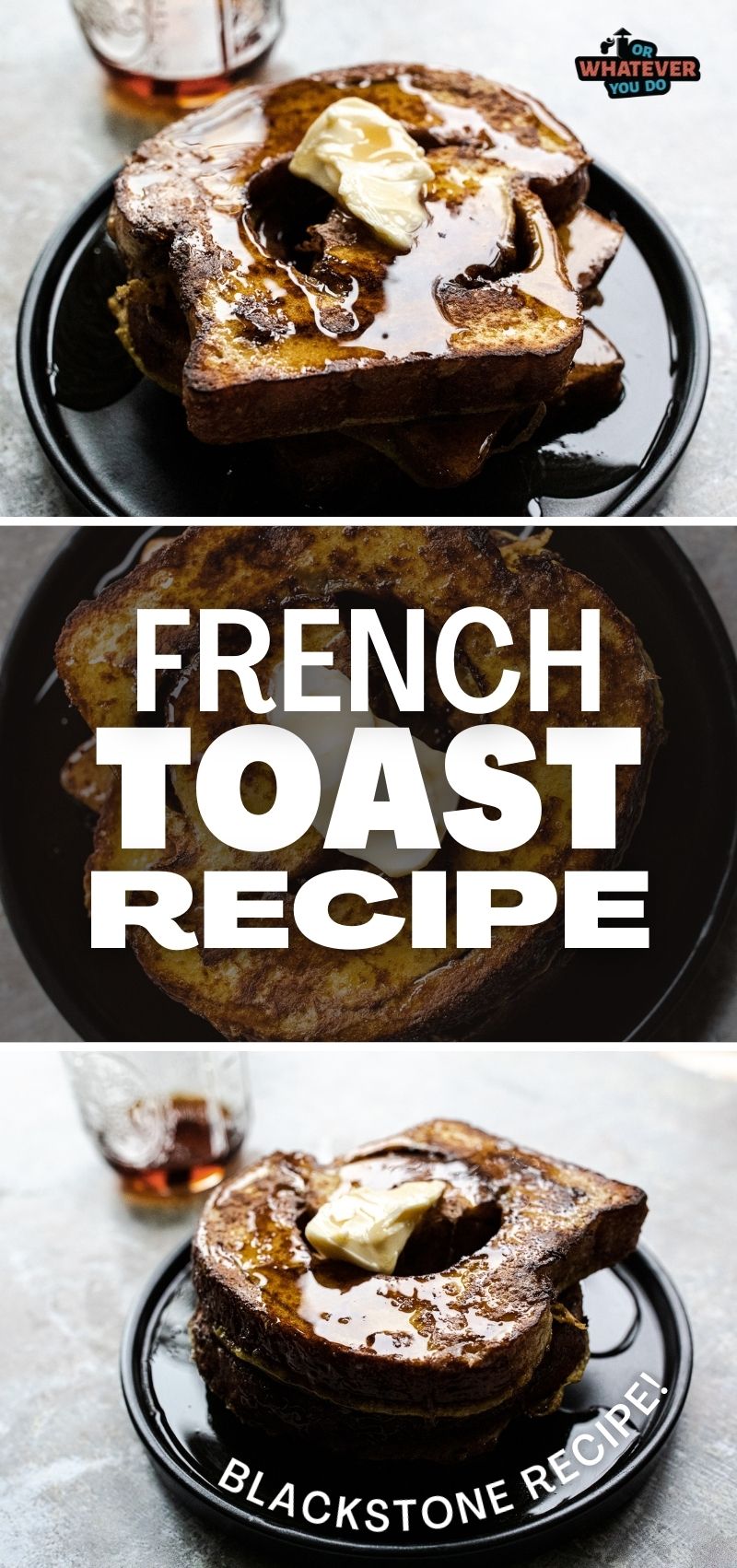 Yield: 6 servings
Blackstone Griddle French Toast Recipe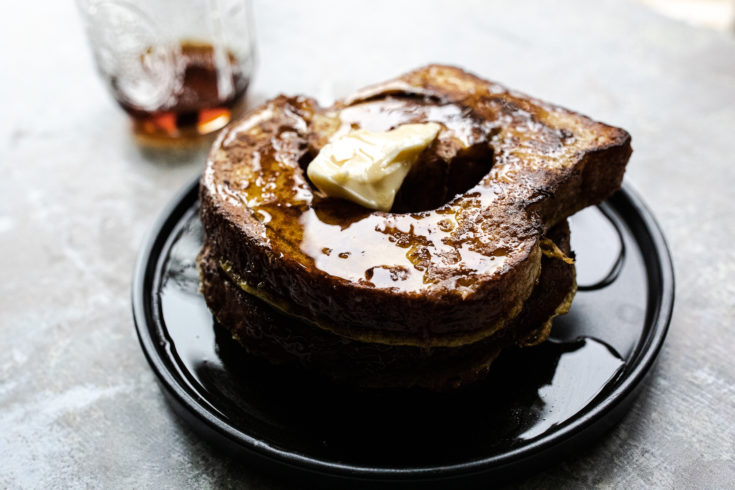 Homemade French Toast with cinnamon and brioche cinnamon swirl bread made right on the griddle!
Ingredients
6 eggs
1 teaspoon cinnamon
1 teaspoon vanilla
1 teaspoon sugar
1/4 teaspoon salt
12 slices brioche cinnamon swirl bread
butter
maple syrup
Instructions
Preheat your griddle over low to medium-low heat.
Whisk together the eggs, cinnamon, vanilla, sugar, and salt. Make sure it is fully mixed together and you cannot see any egg whites still clinging together.
Lay a thin coat of butter onto the griddle surface. Dip the bread, one slice at a time, into the egg wash. Make sure it is totally covered. Place onto the griddle and cook for about 2-3 minutes per side, or until the egg wash is fully set and the surface is getting light golden brown. Flip, and cook for 2-3 minutes on the other side. Repeat until all of the slices are cooked.
Serve with extra butter and hot real maple syrup.