Pickled Asparagus is one of my favorite ways to make use of the spring and early summer bumper crop of fresh asparagus! All the garlic and dill you could ever want are in this flavorful recipe that produces crisp and snappy pickled asparagus.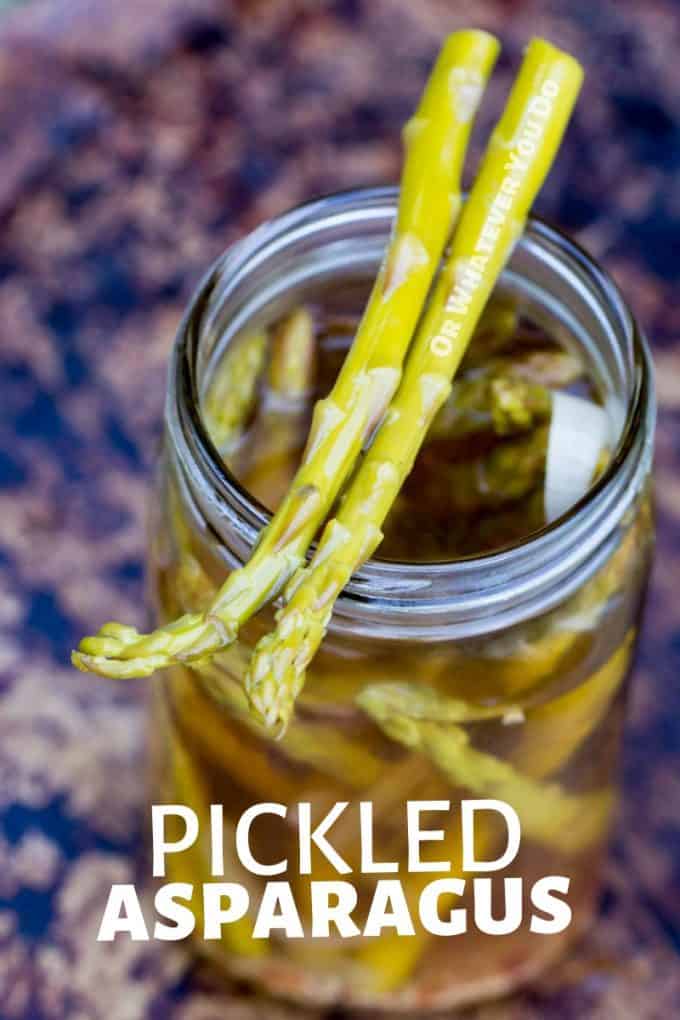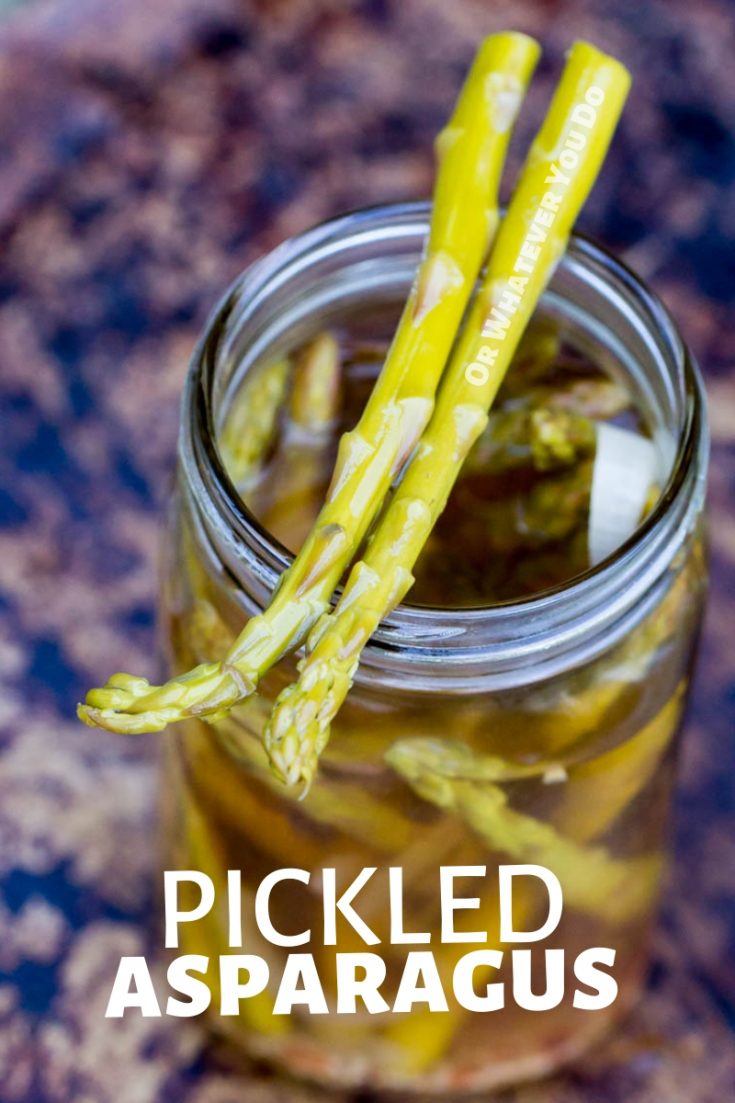 Pickled Asparagus
Pickles have been a favorite for a lot of people in my family for a long time. We've also been canning a variety of fruits and vegetables for quite a few years.
This Pickled asparagus is a delicious side, and a wonderful way to preserve any of the leftover stalks you haven't done anything with yet., or to keep those spring and summer asparagus crops around all year long.
Making canned asparagus does require you to use some tools, but don't fret. It is relatively easy to do it!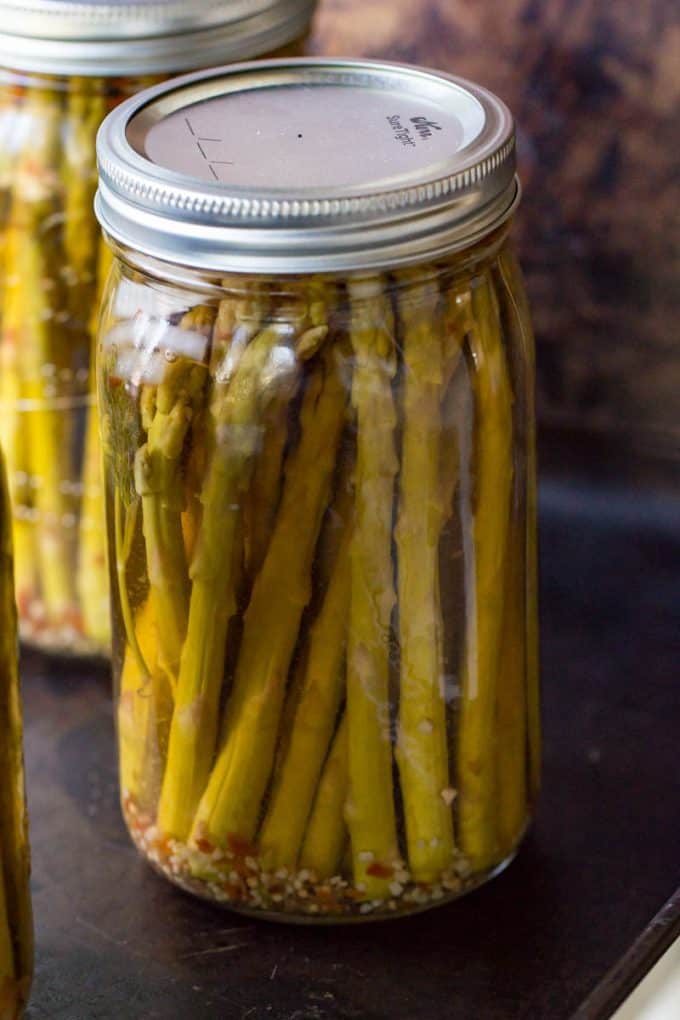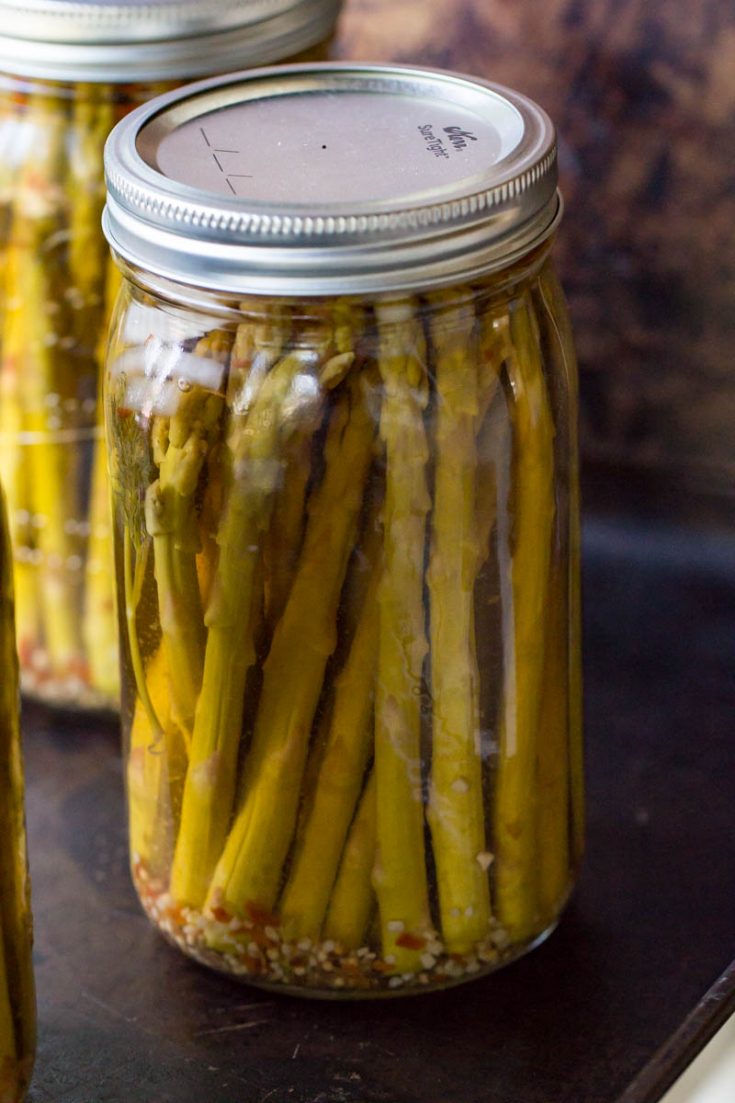 What do I need to make pickled asparagus?
Let's talk a little about what you will need to make canned asparagus.
Ingredients
fresh asparagus
garlic
dill
vinegar
sugar
kosher salt
mustard seed
onion
You are going to want tight-tipped tender spears of asparagus that are 4 to 6 inches in length, so they fit in the jar. When in doubt, measure it out!
To pickle them, you are going place dill and garlic inside the jar. The pickled asparagus recipe will tell you exactly what you need, but if you want spicy pickled asparagus you can do that too.
Pickling salt, to help preserve the asparagus in the jar.
Tools
Here is the list of tools you are going to need for this project:
tongs
wide-mouth funnel, or a good ladle that doesn't drip and spill
measuring utensils
jar lifter
Canner or something like a dutch oven is good for cooking preserves, a deep stockpot works really well as a canning pot, and place a round rack or a kitchen rag in the bottom so water can circulate all the way around the jars.
mason jars
lids
rings
If you are re-using old jars be sure to sterilize them.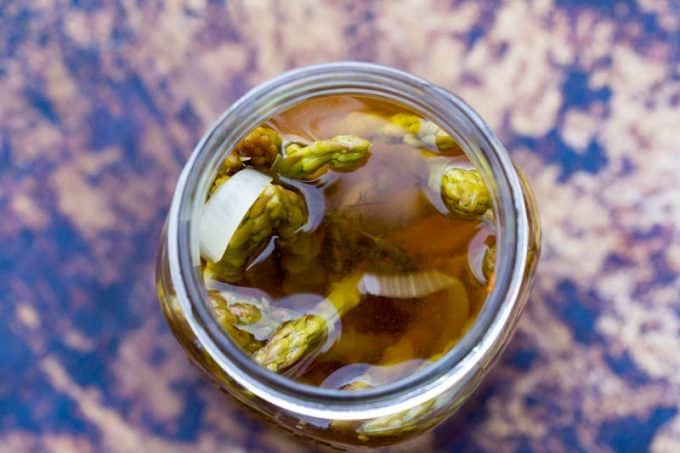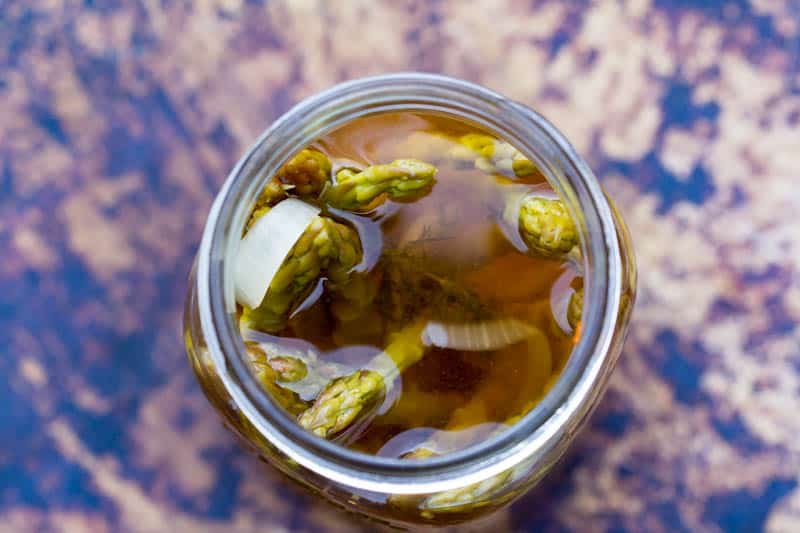 How to prepare the asparagus for pickling
Prepare your asparagus by washing and trimming. Make sure you get all the tough woody ends off and make them only as tall as your jars.
That's it!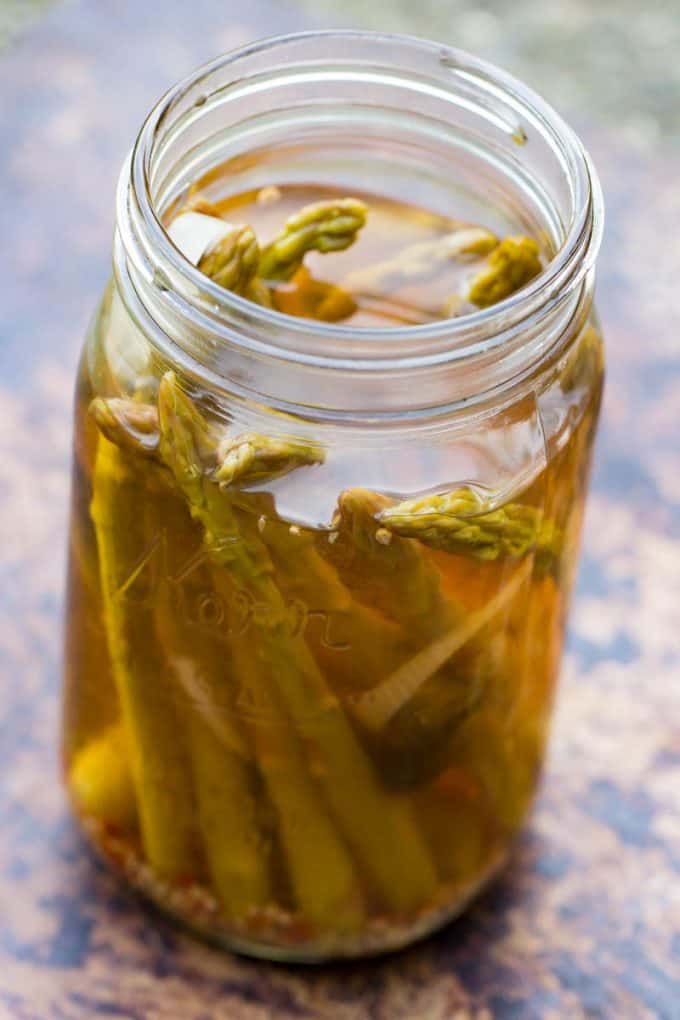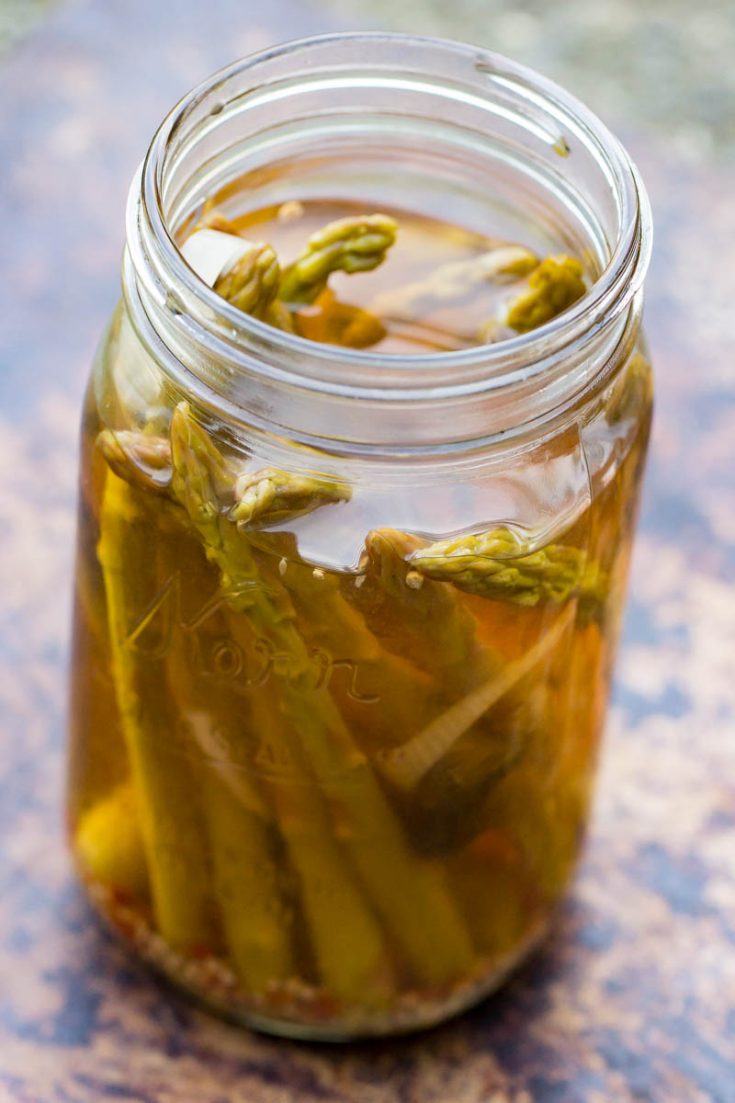 How to stuff the jars
Fill the jar with the asparagus, and pack it in there tightly. Be gentle and don't crush them, though! You leave about an inch of headspace with this method. Headspace helps to ensure that the jars seal right.
If this is your first time canning it could seem a little overwhelming. However, once you get down to it, this can be actually quite fun for the family!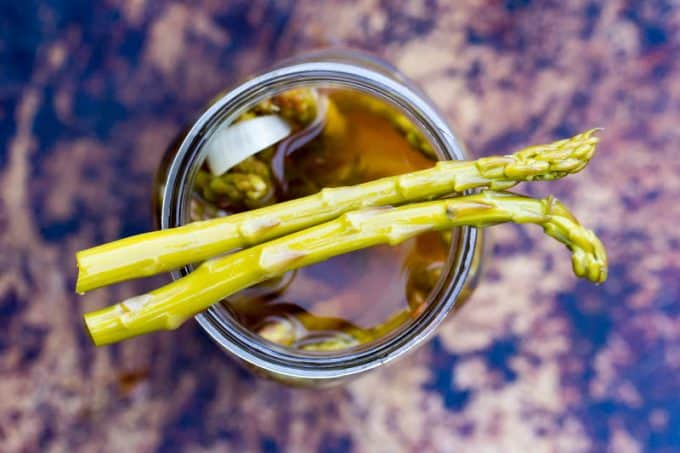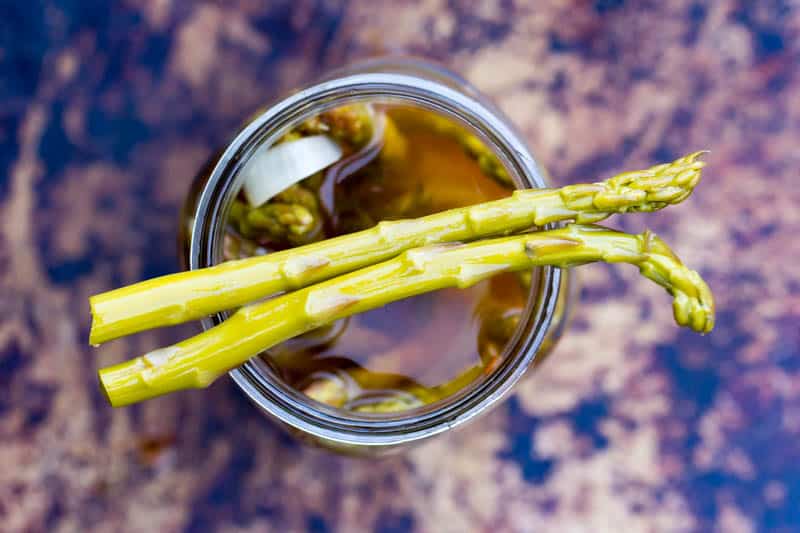 How to water bath pickled asparagus
Once you have everything going and the brine is heated and you have covered the asparagus in your clean mason jars, you'll need to seal the jars and carefully submerge them into the boiling water. It takes about 10 minutes in a boiling water bath canner to ensure the asparagus is shelf-stable.
Asparagus goes with several different meals, and now that you have pickled asparagus you can eat it as a snack. This recipe is perfect for a charcuterie board or appetizer tray!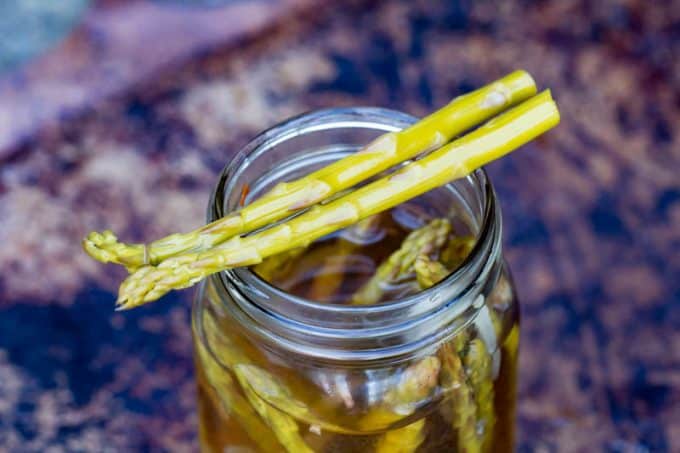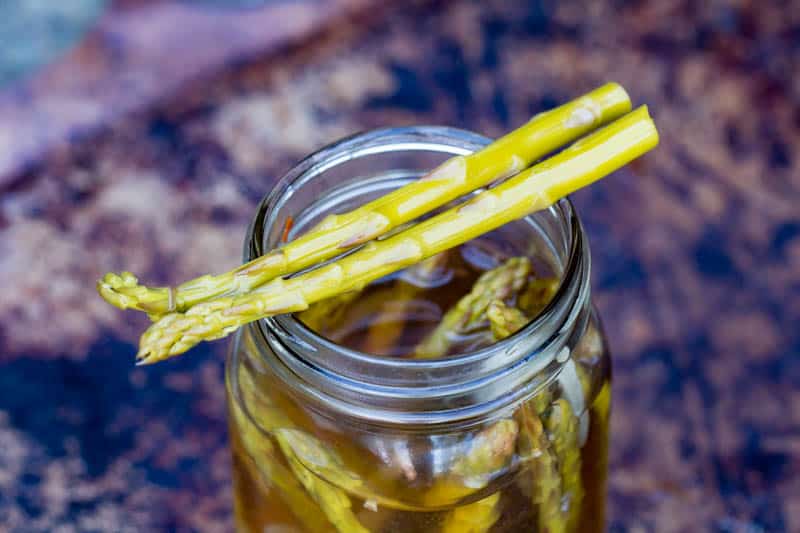 How Long Can I Keep My Pickled Asparagus?
If you have hoards of hungry children like I do, these aren't going to last long.
The earliest I recommend opening the pickled asparagus is three days. However, in all honesty, they are just starting to get really good after two weeks of sitting in their jars. They can sit for up to a year before spoiling.
Once you open them, I would only keep them for about two months in the refrigerator.
The great thing about canning is that you can save the asparagus for some time so if you are having trouble figuring out just what to eat them with, there is no need to worry!
I just want to add I have heard for pickle lovers these pickled asparagus could be eaten as a MAIN DISH! I definitely recommend making these!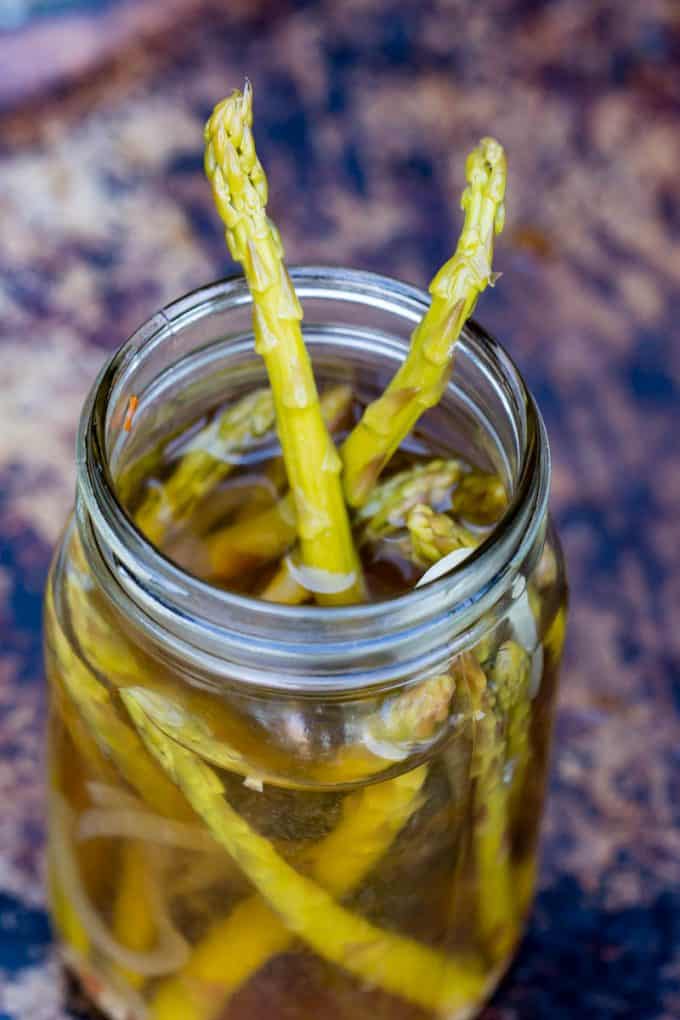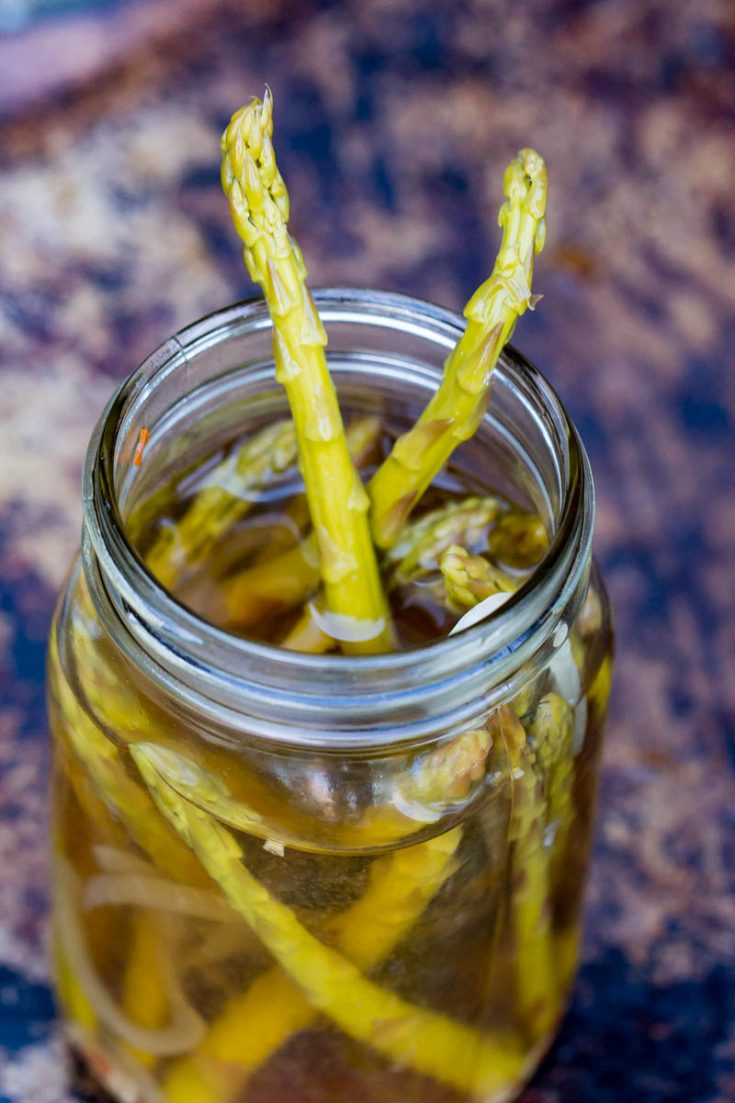 Can I change the recipe?
You can, but I don't recommend it. Canning is finicky, and if you adjust things too much it can throw off the acidity of the brine and allow bacteria to grow. And not the good kind, either. You can omit the red pepper flakes if you'd like, but for further adjustments, I'd go find another tested recipe to try.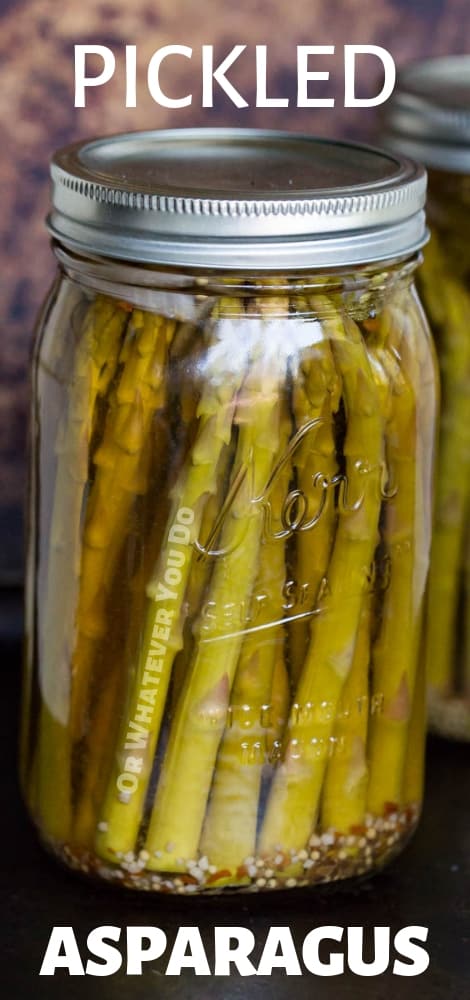 Yield: 4 quart jars
Pickled Asparagus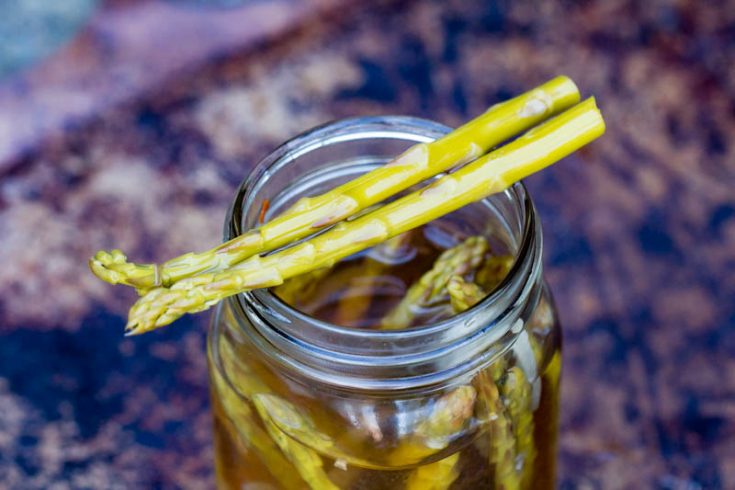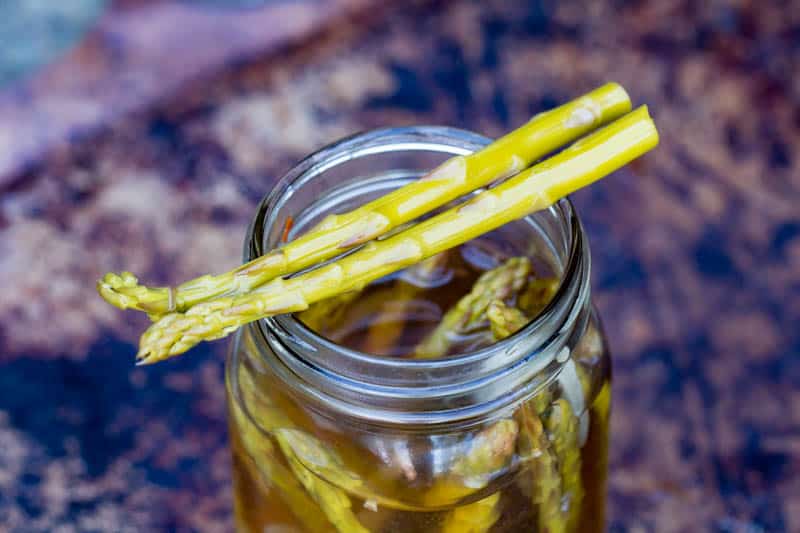 Homemade pickled asparagus will keep that fresh asparagus around all year long! Dill and garlic and all the things you love about pickled vegetables.
Total Time
14 days
40 minutes
Ingredients
Jar Stuffers
60-80 asparagus stocks
1 large white onion
8 sprigs fresh dill
Brine
7 cups white vinegar
3 1/2 cups water
1 tablespoon minced garlic
1 1/2 tablespoons mustard seeds
1 tablespoon red pepper flake
1 tablespoon dill seeds
2 tablespoons kosher salt
3 tablespoons white sugar
Instructions
Bring a giant stock pot of fresh water to a boil. Toss in the lids to the jars.
Wash the asparagus and trim the ends. Slice the onions into rings, and trim any super long stems from the dill flowers.
Combine all of the brine ingredients in a large pot and bring to a boil.
While the brine is heating, add some onions, dill, and asparagus to the jars. Distribute evenly between all 4 jars.
Once the brine has boiled and the sugar is dissolved, pour the hot brine into the jars, and close with the lid and a ring.
Place a wire rack at the bottom of the pot so that water can properly circulate all around the jars, and then carefully lower all the jars into the pot (or as many as can fit), and boil for 10 minutes.
Remove and let cool. Check that the lids have sealed, and store for 2 weeks before opening for best results.
Nutrition Information:
Yield:
16
Serving Size:
1
Amount Per Serving:
Calories:

229
Total Fat:

2g
Saturated Fat:

0g
Trans Fat:

0g
Unsaturated Fat:

2g
Cholesterol:

2mg
Sodium:

3319mg
Carbohydrates:

29g
Fiber:

7g
Sugar:

16g
Protein:

10g