Our Smoked Short Rib Poutine is made with tender, crispy, halved baby potatoes topped with cheese and smoky, tender pieces of beef short rib, and then covered with copious amounts of gravy. It is a variation of the classic Canadian dish poutine, which is known for its combination of crispy fries, melted cheese, and gravy. The addition of smoked short ribs adds a rich, smoky flavor to the dish, making it one of the favorite versions of this dish I've ever had!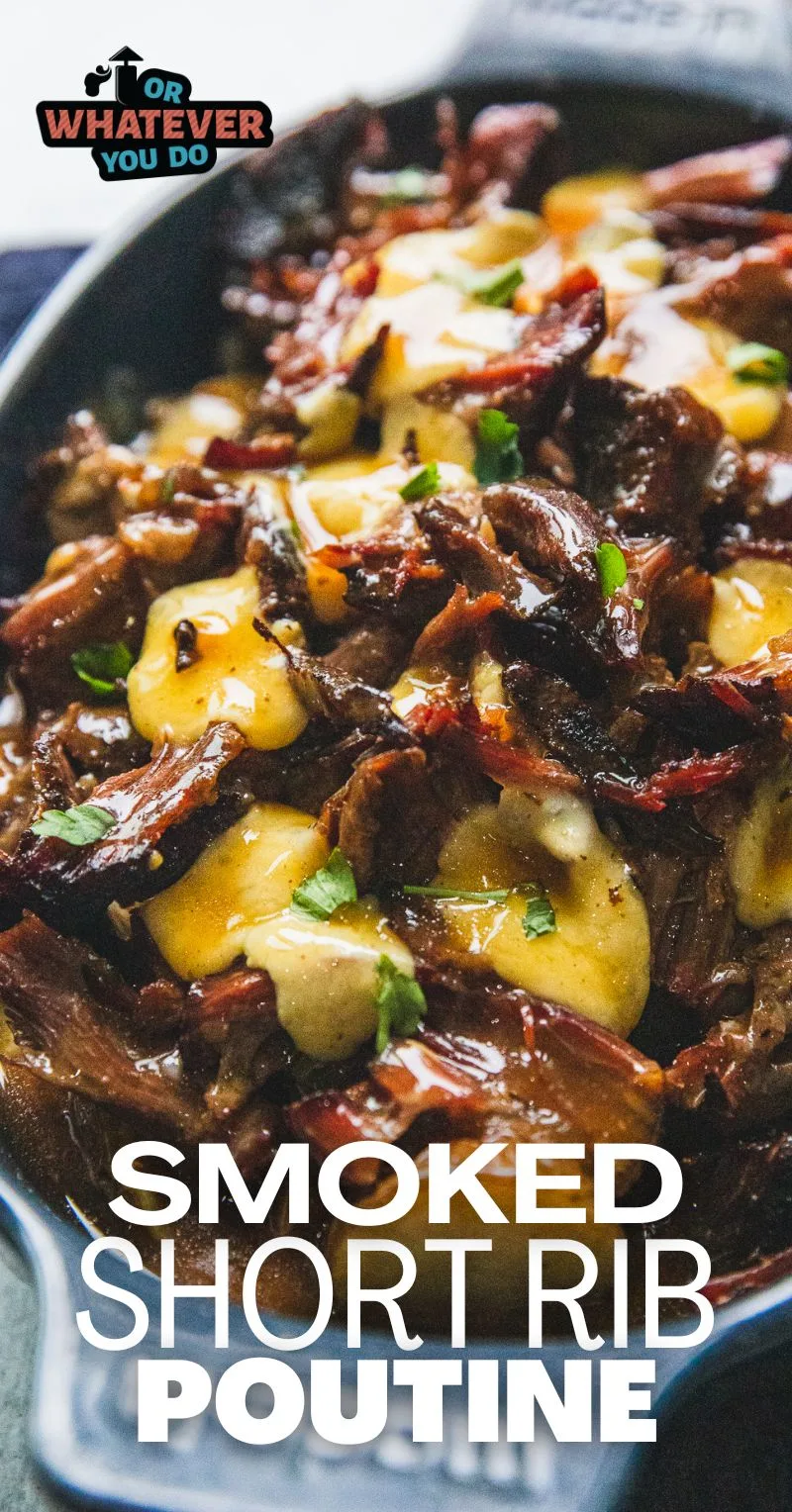 Traeger Smoked Short Rib Poutine Recipe
Our Smoked Short Rib Poutine takes everything about poutine and "next levels" it. French Fries? Nah. We went with baby potatoes that we cut in half and then cook them on the Traeger until they are crispy and perfectly tender.
We also skipped the red wine this time which is usually my go-to for braising red meat, and used a dry hard apple cider instead.
Plus – most of the cook time for this dish is hands off. I actually smoked these short ribs the other day, got caught up with a bunch of things out of my control, and had to shut my grill down remotely and text a teenager to pull these off the grill and stick them in the fridge. I never used to think that I'd have a use for the WIFI option on my Traeger Pro 780, but since I actually set it up I've found myself using it quite a bit! I'm officially eating my words, folks.
When it was finally Poutine day, I just tossed the smoked short ribs into my Dutch Oven, poured in some braising liquid, and set it over low heat on the stove for a few hours. By the time I checked again, they were almost ready to fall right off the bone.
If I would've had frozen fries I probably would've used those, if we're being realsies here. We hosted my husband's 50th birthday party today and I cooked all day and made about 10 different things. That's kind of where I thrive, so there's no complaints from this end of things, but I was definitely opting for the faster version when I could on several of the dishes I made today. I'm pretty happy about that though because these potatoes were legit, even if they were about 15 minutes more work than the frozen fries would've been.
All that to say, I won't judge you for hitting the easy button if that's what you want to do. But if you are feeling feisty or like you really want to show off a little, make the potatoes. They are worth it.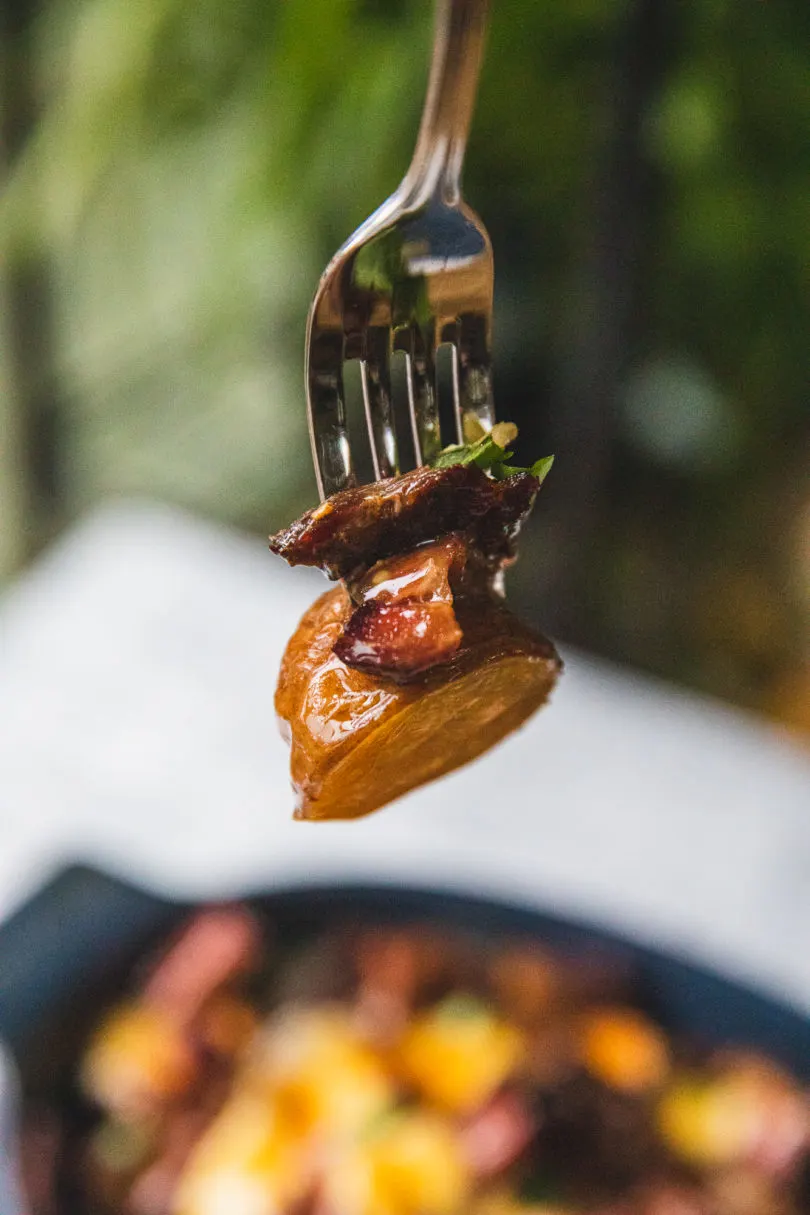 Smoked Short Rib Poutine shopping list
Wondering if you have to hit the store? Here's the list of items you'll need to make this recipe. For specific amounts, please refer to the printable recipe card at the bottom of the post.
beef short ribs
salt & pepper
garlic powder
onion powder
dry hard cider
Better Than Bouillon Beef
Better Than Bouillon Roasted Garlic
Better Than Bouillon Mushroom Base (optional)
baby potatoes
avocado oil
sharp cheddar cheese
cornstarch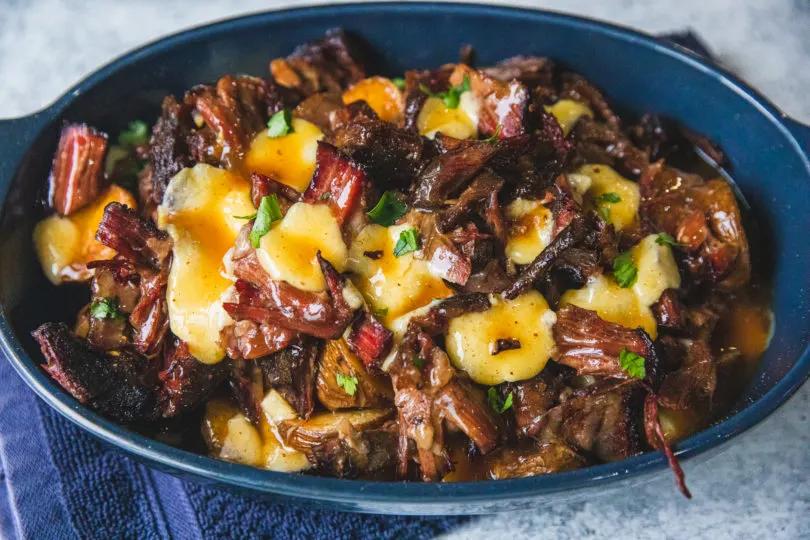 How to make Smoked Short Rib Poutine
This is just the overview so you can see what you're actually getting into here. When you are cooking, you'll want to use the full recipe at the bottom of the page.
Make the Short Ribs!
Season and smoke those bad boys for several hours, and then braise them until the meat falls off the bone. Reserve that short rib braising liquid!
Prep potatoes
Half your potatoes and boil them in well-salted water. Next, cook them cut-side down in a pan of oil until they are crispy.
Put 'em together
Put the crispy potatoes in a grill-safe baking dish. Top with chunked cheese and the short rib meat. Grill until the cheese is melted.
Gravy time
Simmer the braising liquid and thicken with a cornstarch slurry.
Enjoy
Douse the meat and potatoes with the gravy and serve hot.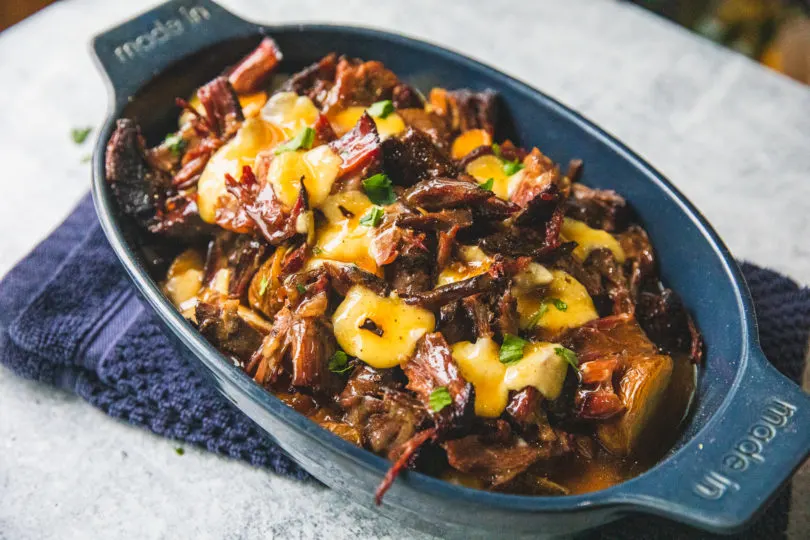 Smoked Short Rib Poutine FAQ
What's the best way to store the leftovers?
Store these leftovers right in the container you cooked them in, ideally. Cover it with foil and put it in the fridge. I doubt there will be many leftovers though! These were a huge hit.
How should you reheat the leftovers you've have?
Reheat the leftovers in the microwave, oven, or pellet grill.
Are there any substitutions for the hard apple cider?
You can sub in red wine or additional beef broth if you'd like! You can also sub in regular apple cider if you don't have the hard version. It'll be a little sweeter and ultimately change the end result a bit, but it will still be delicious.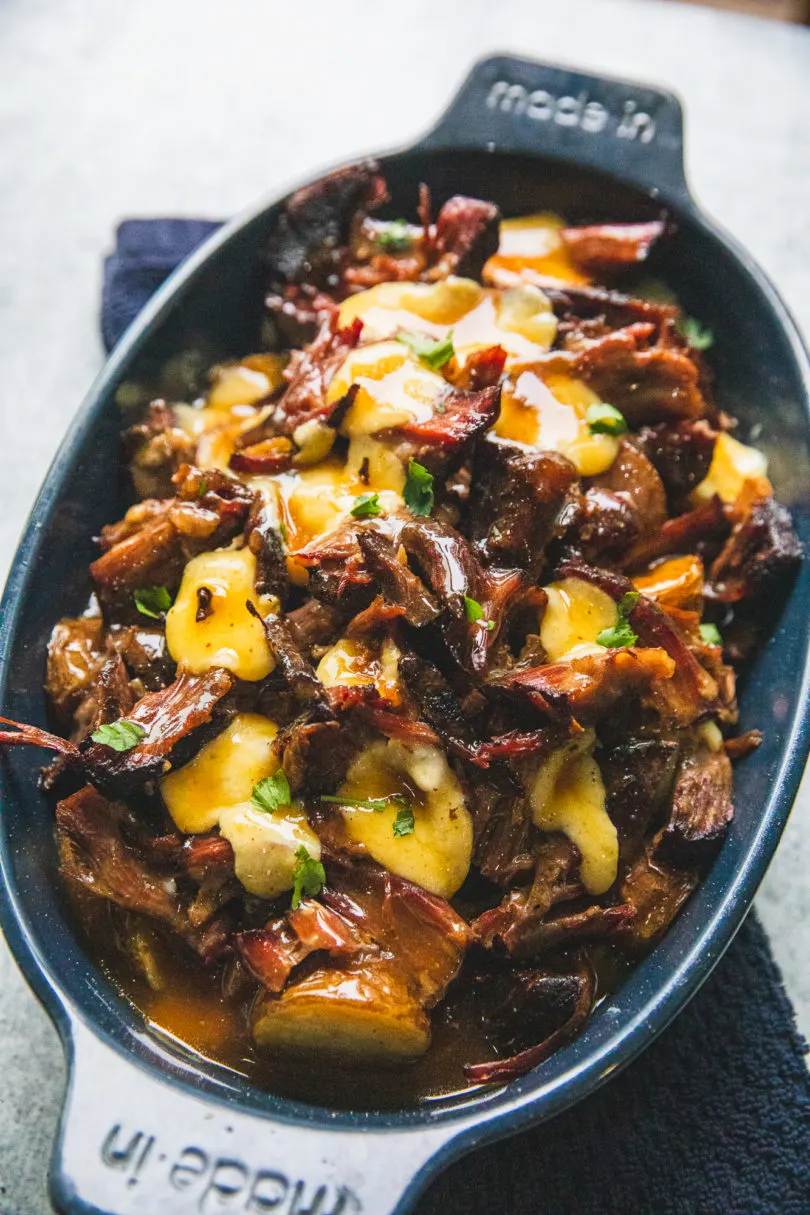 More great recipes to love!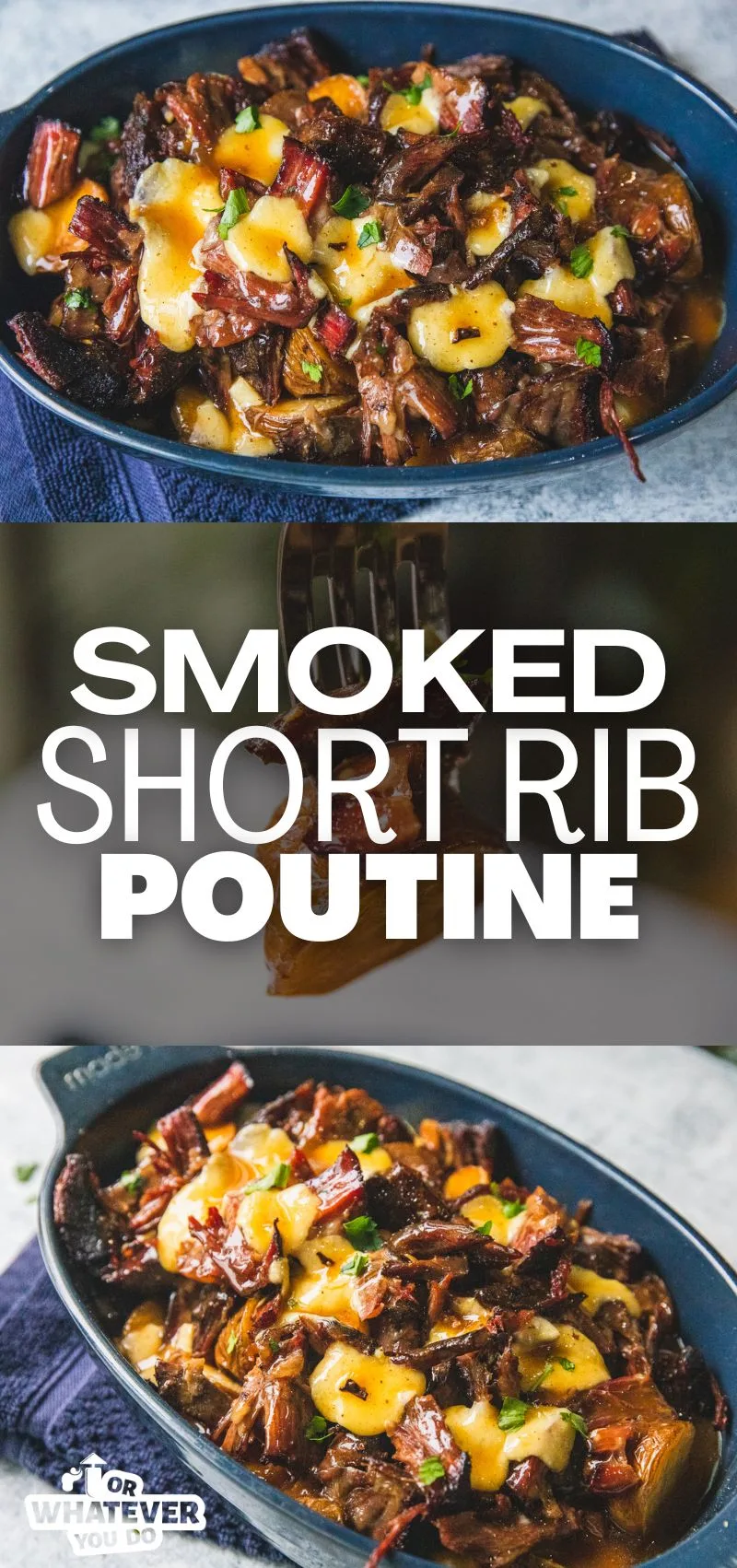 Yield: 6 servings
Smoked Short Rib Poutine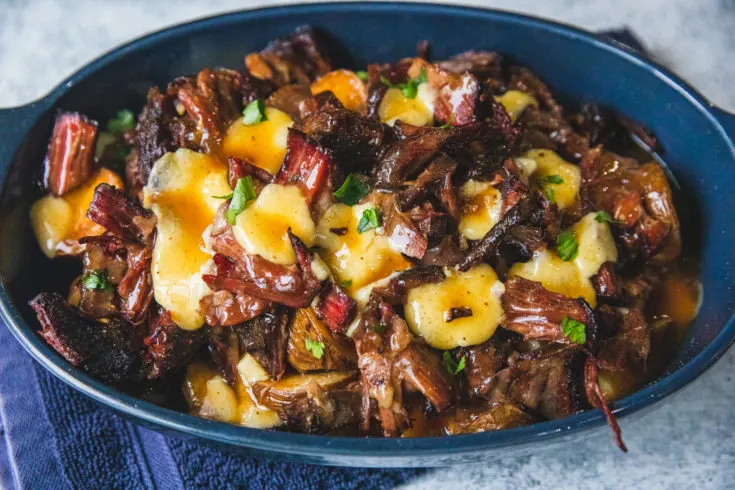 You've never had poutine like this before. Smoked and cider-braised, tender chunks of beef short ribs are served on top of crunchy baby potatoes, loaded up with sharp cheddar cheese, and then smothered in gravy.
Total Time
8 hours
15 minutes
Ingredients
Short Ribs
8 beef short ribs
1 teaspoons salt
1/2 teaspoon pepper
1/2 teaspoon garlic powder
1/2 teaspoon onion powder
Braising Liquid
12 ounces dry hard cider
2 cups water
2 teaspoons Better Than Bouillon Beef
1 teaspoon Better Than Bouillon Roasted Garlic (or use 2 teaspoons minced fresh garlic)
1 teaspoon Better Than Bouillon Mushroom (optional)
Poutine
15 baby potatoes
2 tablespoons salt
3/4 cup avocado oil
12 ounces sharp cheddar cheese, cubed
Gravy
2 cups Braising liquid from the short ribs (add enough water to make 2 cups of liquid, it probably cooked down quite a bit during the braising)
2 tablespoons cornstarch
3 tablespoons cold water
Instructions
Preheat your Traeger to 220°F.
Season the short ribs with your salt, pepper, garlic powder, and onion powder.
Put the short ribs on the grill and let smoke for 4-6 hours.
Remove the short ribs from the grill and place into a Dutch Oven. Pour in the hard cider, water, and mix in the Better Than Bouillons.
Cover and let the meat braise for 3-4 hours, or until the meat is tender and can be easily pulled away from the bone. Check the liquid periodically and add additional water if necessary.
Let the short ribs cool and take the meat off the bone. Reserve the cooking liquid.
While the short ribs are braising, cut the potatoes in half and put into a pot. Cover with water and add the salt to the pot. Simmer over medium heat for 10-15 minutes, or until the potatoes are fork tender. Drain well.
Preheat your grill to 400°F. In a 10x13 inch baking dish, add the avocado oil to the bottom of the dish. Put the pan on the grill and let it heat up with the grill.
Carefully add the potatoes to the hot oil, cut-side down. Cook until the bottoms are brown and crispy. Ballpark, around 20 minutes.
Make the gravy while the potatoes are crisping by simmering the braising liquid and mixing the corn starch and cold water into a slurry. Drizzle into the simmering braising liquid and whisk until the mixture is thickened.
Remove from the oil and pile into another baking dish. Top with your cubed cheese and the meat from the short ribs. Turn the grill down to 325°F and put the poutine inside. Cook until the cheese is melted.
Smother the poutine in the gravy and serve hot.
Notes
You can use store-bought french fries for this recipe and cook them however you like until they are crispy. You'll save yourself some trouble that way if you want to simplify the process a bit. Won't be quite as good ;), but still incredible!
If sharp cheddar isn't your thing, feel free to sub in your favorite cheese. Fresh cheese curds are typical for poutine, so get your squeak on.
Recommended Products
As an Amazon Associate and member of other affiliate programs, I earn from qualifying purchases.
Nutrition Information:
Yield:
6
Serving Size:
1
Amount Per Serving:
Calories:

954
Total Fat:

64g
Saturated Fat:

31g
Trans Fat:

3g
Unsaturated Fat:

30g
Cholesterol:

258mg
Sodium:

3303mg
Carbohydrates:

21g
Fiber:

2g
Sugar:

5g
Protein:

68g
Nutrition data provided here is only an estimate.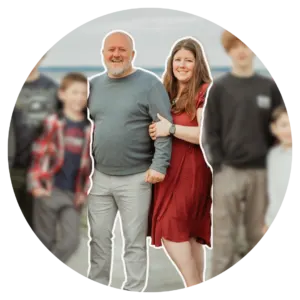 Nicole Johnson, a self-taught expert in grilling and outdoor cooking, launched Or Whatever You Do in 2010. Her blog, renowned for its comprehensive and creative outdoor cooking recipes, has garnered a vast audience of millions. Nicole's hands-on experience and passion for grilling shine through her work. Her husband, Jeremiah Johnson, also plays a pivotal role in recipe development, adding his culinary flair to the mix. Together, they form a dynamic duo, offering a rich and varied outdoor cooking experience to their followers.