Tater Tot Breakfast Casserole comes together easily and reimagines the eggs, sausage, and tater breakfast as a wonderful breakfast hot dish. You get all the heartiness of a sausage, egg, and hashbrowns breakfast, but in a form that is perfect for a crowd.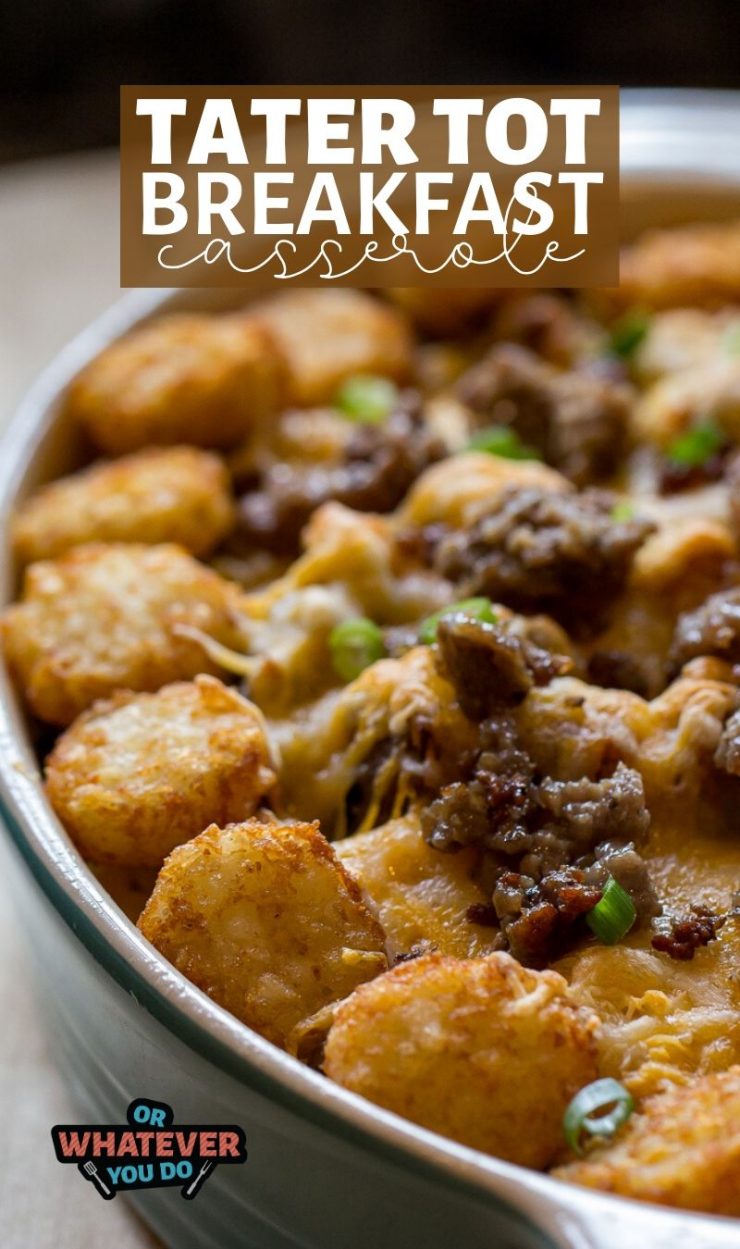 Simple Tater Tot Breakfast Casserole
I think most people don't really think about casseroles when they consider their breakfast options. Perhaps the closest they come is something like a frittata like my asparagus and sausage frittata.
But it's time to open up the possibilities of what's for breakfast without losing touch with what makes breakfast so good in the first place.
Or Whatever You Do participates in several different affiliate programs. As an Amazon Associate, we earn from qualifying purchases.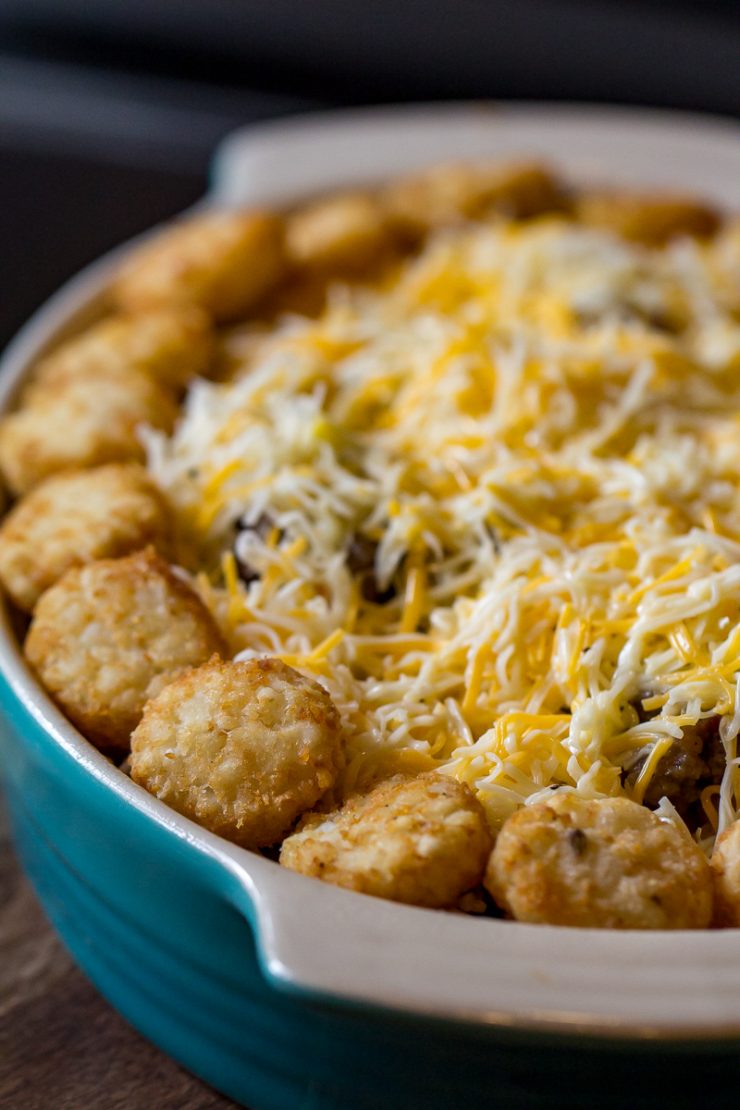 The Convenience Of Tater Tots
Tater tots, after all, are just bite-sized hash browns in a sense. They are great, but not necessarily interesting.
Using them in a casserole gives them an entirely new identity. Instead of being the second thought on the plate after finishing the sausage and eggs, the tater tots come first. They help set the casserole up, and provide a taste of crust and filling in every bite.
The other convenient thing about tater tots? You don't have to grate a bunch of potatoes, then spend all that time trying to clean out your potato grater.
More great BREAKFAST RECIPES here!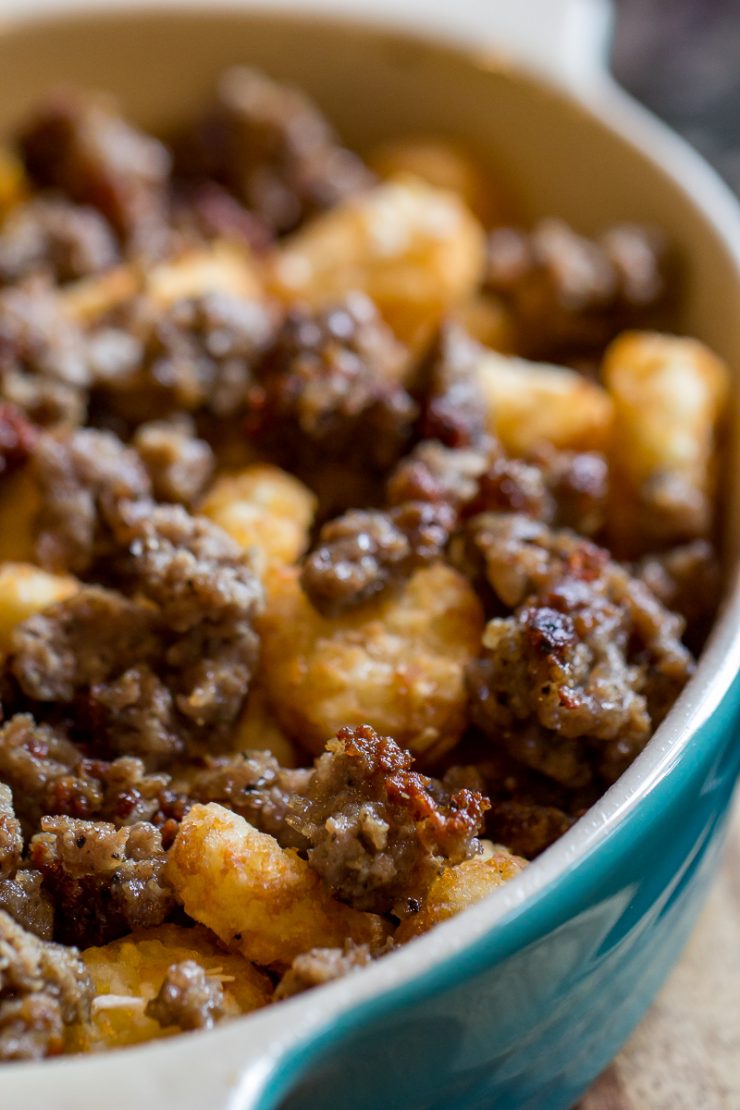 What Type Of Cheese For The Breakfast Casserole?
I think cheddar cheese works great with the tater tots. It also melts nicely and works in the sauce. You can use a variety of cheeses though. Soft cheese like goat cheese or cream cheese works just as well as any grated hard cheese.
The cheese not only helps create the flavorful casserole sauce but can also be used to grate over the top of the casserole too. For that reason, you may also want to use a cheese that is easily grated such as cheddar, mozzarella, or even swiss.
How about some Blueberry Muffins to go with this?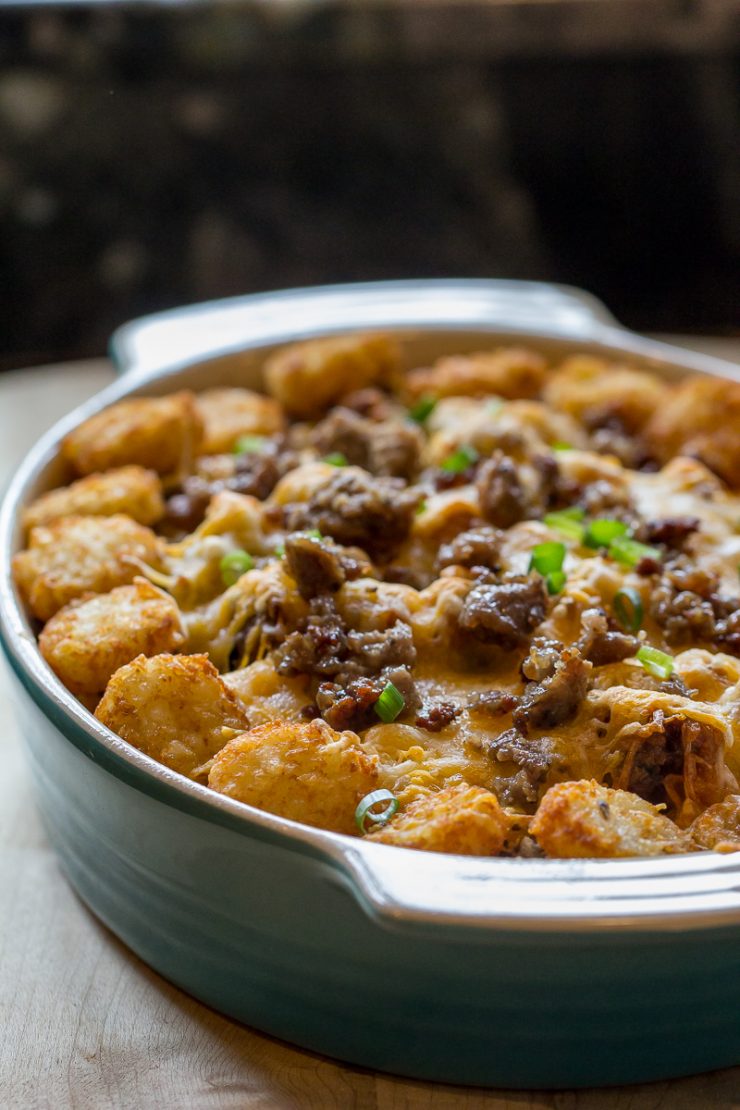 What Kind Of Sausage?
Any brand of breakfast sausage works, pork, turkey, or chicken, but the most important thing is for the sausage to have some pepperiness or some kind of seasoning. If you want to make your own sausage mixture from scratch, try out this recipe.
If you don't happen to have sausage handy, then you can use bacon, but don't overdo the bacon since it is a lot saltier than sausage.
I get my breakfast sausage from ButcherBox. I love that stuff!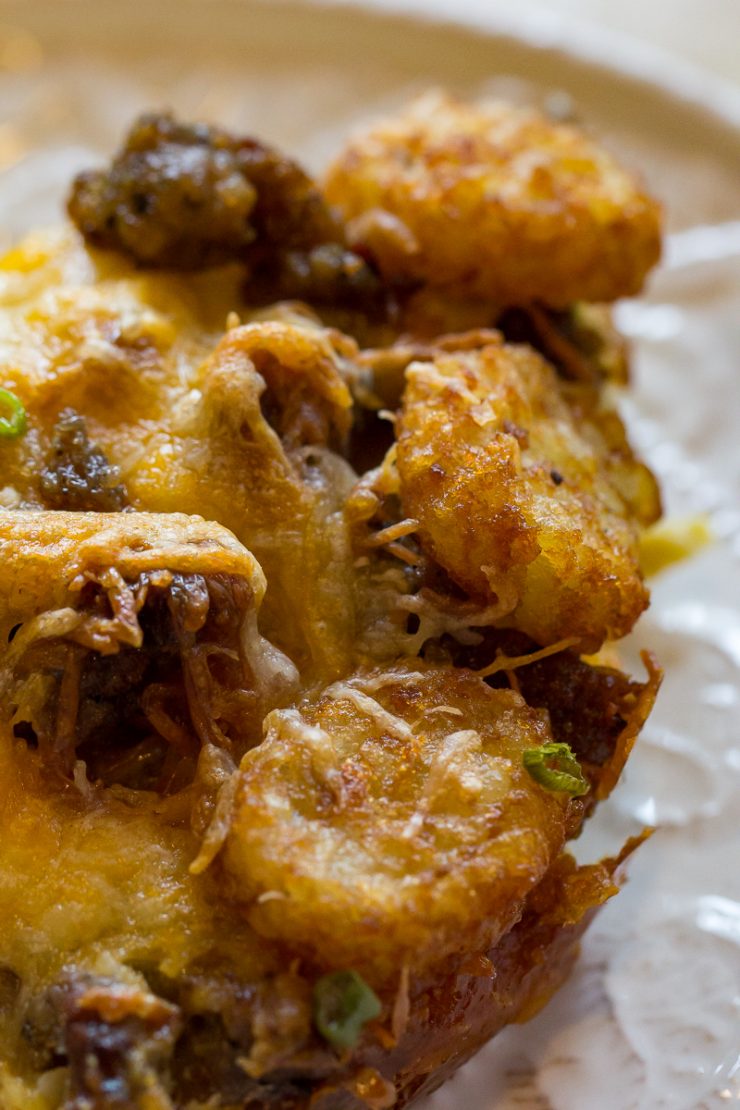 Variations and substitutions for Tater Tot Egg Casserole
These days you don't have to be cornered into one option only for the tater tots. In the frozen section of your local market, you'll find a variety of potato-free tots. Sweet potato and cauliflower tots are widely available and these will work just as well as regular potato tots.
Also, if you are vegetarian or just looking to cut back on meat, then you can cut in cubes of eggplant or jicama instead of using sausage. Make sure to season vigorously because the herbs and spices in sausage add a lot of seasoning.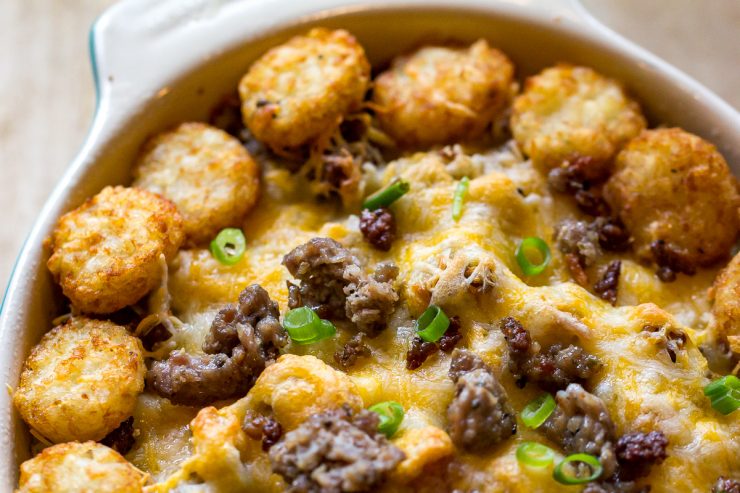 Storing Your Leftovers
You can store tater tot hot dish in the fridge for 3-4 days. It will be even better when you reheat it.
It can also be stored in the freezer if you keep it in a sealed container. In the freezer you can go up to a few months as long as the container lid is very secure so you can ward off freezer burn.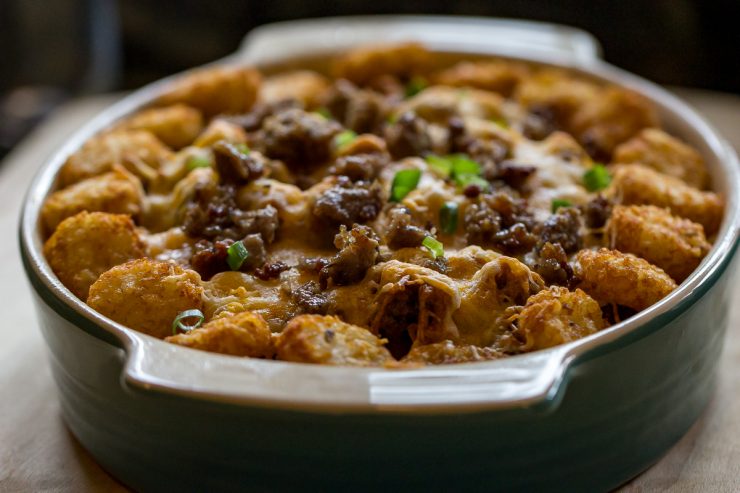 Can you make this on a Traeger?
YESSSS. And again for those of you in the back. This would be a perfect recipe to throw on the grill! Smoke + breakfast hotdish is a perfect match.
You could really cook this on any pellet grill.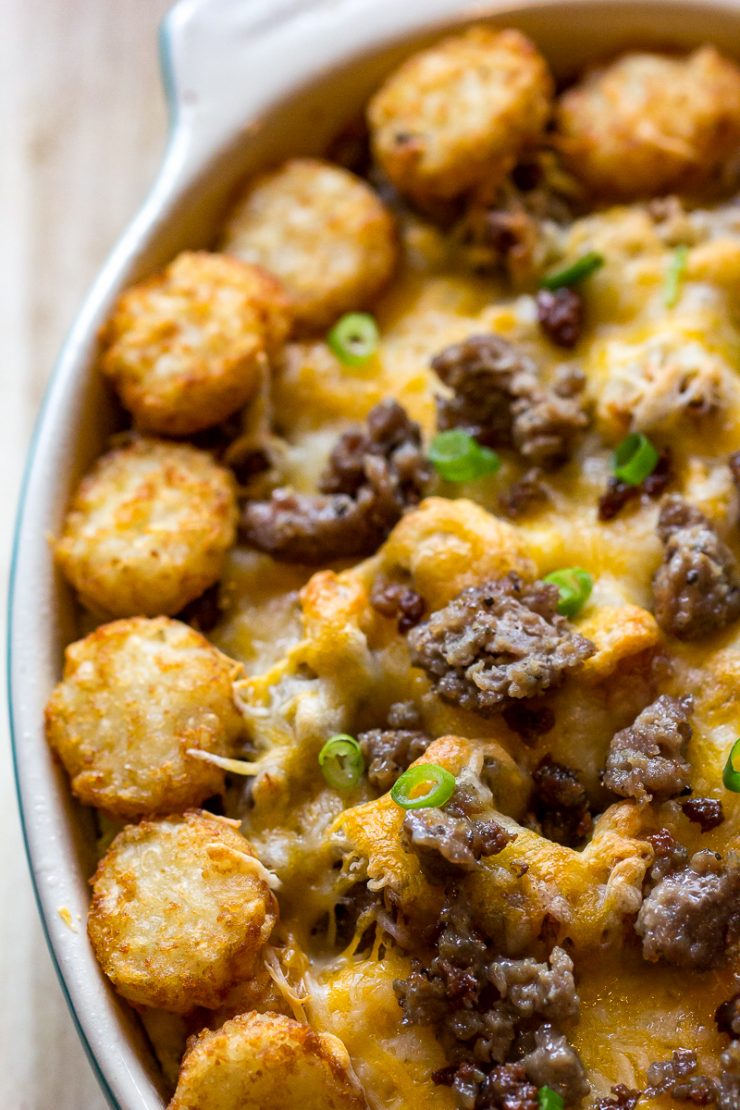 What To Serve With Tater Tot Breakfast Casserole
Since the tater tot breakfast casserole is essentially a multi-course breakfast wrapped up into one delicious dish, you really don't have to think too much about side dishes. This casserole is a real winner when it comes to brunch.
If you intend to make it a brunch bonanza, then you definitely might want to consider serving it with a few of my other breakfast dishes too.
Homemade pancake mix – You can make a few batches of this so you have it handy for whenever you want pancakes.
Homemade eggs benedict – making your own hollandaise sauce isn't that tough and when you have real hollandaise instead of the packaged stuff there is such a huge world of difference!
Smoked salmon scrambled eggs – I love the way smoked salmon makes regular old scrambled eggs something special. This is easy to make and goes great with every breakfast dish you can imagine.
Giant Cinnamon Rolls – From Heather at Sugar Dish Me would be perfect with this savory breakfast.
Pin For Later!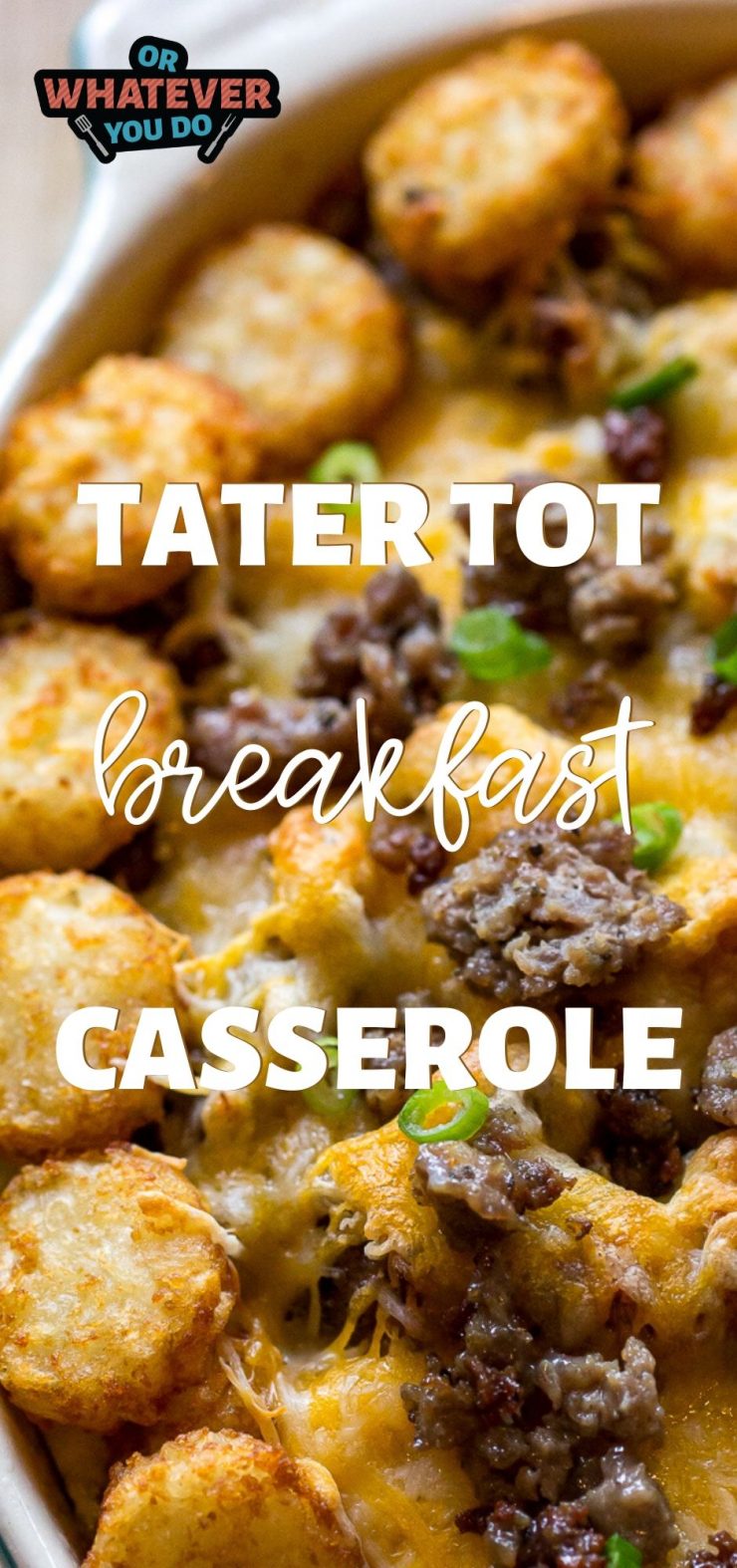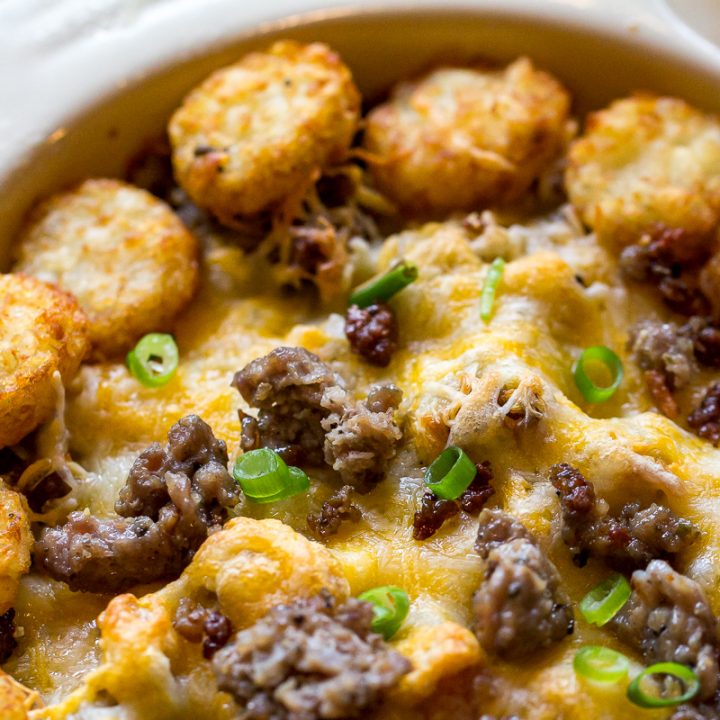 Tater Tot Breakfast Casserole
Tater Tot Breakfast Casserole is a hearty, filling way to start any day! Eggs, sausage, copious amounts of cheese, and all the tater tots make this one of our family's favorite breakfast dishes.
Ingredients
16 ounces tater tots or rounds
4 eggs
1/2 cup milk
1/4 teaspoon salt
1/4 teaspoon pepper
1/2 teaspoon onion powder
2 cups shredded cheddar cheese
1 pound breakfast sausage, browned & crumbled
Instructions
Preheat your oven to 350°. Prep a casserole dish with cooking spray.
Place all but about 20 of the tots inside the casserole dish.
Whisk together the eggs, milk, salt, pepper, and onion powder until well-combined.
Pour over the tots.
Sprinkle the sausage on top and cover with cheese.
Arrange remaining tots on top of the dish.
Bake for around 45 minutes, or until the eggs are set, the tots on top are browned, and internal temp reaches at least 160°.
Remove and let rest for 5 minutes. Slice, scoop, and serve.
Notes
I used potato rounds in this dish, but traditional tots work just as well!
Recommended Products
As an Amazon Associate and member of other affiliate programs, I earn from qualifying purchases.
Nutrition Information:
Yield:

8
Serving Size:

1
Amount Per Serving:
Calories:

451
Total Fat:

33g
Saturated Fat:

12g
Trans Fat:

0g
Unsaturated Fat:

18g
Cholesterol:

171mg
Sodium:

1018mg
Carbohydrates:

18g
Fiber:

1g
Sugar:

1g
Protein:

22g
Nutrition data provided here is only an estimate.