Homemade Eggs Benedict is way easier to whip up than you think it might be. Use a blender to make the fresh hollandaise sauce and use my special secret trick for perfect poached eggs, every time.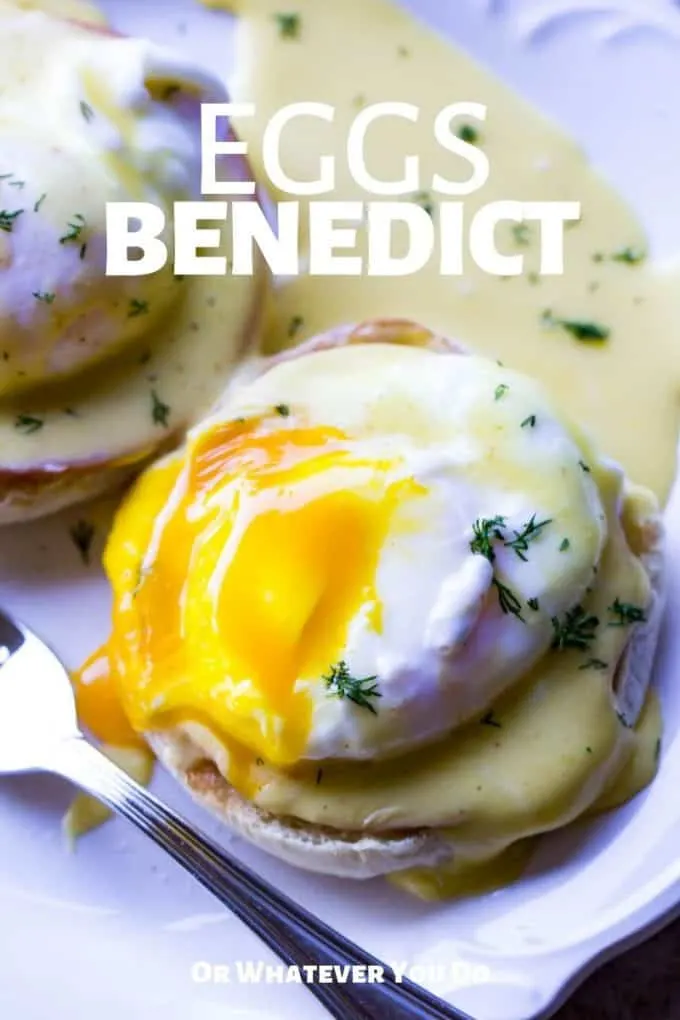 Homemade Eggs Benedict
This recipe for Homemade Eggs Benedict is one of my favorite breakfasts to make when I want to feel a little fancy. That's the thing though – it only SEEMS fancy. Eggs Benedict is actually really simple to make, and doesn't even take that long to throw together.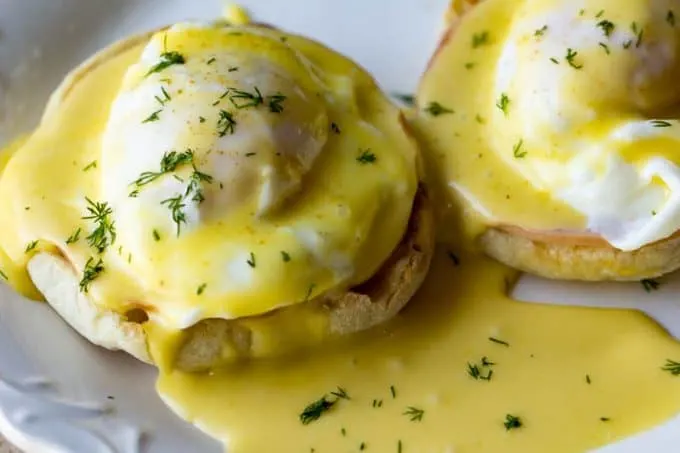 How to make Hollandaise
To make the Hollandaise sauce you will use the double boiler, but make sure that the water isn't touching the top pan.
Once you have brought the water to a boil turn the heat down to a temperature where the water is still simmering, but not boiling. It'll be too hot at a boil and your sauce will scramble.
Mix together the egg yolk and lemon juice with the Worcestershire and 1 tablespoon water. Whisk it so it is fully combined and the yolks have lightened slightly and the volume has doubled, and then place into the top part of the double boiler.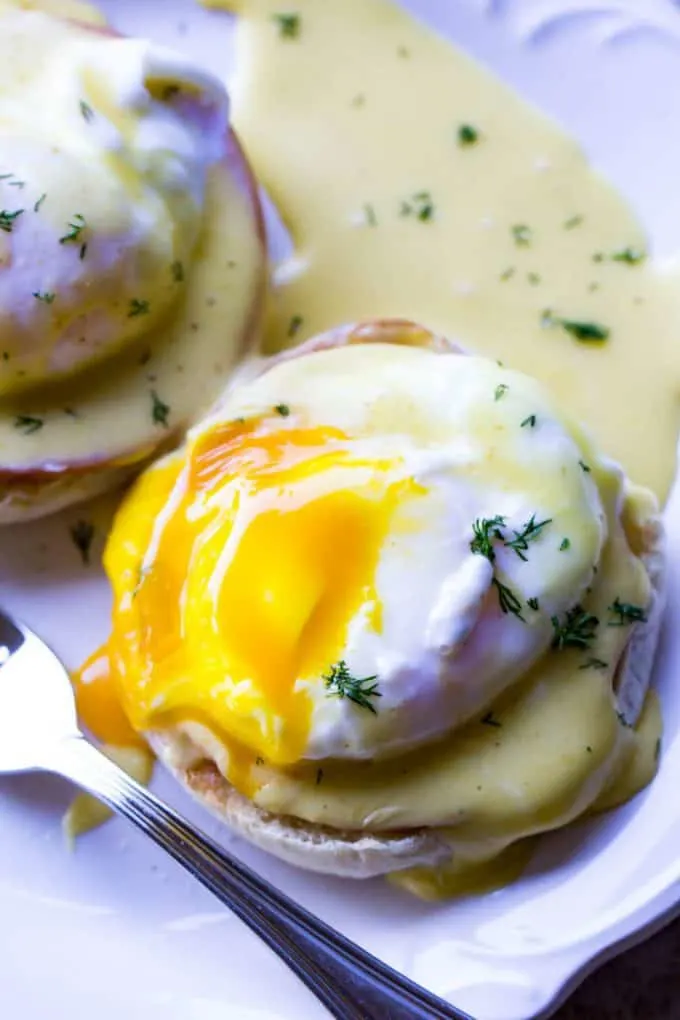 Whisk the mixture continuously until it is slightly thickened, or about 3-4 minutes. Drizzle in your melted butter and continue whisking until it has doubled in volume again.
Remove to a warm spot until your eggs are done.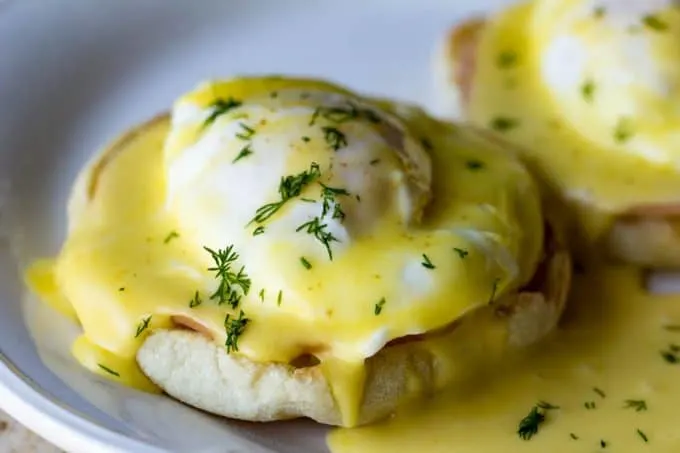 What kind of eggs go on Eggs Benedict?
For the eggs themselves you can cook them any way you want, but for this recipe the eggs are poached. To do that you bring a pan of water to a slow simmer, and then if you want to you can use the handy dandy egg poacher. It is linked below in the recipe card if you are interested!
You'll want to poach the eggs until the whites are fully set but the yolk is still soft, jiggly, and runny.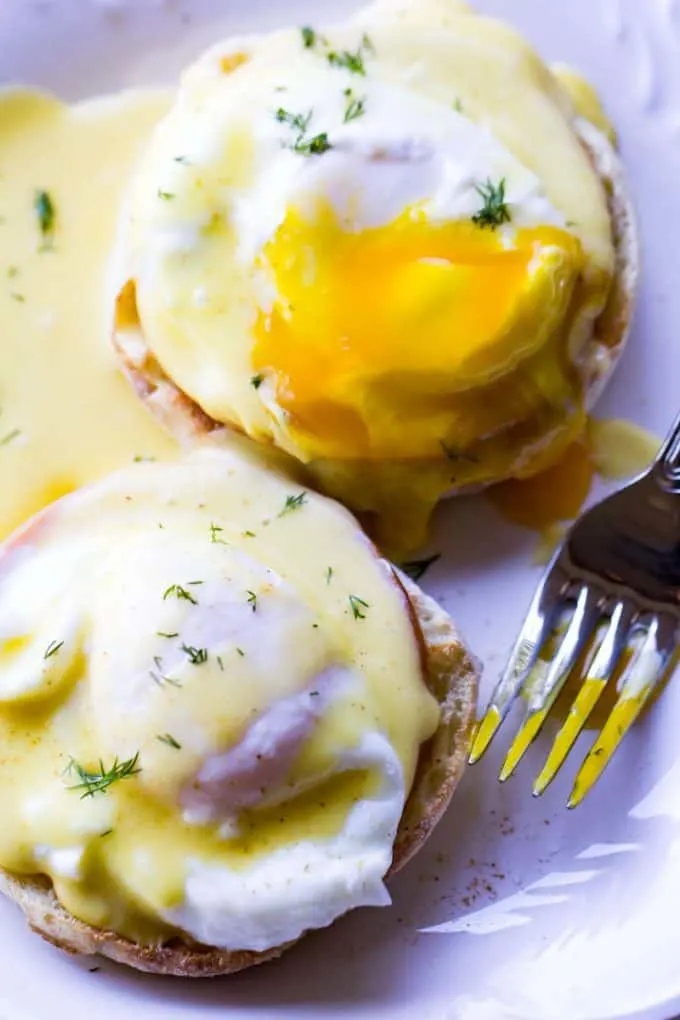 Once the water is at a simmer crack the egg and tip it into the pan. Cook for 2 minutes and then turn off the burner and leave them in the hot water for about 3 minutes to keep warm.
Use a slotted spoon and drain it out on some paper towels or even a paper plate will work.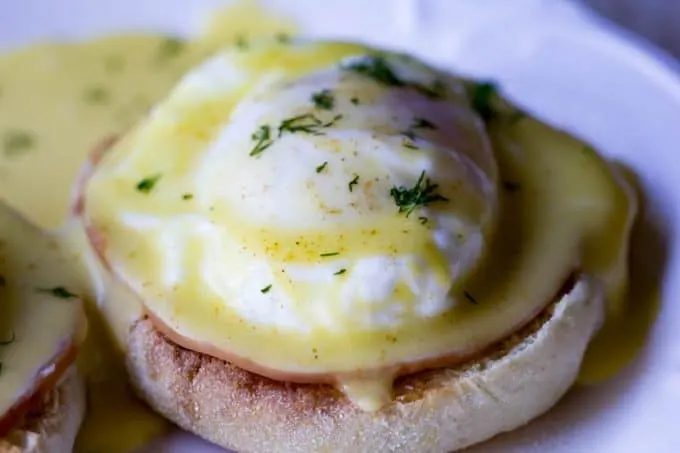 Homemade English Muffins
If you really want to feel fancy, whip up a batch of my homemade English muffins to go with this Eggs Benedict. If that's a little much too much, feel free to just go with store bought English Muffins. This will still be an amazing breakfast.
Just toast the english muffins and butter the tops.
If you turn the oven on to keep them warm you won't have to worry about them going cold, but chances are if your cooking for a big family the eggs and hollandaise sauce will be done first.
Make sure you take the Canadian bacon and get it sizzling hot in a cast iron pan before you plate! Those crispy edges make the world go round.
While you are at it, make some of my Easy Homemade Hashbrowns.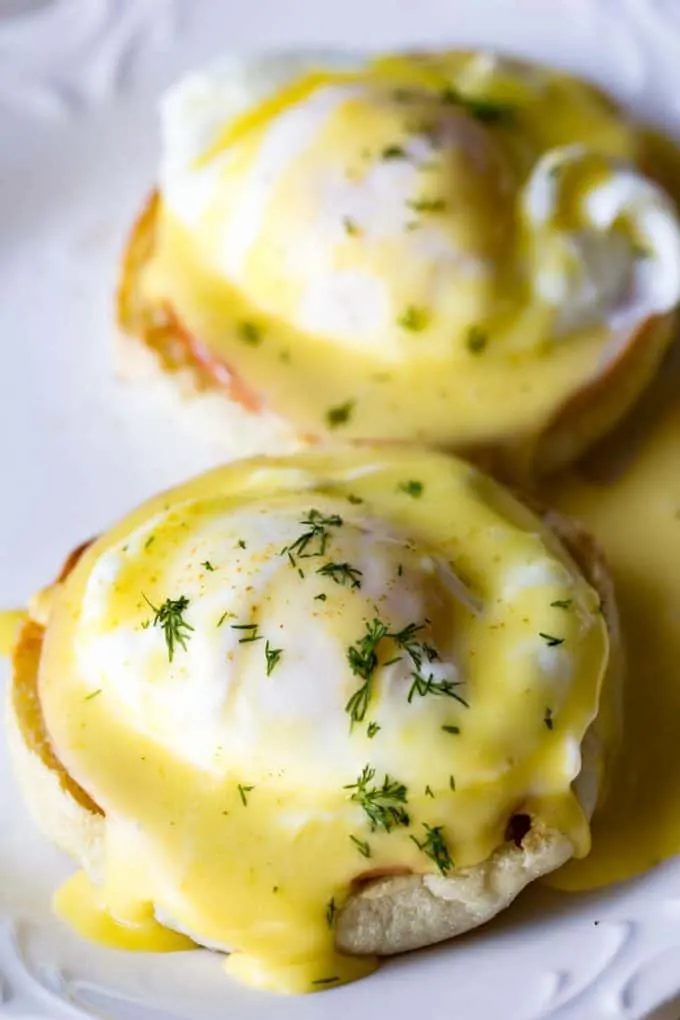 Can I use a packaged Hollandaise Mix?
You can, but really, should you?
I'm going to go a little food snobby on you here for a second and just ask you to PLEASE stay away from the powdered hollandaise. It isn't going to even begin to approach the flavor or texture of using real eggs and making the sauce fresh.
More Easy Breakfast Recipes
These are the best recipes that have ever come out of my kitchen! Check them out!
Pin for later!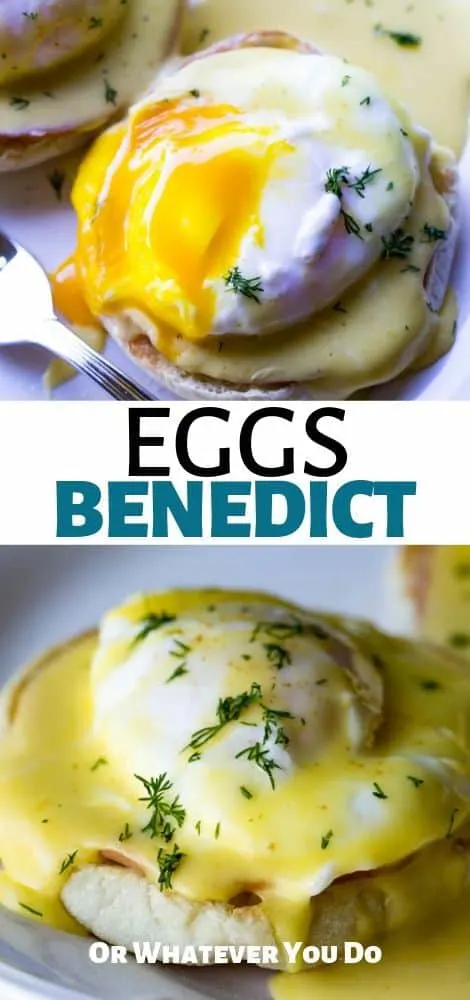 Yield: 2 servings
Homemade Eggs Benedict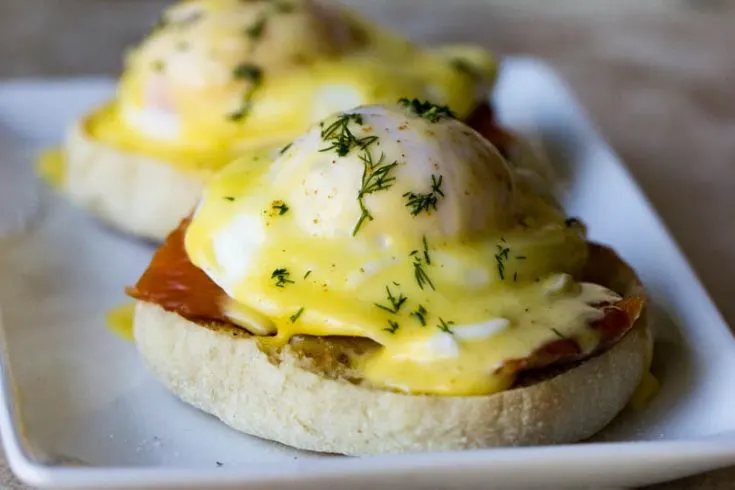 This homemade eggs Benedict has a Canadian Bacon, homemade English Muffins, and lots of creamy homemade hollandaise sauce.
Ingredients
2 English muffins, split and toasted
8 slices Canadian Bacon
4 eggs
Hollandaise Sauce
4 egg yolks
1 tablespoon lemon juice
1/2 cup salted butter
pinch cayenne
Instructions
Place a small-to-medium sized pot of water on the stove over medium-low heat, and bring up to a low simmer.
Melt the butter in the microwave.
In a metal or glass bowl, vigorously whisk together the egg yolks and lemon juice until they are doubled in size and thickened slightly.
Toast the English muffins and liberally butter them.
Place the bowl over the top of the simmering pot of water.
Continue whisking while you drizzle in the melted butter. Keep whisking until all of the butter is incorporated into the egg yolk mixture, and the sauce is thickened to a pourable, but slightly jammy consistency.
Fry the Canadian Bacon in a little butter until the edges are slightly crispy and it is heated through. Place on top of English Muffins
Poach your eggs, 1 or 2 at a time, in the simmering water for 4 minutes. Drain well, and place on top of the Canadian Bacon.
Repeat until all of the eggs are cooked, and then drizzle liberally with the hollandaise sauce. If it has thickened too much, you can drop a couple of drops of hot water in and whisk to loosen it up a bit.
Recommended Products
As an Amazon Associate and member of other affiliate programs, I earn from qualifying purchases.
Nutrition Information:
Yield:
4
Serving Size:
1
Amount Per Serving:
Calories:

438
Total Fat:

34g
Saturated Fat:

18g
Trans Fat:

1g
Unsaturated Fat:

13g
Cholesterol:

450mg
Sodium:

669mg
Carbohydrates:

15g
Fiber:

1g
Sugar:

1g
Protein:

19g
Nutrition data provided here is only an estimate. If you are tracking these things for medical purposes please consult an outside, trusted source. Thanks!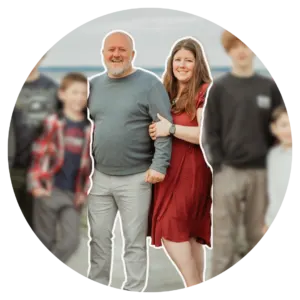 Nicole Johnson, a self-taught expert in grilling and outdoor cooking, launched Or Whatever You Do in 2010. Her blog, renowned for its comprehensive and creative outdoor cooking recipes, has garnered a vast audience of millions. Nicole's hands-on experience and passion for grilling shine through her work. Her husband, Jeremiah Johnson, also plays a pivotal role in recipe development, adding his culinary flair to the mix. Together, they form a dynamic duo, offering a rich and varied outdoor cooking experience to their followers.