It isn't just barbecue and brisket that you can toss on your grill. Our Traeger Grilled Bacon Asparagus Frittata is the perfect reason to fire up your grill this morning.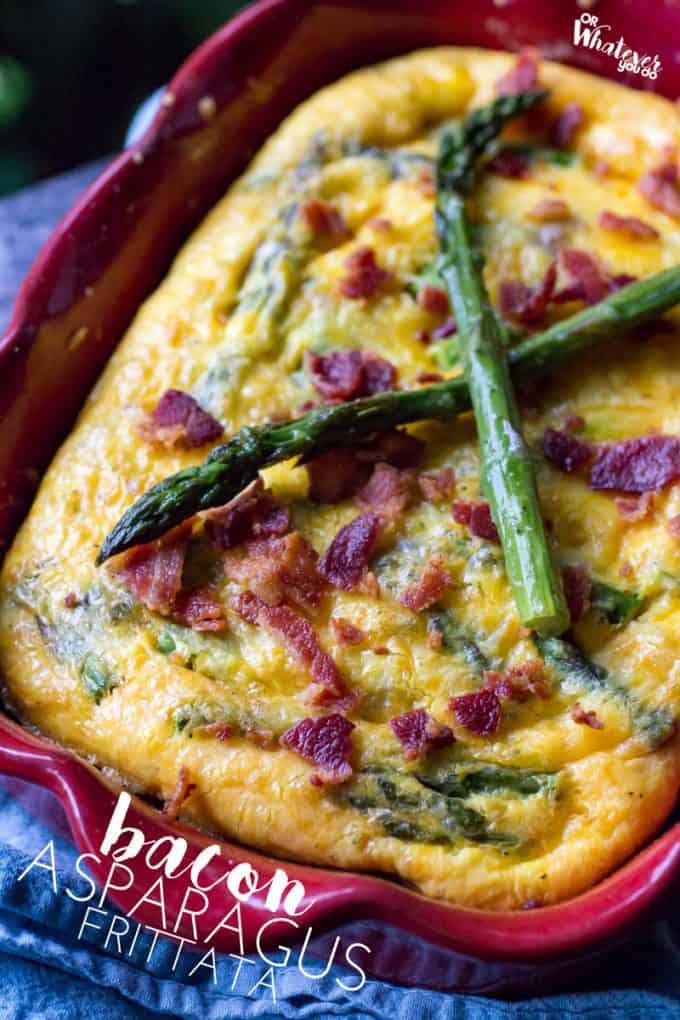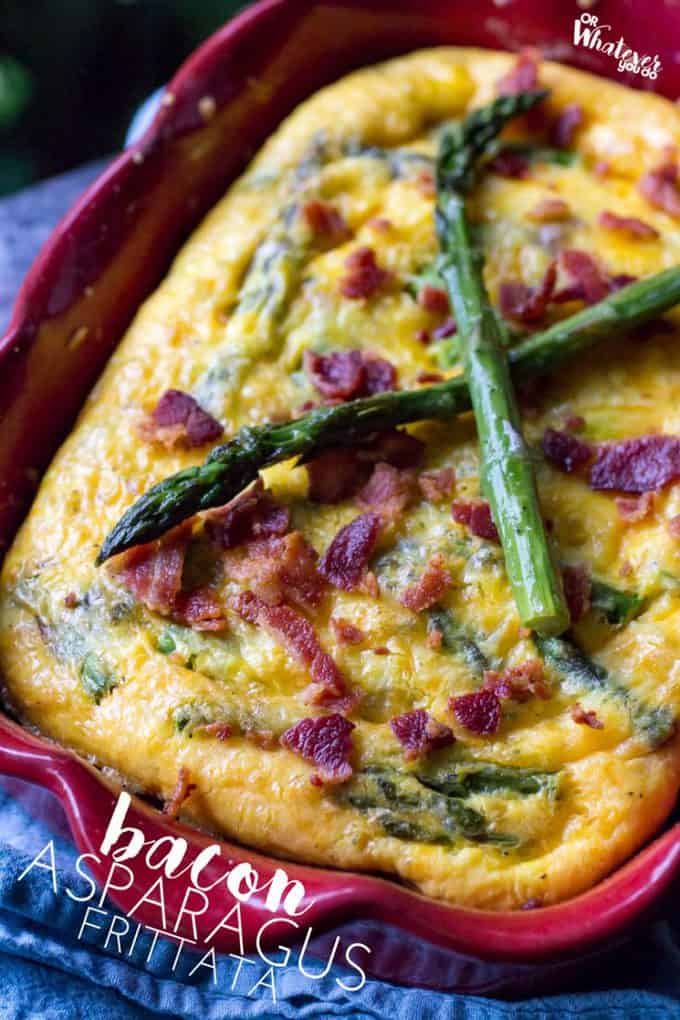 Traeger Grilled Bacon Asparagus Frittata Recipe
The Traeger is a little underutilized when it comes to breakfast foods. We've got a whole post on a fully barbecued breakfast on a traditional gas grill, but none yet on our trusty Traeger.
I think some of that has to do with people either not having the time or the patience for big breakfasts with multiple things cooking at once to pull it off on a grill. I get that.
Sometimes, I want a complete breakfast, but the execution takes too much time and I just end up grabbing a piece of toast with my coffee and think I'll wait until lunchtime to have something more substantial.
If you really like breakfast foods and want it good without having to use 4-5 pans to do it, then check out this frittata. It cooks in one dish, and heck, make it for breakfast, lunch, or brunch.
Check out all of my Traeger Recipes!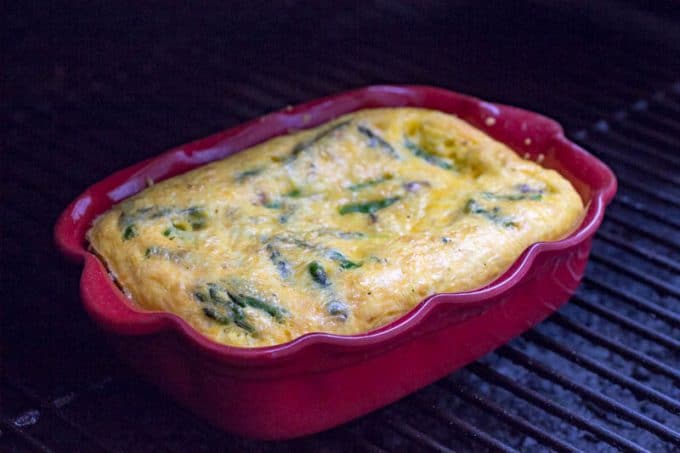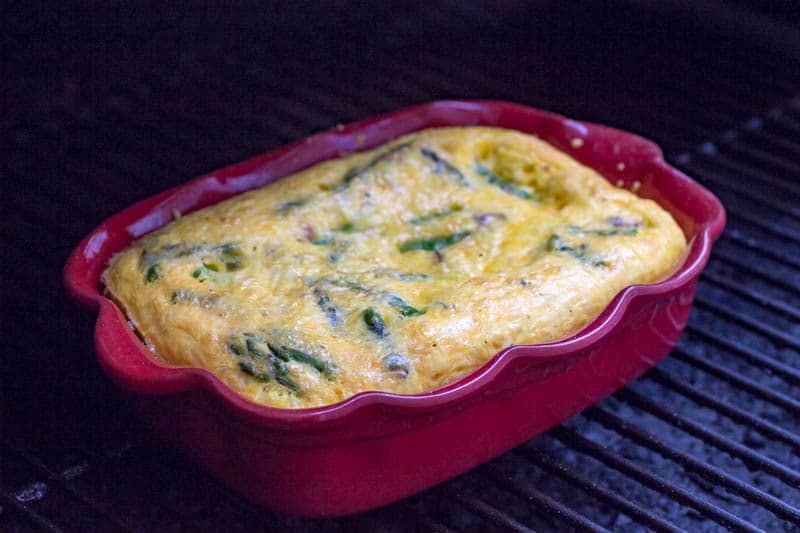 What is a Frittata?
According to dictionary.com, a Frittata is "an omelet resembling a large pancake and containing vegetables, seasonings, and often ricotta, Parmesan, or other cheese."
Yeah, I had to look it up. I mean, between all of the different egg dishes it is easy to get mixed up. You have Frittatas, Omelets, Egg Bakes, Quiche, Strata, Fritter. AGGGGHHHHH. So many different ways to do eggs. We aren't even dipping our toes into things with eggs that are unwhipped, either.
Basically, a frittata is like a lot of those other options, but it is crustless and doesn't really include milk or cream. They are also traditionally prepared on the stovetop and then finished in the oven.
Speaking of the oven, this question comes up quite a bit when you deal with Frittatas.
Use up those EGGS with these recipes!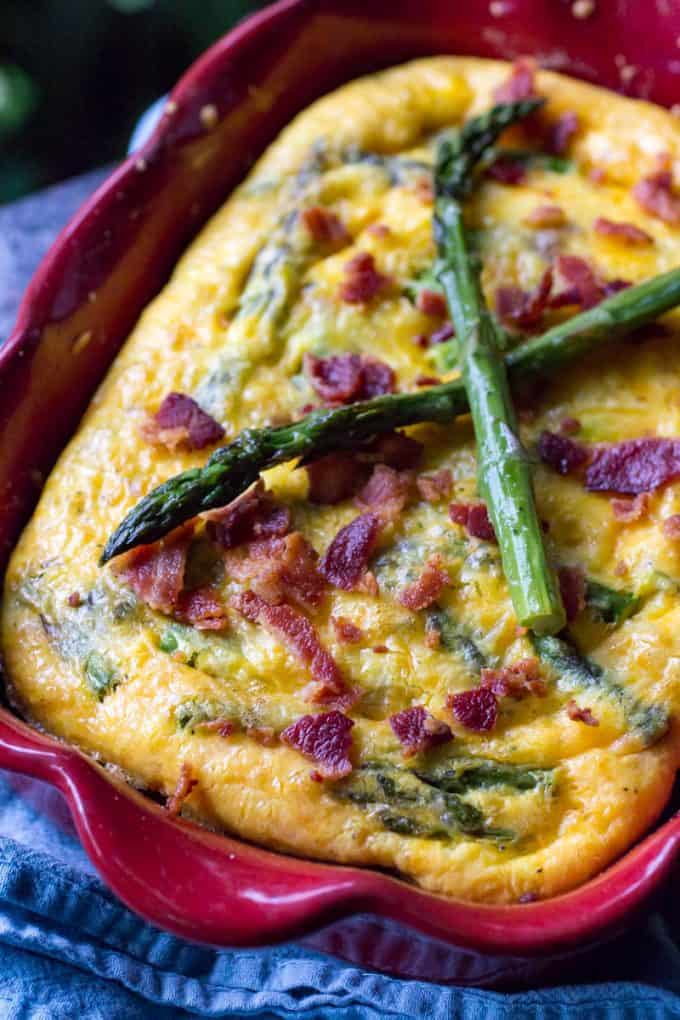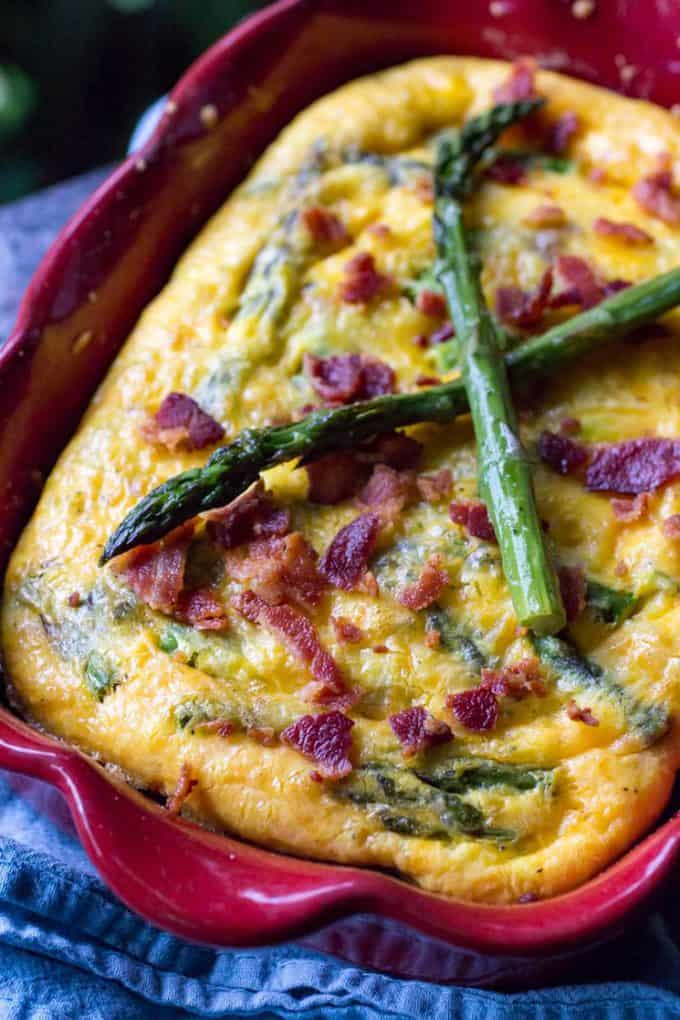 Can a Bacon Asparagus Frittata be cooked in the oven?
Absolutely! There are definitely benefits to the end results if you start it on the stovetop, but I don't think they are significant enough to make it 100% necessary.
The same goes for your grills. This is a perfect dish to get creative with cooking methods on.
Make with a big plate of Butter Swim Biscuits and Gravy!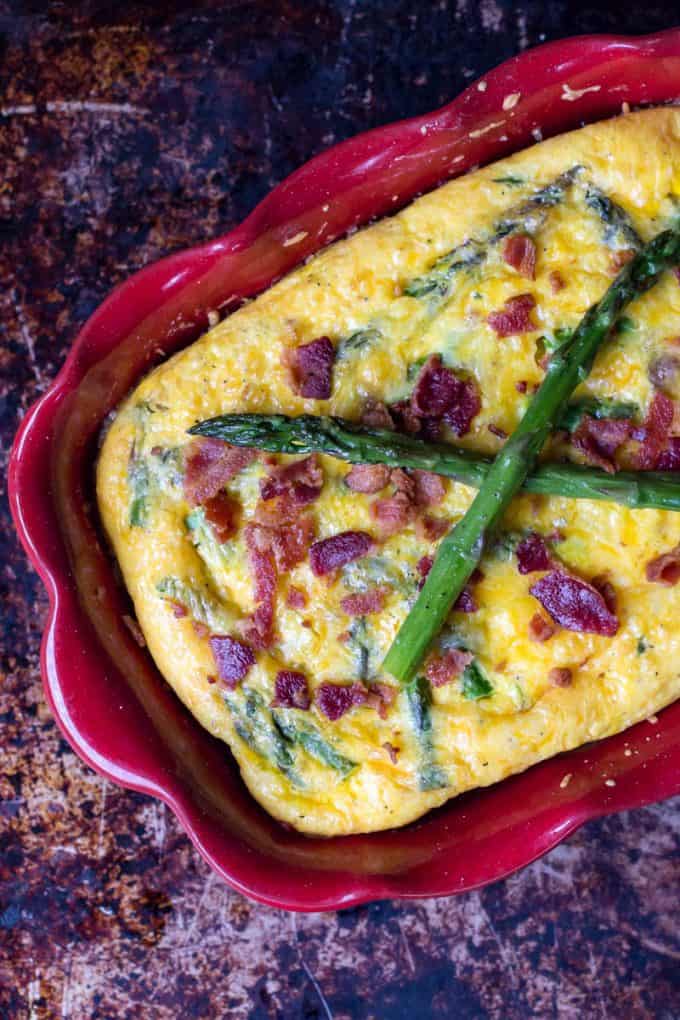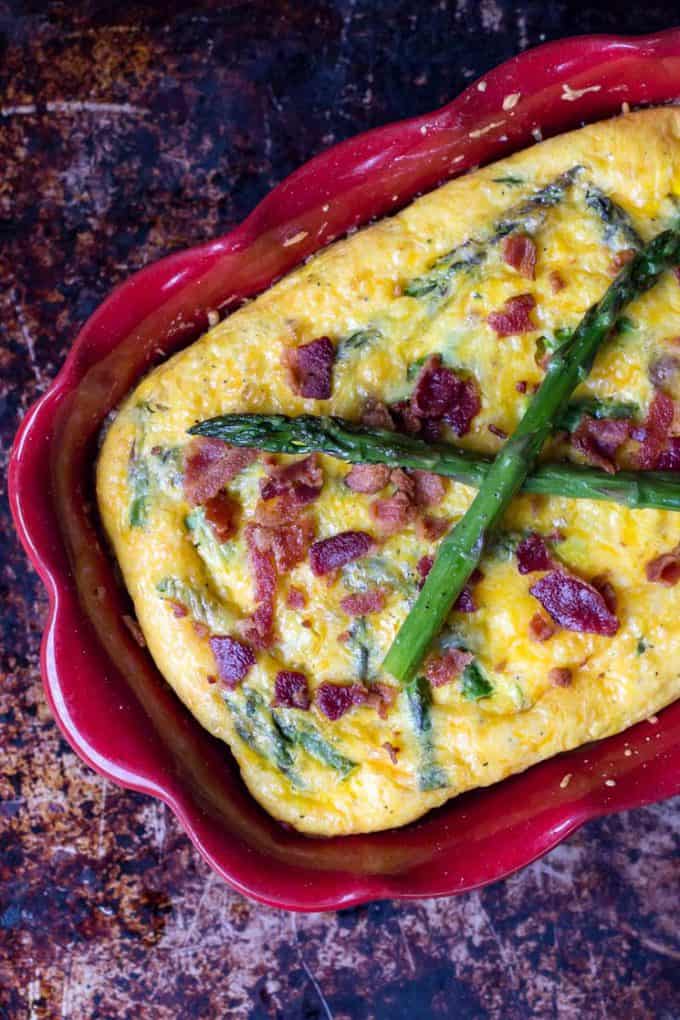 Can a frittata be made ahead of time?
Absolutely! That's one of my favorite things about frittatas. You can make them in advance and they reheat really well. I recommend the oven over the microwave for this for best results.
Is bacon asparagus frittata served hot or cold?
Either! Personally, I prefer hot – but you can totally make this and serve it cold or room temp if you'd like!
Tips for making an amazing frittata
FRESH EGGS.
They matter.
I mean, if you do not have access to farm eggs, I get it. Get your grocery store eggs and you'll still love this recipe, but if where you live is anywhere like where I live, fresh eggs are literally just down the block. Almost anywhere here.
In my case, they are right outside in my chicken coop, but there are no less than like 10 neighbors in a 1-mile radius that also have chickens so if my flock disappeared tomorrow I could still get farm eggs whenever I felt like it.
I realize not everyone lives in the best place on earth like I do, but if you are on the fence about whether farm eggs are ACTUALLY better than factory eggs, GET OFF THE FENCE THERE IS NO ARGUMENT.
Farm eggs from hens that are allowed to hunt and peck and spend their days in the grass and the sunshine are not even in the same galaxy as factory eggs.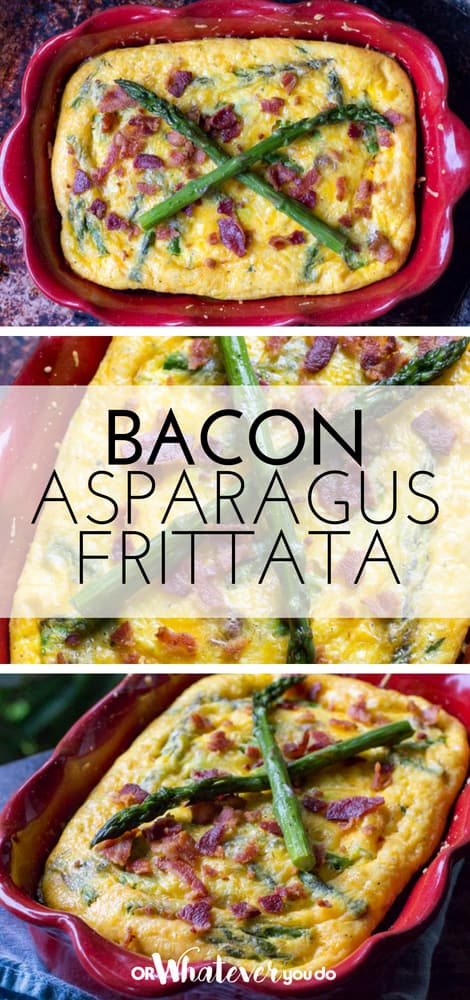 Yield: 8 people
Traeger Bacon and Asparagus Frittata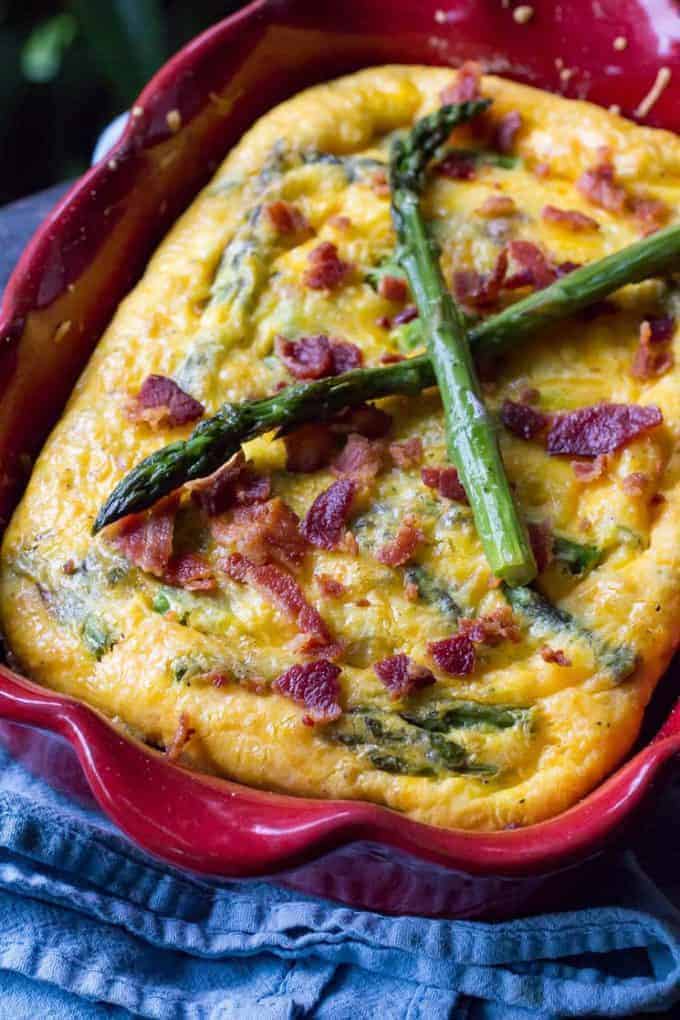 This easy egg bake is full of delicious Traeger bacon and asparagus. Use farm fresh eggs for the best results!
Ingredients
10 large eggs
5 asparagus stalks
5-6 strips of thinly sliced, cooked and chopped bacon
1 cup shredded cheddar cheeese
1/2 teaspoon salt
1/4 teaspoon black pepper
Instructions
Start up your grill and set the temperature to 350 degrees F.
In a small mixing bowl add the eggs, salt and pepper. Using a whisk, mix your egg mixture thoroughly.
Pour the egg mixture into a small ovenproof baking dish coated in non-stick cooking spray.
Place the asparagus and about 2/3 of the bacon pieces into the egg mixture, then sprinkle the cheese on top.
Place the dish onto the grill and close the lid. Let cook for 25-30 minutes. the eggs are fully cooked when there is no liquid in the center of the dish.
Pull from the grill and add the last of the bacon to the top. Cut into 3-4 inch pieces and serve.
Recommended Products
As an Amazon Associate and member of other affiliate programs, I earn from qualifying purchases.
Nutrition Information:
Yield:
12
Serving Size:
1
Amount Per Serving:
Calories:

104
Total Fat:

7g
Saturated Fat:

3g
Trans Fat:

0g
Unsaturated Fat:

4g
Cholesterol:

165mg
Sodium:

226mg
Carbohydrates:

1g
Fiber:

0g
Sugar:

0g
Protein:

8g