First up your pellet grill, this loaded and Smoked Hashbrown Casserole is made on our Traeger grill, and full of all the homemade cheese sauce, ranch, bacon, and sour cream. Equally as good for breakfast or as a side dish to your meal, this casserole is endlessly customizable.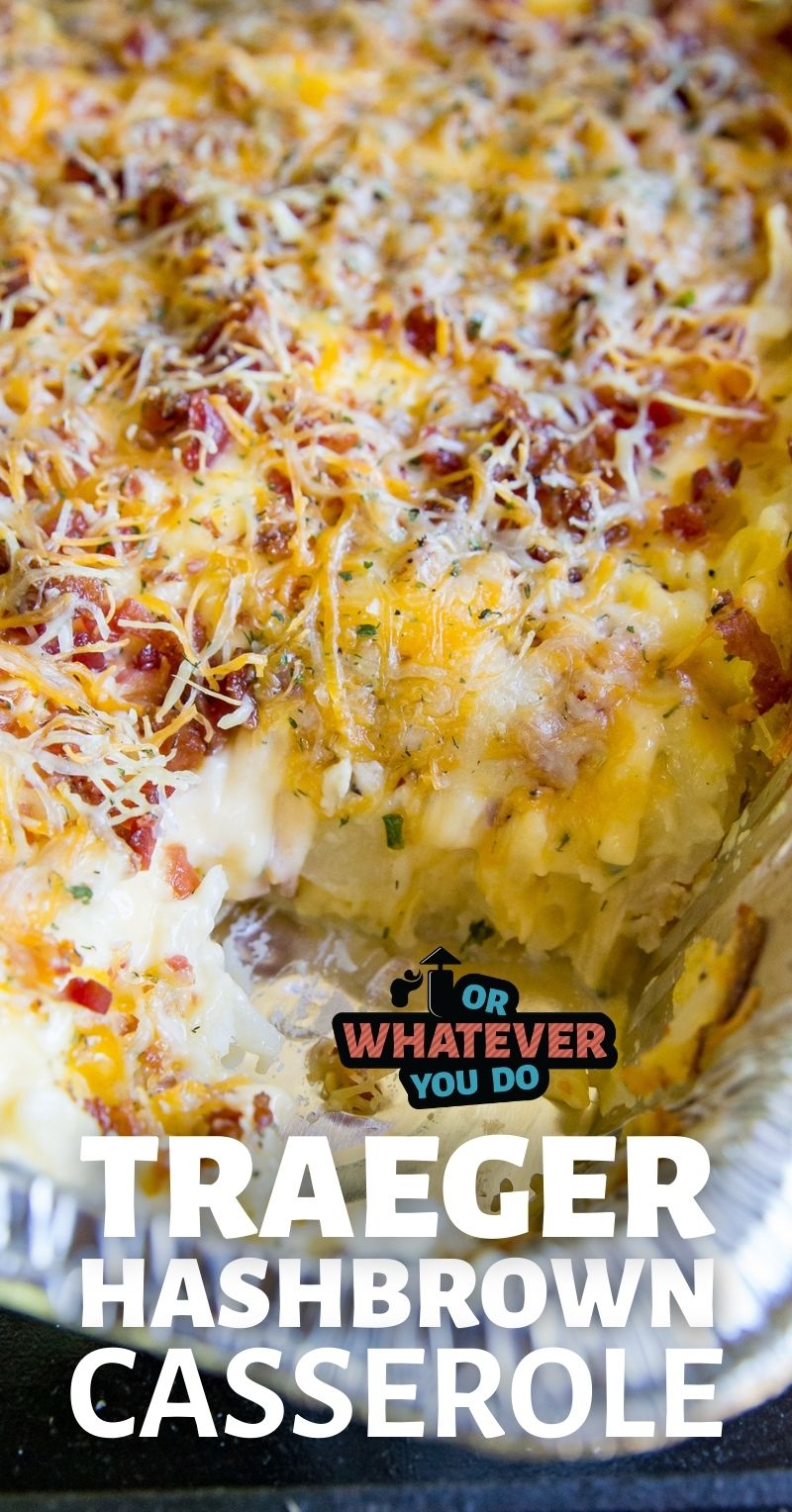 Traeger Hashbrown Casserole Recipe
Hashbrown casserole is a staple around here. Whether it is a breakfast version that incorporates a bunch of scrambled eggs or the classic side that you'll see next to a ham on Easter or any of the fall holidays, cheese sauce + potatoes is always a good idea.
For this recipe, we changed things up a bit from my Traeger Funeral Potatoes which include the classic "cream of" soup with mayo and sour cream, and are making a cheese sauce from scratch using a "secret" ingredient that chefs have been using for years and years.
More Easy Traeger Recipes here!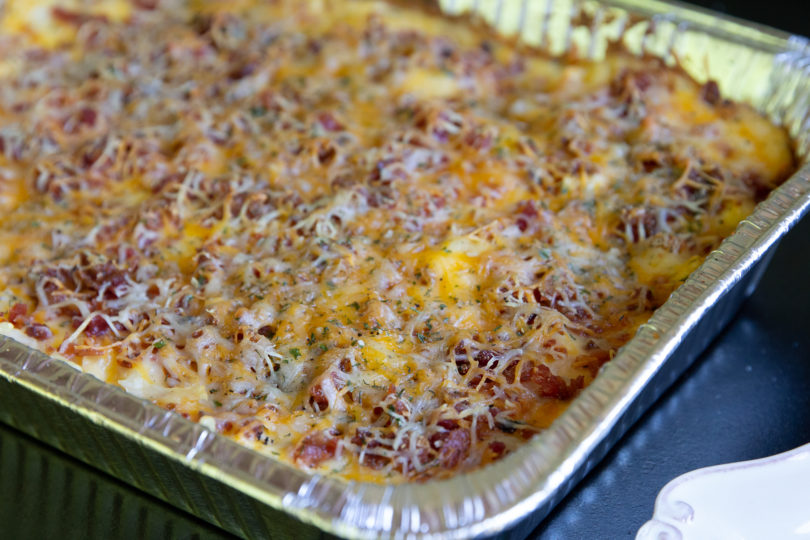 Loaded Potato Casserole shopping list
Wondering if you have to hit the store? Here's the list of items you'll need to make this recipe. For specific amounts, please refer to the printable recipe card at the bottom of the post.
milk

sodium citrate
shredded potatoes (refrigerated)
cubed potatoes (refrigerated)
shredded cheddar cheese
sour cream
bacon
More great BREAKFAST RECIPES here!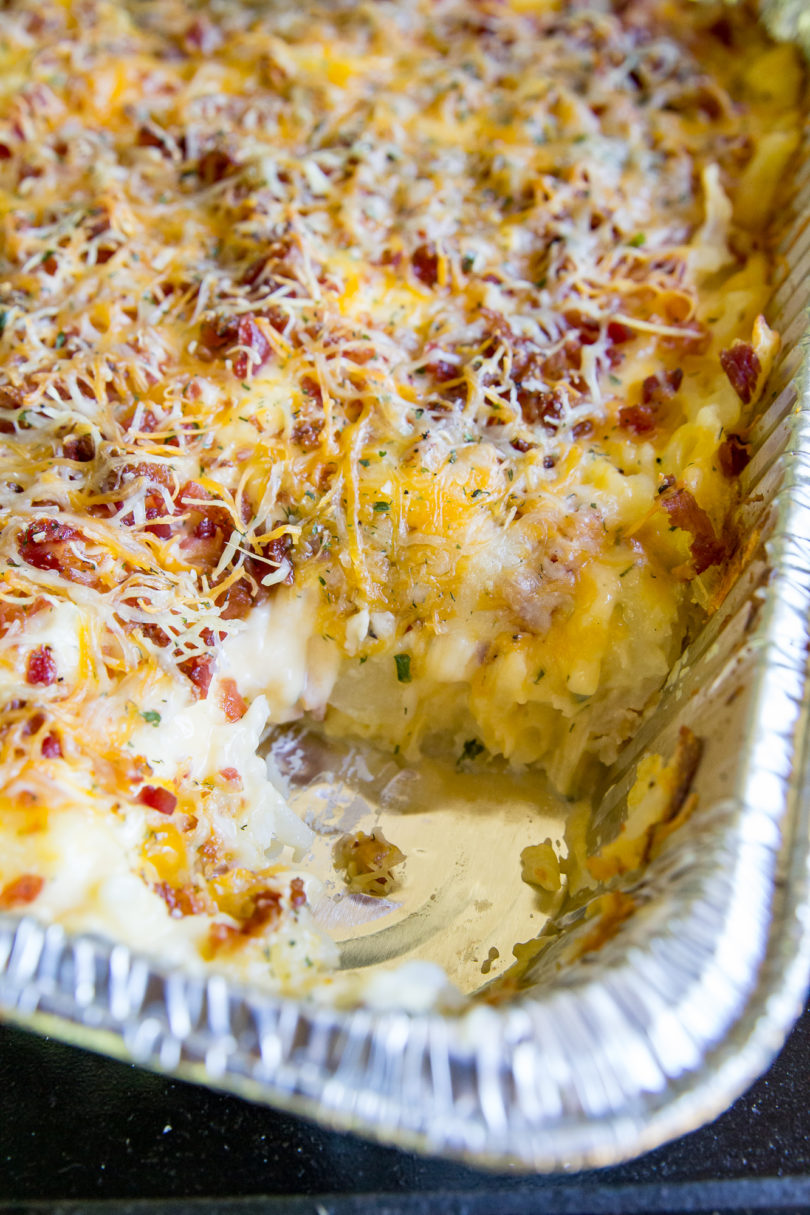 How to make Smoked Hashbrown Casserole
This is just the overview so you can see what you're actually getting into here. When you are cooking, you'll want to use the full recipe at the bottom of the page.
Preheat your smoker
225° is right where you want it! We use the pellet grill, but use what you've got!
Make the cheese sauce
I made my own homemade cheese sauce here, but if you want to cheat you can totally use a couple of cans of cream of cheddar soup. Just thin it out a pourable consistency. I recommend getting yourself some sodium citrate
Mix it up
Sour cream, ranch mix, potatoes, cheese sauce. All of it. Spoon it into a greased grill-safe pan. Toss the butter on top and then the rest of the cheese and the bacon.
Smoke it
Mine took about 45 minutes to be done. Your mileage may vary. The potatoes are done when they are tender and the cheese sauce is bubbly. If you need to move things along, bumping up the temp to 275° will get the job done faster, but there will be less smoke flavor in the end result.
Follow me on Instagram!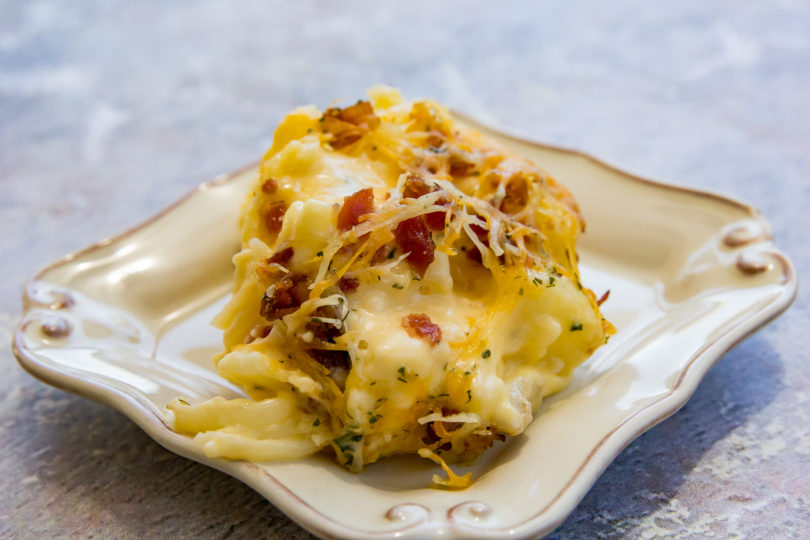 What is sodium citrate & why is it awesome?
Sodium citrate is also known as citric acid or sour salt. It has been widely used in commercially packaged foods as a flavor and a preservative. The explosion of modernist cuisine and molecular gastronomy in recent years has also found it used by chefs as an emulsifier and for spherification.
For this easy cheese sauce, we're using it as an emulsifier. Usually, cheese sauce is a risky business. Too hot, it can break. Not hot enough, and things won't melt together properly. The sodium citrate takes the gamble out of cheese sauce completely.
Want the smoothest queso ever? YOU got it. Have a favorite cheese you'd love to sauce up but it isn't the BEST melter you've ever seen? NO PROBLEM.
More Potato recipes here!
More recipes to enjoy!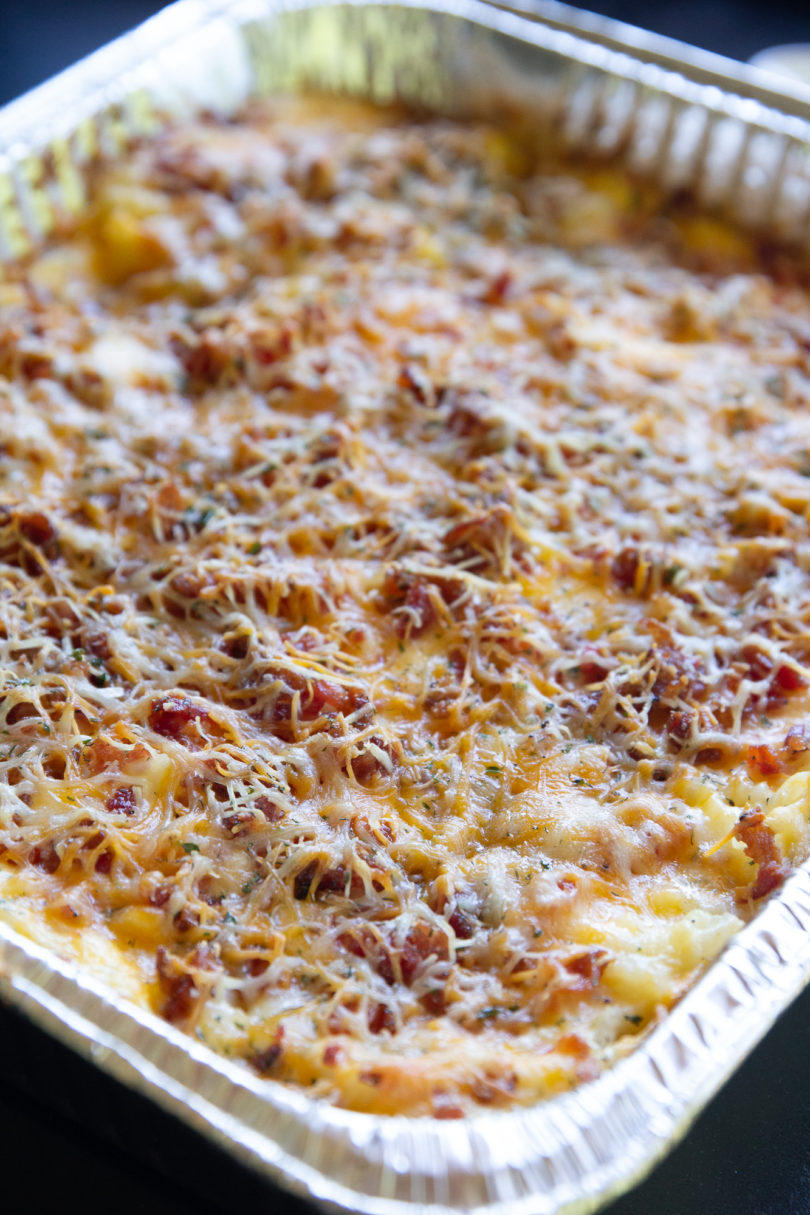 Loaded Traeger Hashbrowns FAQ
What if you don't have/want to use sodium citrate?
If you don't have this ingredient, I'd recommend using your favorite pre-made cheese sauce or a couple of cans of "cream of cheddar".
Does this make good leftovers?
These potatoes re-heat SO well. You can even put this casserole together a day ahead of time, smoke it, and then just re-heat it on the grill, in the oven, or even in a slow cooker, when it comes time to eat.
What are some good stir-in options to change this up?
Want to go full breakfast? Chop up some cooked sausages, whip up 6 eggs, and mix those in with the hashbrowns. My sister-in-law makes a fabulous egg casserole with green chiles, and that would work really well with this dish too.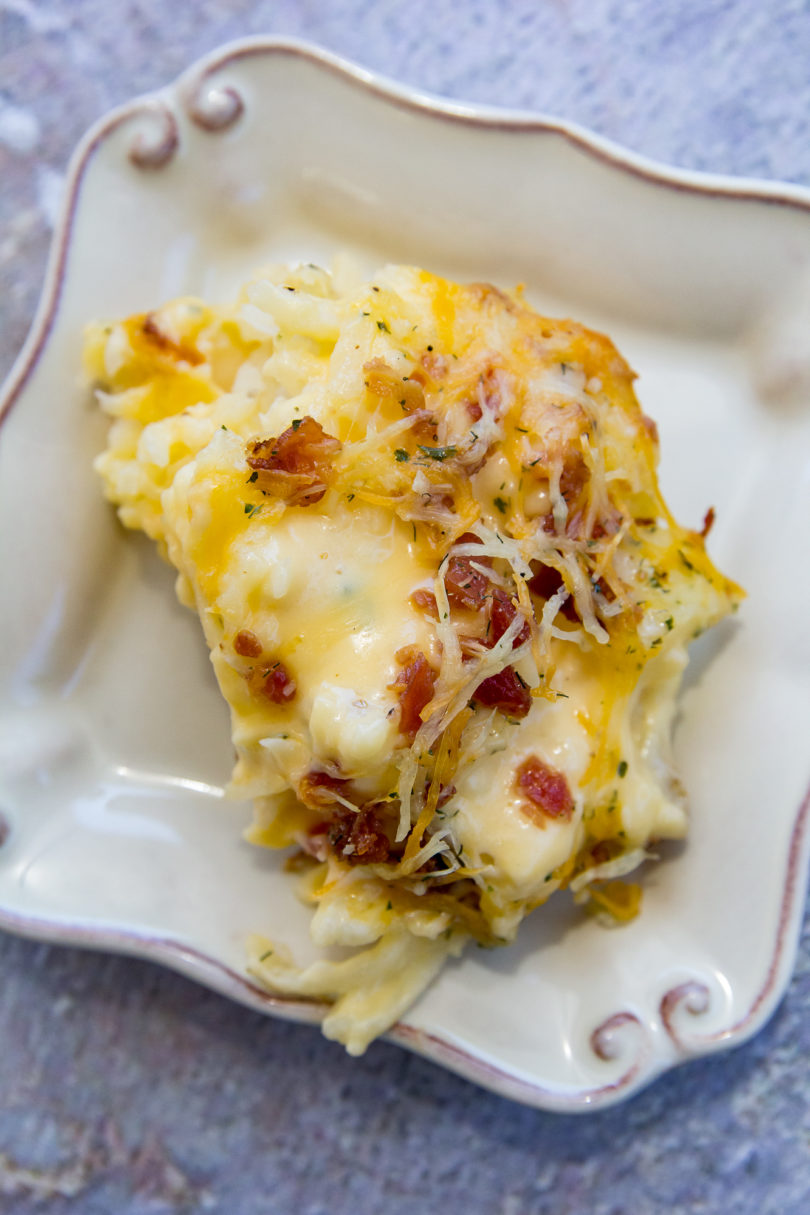 More recipes to love!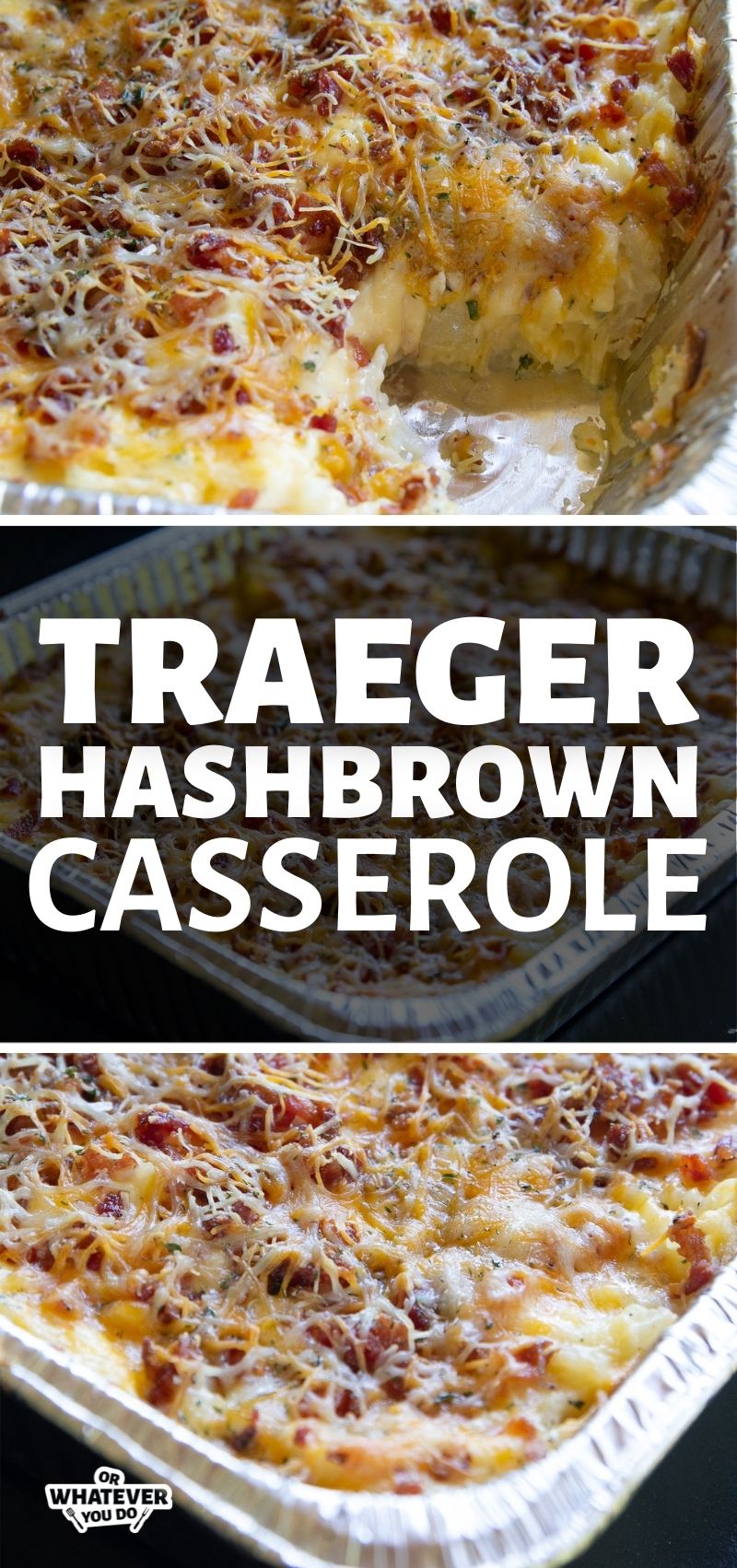 Yield: 12 servings
Traeger Loaded Hashbrown Casserole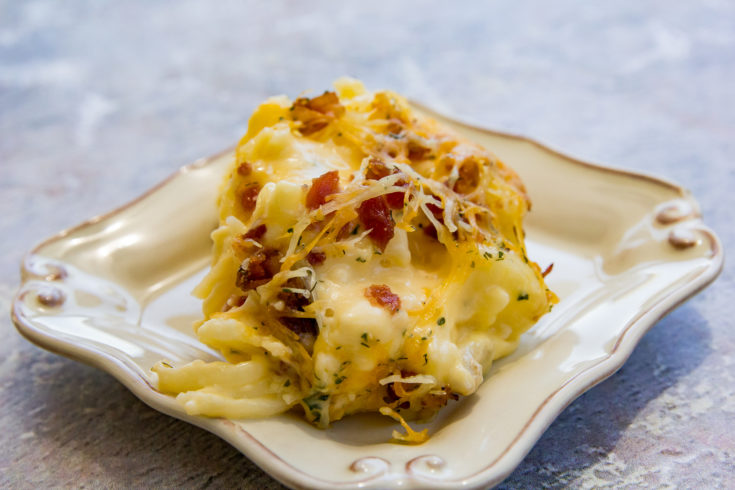 Homemade cheese sauce gets combined with sour cream, ranch, bacon, and all of the freshly shredded hashbrowns to make a hashbrowns casserole for all occasions.
Cook Time
1 hour
30 minutes
Total Time
1 hour
50 minutes
Ingredients
1 1/2 cups milk
1 teaspoon sodium citrate
1 20-ounce bag shredded potatoes (refrigerated)
1 20-ounce bag cubed potatoes (refrigerated)
6 cups shredded cheddar cheese, divided
1 cup sour cream
2 tablespoons ranch dressing mix
1/4 cup butter, cold
2 cups chopped crispy bacon
Instructions
Preheat your pellet grill or smoker to 225°.
In a medium saucepan, heat your milk over medium heat until it is simmering. Stir in the sodium citrate until it is dissolved and remove the pan from the heat.
Slowly stir in 4 cups of your shredded cheese. If you use pre-shredded cheese that is coated with something that makes it not stick together, it may have an impact on the consistency of the final result. You can still use this, but you may need to add extra milk once all the cheese is melted. Ideally, you want the cheese sauce to be pourable. If you dip a chip in it, it should coat the chip, but you should not be able to scoop it out.
Mix the cheese sauce, sour cream, and ranch dressing mix together until it is well-combined. Stir in the potatoes until they are evenly coated.
Grease a 9x13 inch grill-safe baking dish. Spoon the potato mixture into the greased pan and spread evenly. Slice the butter into 6 slices and place on top of the potatoes. Top with the remaining 2 cups of shredded cheese and your crispy chopped bacon.
Place the pan into your pellet grill and let it smoke for 45 minutes to an hour, or until the potatoes are tender and the cheese is melted and bubbly. If the top starts to brown, shield with foil.
Remove from the grill and serve hot.
Recommended Products
As an Amazon Associate and member of other affiliate programs, I earn from qualifying purchases.
Nutrition Information:
Yield:
12
Serving Size:
1
Amount Per Serving:
Calories:

527
Total Fat:

37g
Saturated Fat:

16g
Trans Fat:

1g
Unsaturated Fat:

17g
Cholesterol:

84mg
Sodium:

910mg
Carbohydrates:

28g
Fiber:

2g
Sugar:

2g
Protein:

21g
Nutrition data provided here is only an estimate.