Chilaquiles with Hatch Salsa Verde is a classic Mexican dish with a twist, as this salsa is made with pellet grill roasted hatch peppers and jalapenos. It is green, has some heat, and is way easier to make than you might think.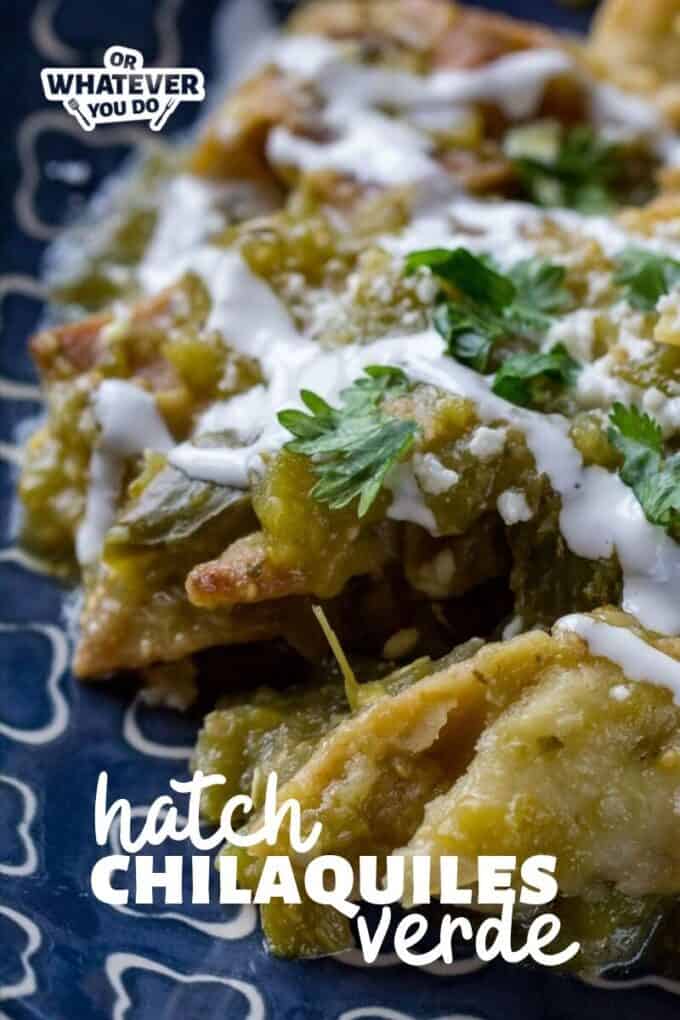 Chilaquiles with Hatch Salsa Verde
Mexican food is one of my favorite global cuisines, even though I grew up about as far away from Mexico as one can get.
What I'm telling you here is that my experience with Mexican food as a kid was Taco Johns. And if we were REALLY going fancy and "authentic", we'd drive over to Duluth for some Chi-Chi's.
You probably haven't even heard of Chi-Chi's beacuse evidently they "exited" the US and Canadian markets wayyy back in 2004.
Fortunately, I've expanded my experience substantially in the ensuing years since I left Northern Minnesota, and while I haven't made it down to Mexico as of yet, I have traveled all over the states and have eaten at some amazing Mexican restaurants.
Even with all of that going for me, I didn't know the joy that is chilaquiles. Thank goodness for husbands with more life experience than I've got. He's the one who whipped this up, and you're going to be happier for it, I promise.
See more of my Mexican (inspired) Recipes here!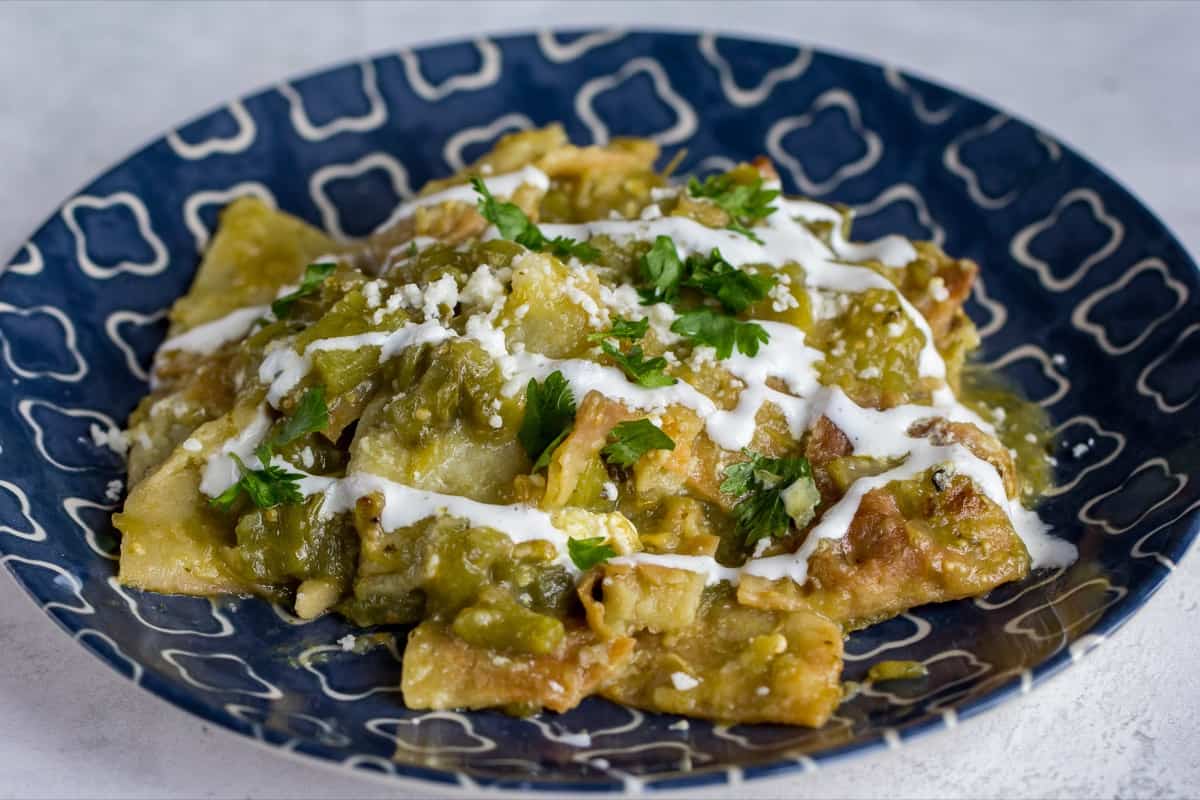 What are Chilaquiles with Hatch Salsa Verde
?
Hatch chilaquiles verdes are essentially almost like nachos, but typically are served for breakfast. They are made with old corn tortillas that are given a second life. Typically prepared with leftovers of chicken or pork and some beans, and then a chili salsa is poured over the top.
In the US, you will probably find them topped with an egg, but in Mexico they don't usually have an egg. Just a slightly softened corn tortilla gets topped with shredded chicken, some beans, and of course the salsa. Very simple.
However, there are vast regional differences in chilaquiles.
In some places, the salsa is red, in others it is green, and some do a white crema sauce. All are delicious, but I had to try the green version to take advantage of the smoked and grilled hatch chilis.
Also, chilaquiles can be topped with any kind of meat, beans, or even veggies like corn and broccoli.
Chilaquiles comes from a Nauhatl word, which is the ancient language of the indigenous people of Mexico.. So, this dish is more related to ancient Aztec cuisine than it is to Mexican, which has more European Spanish influences.
Once you taste it, you will understand why this recipe has been around so long!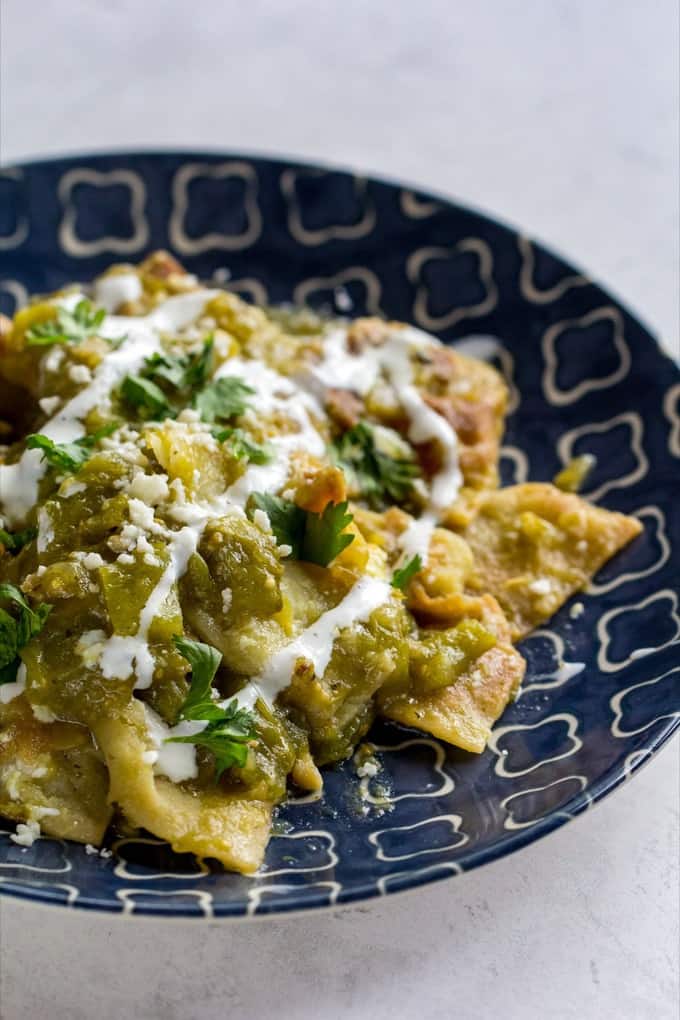 What are hatch chilis?
Hatch chilis come from New Mexico. Originally, they were cultivated and grown in the Hatch Valley region of New Mexico. So hatch chilis are the chilis most associated with the food of New Mexico, as well as with Tex-Mex.
Usually they are sold seasonally. Oftentimes you will find someone grilling them right outside the grocery store as part of a promotion! Not surprising, for the smell of hatch chilis smoking and cooking on a hot grill will make your mouth water and your nose tingle!
You find yourself heading to the display to pick up a few bags of them almost instantly.
Hatch chilis are long and narrow and bright green. They have some heat, but they are not packing the fire power of a typical jalapeno, and they are way less hot than a habanero, for example.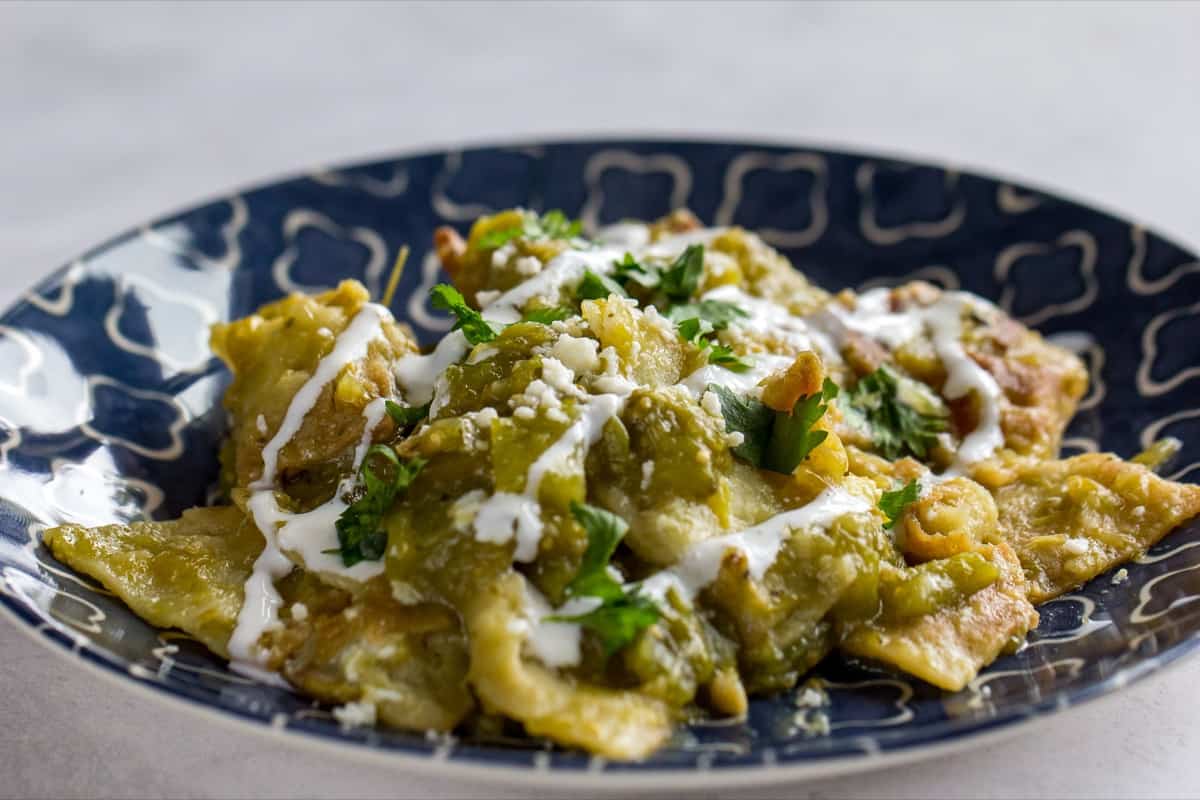 How do I prepare the salsa verde?
For this recipe, we decided to go with a pre-made green salsa. If you want to make one yourself, I've got a great recipe here on my Smoked Salsa Verde recipe.
A good store-bought version will do just as well though!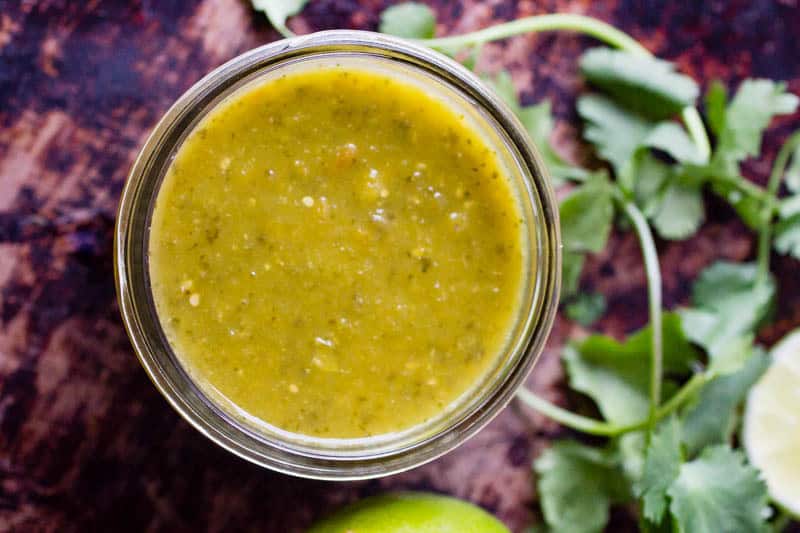 Do you need a fried egg on top of chilaquiles?
Some folks just need an egg for it to feel like breakfast. Since chilaquiles are typically served for breakfast, they assume you should fry an egg for the top. You don't HAVE to, but you'd probably really enjoy it if you did. Just like chilaquiles, which can be served for any meal. The options are many.
They work as an appetizer or main course, and for breakfast, brunch, lunch, comida, or dinner. (Comida is known as the "second lunch" and is like the dinner version of brunch, a big meal in the late afternoon.)
The hatch chilaquiles sauce on top makes the dish, so to egg or not to egg isn't really the issue here as long as they are smothered in this salsa. OMGOSH.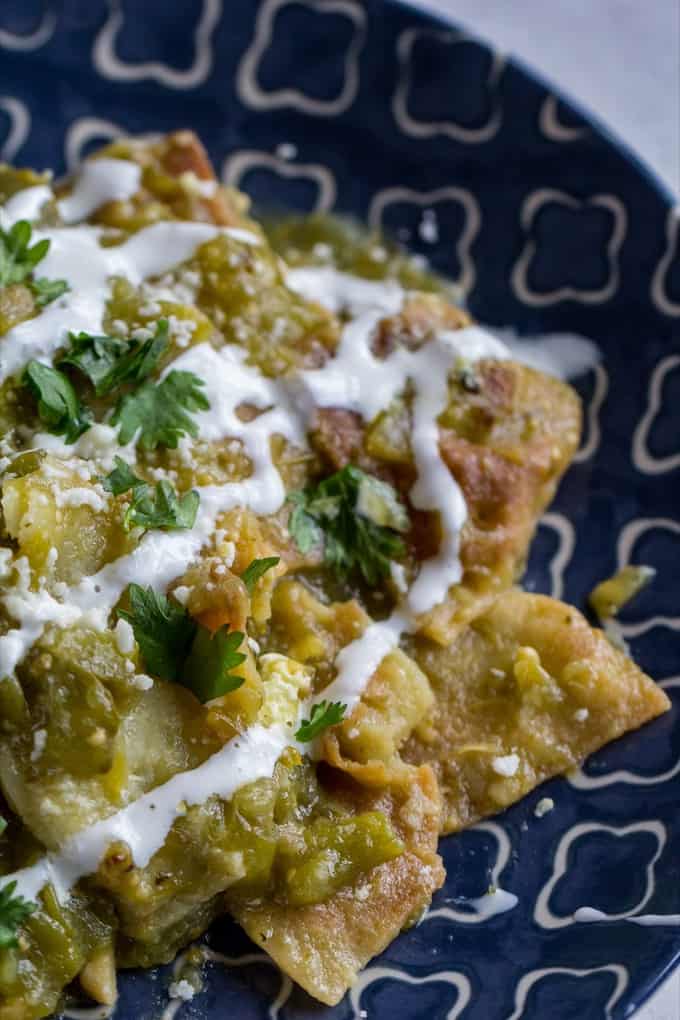 Can I adjust the temperature of the chilis?
If you have concerns about the chilaquiles verdes being too spicy, then you can bring the heat down a few different ways. First, make sure to remove the seeds and the pith inside the chilies. You can omit the jalapeno as well if you are sensitive to spice.
Also, always remember to wash your hands when you handle chilies or wear latex or similar gloves.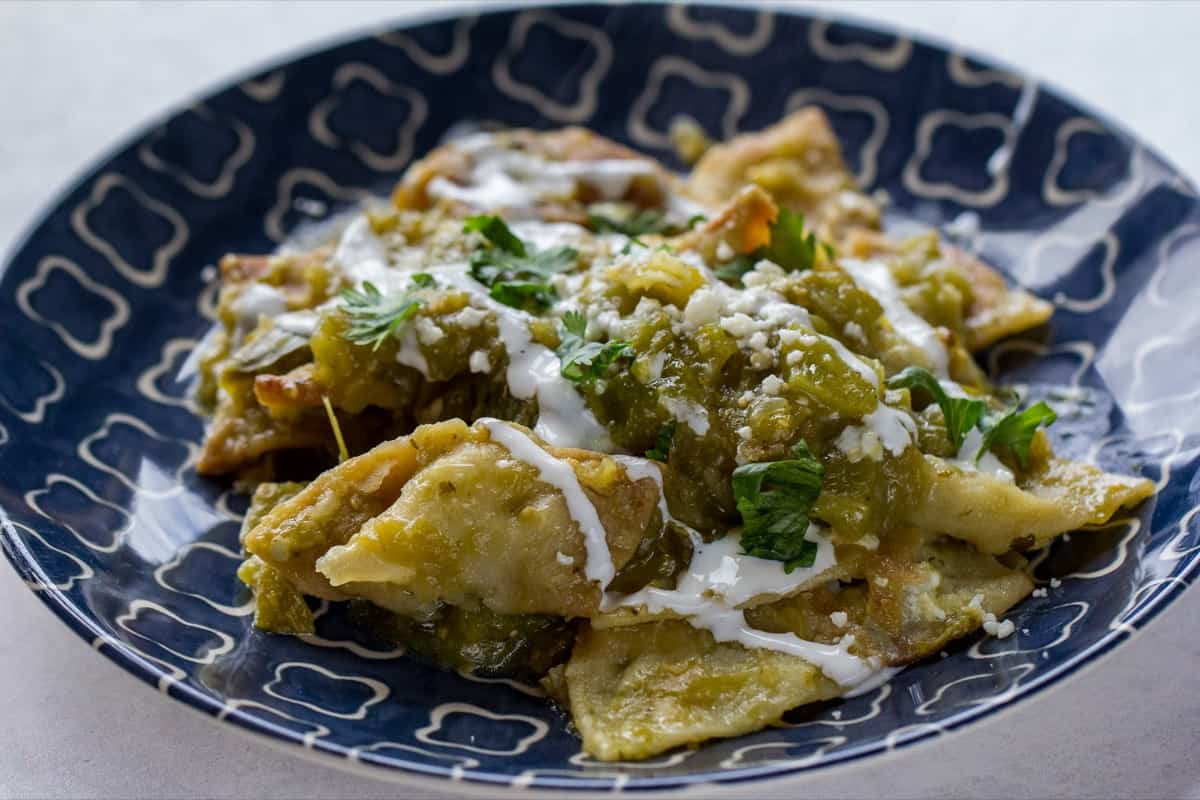 How do I store chilaquiles verdes to eat later?
Chilaquiles verdes not only make leftovers into beautifully tasty make-overs, they make great leftovers themselves. They will keep for a week in the fridge because of the chili. Just make sure to cover them tightly. You can also freeze them for up to a month.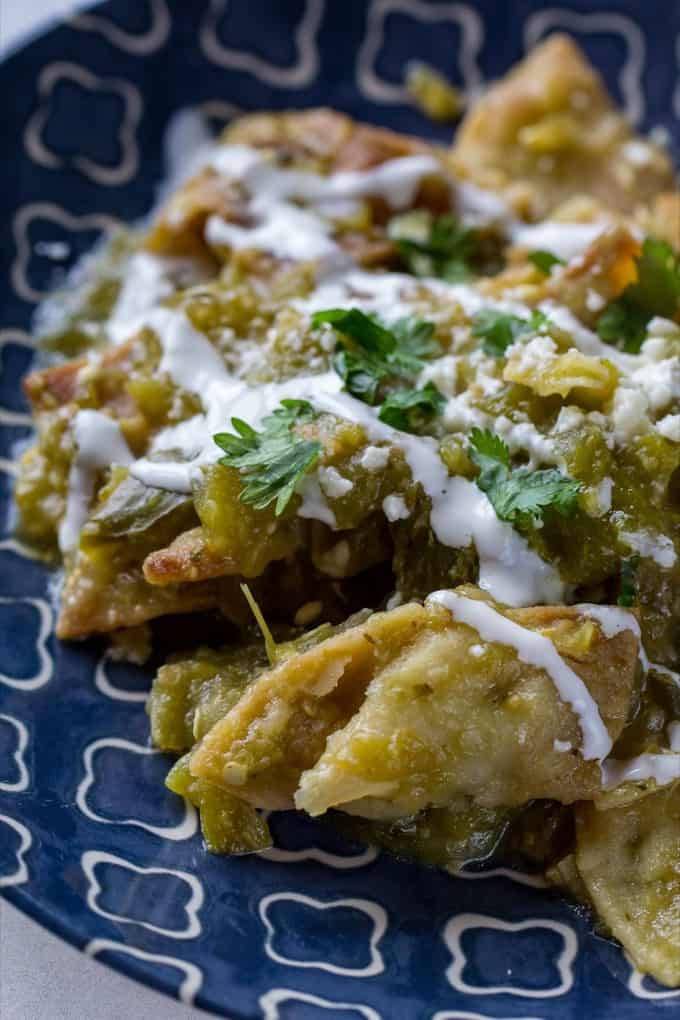 What would you serve with hatch chilaquiles verdes?
I like this dish for brunch or comida especially. So this is what I would recommend along those lines:
Pin for later!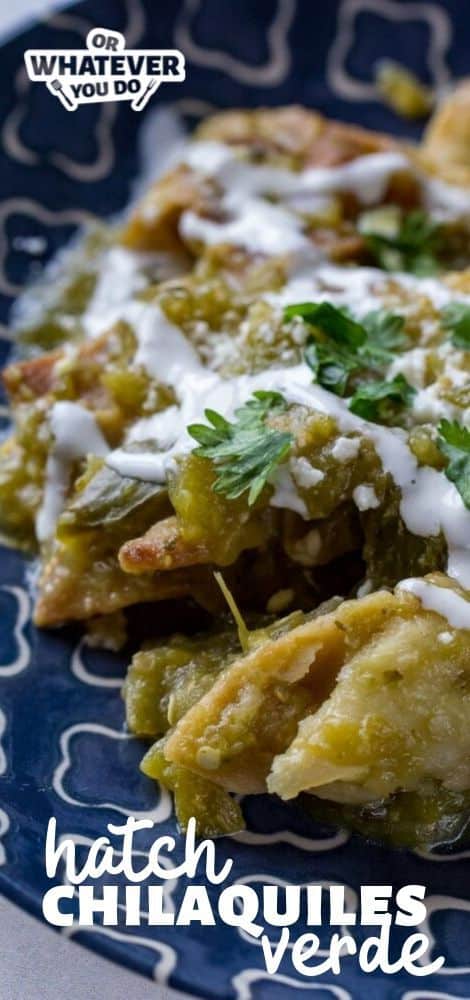 Yield: 6 servings
Hatch Chilaquiles Verdes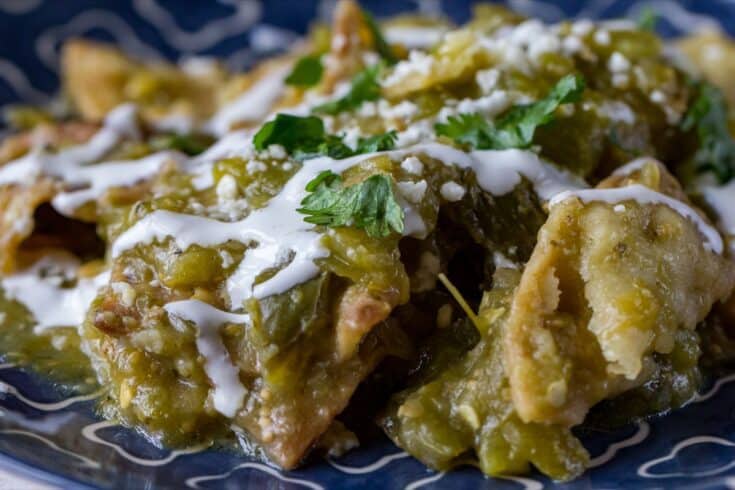 Chilaquiles with Hatch Salsa Verde is a classic Mexican dish with a twist, as this salsa is made with pellet grill roasted hatch peppers and jalapenos. It is green, has some heat, and is way easier to make than you might think.
Ingredients
Chilaquiles
1 package, (20-25 count) stale corn tortillas
1/2 cup cooking oil (reserve 2 tablespoons)
1/2 cup diced grilled hatch chili peppers
2 cups salsa verde
1 teaspoon salt
Garnishes
Sour cream
Chopped cilantro
Guacamole/sliced avocado
Red salsa
Pico de gallo
Cotija cheese
Diced onion
Black beans
Fried egg
Instructions
Put your oil (reserving 2 tablespoons for later) into a large sauté pan and heat it up on medium-high heat on your stove.
Slice your tortillas into fourths, and place into the pan with the hot oil. Continually flip the tortilla strips to avoid "caking".
Cook the tortillas until they are golden brown. Remove them as they are done, placing them in a large bowl lined with paper towels at the bottom. Not all will be fully cooked at the same time.
When all the tortillas are done, let them sit for a minute or two in order to let any excess oil drain off of them.
Add the salt to the tortillas by sprinkling it into the bowl while tossing at the same time.
Wipe any oil left in the bottom of the pan and return it to the burner adjusted to medium heat.
Add two tablespoons oil, salsa verde, and hatch chili peppers and bring to a simmer.
Add in the tortillas, making sure all of the get completely covered in sauce.
Let simmer for only 1-2 minutes and pull from the stove.
Add your favorite garnishes and enjoy.
Recommended Products
As an Amazon Associate and member of other affiliate programs, I earn from qualifying purchases.
Nutrition Information:
Yield:
6
Serving Size:
1
Amount Per Serving:
Calories:

316
Total Fat:

26g
Saturated Fat:

3g
Trans Fat:

0g
Unsaturated Fat:

22g
Cholesterol:

33mg
Sodium:

490mg
Carbohydrates:

17g
Fiber:

6g
Sugar:

3g
Protein:

6g
Nutrition data provided here is only an estimate. If you are tracking these things for medical purposes please consult an outside, trusted source. Thanks!