Fire up the griddle and get that shrimp thawing; we're making an easy Blackstone Sweet Chili Shrimp recipe today that will become one of your favorite dinners! Simple ingredients, many of them probably already in your fridge and pantry (and if they aren't, they should be), meet colossal shrimp for a quick marinade before an even quicker cook on the gas griddle, which is our favorite cooking tool for perfectly cooked shrimp.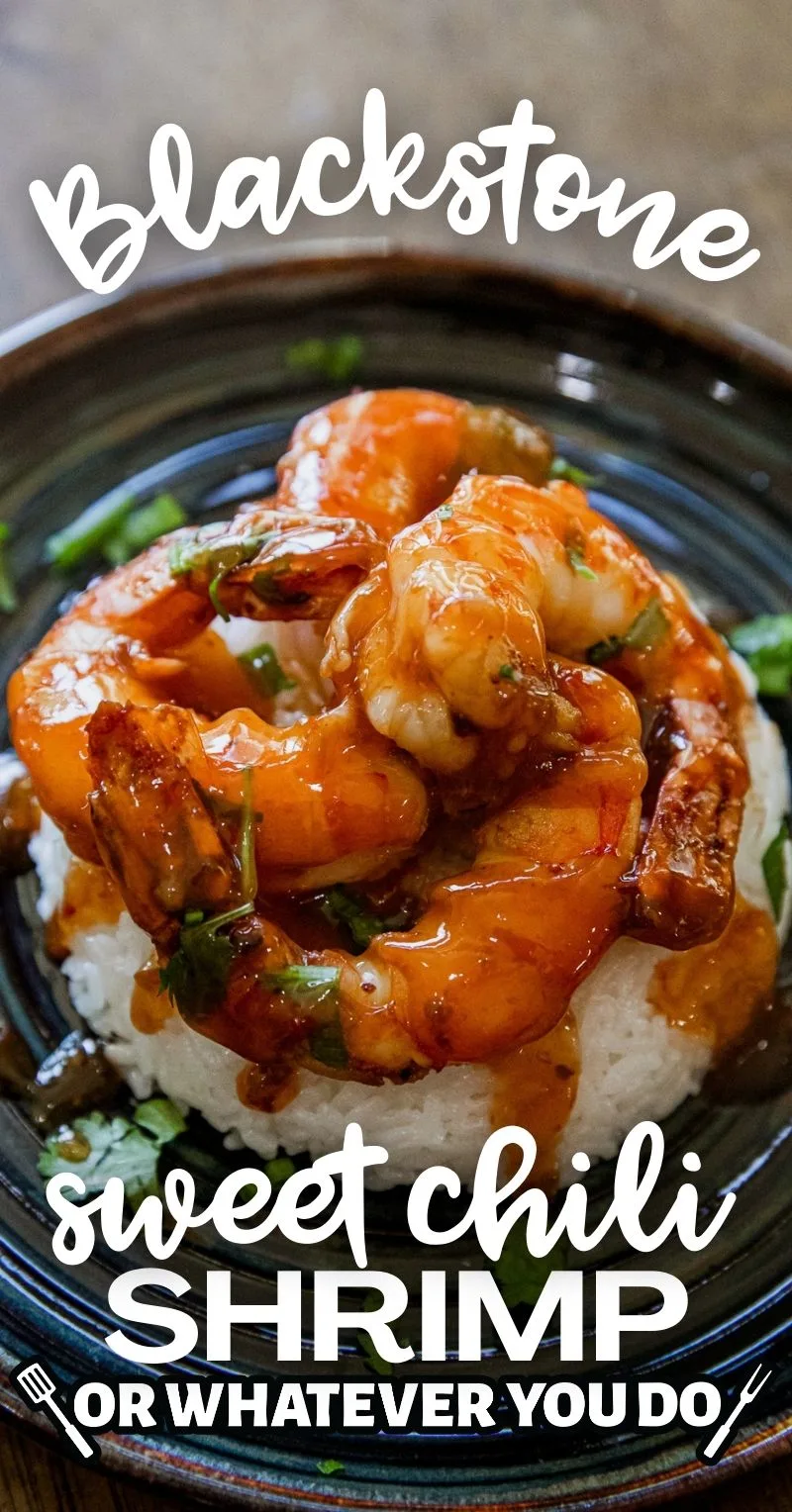 Blackstone Sweet Chili Shrimp
I am so in love with this recipe! Shrimp is one of my favorite proteins to cook. Not only does it cook lightning fast, but everyone likes it here, too, and it is so easy to make it in so many different ways.
Not to get all Bubba Gump on you or anything, but I'm going to get a little Bubba Gump on you for a minute. We make Shrimp Scampi, Shrimp Alfredo, Shrimp Fajitas, Coconut Shrimp, Blackened Shrimp, Panko Shrimp, Shrimp Caesar Wraps, Shrimp Udon, Shrimp Cocktail, Buffalo Shrimp, Teriyaki Shrimp, Smoked Shrimp, and SO many more. When I say, "We love shrimp!" I mean it.
As much as I love those recipes I just listed, this one might be my new favorite.
We took a bold seasoning blend and marinated the shrimp before cooking them quickly, shell ON, on the griddle. You can eat them just like that in peel-and-eat fashion or serve with rice, peel after you cook them, and sauce with some extra sweet chili sauce. We have store-bought sweet chili sauce in the fridge almost constantly, but I also have a killer Homemade Sweet Chili Sauce recipe that is 100% worth the extra effort.
Don't forget the drinks, either! This recipe would go perfectly with this Tamarind Drink!
More Blackstone Recipes here!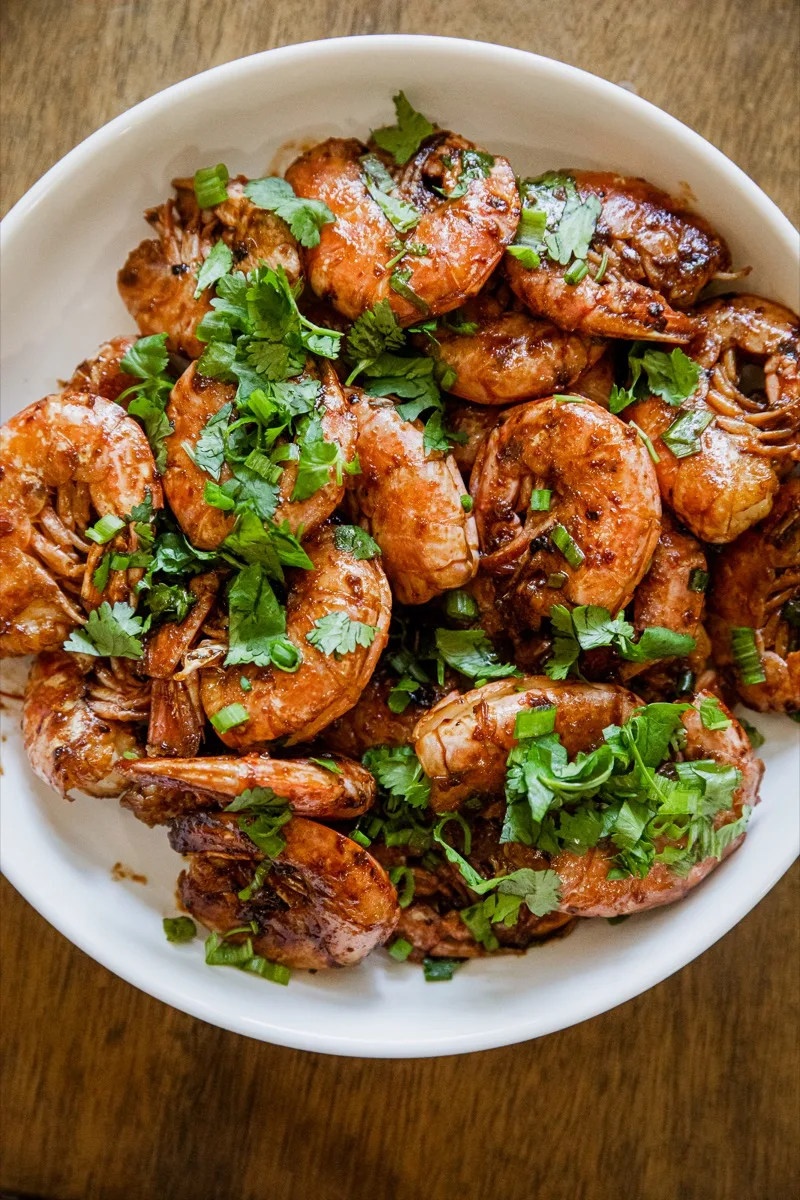 Blackstone Sweet Chili Shrimp shopping list
Wondering if you have to hit the store? Here's the list of items you'll need to make this recipe. For specific amounts, please refer to the printable recipe card at the bottom of the post.
Raw colossal shrimp
Honey
Granulated garlic
Onion powder
Salt
Black pepper
Red pepper flakes
Garlic chili sauce
Brown sugar
Rice vinegar
Soy sauce
Oil
Sweet Chili Sauce
60+ Incredible Blackstone Recipes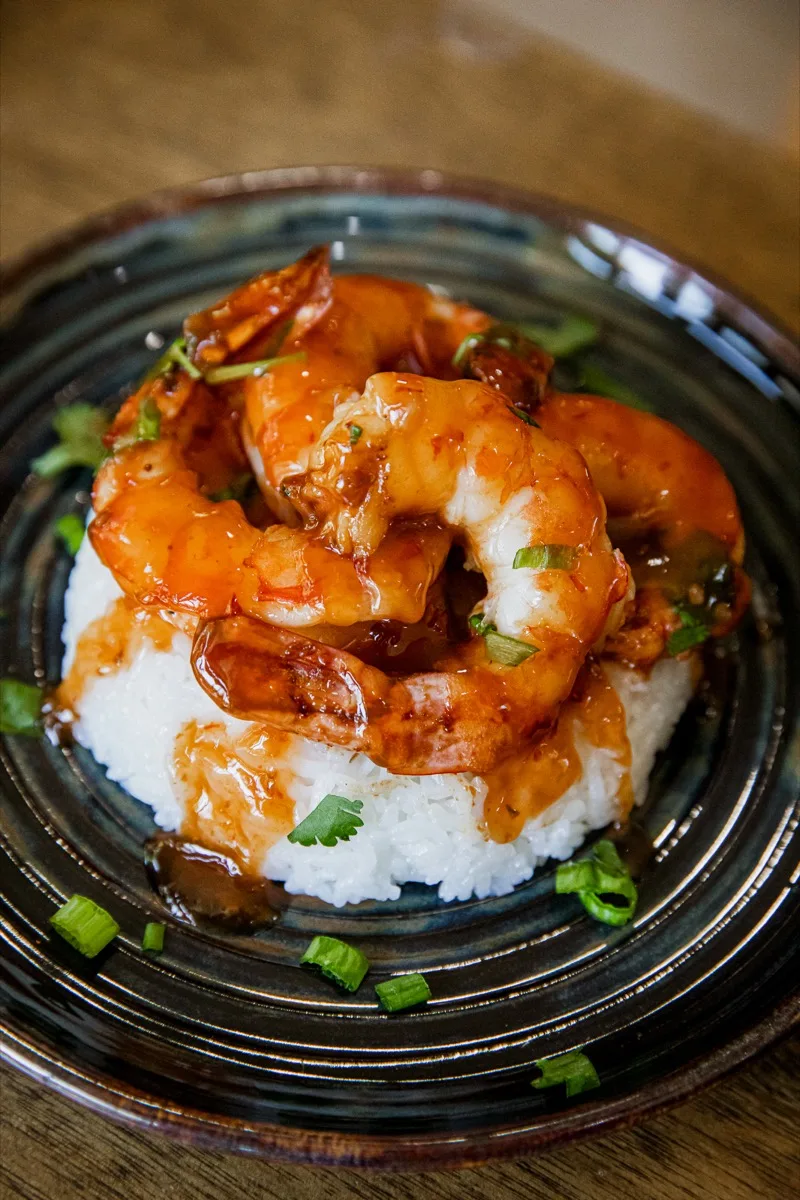 How to make Sweet Chili Shrimp on the Blackstone
This is just the overview to see what you're getting into. You'll want to use the full recipe at the bottom of the page when cooking this meal.
Marinate
Mix all the marinade ingredients and toss with the whole, raw shrimp. Let it marinate in the fridge for 30 minutes.
Preheat
Heat the griddle over medium heat.
Cook
Put a light coat of oil on the griddle. Dump the shrimp and marinade out onto the griddle and cook on both sides for 2-3 minutes per side. The internal temperature of the shrimp should be between 120°F-125°F.
Enjoy
These shrimp are great as peel-and-eat shrimp just as they are, or if you want to make a whole meal of them, peel a few and put over rice and drizzle over some extra sweet chili sauce.
Try our Traeger Sweet Chili Sauce too!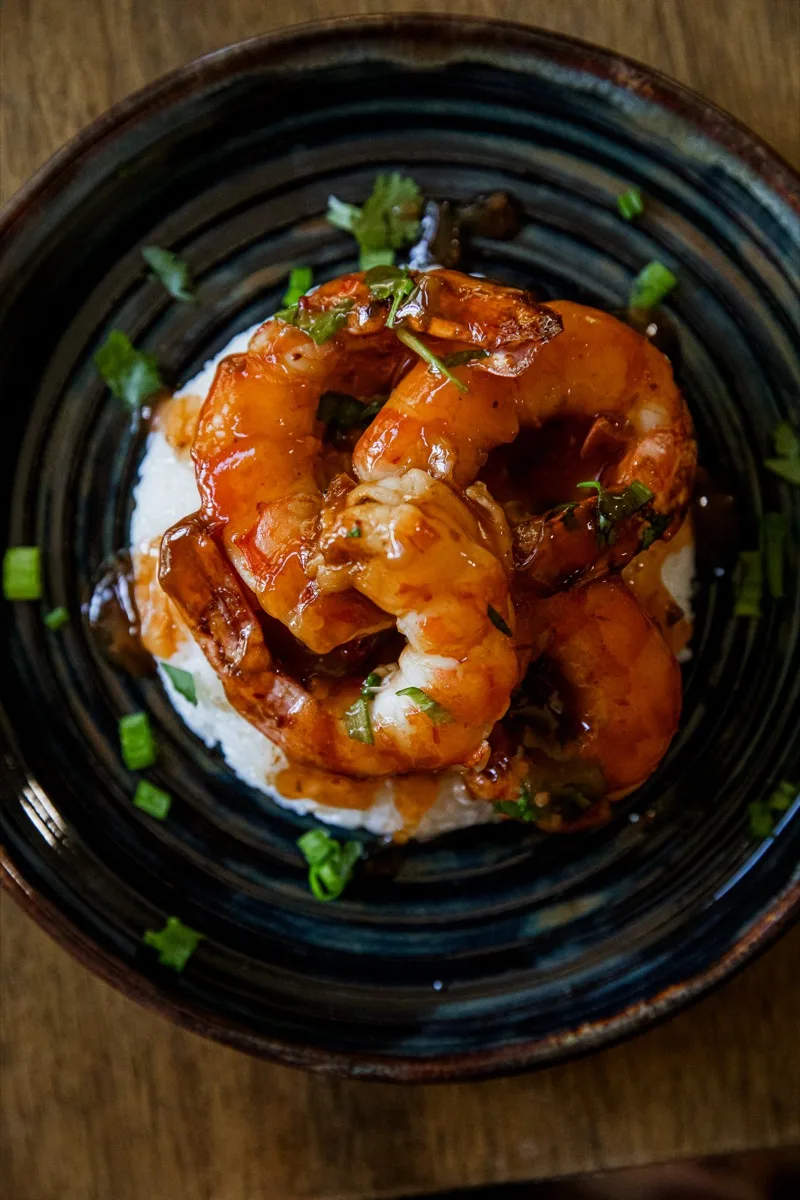 Blackstone Sweet Chili Shrimp FAQ
Can these be made ahead of time?
A little ahead of time, yes. A lot? Not so much. Shrimp is at its peak quality right after it is cooked, so for the best results, you'll want to ensure that you are serving your sweet chili shrimp ASAP after it comes off the griddle. Just want to take them across town to a friend's house? Go for it. They can be reheated in the oven, grill, or stovetop over low heat until warm.
Are there any recommended substitutions or additions?
Sure! If you want to hit the easy button, marinate the shrimp in sweet chili sauce instead of our homemade mixture. Like it with more of a kick? Toss in some hot sauce to the marinade or drizzle it over the top of the finished dish.
Why the separate marinade and sauce? Why not JUST use sweet chili sauce?
Let me tell you a little story about OWYD. I'm the lady behind the computer who writes the words and makes the magic transfer between the kitchen and the internets. I also do a lot of cooking for the site too, but one of the main recipe developers here is my husband, Jeremiah. He's developed and cooked countless recipes for the site, and they are some of our most popular.
So the other day, Jeremiah was cooking this dish, which I requested to be "Blackstone Sweet Chili Shrimp". I do that a lot. I throw recipe titles at him and let him decide on the specifics.
In this specific instance – he couldn't find the Sweet Chili Sauce in the fridge. Husbands everywhere understand this plight. To be fairrrrrr, we have three full-sized fridges and one mini fridge, and none are very well organized, so finding ANYTHING is a feat.
Being the creative that he is, he whipped up a whole Sweet Chili rub/marinade situation.
Being the person I am, I told him people don't like seeing shrimp legs in pictures, and I wanted them peeled. 😅
This is our compromise. Marinated and then sauced after. Peeled and unpeeled.
Like most of our recipes, we encourage you to do your own thing with it and experiment. It is hard to go wrong with spicy shrimp. All's well that ends well, and this one ended REALLY well.
Try our Shrimp Udon with Miso Brown Butter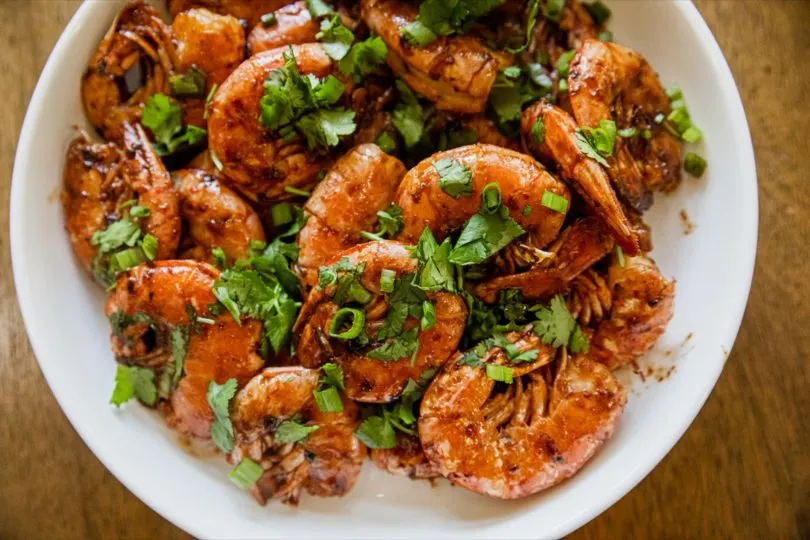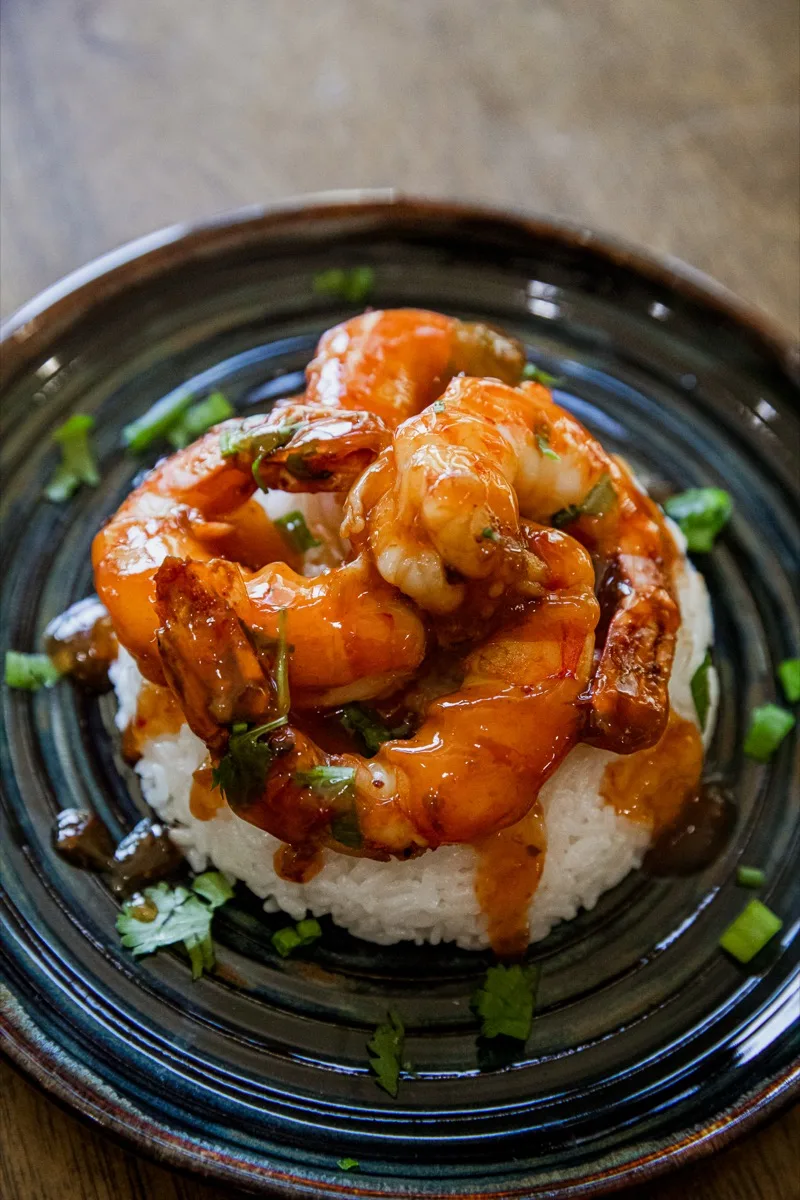 More great recipes to love!
Our Traeger Chimichurri Shrimp is a mouth-watering dish made with succulent shrimp seasoned with an incredible Chimichurri Rub before getting grilled on our Traeger wood-fired grill, giving it a smoky, charred flavor enhanced by the brightness of the chimichurri rub.
In this simple Blackened Shrimp Pasta recipe, we take shrimp and turn it into a spicy and flavorful Cajun-style pasta dish, in which shrimp is coated in our favorite Blackening Seasoning Blend before being pan-seared until crispy and served on a bed of pasta with a zesty sauce.
Make our Shrimp with Vodka Cream Sauce and enjoy a decadent and indulgent pasta dish featuring perfectly cooked shrimp bathed in a creamy tomato sauce infused with vodka.
Our incredible Air Fryer Shrimp Recipe is a healthy, popular, and easy-to-make dish that everyone loves! Easy ingredients and prep, too. Perfect for a quick lunch or simple dinner.
Grilled Shrimp and Scallop Skewers is an elegant and visually stunning dish that pairs luscious shrimp and sweet, succulent scallops, and they are all cooked right on the grill! They are the perfect pairing for a big steak or great all by themselves.
Make our Traeger Bacon-Wrapped Shrimp for a party-friendly appetizer featuring large, juicy shrimp wrapped in smoky bacon. Perfect appetizer option!
This flavorful pasta dish features sweet cherry tomatoes, fresh basil, and garlic, tossed with perfectly cooked shrimp and al dente pasta. Make our Shrimp Pasta with Tomatoes and Basil today!
Filet Mignon with Whiskey Garlic Shrimp Sauce is a sophisticated and indulgent surf-and-turf dish where perfectly cooked filet mignon is paired with succulent shrimp bathed in a rich, buttery whiskey garlic sauce.
Our Shrimp Ceviche is a light and refreshing appetizer where raw shrimp is marinated in tangy citrus juices, mixed with crisp vegetables such as red onion and cucumber, and served with a sprinkling of fresh cilantro and a side of tortilla chips.
Shrimp Marinara is a classic pasta dish featuring al dente spaghetti with a rich tomato sauce flavored with aromatic garlic, onions, and herbs and topped with plump, juicy shrimp.
Shrimp Diablo is a spicy and fiery dish where shrimp is cooked in a scorching hot sauce made with jalapeños, chili flakes, and garlic, giving it a spicy and complex flavor perfect for those who love a bit of heat in their food.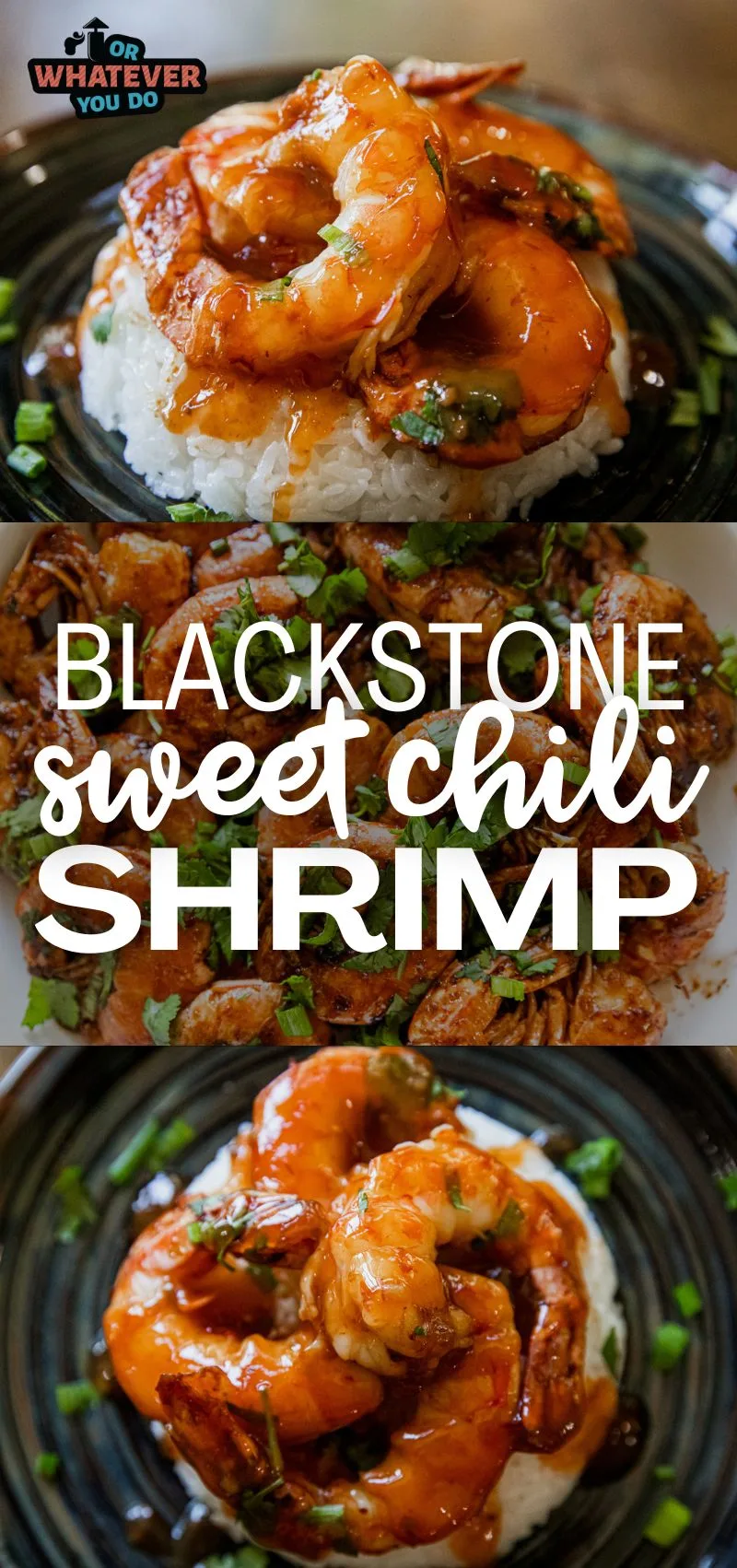 Yield: 4 servings
Blackstone Sweet Chili Shrimp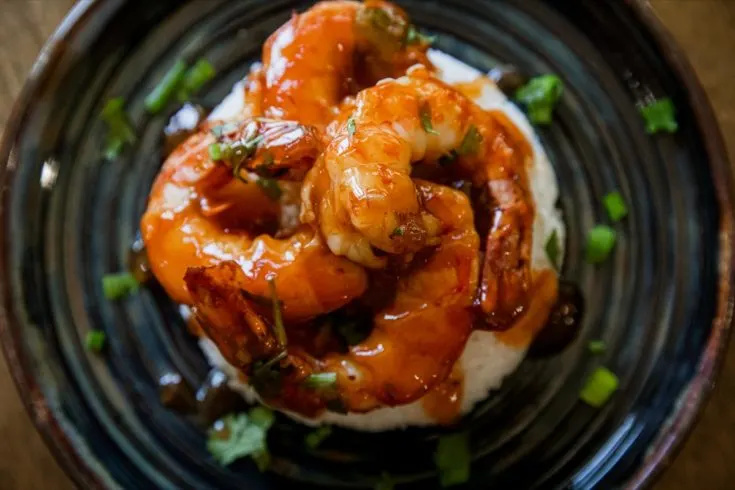 This incredibly easy shrimp is cooked right on the griddle and makes for an incredible meal! Big bold flavors meet simple preparation.
Ingredients
2 pounds raw colossal shrimp
Marinade
1 tablespoon honey
1 teaspoon granulated garlic
1 teaspoon onion powder
1/2 teaspoon salt
1/4 teaspoon black pepper
1 teaspoon red pepper flakes
1 tablespoon garlic chili sauce
1 tablespoon brown sugar
1 tablespoon rice vinegar
3 tablespoons soy sauce
2 tablespoons oil
Sauce
1/2 cup Sweet Chili Sauce
Instructions
Mix all the marinade ingredients. Toss with the shrimp and let marinate in the fridge for 30-60 minutes.
Preheat the griddle over medium heat.
Lay down a thin layer of oil.
Dump the shrimp and marinade out onto the griddle.
Cook for a couple of minutes per side. The internal temperature of the shrimp should be 120°F-125°F.
Enjoy! Eat them as peel-and-eat shrimp or remove the shells, add some extra sweet chili sauce, and serve over rice.
Recommended Products
As an Amazon Associate and member of other affiliate programs, I earn from qualifying purchases.
Nutrition Information:
Yield:
4
Serving Size:
1
Amount Per Serving:
Calories:

444
Total Fat:

11g
Saturated Fat:

2g
Trans Fat:

0g
Unsaturated Fat:

9g
Cholesterol:

479mg
Sodium:

3149mg
Carbohydrates:

31g
Fiber:

1g
Sugar:

24g
Protein:

53g
Nutrition data provided here is only an estimate.