This easy Traeger Bacon-Wrapped Shrimp is the perfect appetizer to make for any upcoming gatherings, holidays, or potluck you have coming up on your calendar!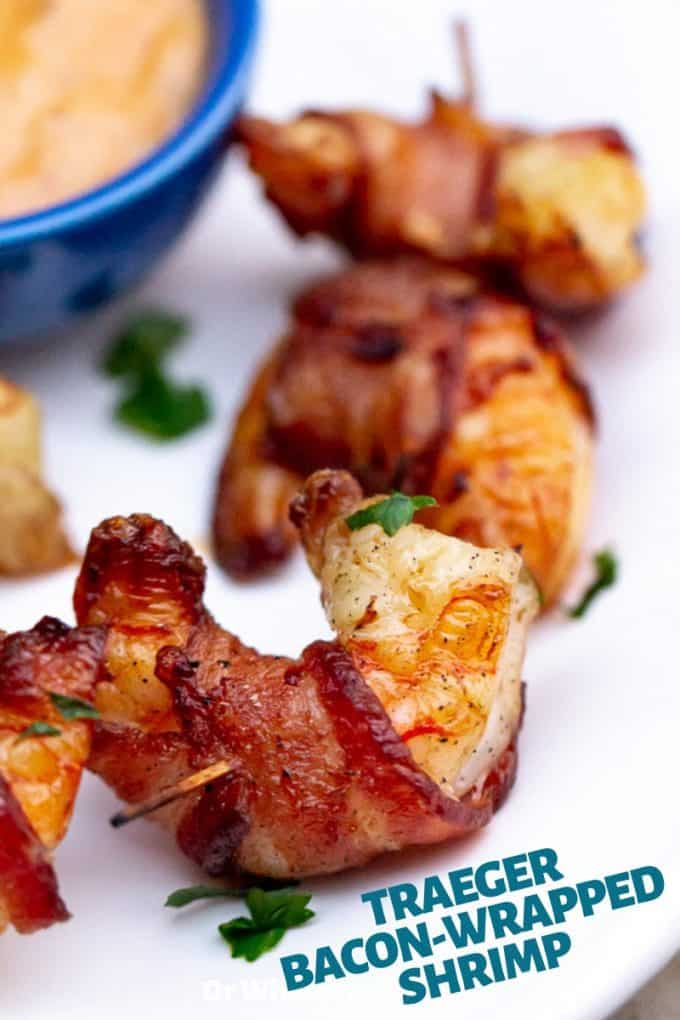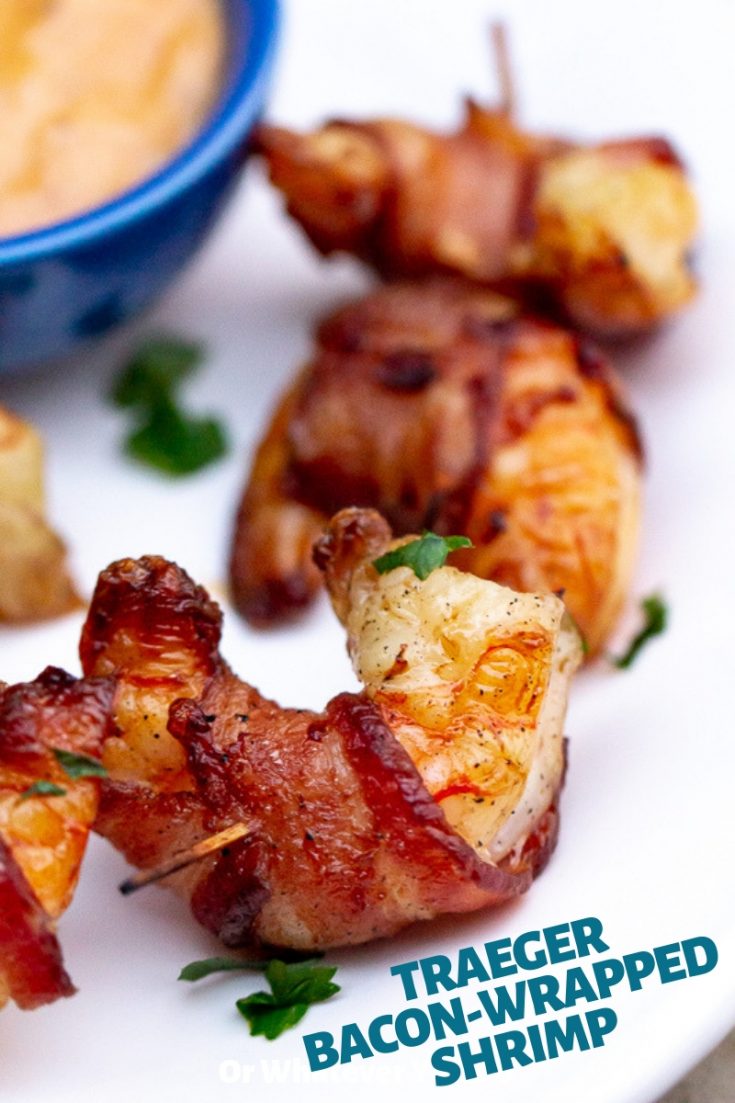 Traeger Bacon-Wrapped Shrimp
Traeger bacon wrapped shrimp is the perfect finger food to serve up at your summer cookouts. Tender, juicy, perfectly cooked shrimp with crispy bacon. Pair with your favorite dipping sauce for the perfect party appetizer.
Grilled bacon wrapped shrimp is something we cook up a lot in the summer months. If you haven't caught on yet, we are a seafood-loving family. When you pair shrimp with bacon it becomes even more flavorful. This is one recipe you don't want to skip!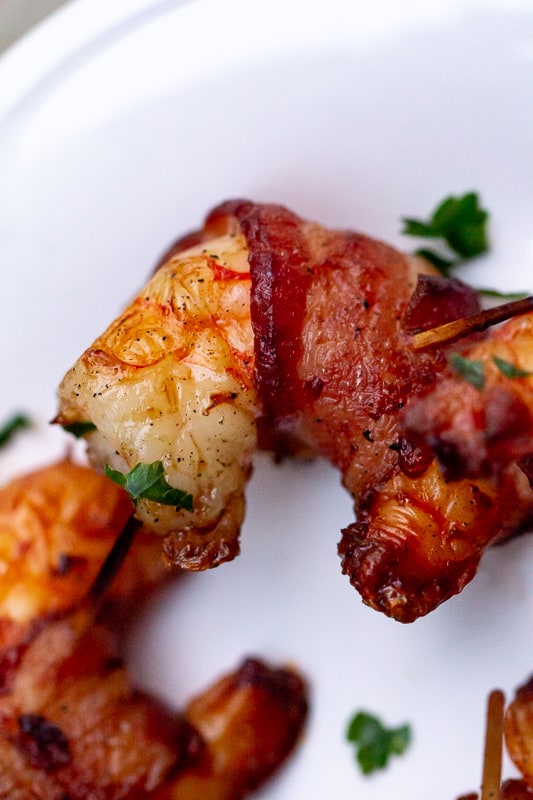 Grilled Bacon Wrapped Shrimp
Grilled bacon wrapped shrimp is a surf and turf appetizer that you will want to make a double batch of! Pair with your favorite dipping sauces or serve alone. They are good enough they don't need sauce, but the sauce does add some flavorful elements to the shrimp.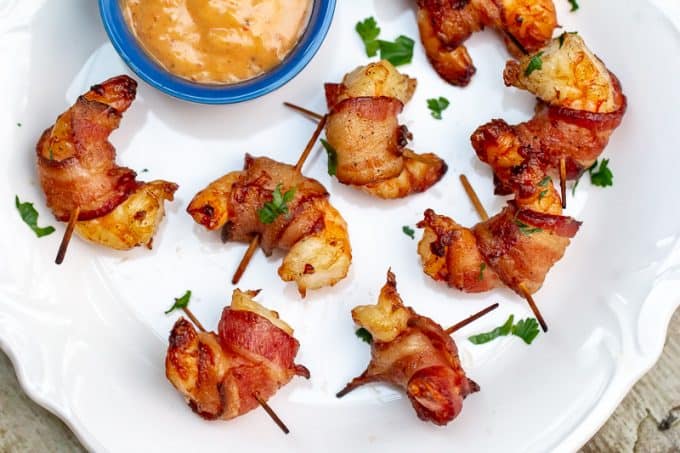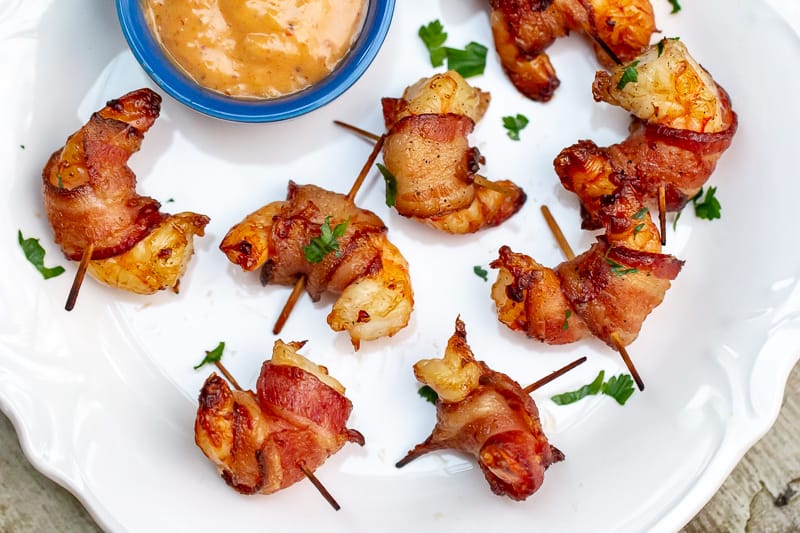 Other Appetizers to Serve With Bacon-Wrapped Shrimp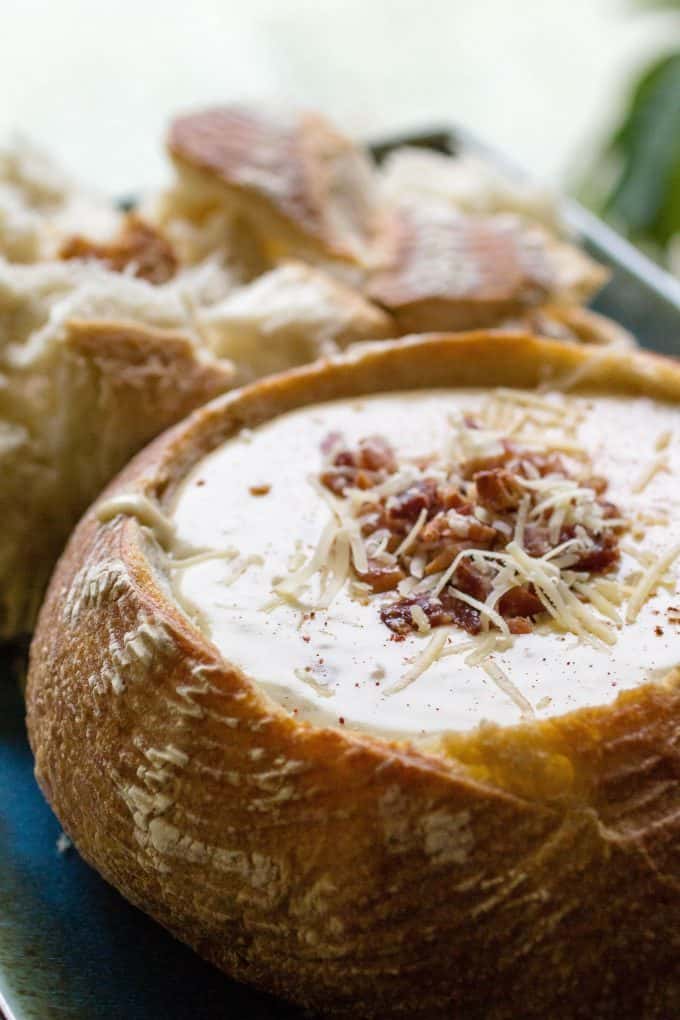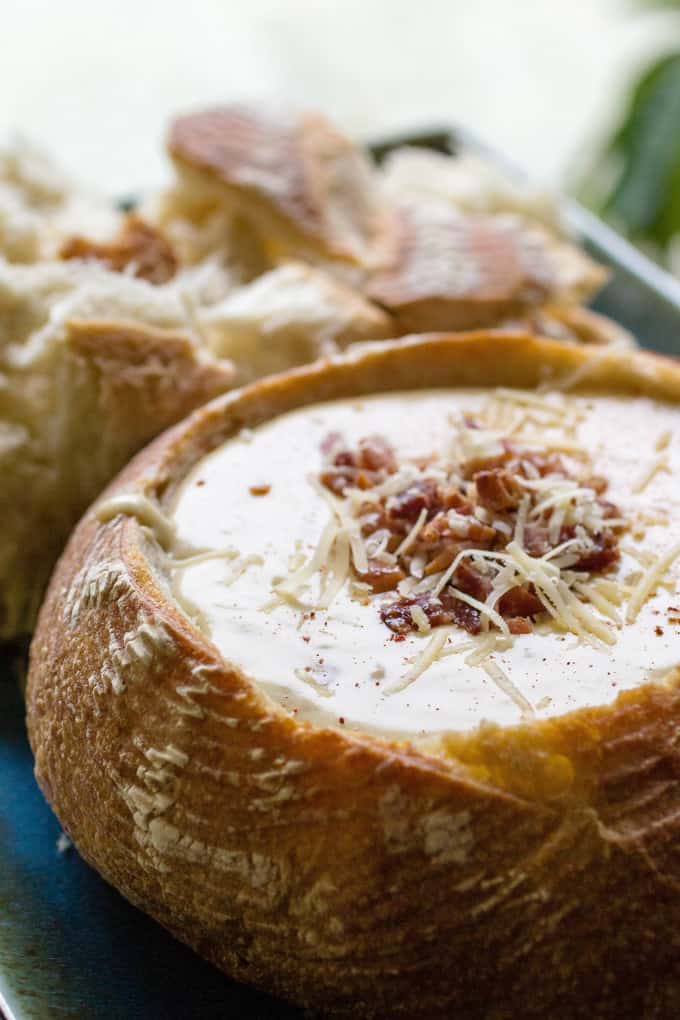 What Size Shrimp For Bacon-Wrapped Shrimp
Because shrimp cooks quickly, you want to make sure to pick the right size for grilling. I recommend buying the largest shrimp you can find. When you wrap the shrimp in bacon, you want to ensure the bacon has time to cook and the shrimp at the same time.
If you use smaller shrimp you will find the shrimp is finished and the bacon is left chewy and undercooked.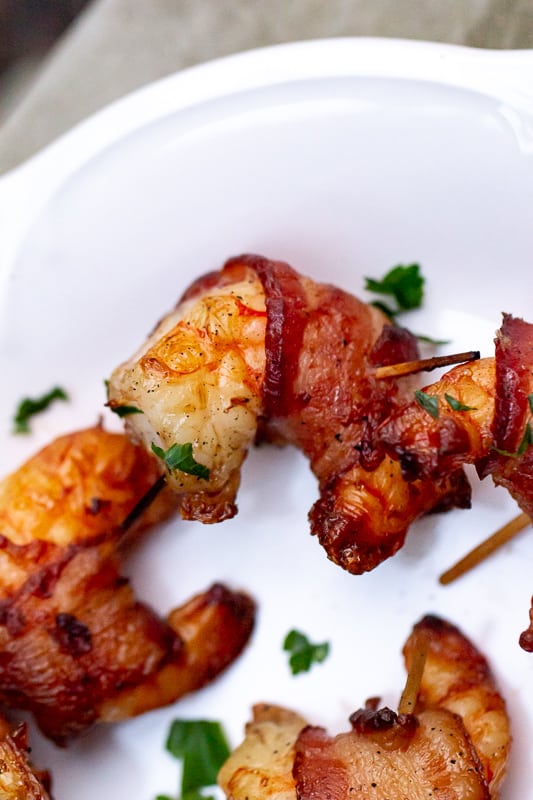 Can You Precook The Bacon For Grilled Bacon Wrapped Shrimp
If you prefer more well-done bacon, you can precook your bacon in the oven until it is still flexible, but about halfway cooked. What I recommend doing is cutting the bacon in half, laying it out in your pan, and then baking in a 400° oven for around 5 minutes.
Check to see that it is beginning to cook but make sure it is still flexible! You want to make sure you can easily move the bacon to wrap around the shrimp. Once it is slightly cooked, pull from the oven and let it cool down slightly so you can handle it without burning your fingers off.
If you want to get super meta, pre-cook your bacon ON THE TRAEGER for an extra dose of wood-smoked flavor.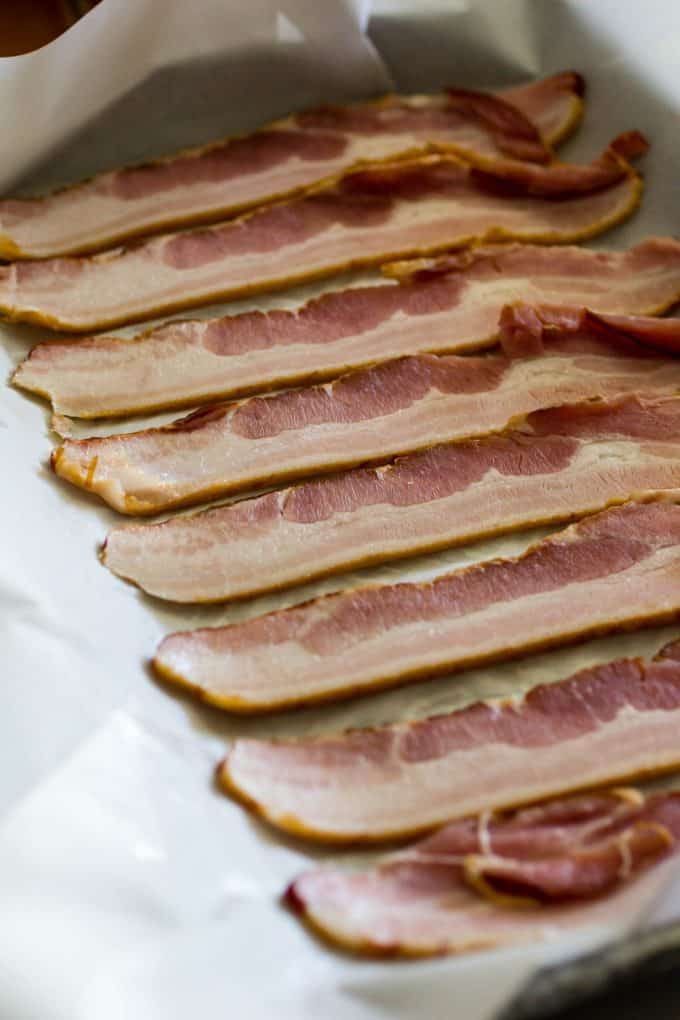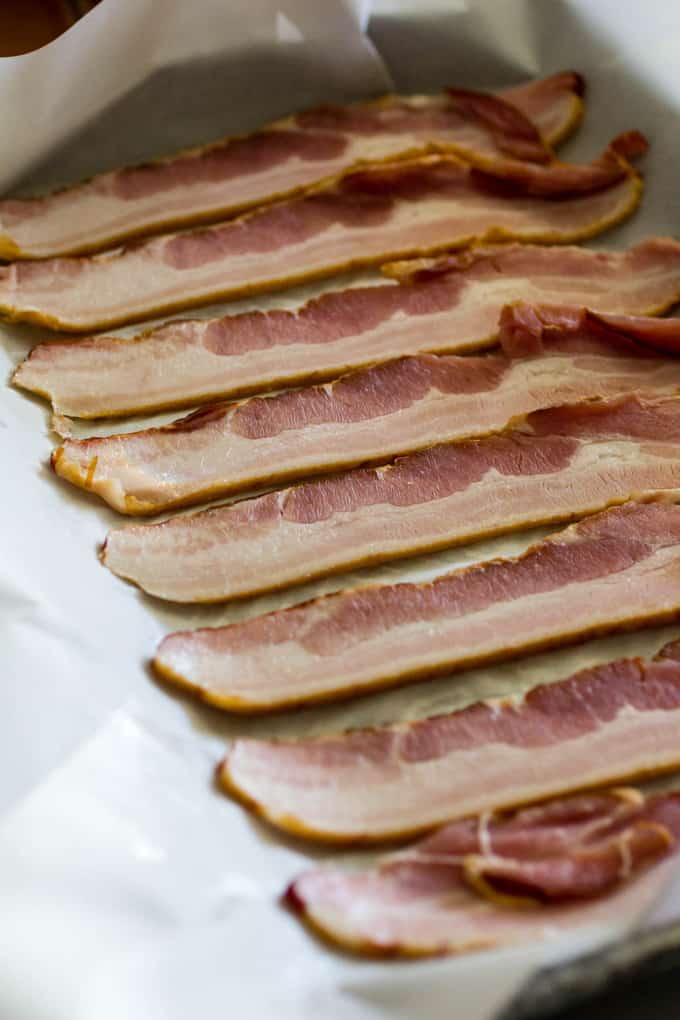 Best Way To Secure Bacon On Bacon Wrapped Shrimp
Toothpicks!
Toothpicks are going to become your best friend for this recipe. With each shrimp, just secure the bacon on the shrimp by pushing a toothpick through the shrimp. It will hold the bacon in place as it shrinks and cooks.
Once your shrimp is done, they also make a very nice serving vessel so your guests can grab them right off a serving tray and easily remove the toothpicks to serve.
I love to pair with lemon wedges and fresh parsley.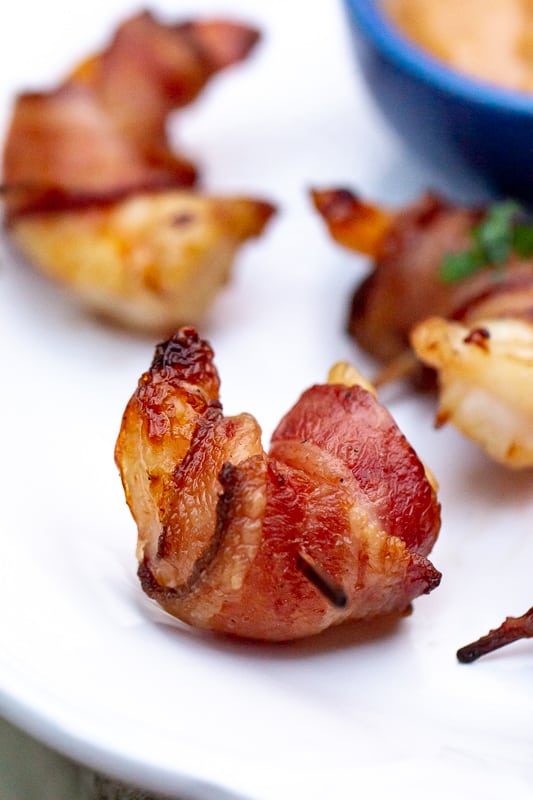 How To Peel and Devein Shrimp Easily
Start by peeling the shrimp, from reaching underneath the shrimp. Reach where the legs are and pull upwards.
Then grab a paring knife or even a bamboo skewer and make a slit down the middle of the back to help expose the vein. Use the knife or skewer and pull the black vein out and discard.

Should You Cook with Shrimp Tails On Or Off
Personally, I leave the tails on, I find it looks nicer when serving, and also allows guests to have something to hold onto. If you want to leave the toothpick in the shrimp to grab the shrimp easily then feel free to remove the tails.
To remove the tails easily just twist the tail gently while pulling the other direction and the tail will come right off.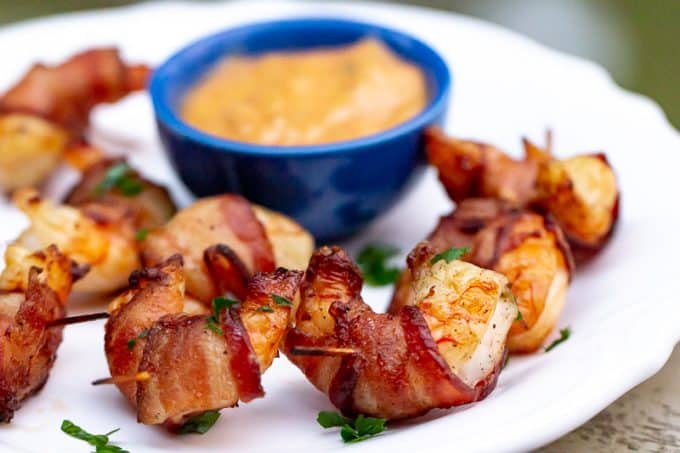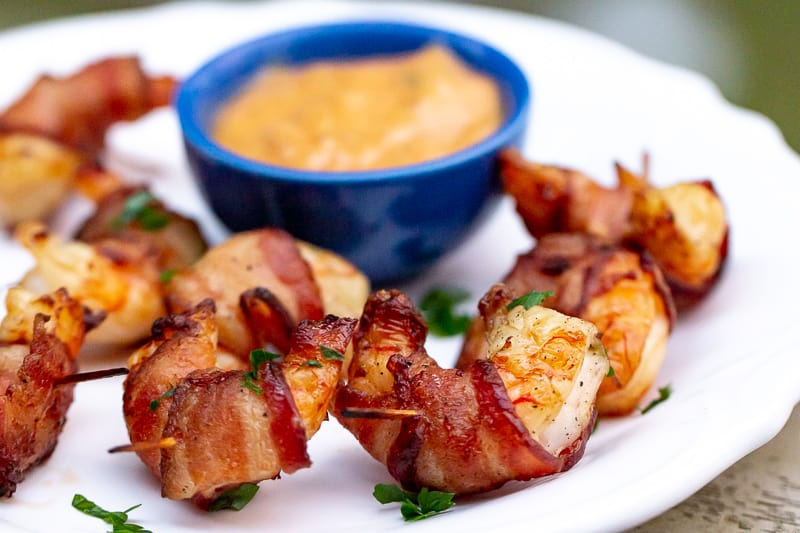 Best Dippers for Bacon Wrapped Shrimp
Honey Mustard
Spicy Mayo
Homemade Dipping Sauces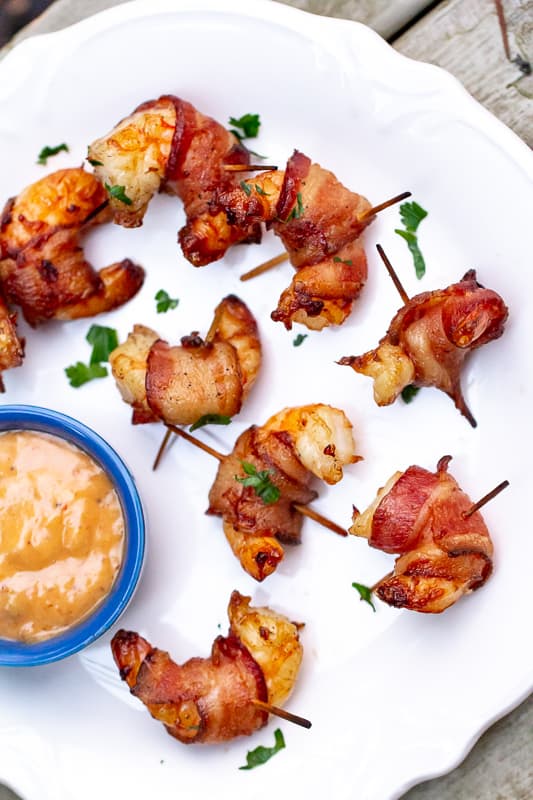 Can You Eat Grilled Bacon Wrapped Shrimp Cold?
You can definitely eat your leftover bacon-wrapped shrimp cold. It is more like cocktail shrimp, but still totally tasty. I'll take bacon at any temperature!
I don't recommend reheating leftover shrimp, but if you insist just throw them in an oven at 350 for 3-4 minutes or in your Air Fryer.

How Long Will Leftover Bacon Wrapped Shrimp Last?
When stored properly in the refrigerator, you can expect your shrimp to last about two days. After that, you will want to toss any leftovers out to reduce getting sick from eating it.
Next time you fire up your grill, give these bacon wrapped shrimp a try!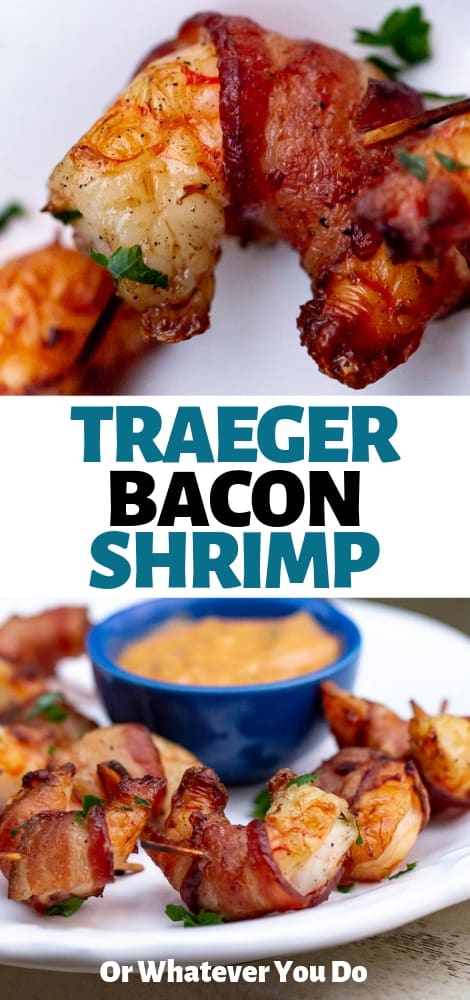 Yield: 12 servings
Traeger Bacon-Wrapped Shrimp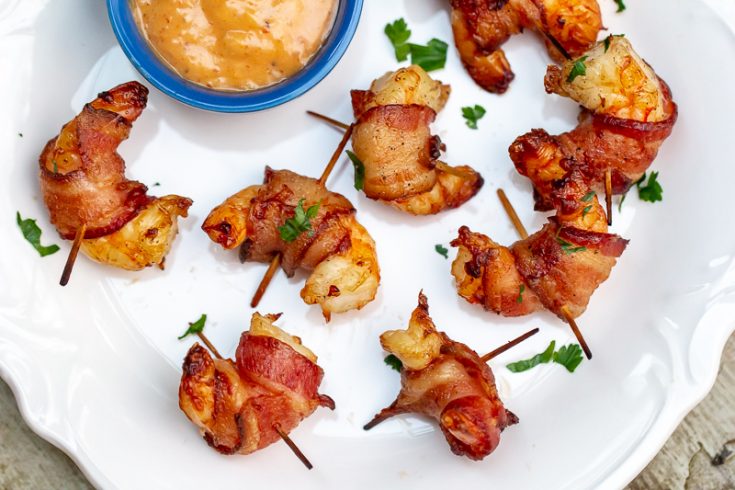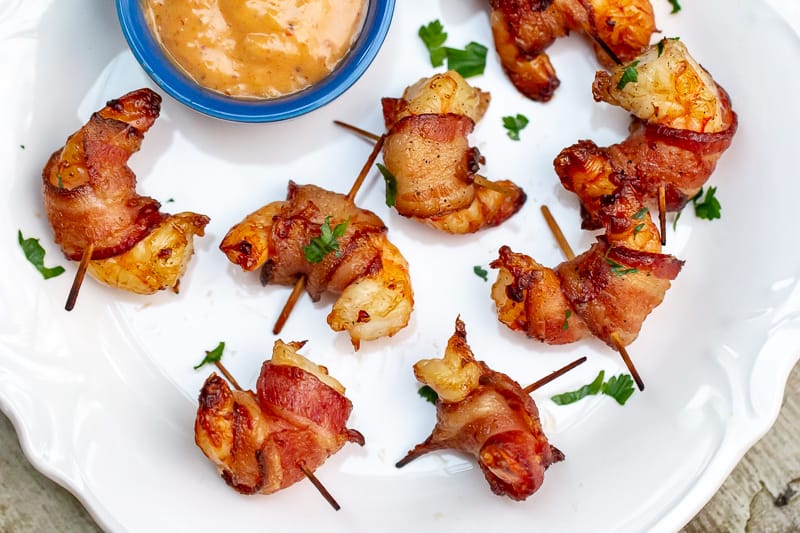 This tender Traeger bacon-wrapped shrimp are one of my favorite appetizers for the spring and summer months! Cookouts, potlucks, family gatherings, or just a regularly old day - your family will adore this flavor-packed shrimp appetizer!
Ingredients
1 pound raw shrimp (16-20 per pound size)
1/2 teaspoon salt
1/4 teaspoon garlic powder
1/2 - 1 pound bacon, cut in half
Instructions
Preheat your Traeger according to factory directions to 350°.
Remove the shells and tails from the shrimp, and set on paper towels. You want to make sure the shrimp is relatively dry before wrapping with the bacon for the best results.
Sprinkle the shrimp with the salt and garlic powder.
Wrap with a section of bacon and secure with a toothpick.
Place on a baking rack that's been sprayed with cooking spray.
Cook for 10 minutes, flip the shrimp over, and then cook for another 10 minutes.
If the bacon isn't crips enough you can cook for another 5 minutes, but I wouldn't go much over that or you will probably end up with overcooked shrimp.
Remove from the grill and enjoy!
Recommended Products
As an Amazon Associate and member of other affiliate programs, I earn from qualifying purchases.
Nutrition Information:
Yield:
12
Serving Size:
1
Amount Per Serving:
Calories:

204
Total Fat:

14g
Saturated Fat:

5g
Trans Fat:

0g
Unsaturated Fat:

8g
Cholesterol:

85mg
Sodium:

939mg
Carbohydrates:

1g
Fiber:

0g
Sugar:

0g
Protein:

18g
Nutrition data provided here is only an estimate. If you are tracking these things for medical purposes please consult an outside, trusted source. Thanks!