Blackstone Blackened Shrimp Tacos with strawberry salsa might just be my new favorite taco. That is saying a lot because tacos constantly surprise me. There are so many varieties that are equally amazing, but these blackened shrimp tacos are a legit contender.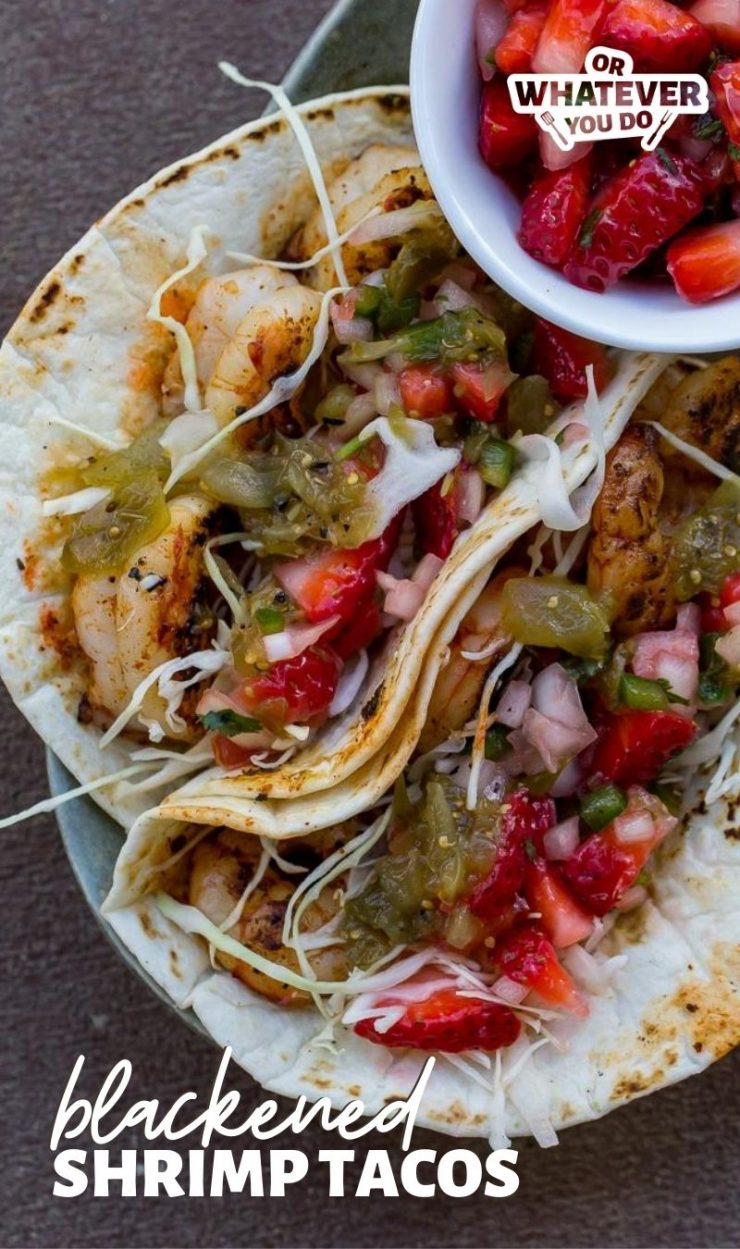 Blackened Shrimp Tacos Recipe
Sure, chicken, pork, steak, and even veggie tacos all deserve their praises, but trust me, this blackened shrimp taco puts you on a beautiful white sandy beach somewhere outside a gorgeous Mexican luxury beach resort hotel.
I use the Cajun Rub from Spiceology, which covers the blackening. I love that blend, but if you don't have any around you can sub in your favorite blackening seasoning and it should be okay.
Or Whatever You Do participates in several different affiliate programs. As an Amazon Associate, we earn from qualifying purchases.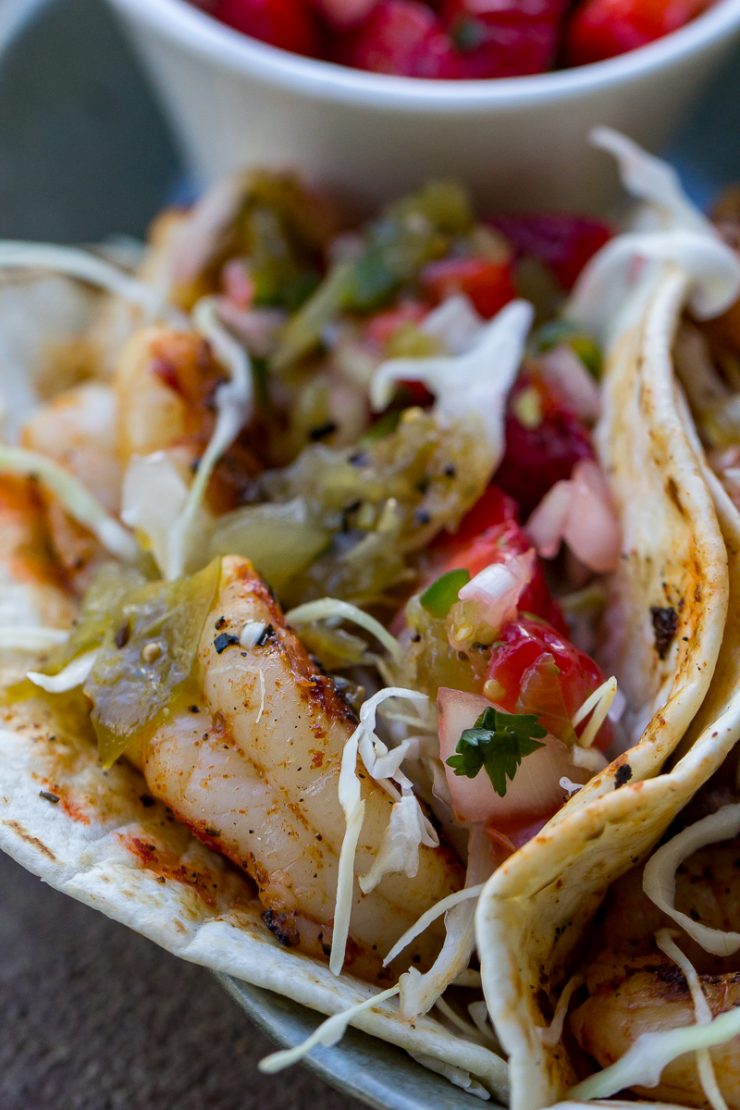 How to cook shrimp tacos on a gas griddle
Small to medium size shrimp work great for tacos. You can use the bigger ones, even all the way up to the giant tiger prawns. You just may want to chop them into a few chunks to make them easier to eat in the taco.
Shrimp cooks really quickly, especially on a nice hot Blackstone grill. You will get a nice sear on them and they will be ready to eat before your eyes can blink and your stomach can finish grumbling. When they are no longer slightly translucent and shiny and become white, then they are ready to eat, regardless of size.
If you don't have a Blackstone, then don't sweat it. Any flat top grill surface works. You can also use a cast-iron skillet on a regular charcoal grill if you want, or on a gas range too.
More Blackstone Recipes here!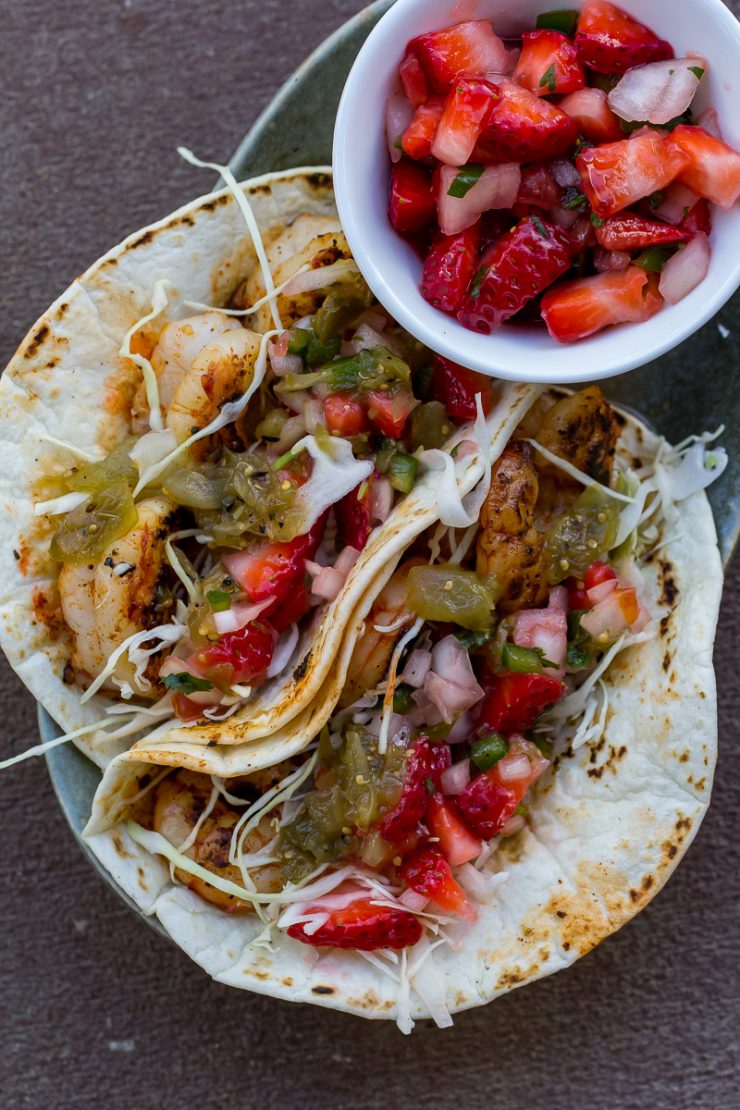 All about shrimp
Domestic shrimp are more likely to be sustainably harvested. There are hundreds of varieties of shrimp, but the ones we eat basically fall into a few color categories. Royal red, pink, white, rock, brown, and tiger shrimp.
The count number refers to how many on average weigh a pound. So the higher the number the smaller the shrimp. A 10u count means there are 10 or under to make a pound. I think anything from the small 70 count shrimp to the superjumbos is great for blackened shrimp tacos.
All shrimp at the counter have been frozen even if they say "fresh" because the shrimp are flash frozen when they are caught to preserve them. If you live on the coast and can enjoy truly fresh-caught shrimp, then you know the difference.
Shrimp come wild-caught and farmed. Not only are wild-caught tastier, but they also are more sustainable environmentally speaking, as long as proper fishing limits are observed.
Here in the Puget Sound region, we love the spot prawn. They are a special little beasty that lives in the waters of the sound, and they are amazing! If you can get your hands on some, they would be perfect for these tacos.
See all of my SHRIMP RECIPES here!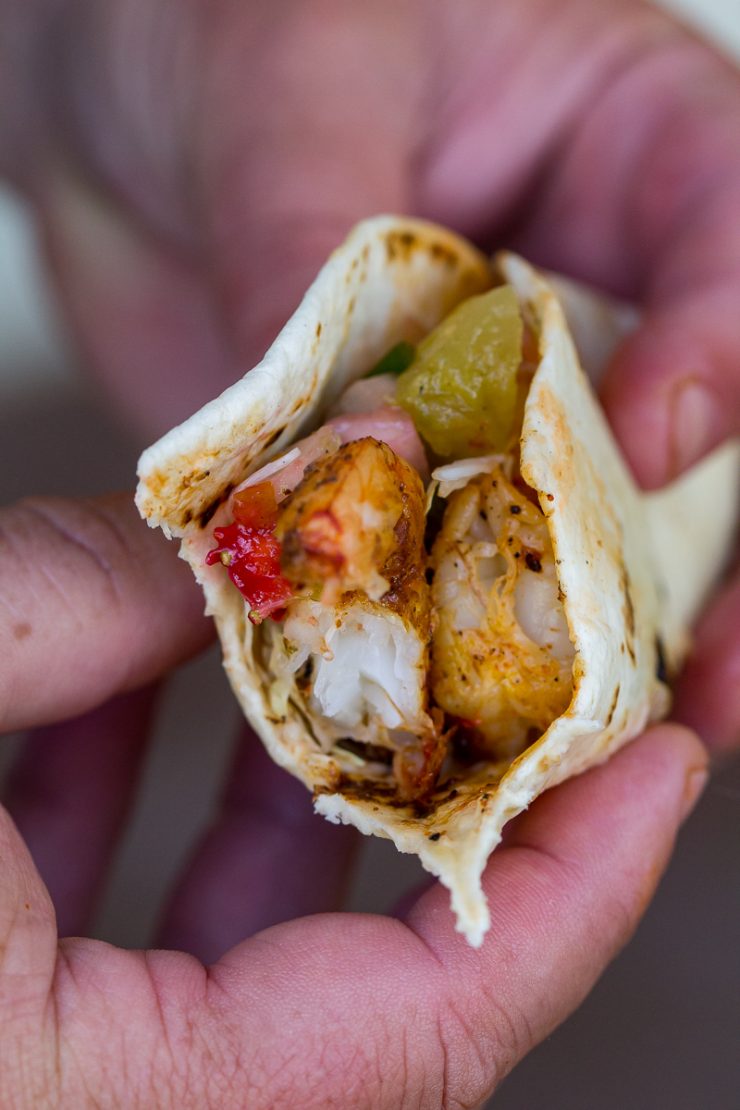 Fresh Strawberry Salsa
Strawberry salsa might seem unusual to some, but even shrimp tacos cause a bit of confusion to those used to chicken, beef, or pork defining what a taco should be. So, it is only appropriate to pair shrimp tacos with a unique take on salsa.
Using strawberries instead of tomatoes is not that far off of traditional salsa though. Strawberries and tomatoes both have a few key things in common.
Both are juicy.
Each can be both slightly acidic and sweet.
Each has a pleasant texture to the tooth.
Both have a slightly mineral taste as well.
Find the ripest and reddest strawberries you can find. The riper the better, since you want the extra juicy strawberries to add liquid to the salsa.
You can also use frozen strawberries. They thaw quickly and thawing them releases juices that you can keep and use in the salsa, but I definitely prefer this made with fresh, in-season, ripe berries.
Have more strawberries? Make a Strawberry Lemon Drop!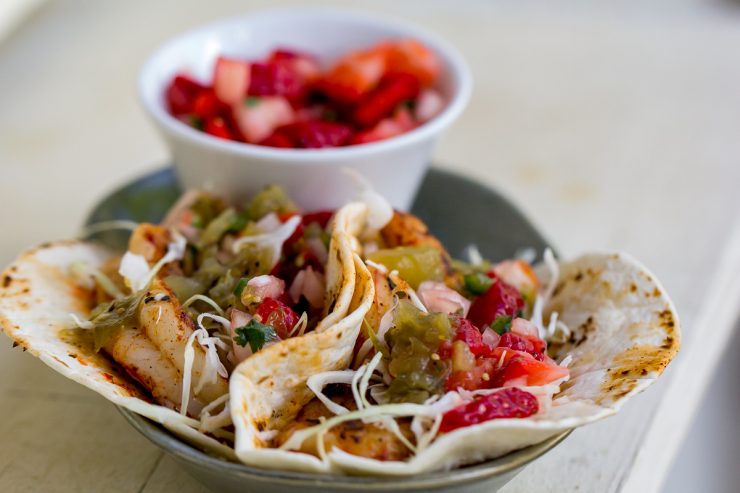 GIVE ME MORE TACOS
Tacos are one of those foods that work on the menu for any meal. They are versatile and the variations on them are truly limitless.
Pin For Later!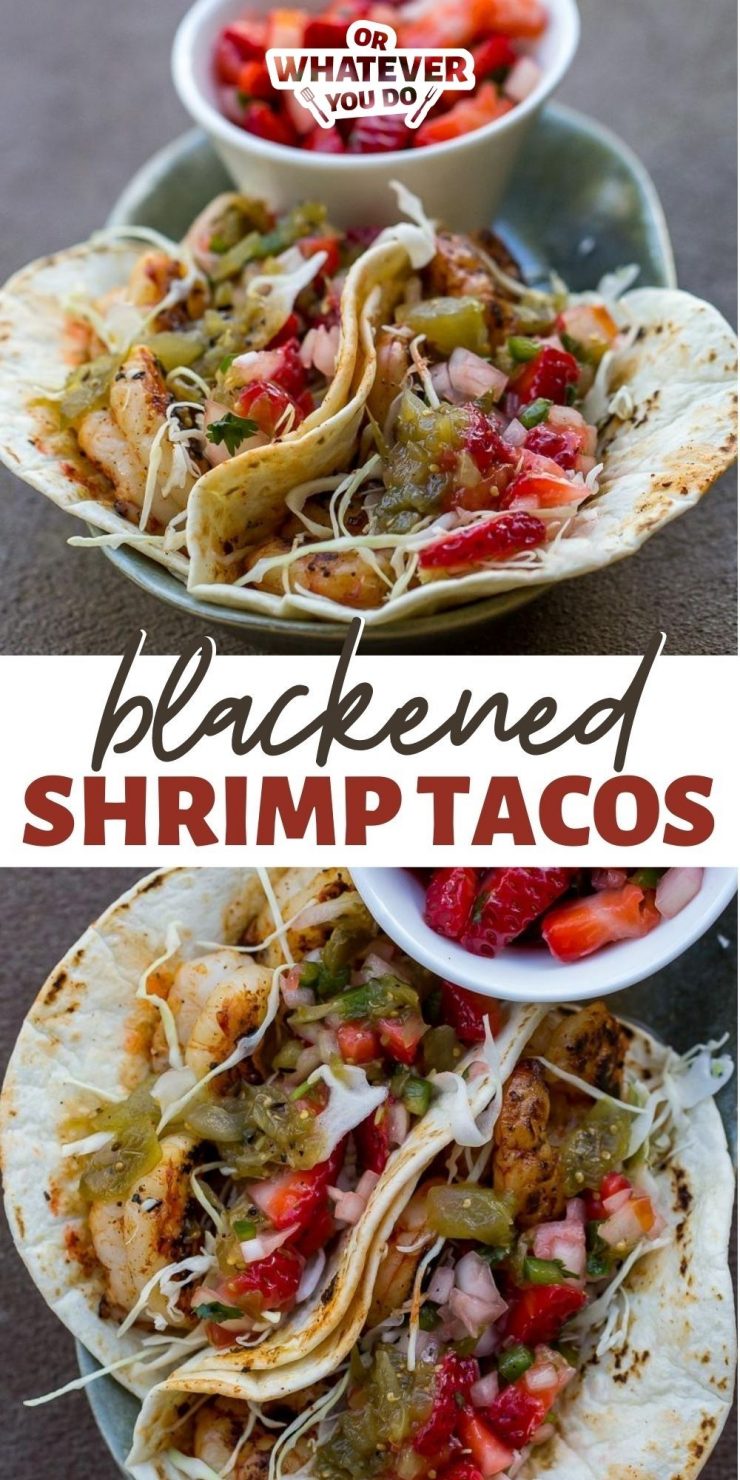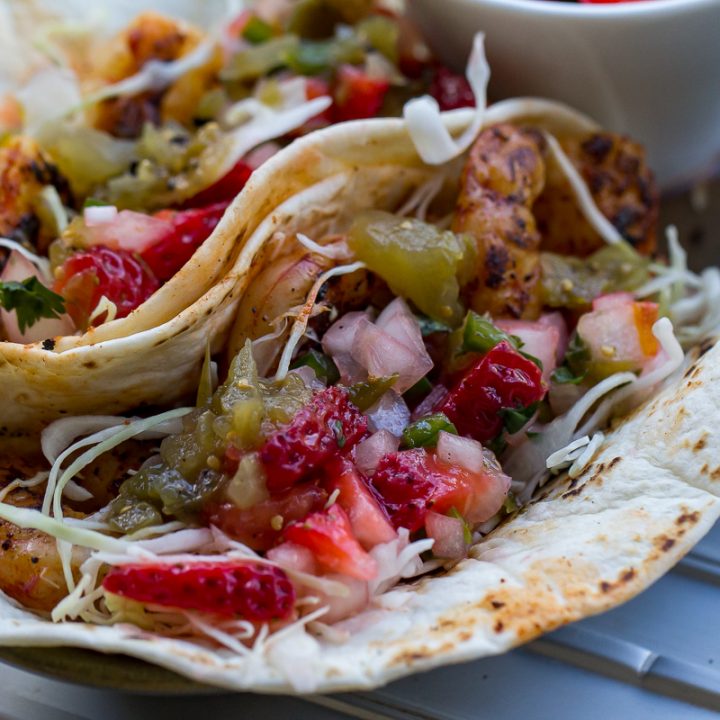 Blackstone Blackened Shrimp Tacos
Quick shrimp tacos are blackened and cooked on the Blackstone before getting wrapped in a warm tortilla and doused in strawberry salsa.
Ingredients
Shrimp Tacos
1 pound peeled and deveined shrimp
1 tablespoon cajun blackening seasoning
1/2 teaspoon salt
1/4 teaspoon cayenne pepper
1 cup shredded green cabbage
1-2 tablespoons avocado oil
8 medium-sized flour tortillas
Instructions
Preheat your Blackstone on medium heat.
Season your shrimp with the blackening seasoning, salt, and cayenne.
Cook the shrimp for 3-4 minutes, or until they are no longer translucent and they have turned pink.
Remove from the griddle, and toss on the tortillas to give them a quick warm-up, and then stuff them with shrimp, cabbage, strawberry salsa, and whatever hot sauce you want to be brave enough to throw on top.
Recommended Products
As an Amazon Associate and member of other affiliate programs, I earn from qualifying purchases.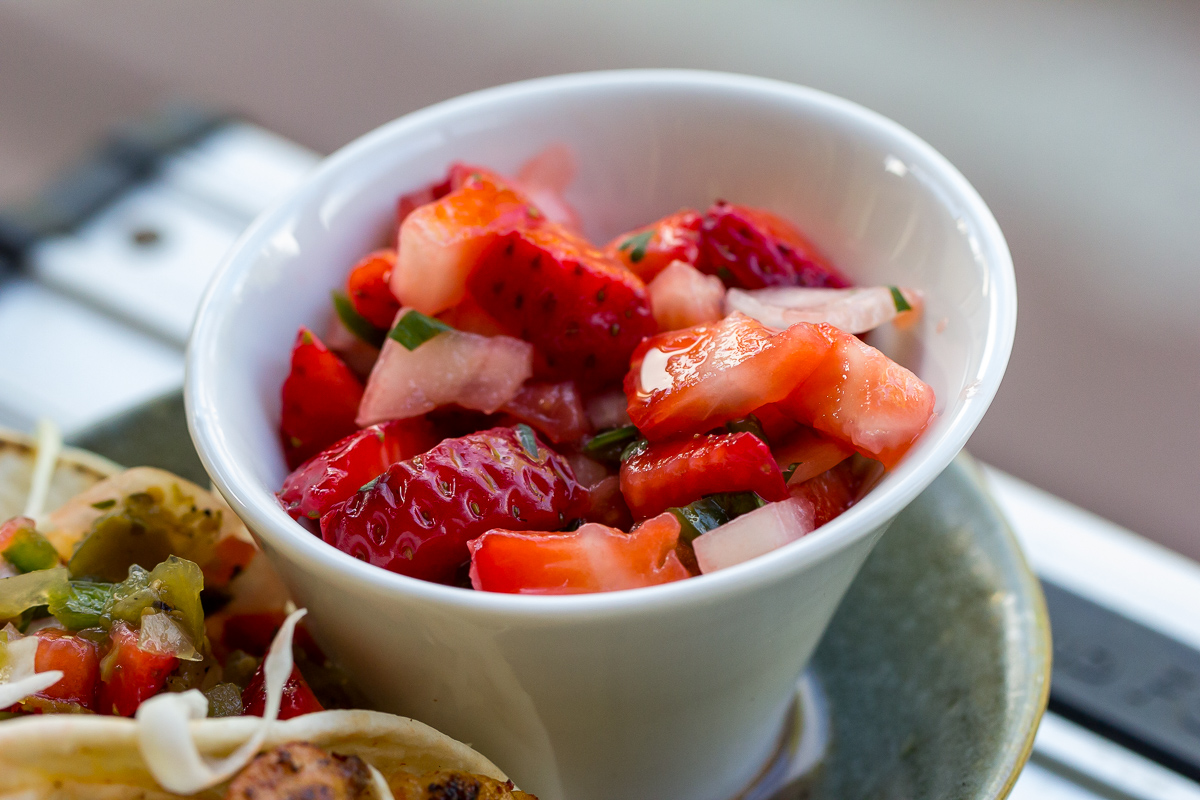 Strawberry Jalapeno Salsa
Fresh, ripe strawberries and mixed with simple ingredients to make a bright and flavorful salsa!
Ingredients
1 cup diced strawberries
1 finely chopped jalapeño pepper (seeds and membranes removed)
1/4 diced onion
1/2 teaspoon salt
1 tablespoon chopped cilantro
Instructions
Combine all of the ingredients and let chill for a couple of hours for the flavors to meld.
Serve on tacos or with chips!