Our Blackened Shrimp Caesar Wrap takes fresh shrimp, adds some Cajun blackening seasoning before hitting the griddle, and being tossed into a Caesar salad mix that is wrapped in a flour tortilla.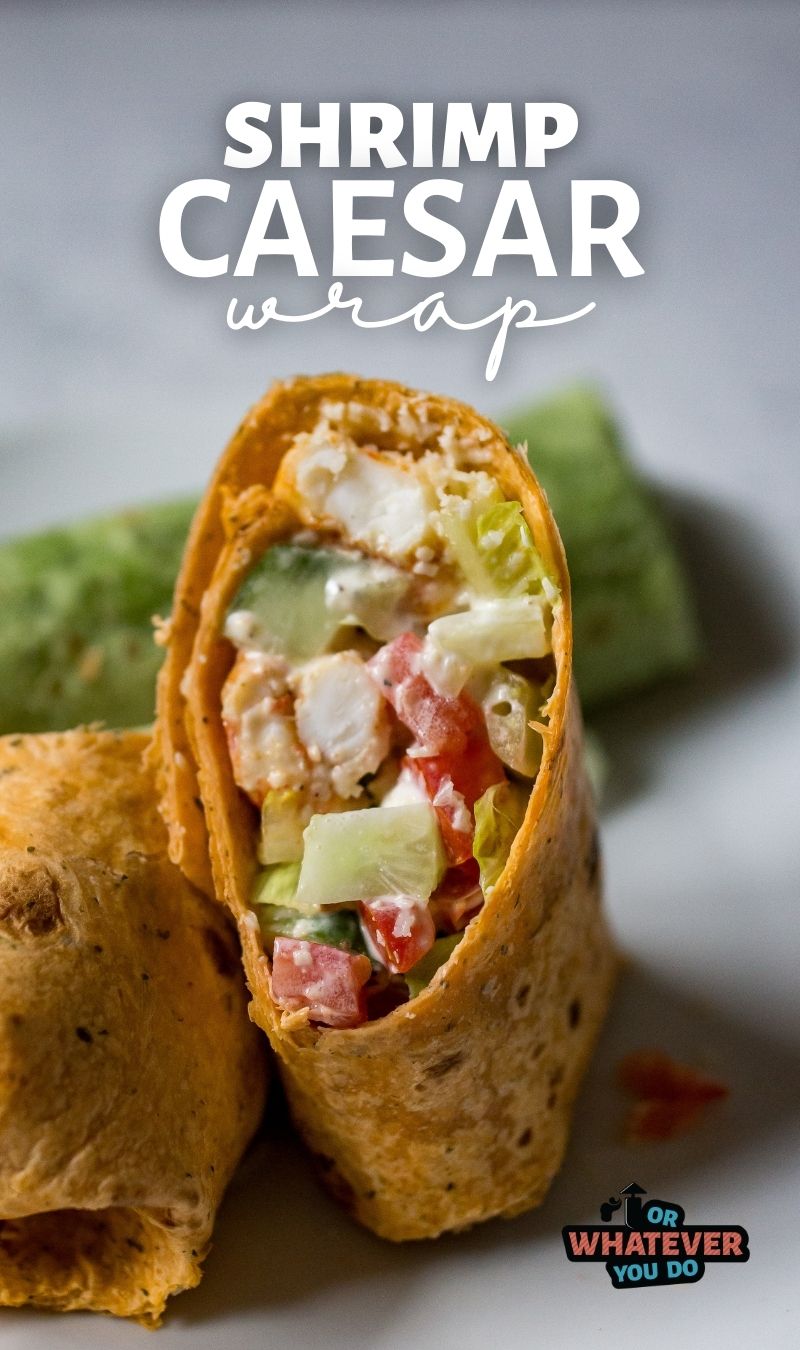 Blackened Shrimp Caesar Wrap
I love shrimp. It is so easy to cook, and you can make shrimp into so many different meals. Anything from shrimp cocktail or bacon-wrapped shrimp for an appetizer to shrimp fajitas, shrimp tacos, and even shrimp diablo.
We've fried shrimp in panko, "fried" it in the pellet grill, and made it spicy shrimp in marinara. You can cook shrimp in the air fryer, make shrimp fried rice, shrimp stir-fry, coconut shrimp, or shrimp ceviche.
I told you that we love shrimp!
Get all of my BLACKSTONE RECIPES here!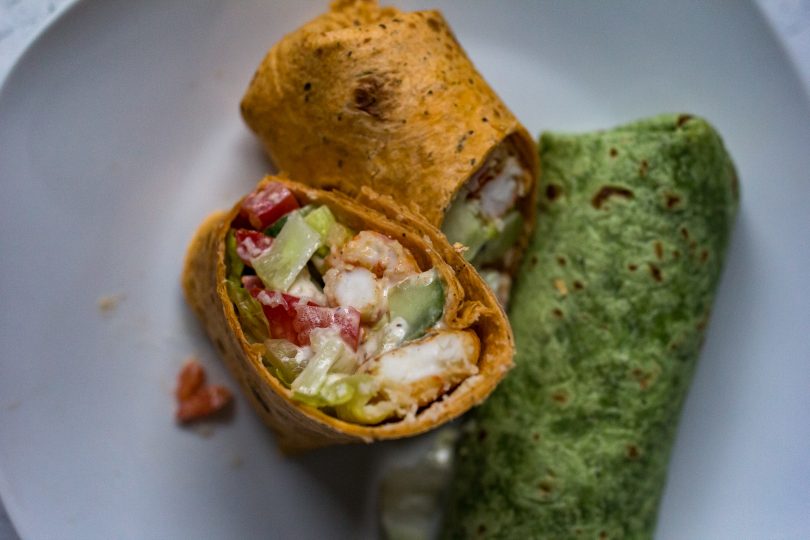 Blackened Shrimp Caesar Wrap shopping list
shrimp
Cajun blackening season
salt
cayenne pepper
olive oil
cucumber
tomato
creamy Caesar dressing
Romaine lettuce
large tortilla shells
shredded parmesan
See all of my SHRIMP RECIPES here!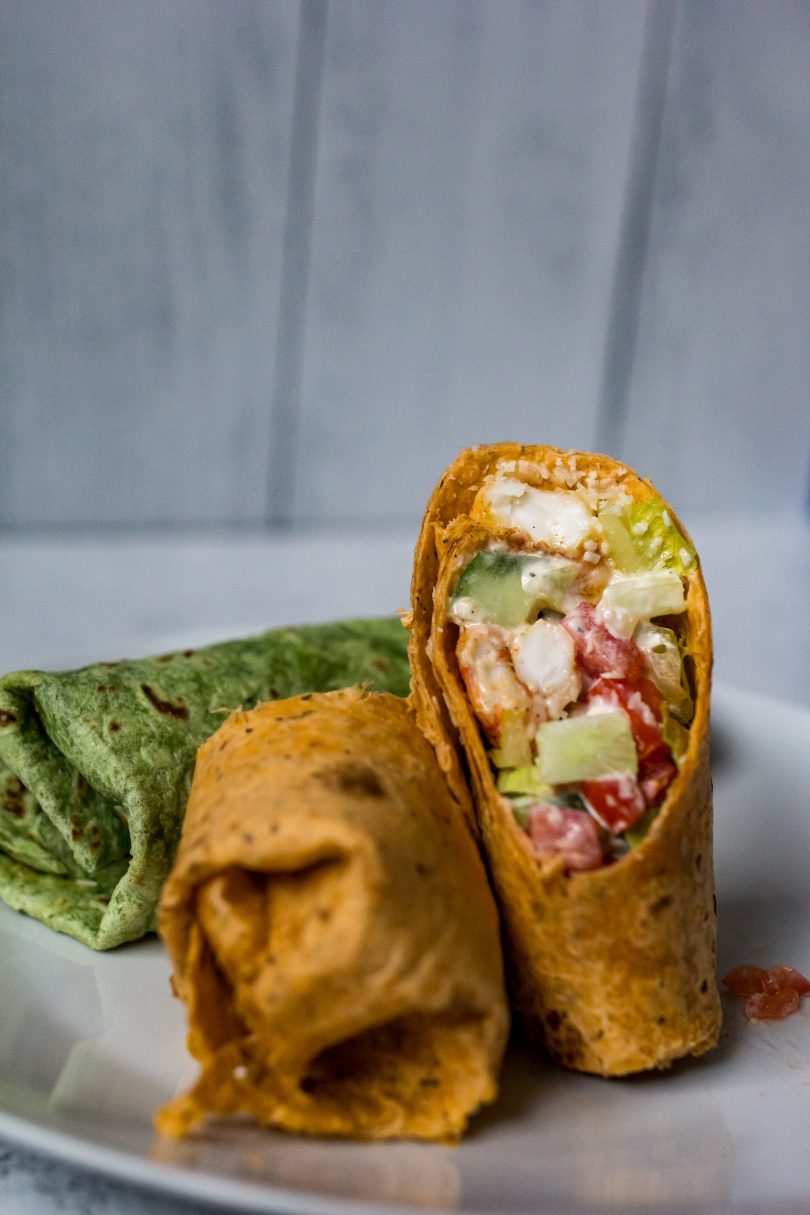 How to make a Blackened Shrimp Caesar Wrap
Assemble the salad.
You want to go from the pan to your mouth as fast as possible with shrimp, so prep the salad ingredients first and have them ready to go as soon as the shrimp are done. Don't add the dressing quite yet though. A freshly dressed salad is the best salad!
Cook the shrimp.
A good cast-iron skillet or gas griddle is perfect for shrimp. You want to cook it fast and furious and JUST long enough so the shrimp is cooked but not too far so it is tough and chewy.
Soften up your tortillas.
If you are using a gas griddle, toss your tortilla on the griddle for about 30-60 seconds over low heat to soften them up and make them more pliable.
Toss the salad.
Place the shrimp into the salad mix. If you used giant shrimp you might want to give it a quick dice with a sharp knife first. Mix the dressing into the salad and toss with tongs to evenly coat.
Roll it all up.
Take the filling, place about 1 – 1 1/2 cups of the mixture into the wrap, fold the bottom up, and roll like a burrito.
Join our Easy Griddle Recipes Facebook Group!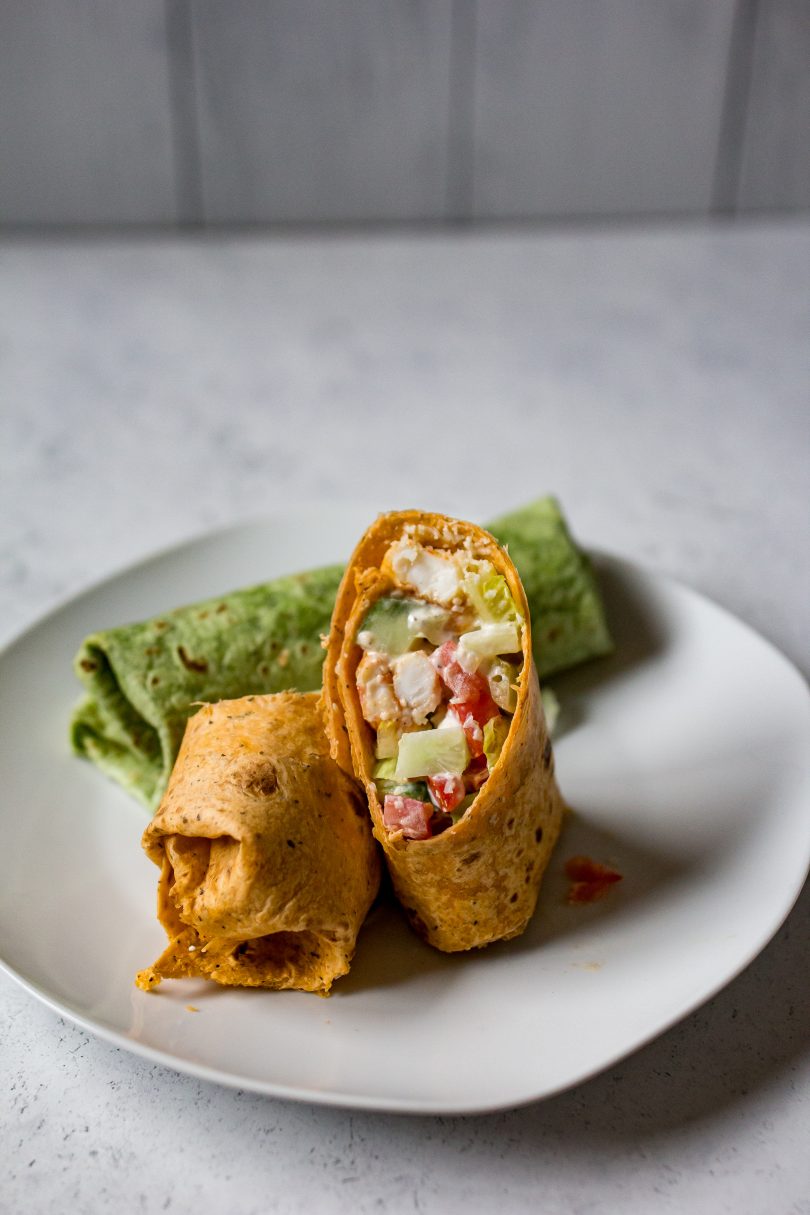 Leftovers?
I recommend making only as much as you can eat in one sitting. Shrimp and salad don't make great leftovers, so avoid it when possible.
If you do wind up with extras, make sure to only dress as much salad as you'll eat right away. You can get away with keeping it overnight if you don't put the Caesar dressing on.
Make my Homemade Caesar Dressing!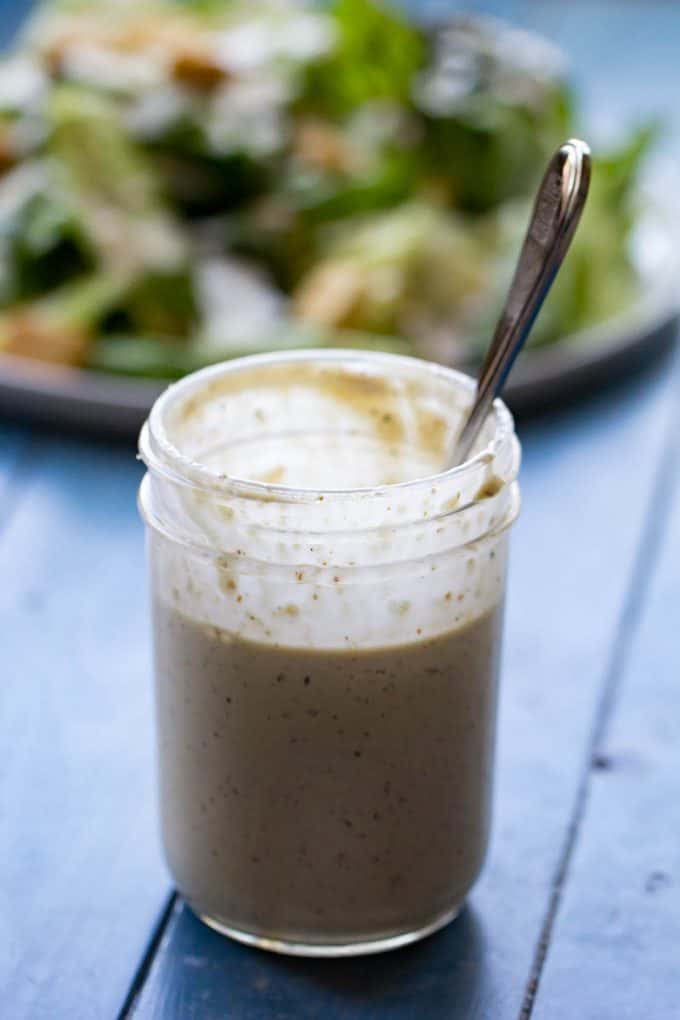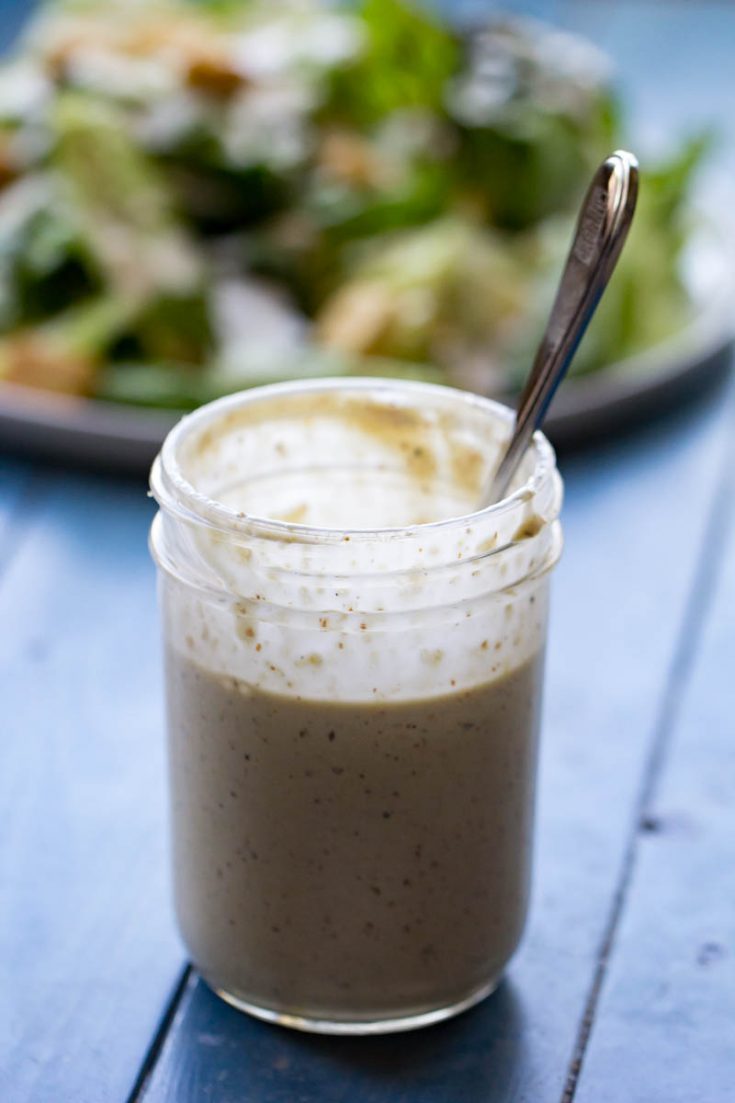 What else can you do with the Blackstone Blackened Shrimp?
This shrimp works well on its own alongside a side of pasta (like my Creamy Noodles), or rice (like my Wild Rice Pilaf).
You can also make Blackened Shrimp Pasta too.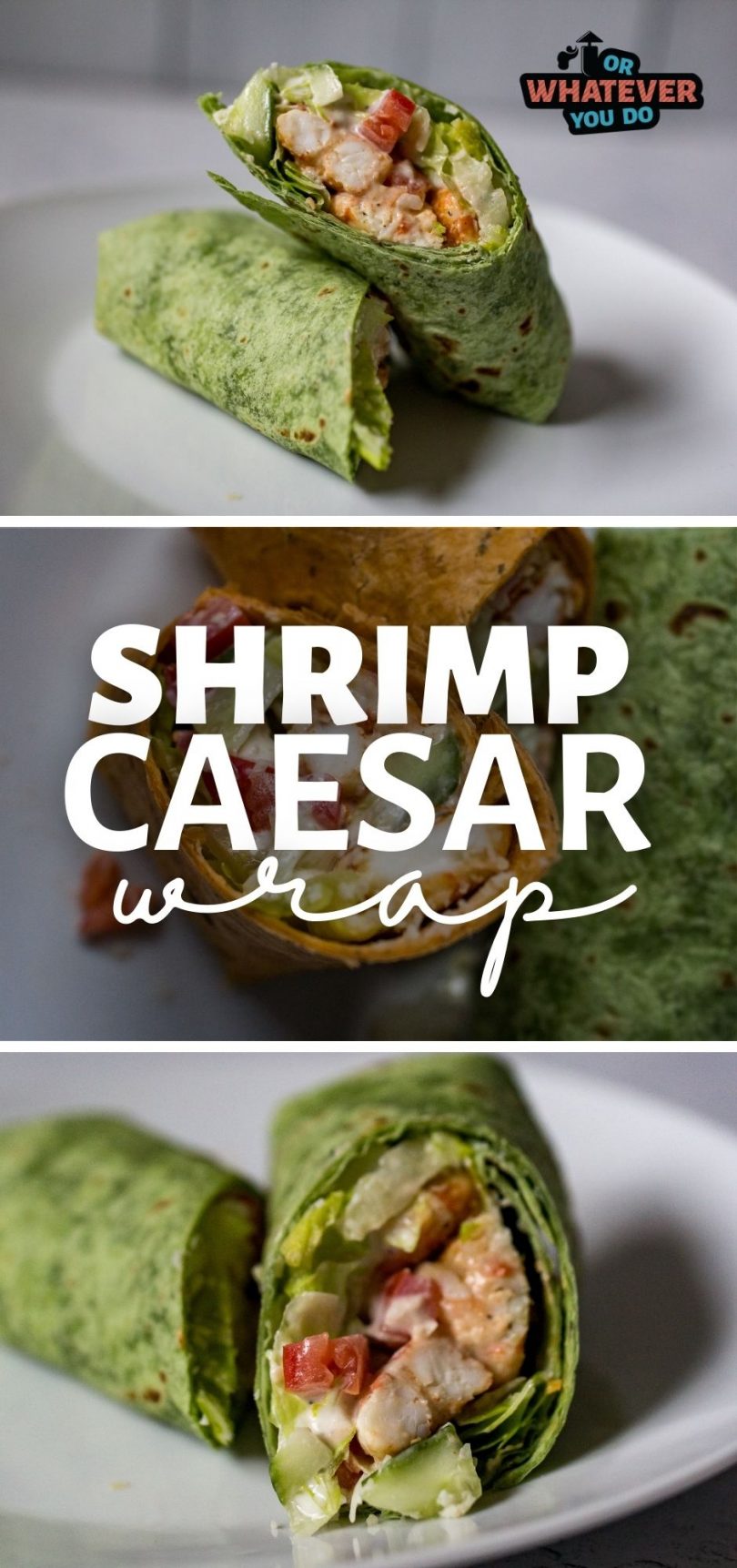 Yield: 4 servings
Blackstone Blackened Shrimp Caesar Wrap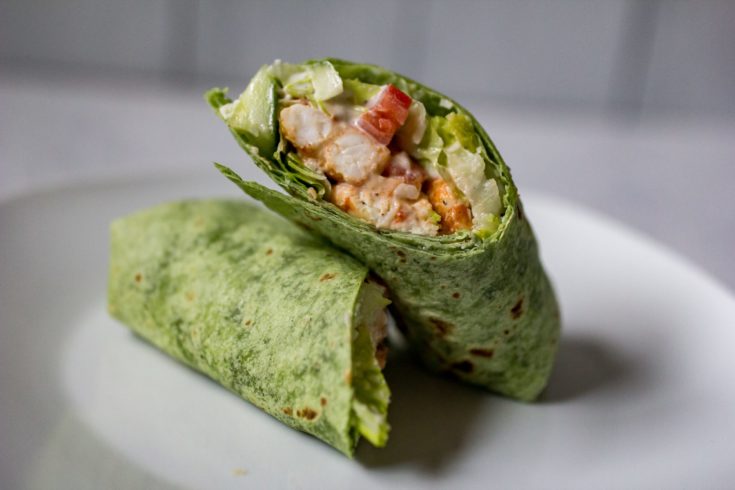 Our Blackened Shrimp Caesar wrap takes blackened shrimp and combines them with fresh Caesar dressing and a wrap to make a delicious and easy lunch!
Ingredients
1 pound peeled and deveined shrimp
1 tablespoon cajun blackening season
1/2 teaspoon salt
1/4 teaspoon cayenne pepper
1 tablespoon olive oil
1 small cucumber
1 medium tomato
1/2 cup creamy Caesar dressing
1 head romaine lettuce
4 large tortilla shells
1 tablespoon shredded parmesan
Instructions
First, dice your tomato and cucumber into 1/2" pieces and set aside. Next, cut your romaine lettuce into 1-1 1/2" pieces and set aside.
Rinse your shrimp, pat them dry with a paper towel, and then place them into a medium-sized bowl.
Add the cajun seasoning, salt, and cayenne pepper into the bowl and toss the shrimp until they are all evenly coated.
Preheat your griddle on medium heat and then pour the olive oil onto the griddle and spread it out evenly onto the surface.
Put all of the shrimp onto the griddle surface where the olive oil is and let cook for 1 1/2 - 2 minutes.
Flip the shrimp and let cook for another 1 1/2 - 2 minutes on the other side.
Pull the shrimp from the griddle and let them cool for 10 minutes. While the shrimp cool, heat the tortillas on the griddle briefly to soften.
Once the shrimp are cooled, it's time to start building your wraps.
Place your lettuce, cucumber, and tomato into a large bowl along with the shrimp. Drizzle on the Caesar dressing and toss to combine.
Lay one of the tortillas out on a flat surface. Place some of the salad onto the tortilla and top with parmesan cheese.
Carefully wrap the whole thing up, making sure to keep all the ingredients inside the tortilla.
Slice your wrap in half at a 45-degree angle and enjoy!
Recommended Products
As an Amazon Associate and member of other affiliate programs, I earn from qualifying purchases.
Nutrition Information:
Yield:
4
Serving Size:
1
Amount Per Serving:
Calories:

524
Total Fat:

32g
Saturated Fat:

7g
Trans Fat:

0g
Unsaturated Fat:

23g
Cholesterol:

271mg
Sodium:

2003mg
Carbohydrates:

24g
Fiber:

7g
Sugar:

5g
Protein:

36g
Nutrition data provided here is only an estimate.