My easy Coconut Shrimp recipe is one of my favorite appetizers that I've ever posted on the site. Crispy on the outside and so tender and delicious in the center, it is everything you love about shrimp with a breading you'll want to use on everything, always.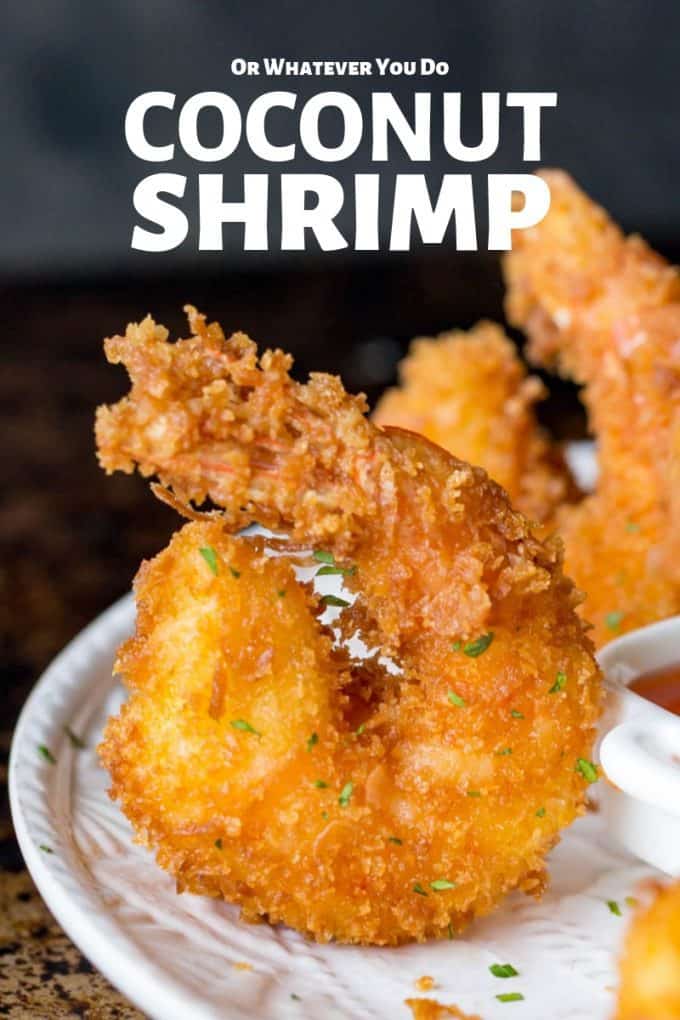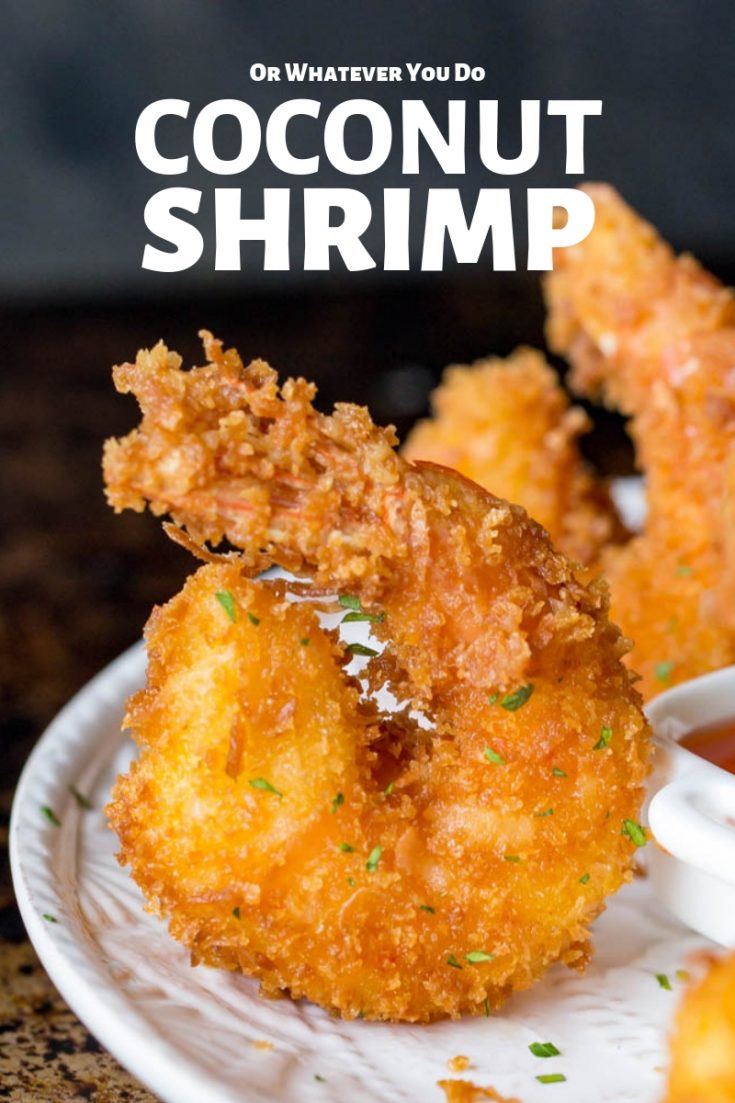 Coconut Shrimp Recipe
I know that saying a recipe is "the best" is pretty presumptuous. I get it. And I don't do it very often, at all. But this time I'm all in, you guys.
These easy coconut shrimp are light and delicate, golden brown, crispy on the outside, slightly sweet, and totally delicious.
If you have never tried coconut shrimp, get out your pots and pans and plan on a big batch because these will go like wildfire.
These coconut shrimp are breaded with shredded coconut, flour, panko, seasonings, and then quickly fried. The dipping sauce is sweet chili sauce and is the perfect dipper for the crunchy shrimp.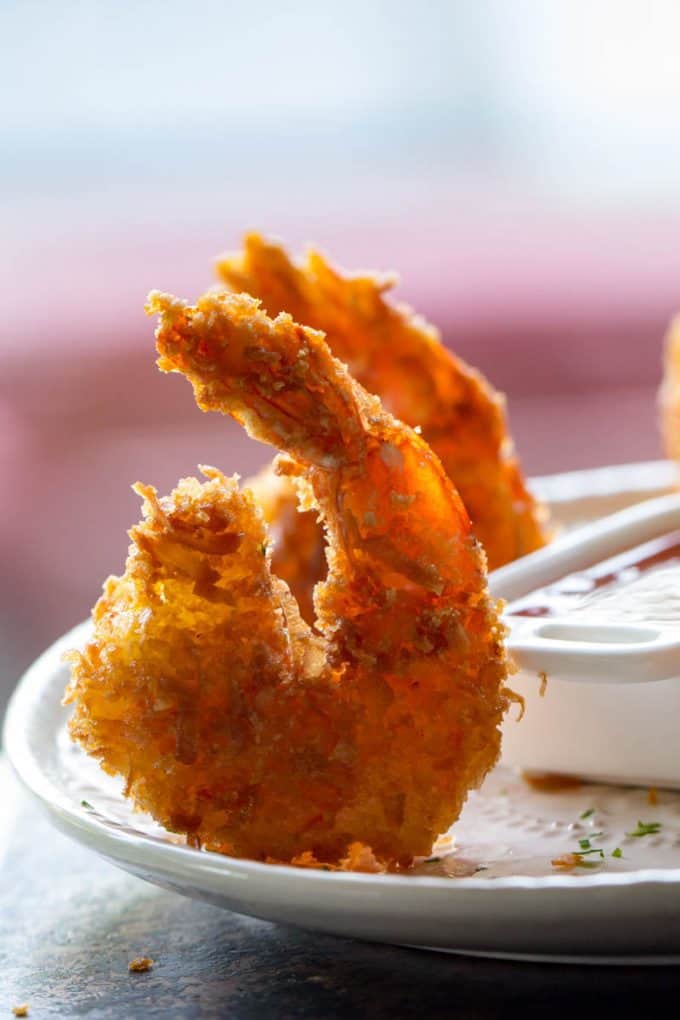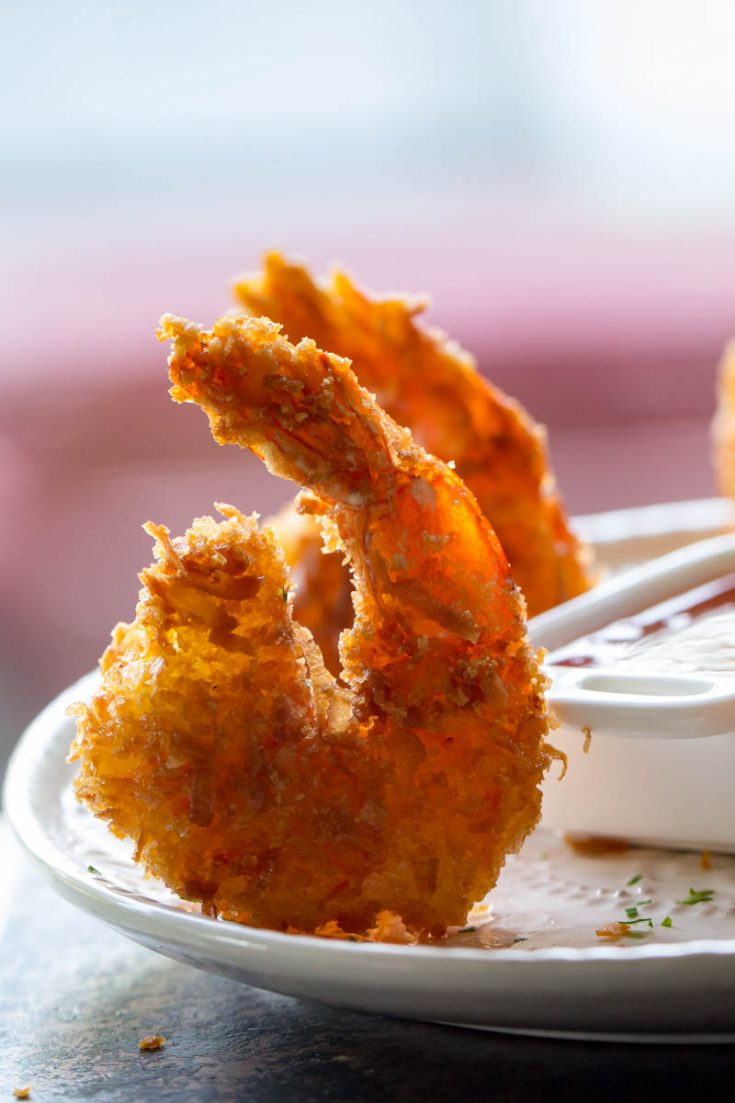 What kind of shrimp should use for homemade coconut shrimp?
You will need 2 pounds of raw shrimp, 16-20 count or bigger. Stay away from pre-cooked shrimp or the end result will end up rubbery and tough. Shrimp only need to be cooked once, and they cook very quickly. Buy cooked shrimp only if you are planning on serving it cold in a shrimp cocktail, pasta salad, or something similar to that.
The rule of thumb with seafood is that fresh is best, but if you aren't lucky enough to live near the sea or have access to freshly caught shrimp, you can buy shrimp from the meat counter at your local grocery store or in the freezer department.
If your grocer doesn't have a fresh meat counter, there are many varieties of frozen raw shrimp available. Buy the peeled and deveined variety with the tail on to save time. And the tail is optional, you can also just pull off the tail when rinsing if you prefer not to leave it on.
Be sure to thaw them according to the package directions, let them drain on paper towels, and pat them dry before beginning. I like to use the biggest shrimp available for my coconut shrimp recipe.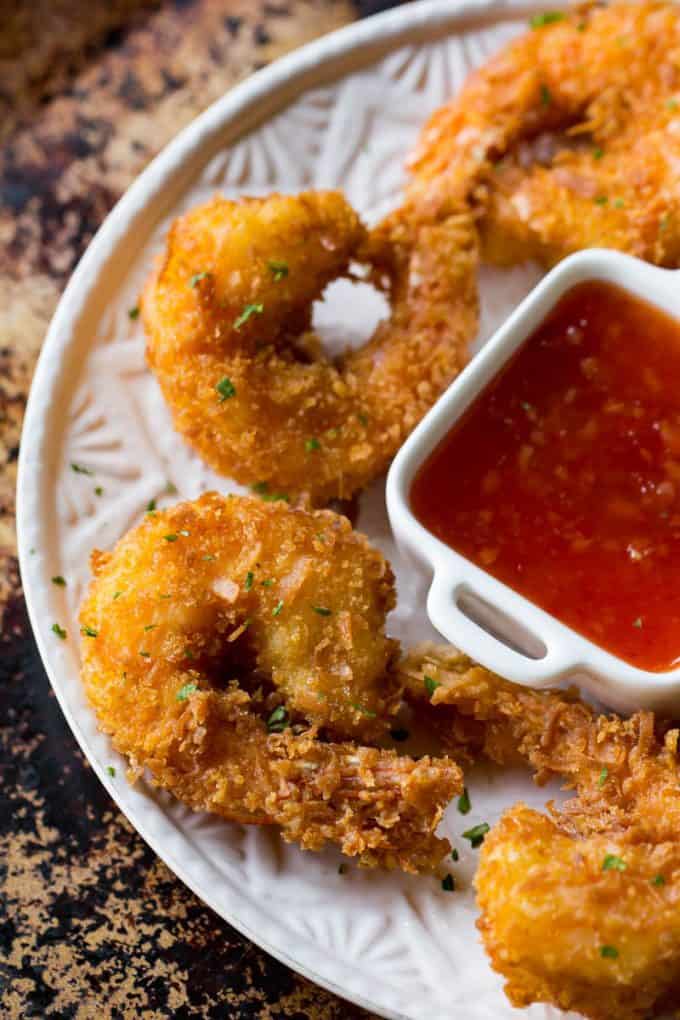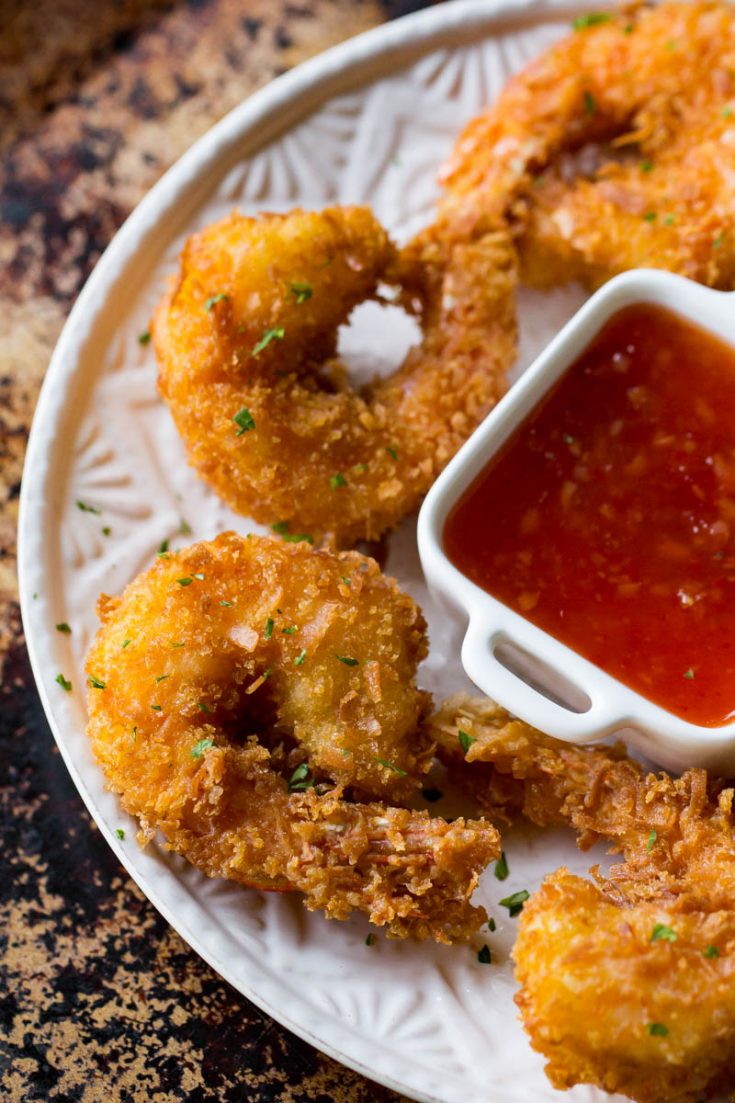 What should you serve with this delicious Coconut Shrimp?
These Coconut Shrimp can be the main event for any meal you're planning, but they are a perfect choice for an appetizer too.
You can use this shrimp to top a salad for an easy lunch! Just toss on top of your favorite greens, add a few fresh chopped veggies and a wonderful sweet-spicy dressing, and lunch is served!
Coconut shrimp would also be wonderful alongside a crunchy Asian cabbage salad and a sparkling white wine.
If you are serving this shrimp as the main course, there are many side dishes that would work very well with these homemade coconut shrimp.
My Instant Pot Basmati Rice is a long-grain, aromatic rice, and would be amazing with a pile of this shrimp on top and the sweet chili sauce drizzled all over the top.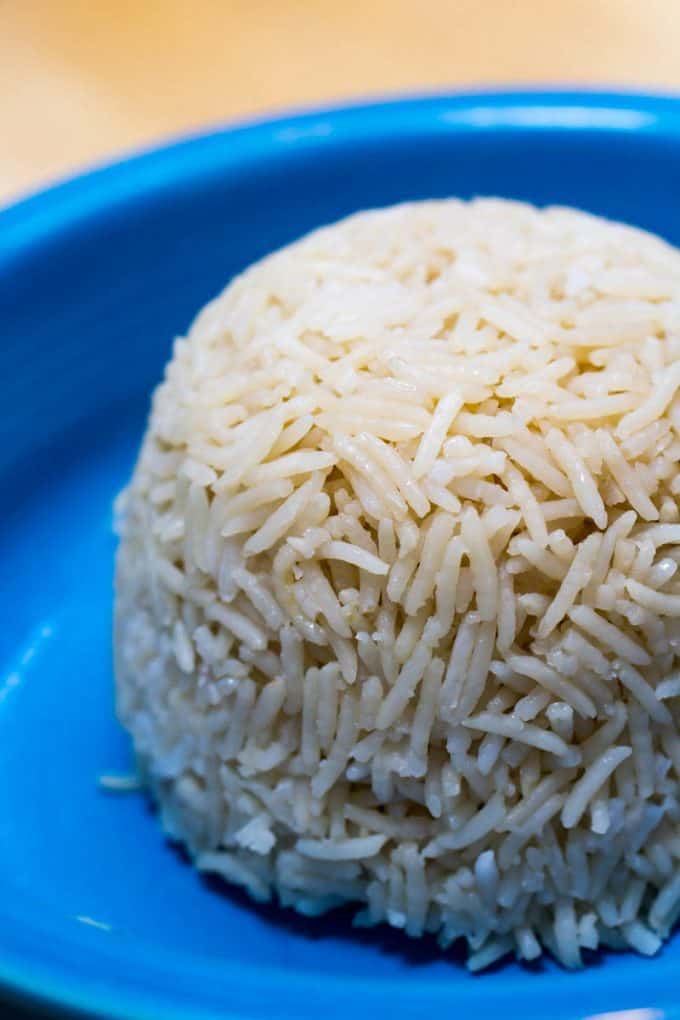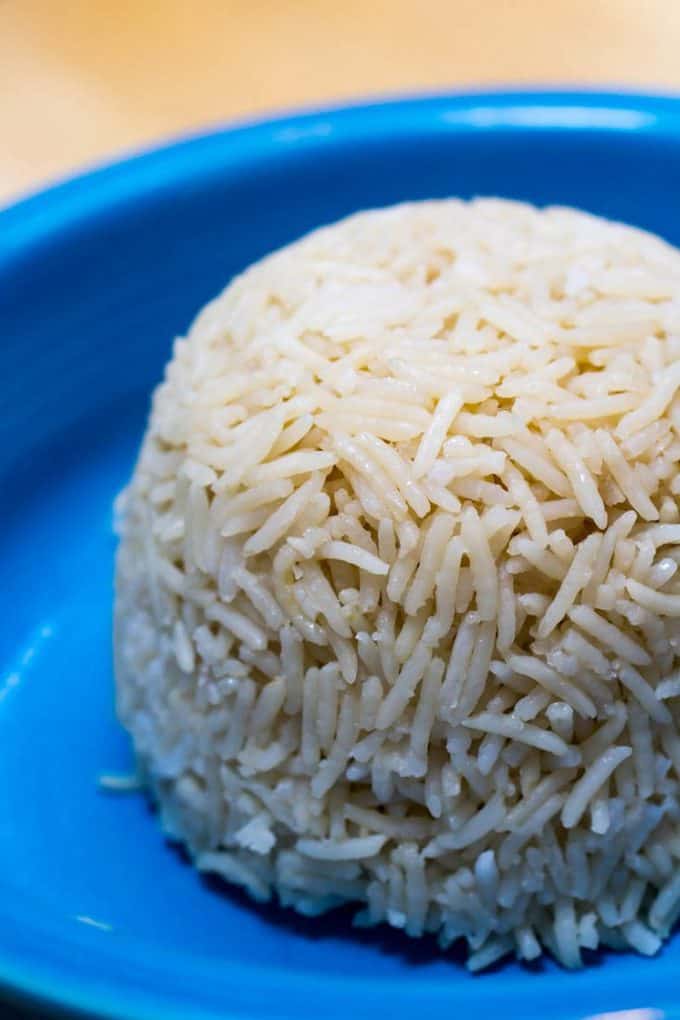 Throw in some stir-fried or grilled vegetables and you have a whole meal.
If you are feeling adventurous, toss on some fruit like pineapple or mango when you are cooking the vegetables. These are wonderful options and would be perfect with this shrimp!
If you prefer a cold side dish my Coleslaw Recipe with vinegar would be a nice sweet and tart side.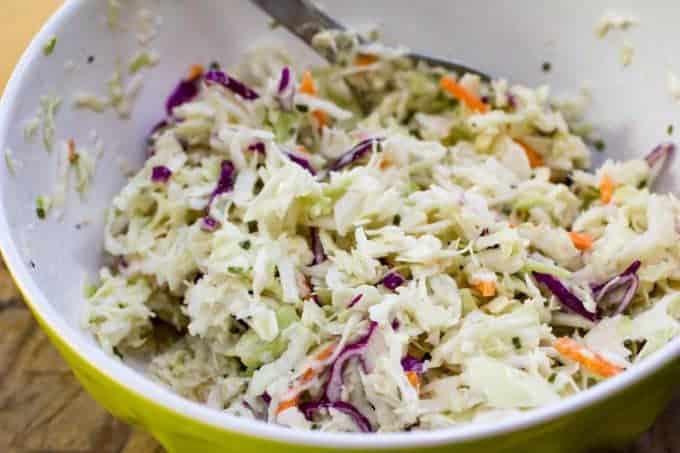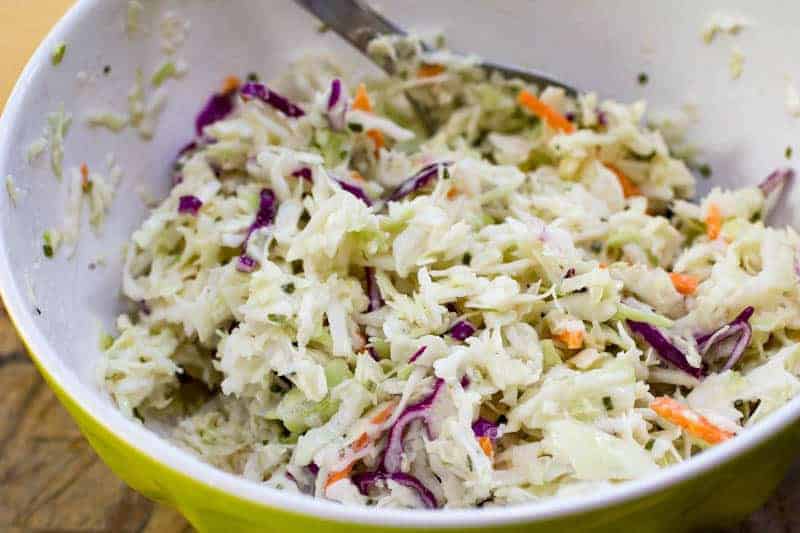 How many coconut shrimp should I make per person?
If you are making these for an appetizer, I would make 4-5 for every person there that likes shrimp. For the main course, plan on 6-8 shrimp for each person, with sides.
Worst case scenario, you'll have some leftovers.
Speaking of leftovers…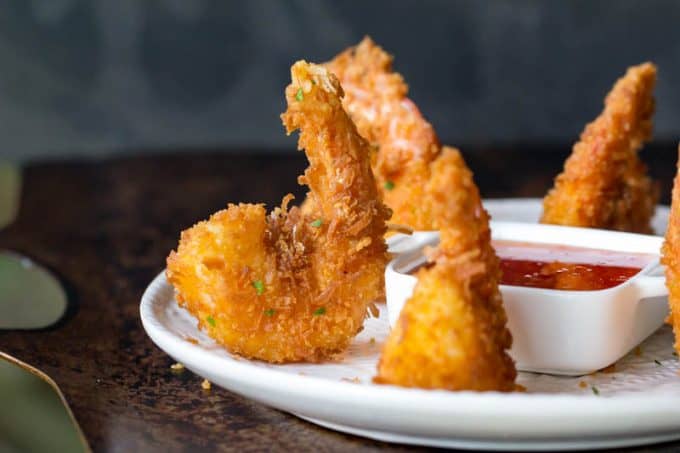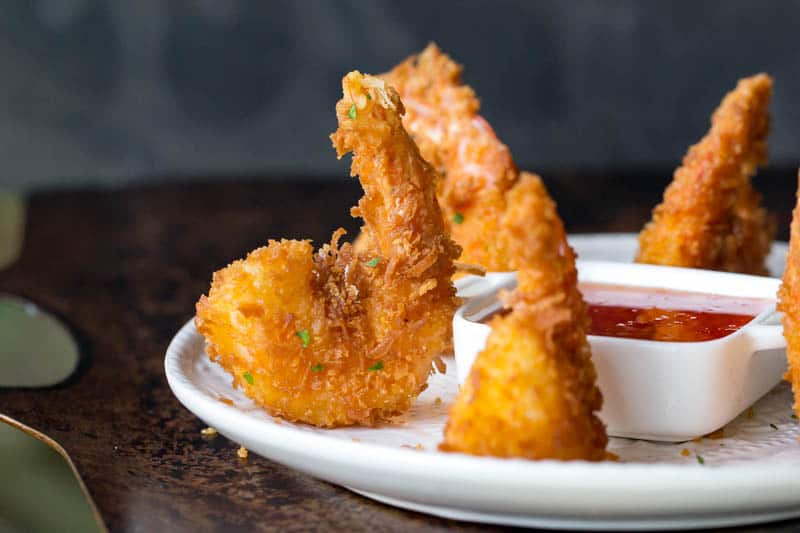 How can I reheat coconut shrimp?
As with any fish or seafood, stay away from the microwave. Far far away. Heat these up in your oven or an air fryer for the best results on 2nd-day coconut shrimp.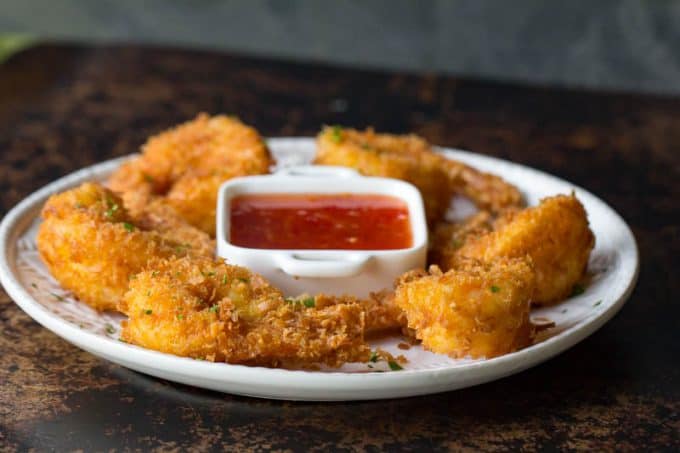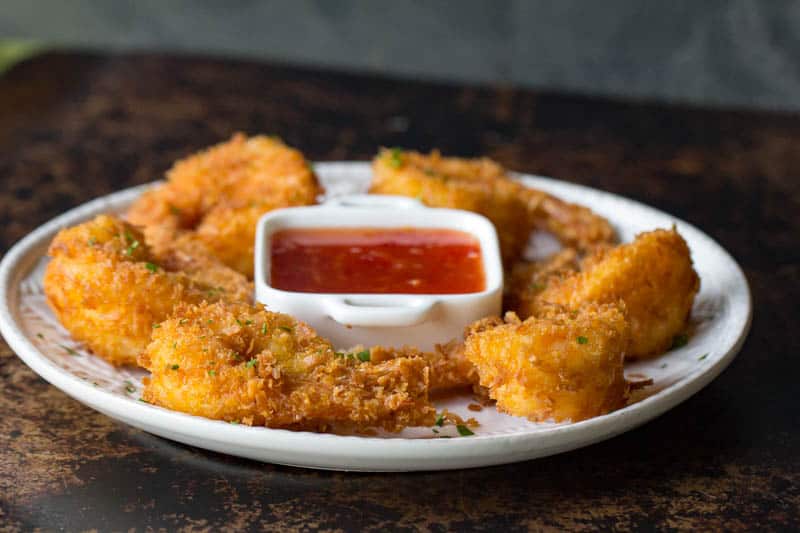 What ingredients do I need for homemade coconut shrimp from scratch?
This recipe is super easy and has ingredients you probably have laying around the house already. Or most of them anyway!
Sweetened Coconut
Flour
Panko bread crumbs
Eggs
Seasonings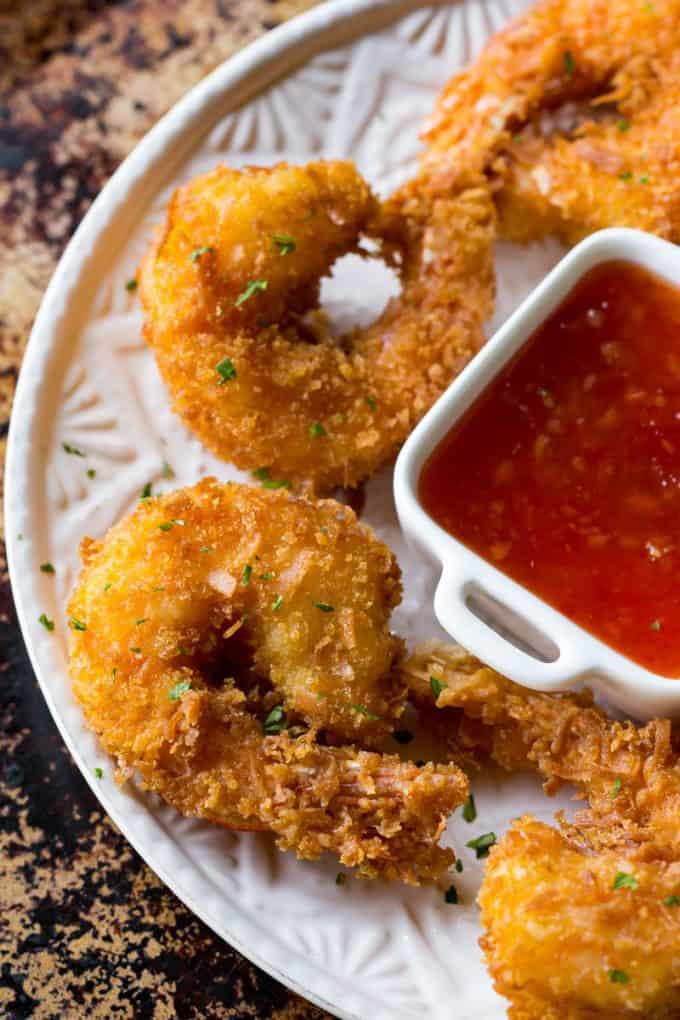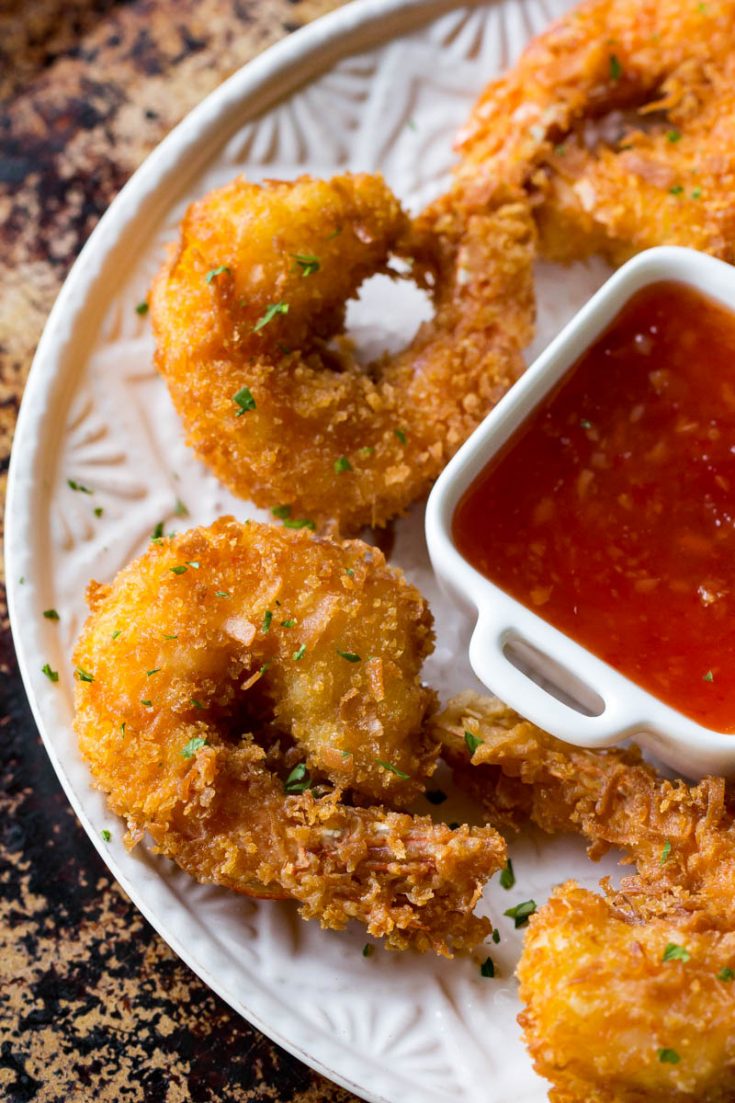 What other appetizers would be great to serve with coconut shrimp?
There's nothing better in my book than an appetizer party where the appetizers are plentiful and you can just make a meal out of them, one delicious bite at a time.
We have tons of amazing appetizer recipes here at Or Whatever You Do. Here are a few of my favorites!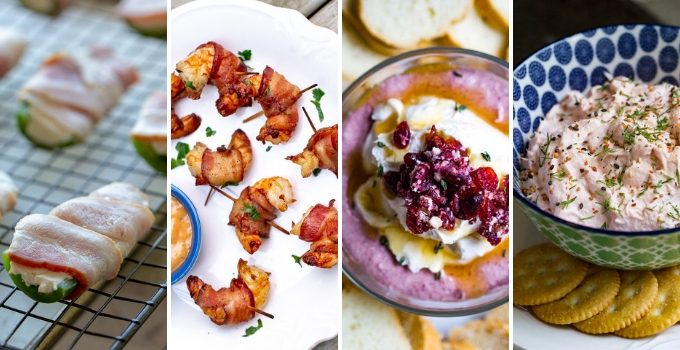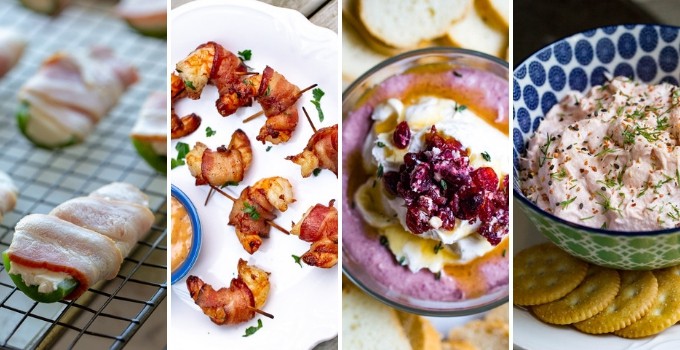 Tips for making homemade coconut shrimp
Test your oil | If you test your oil temp before cooking, you'll ensure that you get amazing results every time. A good thermometer is essential for home frying.
Use the big shrimp | The bigger the shrimp, the bigger the crunch, and come on. Who DOESN'T want the jumbo shrimp? No one. That's who. Buy the big ones. You won't regret it.
Open a new bag of sweetened coconut | That bag in the back of your cupboard that you used in your Coconut Cake two Thanksgivings ago? You should probably toss it and get a new one.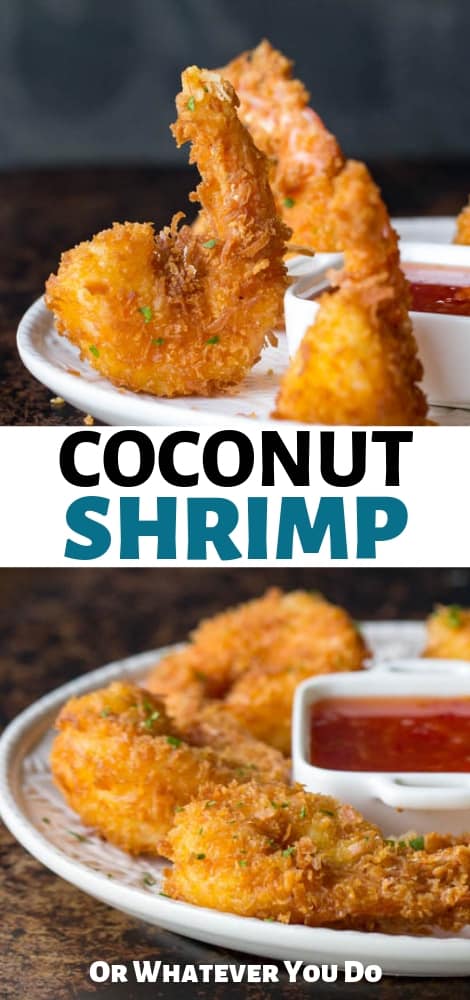 Yield: 12 servings
Coconut Shrimp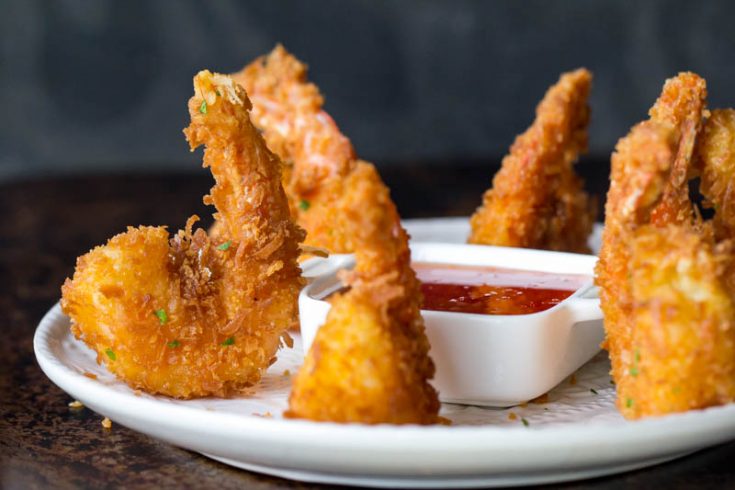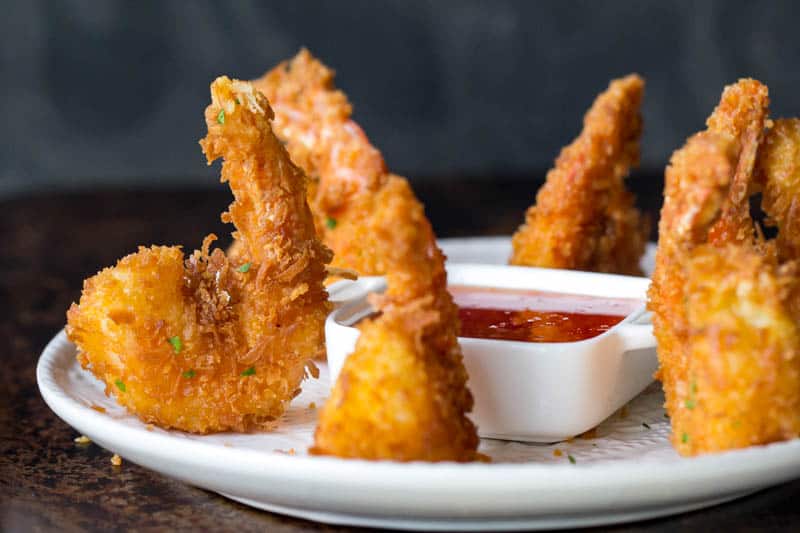 These homemade coconut shrimp are crunchy and delicious. Quickly fried and then dipped into a sweet chili sauce, you'll love these for dinner or as an appetizer.
Ingredients
2 pounds raw shrimp 16-20 count, shells and tails off
1 cup flour
1 1/2 teaspoons salt
1/2 teaspoon black pepper
3/4 cup Panko
1 cup sweetened shredded coconut
4 eggs
6 cups vegetable oil
Instructions
Combine the flour, salt, pepper, panko, and coconut in a shallow bowl and set aside.
Crack the eggs into a bowl and whisk vigorously with a fork or whisk. Set aside.
Place the oil into a heavy-bottomed pot or high-sided frying pan, and heat over medium to medium high heat.
While the oil is heating, prep your shrimp by dipping it in the egg mixture and then into the breading mixture, coating all sides evenly.
Set onto a plate carefully and continue breading the rest of the shrimp.
Once the oil is preheated, fry the shrimp in batches for 3-4 minutes, or until they are golden brown and crispy.
Remove from the oil to a paper-towel covered plate, and serve hot with sweet chili sauce.
Nutrition Information:
Yield:
12
Serving Size:
1
Amount Per Serving:
Calories:

451
Total Fat:

6g
Saturated Fat:

3g
Trans Fat:

0g
Unsaturated Fat:

2g
Cholesterol:

157mg
Sodium:

788mg
Carbohydrates:

71g
Fiber:

4g
Sugar:

4g
Protein:

25g
Nutrition data provided here is only an estimate. If you are tracking these things for medical purposes please consult an outside, trusted source. Thanks!