Jumbo Shrimp Scampi is simple to make and one of the easiest ways to put something that feels fancy on the table in under an hour that I've ever seen. The whole family will love this, and you're going to love how fast it goes from freezer to table.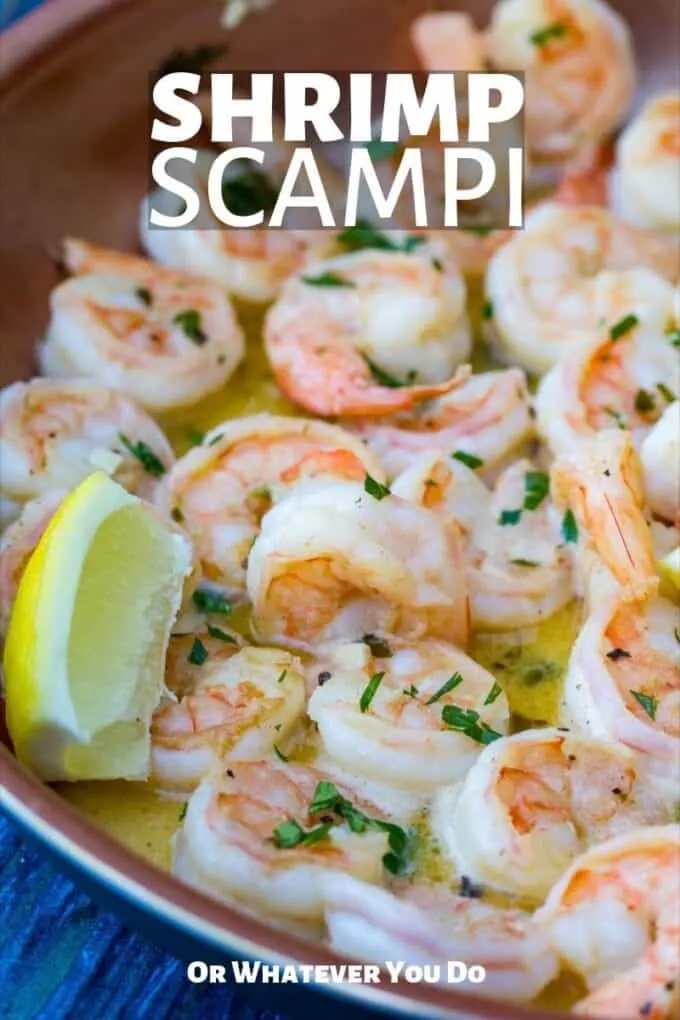 Jumbo Shrimp Scampi
Are you hungry for a quick and easy, yet elegant, mouth-watering dish that will please everyone? Perfect for an intimate table for two or a party of eight or more.
This Jumbo Shrimp Scampi is just that and more. Tender, juicy jumbo shrimp, bathing in a delicate buttery, savory garlic and wine sauce.
This special dinner doesn't take anything more than a trip to buy the shrimp and a little bit of time.
Don't let this dish scare you away! If you can order it at a restaurant, you can make it at home!
Trust me.
Let's start with the shrimp.
See all of my SHRIMP RECIPES here!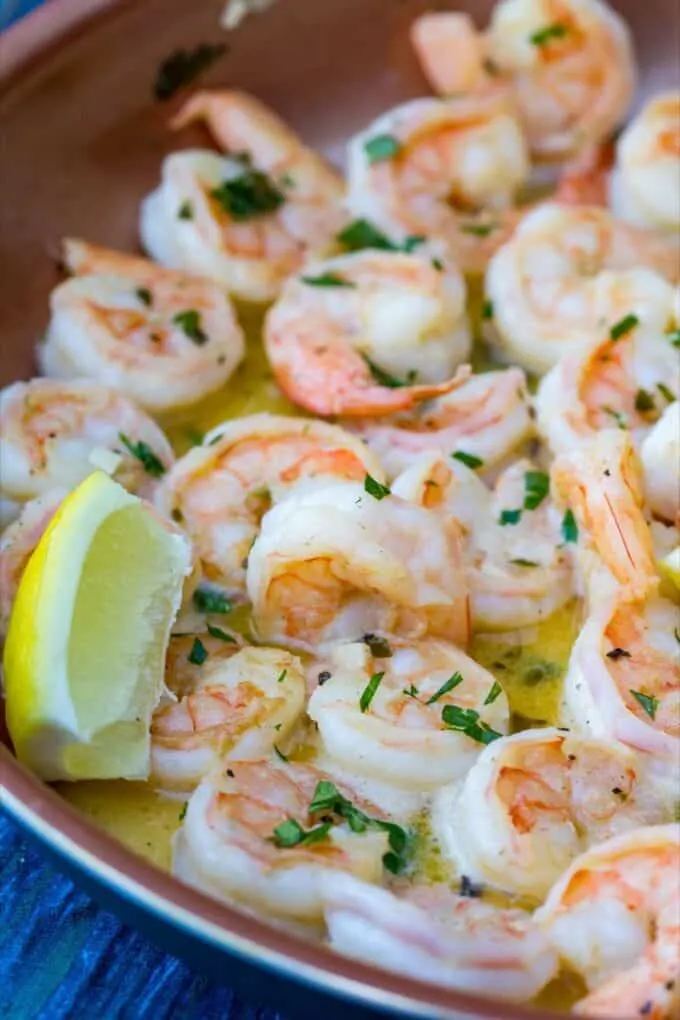 Where do I buy shrimp and what kind should I buy for scampi?
Fresh Fresh Fresh is best! For Shrimp Scampi, the bigger the better is my opinion. You can get away with using a medium to large size shrimp, but Jumbo shrimp or Tiger Prawns are best for this dish.
First let's talk about the options of raw versus pre-cooked and the differences.
Raw shrimp are gray-blue in color. Shrimp don't turn pink until you cook them. So that's why there is a difference in color.
Pre-cooked shrimp are already pink. These will be a little tougher, or "rubbery" if cooked again, so it is best to avoid this variety when preparing Scampi. Pre-cooked are great to serve cold as an appetizer with cocktail sauce or in cold salads. Basically anything where they don't need to be re-cooked.
Fresh seafood should smell clean and briny and NOT fishy. If you detect a smell of ammonia or bleach, stay away. That could indicate the growth of bacteria. Use your nose and when in doubt, throw it out!
Buy fresh if you have that option where you live, otherwise, go to your grocers meat counter or butcher and ask for raw, deveined, tail-on jumbo shrimp or prawns.
Get all of my FISH recipes!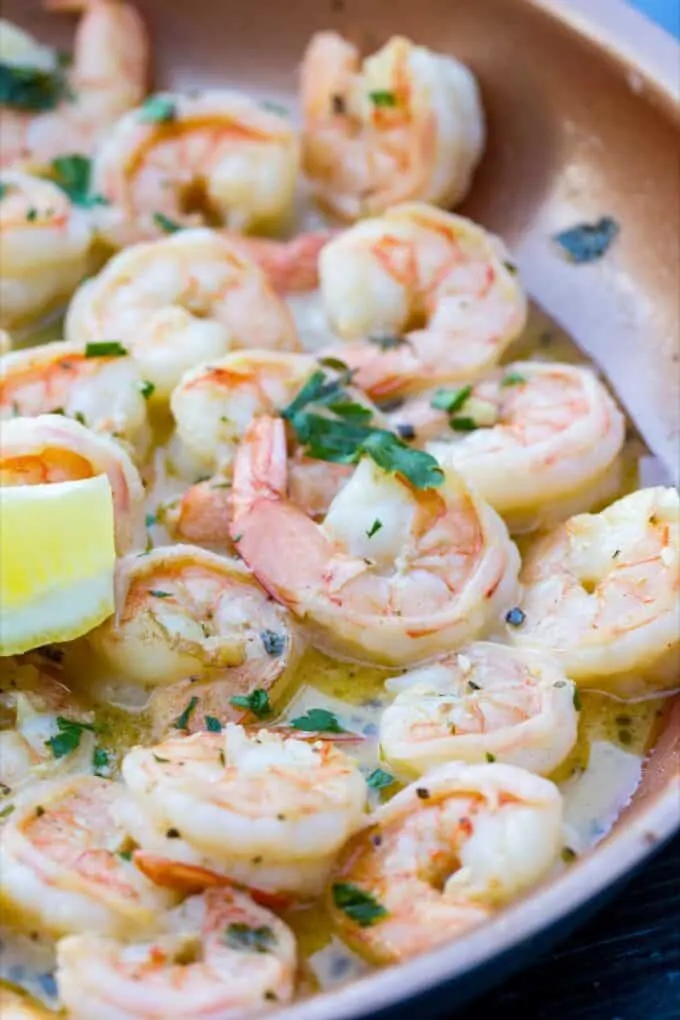 What the difference between shrimp and prawns?
Shrimp and prawns are in fact different species, but the flavor is basically the same. Prawns are larger in size and typically live in freshwater, while shrimp are usually smaller in size and typically live in saltwater. Because they are basically interchangeable in cooking, you can use either species with the same result.
Flavor is dependent on their diet, or how these crustaceans were raised. Try to buy fresh whenever you can, but if that isn't an option for you, then choose shrimp that have been caught or raised in and environmentally responsible way.
Ask you butcher, or read labels to be sure.
I like to buy my shrimp with the shell on since I use the shells in the base of my sauce. You don't have to do this if you're not comfortable with this option, but the extra effort is worth it in the flavor you achieve in your sauce.
Ok, that's enough about the shrimp to get you started.
Follow me on Instagram!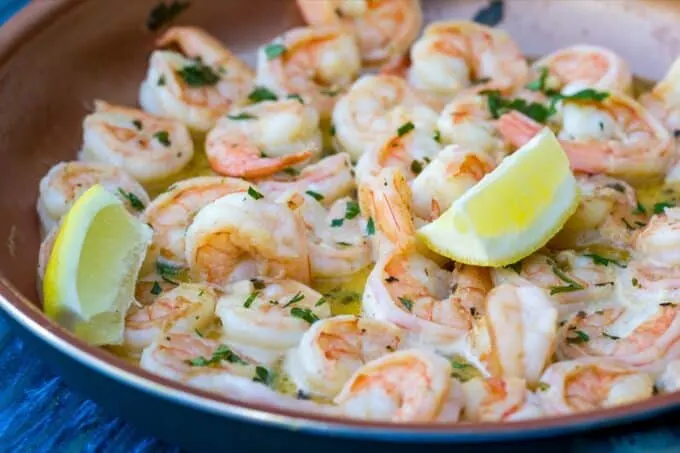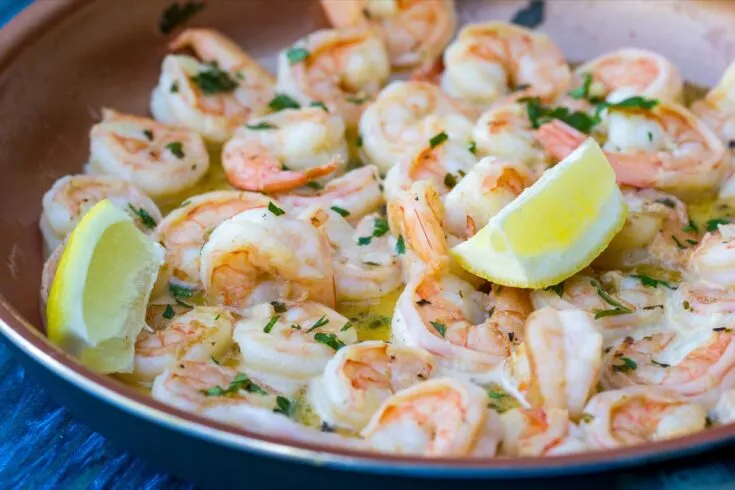 How do I prepare my shrimp for cooking?
After buying your shrimp, rinse under cold water and remove the shells, and then devein if this hasn't been done for you, but leave the tail on. Don't toss your shells, you'll be using these when you start your sauce.
Set your cleaned shrimp on paper towels to drain.
If you choose not to buy shell-on, just skip that part of the recipe.
Prepare your other ingredients now, as this recipe is a quick one as it takes no time at all to cook your shrimp. Usually 4-5 minutes tops. You know shrimp is done properly when the flesh is opaque and pink with no gray remaining.
Use a good stainless steel or cast iron skillet. Anything with a heavy bottom that distributes heat evenly is best for sautéing.
Get my easy Side Dish recipes!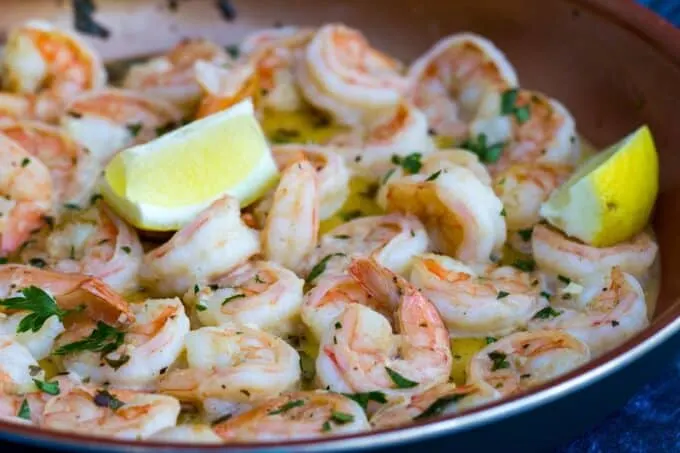 Can I bake shrimp scampi in the oven?
You can bake this dish in the oven if preferred, but be careful not to overcook your shrimp. Place your shrimp in a single layer in a 14 inch gratin dish, pour marinade over shrimp. Watch carefully. In a 425 degree oven this should only take 10-12 minutes.
Ok, you're ready to get cooking!
Make my easy Cheddar Bay Biscuits with this!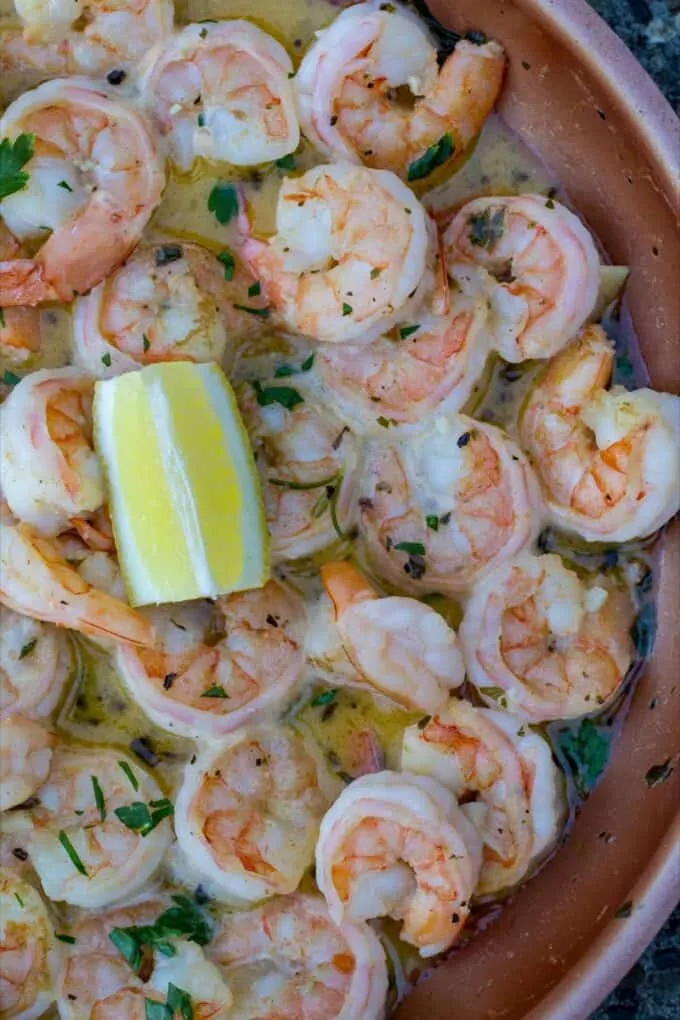 What should I serve with this Shrimp Scampi?
The very nice thing about seafood is that almost anything pairs well with it, so your options are endless for side dishes. Anything from fresh bread to salad, pasta, vegetables and potatoes will work.
If you are preparing a dinner for two, serve a fresh salad with greens from your garden, tomatoes, radishes, green onion and thin cucumber slices with a light savory dressing such as my Greek Freak Dressing, or a simple vinaigrette.
Whip up a few of my Cheesy Garlic Drop Biscuits aka Cheddar Bay Biscuits, the best copycat recipe to date if you're like me and LOVE these little things. I could make a meal out of them! Perfect accompaniment to seafood for sure.
Looking for a side to please a crowd? Any one of my side dish recipes would be great with this. Here are a few examples to choose from.
Choose your menu options and prepare your side dishes first, the shrimp should be the last thing plated, hot and delicious.
Once you've tried this Jumbo Shrimp Scampi, you'll want to prepare it again and again for friends and family. They will thank you every single time.
Shrimp scampi is my favorite way to have shrimp, and its so easy to make. I've tried a lot of different scampi recipes over the years, and though a lot of trial and error, this is the one I've came up with that is my favorite.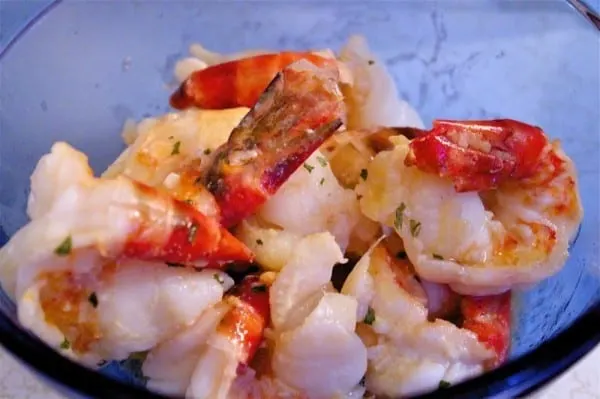 Serve this easy jumbo shrimp scampi as is or with a side of pasta, like my browned butter and mizithra pasta. The sauce is perfect poured over the pasta as an accompaniment. We chose to have this with a little wild rice pilaf.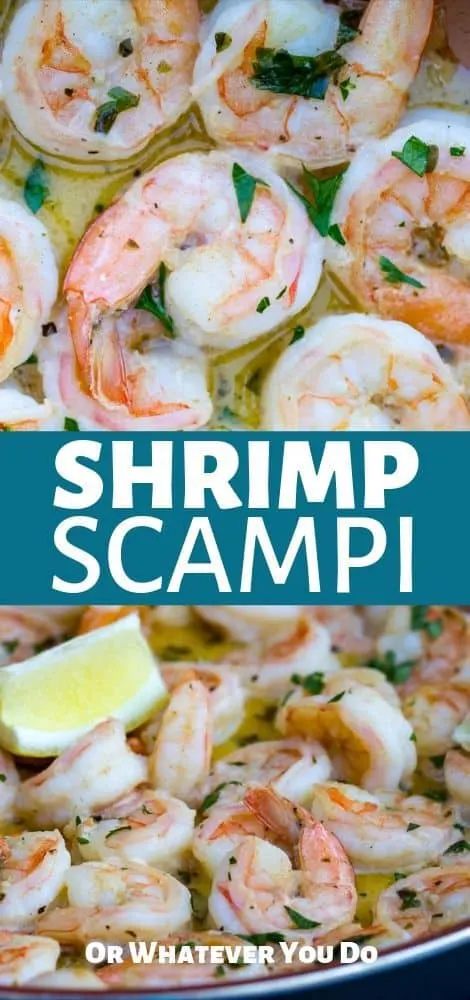 Yield: 6 servings
Jumbo Shrimp Scampi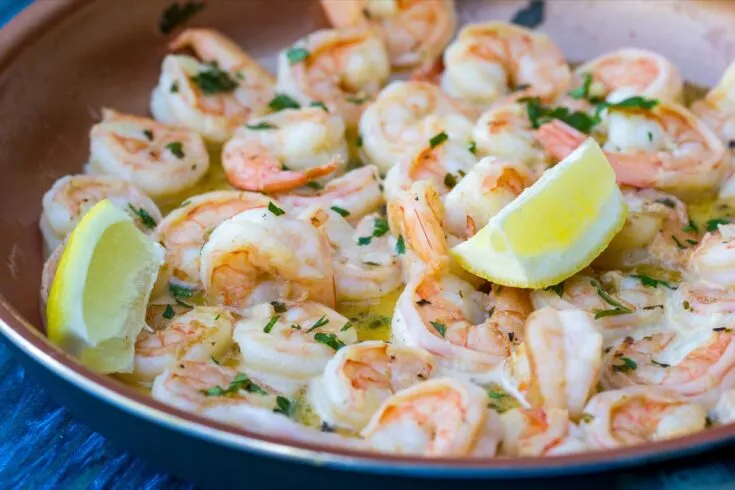 Delicious jumbo shrimp scampi made with white wine, butter, garlic, and seasonings in just the right order to produce a flavorful sauce.
Ingredients
1 lb jumbo shrimp, shell on
8 TBSP salted butter, divided
3 TBSP garlic, chopped
2 cups chardonnay or riesling
2 TBSP lemon juice
2 tsp parsley
1/2 - 3/4 tsp garlic salt
1/4 tsp garlic powder
Instructions
Clean, devein, and shell shrimp, leaving the tail behind. Keep the shells and set aside. Lay peeled shrimp out on a napkin to dry.

Melt 2 TBSP butter in a non-stick pan over medium heat. Add garlic and reduce heat to medium-low.

Cook, stirring frequently, for 2 minutes. Add in white wine, and shrimp shells. Turn heat up to medium-high and cook until reduced by 3/4, and shells are pink and cooked.

Remove shells and discard. Add the remaining 6 TBSP of butter to pan along with parsley, garlic salt, and garlic powder and allow butter to melt. Reduce heat to medium and add shrimp. Cook until pink, making sure the center is white and not opaque, but being careful not to overcook. Add in lemon juice last 1 minute of cooking. Serve with pasta, rice, or your favorite side dish.
Nutrition Information:
Yield:
4
Serving Size:
1
Amount Per Serving:
Calories:

347
Total Fat:

17g
Saturated Fat:

10g
Trans Fat:

1g
Unsaturated Fat:

5g
Cholesterol:

200mg
Sodium:

943mg
Carbohydrates:

11g
Fiber:

0g
Sugar:

1g
Protein:

19g