Chimichurri Shrimp Skewers cooked and smoked on a Traeger grill give fresh bold flavors all with the warm smokiness of live-fire cooking. One bite and you realize that there are still new horizons to explore for ways to dress up a shrimp.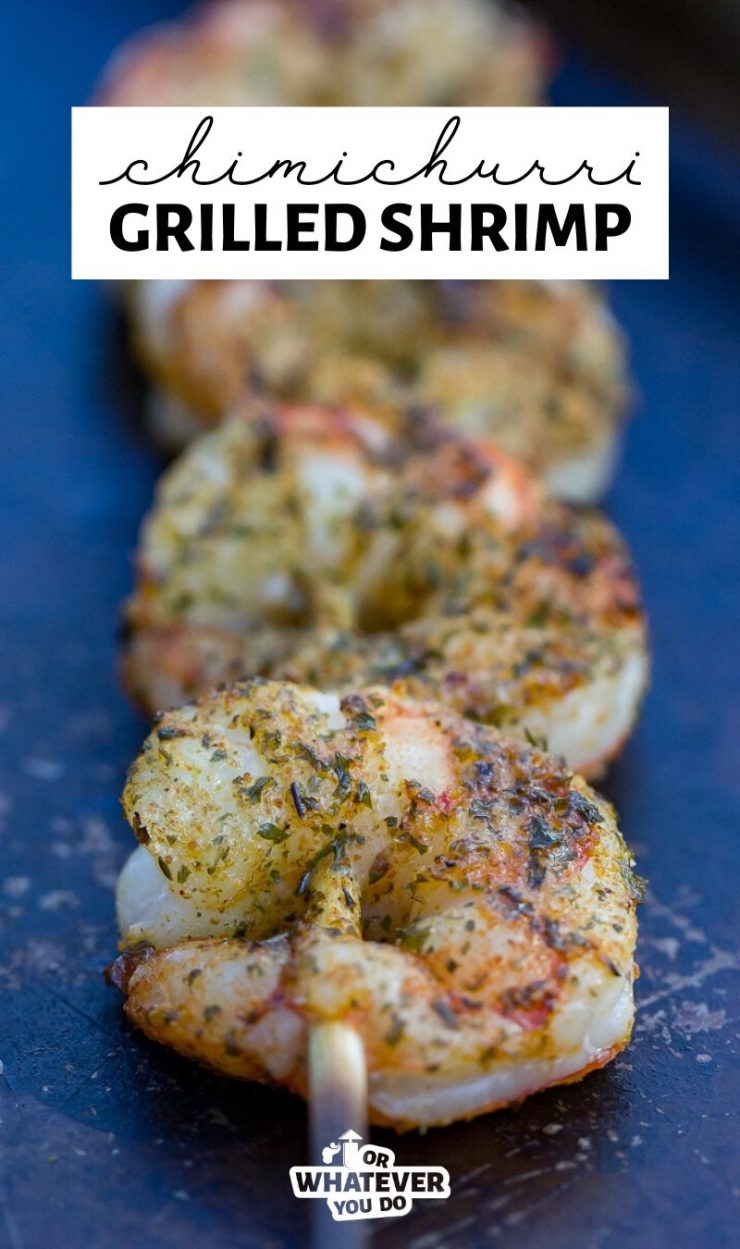 Traeger Chimichurri Shrimp Recipe
As always, if you don't have a Traeger, any pellet grill will do. If you only have a regular charcoal or gas grill, then you can use that too. Shrimp cooks very quickly, so be sure to keep a close eye on them and cook over indirect heat!
If you are not familiar with chimichurri, it is a very popular sauce that is well known in Uruguay and Argentina. The typical ingredients include parsley, garlic, and oregano in olive oil with red wine vinegar. However, in this case, I suggest using Spiceology's Chimichurri Seasoning.
Spiceology makes some incredible seasonings and they usually nail it in their spice blends. Give them a hand, because they figured out how to do a "dry" style chimichurri. Using dehydrated vinegar, they manage to capture the signature tanginess that makes traditional chimichurri so fantastic.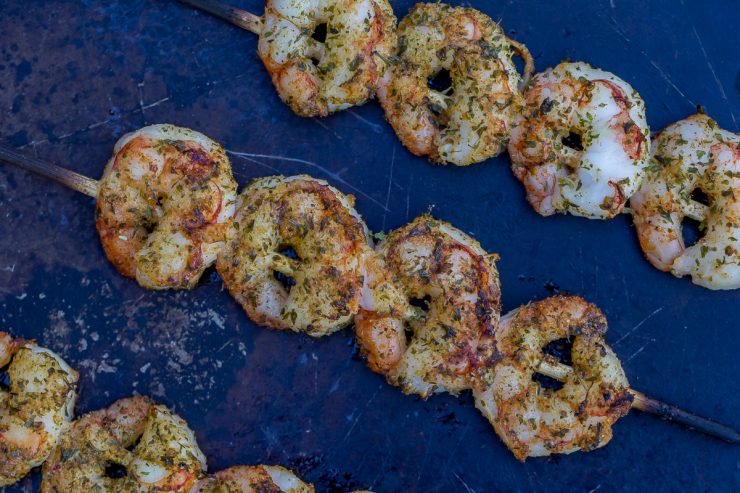 The best shrimp for smoked shrimp on the grill
Forget those tiny 40 to 45 count shrimp. Keep those handy for the shrimp salad. You are throwing some shrimp on the barbie, as they say. Use medium-sized or large for the grill because you need enough meat there for the skewers. You could also use prawns if you'd like!
Coat the shrimp with a bit of olive oil to help the Spiceology chimichurri stick to the shrimp. Some of the flakes might fall off in the hot grill, but that's okay.
In the mood for something a little crunchier with some kick? These Traeger Fried Spicy Shrimp might be just the thing!
Get all of my Traeger Recipes!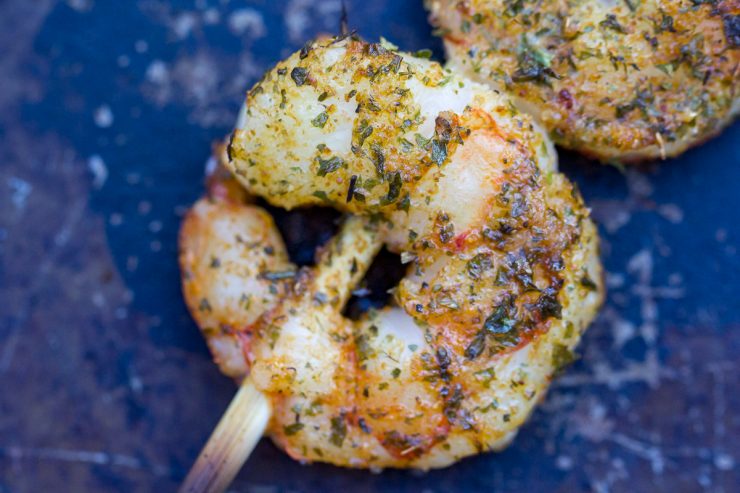 Tips for cooking shrimp on the grill
When it comes to doing shrimp on the grill, there are a few things to keep in mind. The most important thing with all seafood is to make sure to use the freshest shrimp possible. If you don't have access to fresh shrimp, you can use frozen, but make sure to cook them as soon as they thaw.
Although you can cook shrimp in the shell, in this case, make sure to peel the shrimp and devein them first, if necessary. If you leave the shells on then you would just be tossing out all that great seasoning when you take off the shell!
Shrimp cooks quickly. So, that means that they overcook in the blink of an eye too. Keep an eye on the color. As soon as they turn bright pink then they are done. Overdone shrimp become chewy and dry. Cooked just right, shrimp will be tender, yet remain firm.
See all of my SHRIMP RECIPES here!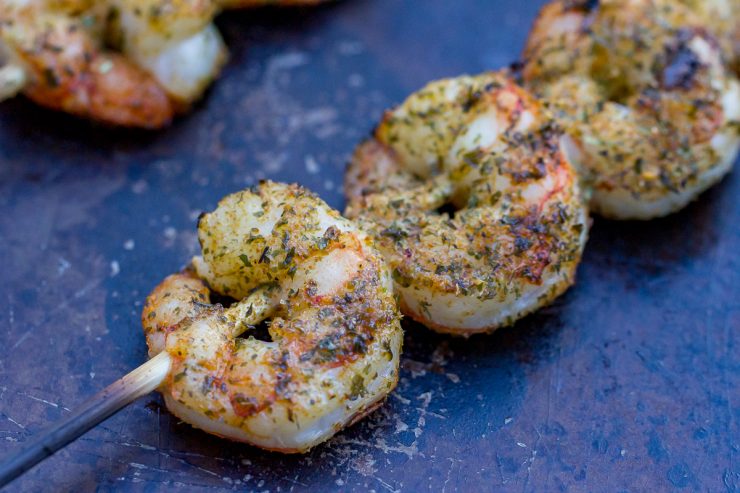 The best skewer for grilling shrimp
You can use metal or bamboo/wood skewers. If you go with wood or bamboo, make sure you soak them before grilling for the best results!
Follow me on Instagram!
More great shrimp recipes
Throwing some shrimp on the barbecue never fails to please. It is one of the best tasting and quickest cooking things you can do on the grill. Luckily, grilled shrimp is also the source of amazing creativity as well.
There are timeless classics like grilled shrimp scampi and shrimp kabobs. Or you can go a bit more exotic with grilled shrimp and blood orange jicama with salsa verde. Shrimp tacos of course are also worthy, can't leave them out.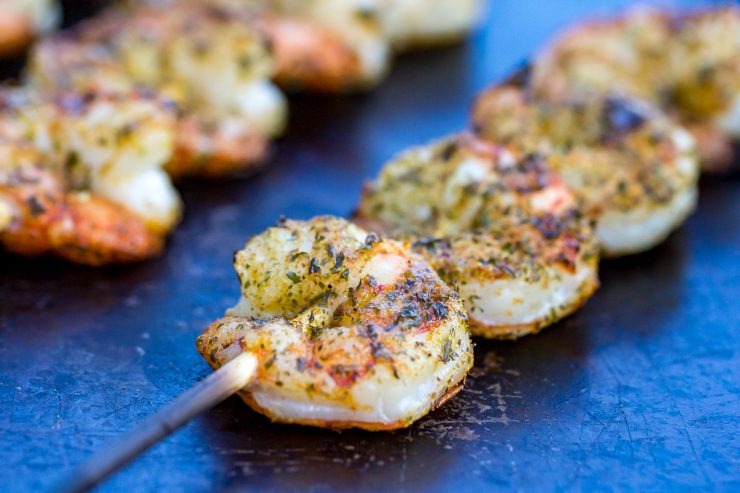 What to serve with Chimichurri Shrimp?
With such a fast and easy main dish, it is likely that the sides will take longer than the main dish.
Want to do a little surf and turf? I'd recommend grilling up a nice Ribeye alongside these. A Tomahawk steak would also be fabulous.
For sides, my Greek Salad or Caesar Salad would be perfect.
Want something more substantial? My homemade mac and cheese would be great, or a big pan of these Traeger Funeral Potatoes. No funeral is necessary, thankfully.
More recipes to love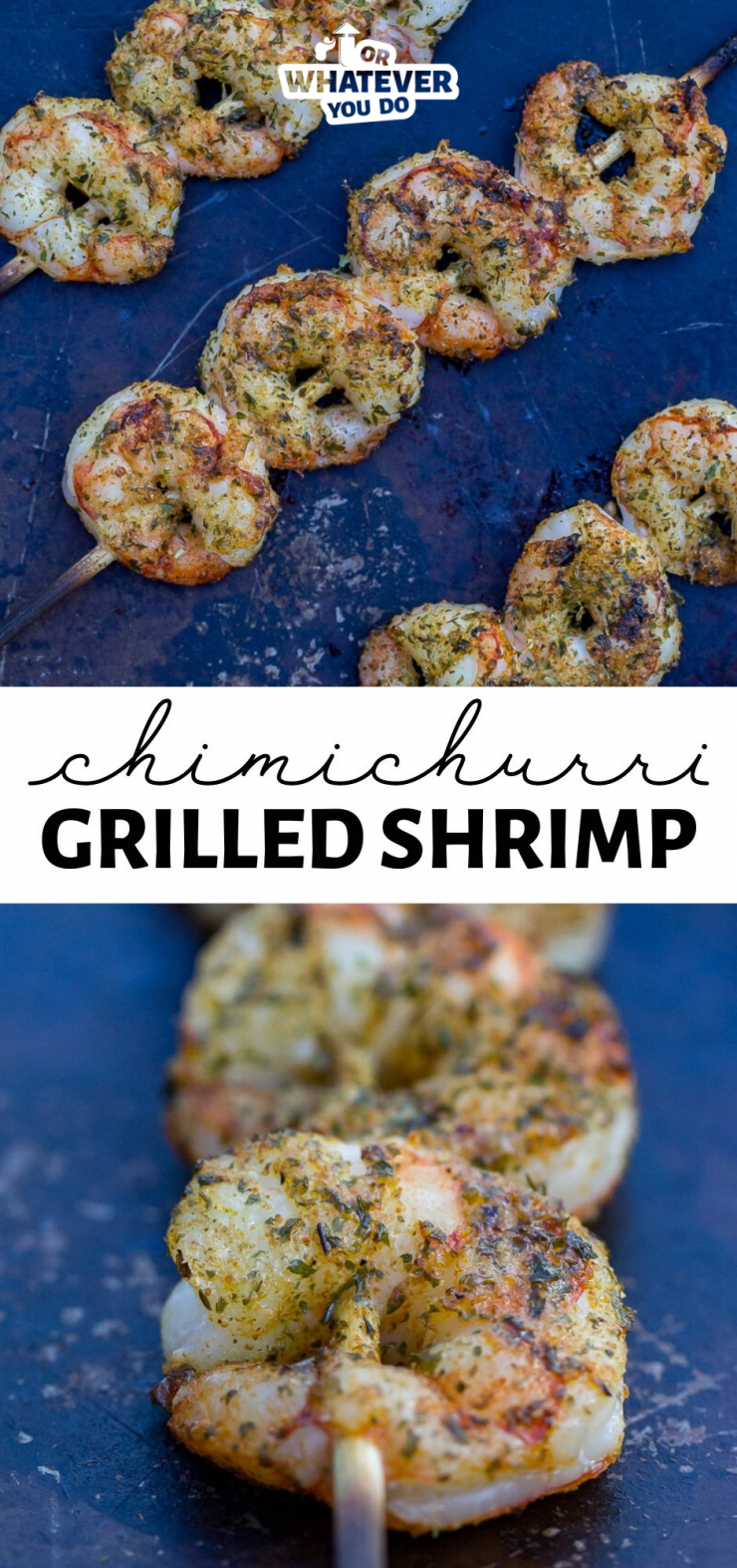 Yield: 6 servings
Traeger Grilled Chimichurri Shrimp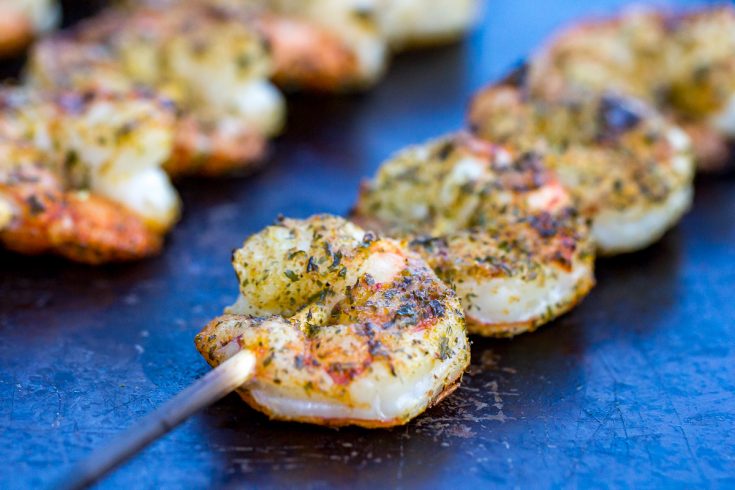 These easy Traeger Grilled Shrimp Skewers are covered in chimichurri seasoning and then quickly grilled on your pellet grill! Live fire + smoke + shrimp is one of my favorite flavor combinations, and the chimichurri just makes it all the better.
Ingredients
3 pounds shrimp, peeled and deveined
3 tablespoons avocado oil or olive oil
3 tablespoons Spiceology Chimichurri Seasoning blend
Instructions
Preheat your grill to 375° according to factory instructions.
Place the shrimp on pre-soaked skewers, and brush them with oil.
Season liberally with the chimichurri spice blend.
Place on the grill and cook for 2-3 minutes per side, or until the shrimp turn pink.
Remove and serve hot with your favorite sides!
Recommended Products
As an Amazon Associate and member of other affiliate programs, I earn from qualifying purchases.
Nutrition Information:
Yield:
6
Serving Size:
1
Amount Per Serving:
Calories:

388
Total Fat:

17g
Saturated Fat:

3g
Trans Fat:

0g
Unsaturated Fat:

13g
Cholesterol:

479mg
Sodium:

2276mg
Carbohydrates:

4g
Fiber:

0g
Sugar:

0g
Protein:

52g
Nutrition data provided here is only an estimate.