If you need a great seafood recipe, this one is easy, delicious, and incredible! Traeger Grilled Shrimp and Scallop Skewers take two of my favorite shellfish and turn them into tender kebabs that are perfect all on their own, on top of a steak, or even on top of a fresh Caesar salad!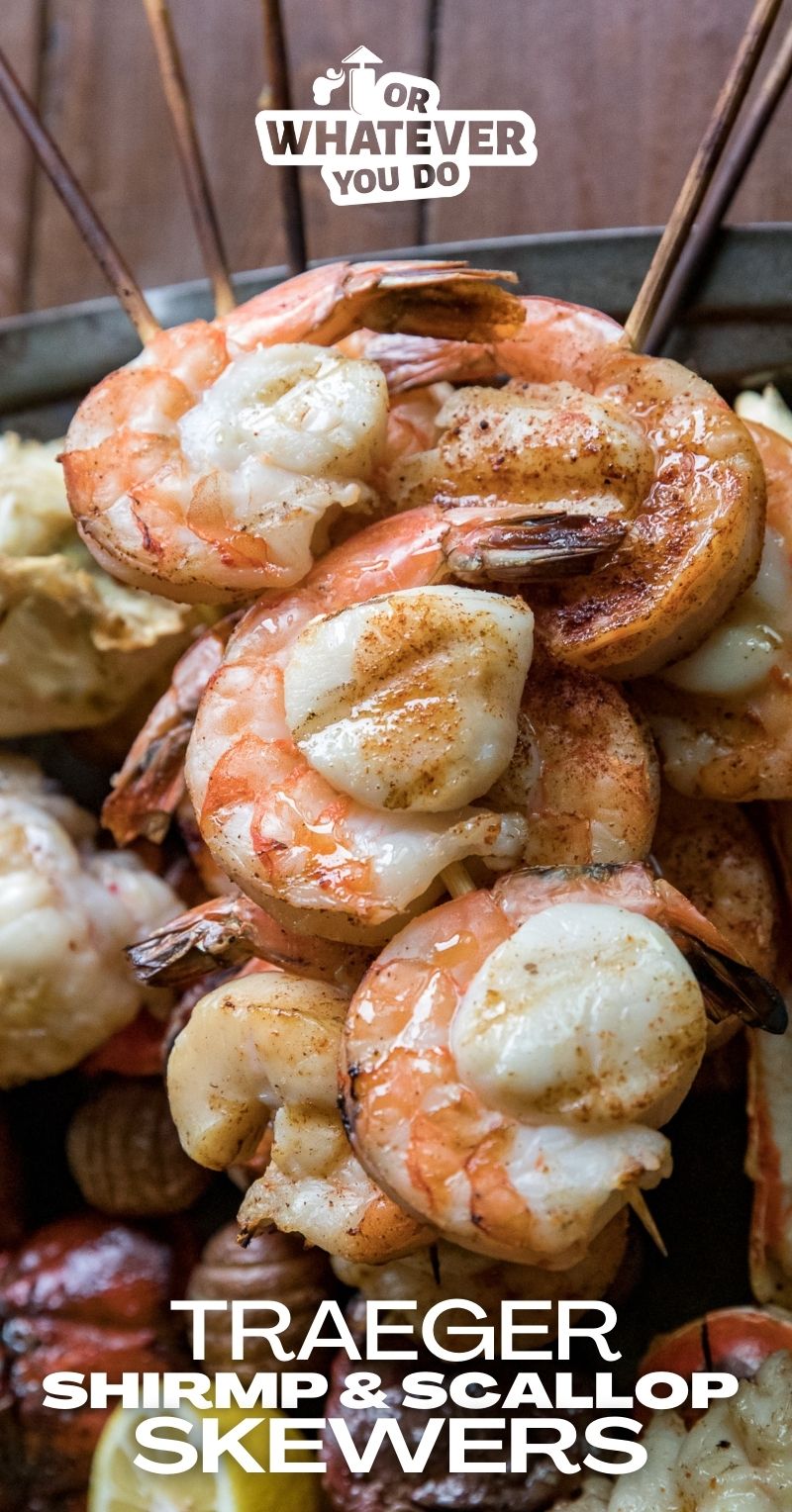 Traeger Grilled Shrimp and Scallop Skewers
Shrimp and scallops are two of my favorite types of seafood, but they are also sort of a pain to cook on the grill. You either need a grill mat, to grill them on a sheet pan, or to put them on skewers.
This time around we went the skewer route and stuffed scallops inside the curve of the shrimp. It was slightly tricky to get the hang of it (just ask my niece Jilian, who did the actual skewering) but once she got it they went pretty quickly!
We used a mix of salt, garlic powder, onion powder, and paprika on these skewers. If you want to get crazy with some Old Bay, your favorite spicy rub, or your own homemade creation, DO it. As with all of our recipes, we encourage you to experiment and make it your own!
Check out all of my Traeger Recipes!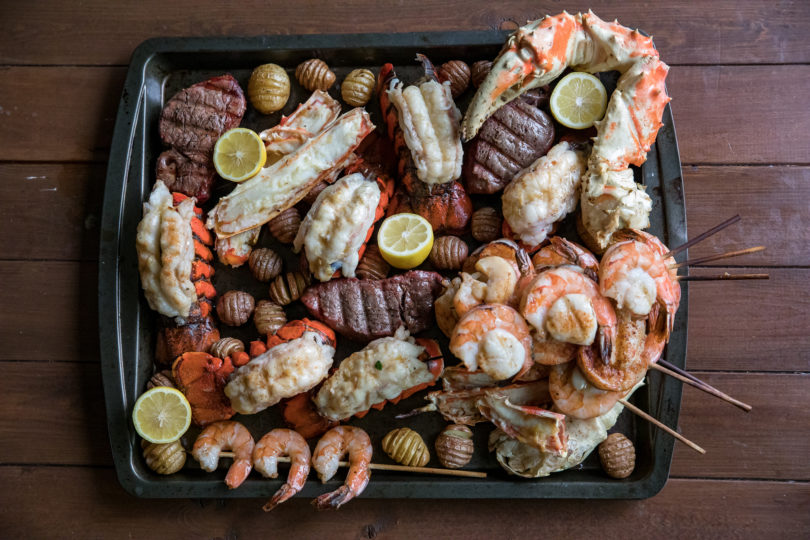 Grilled Shrimp and Scallop Skewers shopping list
Wondering if you have to hit the store? Here's the list of items you'll need to make this recipe. For specific amounts, please refer to the printable recipe card at the bottom of the post.
Colossal Raw Shrimp
Large Sea Scallops
Olive Oil
Salt & Pepper
Garlic Powder
Onion Powder
Paprika
Get more great seafood recipes here!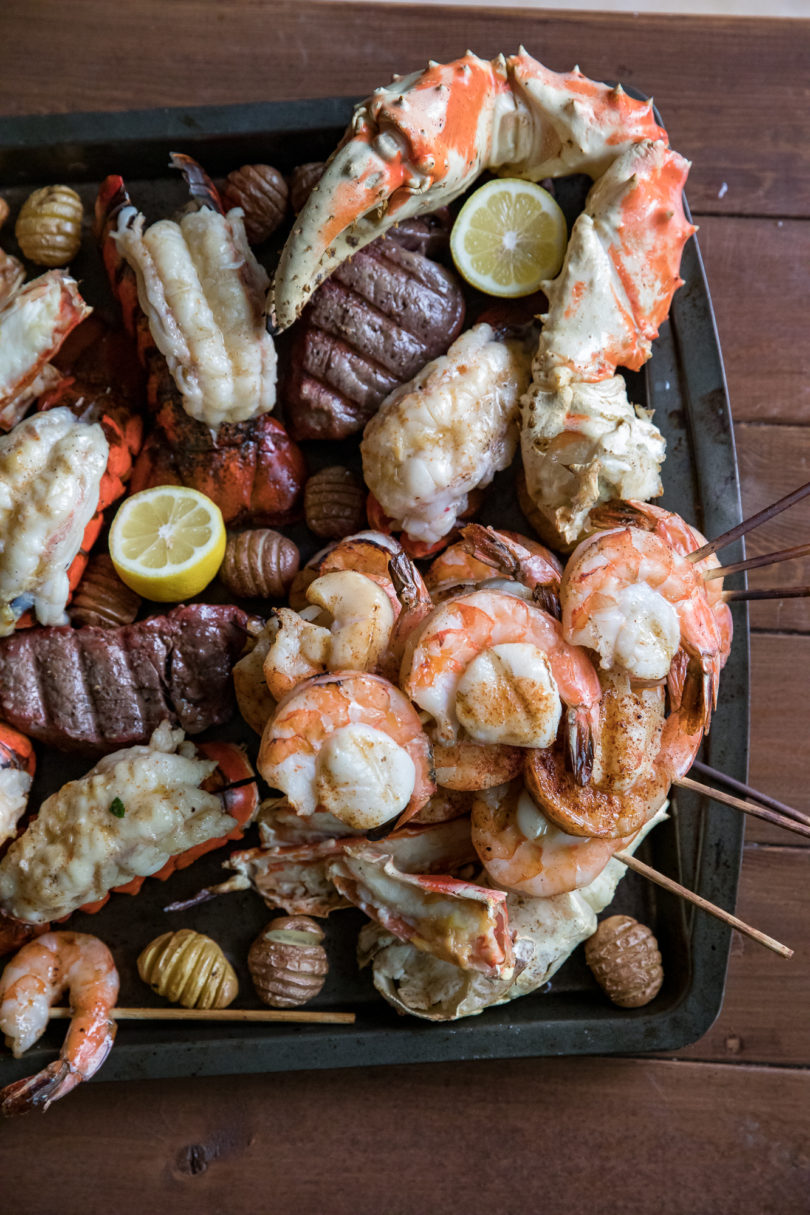 How to make Grilled Shrimp and Scallop Skewers
This is just the overview so you can see what you're actually getting into here. When you are cooking, you'll want to use the full recipe at the bottom of the page.
Preheat your pellet grill or smoker
You want high heat here, so shoot for around 450° and give your pellet grill time to get there.
Skewer the seafood
While your grill preheats, get to skewering! You'll want to peel your shrimp, but leave the tail on. The scallops should be thawed and patted dry between paper towels before skewering.

We like to skewer with the scallops nestled into the curve of the shrimp, and it really allows everything to cook evenly and to stay on the skewer, but if you want to do it a different way – do it. I won't side-eye you because you want to do your own thing. Just don't come at me if it doesn't work out the way you wanted it to! 😉
Oil and Season
Take the olive oil and brush both sides of the skewer lightly. We like a blend of salt, pepper, garlic powder, onion powder, and paprika. Just give a light sprinkle of those over both sides of the seafood. You can also use Old Bay or your favorite seafood rub as well.
Grill
Place the skewers directly onto the pre-heated grill rack. You're shooting for about 4 minutes per side. The inside of both the scallop should no longer be opaque. If you are into taking temperatures, 115° is the perfect internal temp for scallops. They keep cooking after you pull them due to carryover.
Eat!
As pictured, you can see we served these as a part of a giant surf and turf board alongside heaps of other seafood. They would be perfect on their own as an entree too. Put them on top of a pile of homemade alfredo, and you'd have a happy happy diner.
See all of my SHRIMP RECIPES here!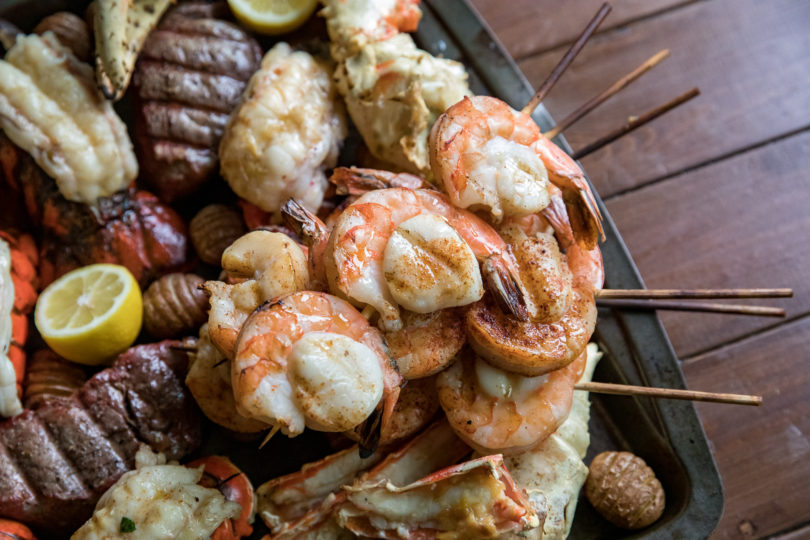 Traeger Shrimp and Scallop Kabobs FAQ
Can these be made ahead of time?
They can, but shouldn't. Seafood is best served immediately after it is done. Holding these over will degrade the quality of the finished product.
What's the best way to keep leftovers?
Leftover shrimp and scallops aren't idea, so try and make only what you can eat in one sitting. If you DO happen to have eyes bigger than your stomach, the best way to save these is in a sealable bag, remove all the air out that you can, and store in the fridge for no more than a day or two.
What's the best way to serve leftovers?
Seafood doesn't lend itself very well to reheating, so if we have leftover seafood I like to turn it into a salad topper the next day, or gently reheat it in a pasta sauce briefly before serving over pasta.
Get all of my ButcherBox Recipes here!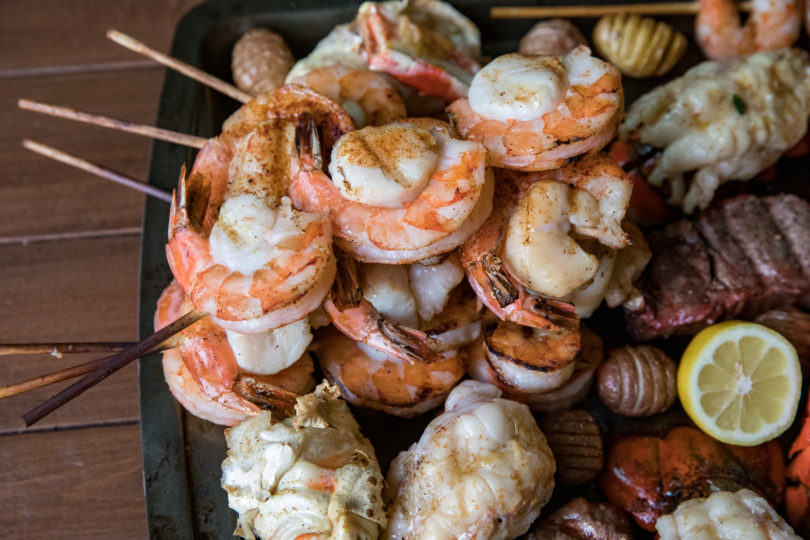 What else can you serve with these seafood skewers?
I've got so many options for sides! Let me pick out a few of my favorite that would be great with a couple seafood skewers.
Get all of my FISH recipes!
More great grilled fish and seafood recipes!
Check out these great recipes too!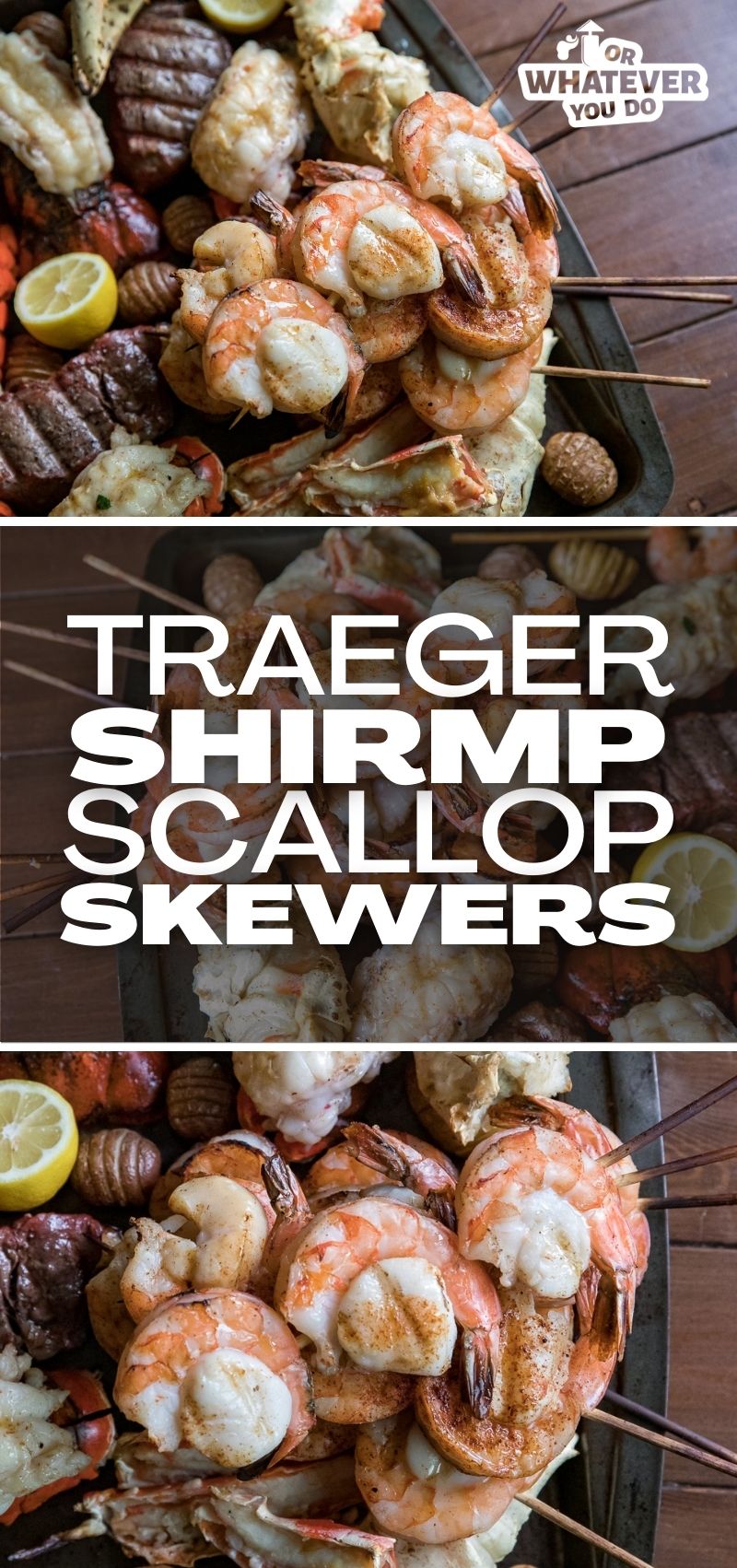 Yield: 6 servings
Traeger Shrimp and Scallop Skewers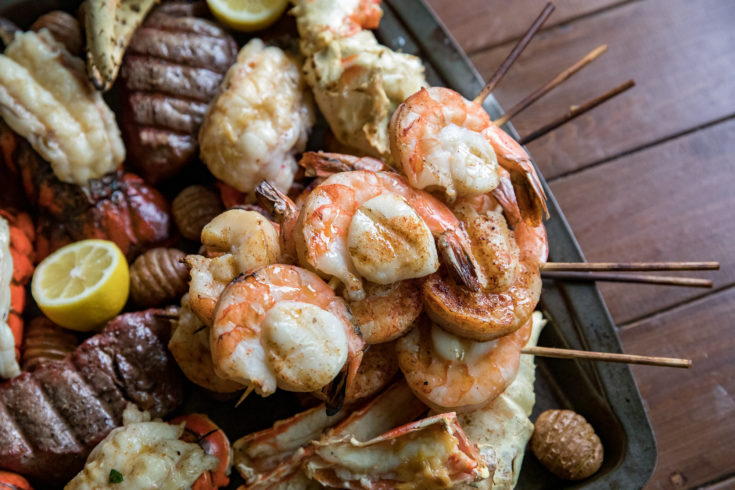 Tender collossial shrimp. Giant sweet sea scallops. Both skewered, lightly seasoned, and tossed right onto the grates of a hot grill.
Ingredients
18 sea scallops
18 colossal shrimp
1/4 cup olive oil
salt & pepper
garlic powder
onion powder
paprika
Instructions
Preheat your pellet grill to 450°F.
Skewer the shrimp and scallops, nestling the scallop in the curve of the shrimp.
Pat dry on both sides with paper towels.
Lightly brush both sides with oil, and then sprinkle lightly with all of the seasonings.
Place directly on the grill grates and cook for 4 minutes per side, or until the internal temperature of the scallop reaches 115°. (The temp contintues to rise after you pull them off the grill, so you'll wind up with a perfect 125° center by the time you eat.)
Pull, rest for a couple of minutes, and eat while hot!
Recommended Products
As an Amazon Associate and member of other affiliate programs, I earn from qualifying purchases.
Nutrition Information:
Yield:
6
Serving Size:
1
Amount Per Serving:
Calories:

145
Total Fat:

10g
Saturated Fat:

1g
Trans Fat:

0g
Unsaturated Fat:

8g
Cholesterol:

48mg
Sodium:

452mg
Carbohydrates:

3g
Fiber:

0g
Sugar:

0g
Protein:

12g
Nutrition data provided here is only an estimate.