Do you want a quick and easy meal that's so delicious, you'd think you got it at a fancy restaurant and paid $30+ for it? Bring in the Shrimp Udon with Miso Brown Butter sauce!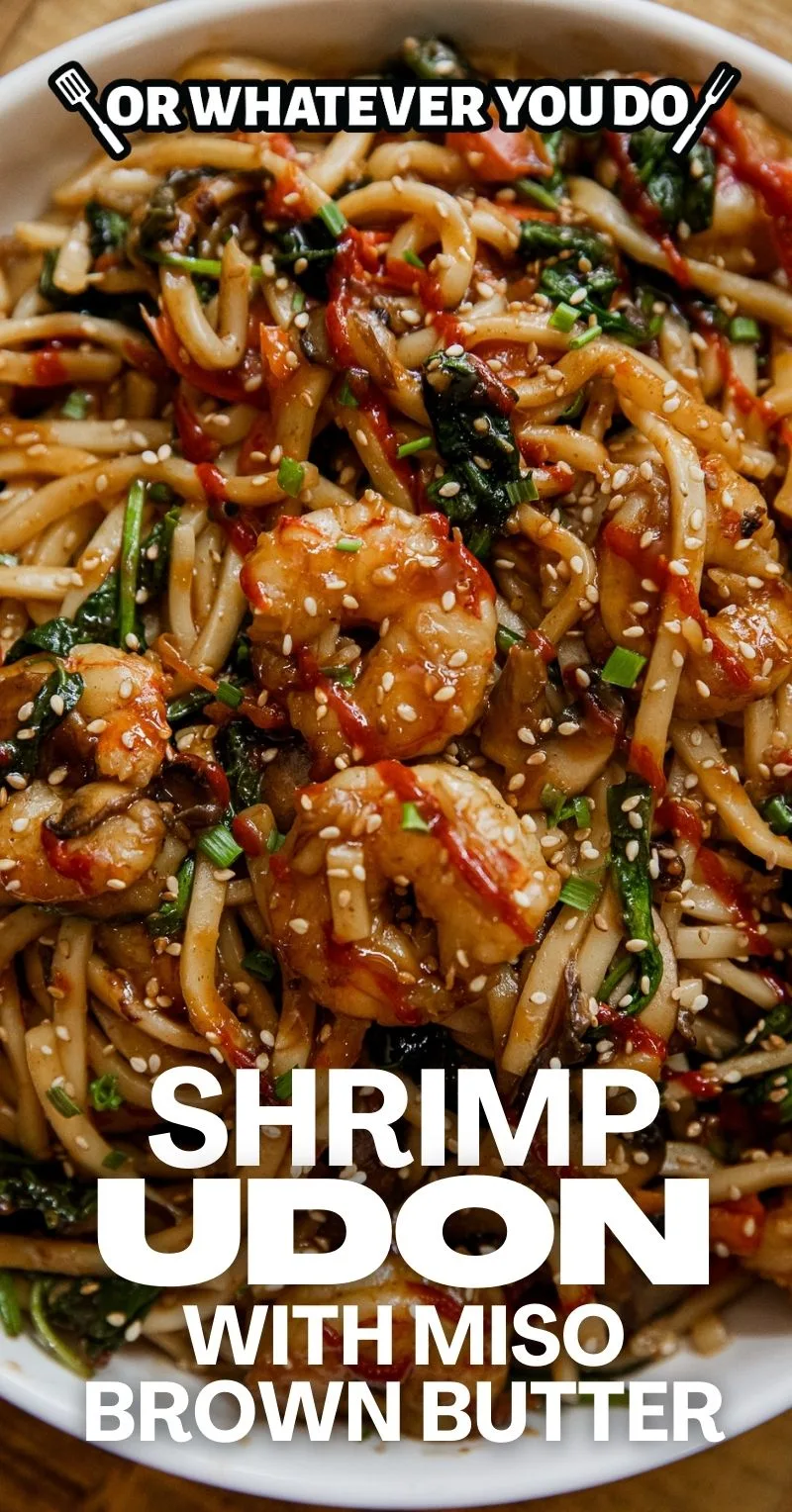 Shrimp Udon with Miso Brown Butter
We're on an udon kick currently as I found some fantastic local FRESH udon noodles at a grocery store not too far from my house, and everyone around here is so thankful that I have another noodle dish to switch up my typical 1-2X a week "I didn't pre-plan what's for dinner so the answer is spaghetti is for dinner" routine.
We've made Miso Brown Butter Udon, Spicy Yaki Udon, and Steak Udon so far, and you can bet there are more variations to come in the future.
These springy Asian noodles have the perfect bite, the fresh versions don't require any boiling before use, and they soak up all the flavors from the sauce so well. Plus, our udon recipes are so versatile. You can change up the protein and vegetables in the dish according to what you have on hand.
What are udon noodles?
Udon is a type of traditional Japanese noodle made from wheat flour, water, and salt. It is one of the most popular and widely consumed types of noodles in Japan. Udon noodles are thick, chewy, and have a slightly neutral flavor, which makes them versatile and suitable for a variety of dishes.
The origins of udon can be traced back to the 9th century in Japan, where it was introduced from China. Over the centuries, udon noodles became a staple food in Japanese cuisine and gained popularity across the country. Today, udon is enjoyed both in casual and formal settings, from street food stalls to high-end restaurants.
Udon noodles are typically made by mixing wheat flour with water and salt to form a dough, which is then kneaded and rolled out into a thin sheet. The sheet is folded multiple times and cut into thick, rectangular or cylindrical strips, giving the noodles their characteristic shape. The noodles are then boiled until they reach the desired level of chewiness, which can vary depending on personal preference.
Udon can be served hot or cold, and there are various ways to enjoy it. Common toppings include sliced green onions, tempura (battered and deep-fried seafood or vegetables), kamaboko (fish cake), and grated daikon radish.
Aside from the traditional preparations, udon can be found in a range of innovative and fusion dishes. It can be stir-fried, used in salads, or even served in non-traditional broths.
You need more PASTA in your life.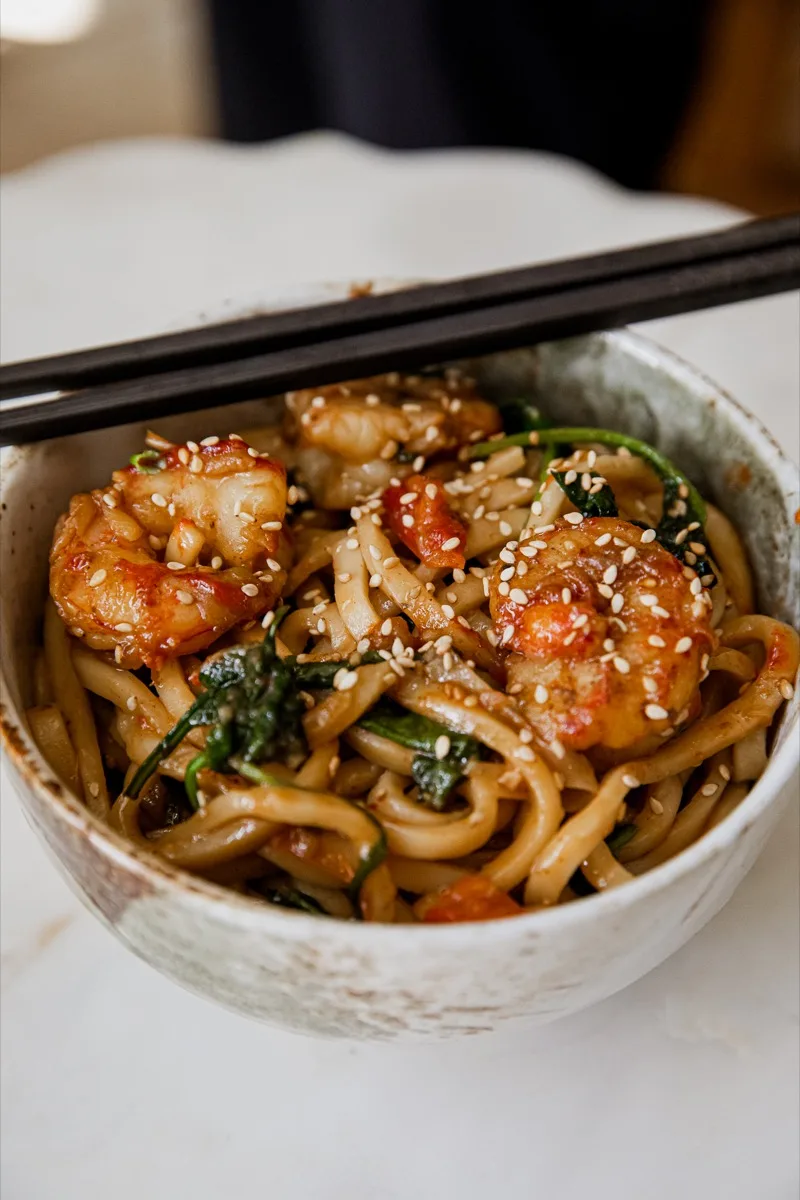 Shrimp Udon shopping list
Wondering if you have to hit the store? Here's the list of items you'll need to make this recipe. For specific amounts, please refer to the printable recipe card at the bottom of the post.
Uncooked shrimp
Butter
Sesame oil
Oyster mushrooms
Yellow onion
Garlic
Red bell pepper
Miso
Soy sauce
Bachan's Japanese BBQ Sauce
Sambal Oelek
Udon noodles
Baby spinach
Sesame seeds
Try our Grilled Teriyaki Salmon!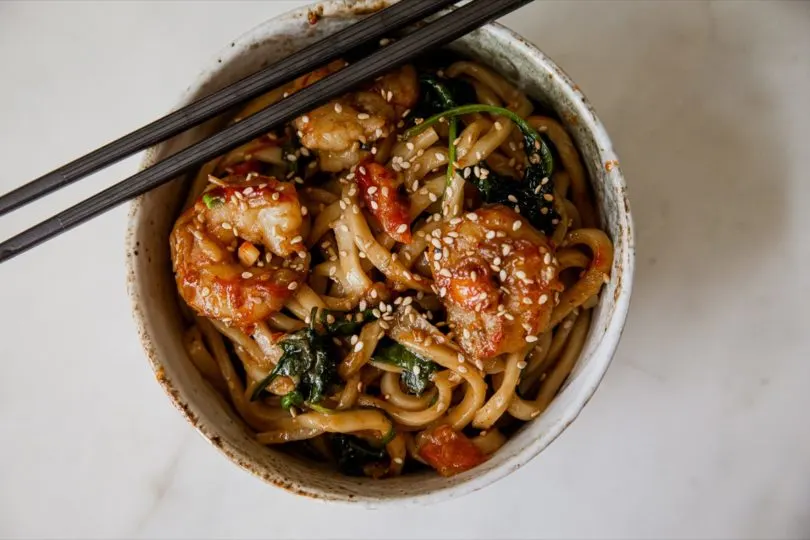 How to make Shrimp Udon
This is just the overview so you can see what you're actually getting into here. When you are cooking, you'll want to use the full recipe at the bottom of the page.
Melt
Put the butter in a large skillet or wok and melt over medium-high heat. Saute the mushrooms, onion, garlic, and bell peppers.
Shrimp
Add the shrimp and saute for 4-5 minutes, stirring frequently.
Sauce
Add the Add the miso, soy sauce, Bachan's, and sambal to the pan. Let it simmer a bit. Add the water and udon. Cover and let steam for a couple minutes.
Spinach
Break up the noodles and toss with the sauce and other ingredients and then mix in the spinach and continue cooking until it is wilted.
Enjoy
Garnish with sesame seeds and serve hot!
Make our Potsticker Sauce too!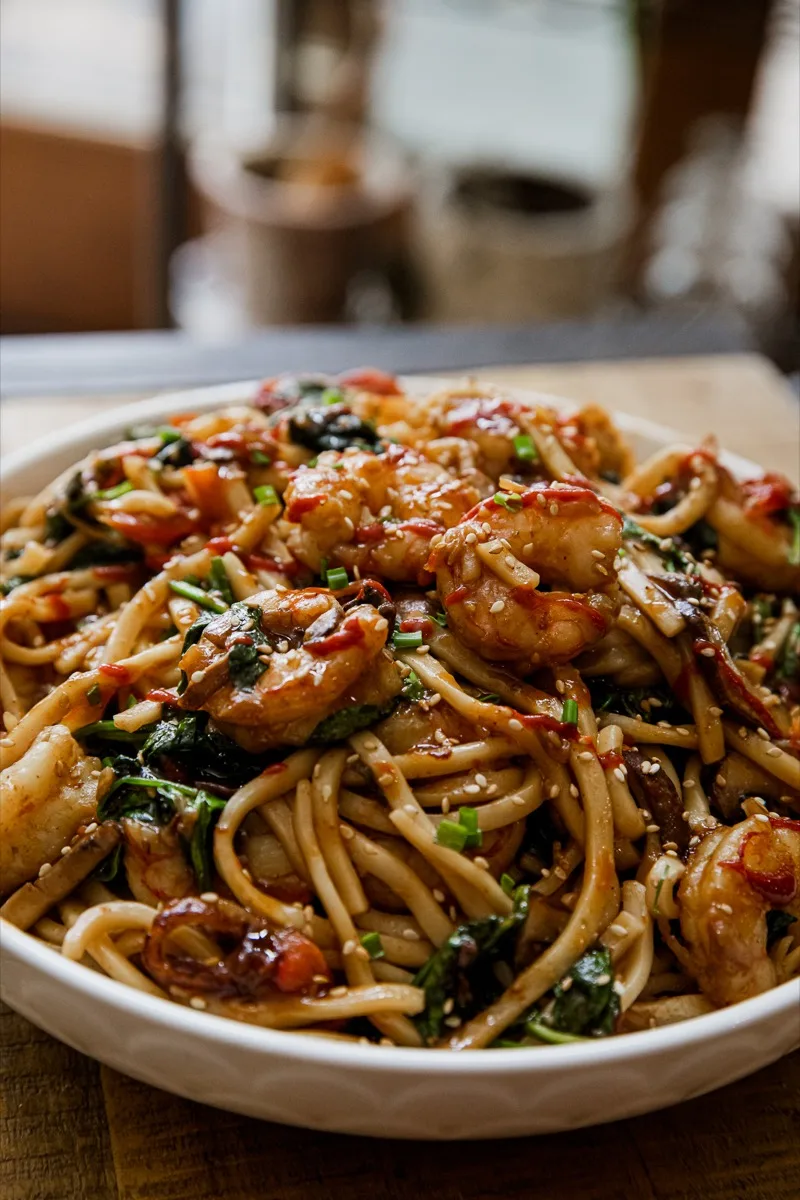 Shrimp Udon FAQ
Can you use precooked shrimp for this recipe?
NOOOOOOO. Don't re-cook precook shrimp. You're making every halfway decent cook in the world cry with such atrocities. Buy the raw shrimp, take the tails off, and don't overcook it!
What's the best way to store and reheat leftovers?
We toss these leftovers in a freezer baggie and keep them in the fridge for 2-3 days, max. You can reheat in the microwave, and serve with a little extra Bachan's for good measure.
Are there any recommended substitutions or additions?
Sure! This is pretty customizable. If you have a bottled sauce you love, feel free to use that instead of this homemade concoction. You can also toss in some different vegetables, and different proteins, or spice it up if you like some more heat.
How about some Fried Pork Dumplings with this?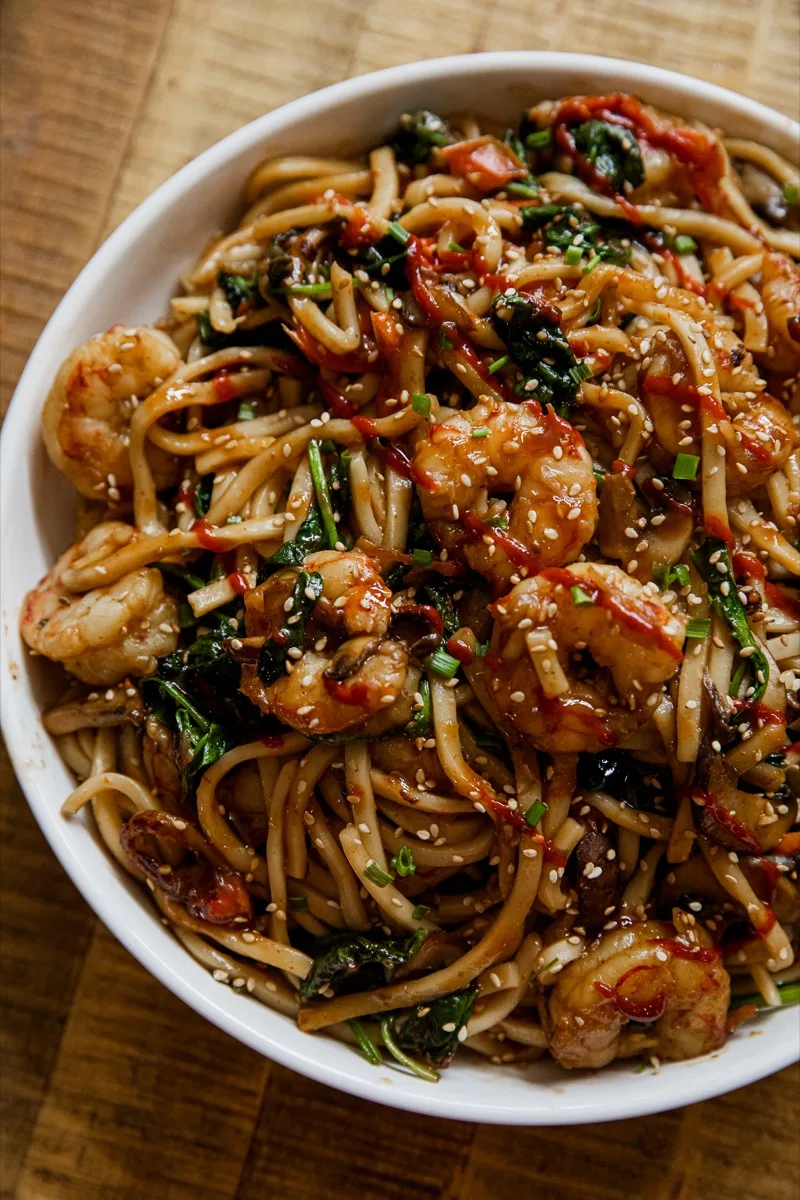 More great recipes to love!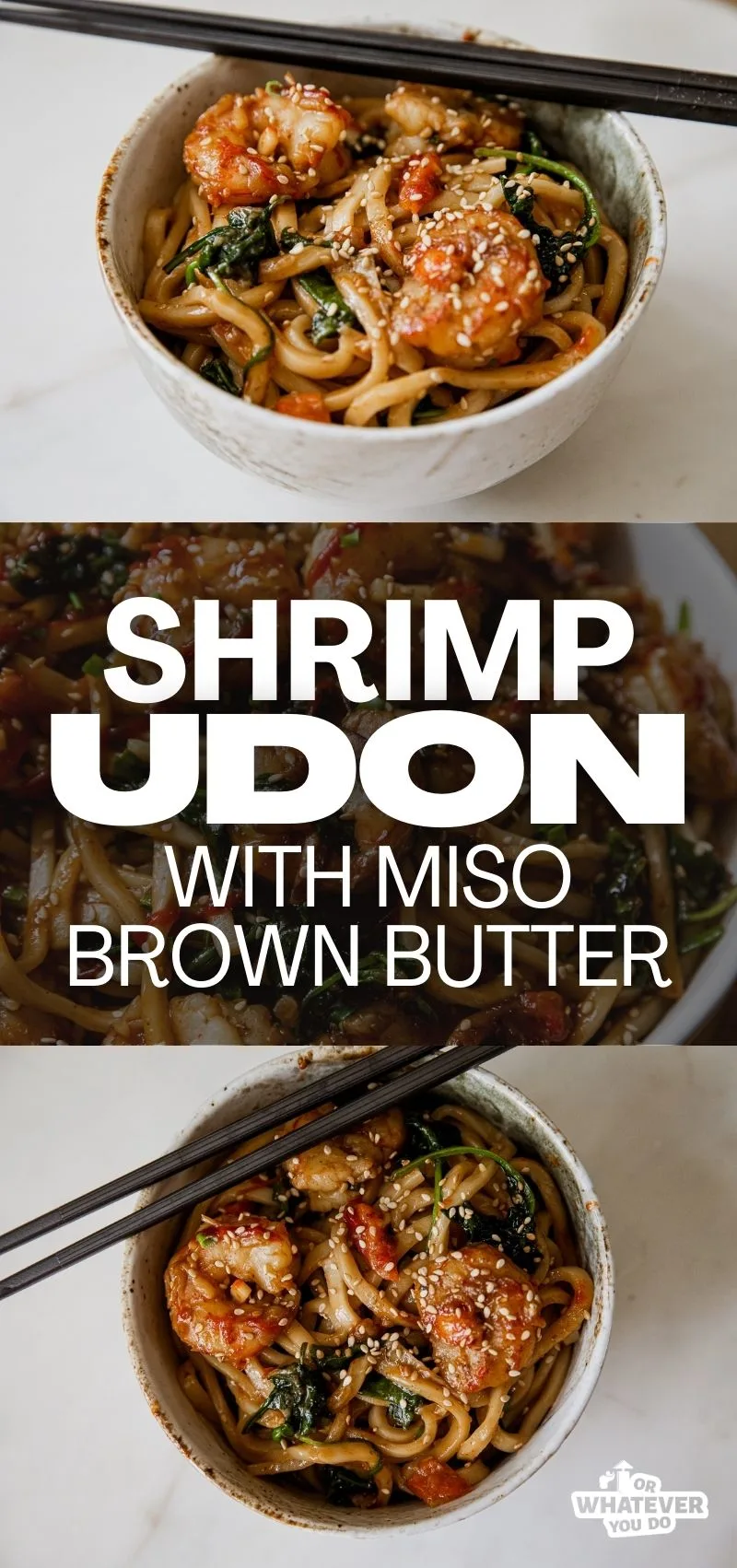 Yield: 6 servings
Shrimp Udon with Miso Brown Butter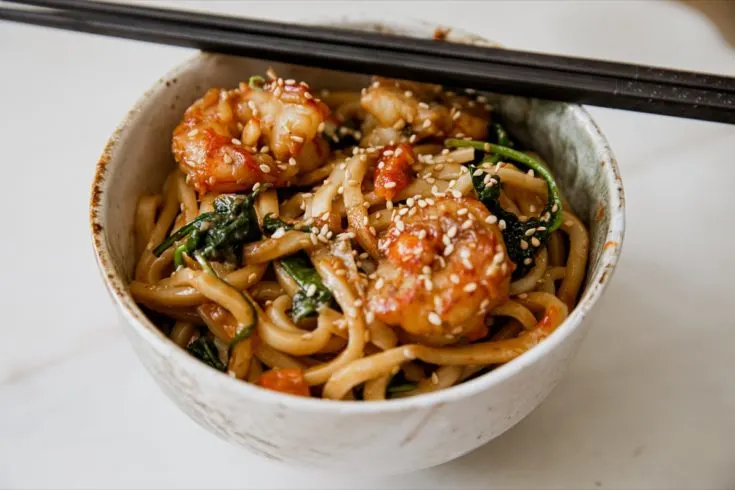 This incredible shrimp udon is made with fresh noodles and vegetables and is so delicious!
Ingredients
2 pounds fresh uncooked shrimp
2 tablespoons butter
1 tablespoon sesame oil
1 cup sliced oyster mushrooms
1 small yellow onion, sliced
1 teaspoon garlic
1 cup sliced red bell pepper
1 tablespoon miso
2 tablespoons soy sauce
3 tablespoons Bachan's Japanese BBQ Sauce
2 tablespoons Sambal Oelek (or 1-2 teaspoons Sriracha)
1 pound udon noodles
1/4 cup water
5 ounces fresh baby spinach
2 tablespoons sesame seeds
Instructions
In a large saute pan on the stovetop over medium heat melt your butter. Add the sesame oil along with the mushrooms, onion, garlic, and bell peppers.
Cook the mushrooms until they are lightly browned and the water has cooked out of them.
Add the shrimp to the pan and cook for 4-5 minutes, until no longer opaque.
Add the miso, soy sauce, Bachan's, and sambal to the pan. (If you don't have Bachan's, you can sub in additional soy or your favorite brand of teriyaki sauce.)
Let that sauce mixture simmer for a couple of minutes and then add your udon noodles to the pot. Add the water to the pan.
Cover, and let the udon steam for a minute or two before using a set of tongs and breaking them up, and mixing them in with the rest of the ingredients.
Add the baby spinach to the pot and toss in with the pasta and vegetables. Cook until it is wilted and then remove from the heat.
Garnish with sesame seeds and serve hot!
Recommended Products
As an Amazon Associate and member of other affiliate programs, I earn from qualifying purchases.
Nutrition Information:
Yield:
6
Serving Size:
1
Amount Per Serving:
Calories:

278
Total Fat:

10g
Saturated Fat:

3g
Trans Fat:

0g
Unsaturated Fat:

5g
Cholesterol:

201mg
Sodium:

1502mg
Carbohydrates:

22g
Fiber:

2g
Sugar:

5g
Protein:

25g
Nutrition data provided here is only an estimate.