This Spicy Shrimp Marinara is not only simple to make but boldly spicy and packed with fresh parmesan cheese. Use fresh fettuccine for the best results, and the biggest shrimp you can find.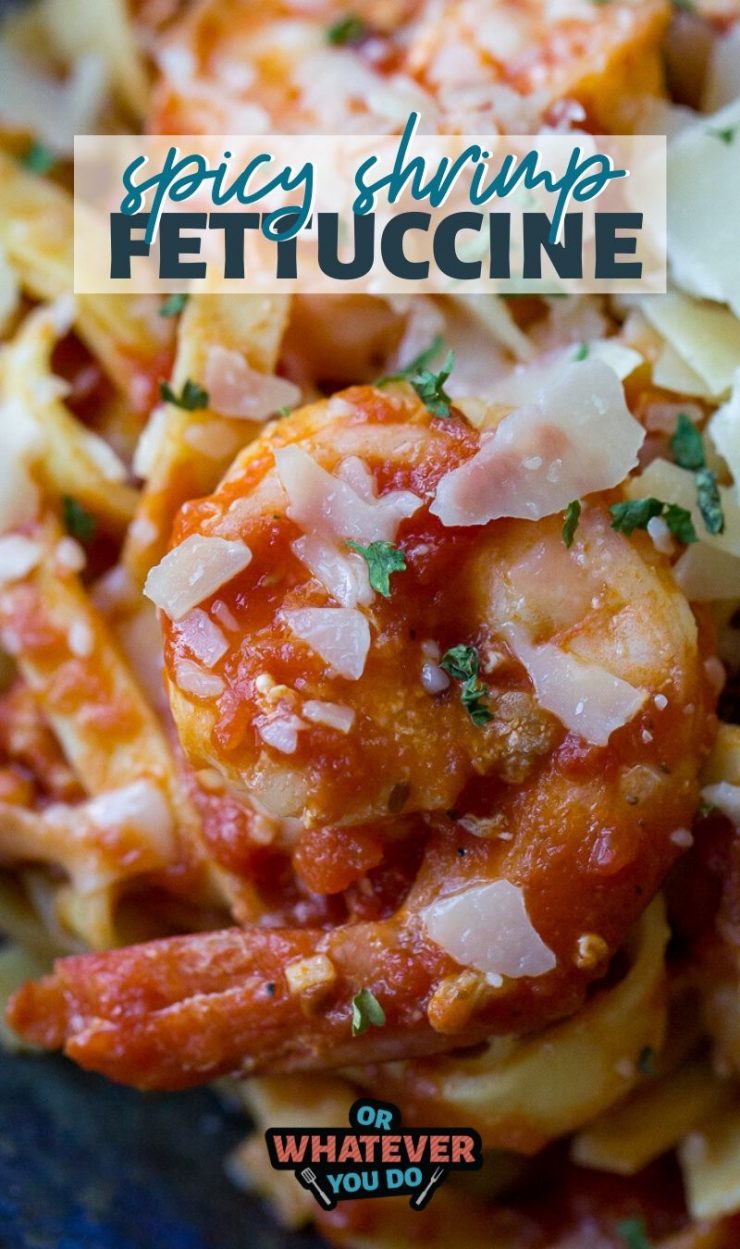 Shrimp Marinara Recipe
Spicy shrimp fettuccine with marinara sauce builds bold flavors in the pan with a very modest amount of ingredients. Garlic, of course, leads the way but the spice of the red pepper flakes cannot be ignored. Basil and a bit of salt helps bring it all together. This is the beauty of Italian cuisine. So simple yet ever so delicious!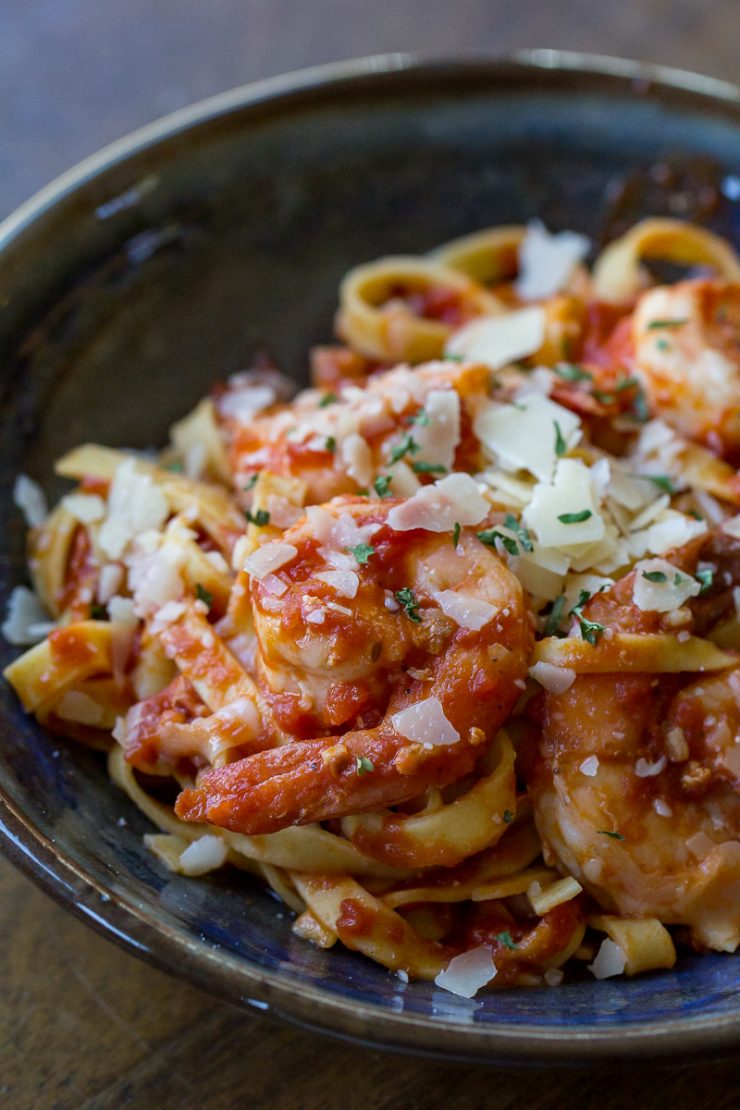 Spicy Shrimp Marinara with fettuccine
Some tomato-based Italian sauces are best cooked for hours and hours, even a day or two. However, marinara sauce is the opposite. It is a quick sauce that is cooked in the pan where the fettuccini noodles will be added.
Crushed tomatoes, basil, red pepper flakes, a pinch of salt, and of course roasted garlic create a wonderful and simple sauce in minutes rather than hours. The shrimp adds a subtle brine to it all and it smells so good!
More delicious Shrimp Recipes here!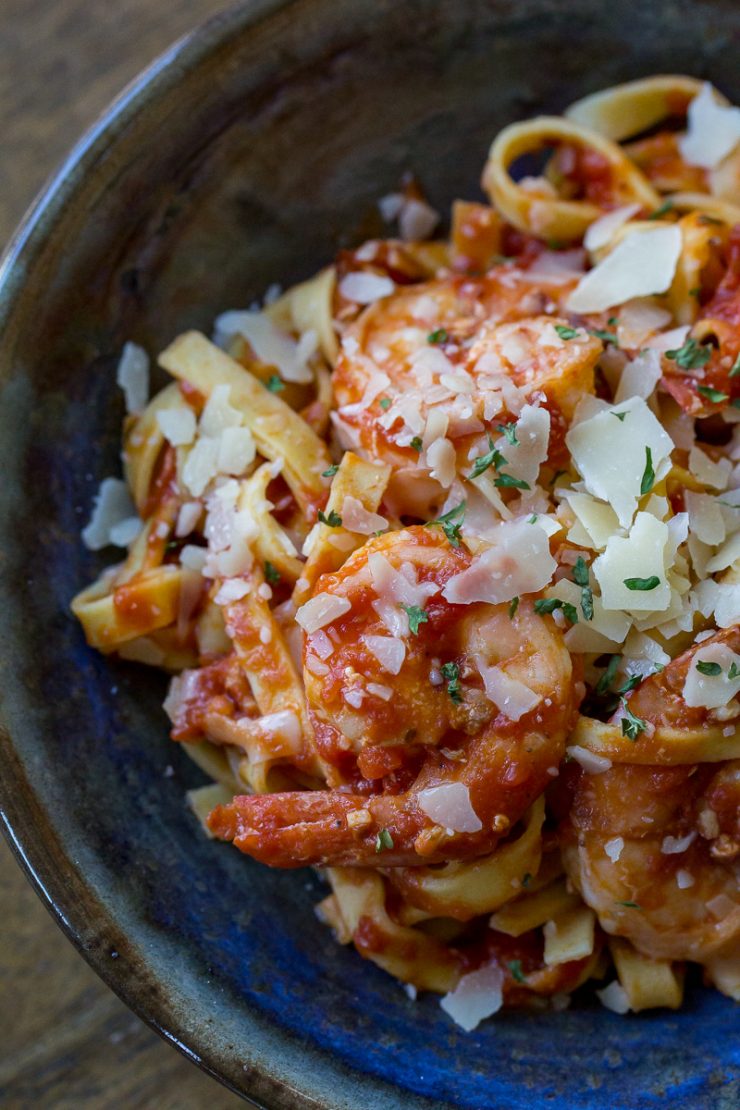 What is marinara sauce?
Marinara sauce actually has many variations. It became popular and synonymous with Italian cuisine since Spaniards first brought tomatoes back from the new world and introduced them to Europe.
In all versions of marinara sauce, garlic, basil, salt, and red pepper are the primary seasonings, but oregano is also popular to add in Italian-style marinara. If you want to add a pinch of oregano too, doooo it!
You need more PASTA in your life.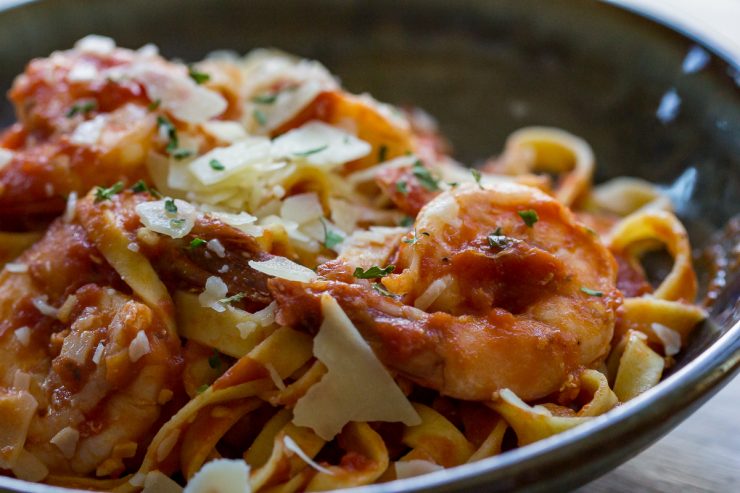 Why fettuccine noodles?
Fettuccini noodles are basically a flattened version of a spaghetti noodle. Neither too wide nor too narrow, fettuccine noodles are popular in dishes like fettuccine alfredo because they are great for holding a bit of sauce on the noodle.
Nowadays you can find all different types of fettuccini noodles like whole wheat, spinach, and a wide variety of other styles. Whatever style you get for the dish works, but just make sure to cook them "al dente". I prefer using fresh pasta that you can buy in the refrigerated section of the grocery store.
"Al dente" literally means "to the tooth". That is an interesting way of saying that the noodle should have a bit of bite to it. Overcooked noodles will break apart at worst or just feel a bit mushy. So, having the noodle "al dente" means that it is cooked just to the point where the noodle is cooked through.
If you have the opportunity to use fresh fettuccine noodles, then they will only take about two minutes or so to cook. Dried take longer but start checking them after about six or seven minutes. The moment they are cooked through then you are off to the races.
Follow me on Instagram!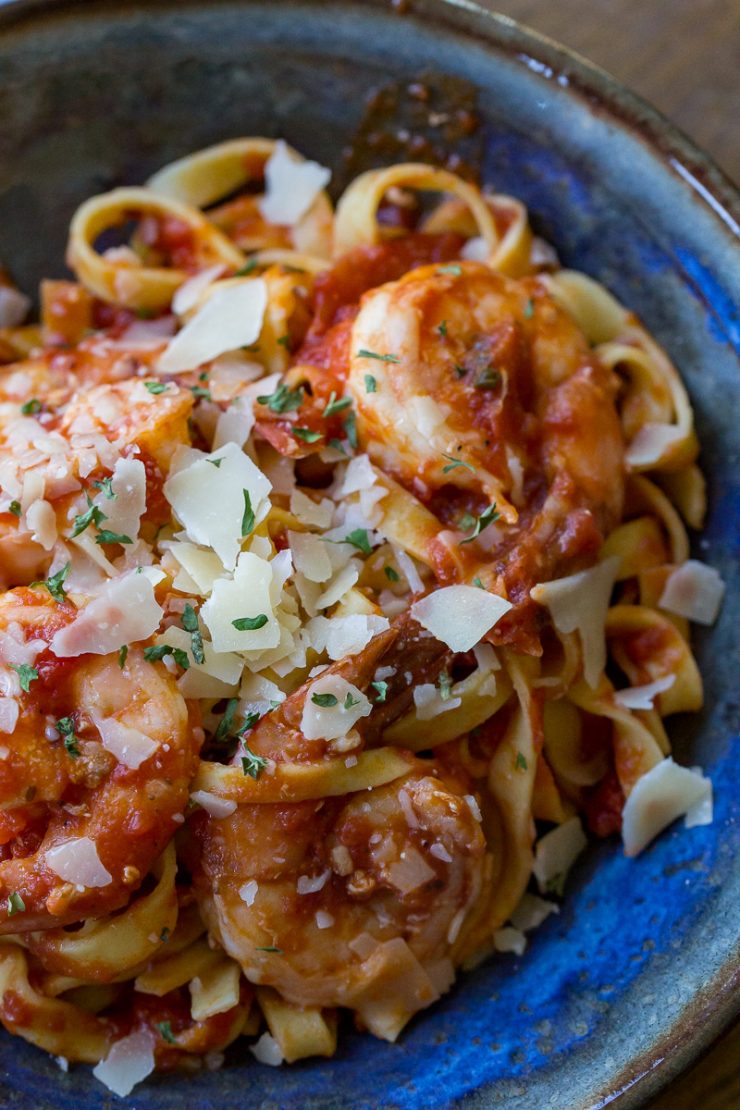 What is the best size shrimp to use?
I am personally a sucker for the giant shrimp. The big, 2-3 bite kind that you almost have to cut with a knife and fork. Shrimp shrink so much when you cook them, and I like a good-sized bite if I can.
If you don't want to pay big shrimp prices though, a good medium-sized shrimp, like a 36/40 count shrimp, will work just fine.
The count size refers to how many shrimp on average make up a pound of shrimp. While you can use bigger, the medium-sized ones are big enough to know you have some shrimp in the dish. It also makes it easier to have a piece of shrimp in every bite.
If you are cleaning the shrimp yourself, just run a slim knife or take a pair of kitchen scissors and run them up the back from the tail to the head. If you let the blade scratch just a little bit into the flesh of the shrimp, then it will easily devein the shrimp.
Personally, I buy the ones that come pre-cleaned!
Anytime I make shrimp for a pasta dish, I take the tails off. I HATE it when there's a dish you are meant to eat with a fork, but then you have to stick your fingers in it to grab the tails.
If that kind of thing doesn't bother you, you can do whatever you'd like here.
This would be great with Bread Sticks!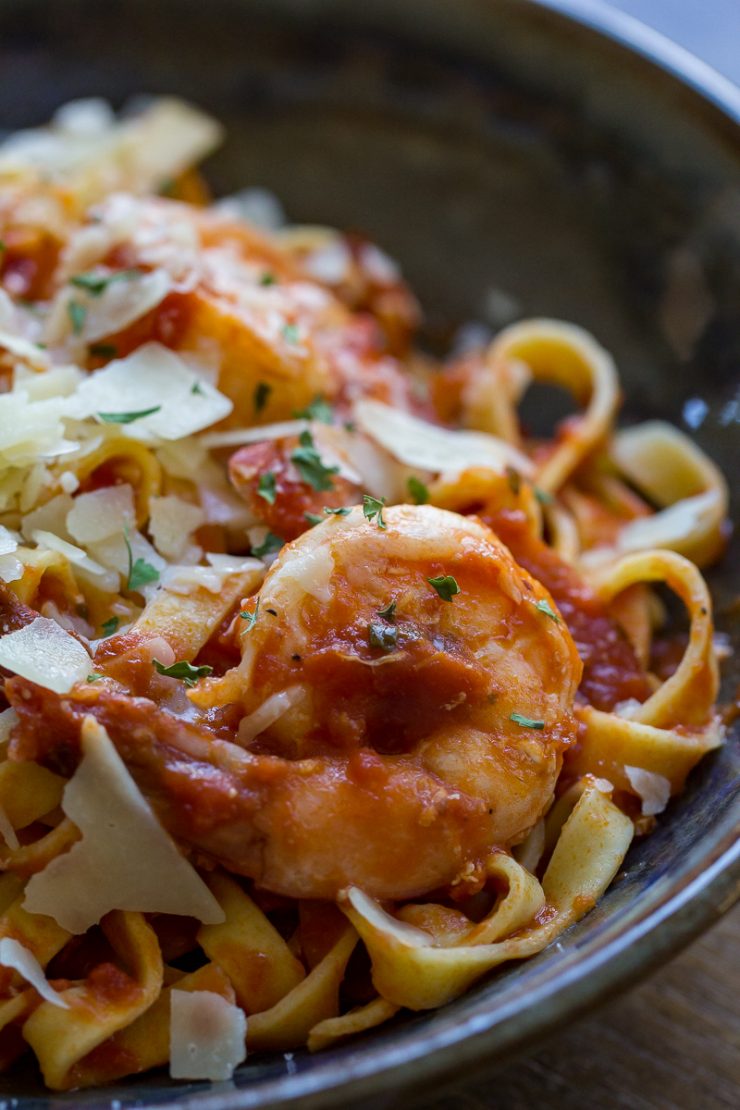 What kind of marinara sauce should you use for Shrimp Marinara?
You can make your own marinara sauce if you'd like. I didn't, personally, since I finally found a couple in the store that I love.
If you do make your own, the "meatier" the tomato the better it is for your marinara sauce. Roma tomatoes are great and you can easily find Roma tomatoes in the grocery store nowadays. The other one that works really well is the San Marzano but you will have to look for those in the canned goods aisle usually.
Both the San Marzano and the Roma are very similar though. They are heavy on the tomato meat and low on the seeds and water. Cooked tomato seeds do impart a bit of bitterness, so if you really want to up your marinara game, then make sure to slice the top of the tomato off and squeeze out the seeds.
You don't have to do it because a marinara sauce cooks so quickly it isn't as big an issue as it is for a sauce that cooks all day.
Squeezing out the seeds and the extra water content does give you a thicker and more savory sauce though too. So, your call. Sometimes those extra steps are a labor of love. Other times you just love to eat as soon as possible.
Try one of these salads with your dinner!
Or check out this Classic Italian Salad from Sugar Dish Me!
More Italian-inspired dishes to try with Shrimp Marinara
Here are a few more dishes to try if you enjoy the shrimp marinara.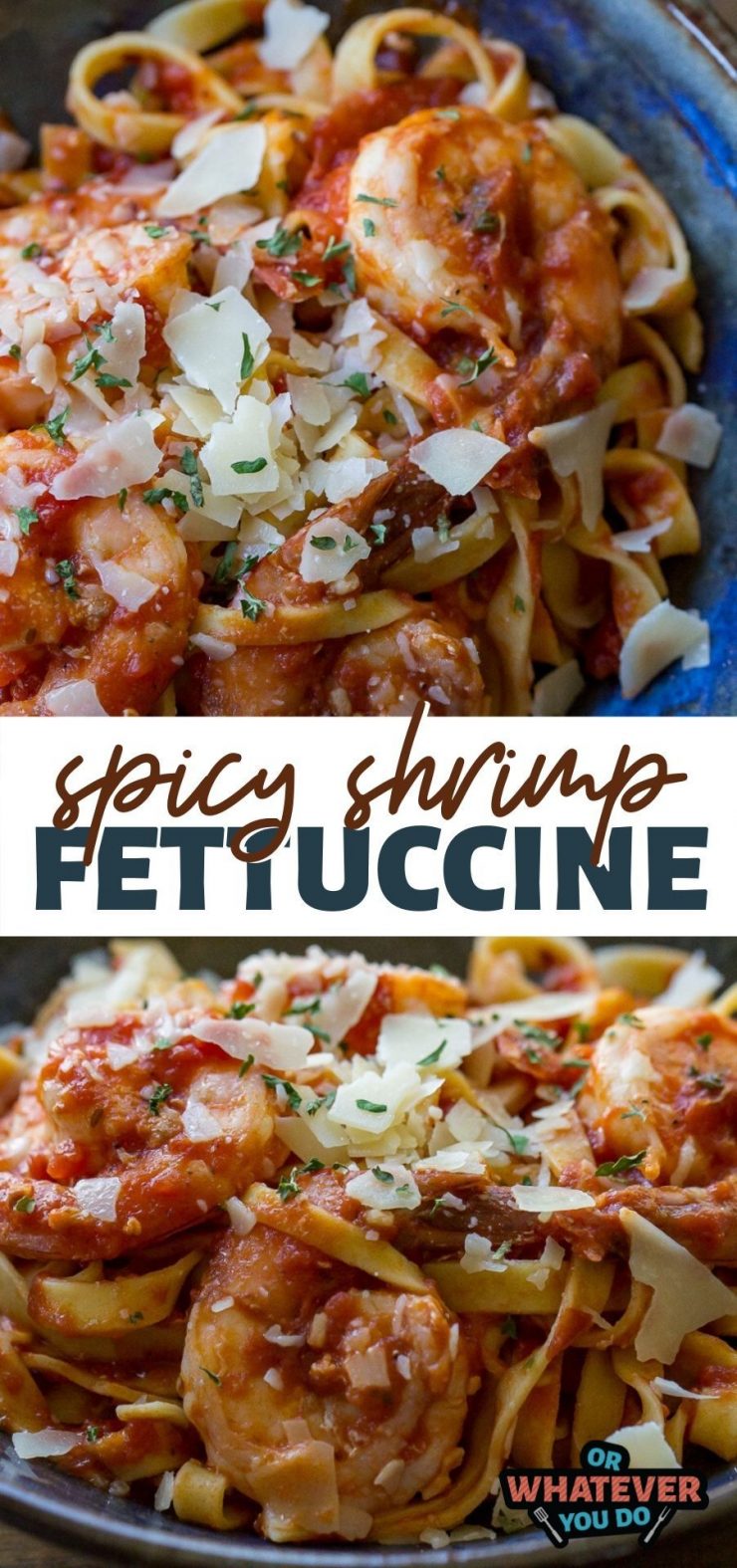 Yield: 6 servings
Spicy Shrimp Marinara
This hearty shrimp marinara is a touch spicy, and full of big bold flavors. Shrimp, garlic, onions, tomatoes, a touch of white wine, and all of the parmesan cheese.
Ingredients
1 pound fettuccine, fresh preferred
1 pound shrimp
2 tablespoons olive oil
1 teaspoon chopped garlic
1/4 cup dry white wine
1/2 teaspoon red pepper flakes
1 16-ounce jar high-quality marinara sauce
1/2 cup shaved parmesan
Instructions
Bring a large pot of well-salted water to a boil. (It should taste like the ocean!) When the water is boiling, cook the noodles al-dente. Reserve 1/4 cup of the water from the post once the noodles are finished.
Prepare your shrimp by removing the shells. Tails are optional. You can leave on or take off, as you wish.
While the water is coming to a boil, heat the olive oil in a large high-sided skillet over medium-low heat. Add in the shrimp, and cook for 2 minutes.
Add in the chopped garlic with the shrimp, and cook for an additional 1-2 minutes. Add in the dry white wine and red pepper flakes. Add in the marinara, and bring to a simmer.
Reduce the heat to low.
When the pasta is done and drained, combine the pasta and sauce and the reserved pasta water, and bring to a simmer, stirring constantly. Plate, and top with the parmesan cheese and serve hot!
Nutrition Information:
Yield:
6
Serving Size:
1
Amount Per Serving:
Calories:

332
Total Fat:

10g
Saturated Fat:

3g
Trans Fat:

0g
Unsaturated Fat:

6g
Cholesterol:

168mg
Sodium:

1255mg
Carbohydrates:

32g
Fiber:

3g
Sugar:

5g
Protein:

25g
Nutrition data provided here is only an estimate.