I am such a sucker for egg rolls. No matter what kind of Asian food I'm in the mood for (and I'm ALWAYS in the mood for Asian food), a good egg roll better be on the menu because I want one. Or three. I love making these at home because you can so easily customize the ingredients, and make this into a meal!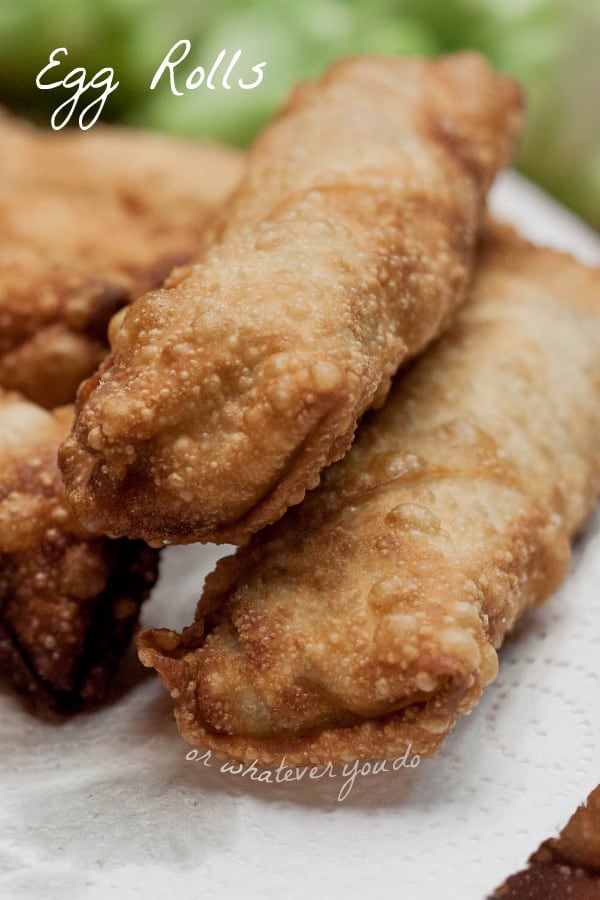 Homemade Egg Rolls
Is everyone over the Christmas rush now? Have you had time to recover from the partial food coma that Christmas and Christmas leftovers inevitably bring? Me either. In fact, I'm still eating leftovers.
This is a great recipe to make use of your leftovers. Chopped up turkey would be fabulous in these. I used a more traditional ground pork for this mix, but if you try it with some leftovers please let me know how it goes.
You can see more of my Asian-inspired recipes here in my Spicy Chili Garlic Stir fry Sauce, Honey Pecan Shrimp, 20 Minute Thai-Spiced Tonkatsu, Korean Spicy Stir Fried Chicken and Vegetables, and my Fried Pork Dumplings, among many others.
The hardest part of this is getting the hang of the rolling process. Once you have that down, these are amazingly fast. The secret to a fabulous egg roll at home is to pre-cook the filling. Then its just a matter of rolling and frying and enjoying!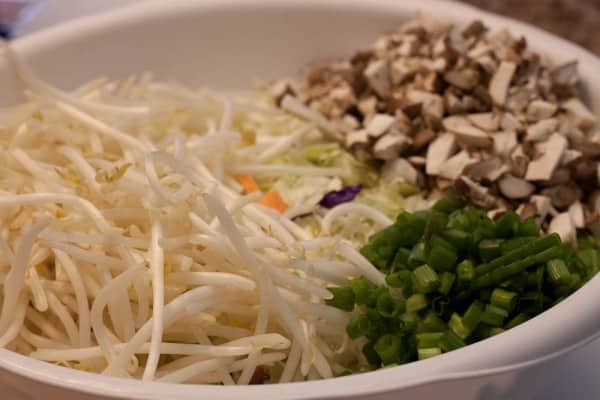 Start by mixing up your marinade for your meat. Stir it into the meat and let that sit while you are cooking up the veggies.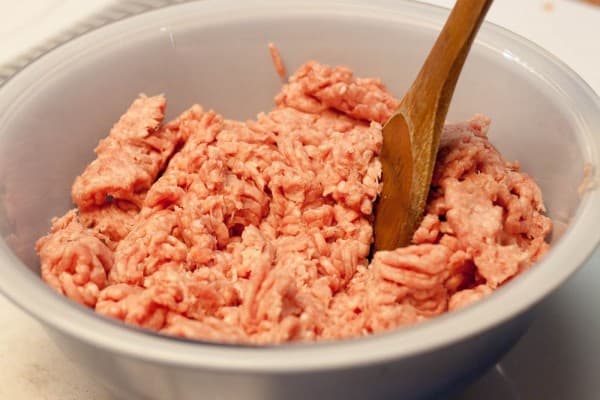 In batches, quickly stir fry the vegetables. You don't want these completely cooked into mush, just slightly stir fried and softened.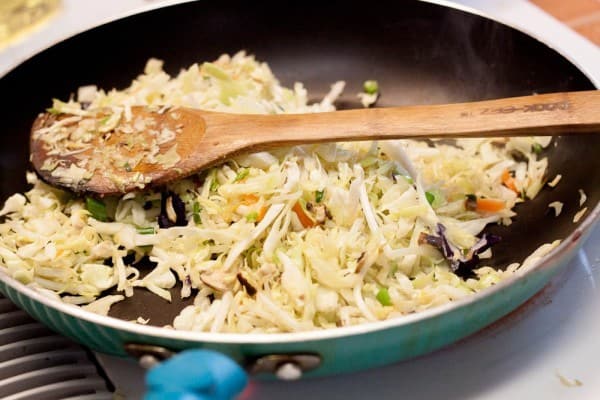 Let the veggies drain so your filling is as dry as possible before you fry. An easy way to do this is to put them on a cookie sheet with one end propped up. This lets any juices in the vegetables drain to the other side.
Cook your ground pork mixture, chopping it up into a fine mix. Let it cool for 10-15 minutes, and then mix it into the stir fries veggies until everything is evenly distributed.
To roll, place several tablespoons of the filling mixture across the corner of an egg roll wrap.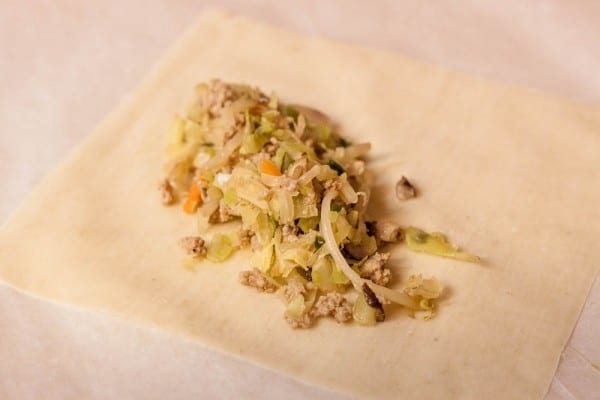 Fold up the corner over the filling, and roll it up a bit.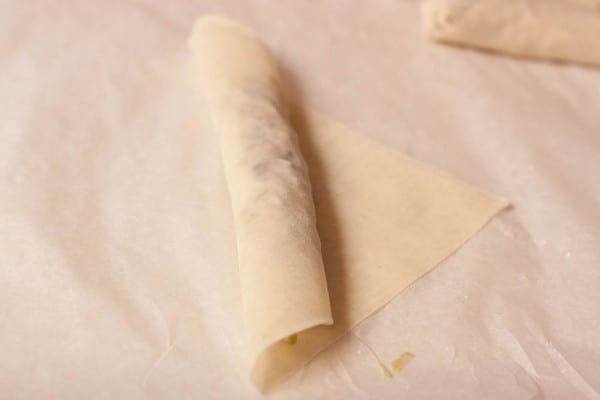 Next fold over both sides towards the center.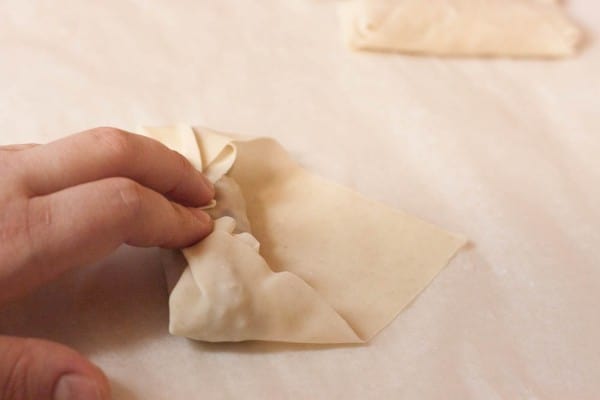 Now using your fingers, lightly wet the last corner with a cornstarch slurry and continue rolling until completely sealed.
Make sure you do not place the unfried egg rolls on top of each other, as they will start to stick together and the wrappers will tear when you try and separate them. Use wax or parchment paper to stack uncooked egg rolls.
Heat 3 inches of oil in a heavy duty pot over medium high heat. You want the oil hot, but not smoking. About 350-375 is the optimal temperature to fry these at. Fry until all sides are golden, and serve hot with some sweet and sour sauce!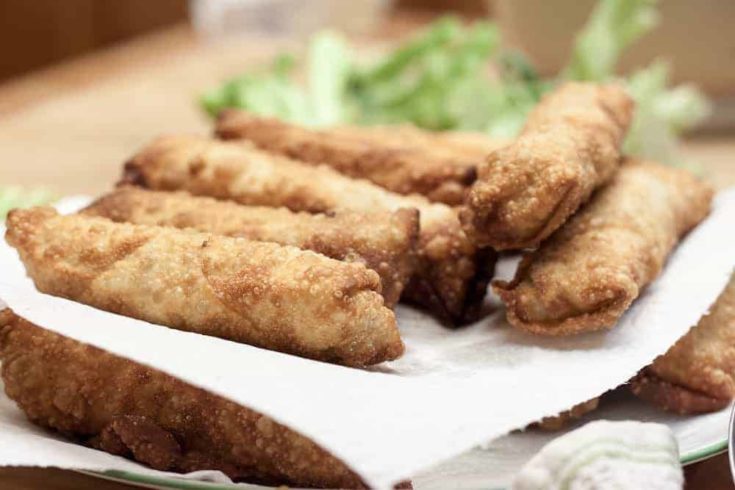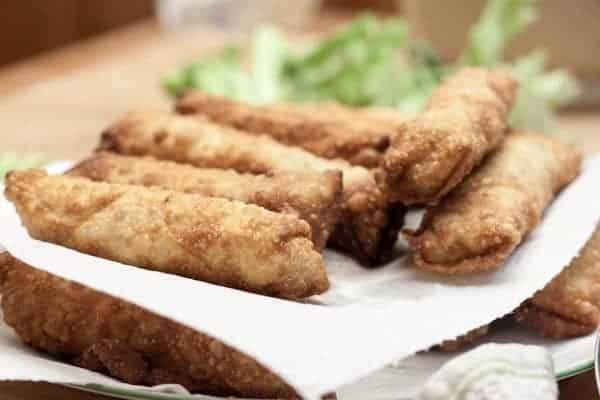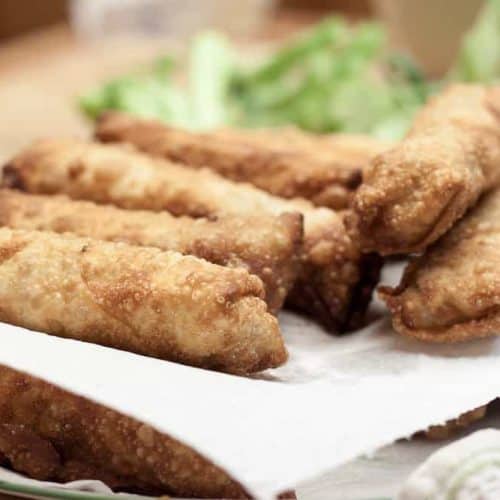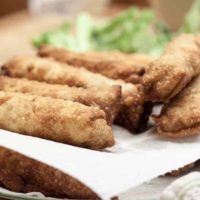 Egg Rolls
Homemade egg rolls are so delicious! Make a meal out of them, or make an egg roll party with your friends and family and roll up a bunch!
Ingredients
Meat & Marinade
2 lbs ground pork
3 Tablespoons soy sauce
1/2 teaspoon finely diced fresh ginger
1/2 teaspoon minced garlic
3 drops sesame oil
2 teaspoons rice vinegar
1 teaspoon sugar
Vegetables
6-8 cups shredded cabbage
2-3 cups mung bean sprouts
1 bunch green onions, green parts, diced
10-12 small or medium shiitake mushrooms, diced
2 packages egg roll wrappers, 60 total
oil for frying
corn starch slurry for sealing shut rolls
Instructions
Mix the meat and marinade ingredients together and set aside.
Mix together the vegetables and quickly stir fry in a drizzle of oil. Remove and set on a cookie sheet that's been propped up on one end to drain.
Cook the pork mixture and chop up to a fine mince until done. Mix with the vegetables.
Wrap egg roll mixture in wrapper using method described above. Seal shut with a cornstarch slurry.
Fry in batches in 2-3 inches of oil that has been preheated to 350-375 degrees until golden brown. This should take no longer than 2-3 minutes.
Serve with sweet and sour sauce while hot.
Nutrition Information:
Yield:

24
Serving Size:

1
Amount Per Serving:
Calories:

562
Total Fat:

13g
Saturated Fat:

4g
Trans Fat:

0g
Unsaturated Fat:

7g
Cholesterol:

36mg
Sodium:

656mg
Carbohydrates:

100g
Fiber:

15g
Sugar:

26g
Protein:

23g
Nutrition data provided here is only an estimate. If you are tracking these things for medical purposes please consult an outside, trusted source. Thanks!