Shrimp Pasta with tomatoes and basil is a delicious but simple feast for the senses. Garlic, basil, wine, and red pepper flakes impart the heart, soul, spirit, and passion respectively. This is Mediterranean Italian cuisine at its finest but is SO simple to make.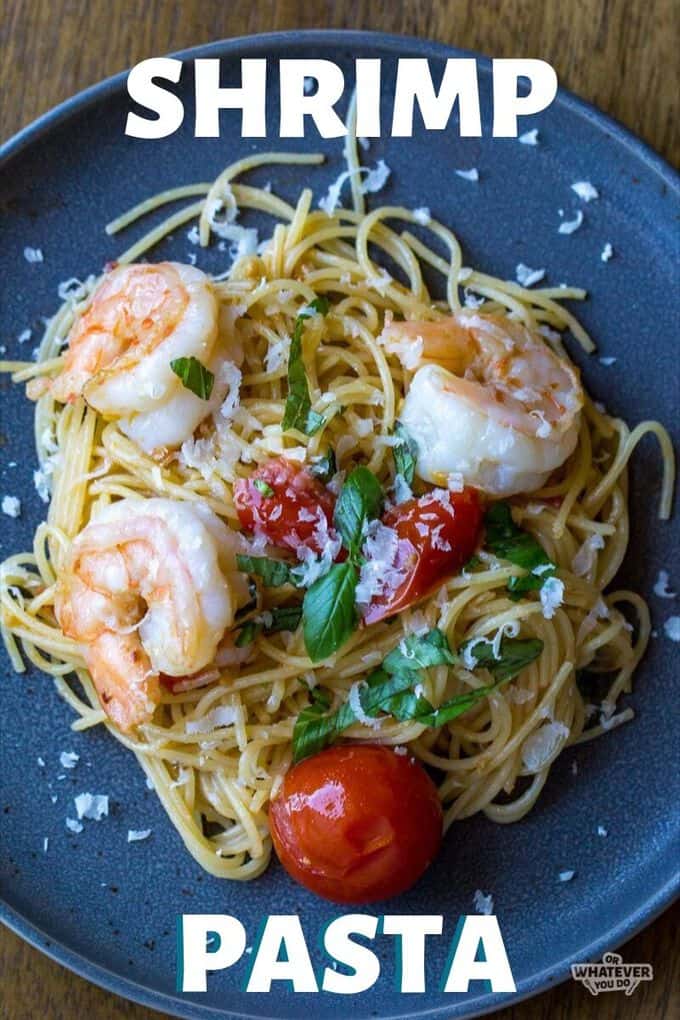 Shrimp Pasta
This aromatic shrimp pasta with tomatoes and basil is done in a flash, doesn't require a ton of ingredients, and contains some of the most classic flavors that there are.
Shrimp is a great weeknight dinner option since it cooks SO quickly, and when you toss it with the white wine pan sauce and blistered tomato and wilted basil, you've taken something really basic and made it into something you can proudly serve to your family and friends.
You might also want to serve it with my garlic bread sticks to complete the meal.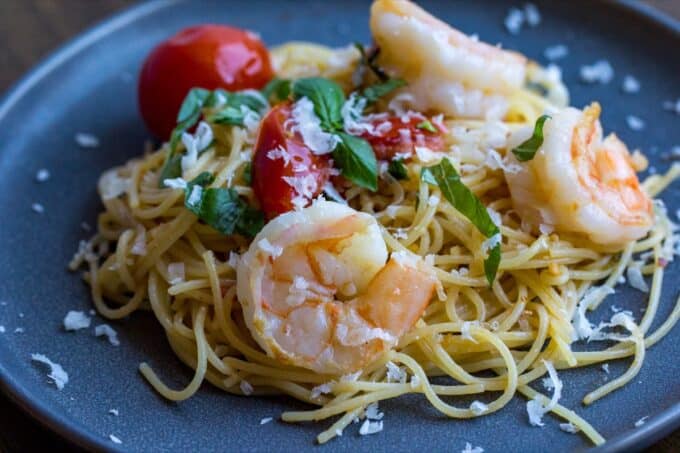 Fresh Ingredients Matter
For the best result, please get some fresh basil. The fresh basil really makes the dish. The dried basil really does NOT do this dish justice, so if you don't have fresh this is one of the few times I'd suggest that you do NOT substitute whatever you have on hand. Fresh herbs matter.
You can usually find fresh basil in the produce department. Oftentimes now you can even find little basil plants in soil. If you are motivated, then throwing it in a pot and sticking it by the window you may have fresh basil for weeks or months if you keep it up.
Make sure to pinch off anything that looks like it will become a flower. It will keep growing until it flowers.
Also, don't shy away from using fresh garlic. I know many people prefer not to cut or mince garlic. If that is the case, then at the very least get the jars of minced garlic. I still prefer using fresh garlic cloves though.
When it comes to the cherry tomatoes, you do have options. These days you can find yellow, red, and speckled cherry tomatoes. Any type works great.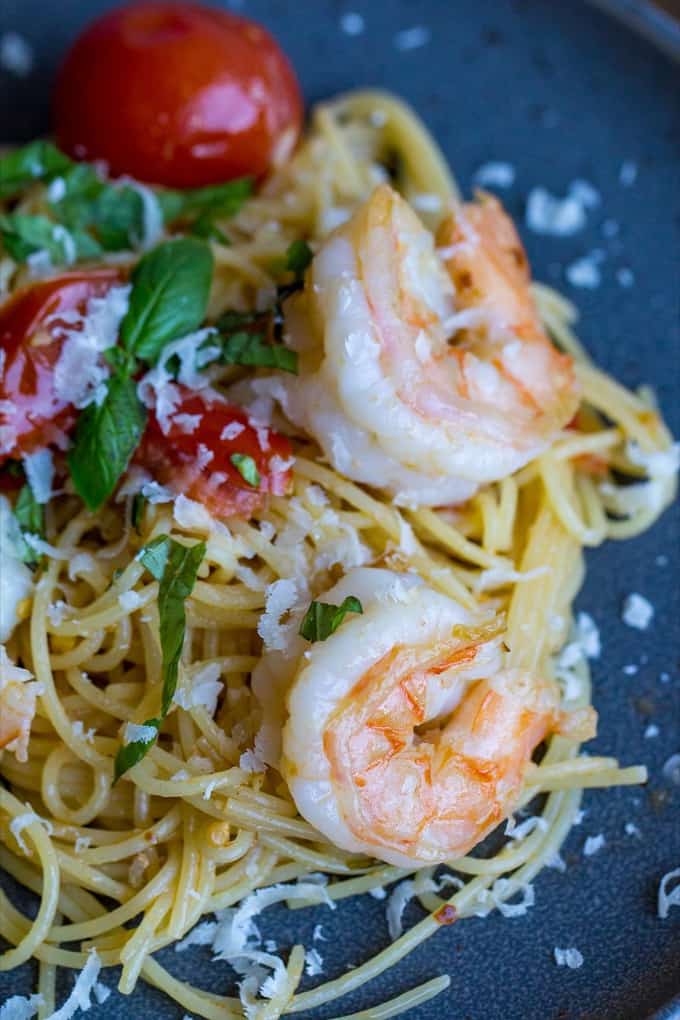 What size shrimp is best for shrimp pasta?
Shrimp sizes in the US come designated as "count per pound". So, a pound of jumbo shrimp generally comes as 21/25. This means there are 21 to 25 shrimp per pound. A count of 10/12 would be extra jumbo or colossal sized shrimp. The small shrimp typically are 41/50 and so forth.
For this dish, any type of shrimp works in terms of flavor, but I recommend any size from medium large 35/40 to extra jumbo 16/20. Too small and they are hard to pick up. Too big, you just end up portioning them into smaller bites anyway.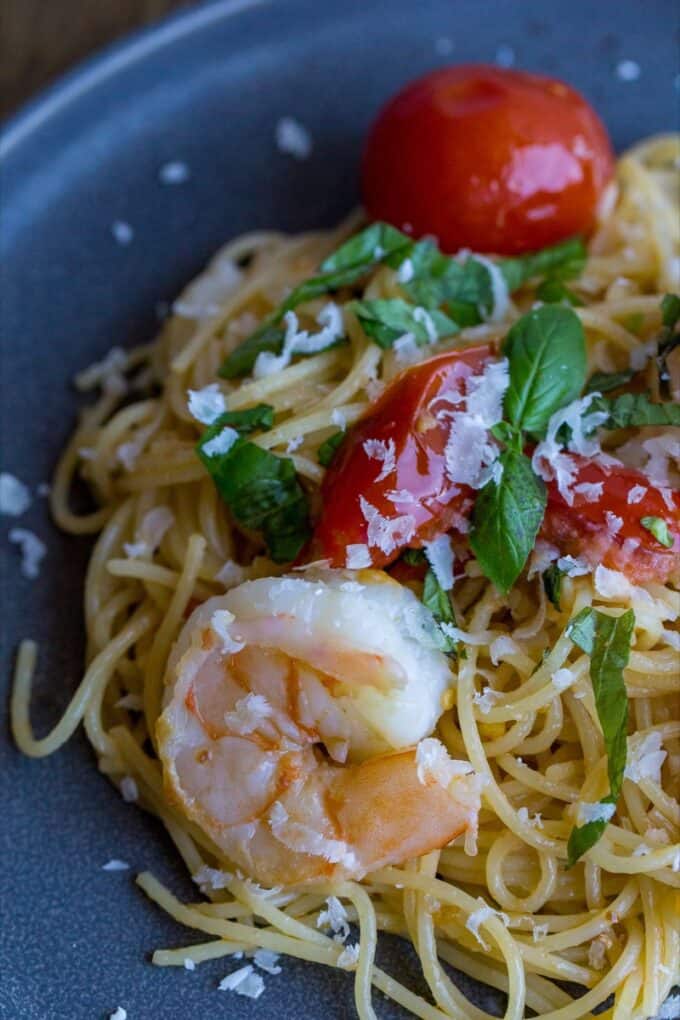 What kind of wine do I use for shrimp with tomatoes and basil?
For this easy pan sauce, use your favorite white wine. A like a good pinot grigio or sauvignon blanc. Use something you'd also drink. Typically one step above the bottom-of-the-barrel is best. I'm a cheap date.
For cooking seafood, including shrimp, then I recommend the more light, crisp, and dry whites.
Keep in mind, the designations of "dry" and "sweet" aren't necessarily based on more or less sugar. It refers to the flavor profile. Dry wines tend to have more citrus accents; whereas, sweet wines possess more fruity notes.
The citrusy dry whites work particularly well with seafood for that reason.
There are whites that are not ideal though. I avoid chardonnay because it tends to come over nuanced with Oak notes. Those tend to create bitterness in the dish that I don't like.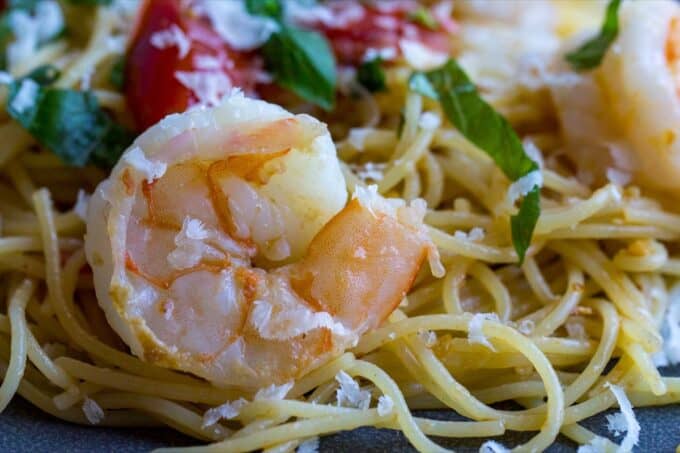 Is capellini the same as angel hair pasta?
Pasta comes in so many sizes and shapes. So, why use capellini? Is capellini the same as angel hair pasta?
Angel hair, in Italian "Capelli d'angelo" is just a few millimeters smaller in diameter than Capellini. Yes, you can certainly substitute the angel hair pasta instead of using capellini. Capellini delivers just a bit more "bite" then the thinner angel hair.
Truth be told, even wider noodles still work. But for the elegance and to keep the other ingredients more forward, stick with the long thin noodles. Remember, capellini and angel hair cook very quickly!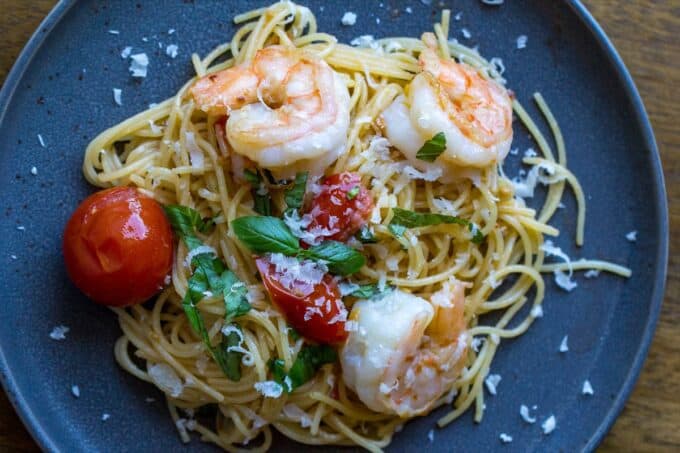 Want some other great Italian and Mediterranean dish ideas?
Hopefully you enjoy shrimp with tomatoes and basil so much you want to try some of my other dishes inspired along the same lines!
Pin for later!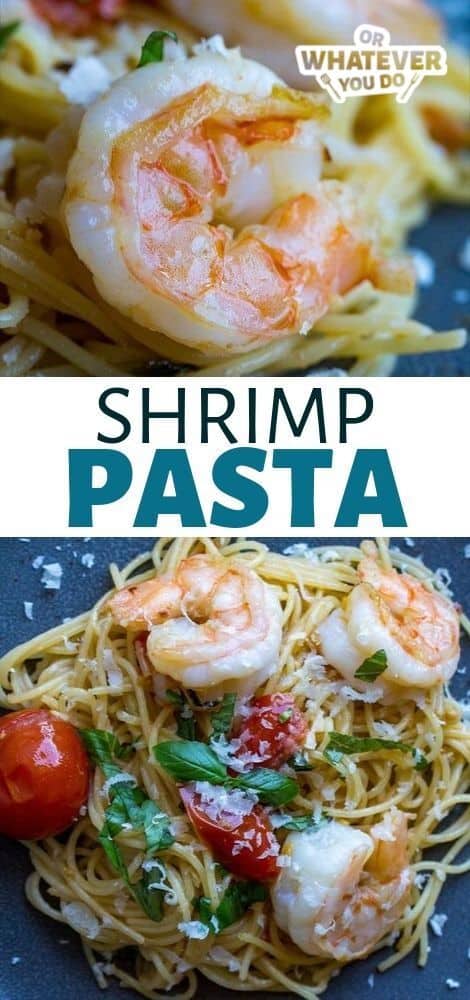 Yield: 6 servings
Shrimp Pasta with Tomatoes and Basil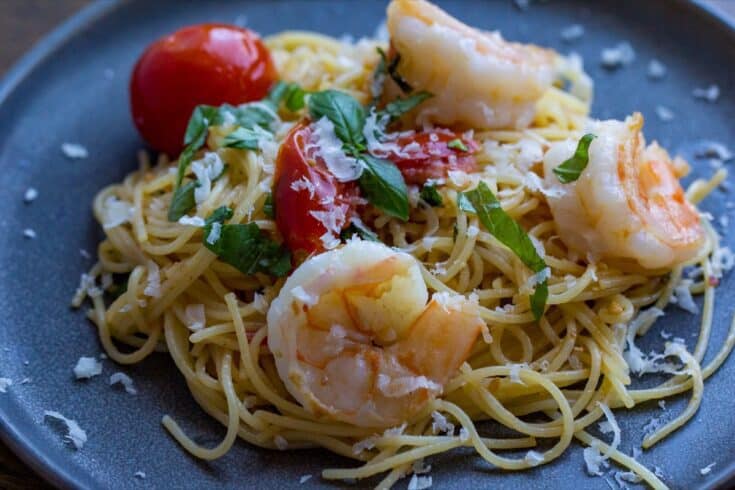 Simple ingredients are combined to make a bowl of pasta that everyone will love. Bring on the big Mediterranean flavors and save room for seconds!
Ingredients
1 pound thin spaghetti
3 tablespoons olive oil
3 cloves garlic, minced
1/2 teaspoon red chili pepper flakes
1 pound raw shrimp
1/2 teaspoon salt
1/4 teaspoon garlic powder
8 cherry tomatoes
3 tablespoons white wine
2 teaspoon lemon juice
1 teaspoon chopped fresh oregano
3 tablespoons cold salted butter
1 tablespoon chopped fresh basil
1/8 cup shredded parmesan cheese
Instructions
Put a large pot of well-salted water over high heat and let come to a boil. Boil the noodles according to package directions while you are finishing the sauce. Thin spaghetti cooks quickly, so watch it carefully!
Place the olive oil, garlic, & chili flakes in a large non-stick skillet over medium heat.
Sprinkle the salt and garlic powder on the raw shrimp, and saute the shrimp & cherry tomatoes in the hot olive oil.
When the shrimp turn pink on both sides, add the white wine, lemon juice, and oregano.
Turn the heat up to medium-high, and simmer for 1-2 minutes, or until reduced slightly.
Remove the pan from the heat, place one pat of cold butter inside, and shake the pan back and forth to incorporate the butter into the sauce. Repeat with the last two pats of butter.
Serve over fresh pasta, and sprinkle with the fresh basil and parmesan cheese.
Recommended Products
As an Amazon Associate and member of other affiliate programs, I earn from qualifying purchases.
Nutrition Information:
Yield:
8
Serving Size:
1
Amount Per Serving:
Calories:

228
Total Fat:

11g
Saturated Fat:

4g
Trans Fat:

0g
Unsaturated Fat:

6g
Cholesterol:

84mg
Sodium:

510mg
Carbohydrates:

20g
Fiber:

1g
Sugar:

1g
Protein:

12g
Nutrition data provided here is only an estimate. If you are tracking these things for medical purposes please consult an outside, trusted source. Thanks!