This Shrimp Ceviche is a combination of Jumbo Shrimp grilled on my Traeger Grill, then cut up and mixed with jalapeños, cucumber, tomato, onion, tomato sauce and lime juice. Marinated in the fridge for a couple of hours, then served chilled with tortilla chips.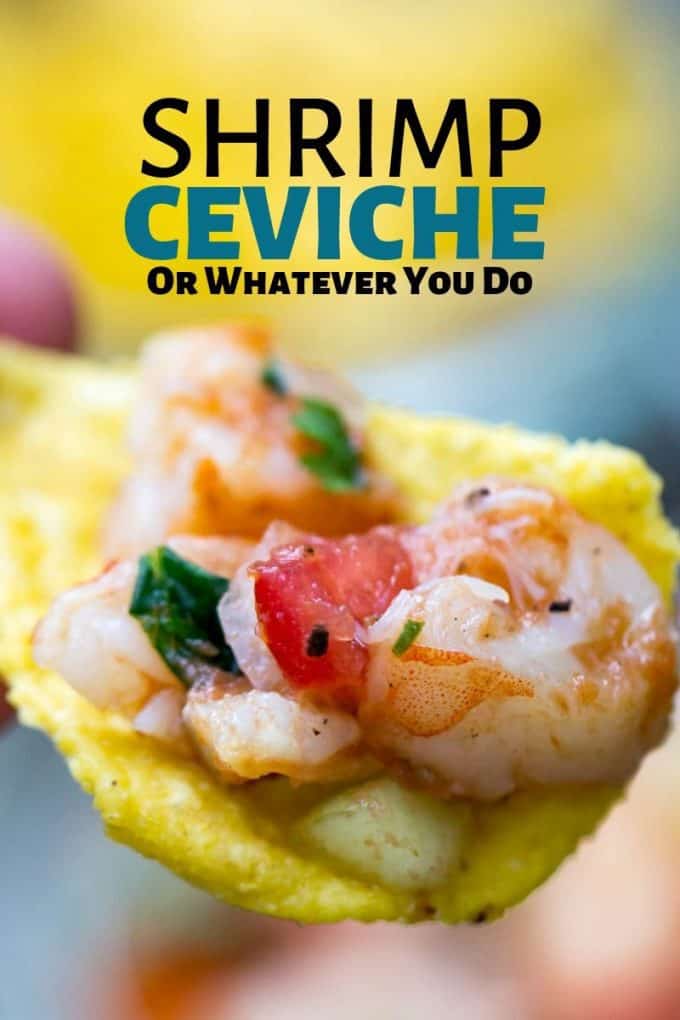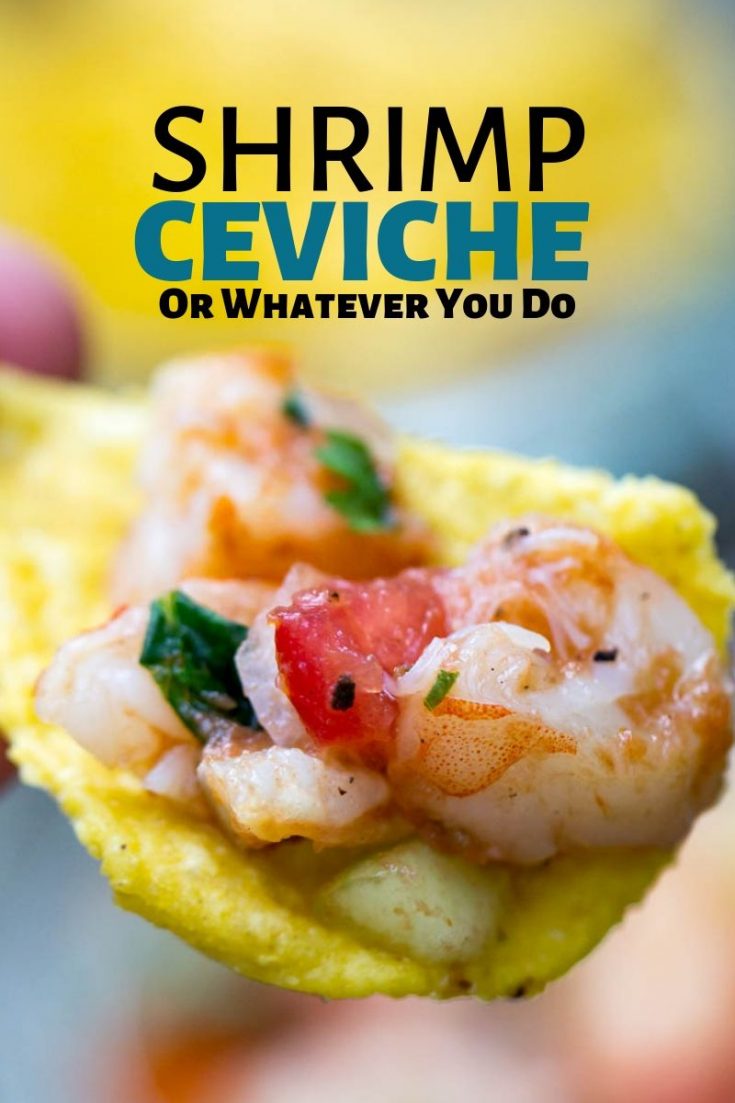 Shrimp Ceviche
This is my grilled version of the classic South American dish, Ceviche, which uses raw seafood or fish that is cured in citrus (usually lemon and lime juices). Ceviche is typically garnished and served as an appetizer.
Personally, I love the flavor that the Traeger Grilled Shrimp brings to this classic Latin recipe. A wonderful change to your usual run of the mill appetizers.
I LOVE seafood in any way, shape or form and am always looking for different, creative ways to serve it. This dish would be perfect for any family meal or gathering as a prelude to the main course entree or as a meal in itself.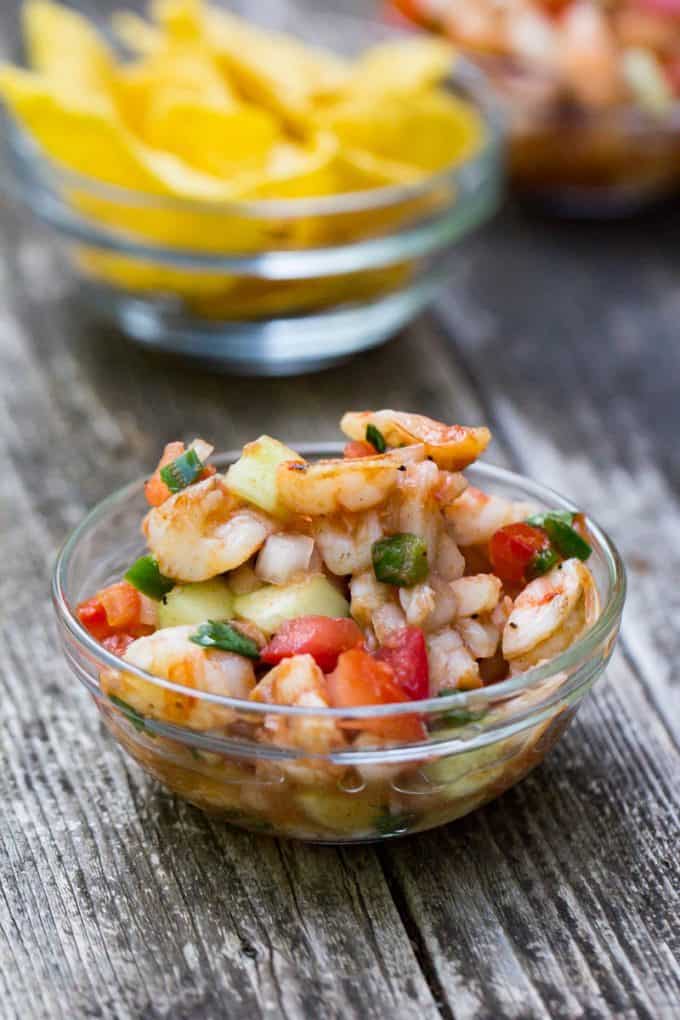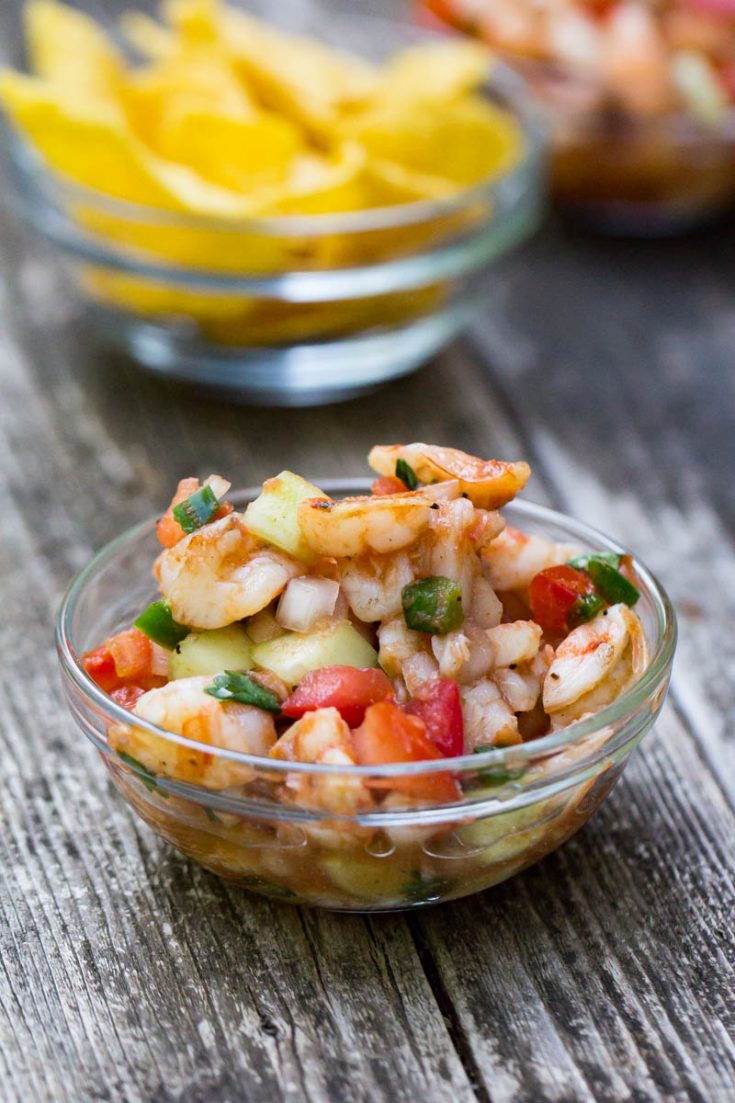 What is ceviche?
Ceviche is a Latin inspired dish traditionally served cold as an appetizer. Using raw fish or seafood, it is then marinated in citrus juice which causes a chemical process called denaturation which essentially "cooks" the meat without heat.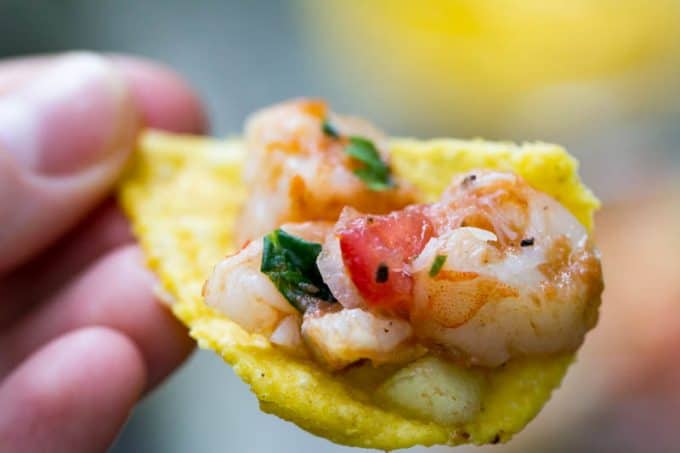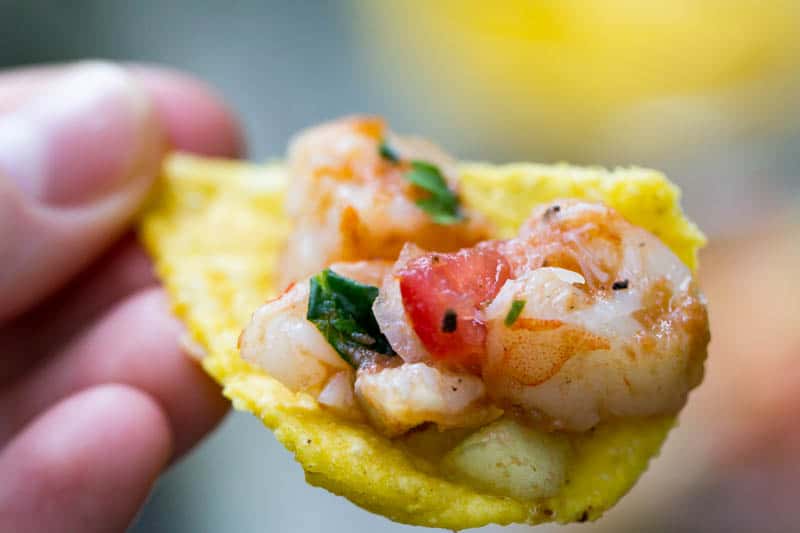 How do you make the best shrimp ceviche?
There are some really simple tips to follow when you are whipping up a great ceviche.
Use fresh ingredients | This should go without saying, but it doesn't always. If you can buy some fresh shrimp from the fishmonger, do it. Source the best vegetables you can, and make this when they are in season. The end result will be much better, and you can really tell a difference.
Account for the marinating time | This is important! Not so much for this grilled shrimp ceviche because the shrimp is fully cooked prior to putting the ceviche together, but for other preparations, you need to leave about an hour to allow time for the fish to "cook" in the acid.

Can you eat ceviche while you are pregnant?
Regular ceviche shouldn't be eaten by pregnant women out of an abundance of caution, but since my Traeger Grilled Shrimp Ceviche is fully cooked, it will be just as safe to eat as any fish dish is.
Always consult your doctor, of course, for the most up-to-date information on food safety during pregnancy, but this one should be an easy yes since the meat is fully cooked.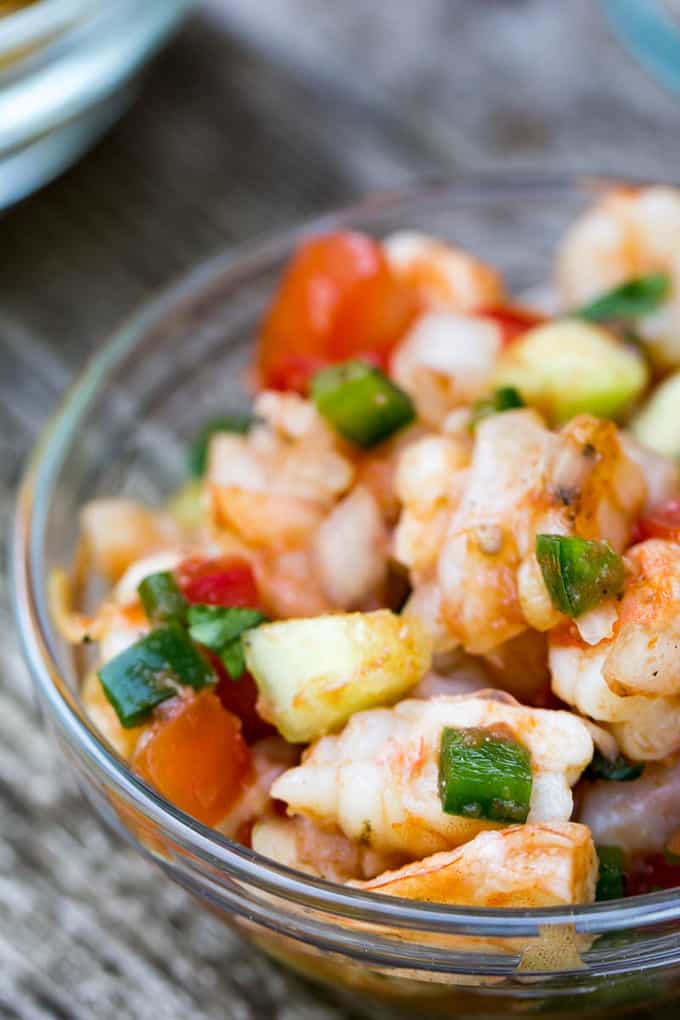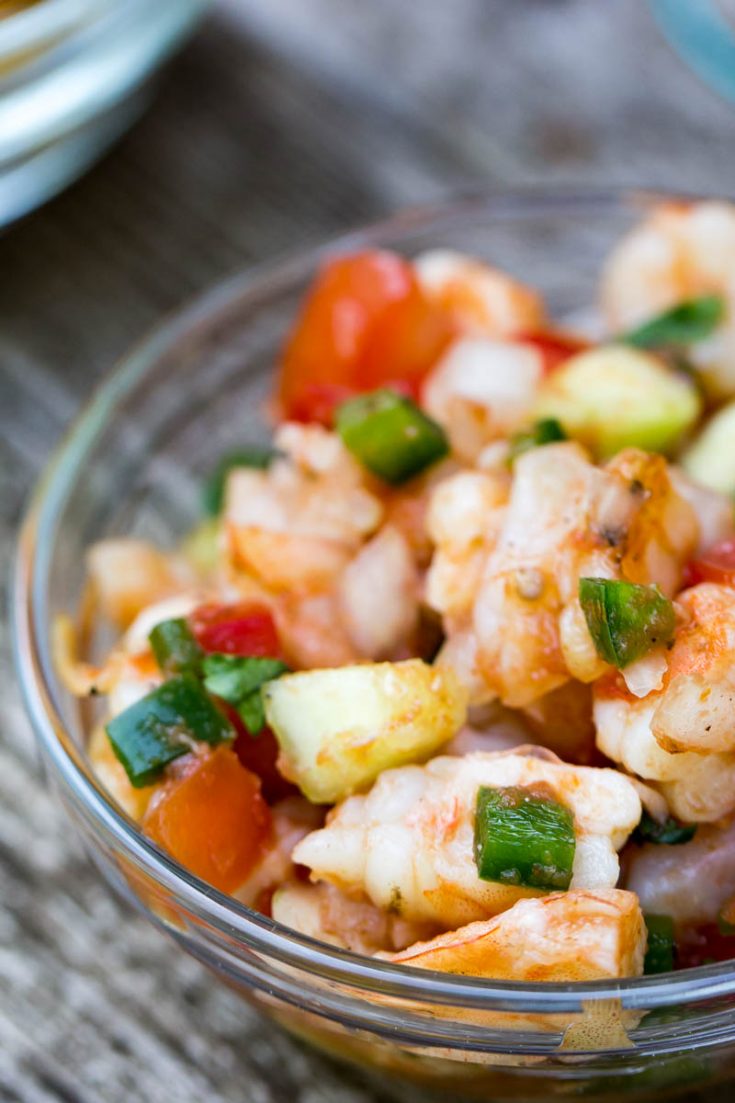 Do you eat ceviche hot or cold?
Ceviche should be served chilled, or room temperature at the warmest. I like to do the marinading in the fridge, so once it is finished it should be served right away.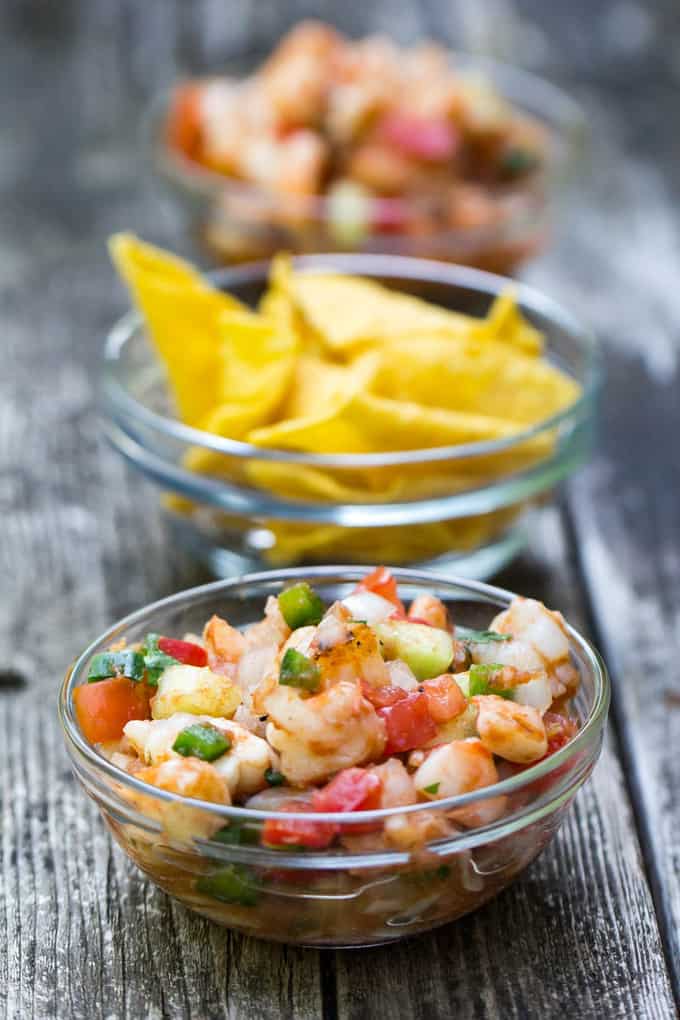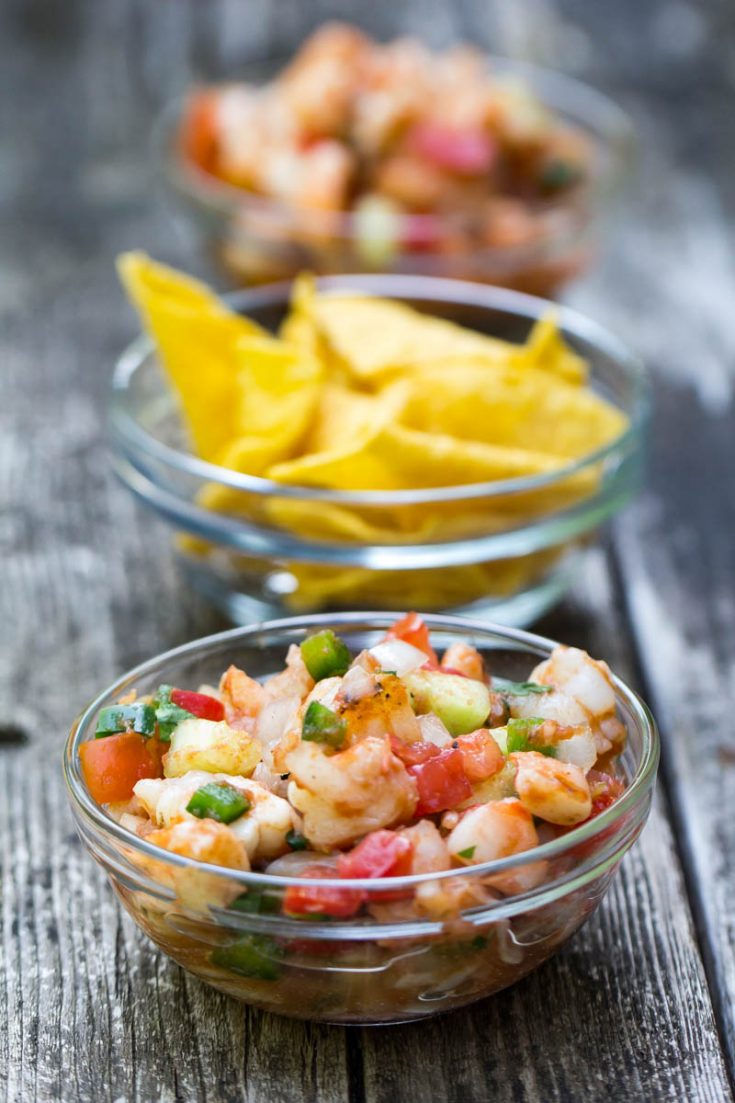 What should I serve with this Shrimp Ceviche?
I like to serve this with Tortilla Chips, as you would with a salsa. It's super easy to make your own tortilla chips using corn tortillas which you can season however you wish with things like sea salt, chili, or any seasoning mix you prefer.
Otherwise, there are a ton of varieties at any stores you have nearby.
Some other great options that would compliment this Shrimp Ceviche you can find right here!
This dish is perfect for any occasion that calls for lots of appetizers, so if you want to keep the South American theme you could serve this ceviche with other sides such as empanadas, taquitos, and of course tortilla chips.
Set out a variety of condiments and serve like a nacho bar. Your guests can load up their plates with toppings of their choice!
Another option would be to serve in a bowl with a spoon, like a cold soup.
Fresh guacamole or sliced avocado served alongside or on top of this ceviche is a wonderful, creamy addition that guests will love.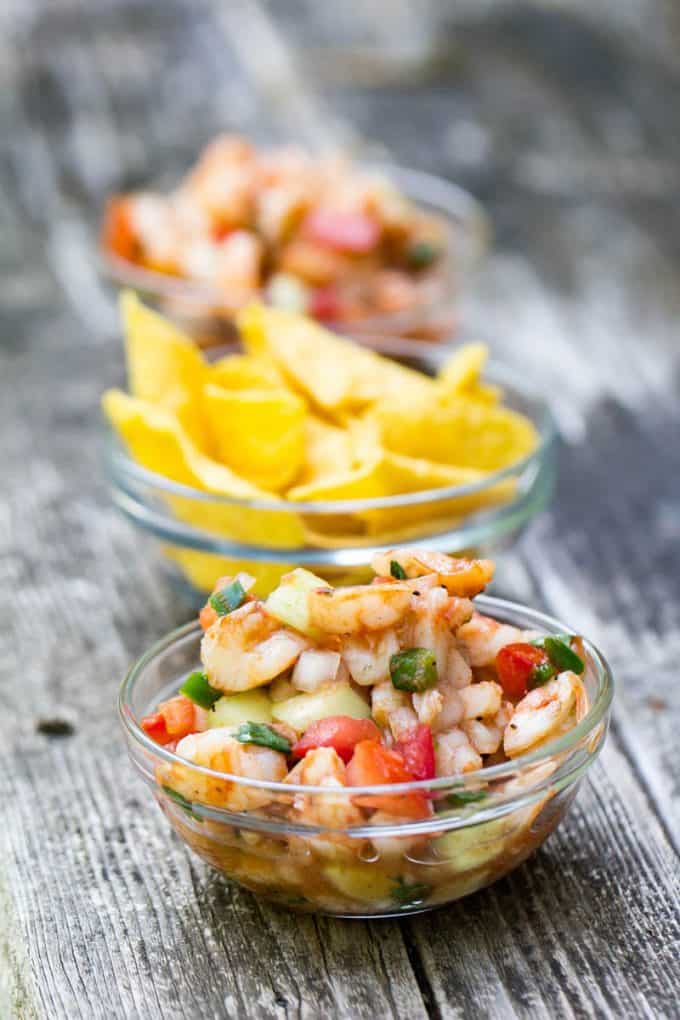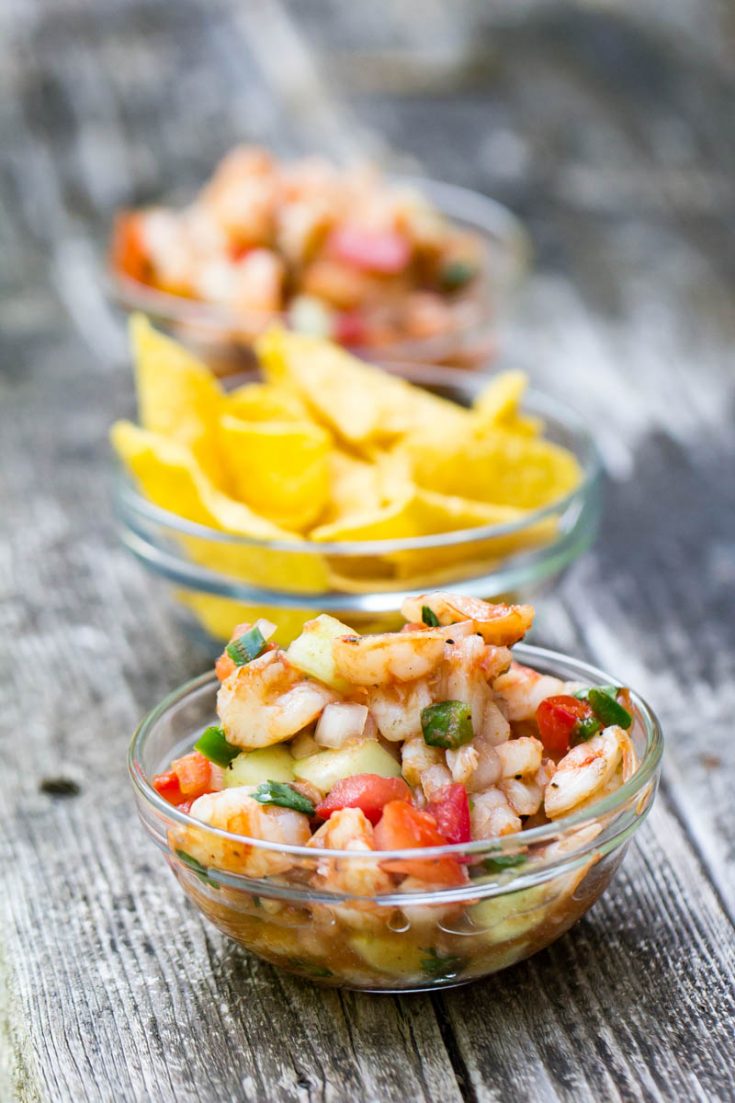 How long does this keep in the fridge?
This dish is peak served fresh the day you make it, but you can keep leftovers in the refrigerator for 2 or 3 days. I wouldn't recommend freezing this dish for obvious reasons. Cucumber and tomato will be mushy after thawing.
A great idea for using up leftovers would be to serve this as a cold taco filling, or toss with pasta or salad greens, and add a light dressing.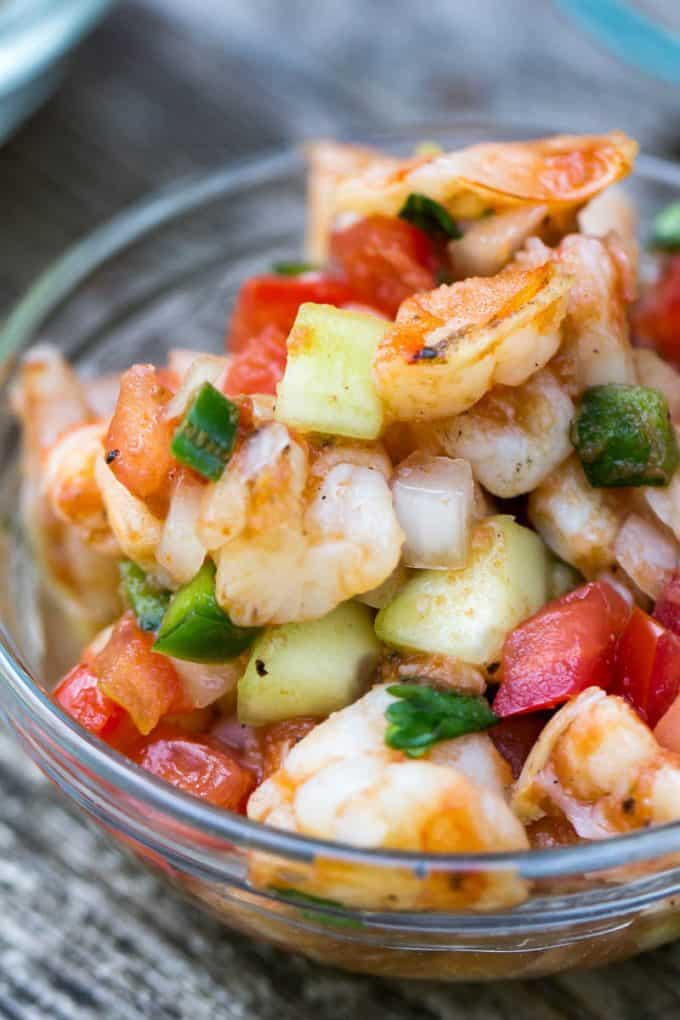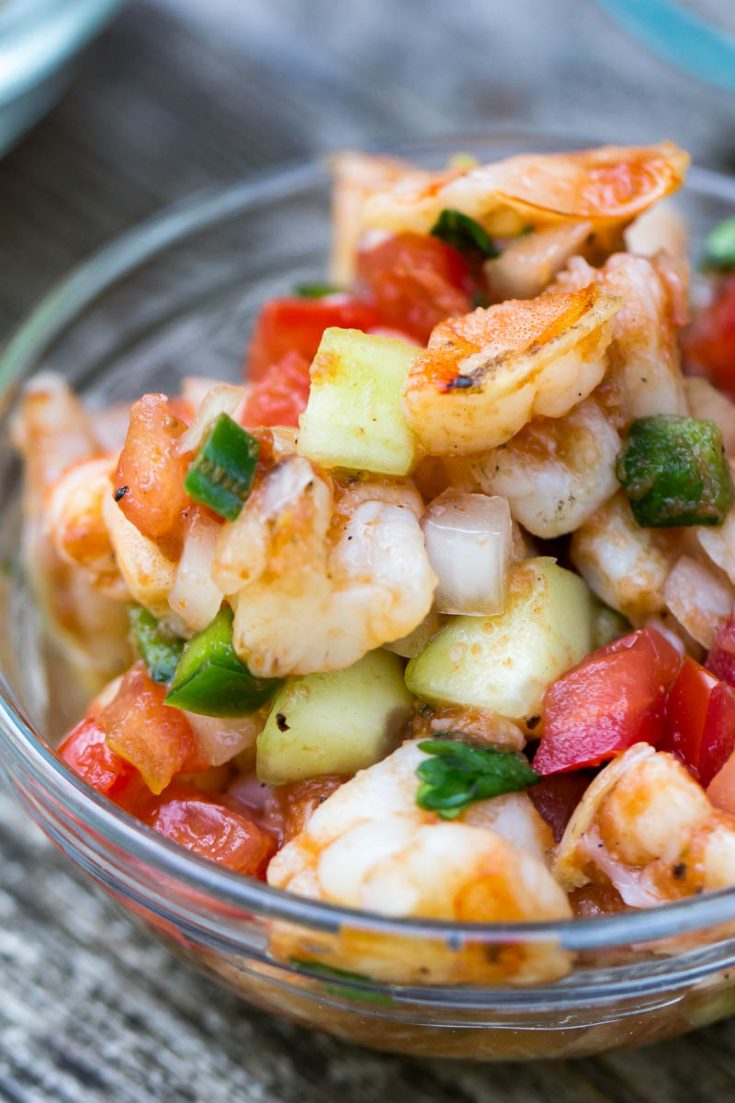 What kind of desserts can I serve?
We've talked about savory now let's talk about something sweet to serve with this Shrimp Ceviche!
My recipe for homemade churros with cinnamon sugar would be a perfect end to this delicious smorgasbord of flavors!
Typically anything with chocolate or caramel will compliment your spicy dishes and satisfy your sweet tooth!
Try my Chocolate Hazelnut Caramel Treasures for instance, or if you're looking for something easy, my 3 ingredient Chocolate Cheesecake would be a perfect option.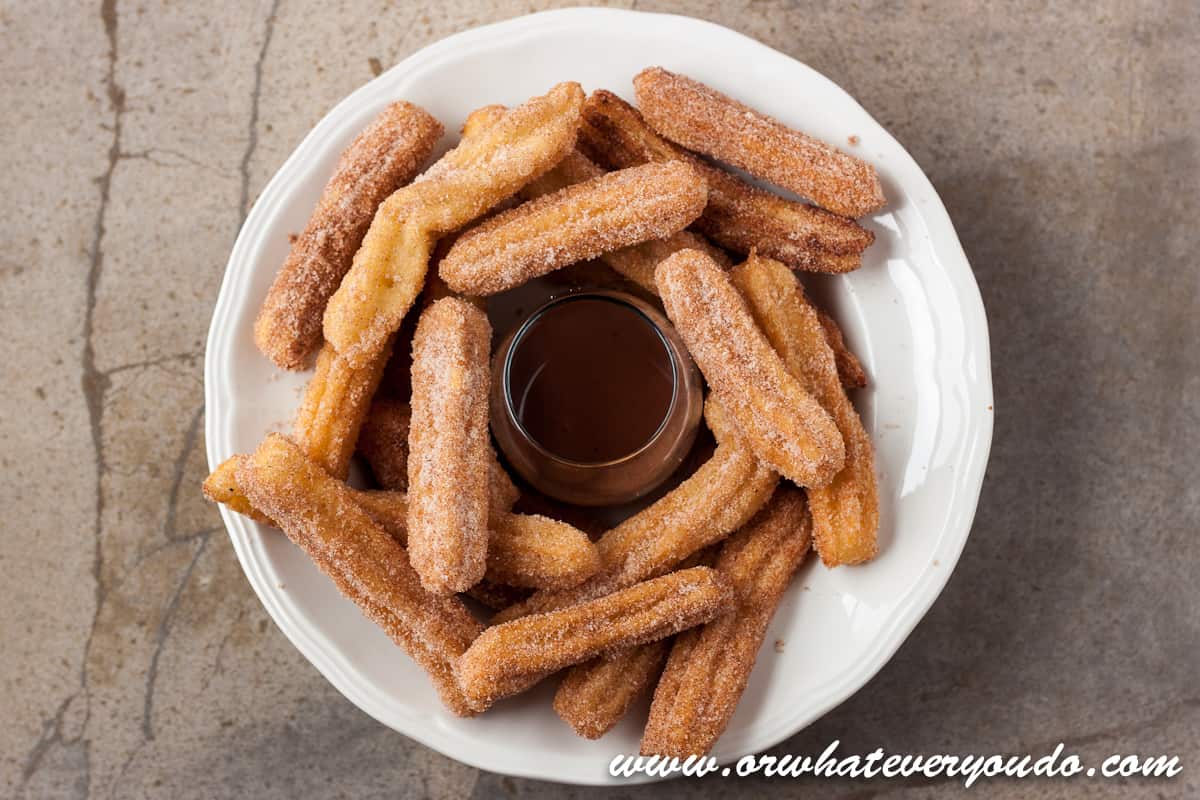 What type of wine do I serve with this dish?
A good Sauvignon blanc, Chablis or Chardonnay would all pair well with this.
If you want to be more festive you could serve Bloody Marys with this dish. For a fun sweet cocktail, try my Pineapple Prosecco Cocktail or for a great summer drink try my Strawberry Lemon Drop!
When you eat spicy food do you crave margaritas? I do! Make one the right way at home with my Classic Margarita or my Blackberry Margarita.
All of the above will make the gathering a festive, fun and spicy event!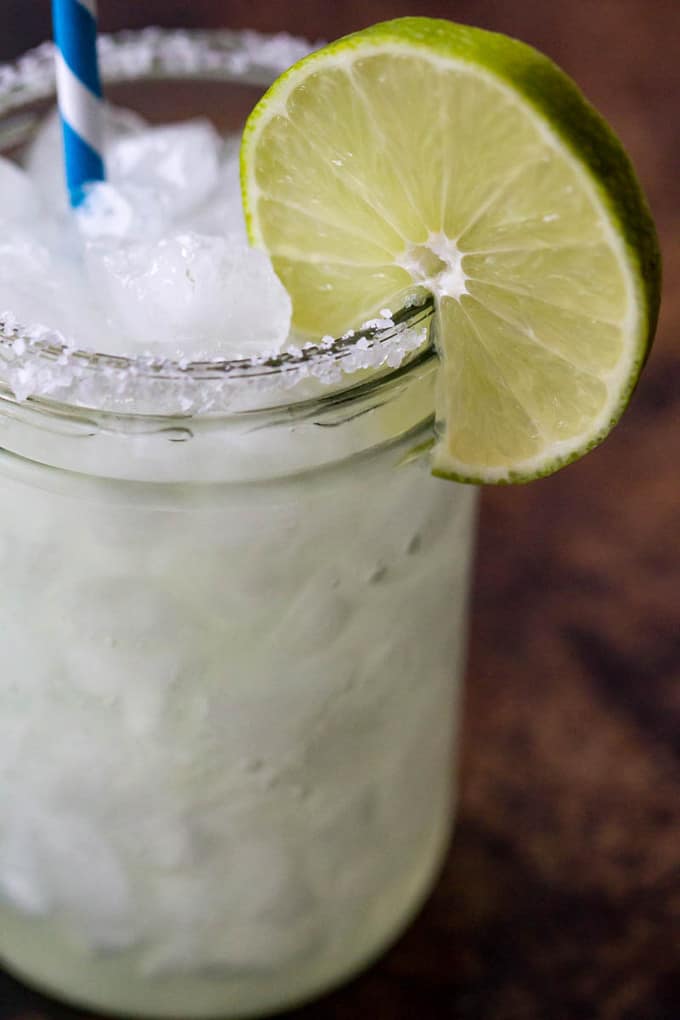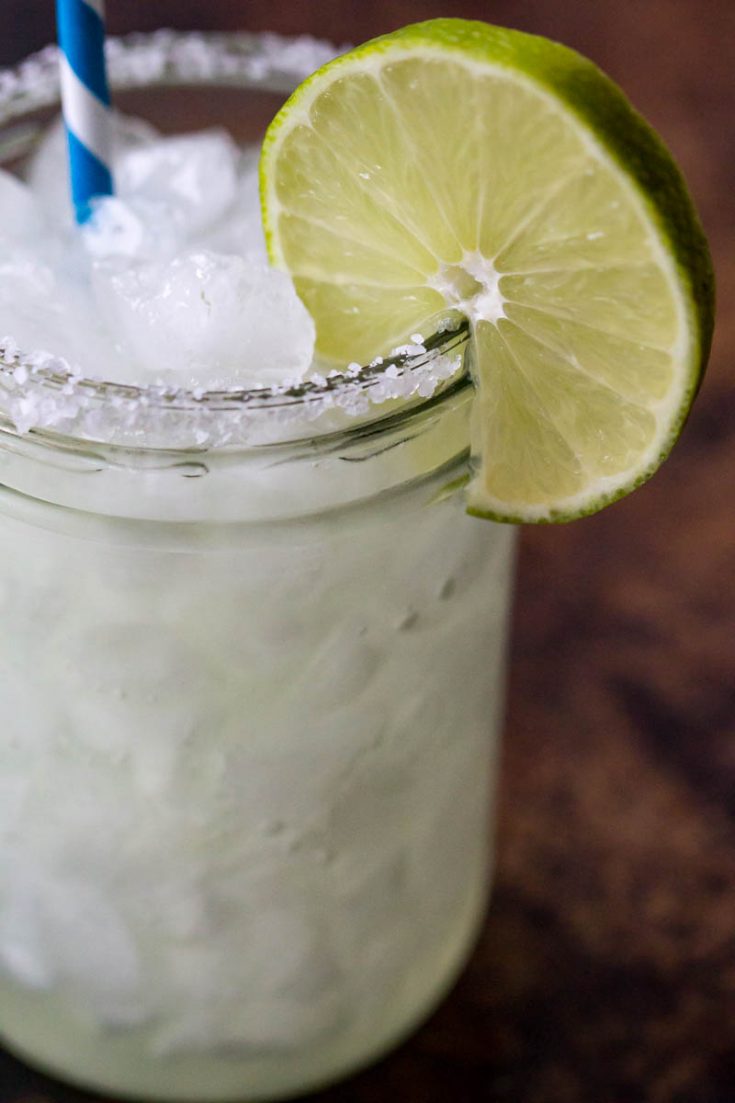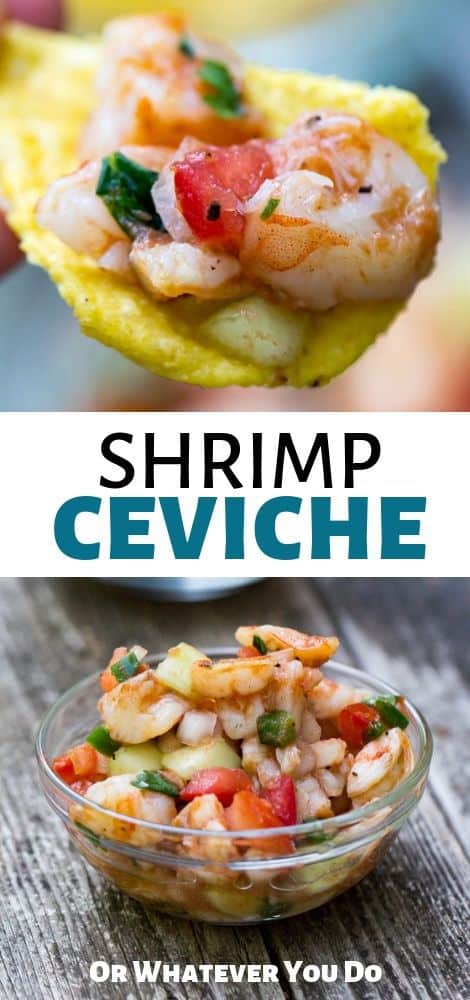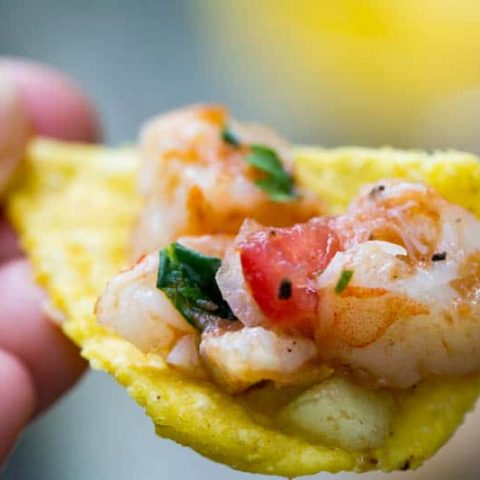 Traeger Grilled Shrimp Ceviche
Total Time:
1 hour
35 minutes
This fresh shrimp ceviche is grilled on the Traeger before being marinated in a classic ceviche mix with lime, onions, tomato, cucumber, and cilantro.
Ingredients
2 pounds raw shrimp, 16-20 count, peeled and deveined
3 medium tomatoes, cored and diced
1 large cucumber, skinned and diced
1 medium onion, finely diced
3 jalapeño peppers, seeded with membranes removed, and diced
1/2 cup chopped cilantro
1 tablespoon salt
1 teaspoon black pepper
1 1/2 teaspoons onion powder
1 1/2 teaspoons granulated garlic
1/4 cup clam juice
8 ounce can tomato sauce
1 teaspoon hot sauce
1 tablespoon olive oil
1/2 cup lime juice
Instructions
Preheat your grill to 450°, or as close as you can get it, according to factory directions.
Place the shrimp in a medium bowl and add 1 teaspoon of the salt, 1/2 teaspoon of the onion powder, 1/2 teaspoon of the granulated garlic, and 1 tablespoon olive oil and mix well.
Turn your grill on high, (450 degrees Fahrenheit) and place all your shrimp directly on the grill. Let cook for 4 minutes, flipping once after the first 2 minutes.
Pull the shrimp from the grill and let cool.
Use the time your shrimp is cooling to prep your remaining ingredients.
Use a large cutting board and a sharp knife to dice your tomatoes, onions, jalapeño peppers, and cucumbers into 1/4" pieces and place them in a large mixing bowl.
Chop your shrimp into 1/4" to 1/2" pieces and place into the bowl.
Add the rest of your ingredients, (lime juice, tomato sauce, clam juice, hot sauce, chopped cilantro, salt, pepper, granulated garlic, and onion powder) into the bowl and mix well.
Cover the bowl with plastic wrap and let chill in the refrigerator for 1-2 hours before serving with tortilla chips or on top of a tostada.
Notes
You can skip the grill if you would like and let the lime juice "cook" the shrimp, but we really enjoy the flavor that the wood-fired preparation adds to the final dish!
Recommended Products
As an Amazon Associate and member of other affiliate programs, I earn from qualifying purchases.
Nutrition Information:
Yield:

12
Serving Size:

1
Amount Per Serving:
Calories:

88
Total Fat:

2g
Saturated Fat:

0g
Trans Fat:

0g
Unsaturated Fat:

1g
Cholesterol:

95mg
Sodium:

1078mg
Carbohydrates:

6g
Fiber:

1g
Sugar:

3g
Protein:

11g
Nutrition data provided here is only an estimate. If you are tracking these things for medical purposes please consult an outside, trusted source. Thanks!