Get that perfectly cooked basmati rice each and every time with this Instant Pot Basmati Rice recipe below. No more mushy, over-cooked, or even under-cooked rice. The Instant Pot will take the guesswork out of when the rice is done, and you will have fluffy rice ready to serve up your family and friends.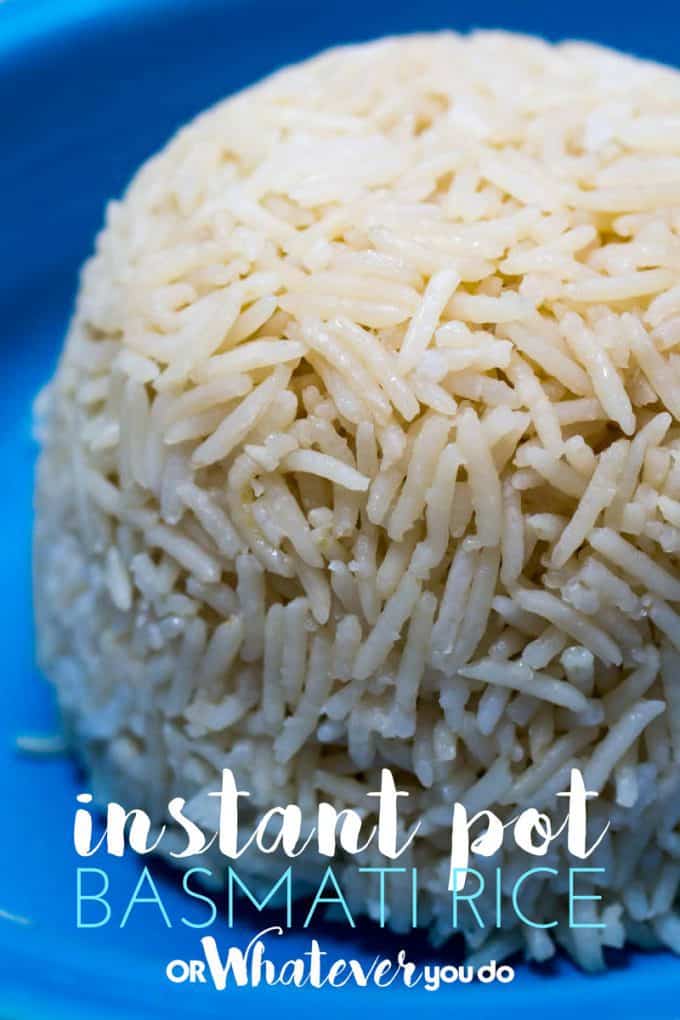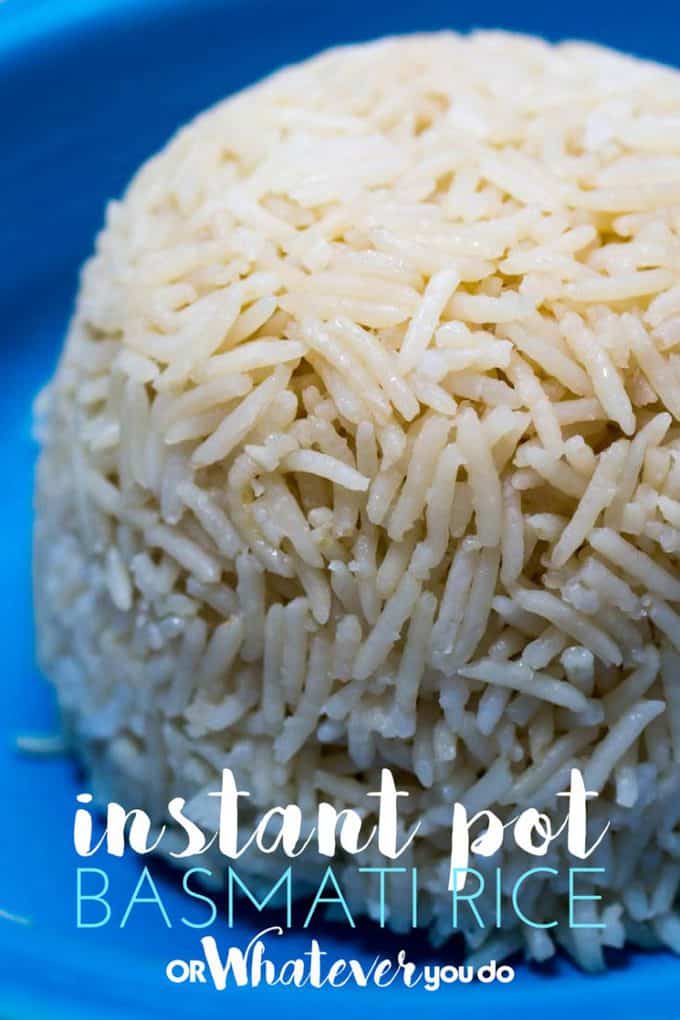 Pressure Cooker | Instant Pot Basmati Rice
Basmati rice offers you that nutty element that is great for serving as a side, mixing in soups, or pairing with your favorite cuisine.
So many households have an Instant Pot these days. The Instant Pot has taken the world by storm, and for good reason! I hopped on the electric pressure cooker bandwagon, and I have to say I am loving it as well. You can find my entire collection of Instant Pot Recipes here!
I especially love it for making rice because rice isn't really my forte. When I would cook my rice on the stovetop, I found that depending on the variety it would take forever to cook. I would either overcook or undercook often, and it would end in frustration quite almost always.
For a long time I relied on an old rice cooker that I picked up at a garage sale, but once I jumped on the Instant Pot train that one got sooooo retired.
With my pressure cooker, I just hit a few buttons, seal the lid, and let it do its magic. Just like that I have perfectly cooked rice every single time!
Just like with a slow cooker, the Instant Pot allows you to set and walk away. I love the fact that it can reduce cook times by up to 70%. That is something a busy mom can fall in love with, and fast.
Anything to allow me to cook wholesome and homemade meals for my family that reduces prep work (and clean up!) for me or time spent hovering over the stove is a BIG win. The Electric Pressure Cooker is a kitchen gadget that I can't get enough of these days.
What Should I Make With Basmati Rice?
I have all the suggestions. All of them. Here are a few!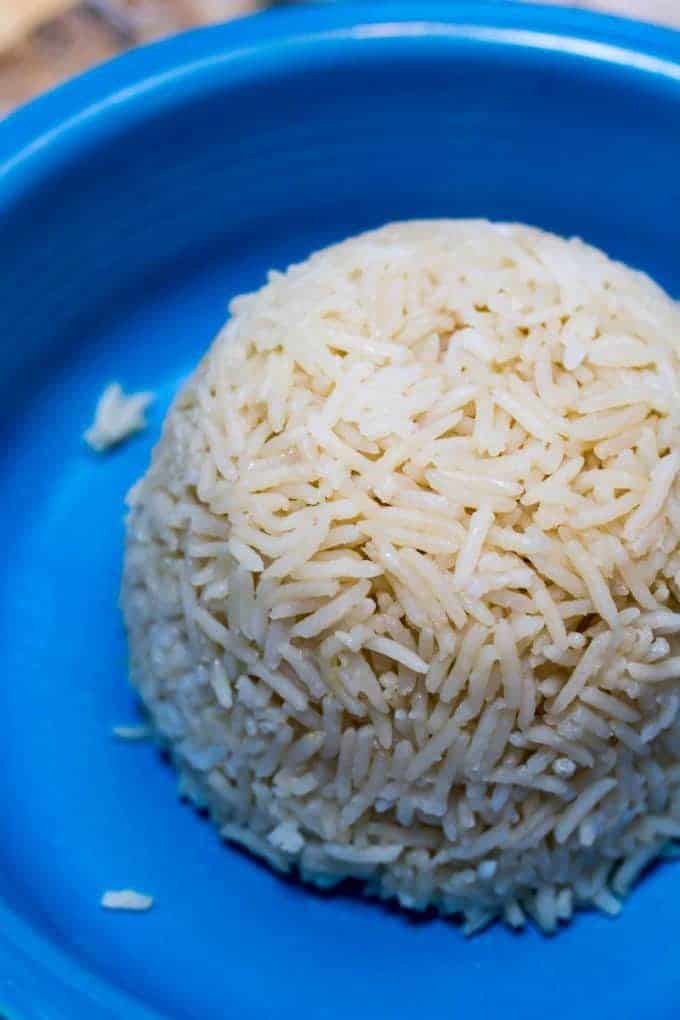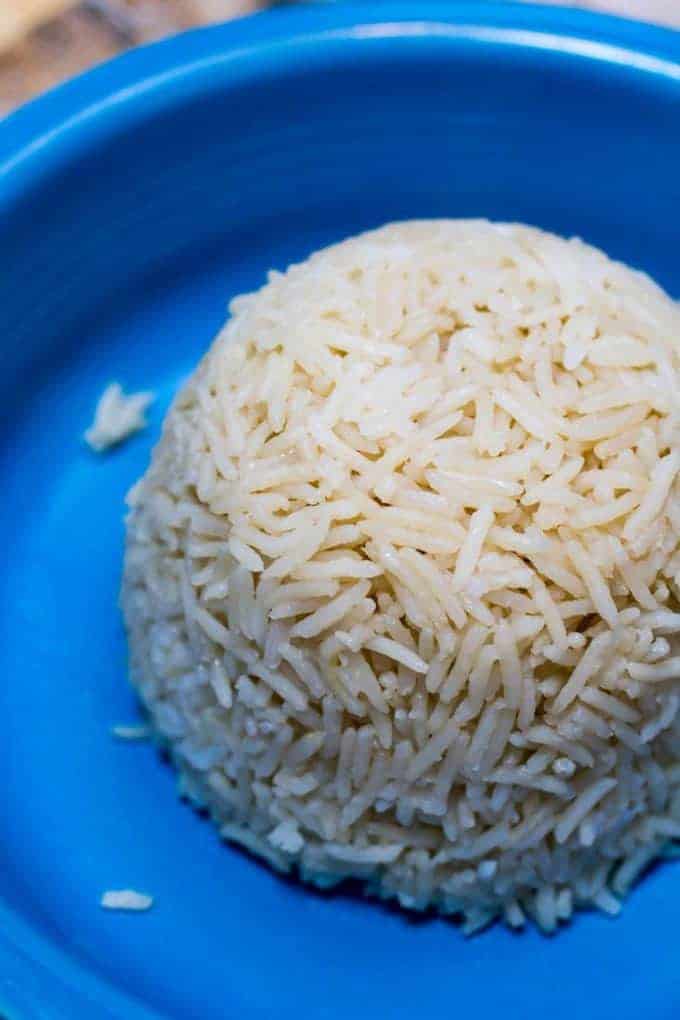 What Is Basmati Rice?
Basmati rice is long grain rice that offers a bit of a nutty flavor. This rice is often served with Indian style foods like butter chicken, curry, and more. I am not super into Indian food, so I don't cook it often, but I DO use basmati and jasmine pretty much interchangeably as a side for my various stir-fry dishes and all of the Asian-inspired meals I make.
It is gorgeous rice to make and is so much better than just plain white rice. The texture of this rice is soft and fluffy, and when you cook it using my method, it'll have just the right "bite" to it, and also
Also, Basmati rice offers a lower glycemic index compared to other varieties of rice. Basmati has an index of 52, while brown rice is 55, and white is at a whopping 79 glycemic index. I love that it is a great alternative and something to consider when you cook rice if that is a number that you pay attention to.
There are different brands of Basmati rice and I have played around with different brands to find the one that I like the best. I suggest giving a few brands a try and see if you have success with one more than another. I think just like any food, you can find variances in brands, and if you find one that you like the end results the best, stick with it and take note for the future.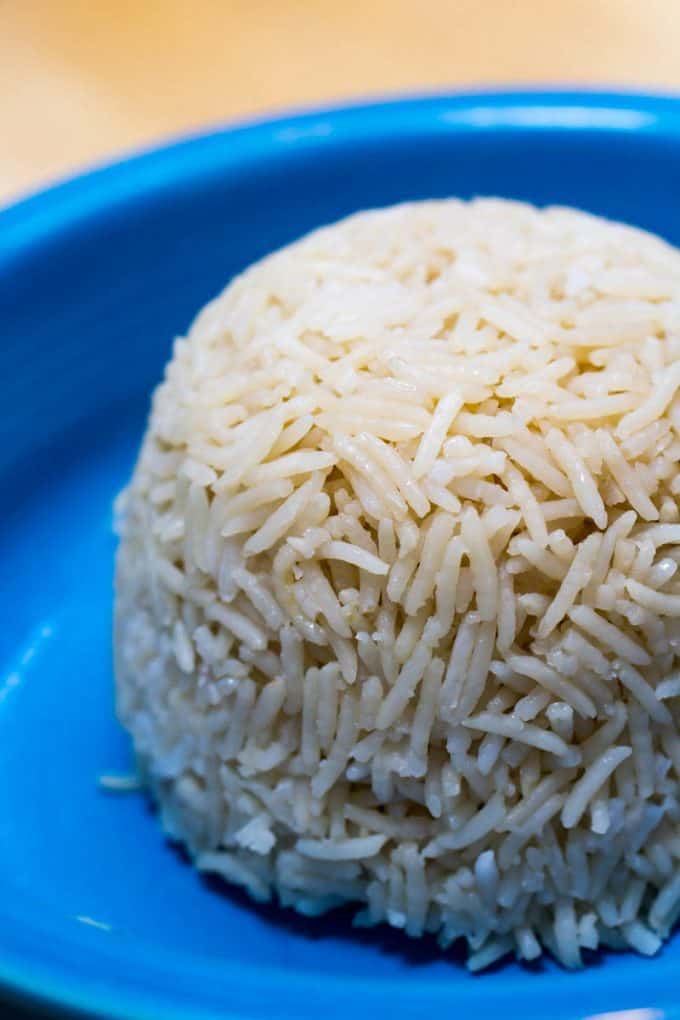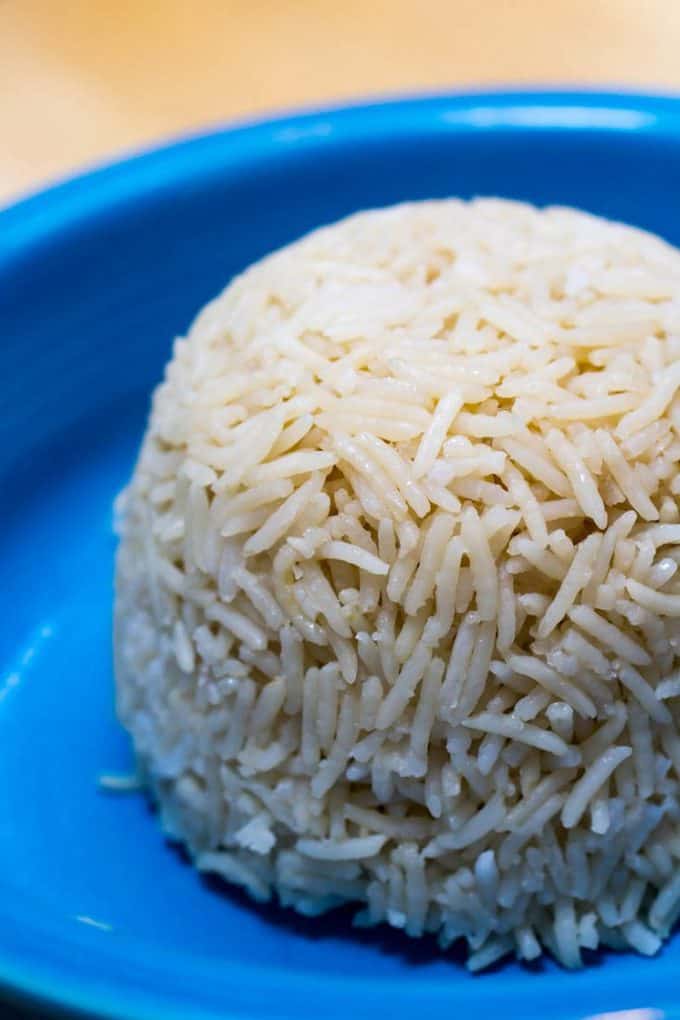 Do You Soak Before Cooking?
I recommend soaking your rice in cold water before you cook it. I generally soak for 15-30 minutes in cold water. When you soak your rice in water for a bit before you cook, you reduce some of the starch, which will allow the rice to be less sticky in the consistency.
It also the grains to help soak up some of the moisture so the rice can become more tender and cook better. You will find soaking your rice leaves you with less broken grains and a better texture with your finished product.
Once you are done soaking your rice, I always give it a good rinse in a colander. You want the water to run clear, so all the starches get washed off. Then add in fresh clean water for the cooking process.
If you actually prefer a more "sticky" rice as I do, you'll want to skip the rinse and just cook it as is. I like to eat my rice with chopsticks, and it is much easier to eat when it is a little sticky!
Keep Rice From Sticking To Your Pressure Cooker
If you find the rice sticks to the pot, swirling some oil all over the inside of your pressure cooker pot will help reduce the chance of rice sticking. Or if you have a cooking spray you can do a light spray all over the inside of the pot. I have found this tip to be very beneficial when it comes to Basmati rice.
Enjoy this simple way to cook Basmati rice in your Instant Pot! It is quick, easy and makes for a perfect side dish or pairing for your main dish. Happy cooking!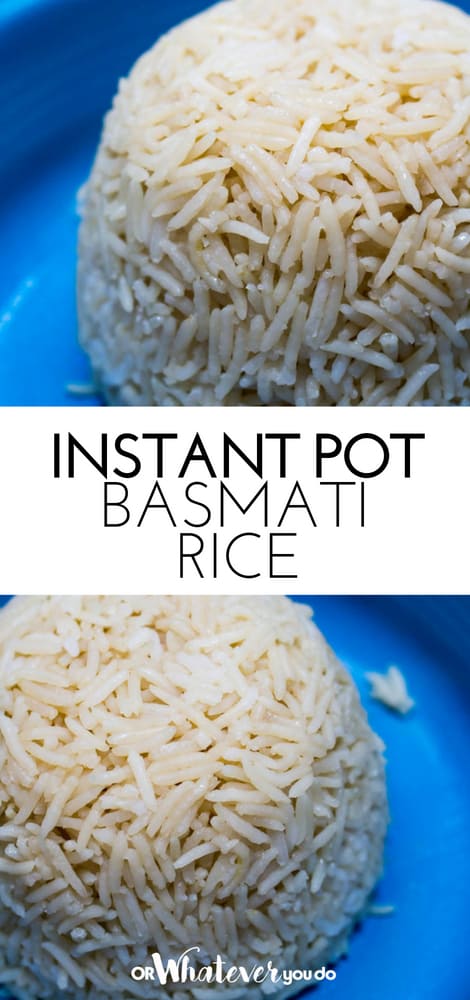 Yield: 8 servings
Instant Pot | Pressure Cooker Basmati Rice for Stir Fry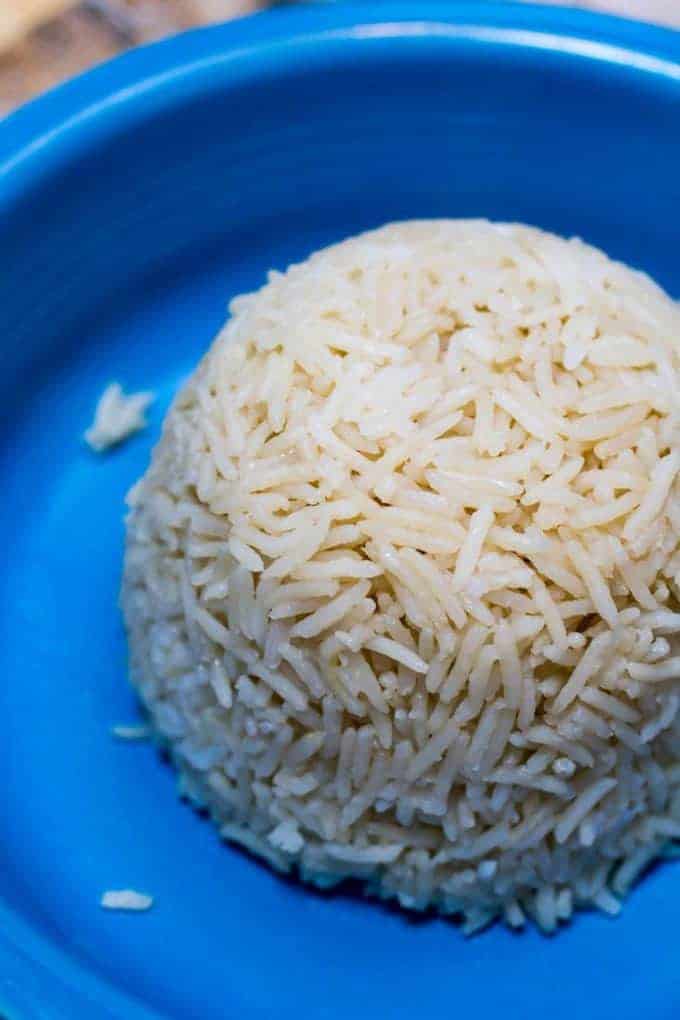 Simple Electric Pressure Cooker or Instant Pot Basmati Rice is easy, delicious, and makes your dinner side dish a snap. This version has an Asian flair and pairs perfectly with stir-fry!
Natural Pressure Release
15 minutes
Ingredients
3 cups basmati rice
3 cups chicken or beef broth (depending on what main dish you are serving this with)
2 tablespoons soy sauce
1/2 teaspoon sesame oil
2 tablespoons seasoned rice vinegar, reserved until the very end
Instructions
Place the rice, broth, soy sauce, and sesame oil into your Instant Pot. Shut and seal the lid.
Turn on manual high-pressure for 3 minutes.
Let the pressure naturally release for 15 minutes, and then carefully vent any remaining pressure and open when it is safe to do so.
Stir in the seasoned rice vinegar to the cooked rice and serve immediately.
Nutrition Information:
Serving Size:
1 cup
Amount Per Serving:
Calories:

191
Total Fat:

0g
Saturated Fat:

0g
Trans Fat:

0g
Unsaturated Fat:

0g
Cholesterol:

0mg
Sodium:

0mg
Carbohydrates:

0g
Fiber:

0g
Sugar:

0g
Protein:

0g