Traeger Smoked Buffalo Shrimp is going to be on repeat on your menu for many years to come. This tender shrimp has just a touch of smoke, and the super flavorful buffalo sauce makes it a spicy wonder.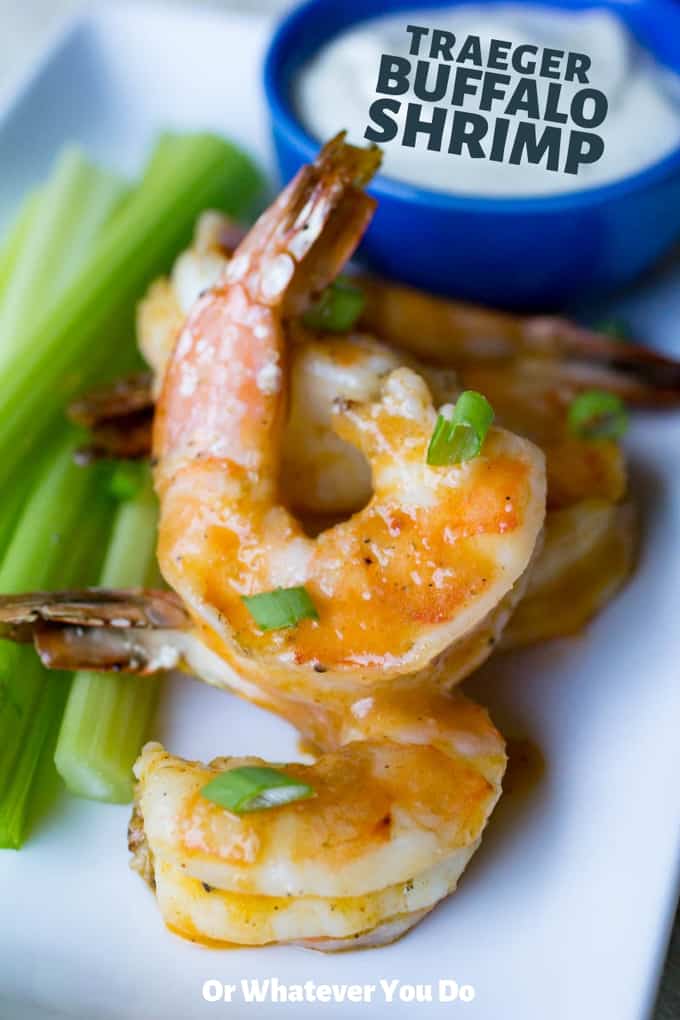 Traeger Smoked Buffalo Shrimp
If you have never had a good shrimp on the barbecue, you've never really had shrimp. Adding some smoke to the mix takes it up so many levels that words cannot adequately describe it. Which is unfortunate, I guess, since this is a food blog FULL of words describing food. Lucky for you I'm a much better cook than I am a writer, so carry on.
More Traeger Seafood Recipes here!
If I haven't tempted you enough yet with my Traeger Smoked Teriyaki Shrimp, let this little number be exhibit "b" in my quest to make you cook your soon-to-be favorite food and forthcoming most popular dish at the next BBQ potluck.
Not only is it totally delicious, but it is fast and easy too.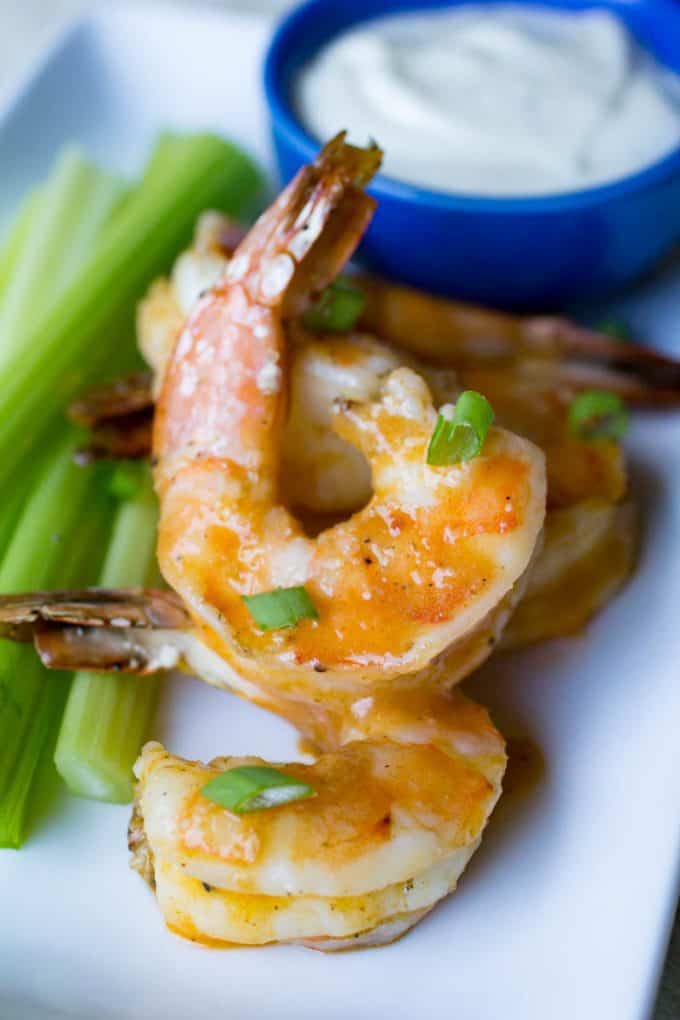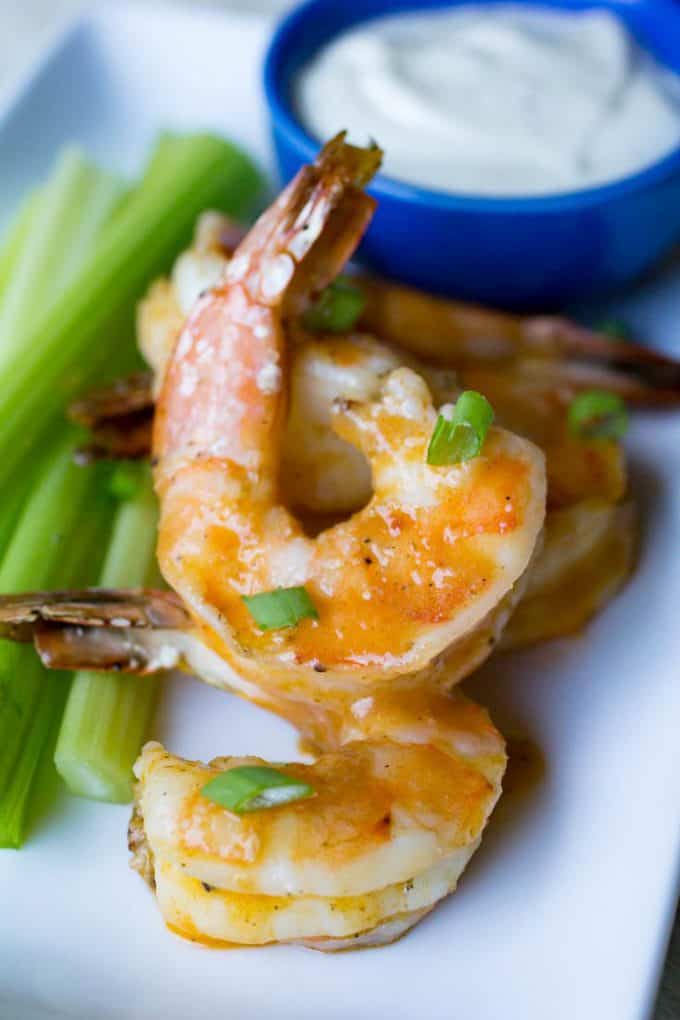 I recommend serving this with my Bloody Mary Buffalo Sauce, but really any Buffalo sauce will do even if I AM partial to my version.
I just discovered my love of spicy things, and Buffalo sauce, in particular, this past year. Back in the day, Taco Bell's mild sauce was like TOO MUCH for me. Now I'm into the mid-range spicy stuff. I'll venture all the way up to HOT sauce at Taco Bell these days.
Oh, and gimmie ALL of the Sriracha. That is a fad that will forever be in style on my menu and in my heart.
See my whole Traeger recipe collection here!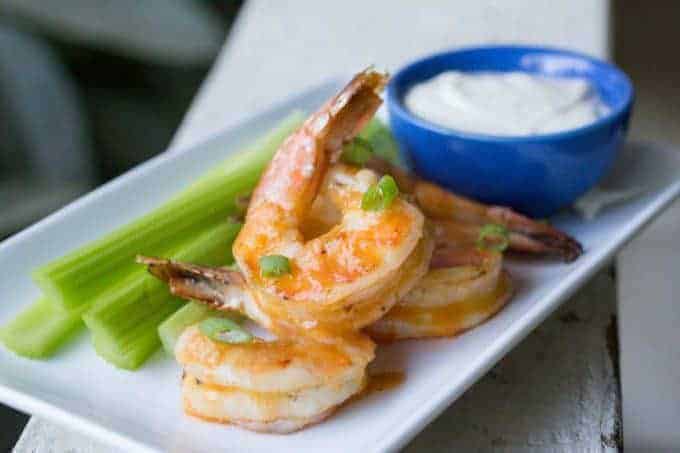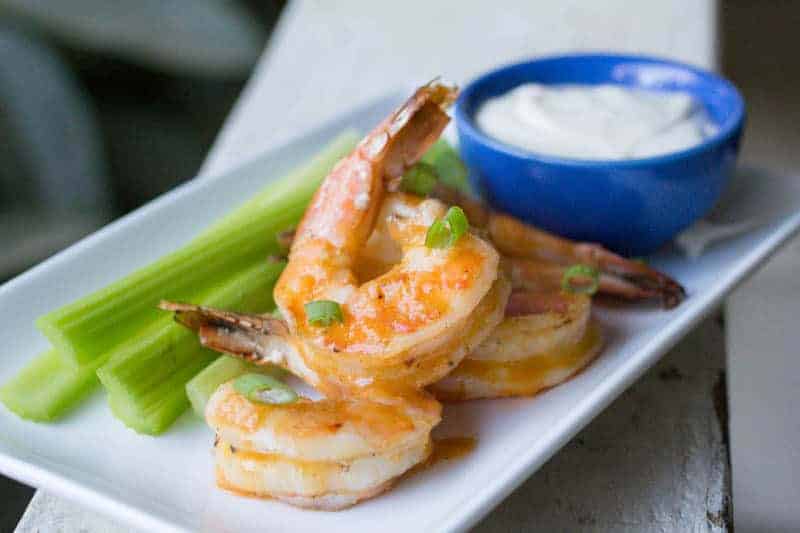 How To Smoke Shrimp
Smoking shrimp is really easy, and it only takes about 5 minutes for the shrimp to cook completely. These have just a *touch* of smoke on them.
If you don't have a Traeger yet, you could totally pull this off with a gas grill with a little wood chip mod for just a hint of that flavor.
Make sure your grill is preheated before adding your shrimp. You want a fast and even cook. Don't be impatient!
Skewering the shrimp makes them much easier to add to the grill, remove from the grill, and flip. It isn't necessary, but it IS helpful!
Have a light hand when seasoning the shrimp. You want a little on there, but don't overpower them. That fresh clean flavor is what you want to shine through, even after the buffalo sauce is on.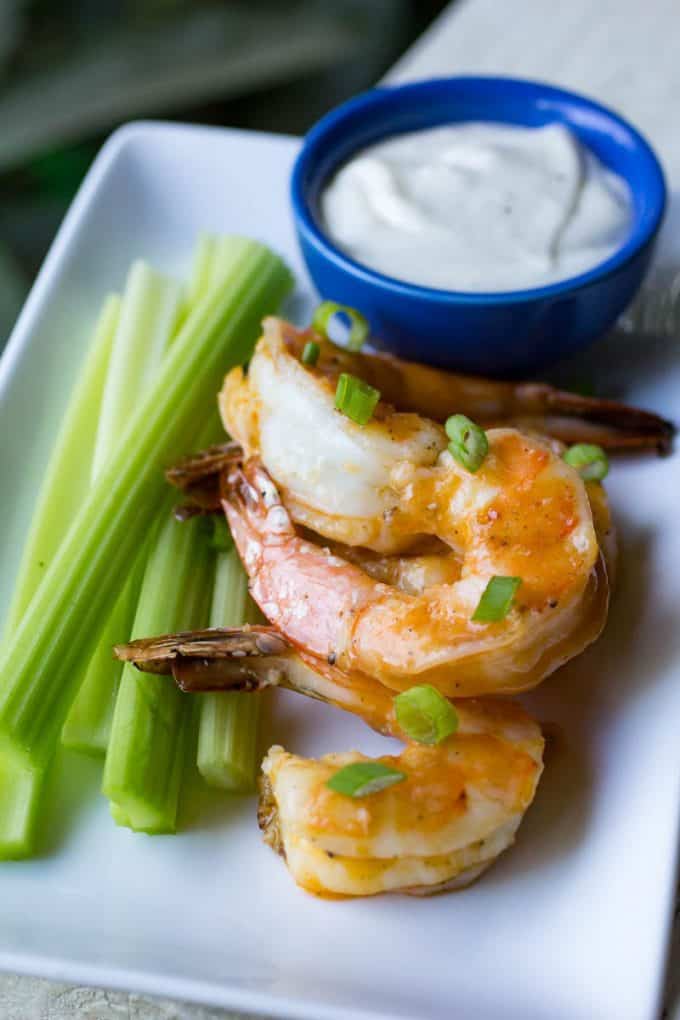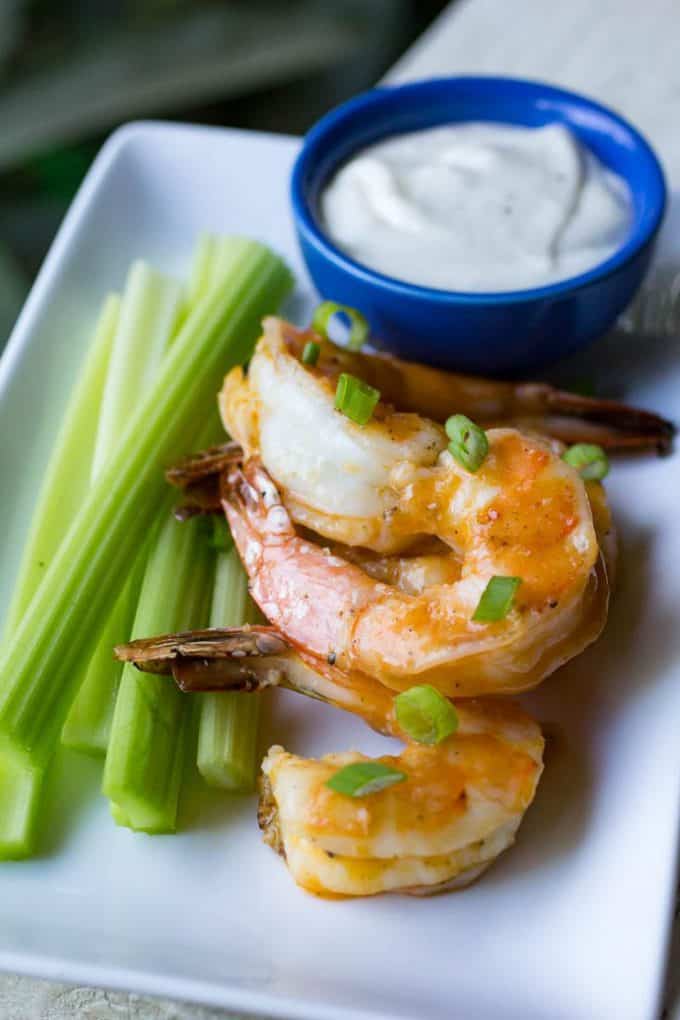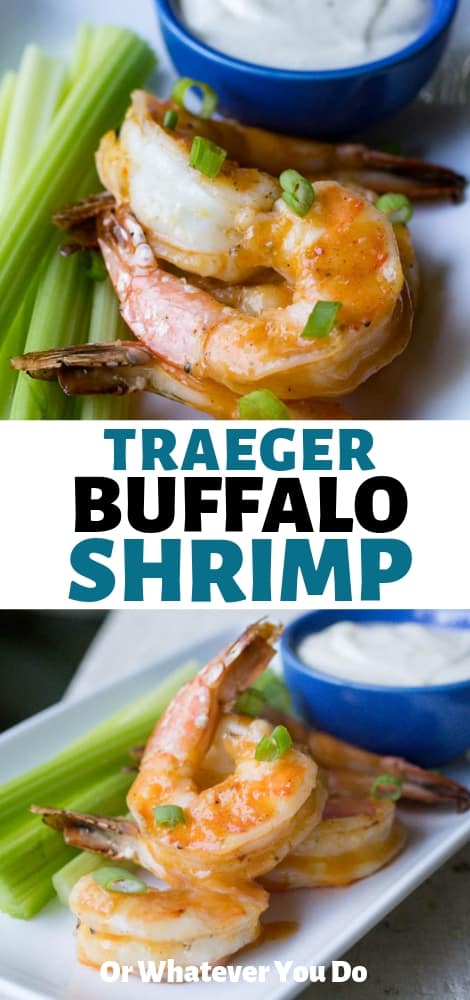 Yield: 6 people
Traeger Smoked Buffalo Shrimp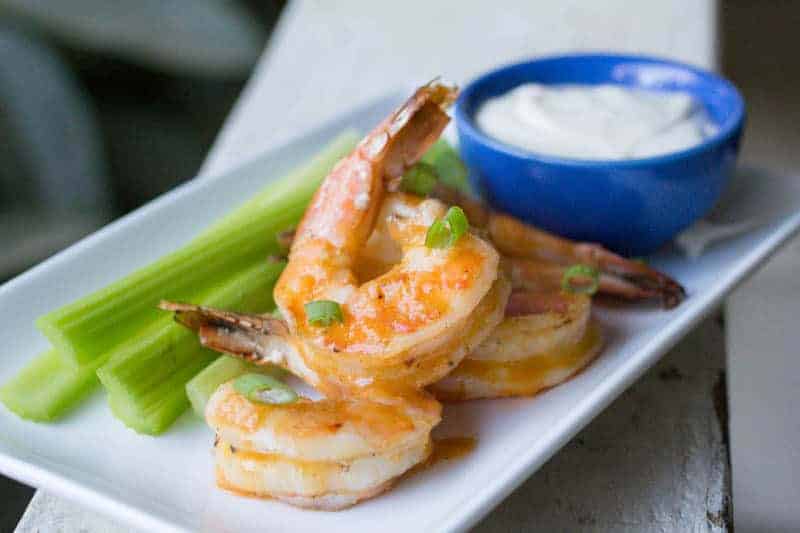 This easy shrimp recipe cooks in a flash, and if soon going to be your favorite BBQ meal.
Ingredients
1 pound (with tails) whole raw shrimp, peeled & deveined
1/2 teaspoon salt
1/4 teaspoon garlic powder
1/4 teaspoon onion powder
1/2 cup buffalo sauce
Instructions
Preheat your grill to high heat, or at least 450 degrees.
Lightly coat the peeled shrimp with the salt, garlic powder, and onion powder.
Place on preheated grill, and cook for 2-3 minutes per side.
Remove from grill, and toss in buffalo sauce.
Serve with blue cheese, celery, and lots of napkins.
Recommended Products
As an Amazon Associate and member of other affiliate programs, I earn from qualifying purchases.
Nutrition Information:
Yield:
6
Serving Size:
1
Amount Per Serving:
Calories:

57
Total Fat:

1g
Saturated Fat:

0g
Trans Fat:

0g
Unsaturated Fat:

0g
Cholesterol:

95mg
Sodium:

1106mg
Carbohydrates:

1g
Fiber:

0g
Sugar:

0g
Protein:

10g