This Blackstone Togarashi Zucchini is stir-fried, lightly salted, and covered with spicy Japanese seasoning that I've fallen in love with. Any excuse to get this stuff into my mouth, I'll gladly take, but these spiralized zoodles ended up being pretty close to perfect.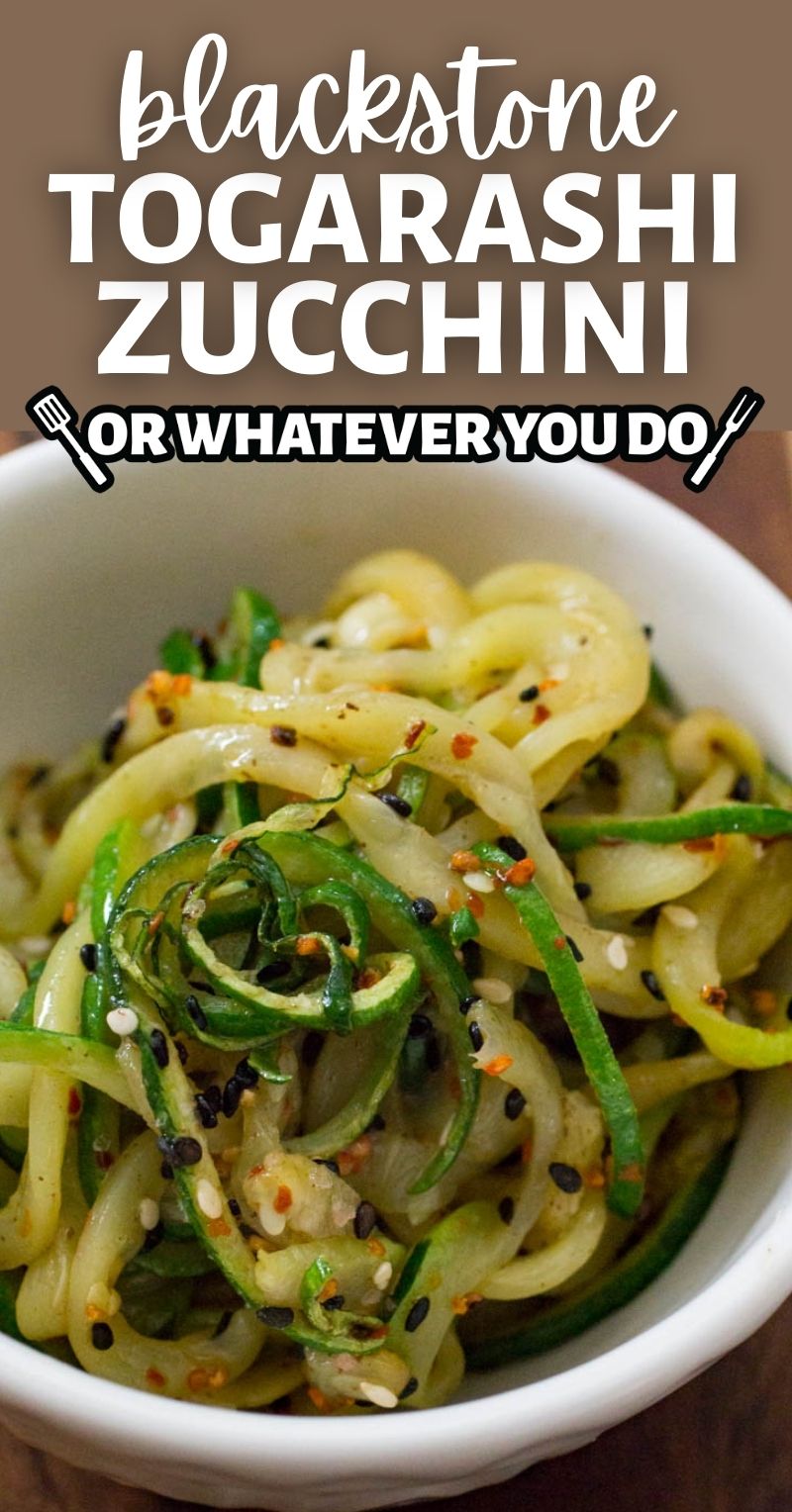 Blackstone Togarashi Zucchini
I had my first experience with Togarashi by accident. Heather and I were in Sacramento at a conference and ended up getting a pretty amazing reservation at Mikuni Sushi. In the private corner booth, we ordered our weight in sushi (which was amazing), but the real winner of the night was their edamame. Specifically their Freaky Edamame. It was very freaky. Freaking amazing.
So amazing that I didn't even get a picture of it.
What I did get a few weeks later though is ask if they could share what was on those little heavenly nuggets, AND THEY DID. You are going to want it for allllll the things.
I highly recommend this Togarashi from The Spice Guy. The flavor is amazing, and the price is RIGHT. I'm a huge fan of all of their products, so drop by and pick some things out!
I use an electric spiralizer to do this that attaches to my blender, but you can use a hand-powered one as well. You can even skip the spiralizing completely and just cut these into rounds to stir-fry as well. They'll still be amazing.
More Blackstone Recipes here!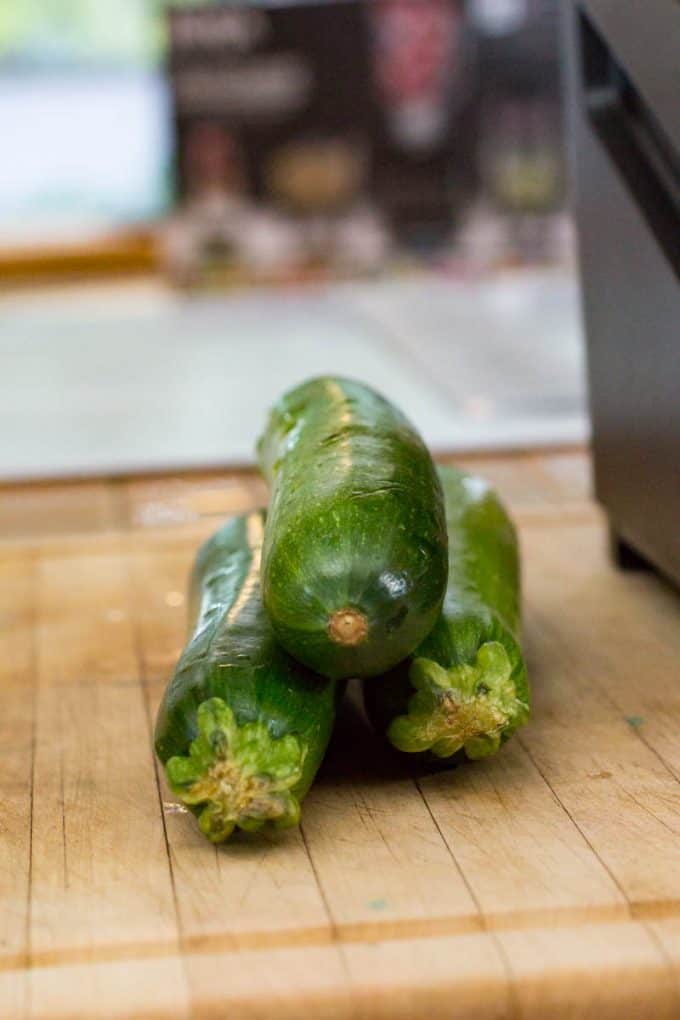 What's the best fat to use to saute the zucchini?
For this recipe, I stir-fried the zucchini on our Blackstone in some canola oil and bacon grease.
Yeah, you read that right.
You can sub all oil if you don't have any bacon grease laying around, but I really like the flavor that the bacon grease provides. They don't get greasy at all, and OMG the bacon flavor is there in the background making everything so much better.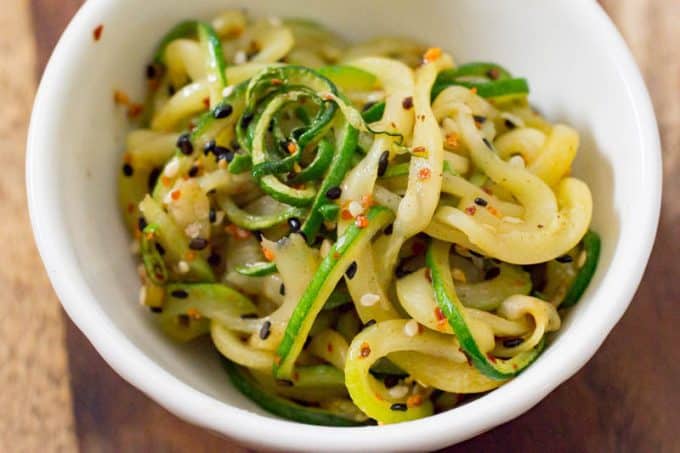 Next time I make this I'd like to do a mixture of veggies and toss in some onions, red peppers, and carrots. Colorful, beautiful, and flavorful!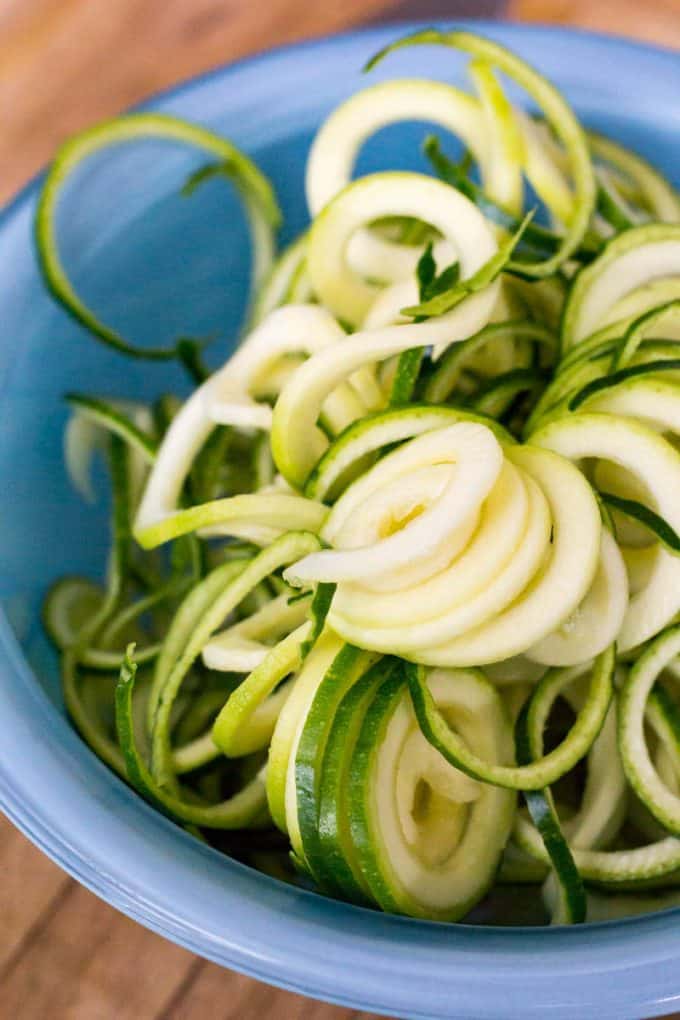 Do you spiralize?
Are you on the zoodle bandwagon yet? I was really hesitant. I LOVE me some pasta. Nothing can really sub for it, so the idea of vegetables instead of pasta just wasn't really appealing to me.
What I'm finding though is that I really like using these in their own right. No in place of pasta, but in addition to it, or in applications where I wouldn't want to use pasta at all.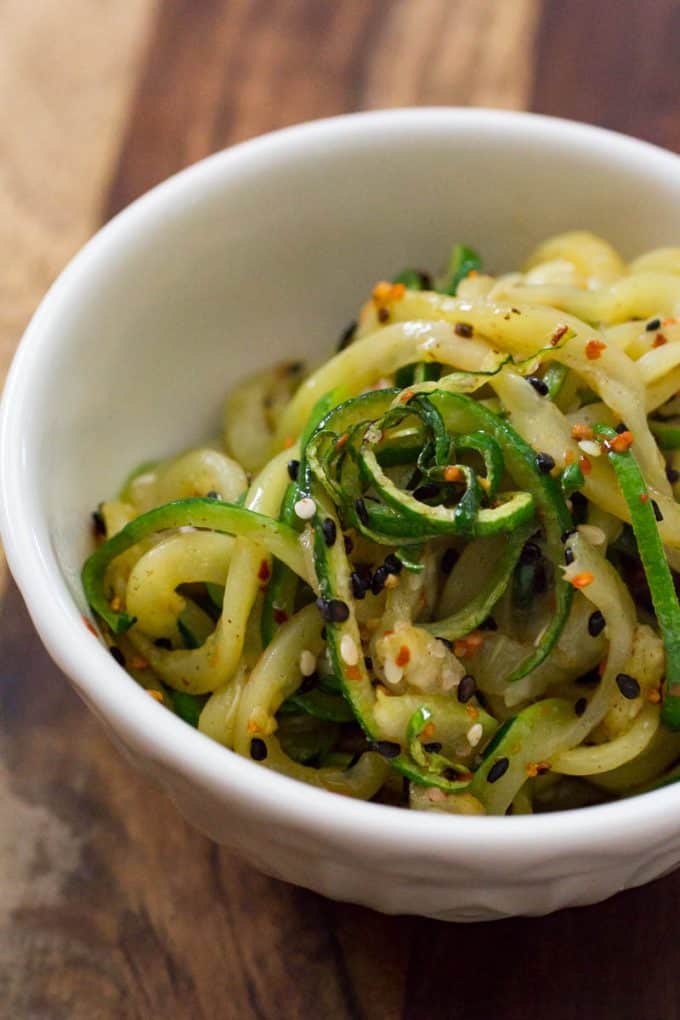 What else can you make with a Blackstone?
Our Blackstone griddle is one of our most-used cooking devices. I like it, especially for stir-fry. You could easily make a meal with these stir-fried zoodles by doing some of our Blackstone Steak Yakisoba, some Pork Fried Rice, and some Blackstone Kimchi Gyoza.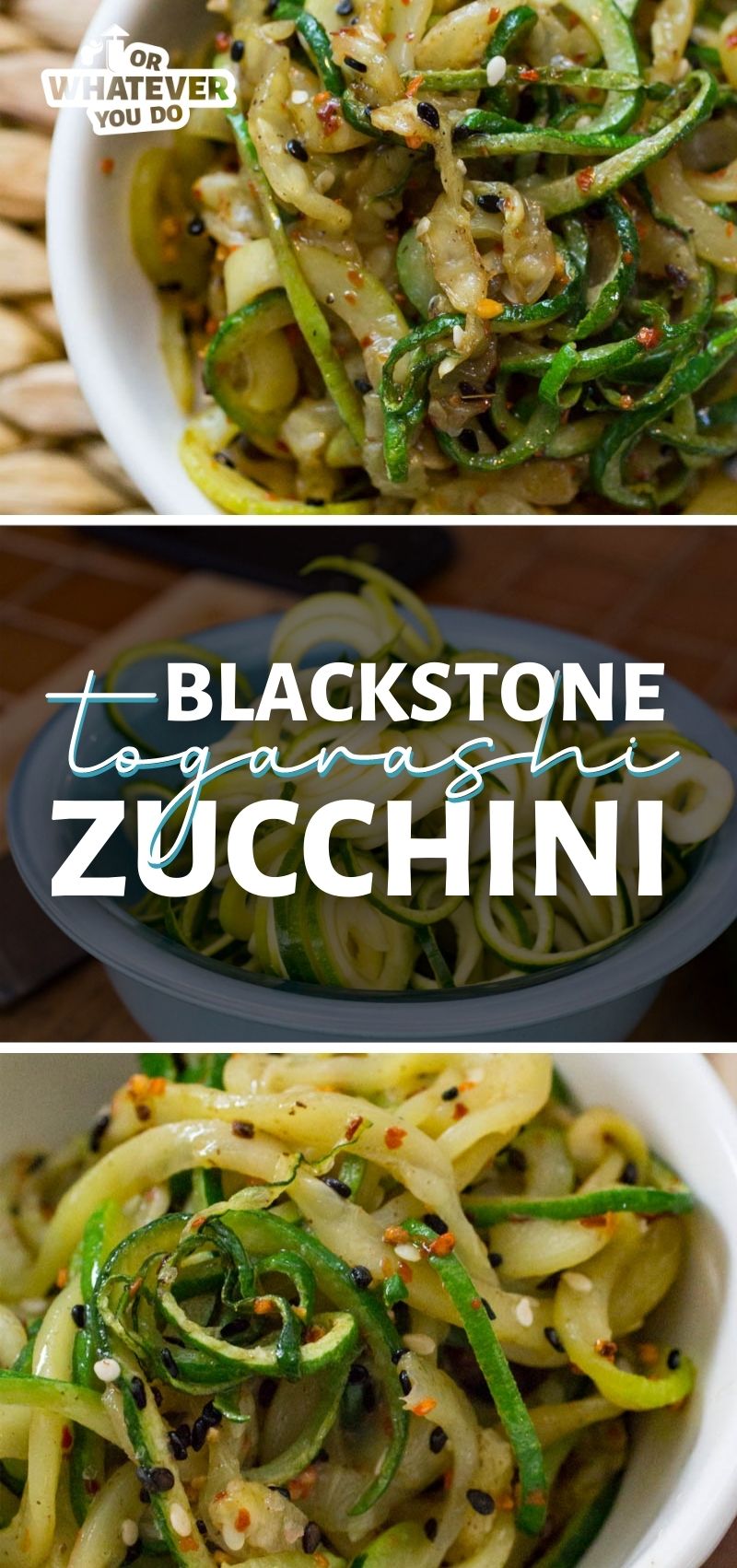 Yield: 6 servings
Blackstone Togarashi Zucchini Noodles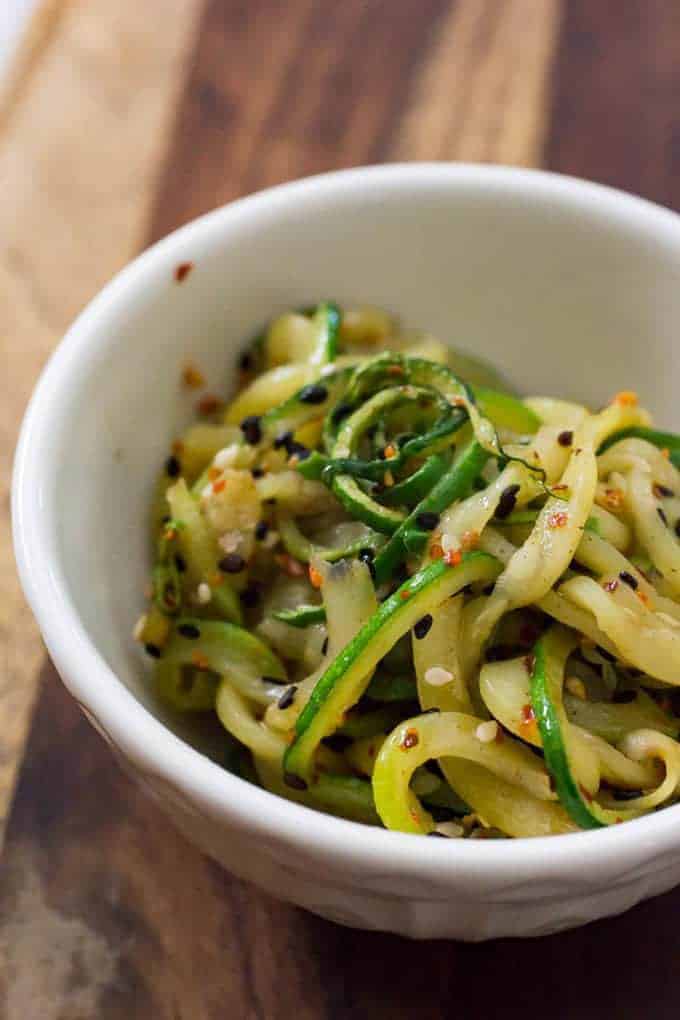 This togarashi zucchini is spiralized and stir-fried on the Blackstone griddle. A great side dish, or as a part of a yakisoba or stir-fried dinner.
Ingredients
2 medium zucchini
1/2 cup canola oil
1/4 cup bacon grease
1-2 tablespoons togarashi seasoning
Instructions
Preheat your Blackstone to medium heat for 10-15 minutes.
Place some bacon grease and oil down on the griddle.
Spiralize the zucchini following the package directions, quickly cook it in the hot oil for 2 minutes. Sprinkle with half the togarashi. Remove to a plate covered with paper towels. Sprinkle with the remaining togarashi seasoning. Taste, and add salt if necssary.
Recommended Products
As an Amazon Associate and member of other affiliate programs, I earn from qualifying purchases.
Nutrition Information:
Yield:
6
Amount Per Serving:
Calories:

200
Sodium:

5mg
Carbohydrates:

2g
Sugar:

1g