Camarones a la Diabla, also known as Shrimp Diablo or Mexican Deviled Shrimp, is a recipe that marries shrimp and a spicy Mexican tomato and chili sauce for an easy dinner option, any night of the week.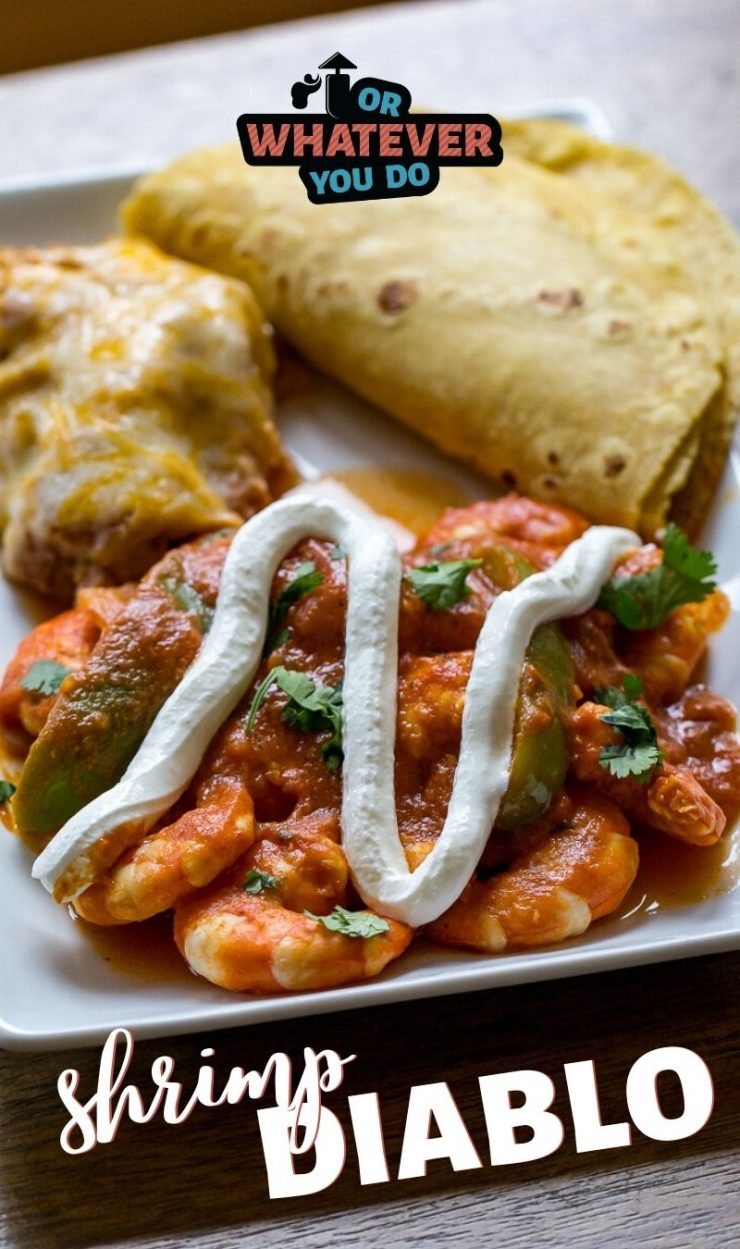 Camarones a la Diabla
This fiery shrimp recipe cooks on the stovetop, typically, but if you are one of my fellow pellet grill nuts you'll be glad to know this is also a great recipe to cook on your pellet grill in a sturdy grill-safe pan.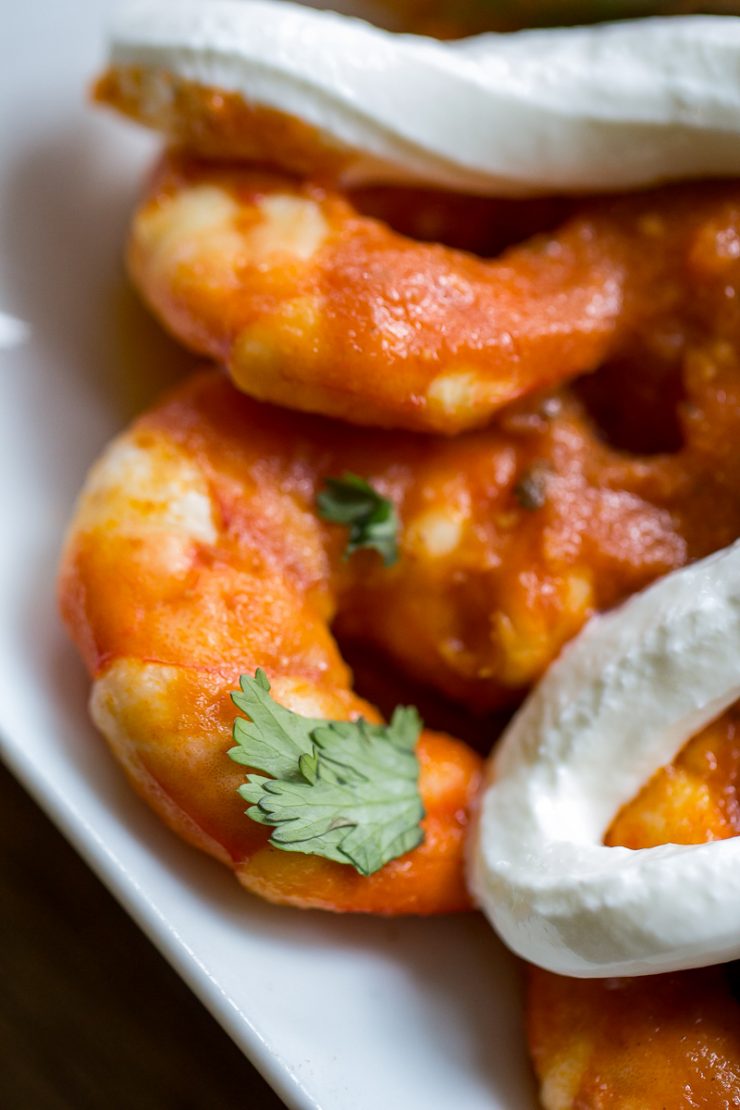 Spicy Shrimp Diablo Recipe
Using two types of El Pato tomato sauce adds a wonderful sauce to these shrimp and makes the dish like something you might have to explore the jungles of the Yucatan to find. It has a bit of heat, but not too much.
You know when the kids don't complain about it being too spicy then it is pretty mild.
The sauce is lovely so you might want to serve it with something that can soak it up like a big helping of my Mexican style rice.
You can use any size shrimp you have handy. Depending on the size of the shrimp, you can even choose shrimp with shells. I prefer to remove the shells when I'm going to be serving shrimp NOT as a hand-held appetizer, but there are arguments for the other way too.
If you have access, this would be a great recipe to use with those fresh Spot Prawns that are in season in the Pacific Northwest around this time of year!
Serve with soft tortillas and roll the shrimp up then use any leftover tortillas to mop up the sauce like bread.
Check out our OWYD shop!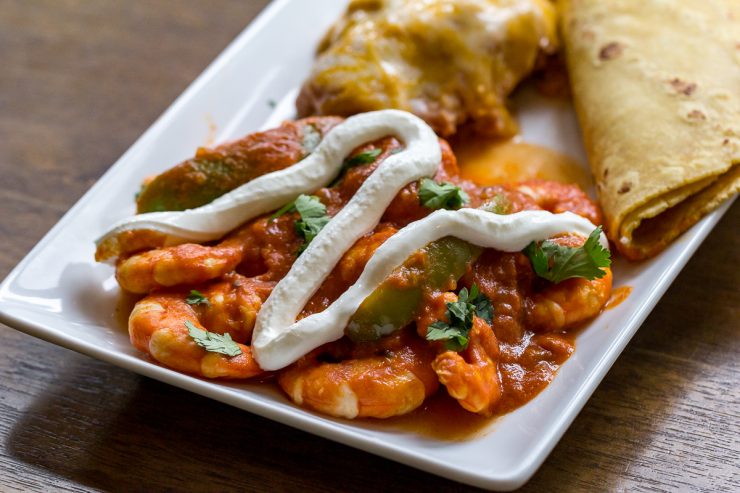 El Pato canned sauces
This post isn't sponsored, but you'd think it was by the level of my El Pato love. I just use this brand all the time, and it is one of the best tasting canned and ready-to-use Mexican sauces available, in my opinion.
El Pato makes a few types of canned sauces and you will find them on the Hispanic food aisle. I have definitely seen it at Target, but it is widely available. The yellow can has tomato sauce, which comes both regular and spicy. The green can is jalapeno sauce, while the red can is tomato and jalapeno together.
If you can't find any El Pato, then you should probably look up a made-from-scratch Diablo recipe because this one is not it, and I haven't tested this with other brands of Mexican tomato sauce (yet) so I can't give you any recommendations there.
More South-of-the-Border Inspired Recipes here!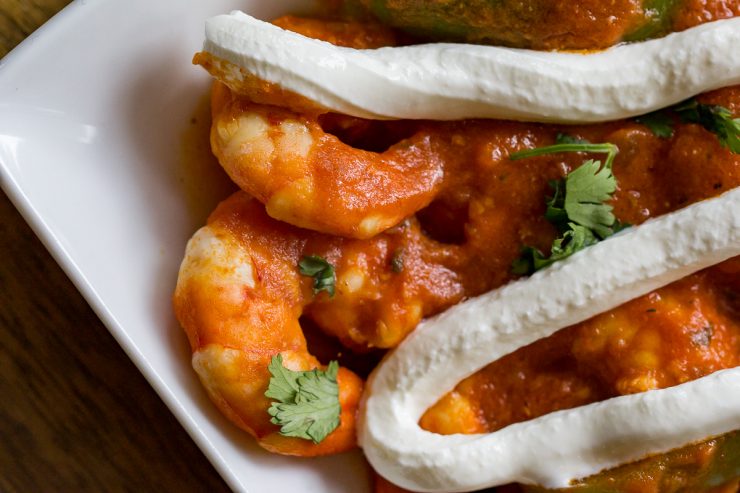 Best size shrimp for Shrimp Diablo
Any size of shrimp works, so you may want to base the shrimp choice on how you plan to serve the dish.
For example, if you want to do this as an appetizer, then go with medium-sized shrimp. However, if you plan on serving as an entre then the bigger the better. If you want it to serve as a stew poured over rice, then the smaller ones work just fine.
In terms of fresh, frozen, in shell, or out, all can be adapted to the recipe, no problem. I'd just recommend staying away from the pre-cooked shrimp. In general, you shouldn't re-cook those if you like shrimp because it tends to wreck the texture.
Follow me on Instagram!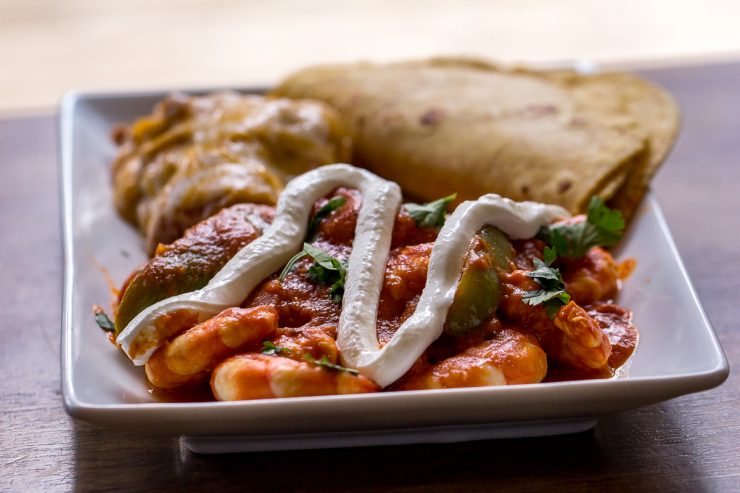 How to devein shrimp
If you choose to use fresh shrimp, then they may or may not be already deveined. If you have to clean and devein the shrimp first, no problem.
Run a thin blade or the tip of kitchen shears up the back of the shrimp. Let the blade dig in just deep enough to get under the "vein" which is the intestine. You run the blade up the length of the shrimp and it will plow the dark "vein" out.
A little rinse and it is gone. This move also makes it easy to pull the shells off, and it slightly butterflies the shrimp.
If you hate cleaning shrimp, then most of the frozen packages will have already cleaned shrimp so you don't even have to think twice about it.
More SHRIMP RECIPES here!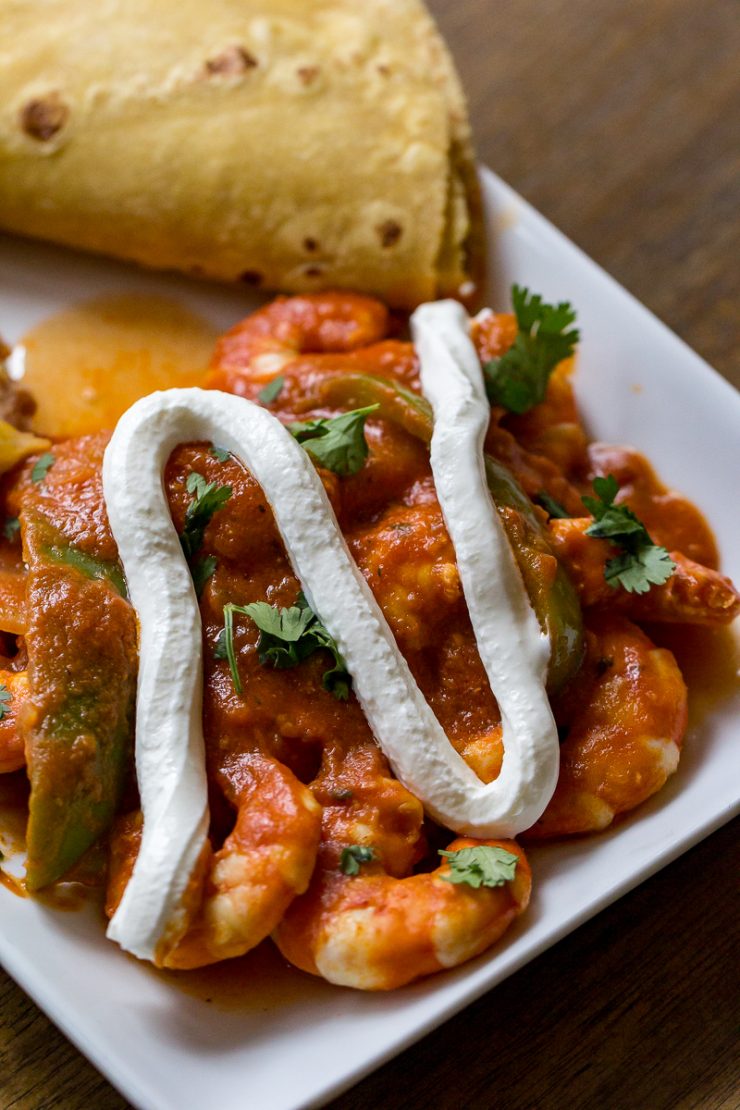 More Mexican-inspired dishes to check out
Mexican food satisfies as feel-good comfort food but doesn't skimp on big bold flavor. It doesn't require any extraordinary effort to make well, just good old fashioned simple techniques.
Here are a few dishes I think you'll love: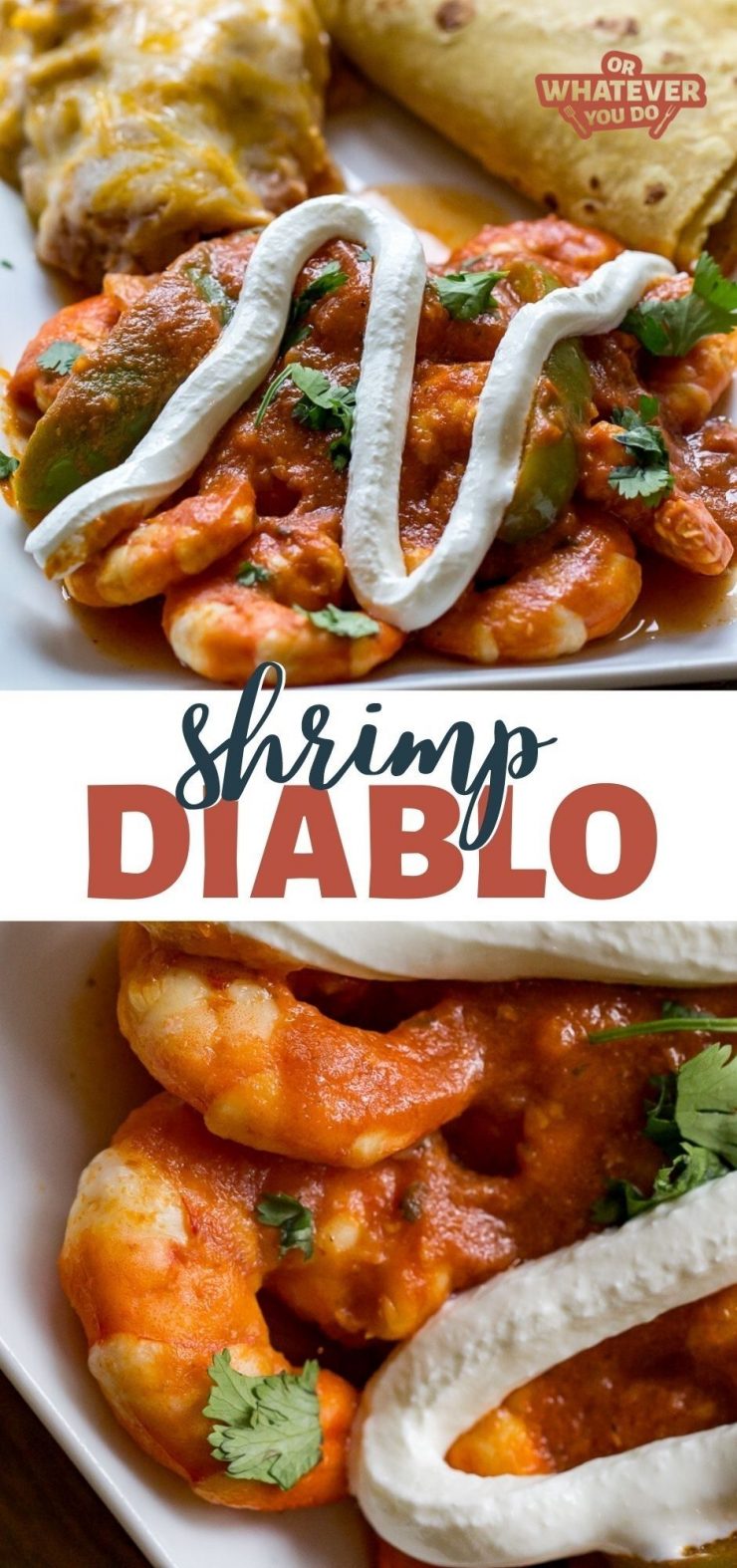 Yield: 8 servings
Shrimp Diablo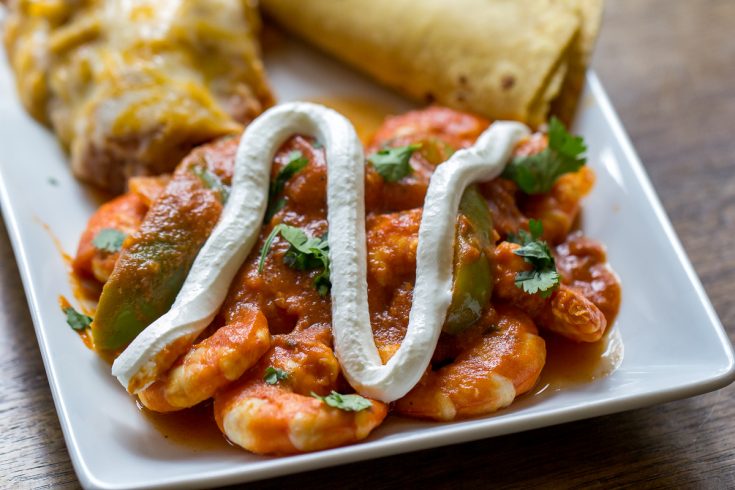 This easy Shrimp Diablo recipe uses El Pato tomato sauces as both the marinade and cooking sauce, and it makes this dish both simple and delicious.
Ingredients
2 pounds shrimp (shells and tails removed)
1 7.75 ounce can El Pato Green
1 7.75 ounce can El Pato Yellow
1 green pepper, sliced
1 medium yellow onion, chopped
1 jalapeno, seeded and sliced (optional)
Instructions
Marinate the shrimp and vegetables in the El Pato Green and Yellow sauce overnight.
Cook the sauce and the shrimp together over medium heat on your stovetop, or in a grill-safe pan on your pellet grill at 350°.
Simmer until the shrimp are cooked, which takes about 5 minutes once the mixture is hot.
Remove from heat and serve with tortillas and all of your favorite taco fixings.
Notes
If you like things extra spicy, add a teaspoon of your favorite hot sauce to the marinade.
Recommended Products
As an Amazon Associate and member of other affiliate programs, I earn from qualifying purchases.
Nutrition Information:
Yield:
6
Serving Size:
1
Amount Per Serving:
Calories:

180
Total Fat:

3g
Saturated Fat:

1g
Trans Fat:

0g
Unsaturated Fat:

1g
Cholesterol:

319mg
Sodium:

1432mg
Carbohydrates:

2g
Fiber:

0g
Sugar:

0g
Protein:

34g
Nutrition data provided here is only an estimate.