Savor the sweetness of summer with our Grilled Pineapple recipe, an irresistible blend of tropical notes and warming spices. This dish features fresh pineapple slices, caramelized on the Traeger grill, and coated with a delicious glaze of melted butter, brown sugar, and Fireball. A hint of lime juice adds a zesty twist, balancing all the rich, smoky flavors. Perfect for BBQ lovers and fruit enthusiasts alike, this recipe is a surefire way to elevate your next meal.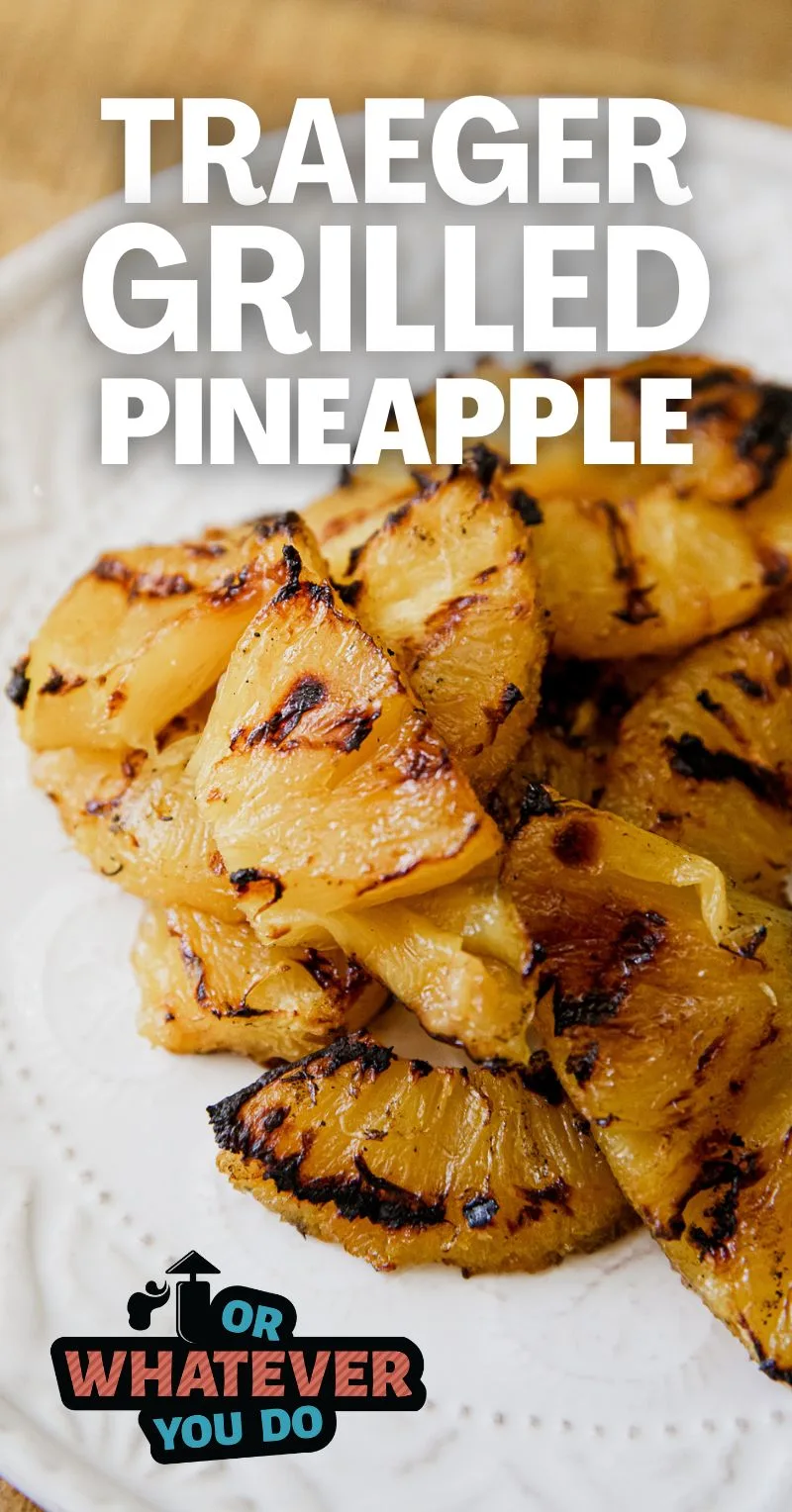 Traeger Grilled Pineapple Recipe
One of my very favorit recipes of the summer, our Grilled Pineapple recipe is a pefect fusion of tropical flavors and invigorating spices. This dish highlights the natural sweetness of fresh, ripe pineapple and it is amplified by the heat of the grill and the kick from the Fireball whiskey.
The secret ingredient of this recipe is definitley the Fireball, a cinnamon-flavored whisky. This fiery addition creates a beautiful contrast to the sweetness of the pineapple and the richness of the butter, creating a whole experience that you won't get without that little extra kick.
A little lime adds a citrusy element does not just add a refreshing twist but also perfectly balances the smoky and sweet flavors.
Our easy Grilled Pineapple recipe is more than just a sweet indulgence, too. It is a versatile treat that can be used in various ways. Pair it with grilled meats for a unique BBQ experience, or use it as a topping for desserts like ice cream and creme brulee for a tropical twist. This recipe is a good example of the endless possibilities of pellet grilling, a little invitation for you to step out of your comfort zone and explore a little.
Get all of my Traeger Recipes here!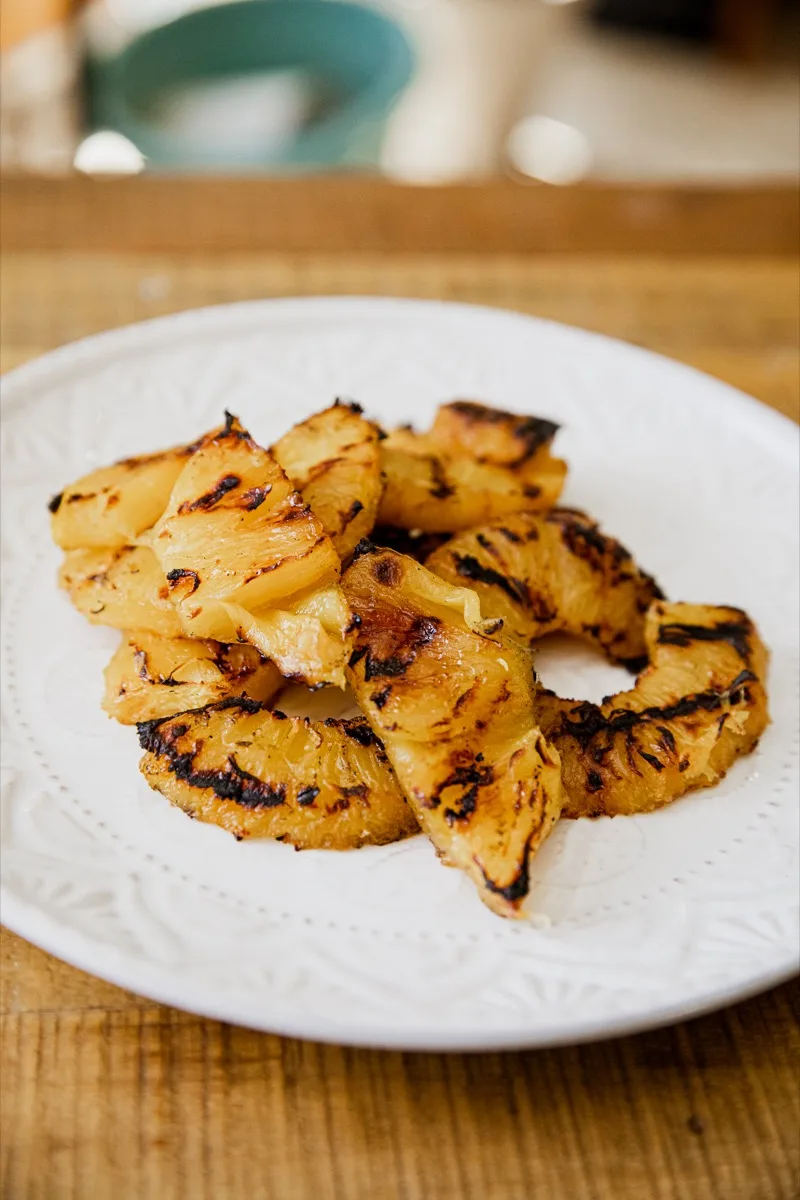 Grilled Pineapple shopping list
Wondering if you have to hit the store? Here's the list of items you'll need to make this recipe. For specific amounts, please refer to the printable recipe card at the bottom of the post.
Fresh pineapple
Brown sugar
Fireball Whiskey*
Salted butter
Lime
Get 75+ of my favorite Traeger Recipes here!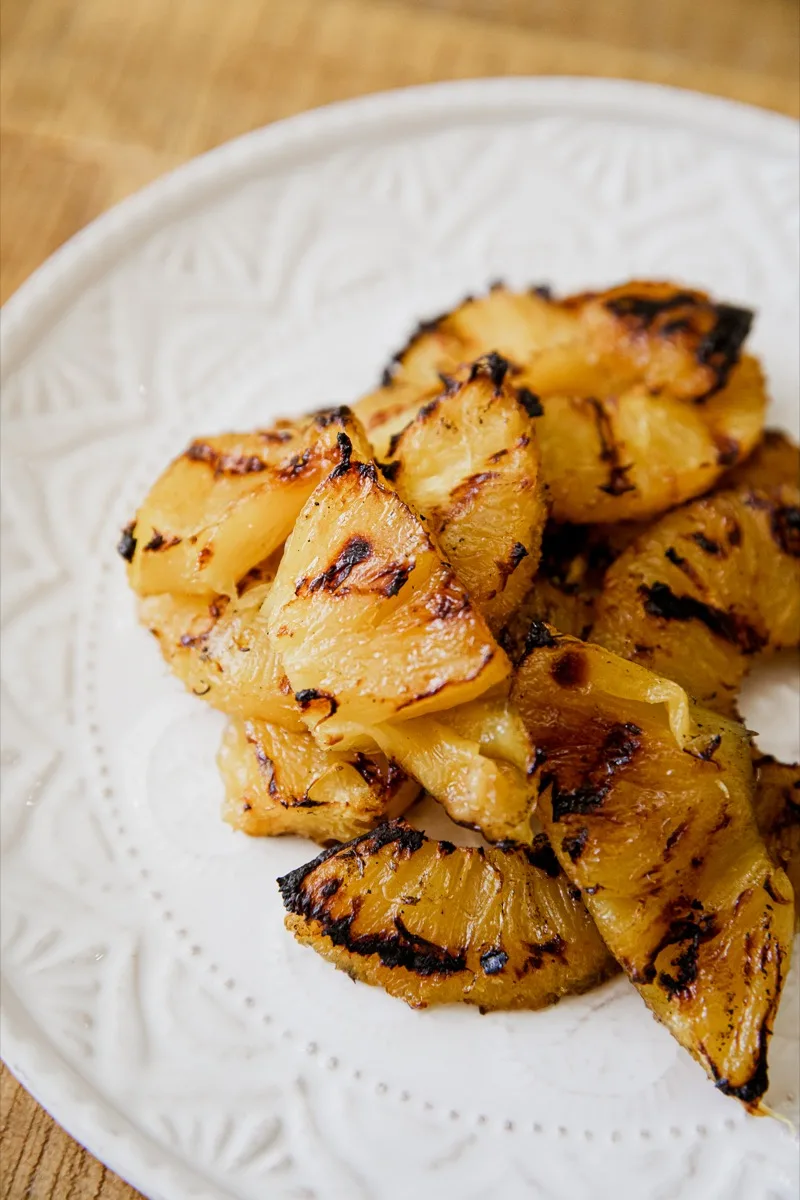 How to make Traeger Grilled Pineapple
This is just the overview so you can see what you're actually getting into here. When you are cooking, you'll want to use the full recipe at the bottom of the page.
Prep
Make the glaze and simmer on the stovetop for 5 minutes. Put the pan into an ice bath to quickly cool the mixture.
While it is cooling, core and slice your pineapple and place it into a large freezer baggie.
Add the glaze to the baggie and gently toss to combine and let soak for an hour.
Preheat
Fire up the grill and preheat to 450°F.
Grill
Remove the pineapple from the glaze, but reserve the glaze. Grill the pineapple for a couple of minutes per side and get some good grill marks.
Enjoy
Let cool for a few minutes before enjoying! Use any remaining glaze to drizzle over the pineapple or over some ice cream.
25+ Great Traeger Recipes For Beginners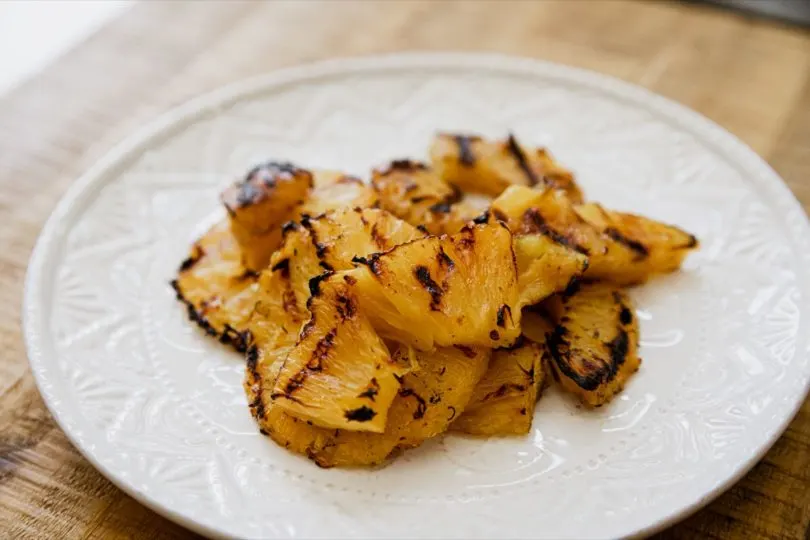 Easy Grilled Pineapple FAQ
Can this dish be made in advance?
Yup! You can make this dish a day or two in advance, but I wouldn't go longer than that. Fresh pineapple doesn't last all that long in the fridge, so take advantage of it while it is at its peak!
What's the best way to store leftovers?
We keep these leftovers in an airtight storage container in the fridge for 2-3 days, max.
Are there any recommended substitutions or additions?
Sure! You can omit the Fireball if you have people that don't consume alcohol. I include suggestions for substitutions below in the recipe card. You can also add some extra cinnamon if you like that extra kick.
Try our Homeamde BBQ Sauce!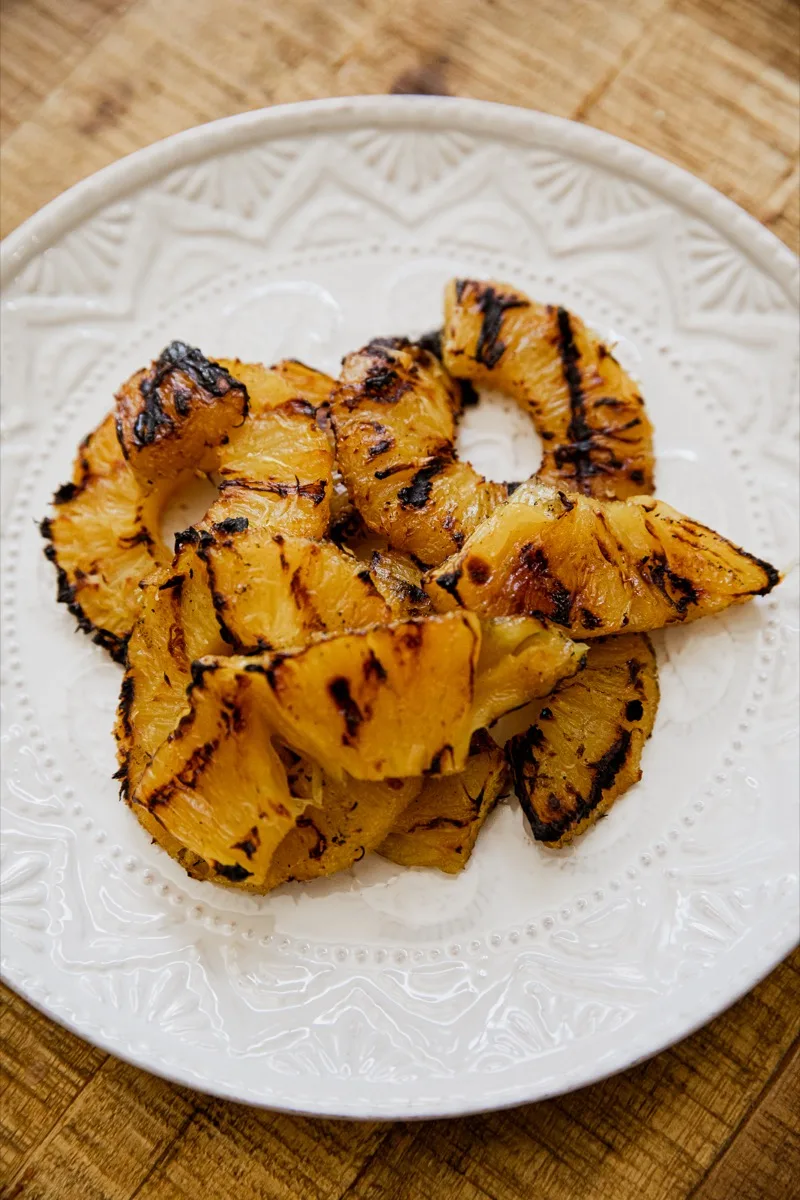 More Great Recipes To Enjoy!
There's so much more to love here on Or Whatever You Do! Check out some of these hidden gems, below.
Pineapple Recipes
Love pineapple as much as we do? Check out these awesome recipes that incorporate one of my very favorite fruits!
Great Appetizers For A Party
My favorite thing about a party is the FOOD, and appetizers are the best part. Bring on the finger foods, and pass the dips. We've got some great party foods for you to try!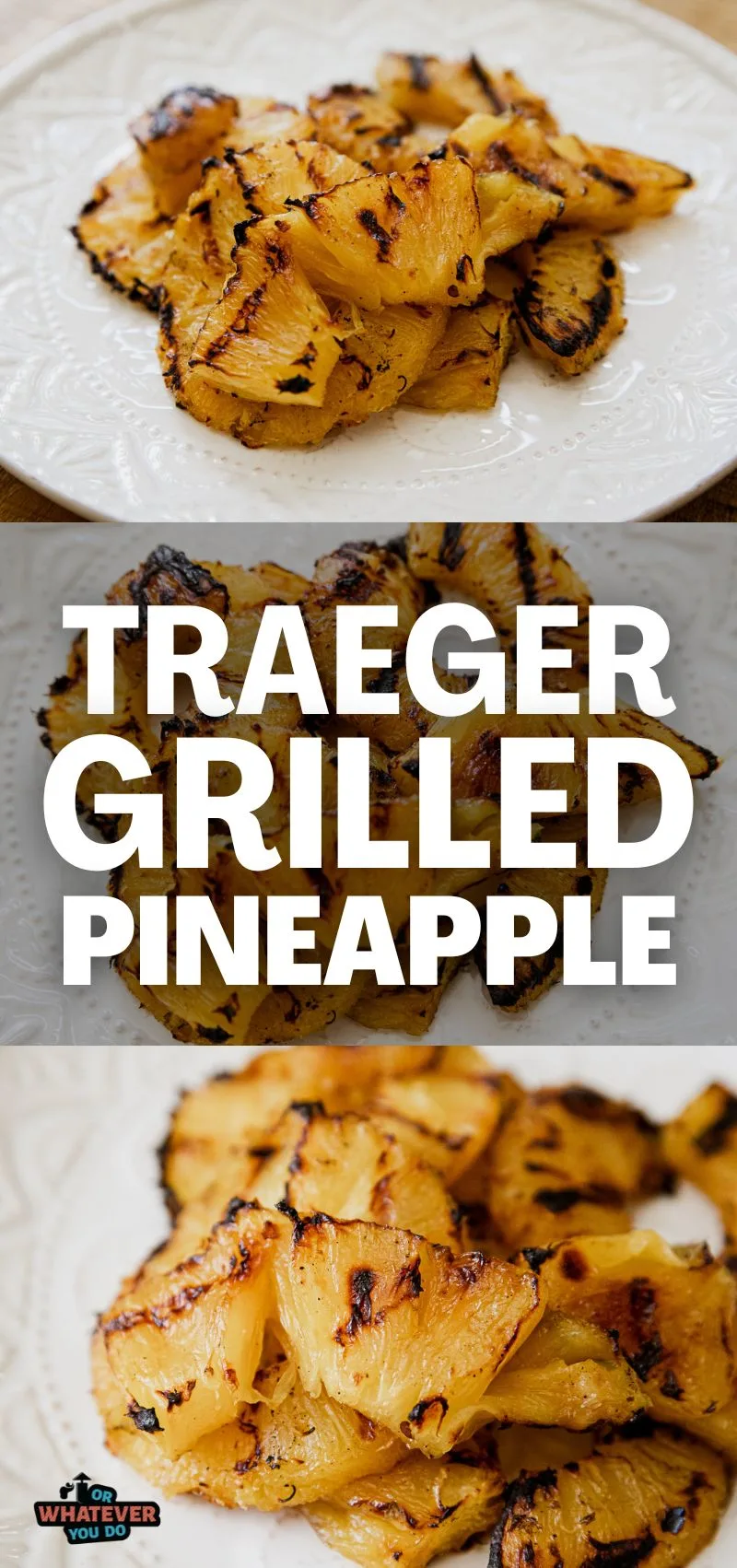 Yield: 4 servings
Grilled Pineapple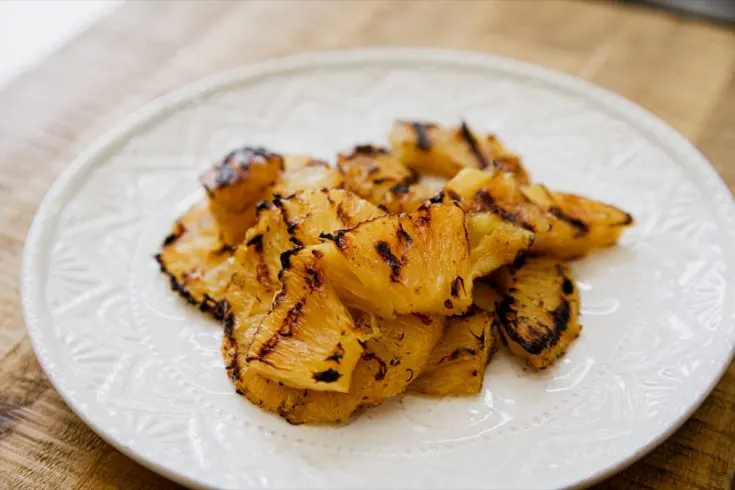 There's nothing better to accompany your next barbecue, ham sandwich, Hawaiian pizza, or just to snack on. The grill does amazing things to fresh pineapple, and you're going to love this!
Ingredients
1 fresh pineapple, cored and sliced
3 tablespoons brown sugar
1 tablespoon Fireball Whiskey*
1 tablespoon salted butter
1 teaspoon lime juice
Instructions
Combine all of the glaze ingredients in a saucepan and let simmer for 5 minutes, stirring frequently.
Place the pan into a bowl of ice and whisk frequently to cool down the glaze.
Place your sliced pineapple into a large freezer baggie. Pour in the cooled glaze and toss to coat. Let the pineapple sit in the glaze for 1 hour.
Preheat your grill to 450°F.
Remove the pineapple from the baggie and place onto the grill grates.
Grill for 2-3 minutes per side, or until there are nice grill marks on each side.
Remove from the grill and let cool for 5-10 minutes before serving.
Notes
* If you don't want these to be boozy, you can omit the Fireball and replace it with a tablespoon of orange juice plus a 1/4 teaspoon of ground cinnamon.
Recommended Products
As an Amazon Associate and member of other affiliate programs, I earn from qualifying purchases.
Nutrition Information:
Yield:
4
Serving Size:
1
Amount Per Serving:
Calories:

84
Total Fat:

3g
Saturated Fat:

2g
Trans Fat:

0g
Unsaturated Fat:

1g
Cholesterol:

8mg
Sodium:

26mg
Carbohydrates:

14g
Fiber:

1g
Sugar:

12g
Protein:

0g
Nutrition data provided here is only an estimate.