Get that fresh summer corn on the cob and make a delicious Grilled Corn Salsa! This is a really easy way to incorporate some extra spice and flavor into your next taco Tuesday or burrito night. This comes together in under an hour, can be made ahead of time, and is such a crowd-pleaser!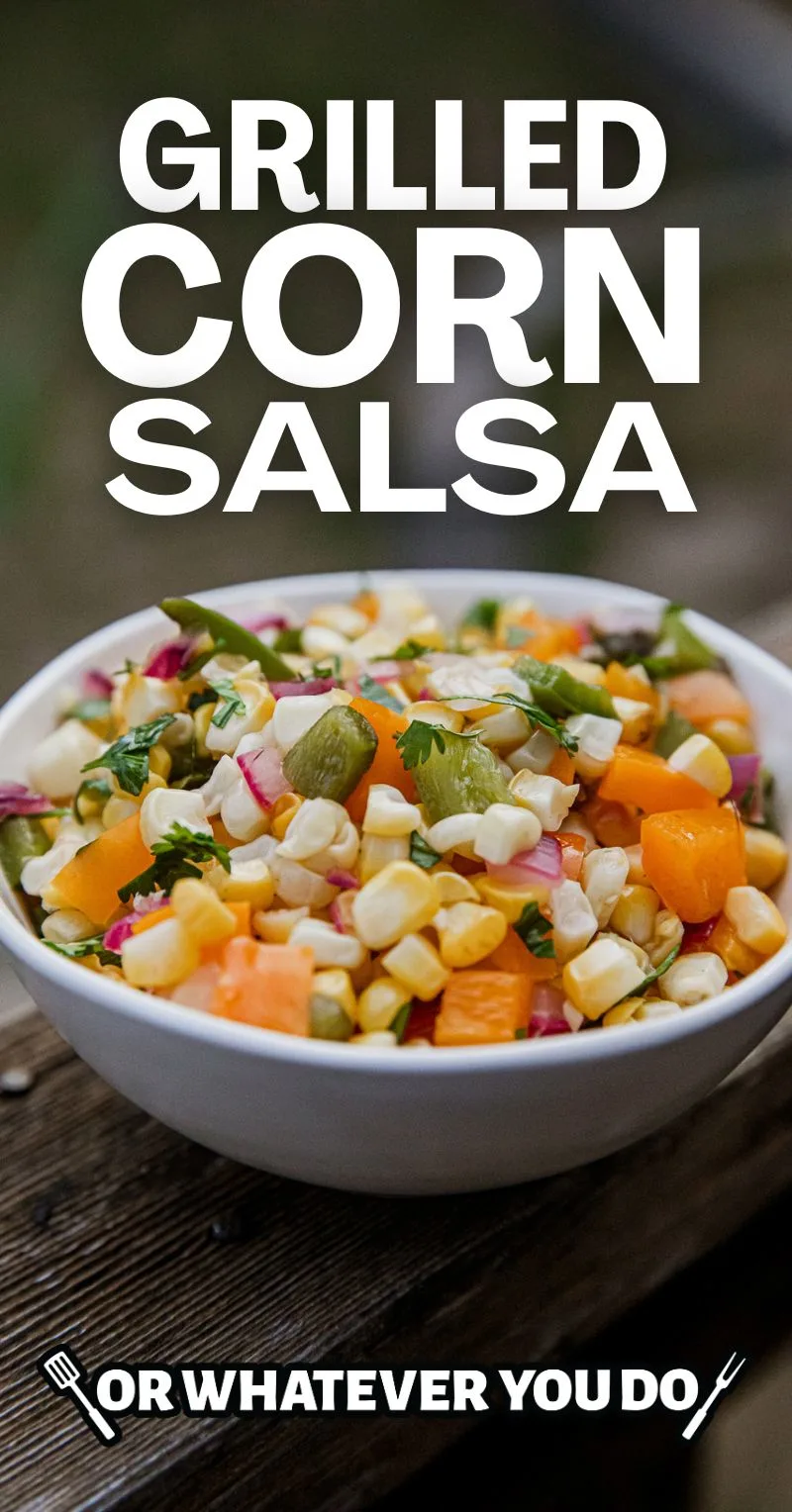 Grilled Corn Salsa Recipe
I love a good taco night. Or any kind of Mexican food, really. We make a ton of it here and for very good reason. It is delicious, everyone likes it, and it is so easy to customize according to everyone's specific tastes!
Grilled Corn Salsa is a perfect way to enhance the taste of your outdoor-cooked meals. The grilling process infuses the corn with a smoky flavor, giving the salsa a unique twist that regular corn salsas lack. Moreover, the combination of fresh ingredients like red bell pepper, red onion, jalapeno, and cilantro creates a harmonious blend of flavors that is both refreshing and zesty.
This versatile salsa complements a wide range of dishes. Pair it with grilled Chile Lime Chicken, Carne Asada, or Blackened Fish Tacos to add a burst of freshness to your proteins. The salsa can also be used as a topping for tacos, nachos, or even grilled vegetable platters. Its colorful appearance and delightful taste make it an excellent addition to any outdoor gathering or barbecue.
Get all of my Traeger Recipes here!
Grilled Corn Salsa shopping list
Wondering if you have to hit the store? Here's the list of items you'll need to make this recipe. For specific amounts, please refer to the printable recipe card at the bottom of the post.
Corn on the cob
Jalapeno peppers
Bell pepper
Cilantro
Limes
Salt
Get 75+ of my favorite Traeger Recipes here!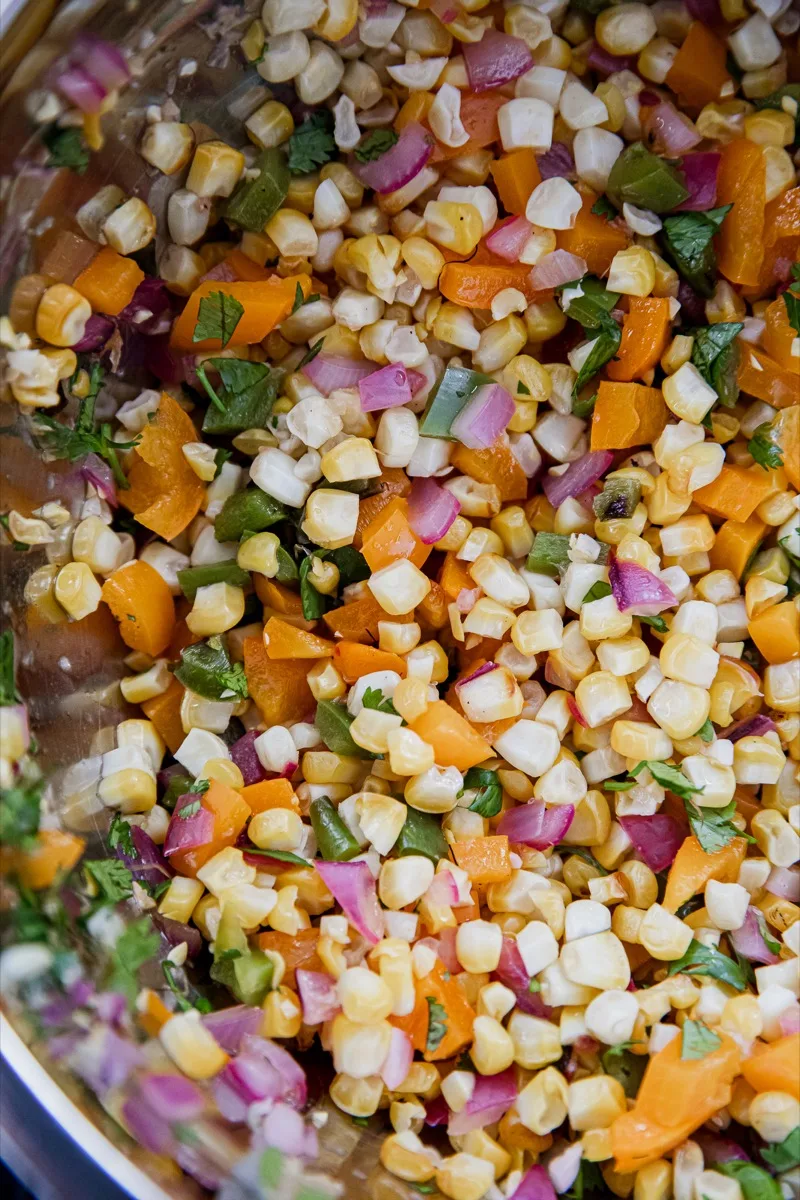 How to make Grilled Corn Salsa
This is just the overview so you can see what you're actually getting into here. When you are cooking, you'll want to use the full recipe at the bottom of the page.
Preheat
Fire up your pellet grill and heat it up to 375°F.
Prep
Shuck your corn, take the seeds and membranes out of the jalapenos and bell peppers, and peel the onion and cut it in half.
Grill
Put all the things on the grill once it is heated. Cook for about 20-25 minutes, turning everything occasionally and removing the peppers once they get a little tender.
Chop
Remove all the things from the grill. Cut the corn off the cob, and chop up the peppers and the onion. Chop the cilantro too, while you're at it.
Mix
Mix everything together, squeeze the lime, stir in the cilantro, and chill everything for a few hours before serving. Taste and add a little salt.
Use this in our Traeger Carnitas!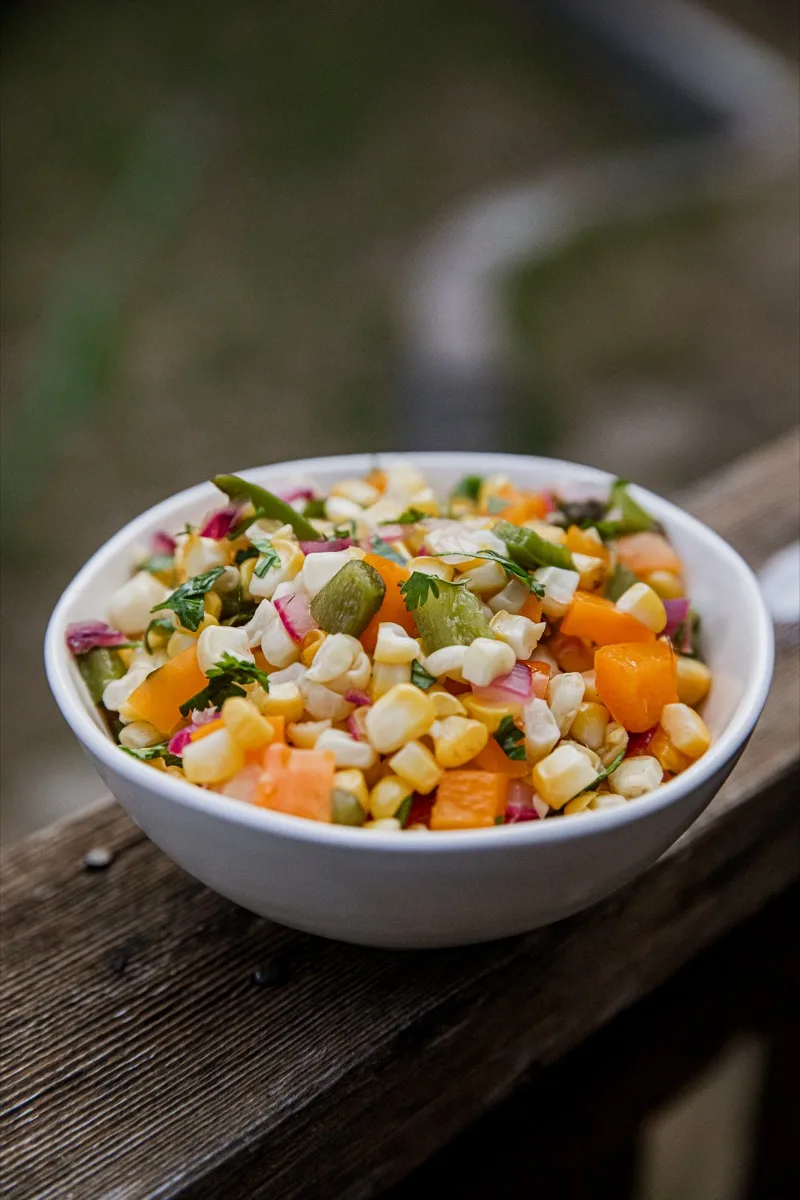 Grilled Corn Salsa FAQ
Can this be made ahead of time?
Yes! This salsa can be made up to a couple of days in advance and it'll be just as delicious.
What's the best way to store leftovers?
We stored our leftovers in a big freezer baggie in the fridge. Any airtight container will work, however.
Can you use canned corn for this dish?
You CAN use canned or frozen corn for this dish, but it'll taste much better if you use fresh corn on the cob. If you do use canned or frozen, make sure to drain or thaw whichever option you choose, and then you can cook it in a grill-safe pan on the grill.
Try it with our Mexican Fried Rice!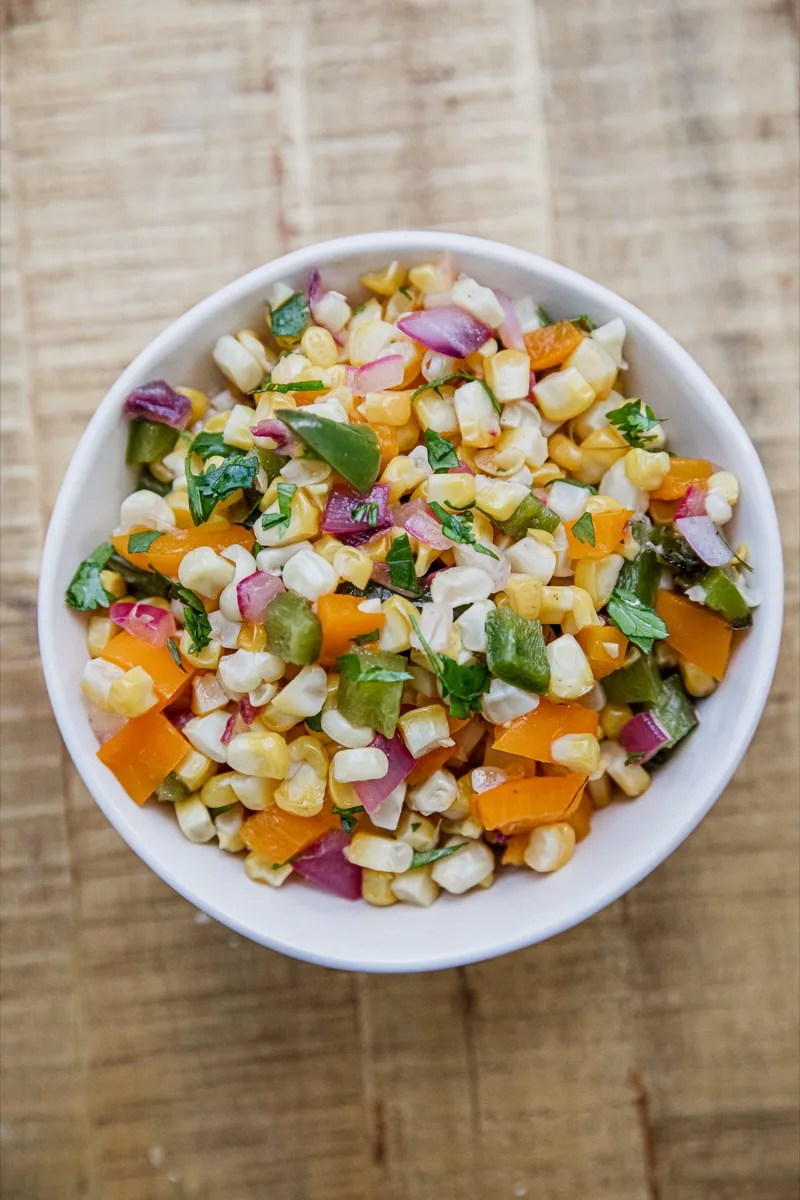 More great recipes to love!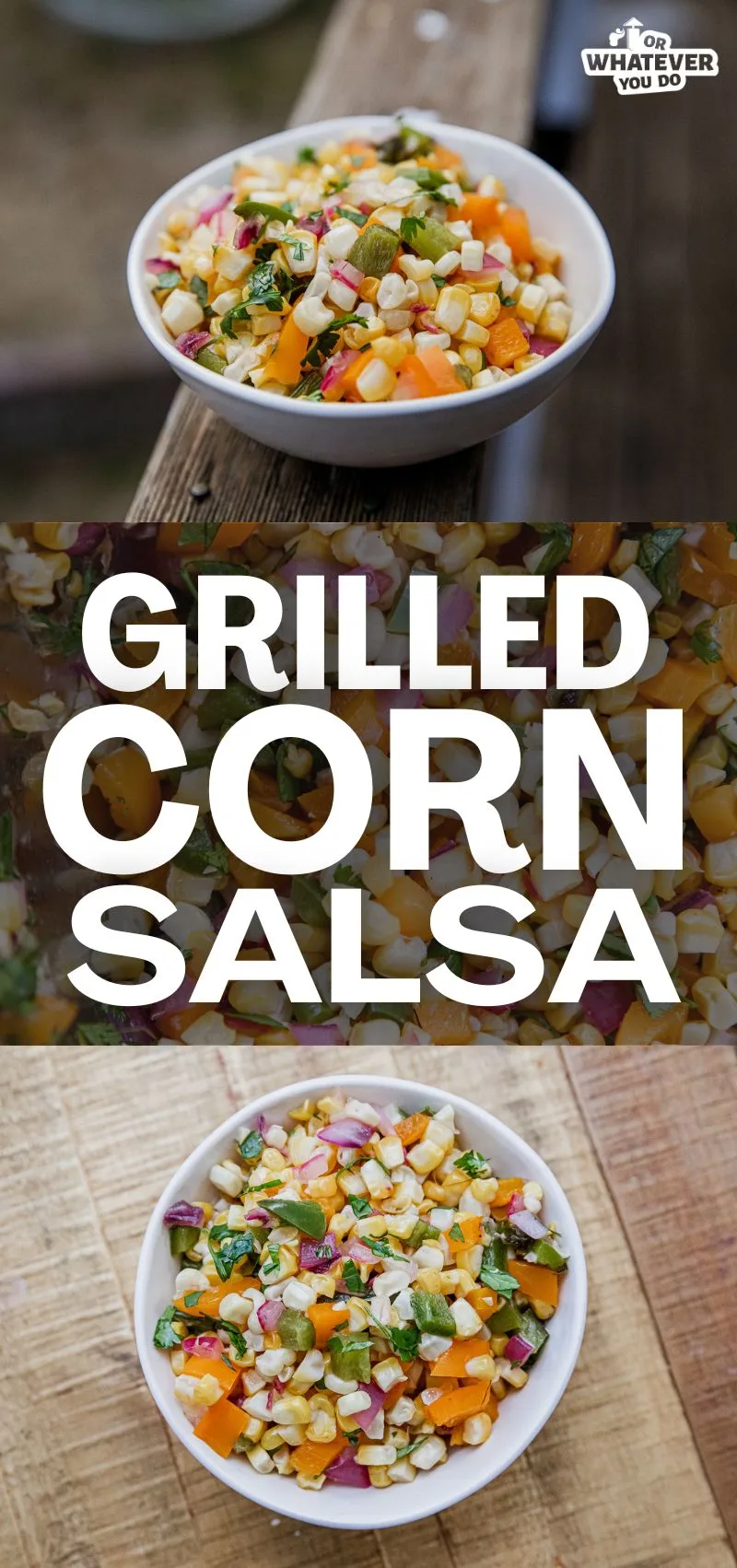 Yield: 8 servings
Grilled Corn Salsa
We took fresh corn on the cob along with bell peppers, jalapenos, and red onion, and grilled it up for the tastiest grilled corn salsa ever!
Ingredients
4 ears corn on the cob
3 jalapeno peppers
1 bell pepper
1/4 cup chopped cilantro
2 limes
Salt
Instructions
Preheat your grill to 375°F.
Shuck the corn, remove the seeds and stem from the jalapeno and bell peppers, half the onion, and put them all on the grill.
Grill for about 20-25 minutes, turning occasionally, until the corn has some good grill marks on it.
Remove from the grill and let it cool enough to handle.
Slice the corn off of the cob and dice up the other vegetables.
Mix together in a bowl with the chopped cilantro and the juice from both of the limes.
Chill and serve fresh!
Recommended Products
As an Amazon Associate and member of other affiliate programs, I earn from qualifying purchases.