Fire up that griddle because I'm going to show you have to make an incredible Blackstone Pizza with little muss or fuss, and it is going to be delicious! We'll make sure that all of the common pitfalls are avoided and you wind up with the best pizzeria-style pizza at home, no pizza oven needed, no indoor cooking necessary. Also, get my top recommendations for the tools that'll make your pizza-making life much easier, and will come in handy no matter how you decide to cook your pizza, as well as my recommendations for your best pizza dough options.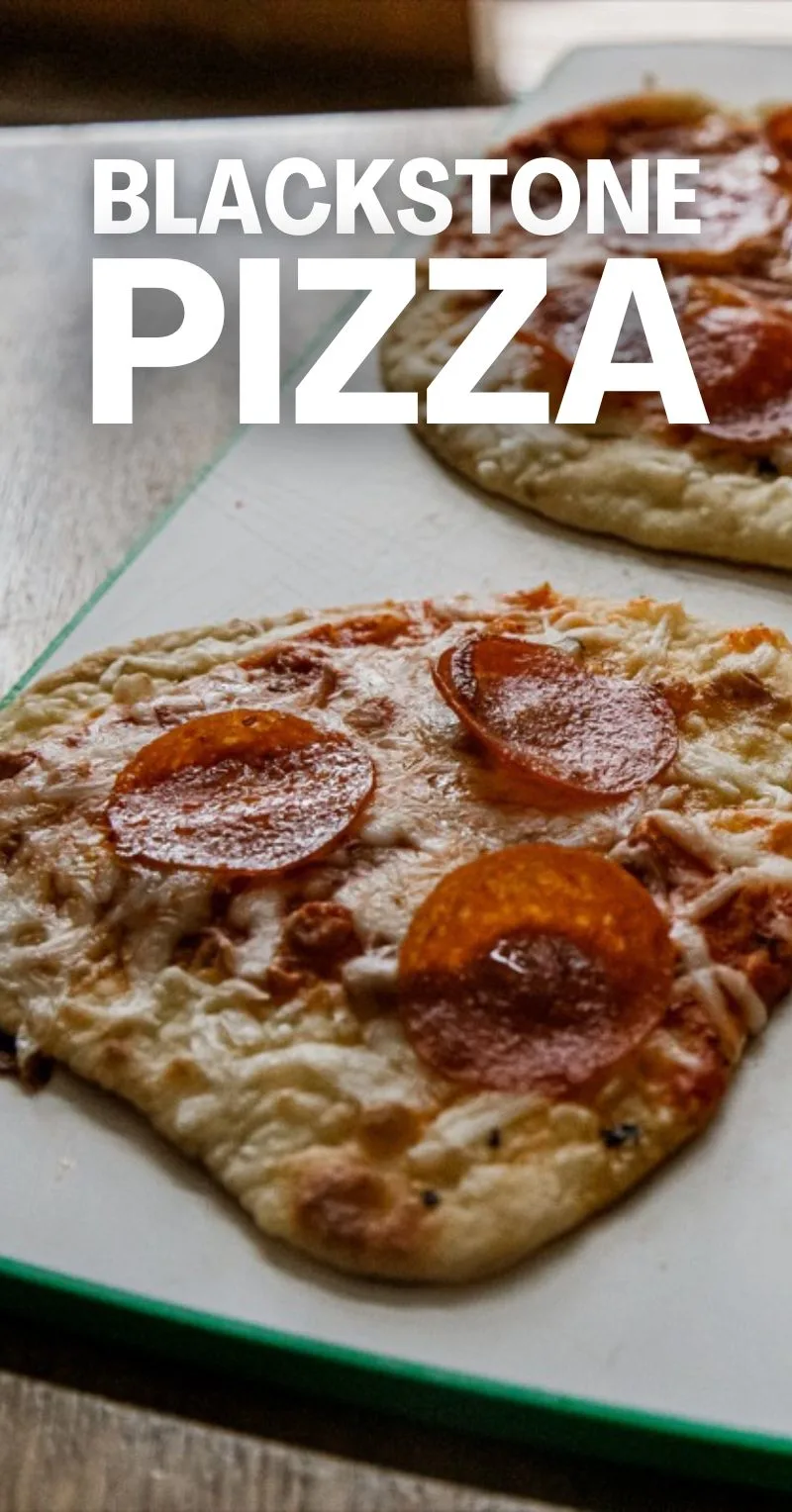 Easy Blackstone Pizza
Making pizza on the griddle seems like it would be really simple to do, but people often forget that unlike a traditional oven, a grill, or a pizza oven, on a griddle the heat is only coming from the bottom. That means your pizza is only cooking from one direction, so things can be a little uneven if you don't employ some tricks of the trade to compensate.
One trick, and probably the least favorable, is to fire up your oven's broiler and use that to melt the cheese and get the top bubbly and browning. I hate that method. Firing up the oven kind of defeats the purpose of cooking outside, so let's just not unless it is a last resort, shall we?
The method I use in this post is three-fold.
First, you preheat all the toppings besides the cheese before topping the pizza. That means the sauce gets preheated, and the toppings go on the griddle when the dough does to get it nice and hot and aid in melting that cheese.
The second trick is to get the top of the pizza nice and blazing hot by putting it face DOWN on the griddle surface first before flipping and topping the pizza.
Third, you need a great big dome lid to cover everything OR a griddle with a nice built-in lid to close over everything.
With all three of those things working together, you're going to end up with not only melty, delicious cheese but also toppings that are nice and crispy just like if you had them under a hot oven burner. Delicious.
More Blackstone Recipes here!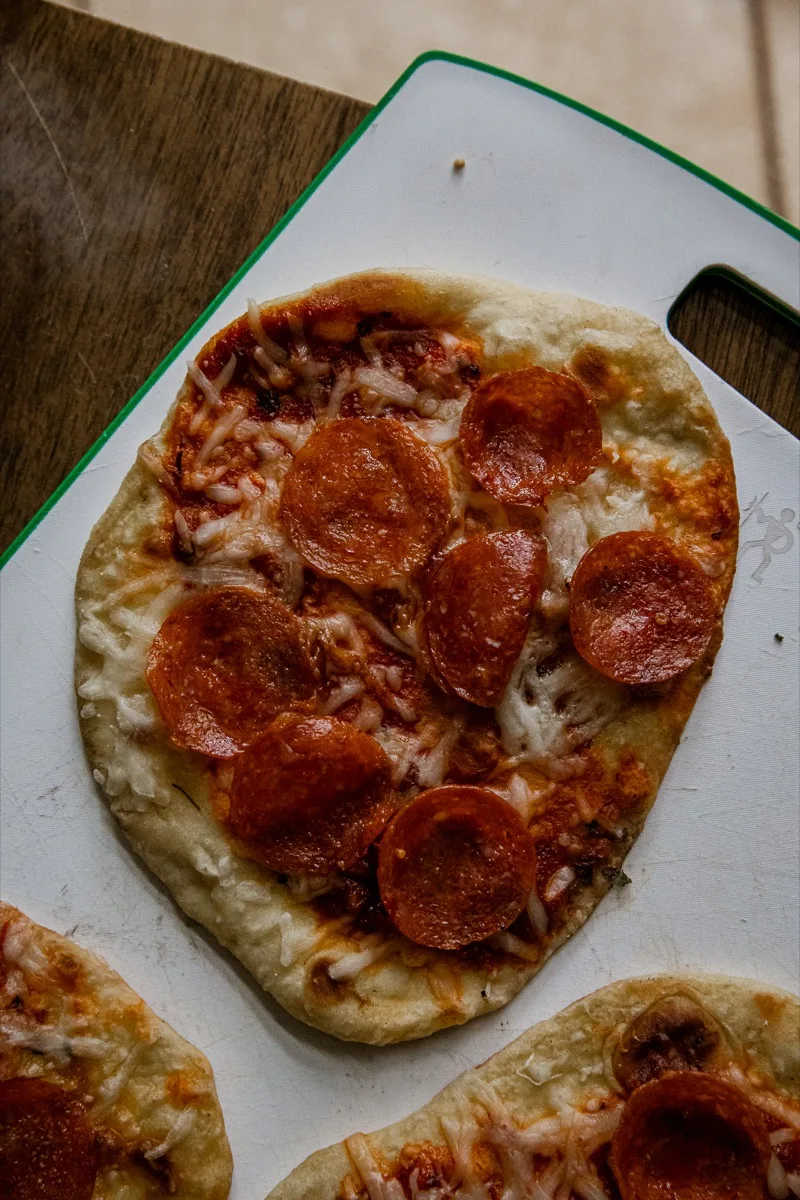 Blackstone Pizza shopping list
Wondering if you have to hit the store? Here's the list of items you'll need to make this recipe. For specific amounts, please refer to the printable recipe card at the bottom of the post.
Pizza crusts
Pizza sauce
Shredded mozzarella cheese
Pizza toppings
Try our Blackstone Kielbasa and Pierogies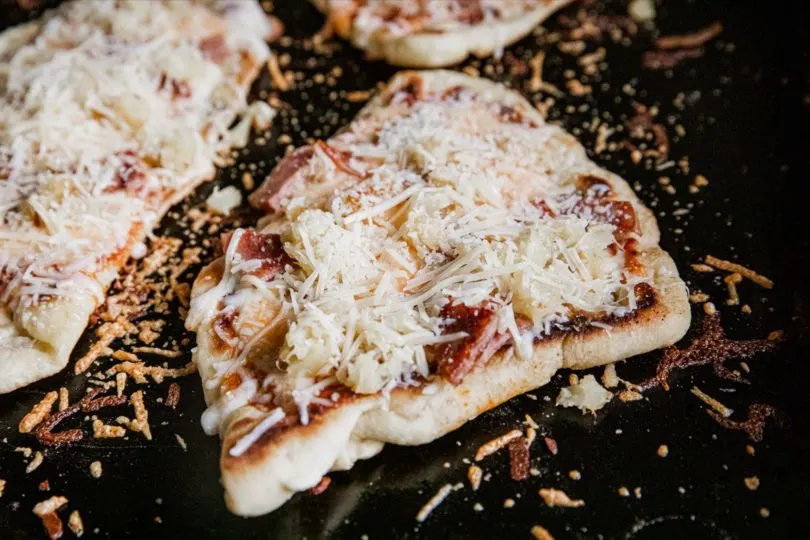 How to Make Pizza on the Blackstone Griddle
This is just the overview so you can see what you're actually getting into here. When you are cooking, you'll want to use the full recipe at the bottom of the page.
Preheat
Fire up the griddle and heat it up to medium heat.
Preheat your pizza sauce too, while you're at it.
Cook
If using precooked crusts, put the top side DOWN and let it get nice and hot. Also put down the toppings like pepperoni, ham, pineapple, peppers, onions, olives, etc.
If you are using uncooked dough, roll it out into 6-8″ rounds and lay it down onto your lightly oiled griddle. Cook until the bottom is golden brown. Flip, and proceed as you would if you were working with a cooked pizza crust. The other side of the crust will finish cooking as the cheese is melting.
Flip the pizza crust over and top with the hot pizza sauce, lots of shredded mozzarella cheese, and any of those hot toppings you've been cooking on the griddle.
Cover with the lid of the griddle or a dome, whatever you've got, and let everything get melty and delicious.
Enjoy
Remove from the griddle and enjoy!
How about some
Blackstone Mexican Pizzas?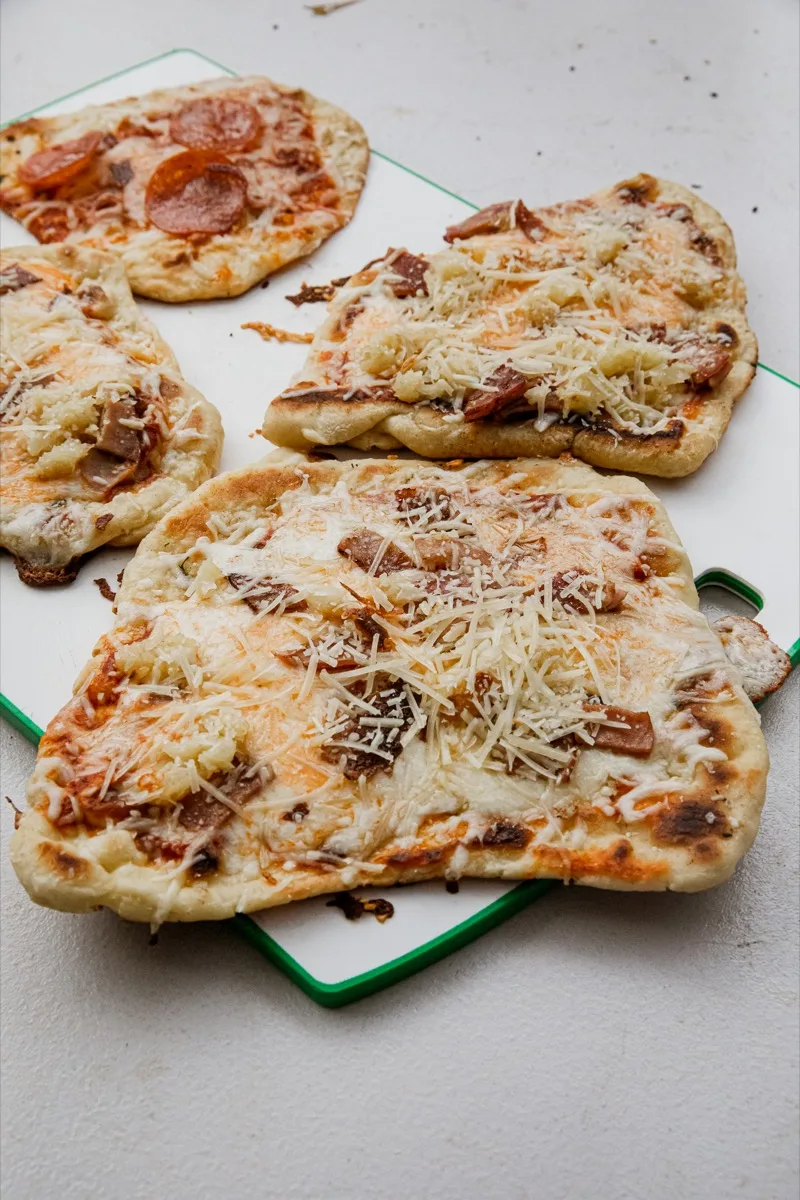 Blackstone Pizza FAQ
Can this dish be made ahead of time?
Sure! Leftover pizza is great. You can reheat it in the microwave, back on the Blackstone, in the oven, or in the air fryer.
What's the best way to store and reheat leftovers?
We keep our leftovers in a big freezer baggie usually. Any covered container works! Keep it in the fridge for 2-3 days, max. Reheat it in the oven, grill, or air fryer for the best results, but you can get away with the microwave or back on the Blackstone too if you need to! This makes great camping food!
What's the best kind of crust to use?
Your crust options are plentiful! You can make Homemade Pizza Dough from scratch, you can use Homemade Garlic Naan bread for the crust, which is what you see pictured here, or you can hit the SUPER easy button and use premade naan or pita bread for the crusts.
Try brushing the crust with our Smoked Garlic Butter!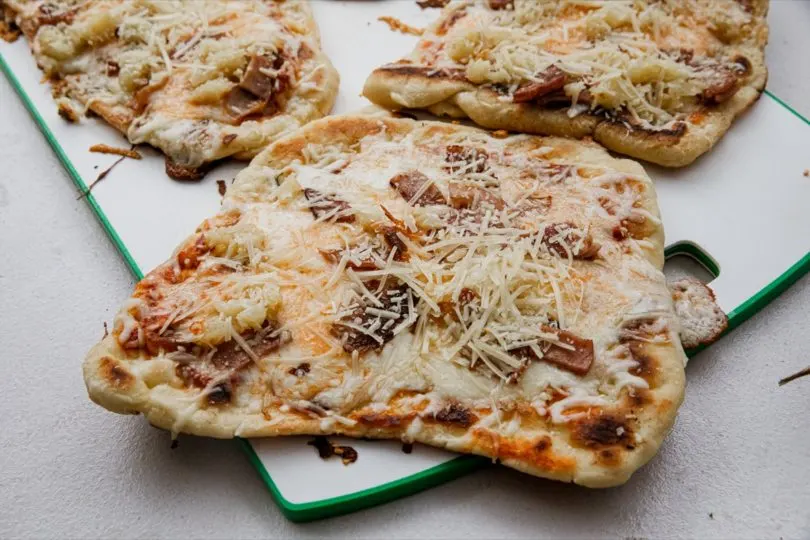 More great recipes to love!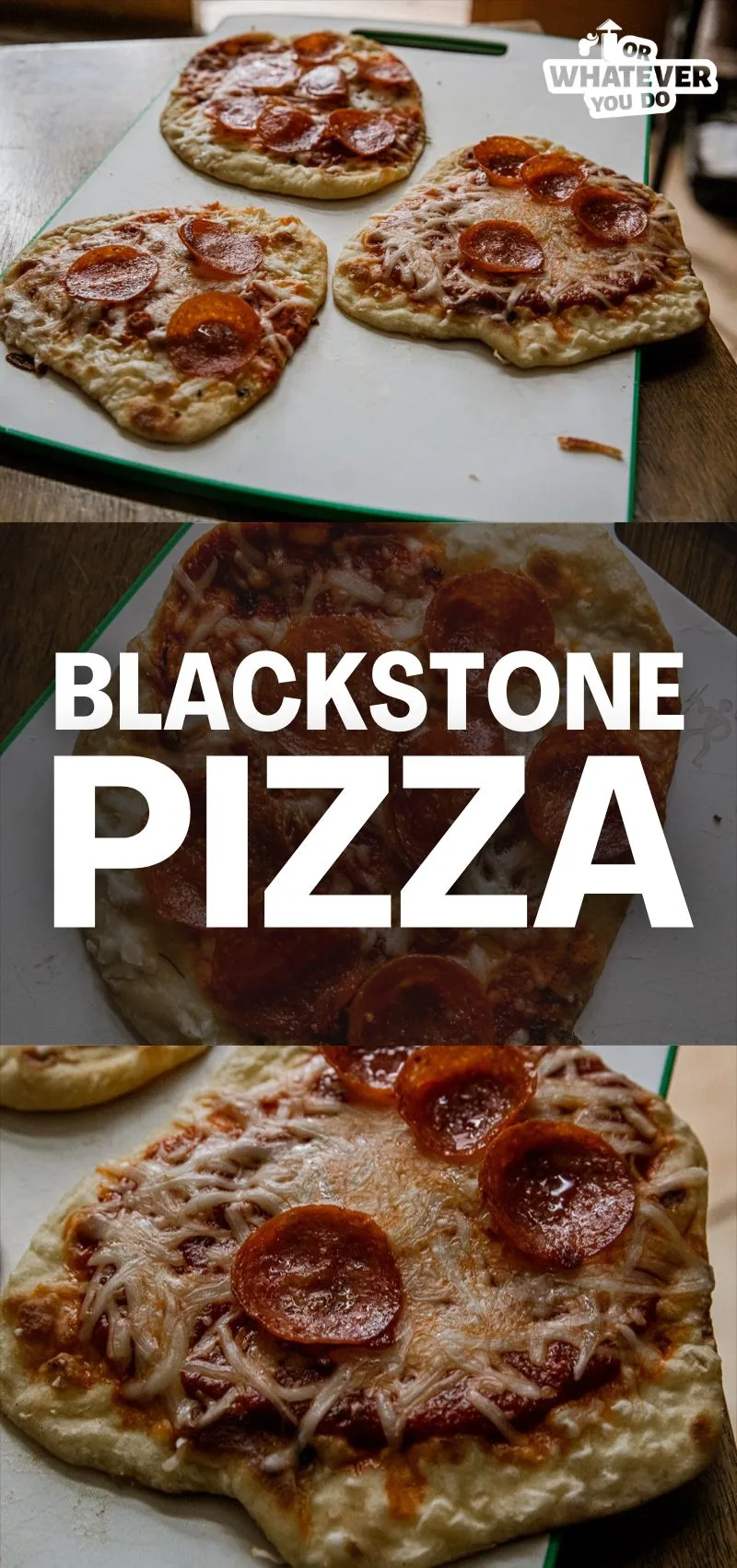 Yield: 8 servings
Blackstone Pizza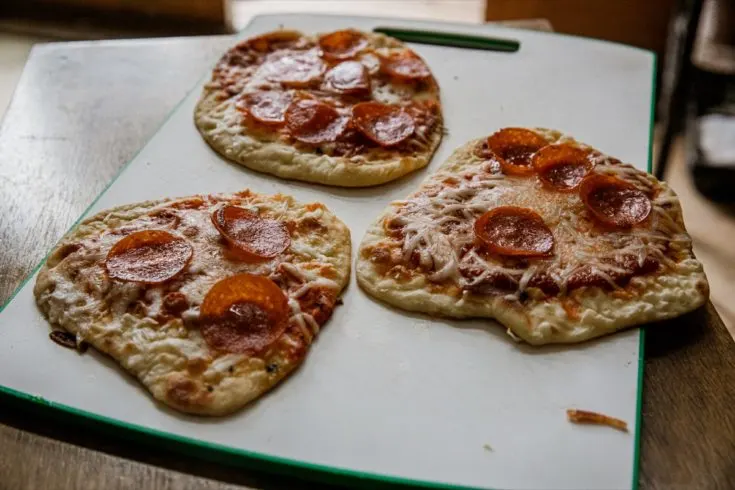 These delicious Blackstone Pizzas are perfect for a quick lunch or dinner, and if you follow my easy process you'll have perfect pizza right on your griddle!
Ingredients
8 pizza crusts
1 jar pizza sauce
8 cups shredded mozzarella cheese
assorted pizza toppings
Instructions
Preheat your griddle over medium heat. Preheat your pizza sauce in the microwave, or in a pan on the griddle surface if you really want to be extra.
Lightly grease the surface with your favorite oil. For pizza, we like to use olive oil.
If you are using precooked crust, put whatever side WILL become the top of the pizza DOWN first. You're heating it up first to help that cheese melt.
If you are using fresh dough, roll it out into a circle and lay it out onto your greased, preheated griddle. Cook on one side until golden brown, flip, and top with the toppings the same way you would if the dough was pre-cooked.
While you're at it, toss down in a single layer any toppings you're going to add, like pepperoni, ham, sausage, peppers, onions, pineapple, etc. We heat them up on the griddle surface first. It helps melt the cheese, and since there's no heat source coming from the top, helps gives you that finished pizza result that you're after.
After a couple of minutes on the griddle, flip the pizza crusts over and immediately top with the hot pizza sauce, cheese, and some of the toppings that have been heating up on the griddle.
If you have a lid, shut it. If you don't, get out some domes and cover the pizzas for a few minutes to let that cheese get nice and melty.
Remove from the griddle and enjoy while hot!
Recommended Products
As an Amazon Associate and member of other affiliate programs, I earn from qualifying purchases.
Nutrition Information:
Yield:
8
Serving Size:
1
Amount Per Serving:
Calories:

1713
Total Fat:

49g
Saturated Fat:

15g
Trans Fat:

1g
Unsaturated Fat:

30g
Cholesterol:

58mg
Sodium:

3071mg
Carbohydrates:

257g
Fiber:

11g
Sugar:

8g
Protein:

57g
Nutrition data provided here is only an estimate.