Get ready to wow your friends and family with this super tasty Bacon Ranch Smoked Cream Cheese recipe, where we take the smoked cream cheese trend to a whole nother level for an unforgettable appetizer experience.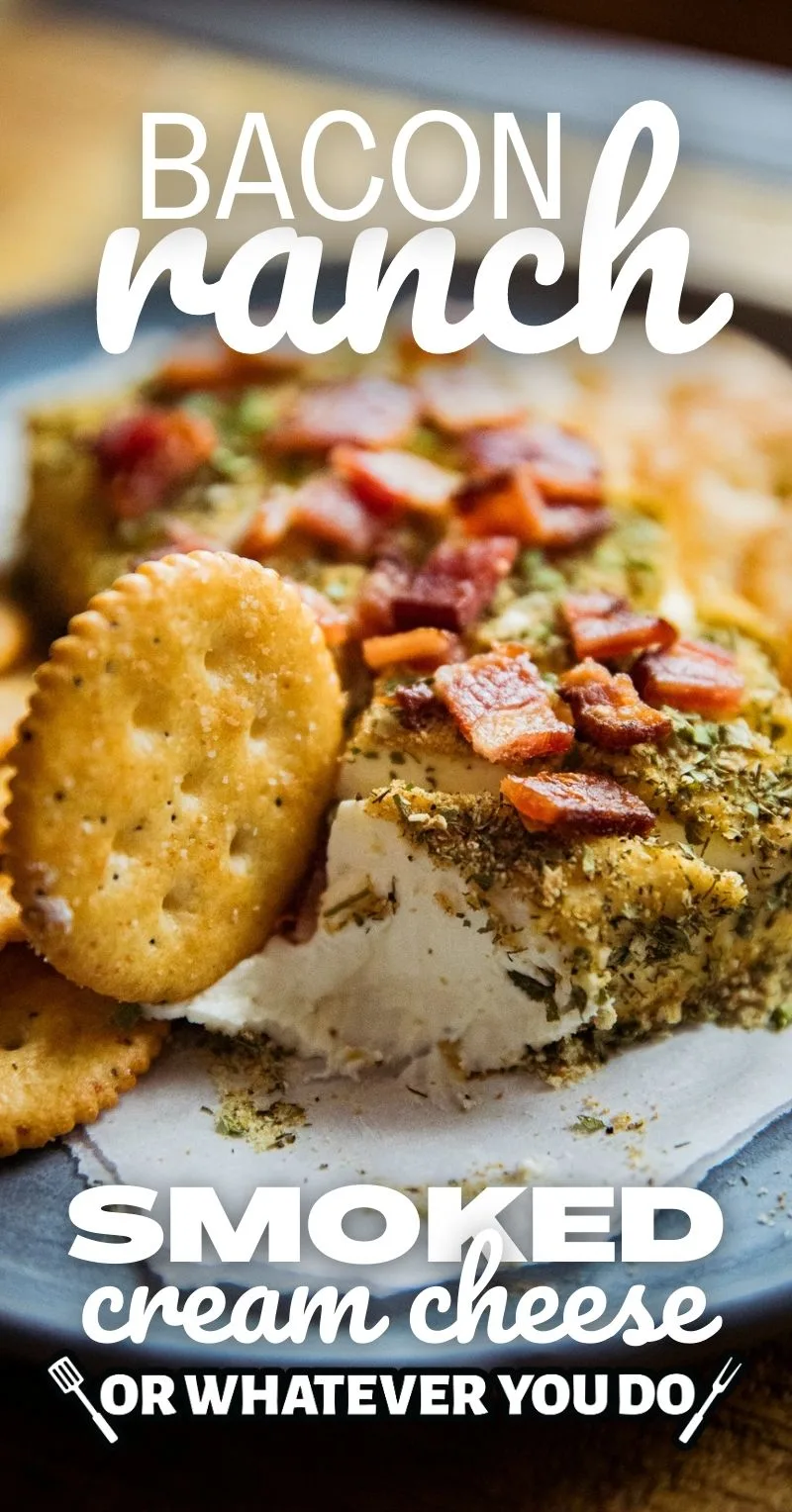 Bacon Ranch Smoked Cream Cheese
Yes, I'm still on my Smoked Cream Cheese kick. Since this recipe went viral the other year (I think it was a result of lockdown crazies, we smoked everything in those days, AMIRITE??) I haven't stopped coming up with new variations on this easy, delicious appetizer. Whether it is my original Traeger Smoked Cream Cheese, or the twists like our Smoked Cream Cheese Guacamole, Smoked Jalapeño Popper Cream Cheese, Bacon Jam Smoked Cream Cheese, Smoked Buffalo Cream Cheese, or the Smoked Chili Crunch Cream Cheese, we've got it all.
Well, almost ALL. Shockingly, I haven't quite gotten to any sweet variations on this dish, but thankfully the internet has my back. This Apple Pie Smoked Cream Cheese from Josh's Cookhouse looks incredible!
What's Really Ranch seasoning?
Really Ranch is Spiceology's salt-free dry ranch mix. We LOVE it, and I particularly like that we can control the sodium without sacrificing on flavor. I had been a long-time user of the other dry ranch mixes available at the grocery store, but not anymore. We LOVE this stuff.
I've been a huge fan of Spiceology since before they were Spiceology (they used to be known as Spiceologist), and lately I've been spotting them EVERYWHERE. If you've seen a cooking show, you've probably seen a whole collection of their products being used (check out Next Level Chef on Fox).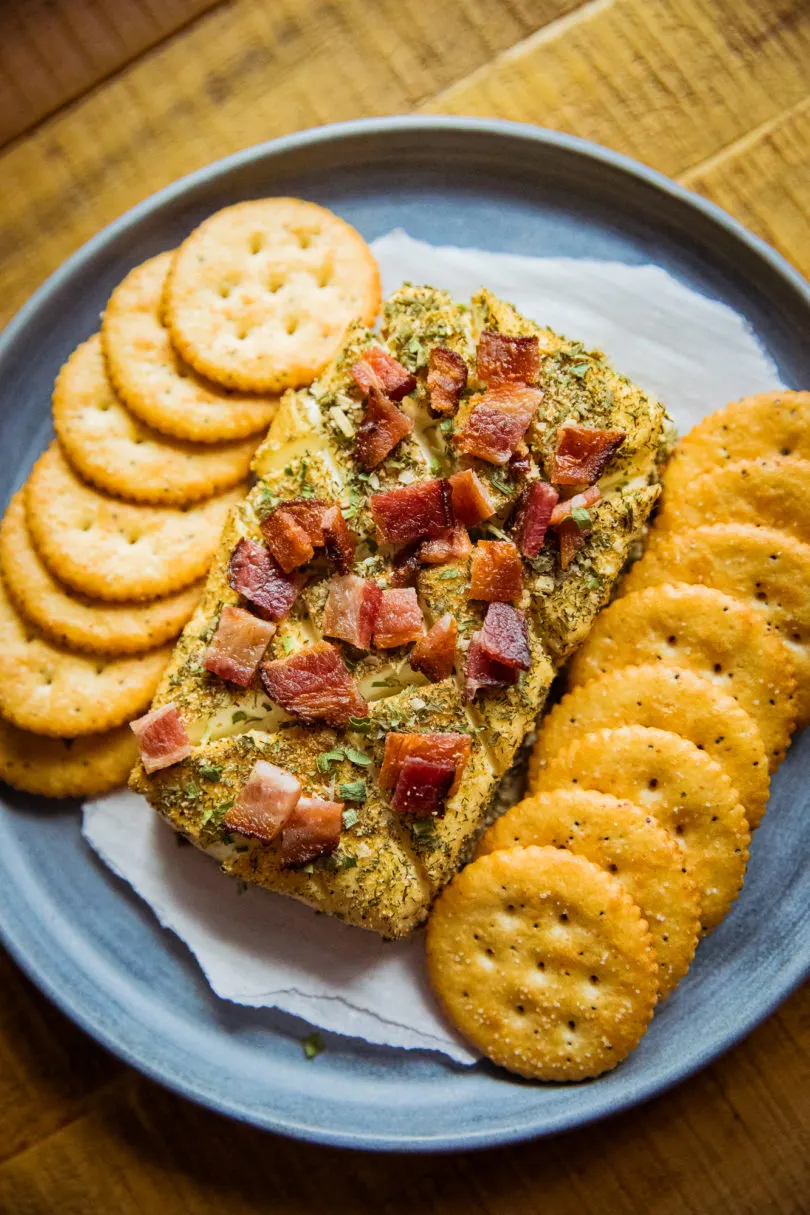 Bacon Ranch Smoked Cream Cheese shopping list
Wondering if you have to hit the store? Here's the list of items you'll need to make this recipe. For specific amounts, please refer to the printable recipe card at the bottom of the post.
cream cheese
salt
garlic powder
bacon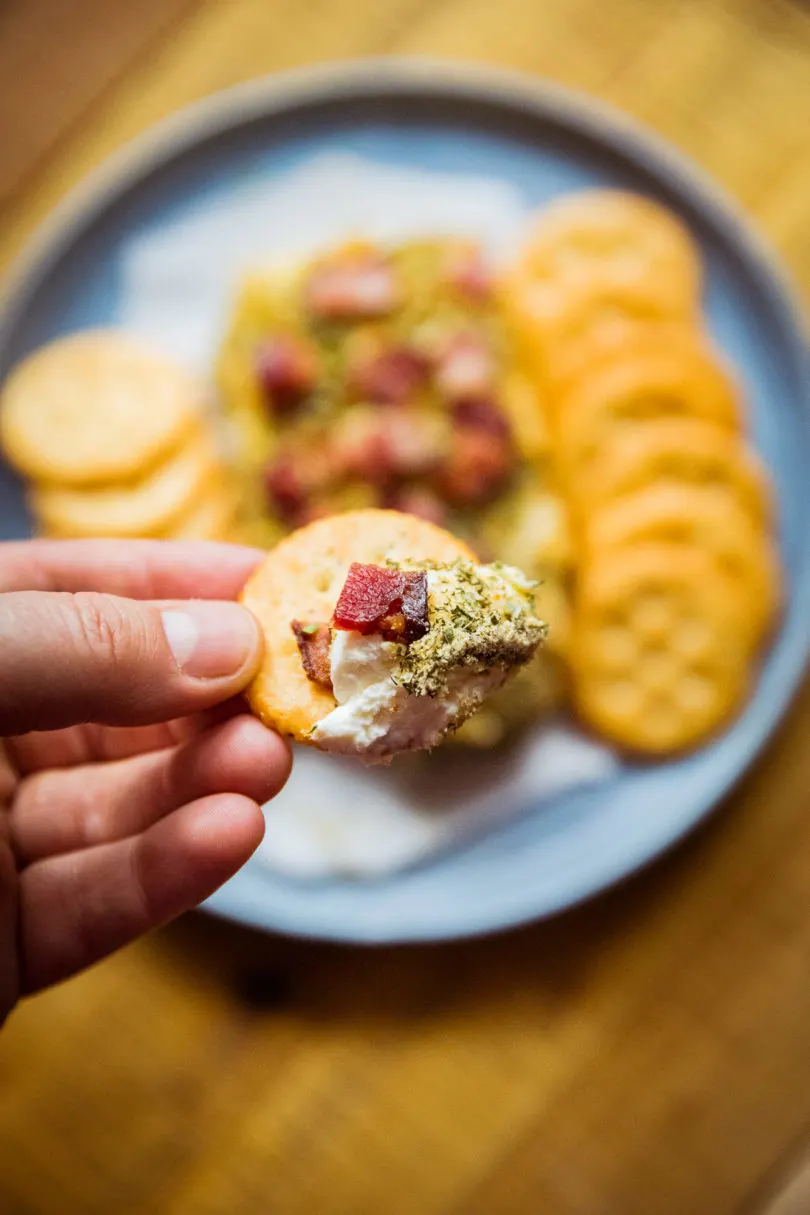 How to make Bacon Ranch Smoked Cream Cheese
This is just the overview so you can see what you're actually getting into here. When you are cooking, you'll want to use the full recipe at the bottom of the page.
Preheat
We're aiming for 225°F for this one. Good and smokey and not hot enough to really melt down the cream cheese.
Prep
Cross-hatch your brick of cream cheese and sprinkle seasonings on all of the exposed sides.
Smoke
Place in the smoker and let it smoke for 60-90 minutes. The longer you go, the stronger the smoke flavor, so choose your own adventure on that front.
Rest
Yeah, resting is usually reserved for meat, but I like to stick my smoked cream cheese in the fridge for 20-30 minutes after smoking it. You can skip this step if you want to dive right in.
Enjoy
Crumble bacon on top and serve with crackers!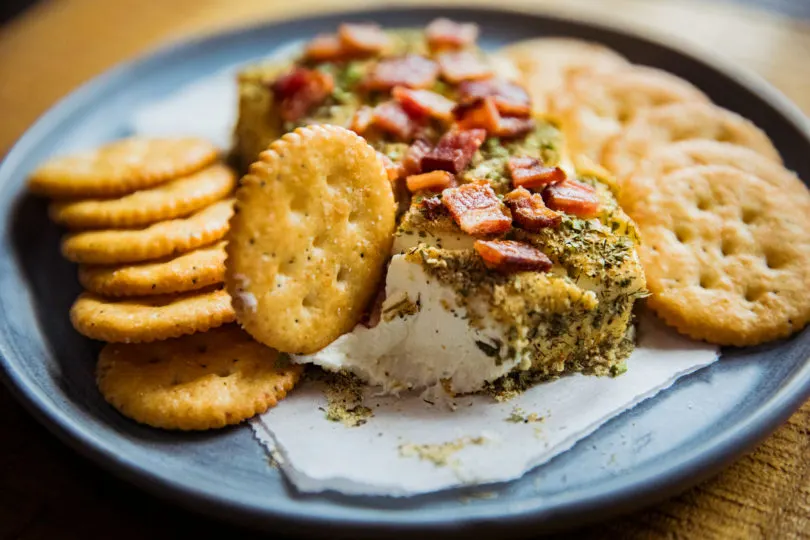 Bacon Ranch Smoked Cream Cheese FAQ
What can you substitute for the Really Ranch seasoning?
If you don't have the Spiceology version, you can sub in the grocery store dry ranch seasoning mixes. Just omit the salt and garlic powder and use a light hand. Those mixes are highly concentrated and you don't want the final result to be overly salty.
What else can I make with Really Ranch seasoning?
This salt-free seasoning blend is perfect for so many different uses! Sprinkle on vegetables or in a Smoked Baked Potato. Use in a Pasta Salad, mix it into some sour cream with a few other seasonings for a killer ranch dip (thin it out with a little milk for Really Ranch Dressing),
Are there other uses for this recipe besides a dip?
Yes! You can use this as filling for Jalapeño Poppers, you can stuff some of it inside a pounded-flat chicken breast, and then roll it and grill it. You can use this smoked cream cheese as a base for an killer artichoke dip. You can even cut it into chunks and stir it into my Smoked Bacon Ranch Mac and Cheese!
What's the best way to store the leftovers?
Store these leftovers covered in the fridge for 2-3 days, max. This dip is just as good cold as it is warm, so feel free to dip into it whenever you get the urge.
Try our Traeger Grilled Chicken Sandwich!
(Spread this cream cheese on the bun!)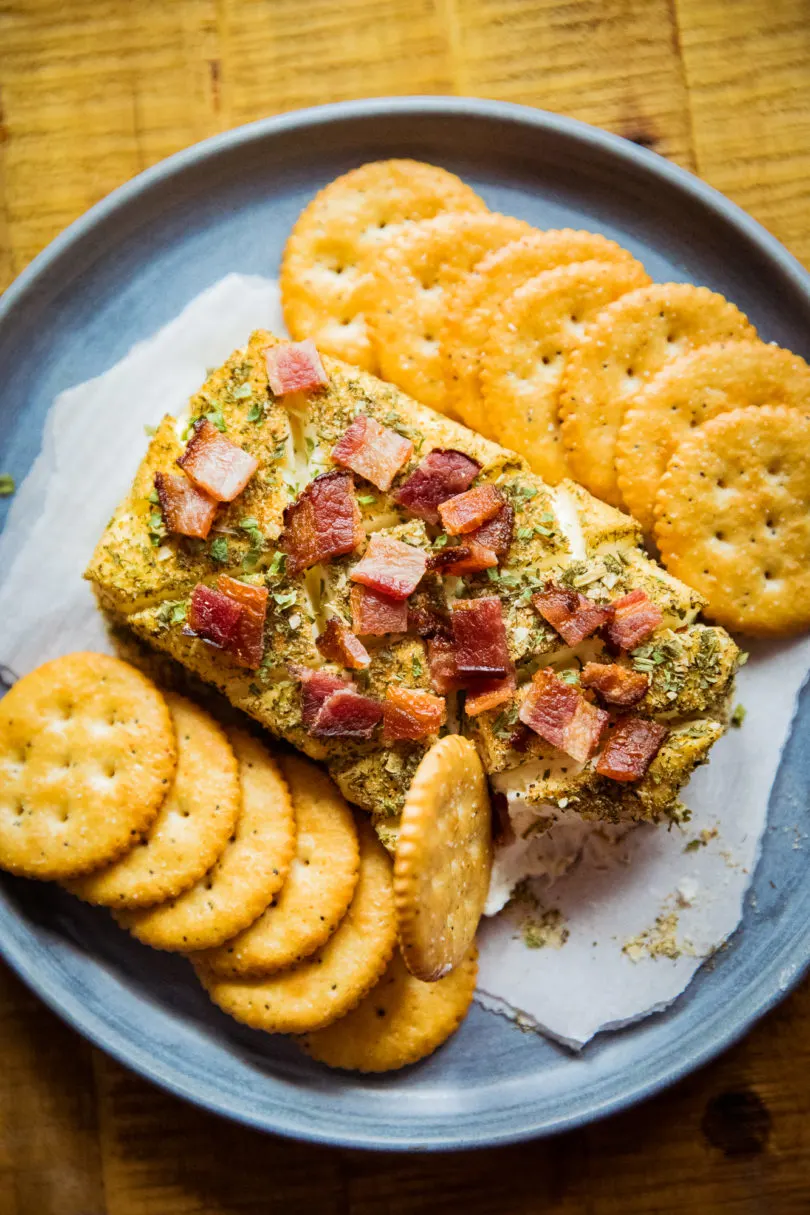 Smoked Cream Cheese Variations
There are so many different ways to switch this up to suit your tastes or try something new! Try one of them below!
| Smoked Cream Cheese Variations | Rubs | Dippers | Toppers |
| --- | --- | --- | --- |
| Nashville Hot Cream Cheese | Nashville Hot Chicken Rub | Celery + Crackers | Hot Honey Drizzle |
| Apple Pie Smoked Cream Cheese | Cinnamon Sugar | Nilla Wafers | Apple Pie Filling |
| Taco Smoked Cream Cheese | Taco seasoning | Tortilla Strips | Hatch Chilies |
| Jalapeno Jam Smoked Cream Cheese | All-Purpose BBQ Rub | Crackers | Jalapeno Jam |
| Everything Bagel Smoked Cream Cheese | Everything Bagel Seasoning | Bagel Chips | Crumbled Bacon |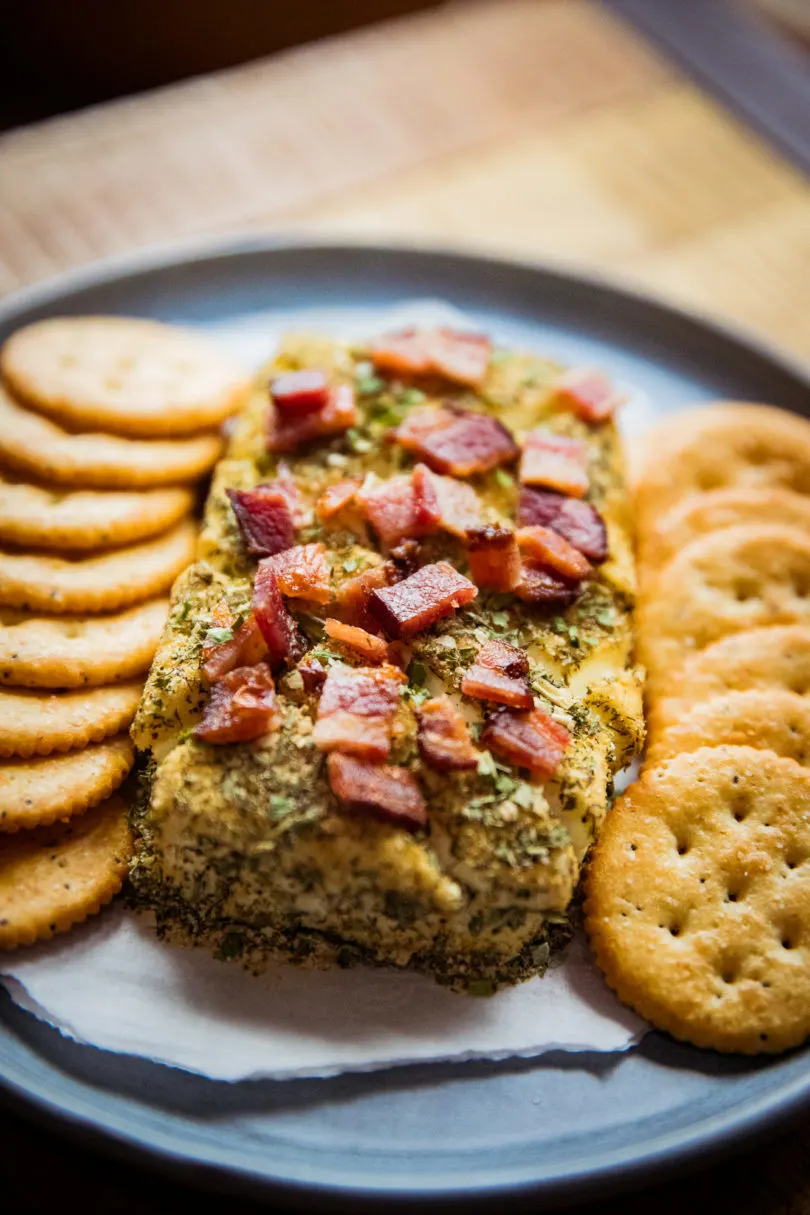 More great recipes to love!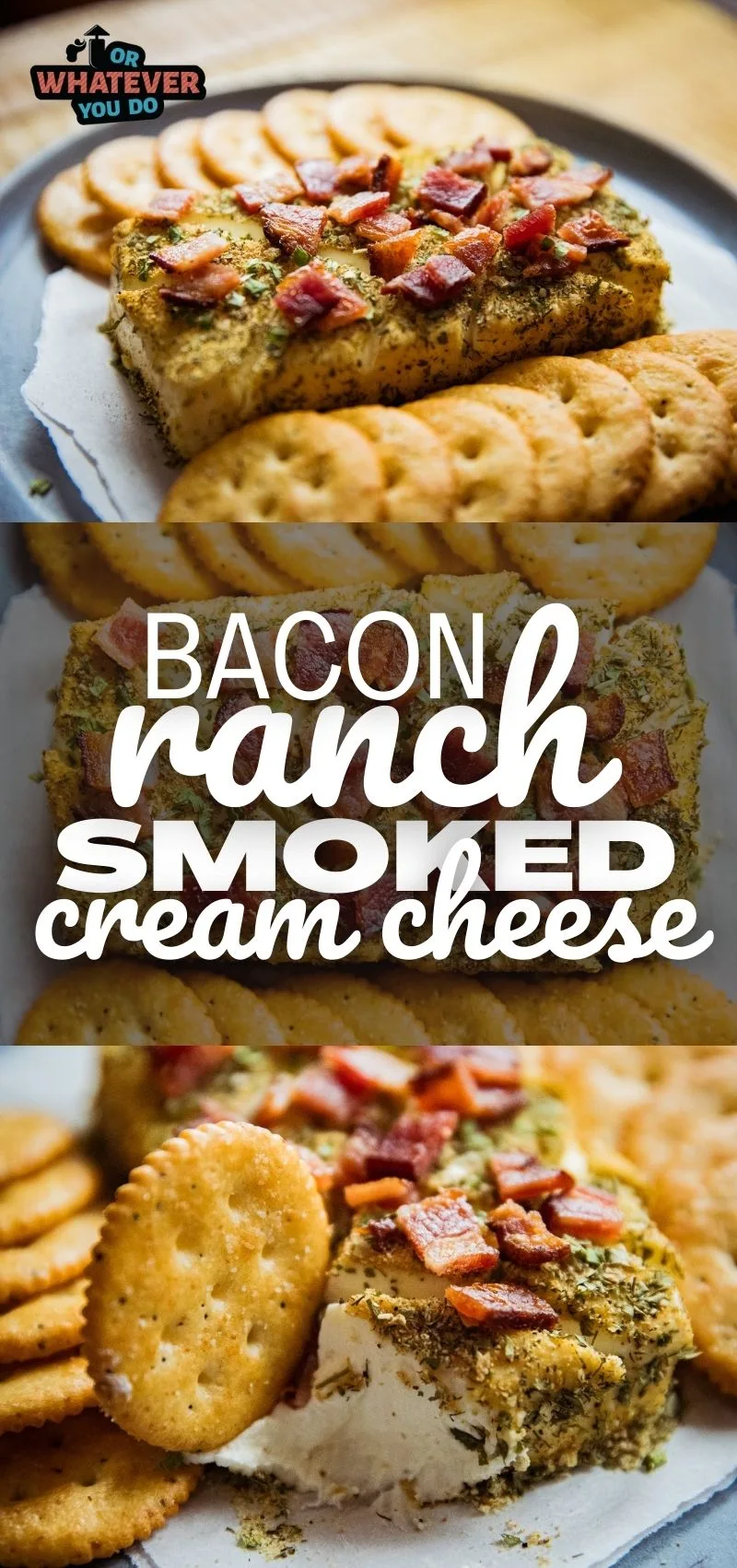 Yield: 8 servings
Bacon Ranch Smoked Cream Cheese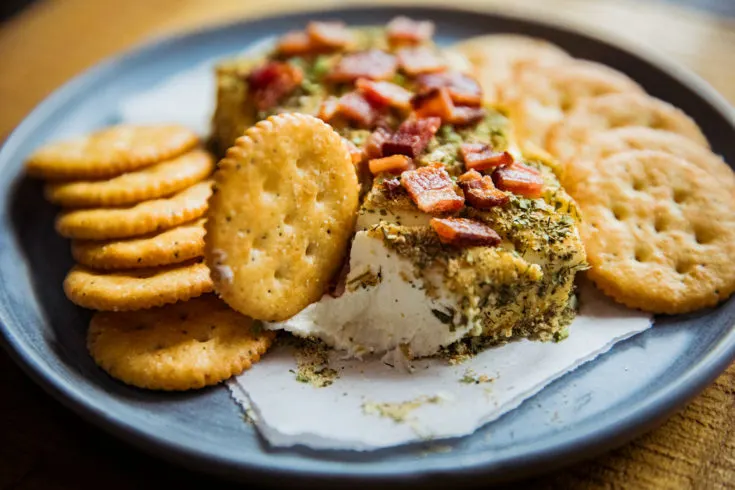 Simple ingredients come together in a surprising and delicious way! A new take on the viral TikTok Smoked Cream Cheese Trend that's sure to be a spring and summer favorite!
Total Time
1 hour
5 minutes
Ingredients
1 brick cream cheese
1/2 teaspoon salt
1/2 teaspoon toasted garlic powder (regular garlic powder is fine if you don't have toasted)
1 tablespoon Really Ranch seasoning from Spiceology
3 slices cooked bacon, chopped
Instructions
Preheat your smoker to 225°F.
Remove the cream cheese brick from the packaging and place onto some parchment paper.
Cross hatch the top of the cream cheese with a knife, making the cuts about 1/2" deep.
Sprinkle the salt, garlic powder, and Really Ranch seasoning on top.
Place in the smoker. You can put the parchment paper right on the grill grates.
Smoke for 60-90 minutes.
Crumble the cooked bacon on the top of the cream cheese brick once it is pulled off of the grill.
Let cool for 10 minutes before serving.
Serve with crackers and vegetable sticks.
Notes
The Spiceology Really Ranch rub is worth having in your cupboard! You can use it on a ton of different things. However, if you already have another pre-packaged dry ranch mix, you can use that and just omit the salt and garlic powder from the recipe here.
Recommended Products
As an Amazon Associate and member of other affiliate programs, I earn from qualifying purchases.
Nutrition Information:
Yield:
8
Serving Size:
1
Amount Per Serving:
Calories:

37
Total Fat:

3g
Saturated Fat:

1g
Trans Fat:

0g
Unsaturated Fat:

1g
Cholesterol:

8mg
Sodium:

321mg
Carbohydrates:

1g
Fiber:

0g
Sugar:

0g
Protein:

2g
Nutrition data provided here is only an estimate.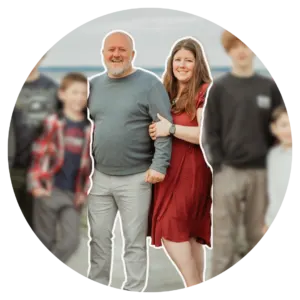 Nicole Johnson, a self-taught expert in grilling and outdoor cooking, launched Or Whatever You Do in 2010. Her blog, renowned for its comprehensive and creative outdoor cooking recipes, has garnered a vast audience of millions. Nicole's hands-on experience and passion for grilling shine through her work. Her husband, Jeremiah Johnson, also plays a pivotal role in recipe development, adding his culinary flair to the mix. Together, they form a dynamic duo, offering a rich and varied outdoor cooking experience to their followers.