Fire up your griddle because today we are making a flavorful and easy Pineapple Chicken Recipe on the griddle! A simple marinade featuring my favorite new condiment, Bachan's Japanese BBQ Sauce, plus some extra garlic, ginger, and pineapple juice, makes this chicken the perfect quick lunch or dinner that has a WOW factor that you can't beat when you serve it in a pineapple bowl!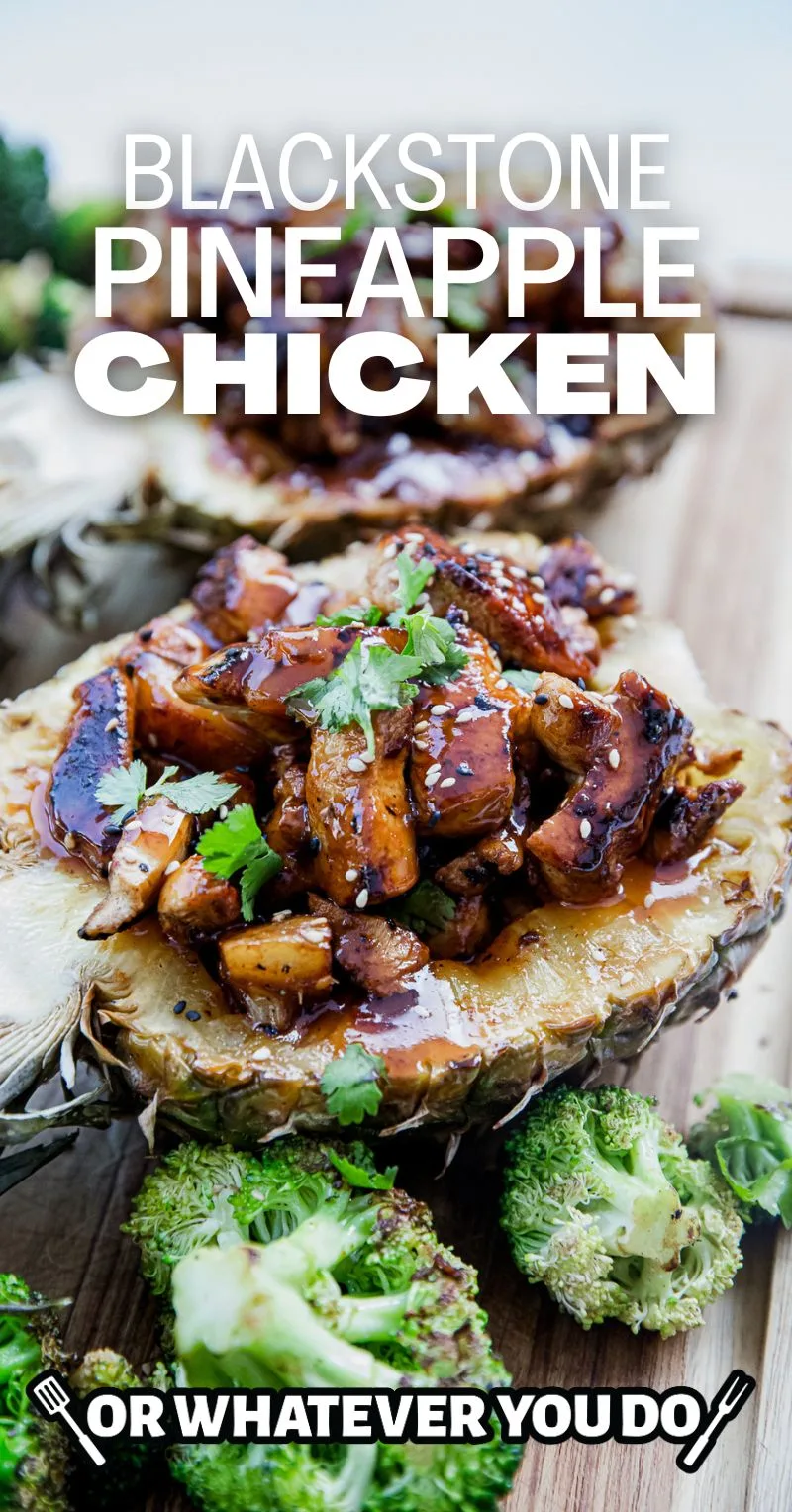 Blackstone Pineapple Chicken Recipe
A good chicken stir fry is always a great option for a quick lunch or dinner when you need to get something tasty on the table in a flash. For this recipe we used a couple of chicken breasts, but if you have chicken thighs on hand those work just as well, if not better, too. You can even do a mix of the two if that's what you've got.
Sometimes when I'm feeling frisky, I'll whip up a homemade teriyaki sauce from scratch. It is always delicious, and I usually have all of the ingredients on hand too, but sometimes I just want to NOT, you know? For those occasions, my new favorite go-to bottled sauce for these occasions is Bachan's. All of the varieties are delicious (especially the new Miso version!!!) so I always have a couple of bottles hanging around for a rainy day. You can find more recipes here featuring Bachan's too. Check out our Smoked Bachan's Beef Short Ribs and our Bachan's Beef Jerky for more ideas.
More Blackstone Recipes here!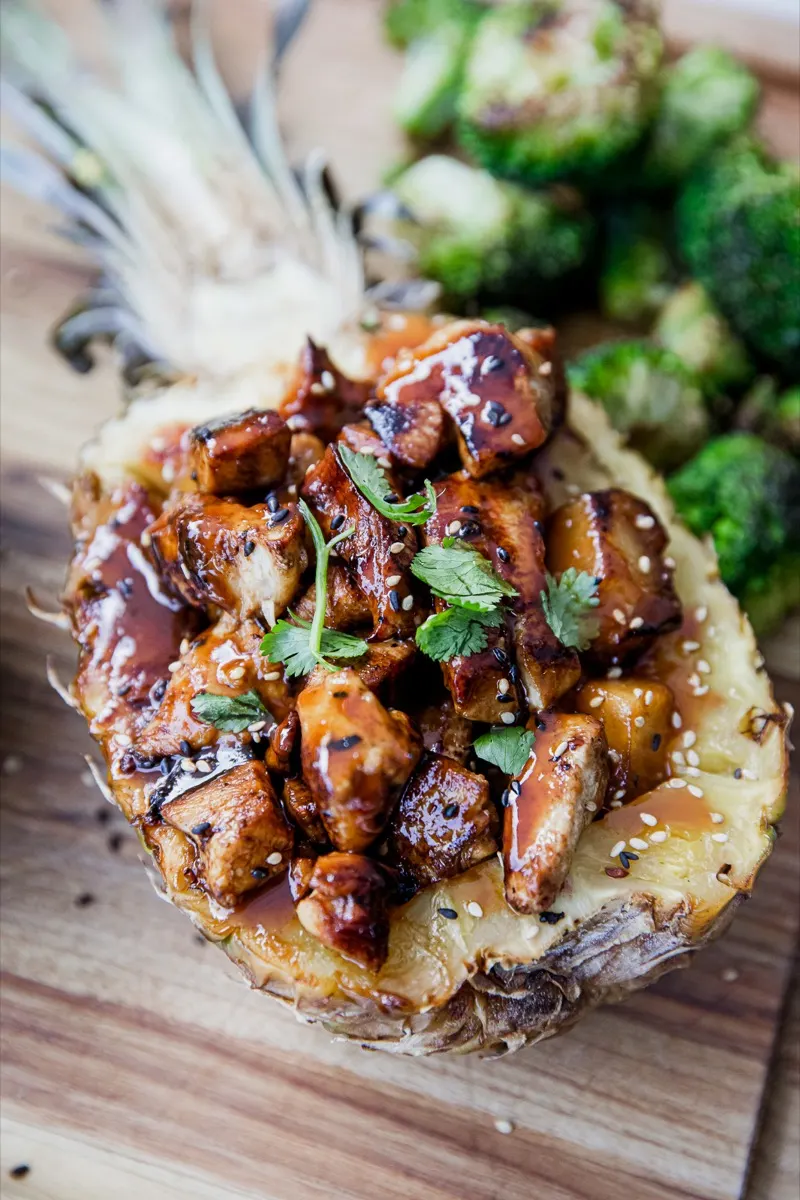 Pineapple Chicken shopping list
Wondering if you have to hit the store? Here's the list of items you'll need to make this recipe. For specific amounts, please refer to the printable recipe card at the bottom of the post.
Pineapple
Chicken breasts
Garlic
Ginger
Broccoli
White rice
Sesame seeds
Cilantro
Try our Blackstone Chicken and Pea Pods too!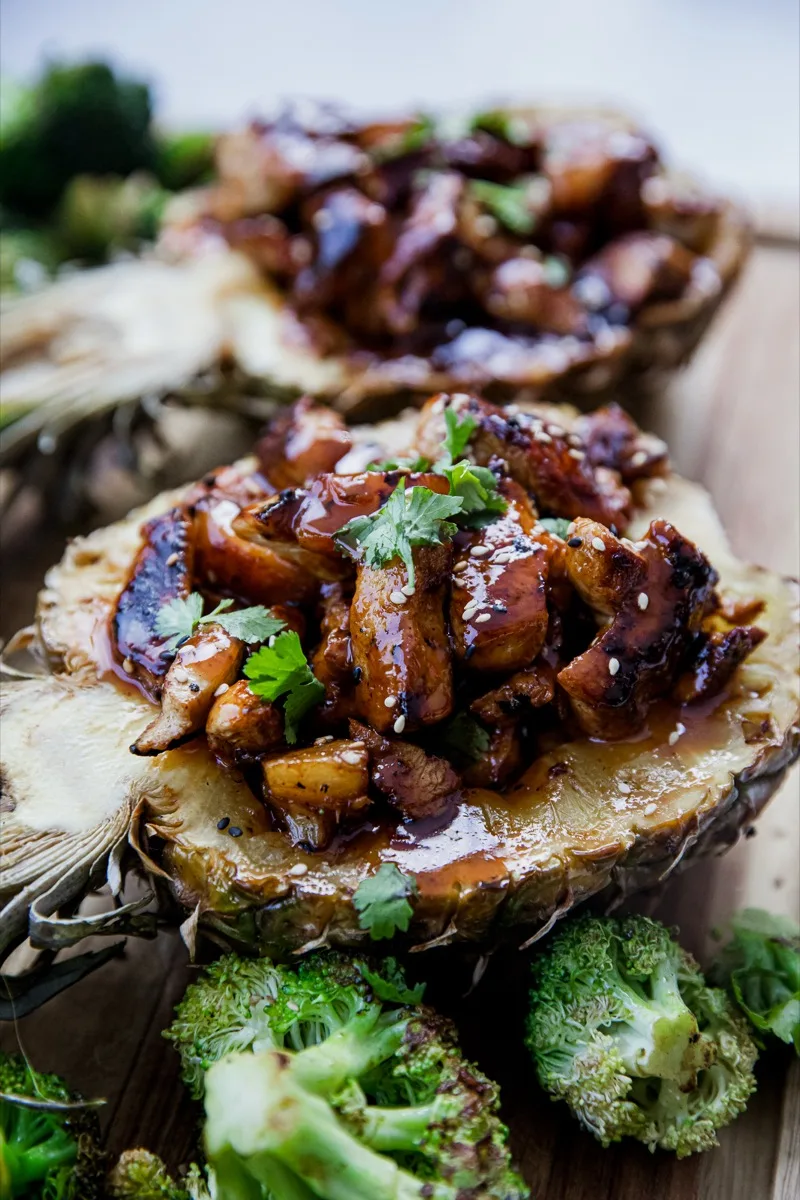 How to make a Pineapple Chicken Bowl on the Blackstone
This is just the overview so you can see what you're actually getting into here. When you are cooking, you'll want to use the full recipe at the bottom of the page.
Prep & Marinate
Cut your chicken into bite-sized pieces and marinate in the Bachan's, pineapple juice, and garlic & ginger.
Let it marinate for 2 hours.
Preheat
Fire up the griddle and make sure it is nice and clean. Let it preheat over medium-high heat for 10-15 minutes.
Pineapple
While the griddle is heating up, prep your pineapple by cutting it in half and making two pineapple bowls out of it. Reserve the good pineapple chunks that come out of the insides.
Cook
Lay down a little oil, drain the excess marinade off the chicken, and put your chicken on the griddle. Let it brown on one side before flipping. Add your pineapple chunks to the chicken during the first flip.
Place your pineapple halves cut-side-down on the griddle surface for 3-4 minutes also to develop a little caramelization on the surface.
Put the broccoli on the griddle after that first flip of the chicken too with some oil. Let it cook for a couple minutes and then cover with a dome and squirt a little water inside to steam it.
Enjoy
When the chicken is done, scoop it into your pineapple boats. If you bought big enough pineapple, toss the broccoli in too. Enjoy with some extra Bachan's on the side and some steamed white rice.
Try with our Egg Rolls!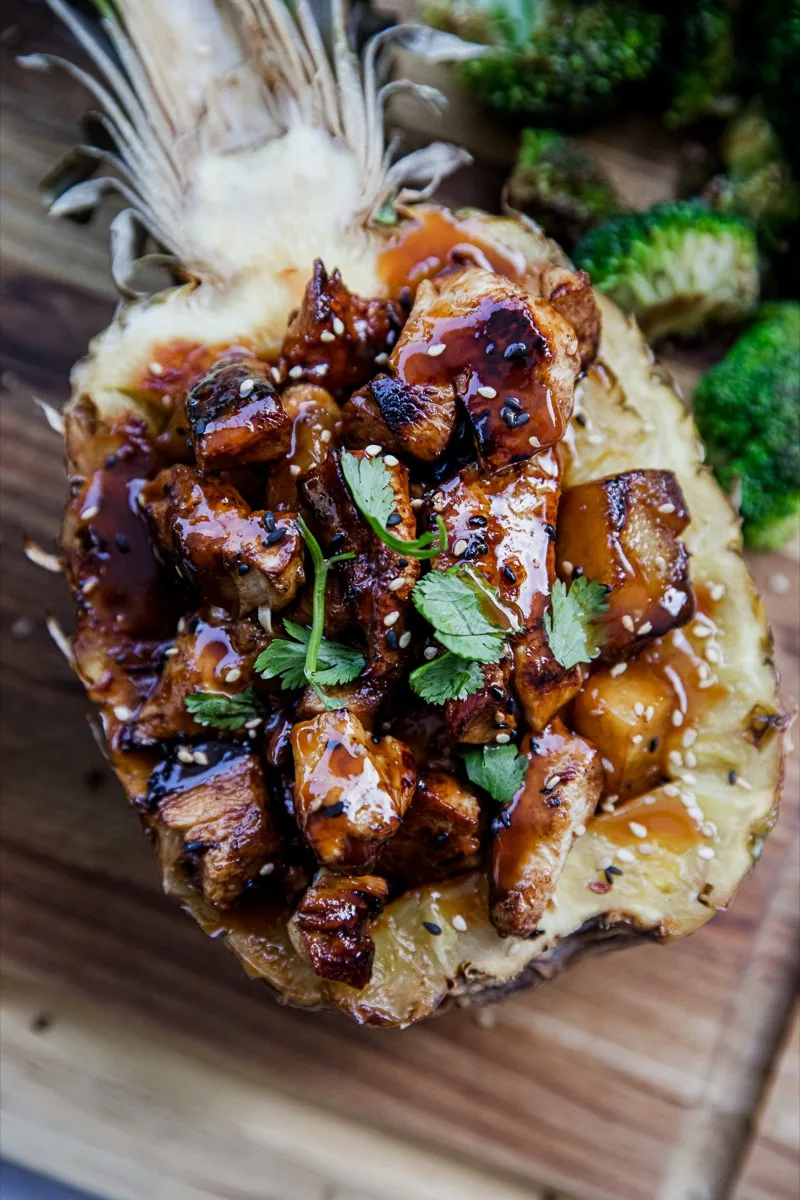 Pineapple Chicken Recipe FAQ
Can this recipe be made in advance?
You can make this in advance if you have to, but reheating it while keeping the chicken moist can be tricky. It is best served immediately after cooking. That being said, if you want to meal prep lunches for the week this is not a bad option. Just be gentle on the reheat so you don't dry it out, and you'll obviously lose some of the "wow" factor by not serving it in the pineapple, but the flavor will still be incredible.
What's the best way to store and reheat leftovers?
I pitch the pineapple bowls after the initial service and then store the rest in plastic containers or freezer baggies. They are our go-to for leftovers. Air-tight, easy, and quick. Honestly we usually opt for the baggies because then there's also nothing to wash and I'm all about reducing the number of dishes that need to be washed in a family of 9. That paper plate life is my jam.
Try our Steak Udon too!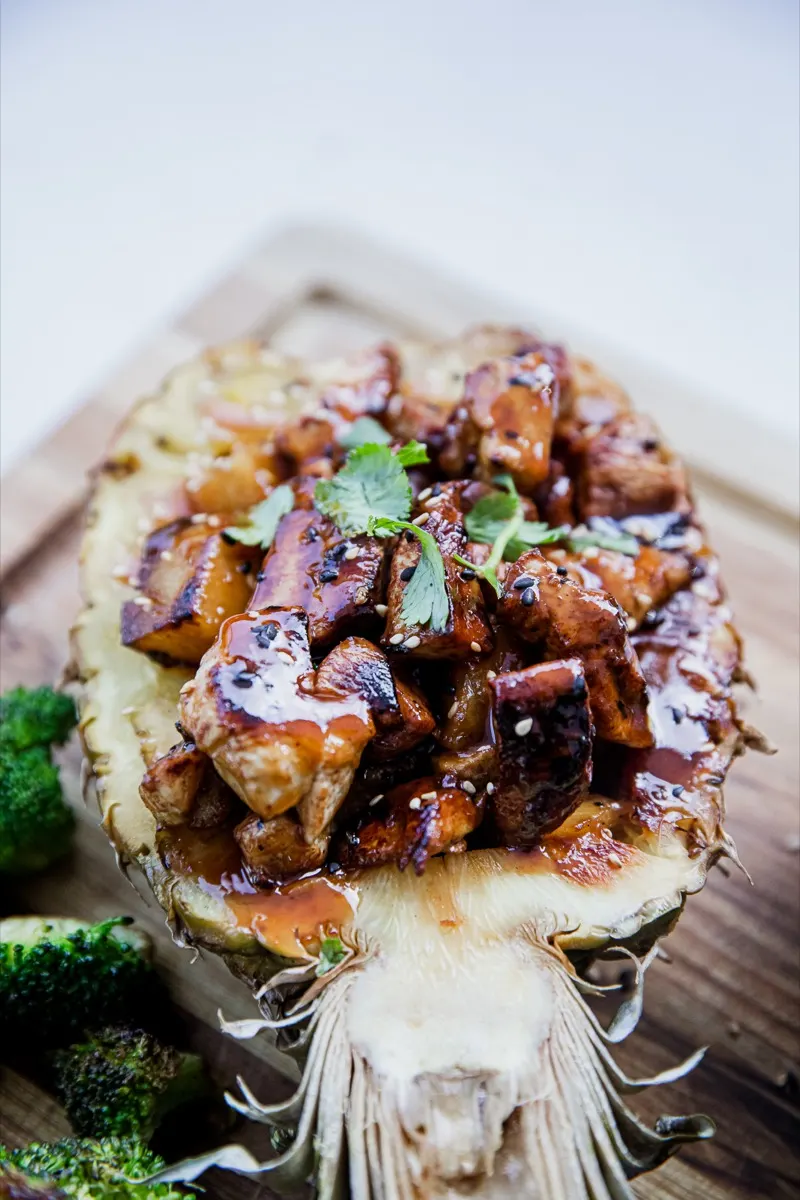 More great recipes to love!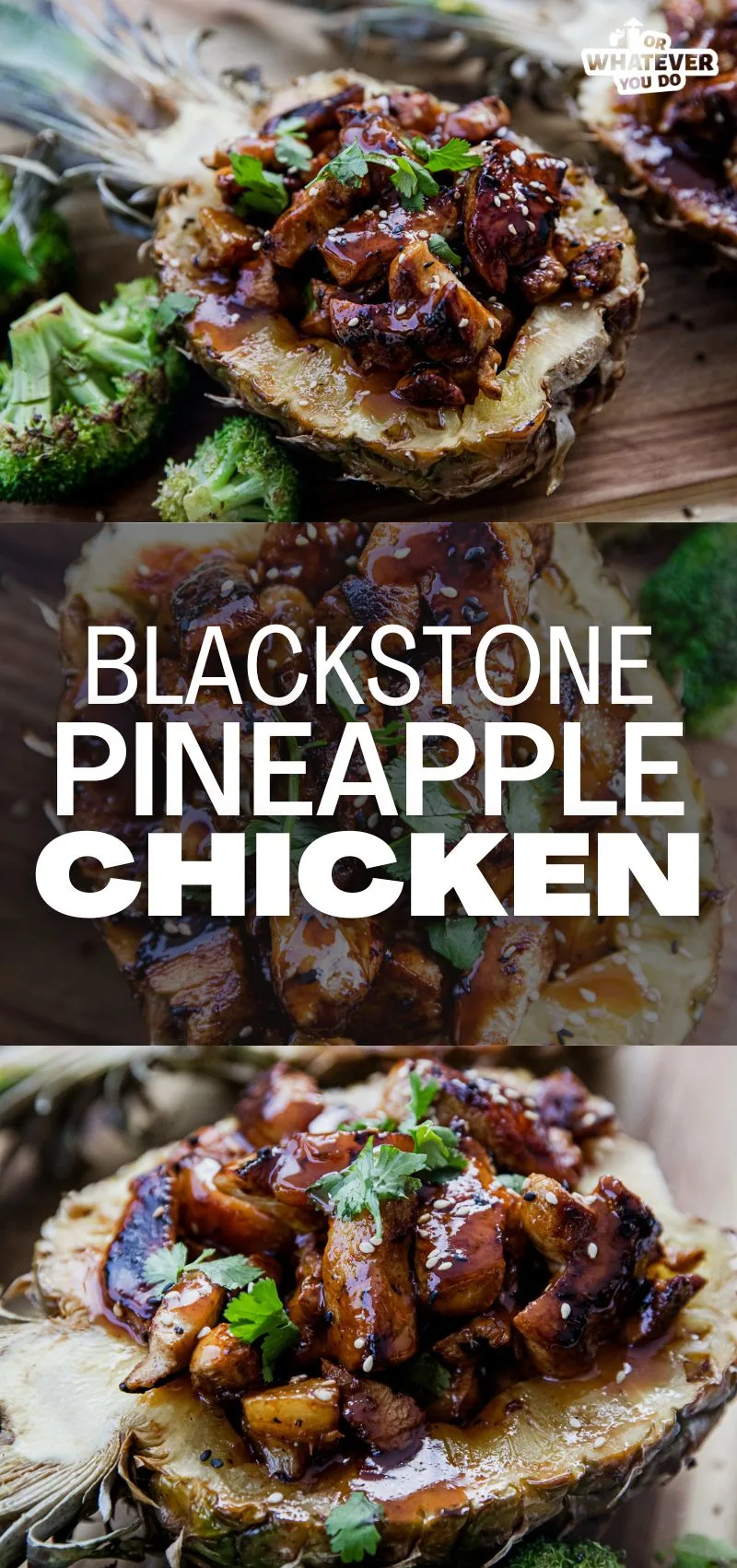 Yield: 4 servings
Blackstone Pineapple Chicken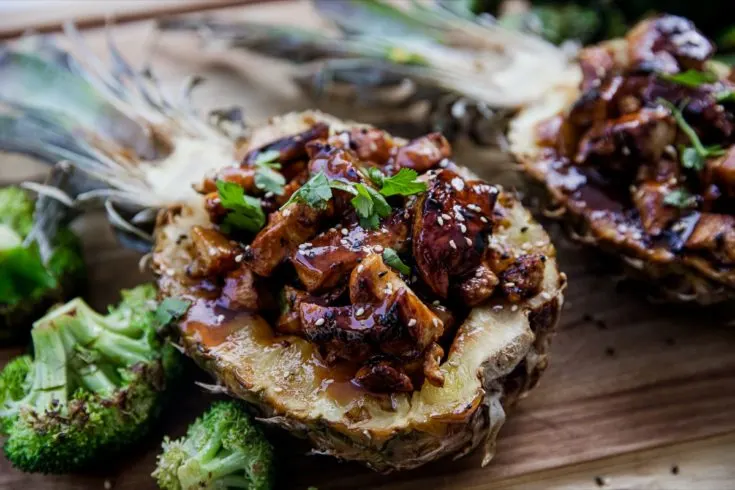 This simple and flavorful Pineapple Chicken recipe is perfect for a quick dinner recipe, and is impressive enough even for company!
Total Time
2 hours
30 minutes
Ingredients
1 whole pineapple
2 chicken breasts
1 1/2 cups Bachan's Japanese BBQ Sauce, divided
1 teaspoon minced garlic
1/2 teaspoon minced ginger
1/2 cup pineapple juice
2 cups broccoli florets
2 cups cooked white rice
2 teaspoons sesame seeds
2 teaspoons chopped cilantro
Instructions
Cut the chicken breasts into bite-sized pieces. Marinate in one cup of the Bachan's Japanese BBQ Sauce, the pineapple juice along with the garlic and ginger, or whip up a batch of my homemade teriyaki sauce.
Let the chicken marinate for at least 2 hours.
Preheat your griddle over medium heat.
While the griddle is preheating, prep your pineapple by slicing it in half, the long way. Make slices in the flesh of the pineapple in both directions. Make sure not to scoop all the way through. Use a spoon to scoop out the flesh of the pineapple. Discard the woody inner core but keep the good pineapple chunks. You'll be cooking those with the chicken.
Drain the marinade from the chicken and put the chicken on the griddle. Let it brown on one side and the flip. Now add the reserved pineapple. Also, put the pineapple halves face down on the griddle to give them a little color.
Cook the chicken, stirring frequently, until it is no longer pink in the center.
Cook the broccoli on the griddle along with the chicken, stirring frequently. Dome it and add a little water to steam it.
Serve the chicken in the pineapple halves with steamed broccoli, steamed rice, and extra Bachan's.
Recommended Products
As an Amazon Associate and member of other affiliate programs, I earn from qualifying purchases.
Nutrition Information:
Yield:
4
Serving Size:
1
Amount Per Serving:
Calories:

441
Total Fat:

4g
Saturated Fat:

1g
Trans Fat:

0g
Unsaturated Fat:

2g
Cholesterol:

51mg
Sodium:

1166mg
Carbohydrates:

77g
Fiber:

5g
Sugar:

40g
Protein:

24g
Nutrition data provided here is only an estimate.