Tropical pudding pops are such a great treat for the kids. Fresh fruit and instant pudding are a perfect match in this awesome summer treat.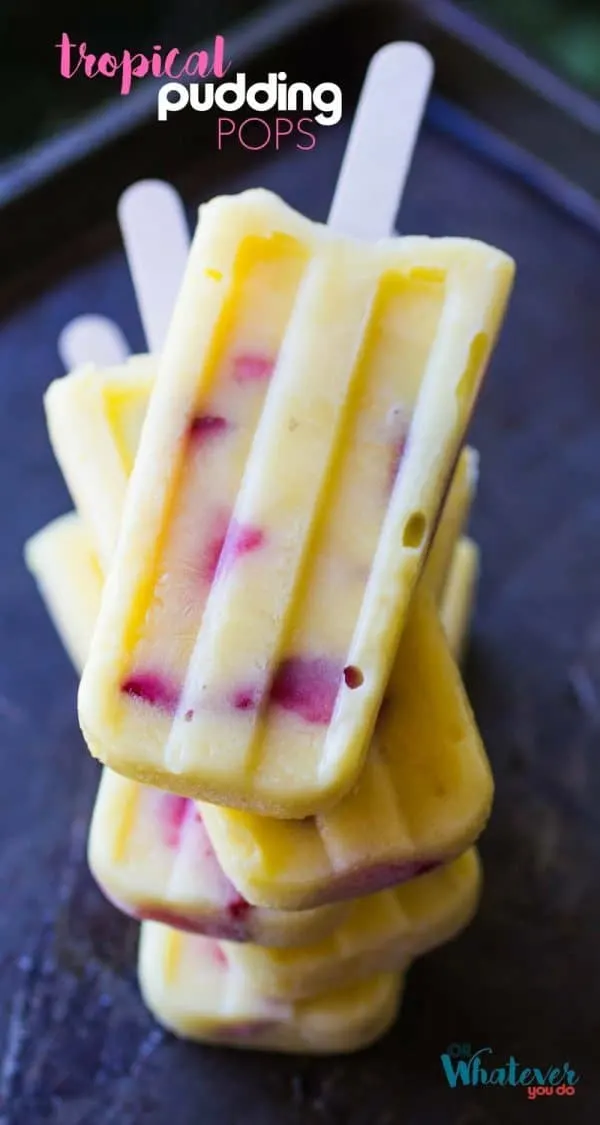 My kids have been loving the popsicle kick I've been on lately, and this one was a particular favorite. Pudding makes a great base for popsicles, and is sturdy enough to hold the fruit distributed throughout the popsicle so it doesn't all sink to the bottom.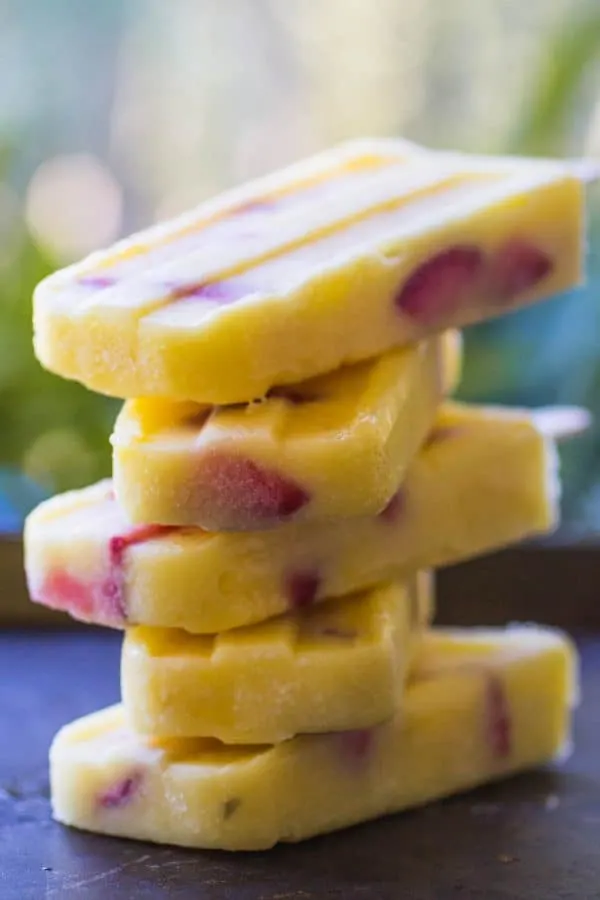 These are filled with fresh strawberries, pineapple, and kiwi. Three of my favorite fruits.
I'm in the air right now flying to Richmond, Virginia for a blogging conference for Mediavine. I'm super excited, as this is a brand new group of bloggers to me, mostly out of my niche, and in a part of the country that I've never been to before. East coast, here I come!
It is the last leg of a LONG travel day for me though. I left the house at 10AM, and it is now 7pm PST and I'm still about an hour or so out from being settled into my hotel. That's a long day!
The flights were great though, and the day went of so far without a hitch. I even had semi-decent WIFI on both of the flights, so you can't ask for much better than that.
I'll be glad to be on solid ground again, and getting ready to have a great few days with all of the ladies at the Focused Blogging Conference.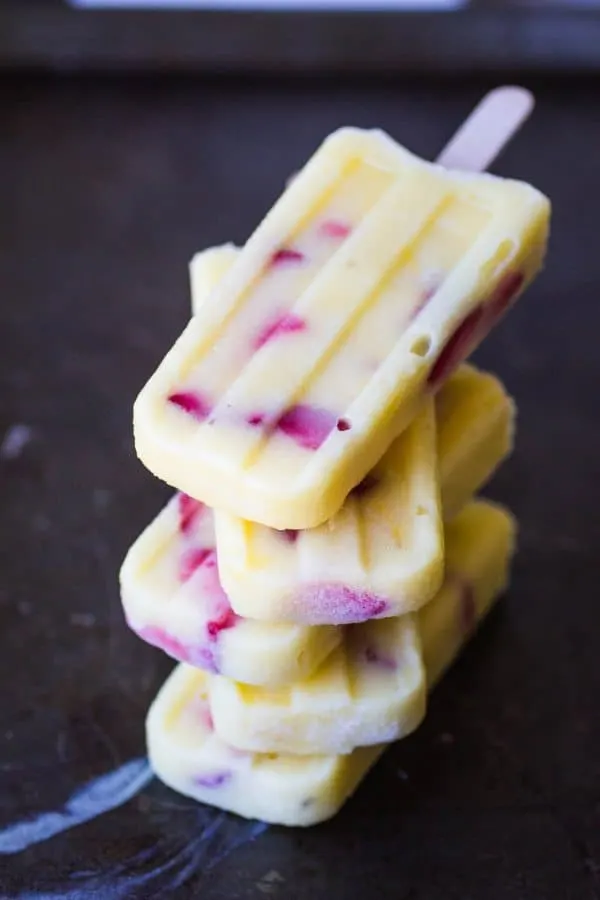 I have a feeling that I'm going to be craving some of these popsicles though. I've never been this far south, or this far east, and I'm a pretty big baby if I'm not in my specific comfort zone of 71.5 degrees.
I'm not quite THAT picky, but oh man. Humidity is not my friend. I'm going to be craving one of these Fresh Cherry Pina Coladas too, I bet.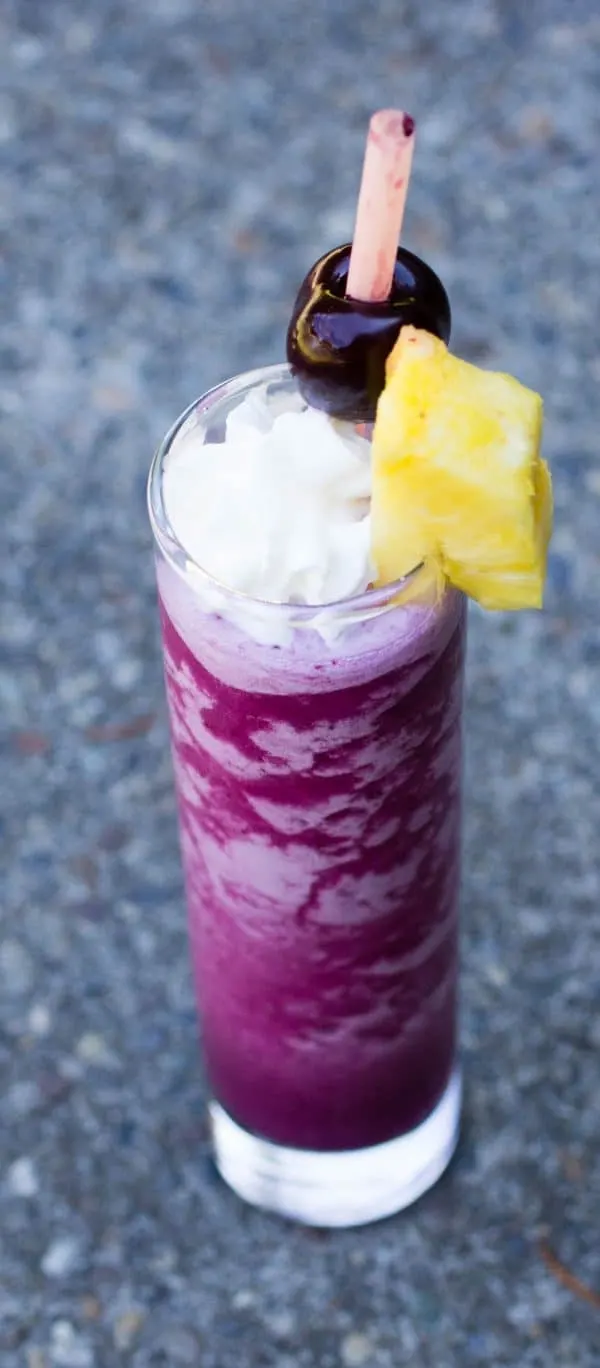 I used this popsicle mold that I got from Amazon. I loved it! Plus, it makes 10 at a time which is a necessity in my house.
---
One Year Ago: Beef and Avocado Arepa
Two Years Ago: Spicy Grilled Chicken Wings
Three Years Ago: Apple Cinnamon Streusel Coffee Cake
Four Years Ago: Garlic Fry Bread
Five Years Ago: Amazing Chicken Marsala
Six Years Ago: Homemade Soup Noodles
---
Yield: 8 popsicles
Tropical Pudding Pops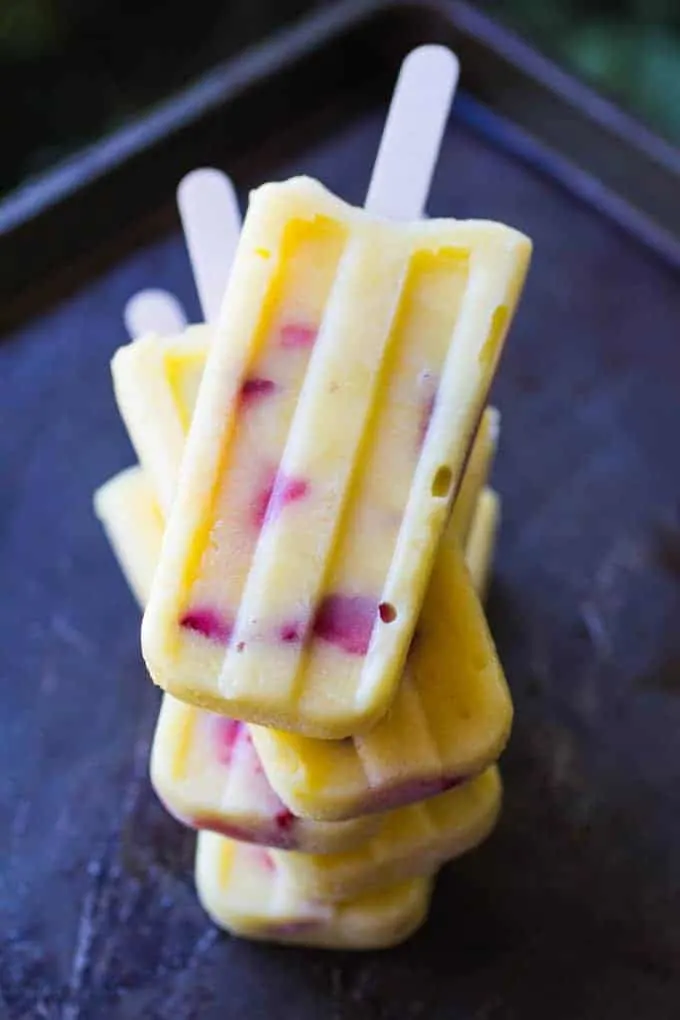 These homemade tropical pudding pops are full of great sunny flavors! Your kids will love this great summery treat.
Total Time
4 hours
10 minutes
Ingredients
1 3.4 oz instant vanilla pudding mix
1 1/4 cup cold 2% milk
1/2 cup pineapple juice
1/2 cup sweetened coconut cream
1/2 cup sliced strawberries
3 kiwis, peeled and sliced
1/2 cup fresh pineapple, diced
Instructions
Combine the pudding mix, milk, pineapple juice, and coconut cream. Mix until combined, no lumps remain, and the mixture has thickened.
Stir in fruit, and place into popsicle mold. Fill to the top.
Freeze for 8 hours minimum.
Recommended Products
As an Amazon Associate and member of other affiliate programs, I earn from qualifying purchases.
Nutrition Information:
Yield:
6
Amount Per Serving:
Calories:

230
Total Fat:

5g
Saturated Fat:

4g
Trans Fat:

0g
Unsaturated Fat:

1g
Cholesterol:

10mg
Sodium:

348mg
Carbohydrates:

44g
Fiber:

4g
Sugar:

37g
Protein:

3g