If you love a good pickled pepper, a peck of pickled peppers is what Peter Piper picked. Or these Smoked Pickled Jalapeños, rather. Just a bit of smoke from our Traeger pellet grill take your typical pickled jalapenos and takes them up several notches!
Traeger Smoked Pickled Jalapeños
Spicy, briny, and perfect on top of a burger, hot dog, taco, or your next breakfast burrito, you're going to want to keep a jar of these in your fridge always and forever if you love peppers as much as we do here.
I hit the easy button by tossing in a pre-mixed pickling spice. You can use whatever you have available, or if you need to pick one up, there are many great versions out there. I've used this one from Morton & Basset that comes in the fun glass jars at most major grocery stores and also my all-time-fave, this Spiceology Pickling Spice.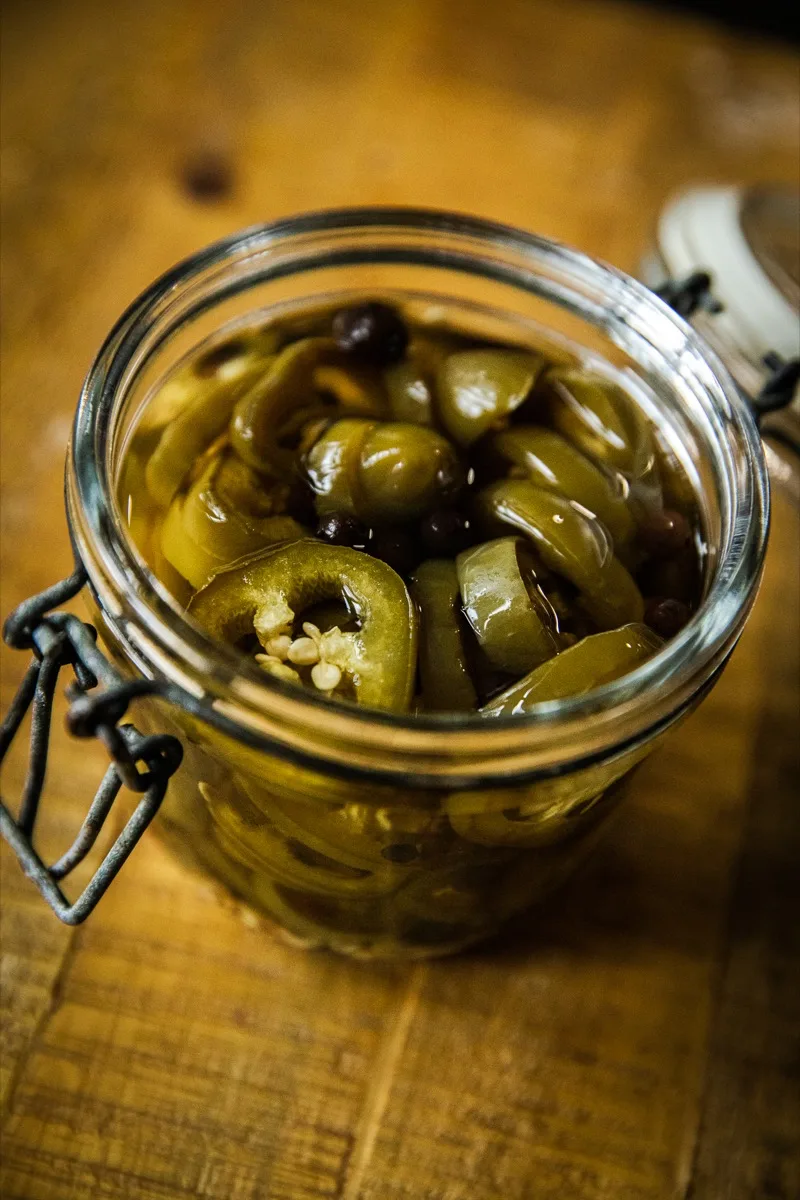 Traeger Pickled Jalapeños shopping list
Wondering if you have to hit the store? Here's the list of items you'll need to make this recipe. For specific amounts, please refer to the printable recipe card at the bottom of the post.
Jalapeños
Pickling Spice
Sugar
White vinegar
Water
How to make Smoked Pickled Jalapeños
This is just the overview so you can see what you're actually getting into here. When you are cooking, you'll want to use the full recipe at the bottom of the page.
Preheat
Fire up that smoker or pellet grill and preheat to 250°F. We want these to have some smoke but not be fully COOKED before the hot pickle brine gets poured over them.
Prep
Take your peppers and slice off the end with the stem. Next, cut the peppers into rings. We like to keep the seeds and membranes intact. It add more kick!
Place the pepper rings on a parchment-lined baking sheet.
Smoke
Put the pan of peppers into your pellet pyromaniac for 20-30 minutes.
Pickle
Put your pickle brine ingredients into a pot and simmer until the sugar is dissolved.
Pluck the peppers and place them into a pint jar. Pour in the simmering pickling brine (filled with piquant ingredients like vinegar, salt, and pickling spice.)
As the peppers pickle, their pungent flavor profile will be enhanced by the presence of Allspice, Mustard Seed, Black Pepper, Dill Seed, Clove, Fennel, Crushed Red Pepper, Coriander, Cinnamon, Bay Leaf.
Chill
When the pickling process is complete, preserve the pickled peppers in airtight packaging and enjoy them as a perfect snack with your favorite sandwich or burger.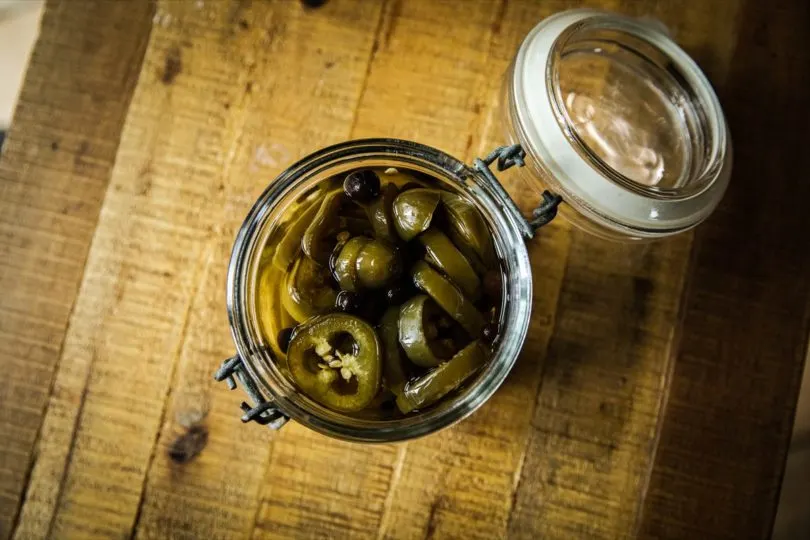 Smoked Pickled Peppers FAQ
What kind of jalapenos should I use for this recipe?
It's best to use fresh jalapeno peppers that are firm and unblemished. Look for jalapenos with a shiny green color, and avoid those that are wrinkled or discolored.
How long can I store the pickled jalapenos?
The pickled jalapenos can be stored in an airtight container in the refrigerator for up to 2-3 months. Make sure to label the container with the date of preparation and discard the pickled jalapenos if you notice any signs of spoilage such as mold or an off smell.
This recipe has not been tested for canning.
Can I use this recipe to pickle other types of peppers?
Yes, you can use this recipe to pickle other types of peppers, such as serrano peppers, banana peppers, or even bell peppers.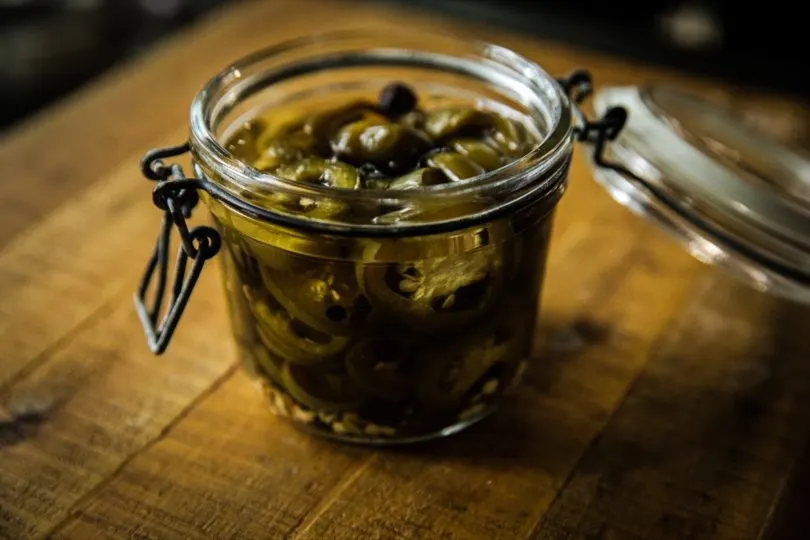 More great recipes that bring the heat!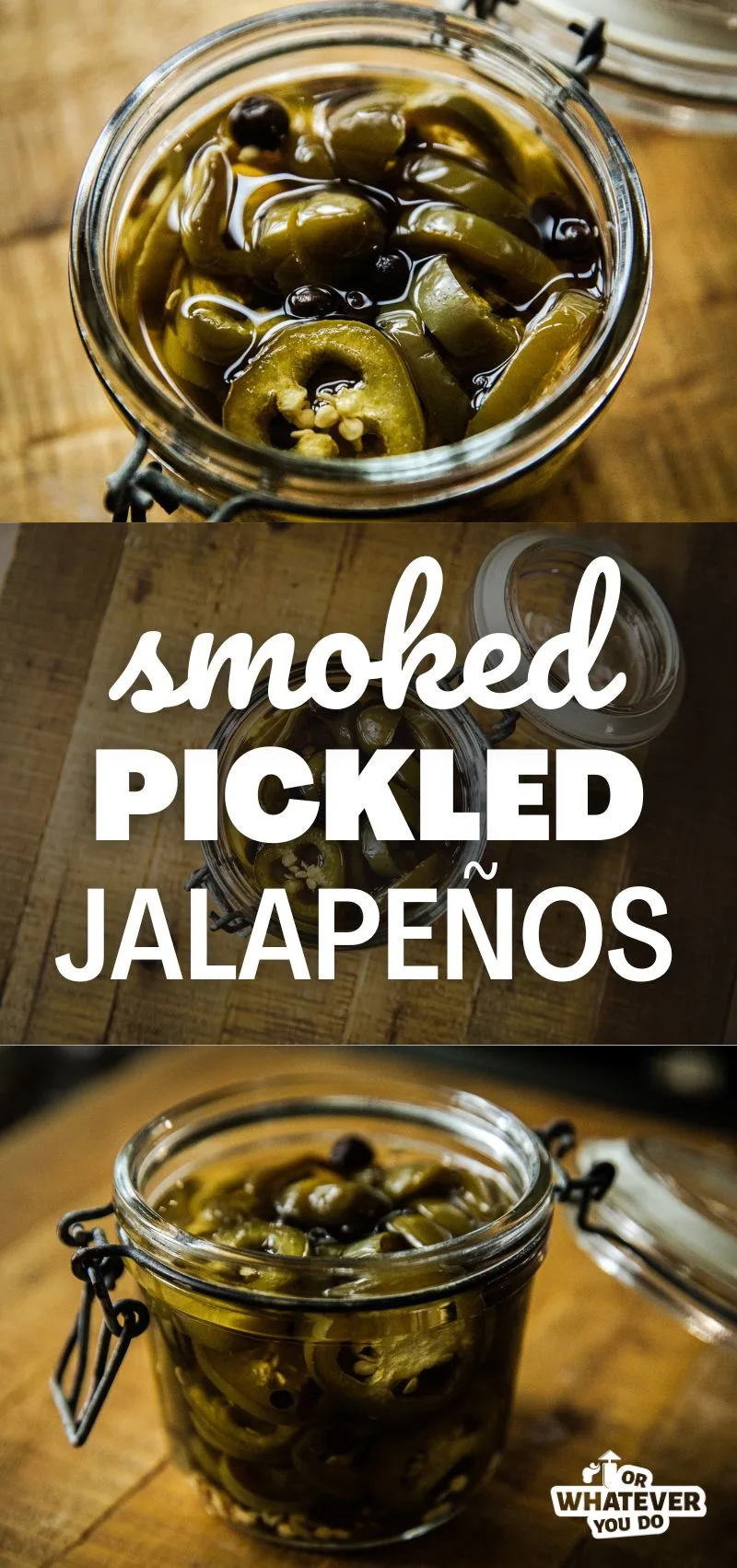 Yield: 8 servings
Smoked Pickled Jalapeños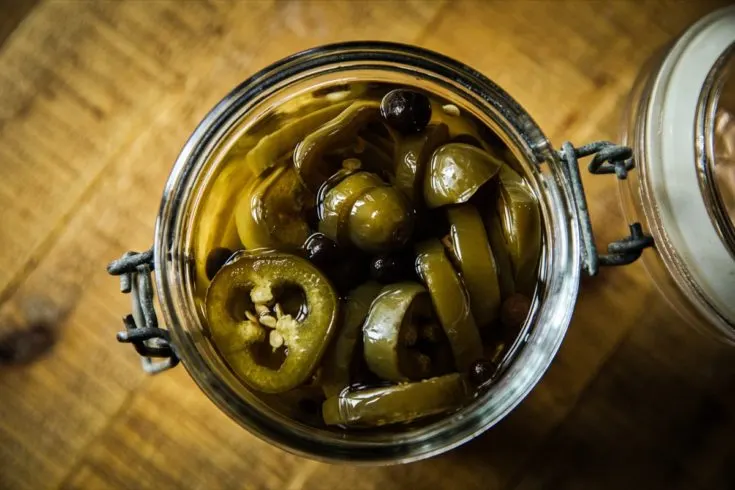 These easy and fast quick Smoked Pickled Jalapenos are perfect for a big pile of nachos, tacos, pizza, burgers, hot dogs, or a killer breakfast burrito!
Ingredients
5 large jalapeno peppers
1/2 cup water
1/2 cup white vinegar
1 tablespoon pickling spice
1 teaspoon sugar
1 1/2 teaspoons kosher salt
Instructions
Preheat the pellet grill to 250°F.
Slice the jalapenos into rings and discard the stem.
Place the rings onto a parchment-lined baking sheet, and put it into the smoker. Let them smoke for 20-25 minutes.
While the peppers are smoking, make the brine by placing the water, vinegar, pickling spice, sugar, and salt into a small pot. Heat over medium heat until it is at a low simmer and the sugar dissolves.
Put the smoked peppers into a pint jar and pour the brine over the top. Fill to almost the top and seal with a lid. Let cool on the counter for an hour or so before sticking the jar in the fridge.
Enjoy on nachos, tacos, burritos, eggs, pizza, or whatever else you can dream up!
Recommended Products
As an Amazon Associate and member of other affiliate programs, I earn from qualifying purchases.
Nutrition Information:
Yield:
8
Serving Size:
1
Amount Per Serving:
Calories:

7
Total Fat:

0g
Saturated Fat:

0g
Trans Fat:

0g
Unsaturated Fat:

0g
Cholesterol:

0mg
Sodium:

237mg
Carbohydrates:

1g
Fiber:

0g
Sugar:

1g
Protein:

0g
Nutrition data provided here is only an estimate.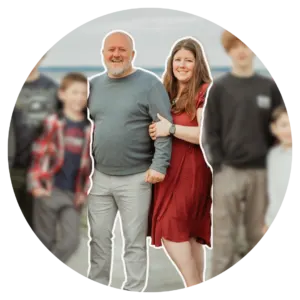 Nicole Johnson, a self-taught expert in grilling and outdoor cooking, launched Or Whatever You Do in 2010. Her blog, renowned for its comprehensive and creative outdoor cooking recipes, has garnered a vast audience of millions. Nicole's hands-on experience and passion for grilling shine through her work. Her husband, Jeremiah Johnson, also plays a pivotal role in recipe development, adding his culinary flair to the mix. Together, they form a dynamic duo, offering a rich and varied outdoor cooking experience to their followers.