Experience the ultimate fusion of hearty comfort food with a gourmet twist. Introducing our Blackstone Pierogi recipe, a traditional dish that will bring warmth to your table and your belly. This recipe is not just an ordinary culinary exploration. We've elevated it with the smoky richness of bacon, the subtle sweetness of shallots, and the tangy creaminess of sour cream. Each bite promises an unforgettable flavor journey, guaranteed to leave you wanting more. Perfect for a cozy family dinner or a unique appetizer to impress guests.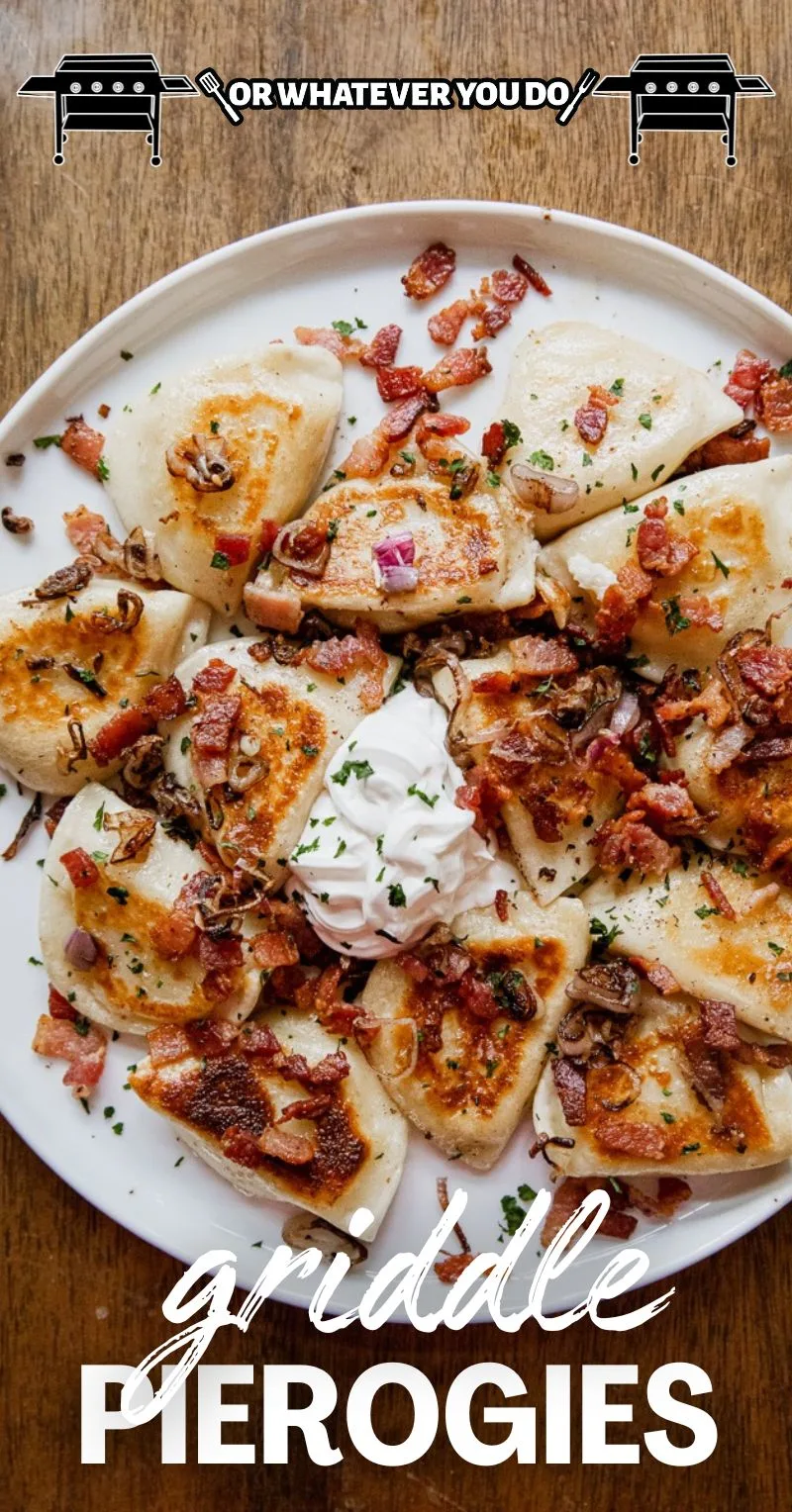 Blackstone Pierogies
I love a good pierogi. These little dumplings are often filled with other things like love, like cheese and potatoes, and are such a hearty and filling meal. What's not to love? Plus, store-bought versions of these are becoming more and more common, AND better quality too.
Can you make them from scratch? Absolutely. I have a great Pierogi Recipe here on the site. It is quite the task though. Homemade dough, stuffed with filling, sealed shut, boiled, and then pan-fried? Clear your afternoon. It'll be worth it, sure, but for this particular recipe today I wanted fast, easy, AND delicious.
I found some fresh pierogi at Costco last time I was there and had to grab a pack. You can often find frozen versions too, just make sure to thaw them before cooking on the griddle or the insides will still be frozen when the outsides are browned.
This recipe is great for a quick hearty meal or a stick-to-your-ribs appetizer at your next party. You can make it into a whole meal too by frying up some smoked sausage or kielbasa along with it.
60+ Incredible Blackstone Recipes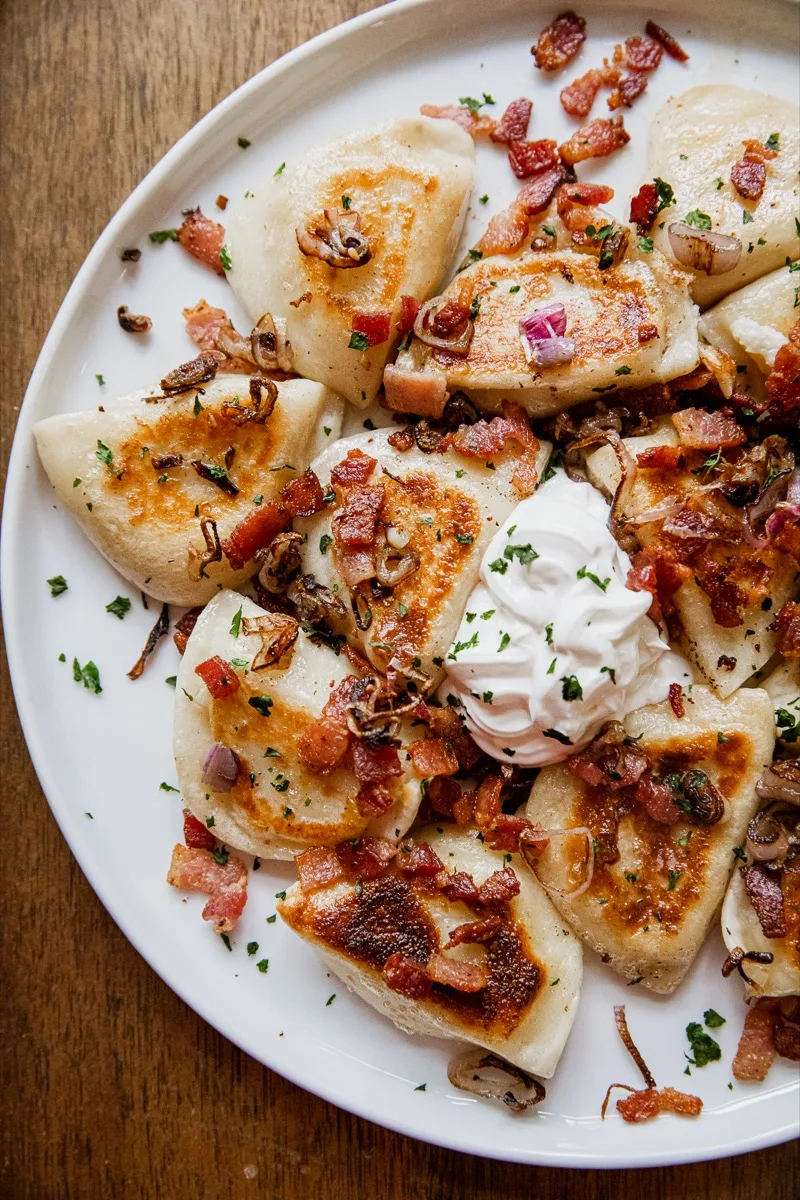 Blackstone Pierogies shopping list
Wondering if you have to hit the store? Here's the list of items you'll need to make this recipe. For specific amounts, please refer to the printable recipe card at the bottom of the post.
Butter
Bacon
Shallot
Potato and Cheese Pierogi
Sour cream
Chives
Try our Blackstone Pierogies and Kielbasa too!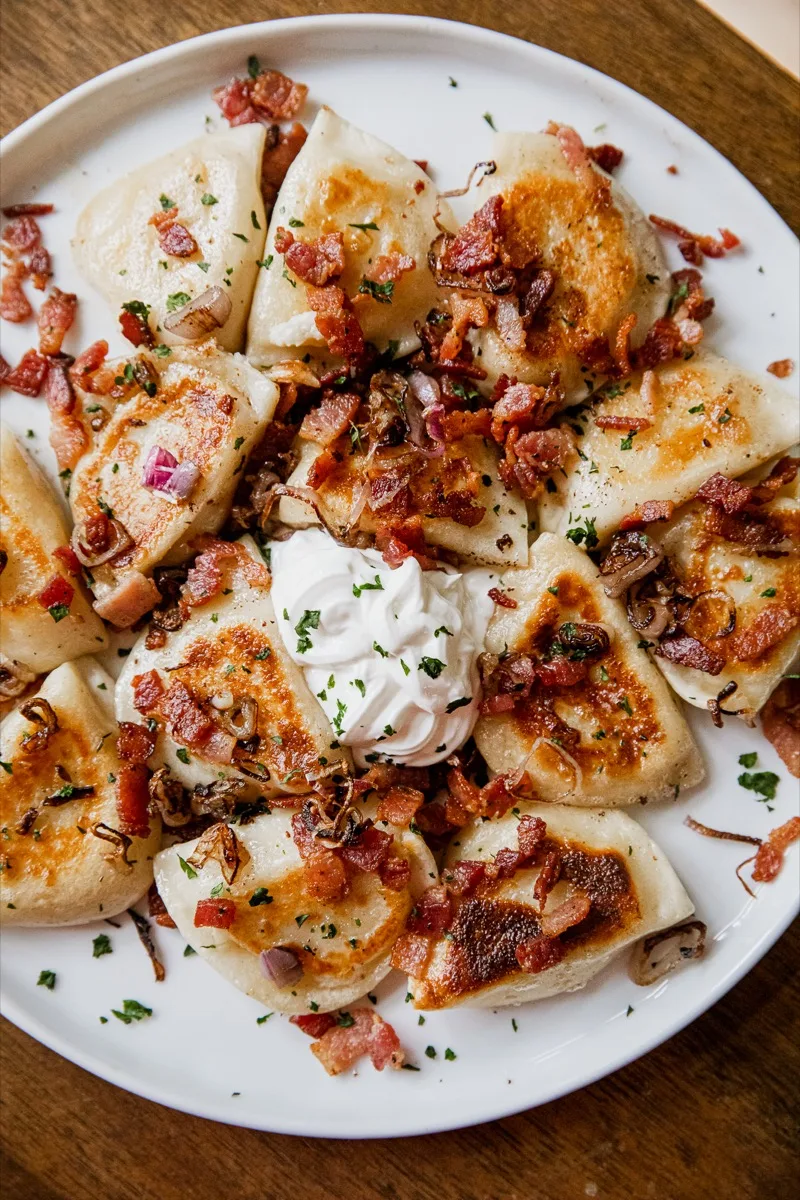 How to make Pierogies on the Blackstone
This is just the overview so you can see what you're actually getting into here. When you are cooking, you'll want to use the full recipe at the bottom of the page.
Prep
If your pierogies are frozen, thaw them in the fridge.
Slice the shallots into thin rounds. Chop the bacon.
Preheat
Fire up the griddle over medium heat for 10-15 minutes.
Cook
Cook the bacon and shallots on one half of the griddle. Melt the butter on the other half and put down the thawed pierogies.
Cook the pierogi on both sides until brown. Cook the bacon until crisp and the shallots until they are lightly browned.
Enjoy
Put the bacon and shallots over the pierogies and serve with a good portion of sour cream.
Sprinkle with chopped chives.
Crispy Hashbrowns on the Blackstone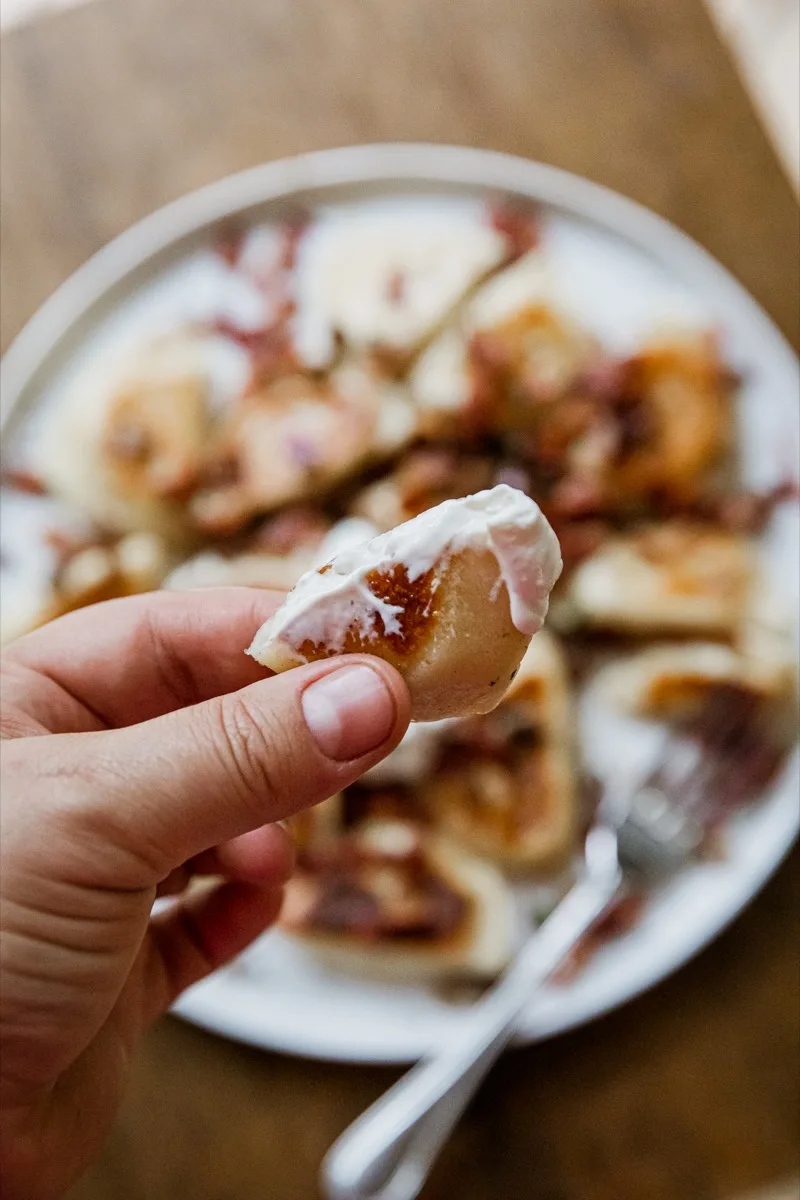 Blackstone Pierogies FAQ
Can this be made in advance?
Yes! This dish actually reheats really well if you need to travel with it. Just keep the sour cream off the plate until it is hot already and people are ready to eat.
What's the best way to store and reheat the leftovers?
Store the leftovers in an airtight container for up to 2-3 days. Reheat in the microwave or in a pan on the stovetop over low to medium-low heat with some more butter.
Are there any recommended substitutions or additions?
You can use onions instead of shallots if you'd like. You could throw in some chopped garlic at the end while the last side of the pierogi is browning. You can also experiment with different fillings in the pierogies too. Use your best judgment and experiment!
Try our Blackstone Chicken Wings!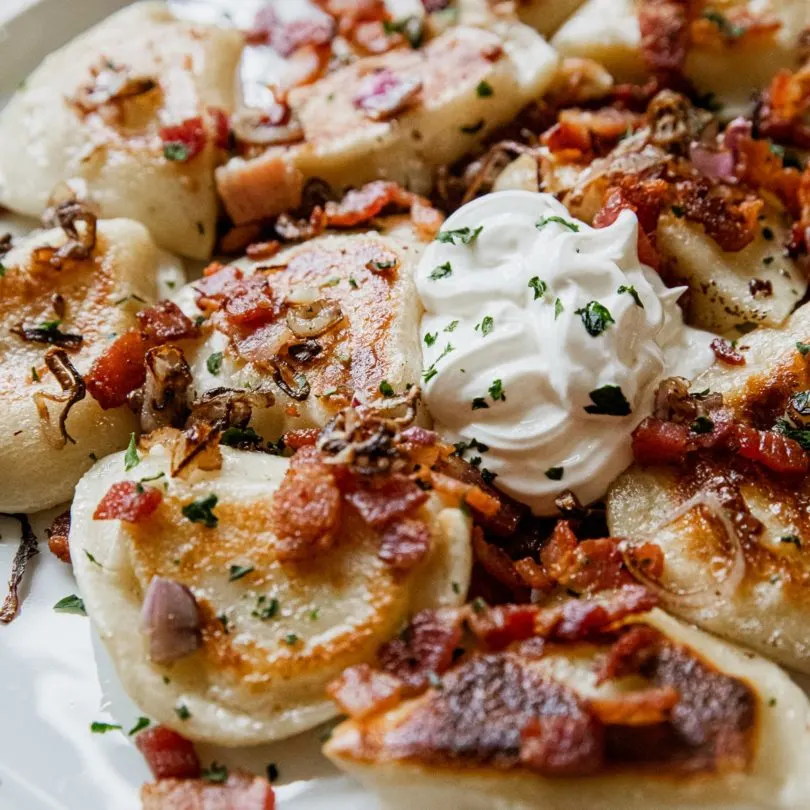 More great Blackstone recipes to love!
The Blackstone Griddle is the ultimate tool for cooking up a storm in the great outdoors. You can use it to make delicious, crispy Blackstone Frozen Fries that are perfect for sharing with friends and family. For breakfast, try making Blackstone Eggs in a Basket on your Blackstone Griddle for a tasty and easy meal.
If you're in the mood for something sweet, whip up some Griddle Corn Cakes with Honey Butter. And for those who love savory, try making Sausage-Stuffed Hash Browns on your griddle. You can even grill up some Griddle Shrimp Kabobs or make Griddle Pork Fried Rice for a unique twist on classic seafood and Asian dishes.
For a hearty lunch or dinner, nothing beats a Griddle Patty Melt – a juicy burger patty sandwiched between two slices of grilled bread with melted cheese and onions. And if you're in the mood for some Mexican-inspired cuisine, you have to try Blackstone Blackened Shrimp Tacos or Blackstone Blackened Fish Tacos. Both of these dishes are bursting with flavor and are sure to be a crowd-pleaser.
Last but certainly not least, you can use your Blackstone Griddle to cook up some mouth-watering meat dishes, such as the Blackstone Flank Steak or Blackstone Sturgeon with Lemon Cream Sauce. Both of these recipes are perfect for a special occasion or just a delicious weeknight meal. No matter what you're cooking up, the Blackstone Griddle is the perfect tool for the job.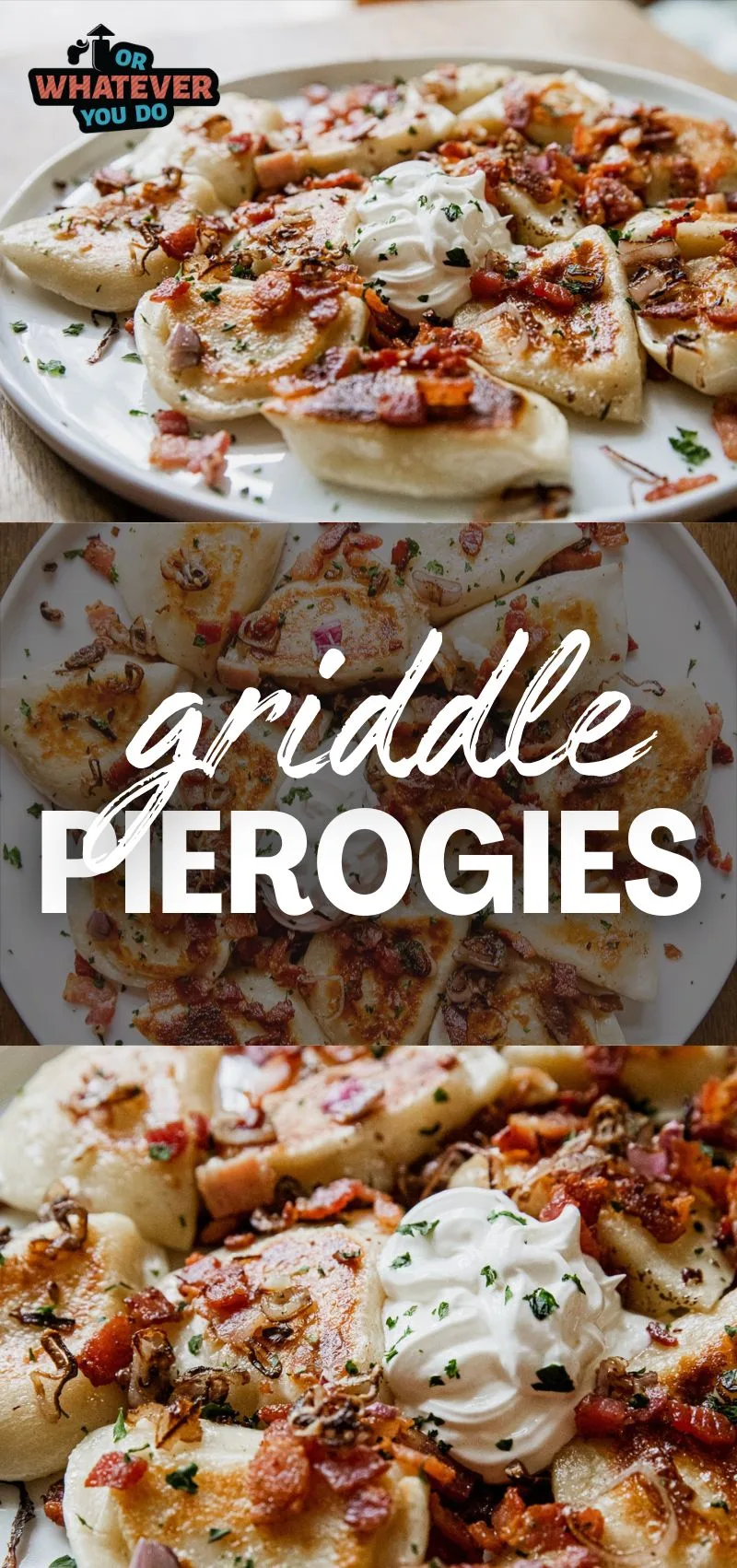 Yield: 6 servings
Blackstone Pierogies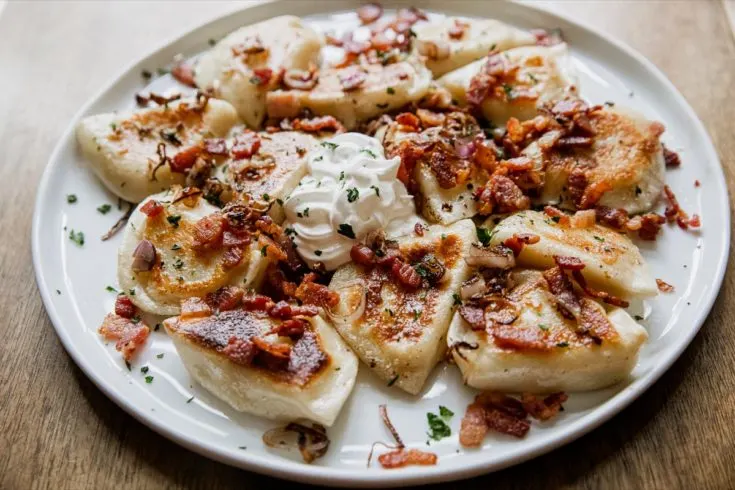 Indulge in Blackstone Pierogi - a gourmet twist on comfort food. Savour handcrafted dough encasing seasoned potatoes, enhanced by smoky bacon and tart sour cream. The caramelized shallots add a hint of sweetness, creating an unforgettable flavor journey - perfect for intimate dinners or impressing guests.
Ingredients
4 tablespoons butter
4 slices bacon
1 shallot
12 Potato and Cheese Pierogi, fresh or thawed
1/2 cup sour cream
1 tablespoon chopped chives
Instructions
Preheat your griddle over medium heat.
Slice the shallot into rounds and chop the bacon into small pieces.
Place both on the griddle to cook.
Melt some butter on the other half of the griddle and put your pierogies down. Let them brown on one side before flipping and browning on the other side.
Stir and flip the bacon and shallots as needed until the bacon is crisp and the shallots are lightly browned.
Serve the pierogies with the bacon and shallots on top and a generous serving of sour cream. Sprinkle with your chopped chives and serve hot.
Recommended Products
As an Amazon Associate and member of other affiliate programs, I earn from qualifying purchases.
Nutrition Information:
Yield:
6
Serving Size:
1
Amount Per Serving:
Calories:

525
Total Fat:

17g
Saturated Fat:

9g
Trans Fat:

1g
Unsaturated Fat:

7g
Cholesterol:

45mg
Sodium:

352mg
Carbohydrates:

81g
Fiber:

8g
Sugar:

6g
Protein:

14g
Nutrition data provided here is only an estimate.