Our easy, delicious Smoked Cipollini Onions Recipe is the prefect side next to a thick, grilled steak, chopped up and mixed into your next pasta or omelette, or whatever else you can dream up for this versatile recipe!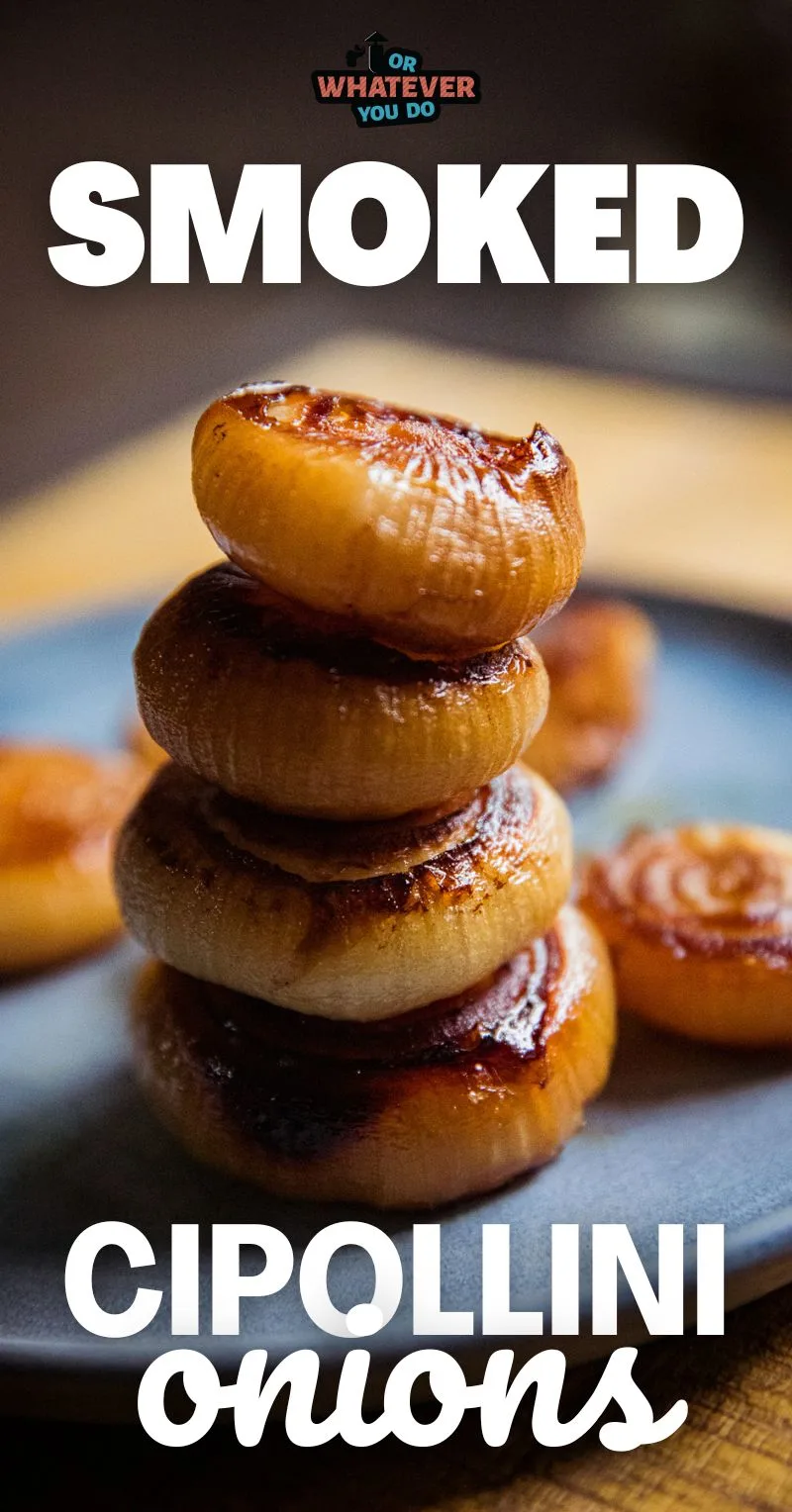 Traeger Smoked Cipollini Onions
Cipollini onions are small, flat, and sweet, making them a fantastic choice for a wide range of dishes. These onions are commonly used in soups and stews, but they are great in a wide variety of preparations and taste great raw or cooked. In Italian, "cipollini" means "little onion".
Smoking these delicious onions adds a whole new depth of flavor, creating a unique and mouthwatering side dish that will elevate any meal. In this post, we'll guide you through the process of making the ultimate Smoked Cipollini Onions recipe, offering helpful tips and tricks along the way.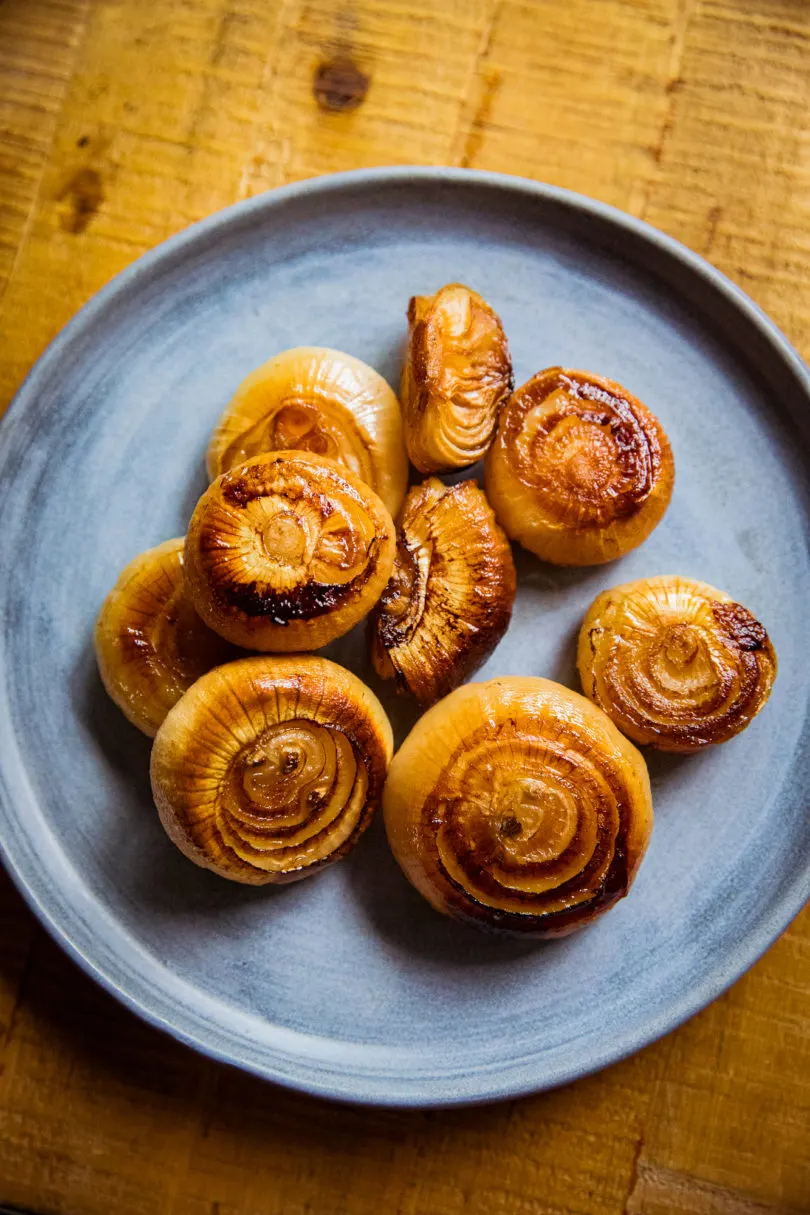 Smoked Cipollini Onions shopping list
Wondering if you have to hit the store? Here's the list of items you'll need to make this recipe. For specific amounts, please refer to the printable recipe card at the bottom of the post.
Cipollini onions
butter
olive oil
sherry vinegar
honey
salt
white wine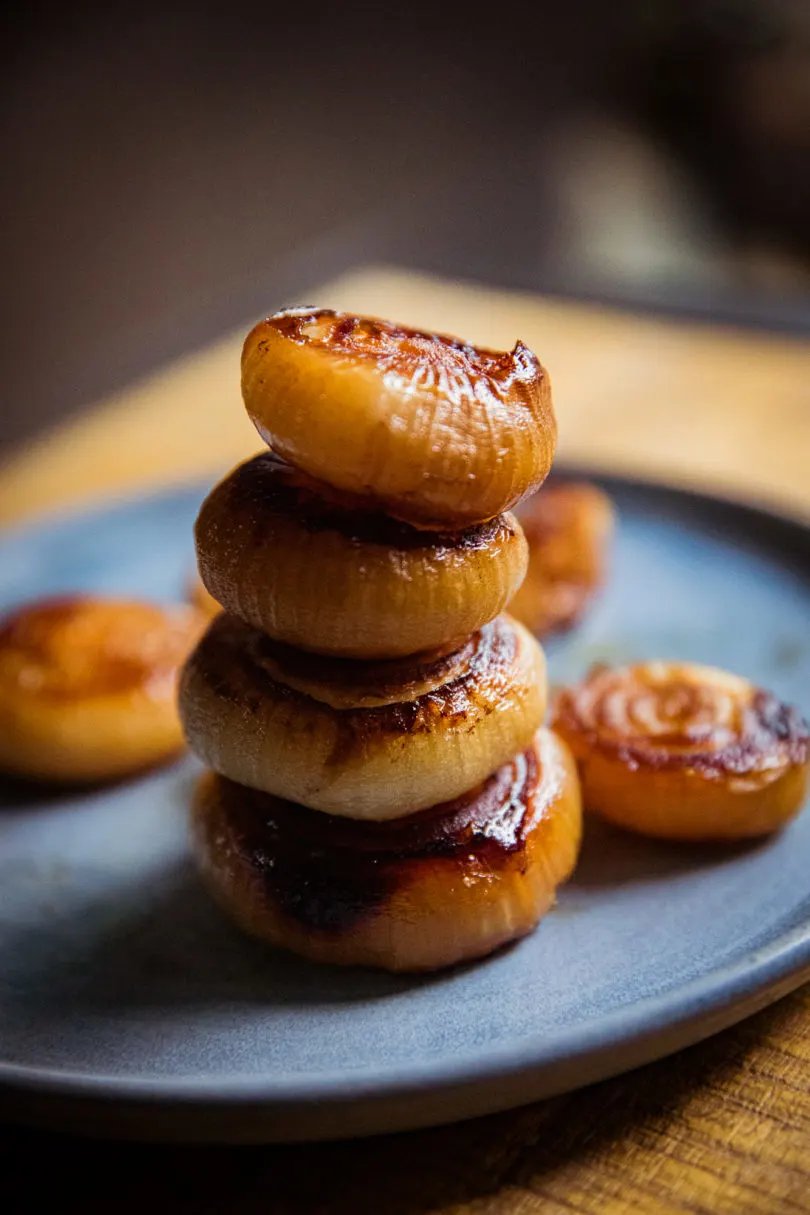 How to make Smoked Cipollini Onions
This is just the overview so you can see what you're actually getting into here. When you are cooking, you'll want to use the full recipe at the bottom of the page.
Preheat
Fire up your smoker and preheat to 300°F.
Prep
Remove the skin from the onions and prep your pan with a spray of cooking spray. Put the butter and olive oil into the pan.
Roast
Roast the onions for 30-45 minutes or until the bottoms are golden brown. Flip over and let the other side brown for another 20-30 minutes (actual time may vary due to many different factors.)
Glaze
Once both sides are browned, mix together all the glaze ingredients and pour over the onions. Turn the heat up to 350°F.
Continue to cook until the onions are fork tender and the liquid has reduced a bit.
Enjoy
Let cool a bit and enjoy! These can be eaten as a side dish, chopped up and mixed into sauces, stews, eggs, casseroles, put on pizza, and whatever else you can dream up.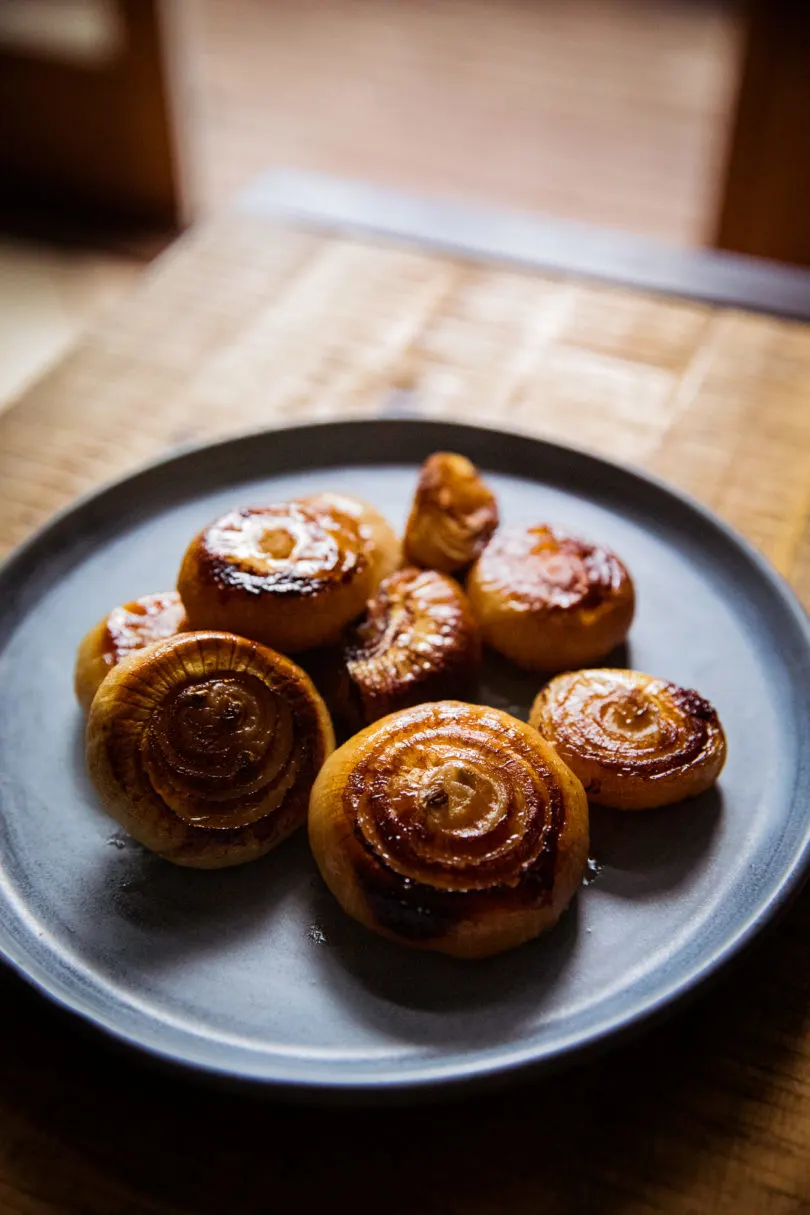 Roasted Glazed Onions FAQ
Can other onion varieties be used for this recipe?
Yes, other onion varieties such as pearl onions or small shallots can be used, but the cooking time and flavor profile may vary slightly. You can even use quartered sweet onions like Vidalias or Walla Walla Sweet Onions.
Can you make these without a smoker or pellet grill?
Sure! These can be roasted in the oven or over indirect heat on a gas or charcoal grill. Just monitor your temps and follow the same general instructions for the best results. You can also cook these in a cast iron pan on the stovetop too. Lots of different ways to get to the same (relative) end result.
What's the best way to store any leftovers?
I toss them in a sealable baggie and keep them in the fridge for a few days. You can reheat them in a pan with some butter, or you can toss them back on the grill. You do you!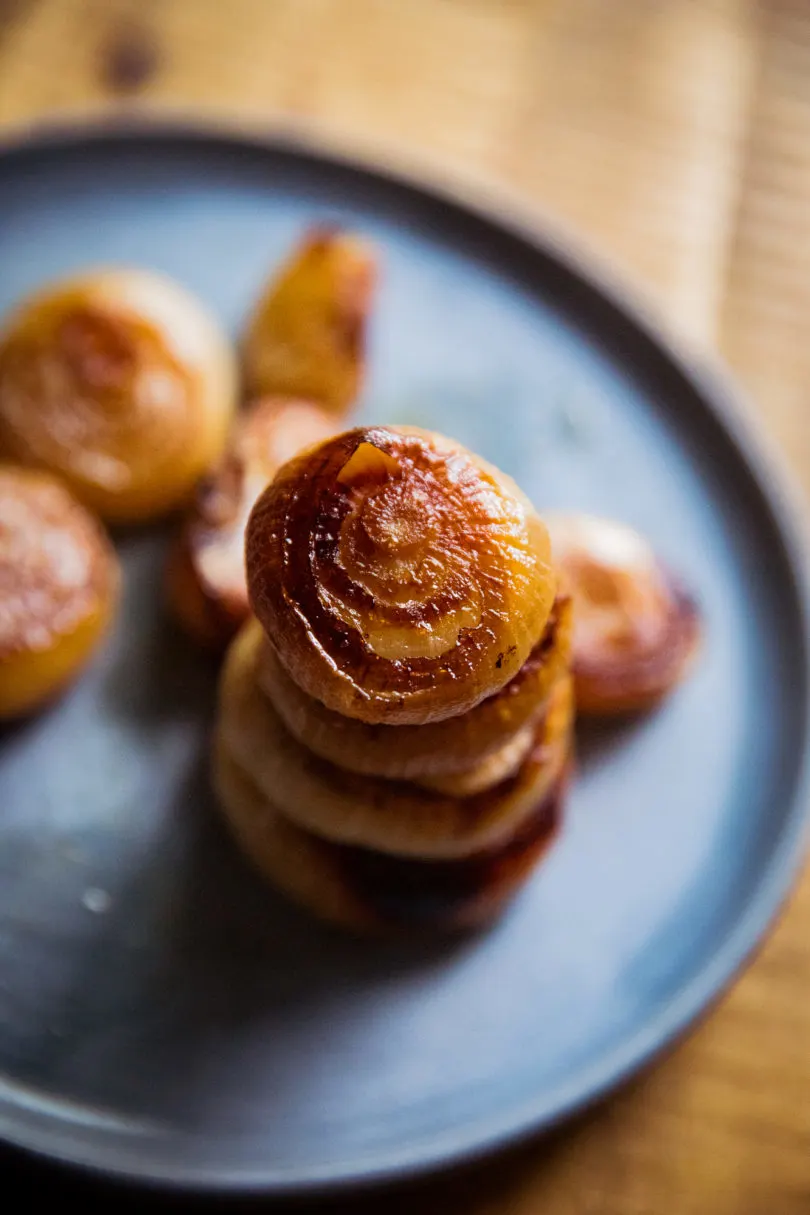 More great recipes to love!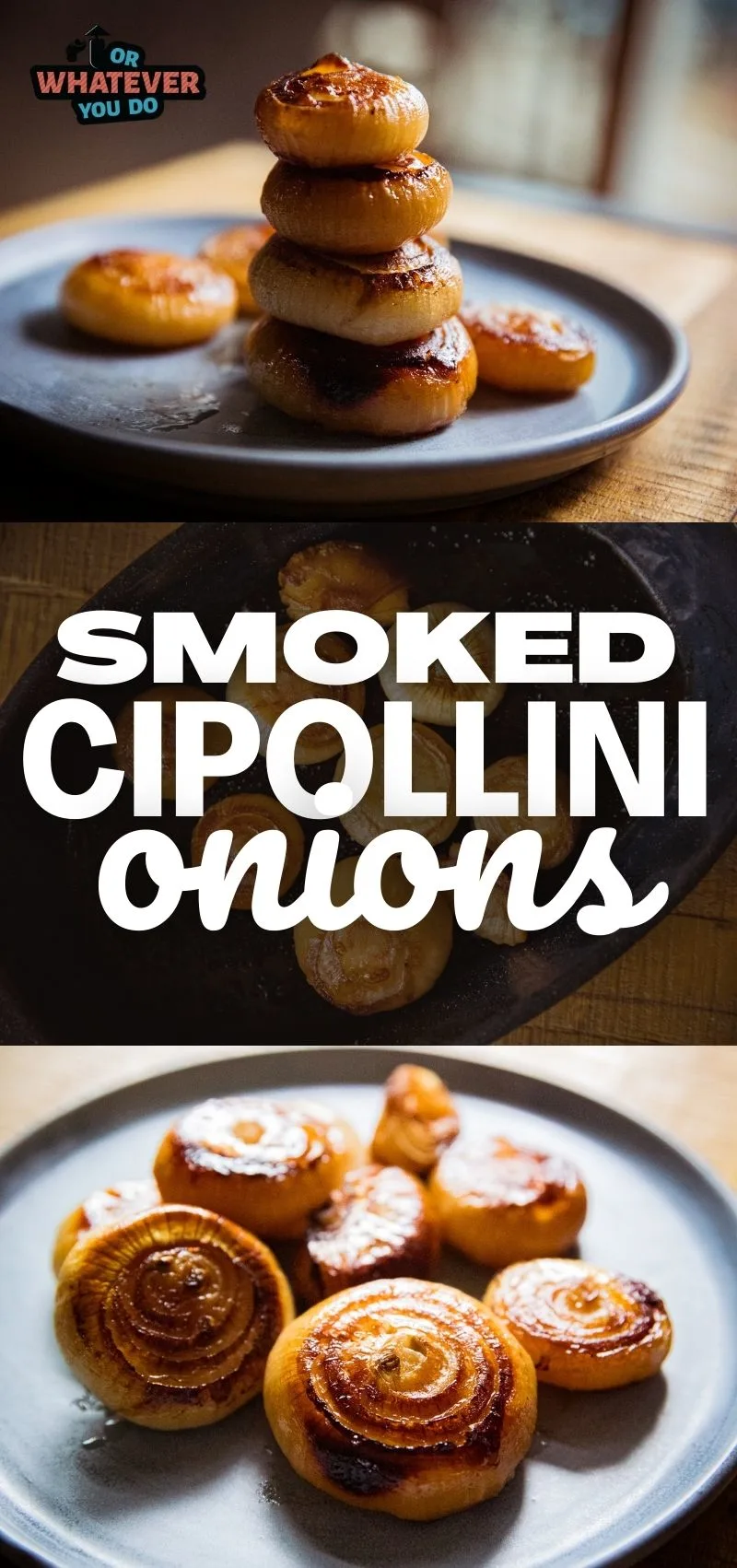 Yield: 8 servings
Traeger Smoked Cipollini Onions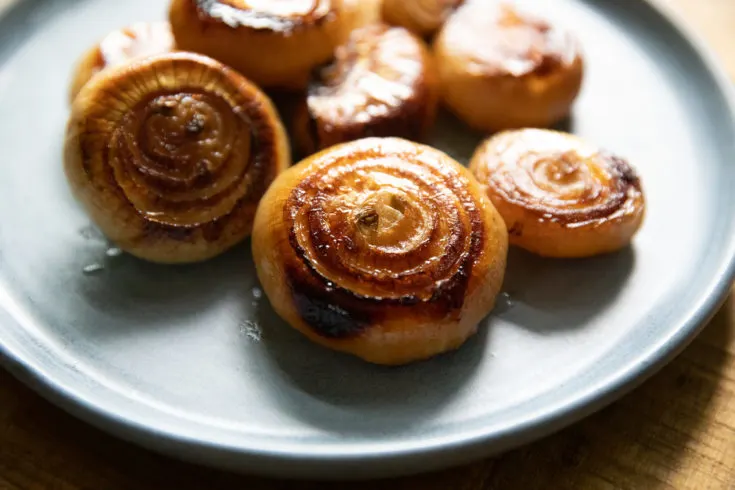 These tender, delicious, caramelized and glazed Traeger Smoked Cipollini Onions are going to be your new favorite steakhouse side dish, all made at home!
Total Time
2 hours
10 minutes
Ingredients
1 pound Cipollini onions, peeled
2 tablespoons salted butter
1 tablespoon olive oil
3 tablespoons sherry vinegar (champagne vinegar or balsamic vinegar also works well here!)
1 teaspoon honey
1/2 teaspoon salt
1/2 cup dry white wine
Instructions
Preheat your Traeger (or other pellet grill or smoker) to 300°F.
Prep your onions by peeling off the outer layer and cutting off the root end. You can blanch them first to make it easier if they are particularly small onions. Mine were more medium-sized so I skipped that part.
Prep a grill-safe baking dish with a spritz of cooking spray, and then put the olive oil and butter on the bottom of the pan. Top with the onions, and place the whole thing into the smoker.
Let the onions cook for about 30-45 minutes, or until the bottoms are getting browned and caramelized. Flip over and let them brown on the other side too.
Once the bottoms of the onions are browned and caramelized, mix together the sherry vinegar, honey, salt, and wine. Pour into the bottom of the baking dish and let the onions continue to cook until the liquid reduces. Periodically spoon some of the cooking liquid over the onions.
Remove and serve!