Traeger Chicken Teriyaki takes one of the Pacific Northwest's favorite take-out meals and turns it into an at-home masterpiece. Who knew something so simple could be so delicious? Everyone in the PACNW, evidently.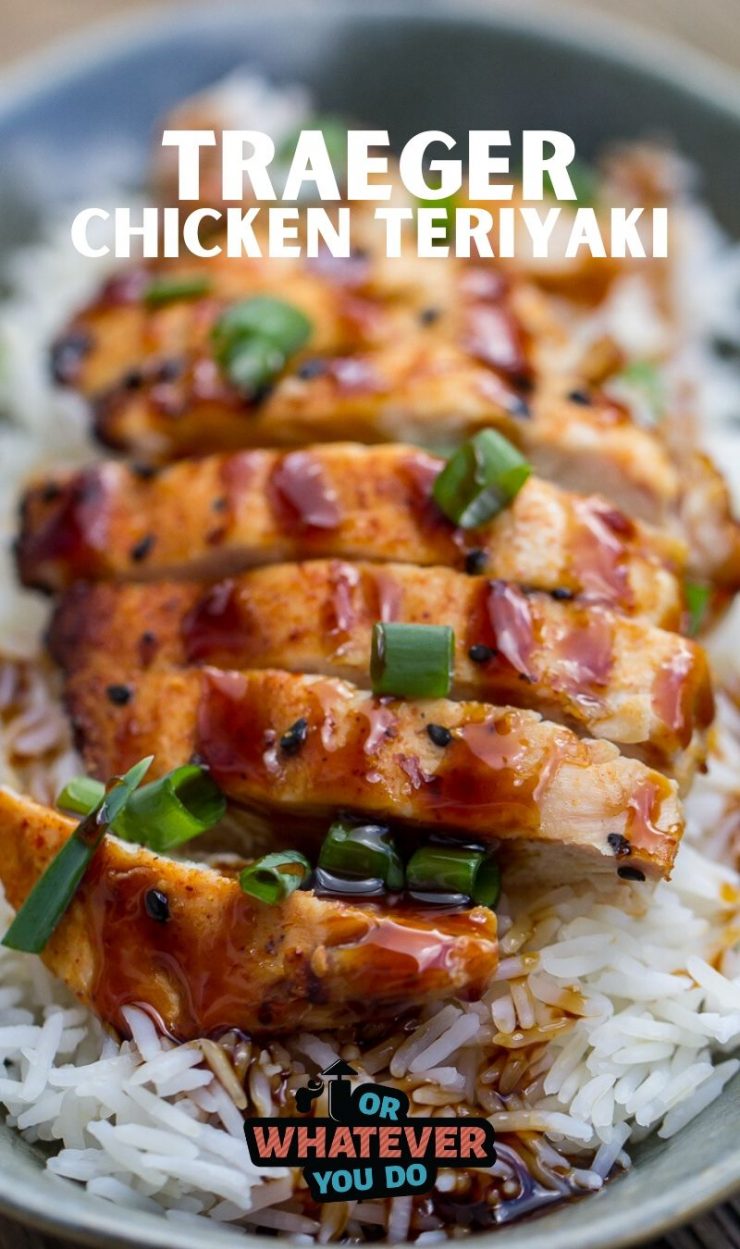 Traeger Chicken Teriyaki Recipe
Traeger chicken teriyaki is the best way to get that true blue chicken teriyaki to rival even your favorite teriyaki take-out place. The magic here happens with chicken seasoned with Maui Wowee from Spiceology.
No, not that kind of Maui Wowee.
Any buzz you get from this kind of seasoning will be from the chicken tasting so good you don't know what to do with yourself.
If you like this recipe, then you might want to check out my salmon teriyaki too.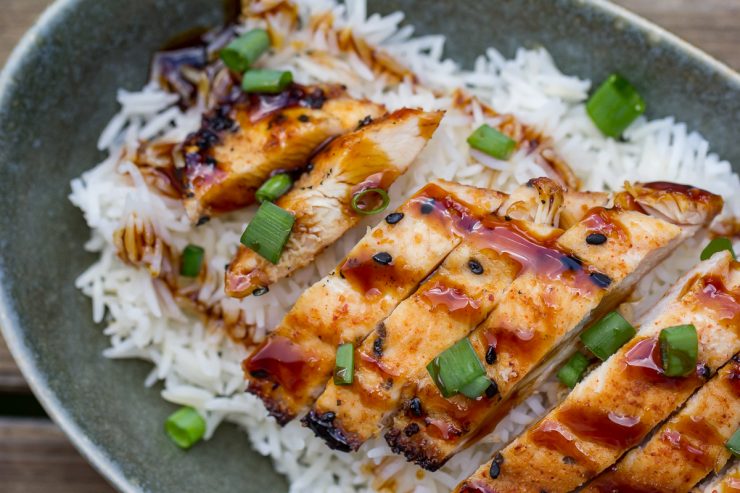 The best pellet grill chicken teriyaki recipe
When you think about the best chicken teriyaki, you probably imagine that little hole in the wall place that has been grilling teriyaki and not cooking much else for the last fifteen years. Just the seasoning of the grill performs half the magic.
But with a Traeger, or on any grill you have handy, you can make your own and make it taste just as good as the take-out version too.
Teriyaki restaurants are EVERYWHERE, in Washington State, and for good reason too. If you want to read up on the history of how Seattle became known for Teriyaki restaurants, here's a great article in Seattle Weekly from years ago.
Serve with my Instant Pot Basmati Rice!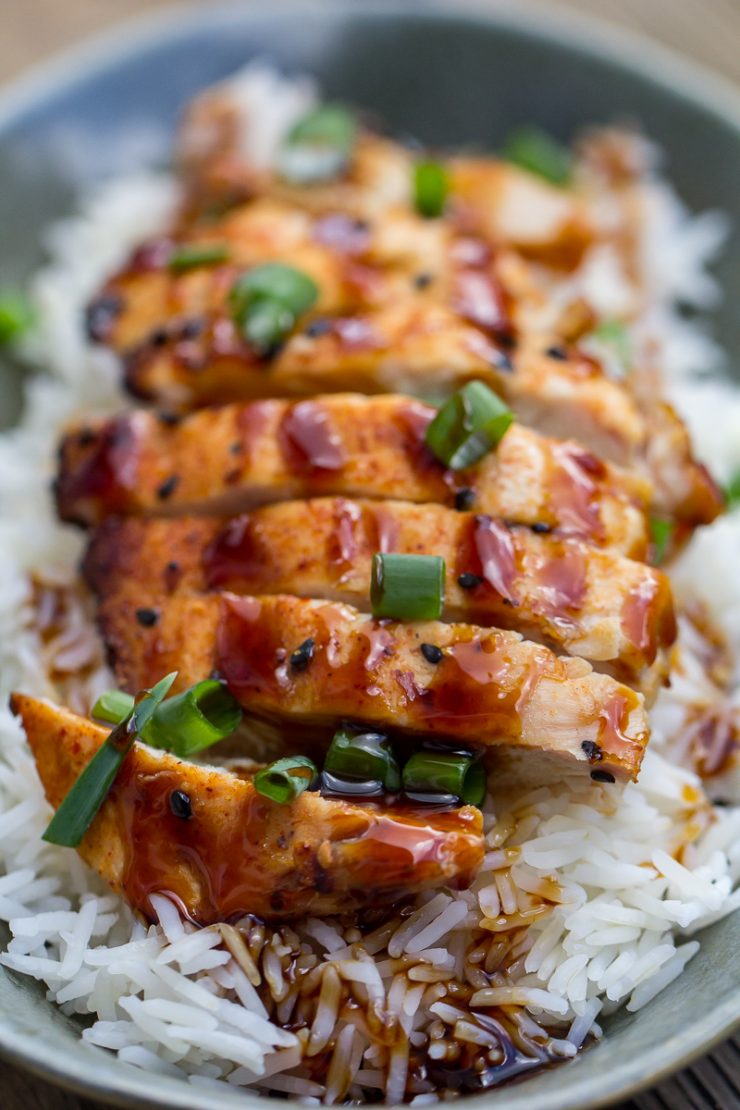 Tips for great teriyaki
Great chicken teriyaki follows a few simple rules:
Marinating the chicken is a GREAT idea, but isn't required. If you do, marinate it overnight and discard the marinade. You'll need a separate teriyaki sauce for that.
Cut the meat in half lengthwise. This helps make the strips of chicken not too thick and helps everything cook quickly at high heat. Even better, it makes the portioning much easier too.
Make sure the grill is pre-heated. The searing heat helps give those char marks which adds so much flavor, but it also helps to make sure the chicken doesn't stick to the grill.
Use the leftovers in my Hibachi Fried Rice!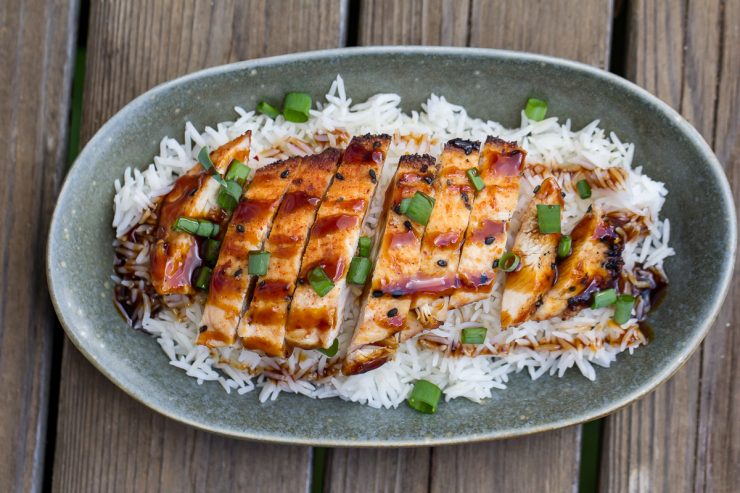 Can you make Chicken Teriyaki on a gas or charcoal grill?
Just because I'm obsessed with pellet grills doesn't mean that there are no other grills in existence, as much as I wish it to be so. 😉
You can definitely pull this off on a gas or charcoal grill without too much fuss, so if you are still waiting on your pellet grill to arrive, you don't have to wait to enjoy this easy dinner.
Buy your own pellet grill here!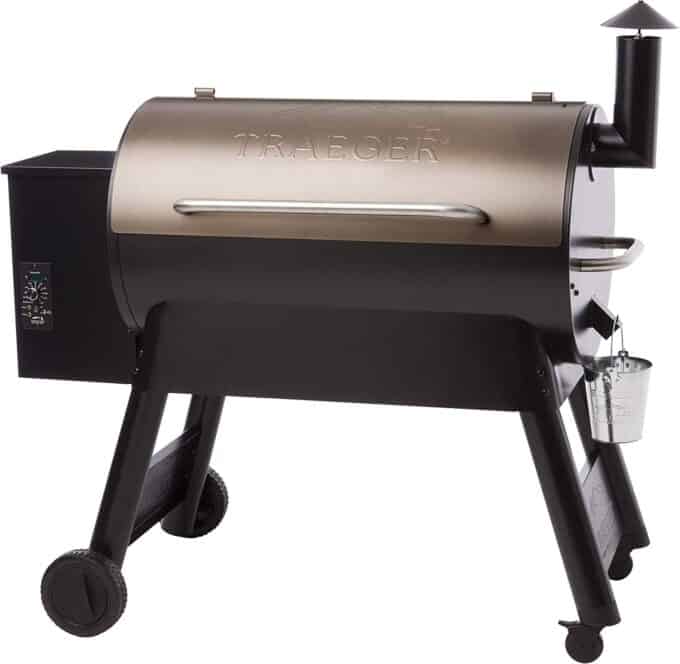 Our first experience with pellet grills was enough to get us hooked. Our Traeger is reliable and gets used several times a week. There are some newer models available now I'm drooling over, but this older trusty model will live on my deck for many years to come, I'd imagine.
More Easy Traeger Recipes here!
Where does "teriyaki" come from?
"Teri" comes from the Japanese word for shiny, and "yaki" means to grill. So together you get "shiny grill". It describes the dish perfectly.
The glazing from the marinade gives that special sheen to the chicken. The grill marks bring in the smoky notes that taste so wonderful with the teriyaki sauce. Like so many Asian-inspired dishes, there is a yin and yang to it. The sweet with the salty. The bitter with the sour. Balance and harmony.
In Japan, teriyaki glazed fish is way more popular than teriyaki grilled chicken. Also, the sauce is slightly different from Americanized teriyaki. The style we are most familiar with is really more like the Hawaiian version.
In Hawaii, the use of pineapple sauce in the soy sauce and mirin glaze adds more shine to the dish and adds a touch of sour too.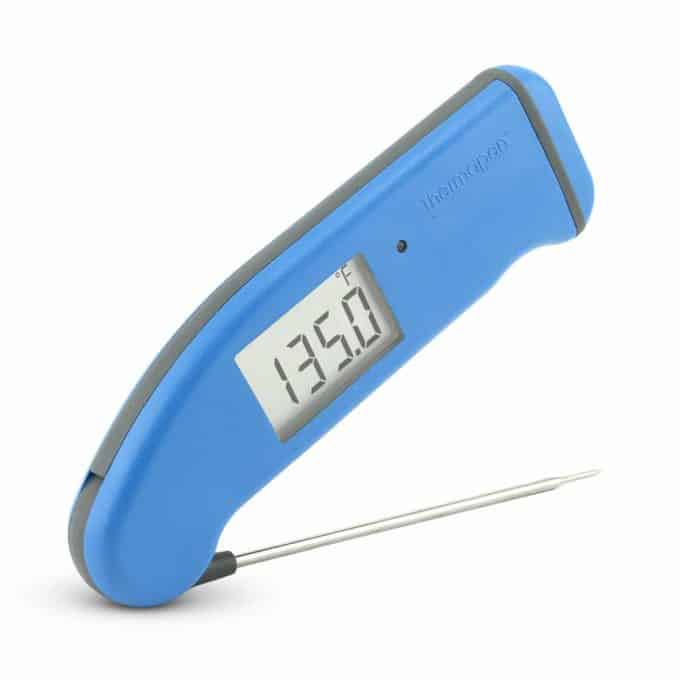 This is the best instant-read thermometer on the market, and I've tried a lot of them. Accurate and fast results, which is paramount when pellet grilling.
Join our Easy Traeger Recipes Facebook Group!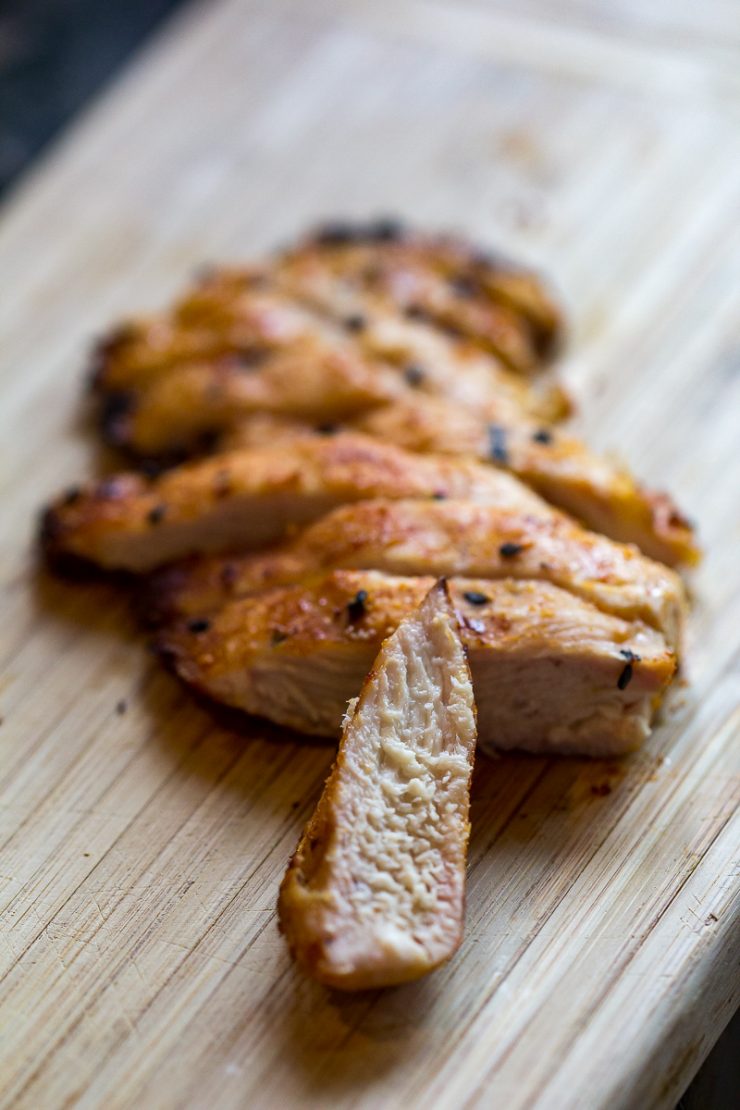 Maui Wowee From Spiceology
Spiceology makes some truly great seasoning blends. I am a big fan of the Nashville hot rub, and the Maui Wowee rub is new and is fantastic too. It uses pineapple, ginger, peppers, brown sugar, and more spices so it gives that true Hawaiian style teriyaki taste.
That is what I love about Spiceology.
They keep the ingredients simple yet authentic to the source of its original inspiration. So you get that sense of place in the dish. When you use their spice blends you are transported to Jamaica with the jerk rub, Hawaii with the Maui Wowee. Tennessee with the Nashville hot rub.
If "Flavor Town" is actually a place, then the Spiceology seasonings are like a vacation to all the best flavor towns with non-stop flights in between each.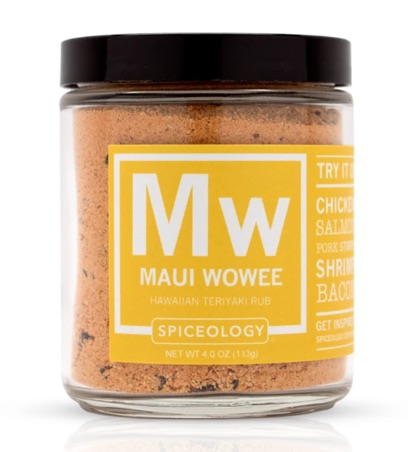 Pineapple, tamari, and love all go into this unique Hawaiian rub that is ALL THE RAGE, and for good reason. Get some of this while you can, it sells out fast!
Try these Spicy Traeger "fried" Shrimp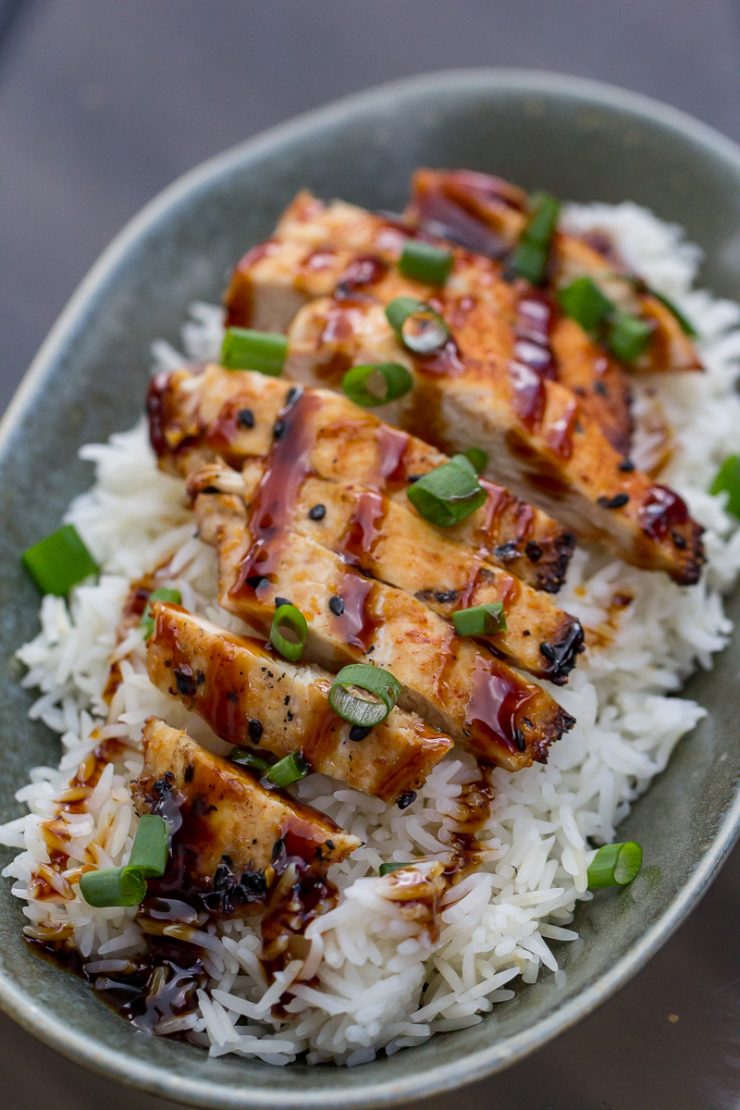 How to keep teriyaki sauce
In this recipe, I used a bottled teriyaki sauce because I was looking for a really easy dinner, but sometimes I like to make my own.
When you make your own teriyaki sauce then you might as well make extra. Because of the soy sauce, which acts as a natural preservative due to the salt, it actually keeps really well. You just need to make sure to store it in a bottle with a tight lid and keep it in the fridge. It will keep for up to three months.
That's pretty handy because teriyaki sauce is one of those things you can use in a lot of recipes. I love Teriyaki Traeger Smoked Shrimp and Pork Tenderloin Teriyaki is another one on the hit parade of delicious.
In fact, you might find yourself putting it on your morning cereal. Of course, that is when you need to probably chill out on the teriyaki sauce.
Need more chicken recipes to love?
We've got them for you! Check out this Pellet Grill Chicken Recipe page if you are into pellet grilling. If you want a huge collection of cheap chicken recipes for large families, check out this amazing post from Crystal and Co!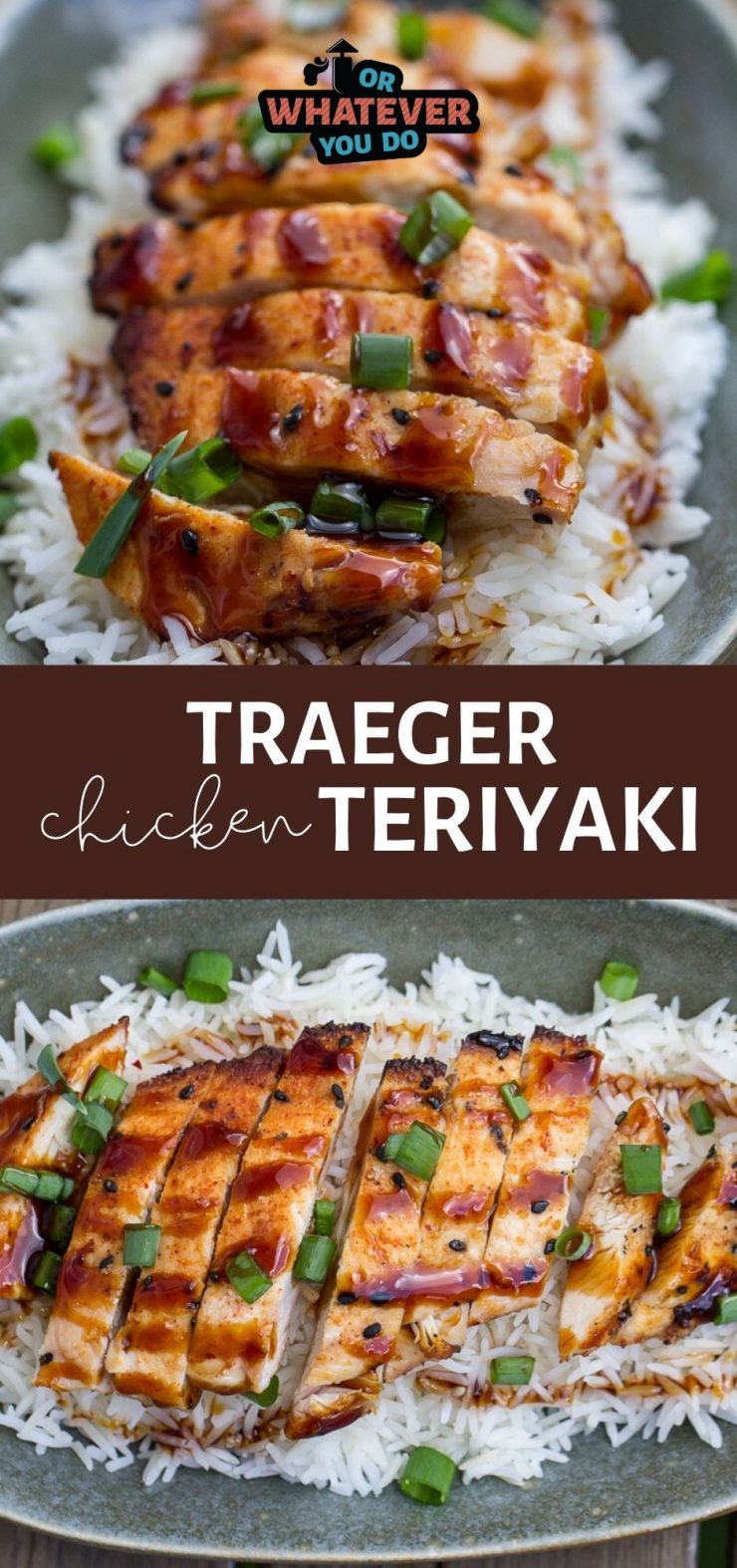 Yield: 6 servings
Traeger Chicken Teriyaki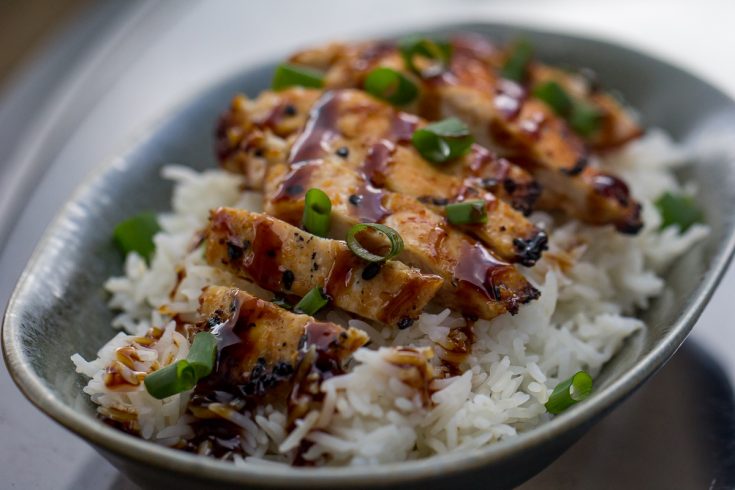 Our Trager Chicken Teriyaki is just as good as take-out, but without the cost or hassle. Chicken breasts are seasoned with a teriyaki dry rub, grilled over wood fire, and then slathered with teriyaki sauce.
Ingredients
3 chicken breasts
3 tablespoons Maui Wowee Seasoning*
1 cup teriyaki sauce
2 tablespoons green onions
Instructions
Preheat your pellet grill to 350° according to factory directions.
Slice your chicken in half to make it half as thick, and coat all sides with the Maui Wowee rub.
Place the chicken on the grill, and grill for 5-6 minutes per side. Remove when the internal temperature reaches 165°. The timing will vary depending on your grill and your meat, so always cook to temp and NOT to time!
When the breasts are done, remove and drizzle with teriyaki sauce, garnish with green onion, and serve with steamed rice.
Nutrition Information:
Yield:
6
Serving Size:
1
Amount Per Serving:
Calories:

146
Total Fat:

2g
Saturated Fat:

1g
Trans Fat:

0g
Unsaturated Fat:

1g
Cholesterol:

51mg
Sodium:

4164mg
Carbohydrates:

8g
Fiber:

1g
Sugar:

7g
Protein:

22g
Nutrition data provided here is only an estimate.