Traeger Smoked Pineapple-Glazed Ham adds a bit of extra bit of smokiness to your spiral cut ham, and then the pineapple glaze brings in some floral sweetness that subdues the natural saltiness of the ham.
This is similar to my other smoked ham recipe which is also worth a try!
Pineapple-Glazed Smoked Ham Recipe
A spiral cut ham generally has already been cured and cooked. So, really, you aren't trying to cook the ham so much as heat it up. In this, you want to add some smoke to it by cooking on a pellet grill.
Smoking a pre-cooked ham means making sure the heat is low enough and the smoke is thick enough that you get the flavors in, but don't overcook the ham. At the same time, the pineapple needs to glaze into the ham as it smokes. This is also referred to as a double-smoked ham.
A pellet grill works really well for this just because you have so much control over the temperature and the amount of smoke. If you just have a regular grill, you can still pull it off too. Just make sure to get wood chips and soak them for a while before you put them on the coals, and keep the ham over indirect heat.
Bonus – this would be great next to a few of our Traeger Parmesan Potato Stacks!
Check out all of my Traeger Recipes!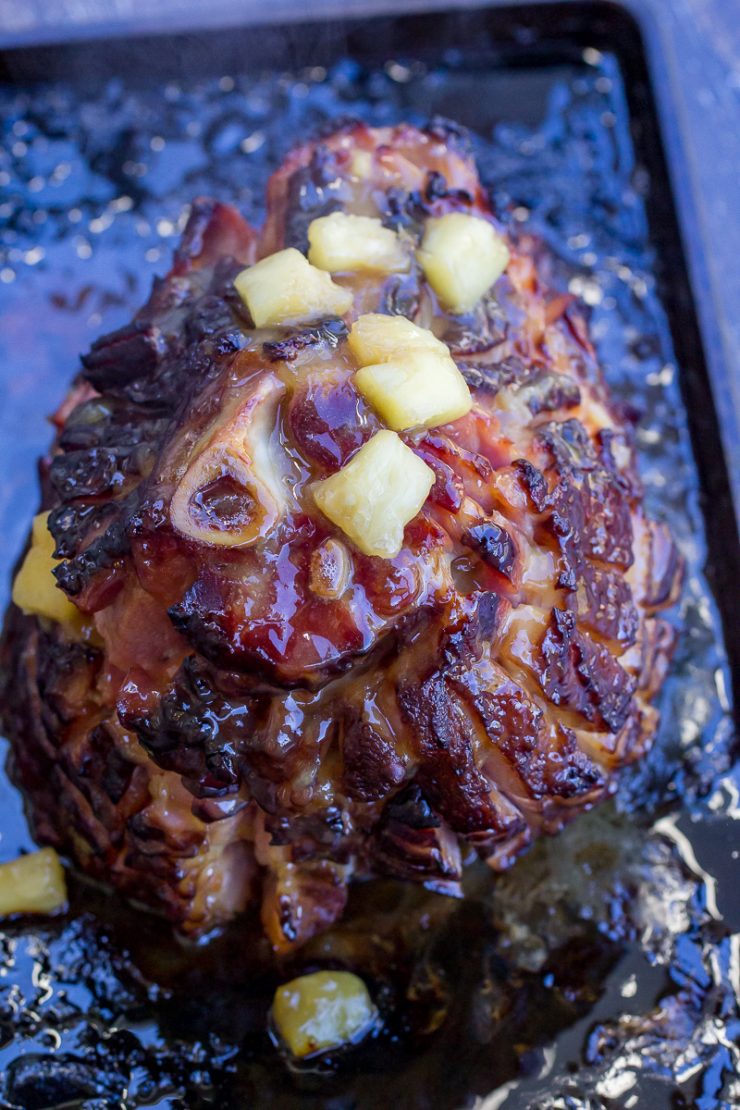 Which pellets should you use for smoked ham?
There are a lot of woods to choose from when it comes to pellets. Maple or hickory pellets are probably the most popular woods for smoking ham. With the sweet pineapple glaze though, you can take a walk on the wild side with something like mesquite too.
My theory on pellets is that whatever is in your grill is usually the "right" one to use. They really don't make that big of a difference to the end result.
Our Smoked Au Gratin Potatoes are great with ham!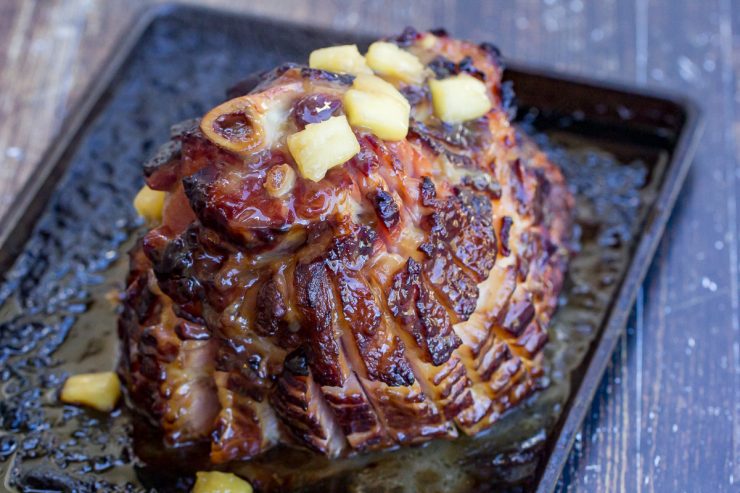 How to smoke a pre-cooked ham
Spiral hams you find in the grocery store are almost exclusively fully cooked and cured. You can find an uncooked spiral ham at the meat counter, but typically those need to be special ordered.
Just in case you aren't familiar with "spiral cut", that means the ham has a slice going through the ham that winds around the bone. It makes it easy and convenient to cut off equal portions. The spiral cut also allows the smoke to penetrate further into the meat too.
One drawback to having a pre-cut and pre-cooked spiral ham is that it means when you heat the ham up, then it is particularly easy to dry it out. So, one way to overcome that issue is a nice thick layer of glaze over the exterior.
The glaze helps seal in the juices and will help prevent the meat from drying out. Make sure you add it a few times, and paint it on thick!
The trick to smoking a pre-cooked ham is to not cook it too long. The ham is already pre-cooked, so what you want to do is get it up to the minimum serving temp and then get it off the grill.
For a more smoke-forward ham, smoke at around 180-200°F for an hour or two, and then increase the temperature to 325° for about 30 minutes to set the glaze. This recipe just cooks the whole thing at 325°, which works great and you still get some decent wood-fired flavor in the mix too.
More Easy Traeger Recipes here!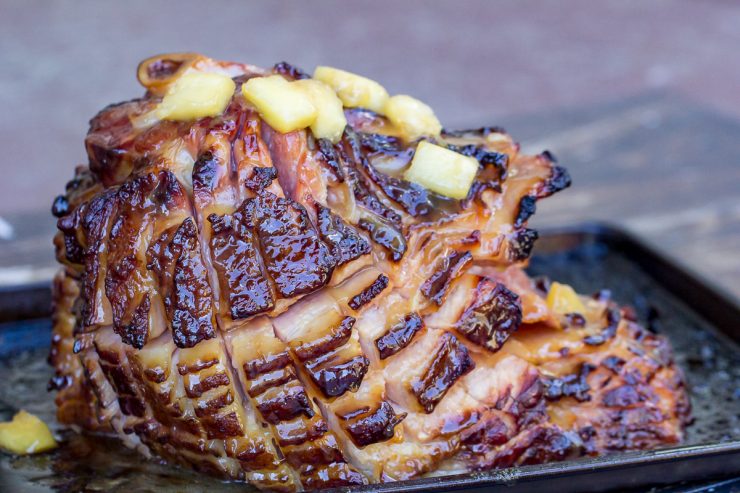 How to make pineapple glaze for ham
Smoked ham glaze serves a couple of purposes. First, of course, a glaze adds a bit of sweetness. With meat as salty as ham, sweetness does all the busy work to distract you from things tasting too salty.
Next, the glaze will also help keep the moisture in the ham instead of escaping quickly and turning everything too dry.
Finally, the glaze will spin the flavor off in an entirely unique direction. That is why people often use citrus like oranges or fruits like cherries to glaze hams. Pineapple makes a particularly wonderful companion to ham. (And pizza! But that's an argument for another day.)
The smell of the pineapple glaze will probably bring the whole neighborhood knocking on the door to see what's for dinner. You might want to lock the door to prevent them from just taking the liberty of walking in unannounced.
Try this with our Smoked Scalloped Potatoes!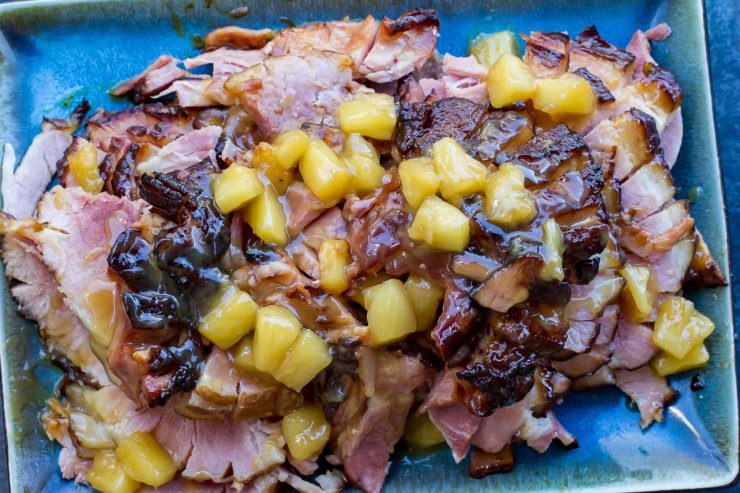 Tips for making the best double-smoked ham
When you are smoking the ham, you might also want to have a pan with some water in the smoker to keep the humidity high. The extra moisture in the smoker also helps the ham from drying out.
Make sure you reserve some of the glaze, and don't use all of it at once. A handy tip is to use a third to coat the ham. Then use another third to baste on while it is cooking, and finally use the last third about 10 minutes prior to pulling it from the smoker.
If you still have some left after that, then just set it out so people can spoon some onto their plated slices.
Follow me on Instagram!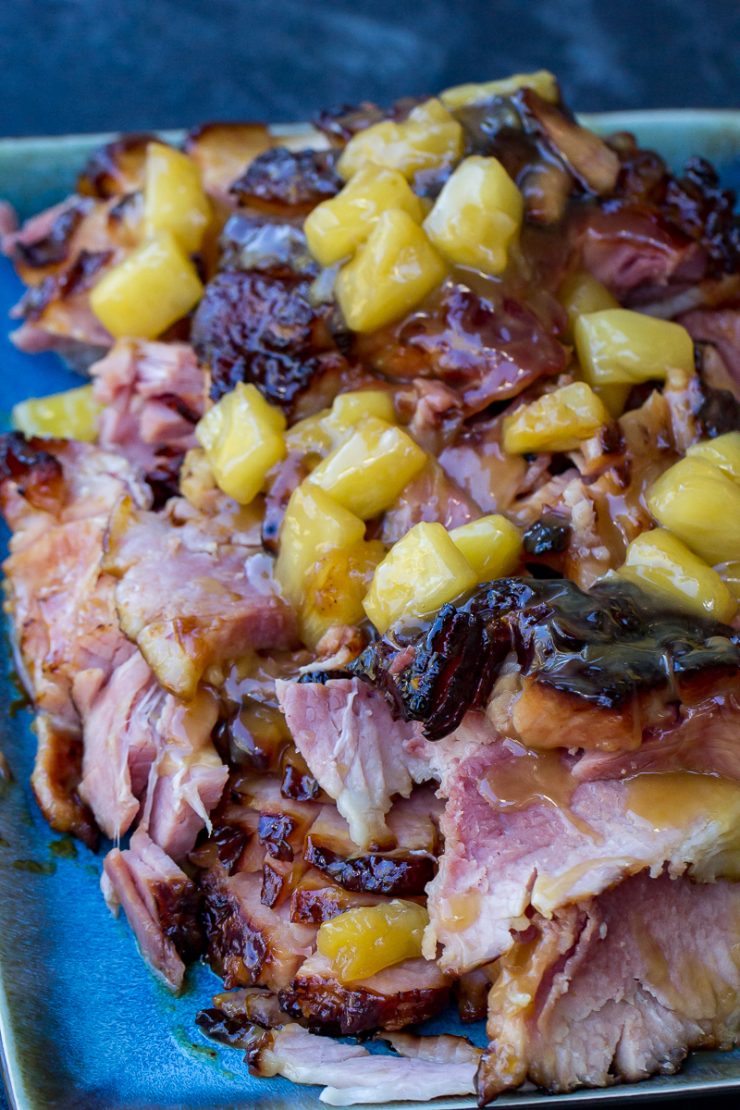 Use up that leftover ham in these great ham recipes!
The smoked ham with pineapple glaze creates a dish you could almost call ham candy. If you like it, then you might want to try some of my other ham recipes if you have some leftovers to use…
And make sure to check this post with 25+ ham recipes to enjoy!
Reviews from readers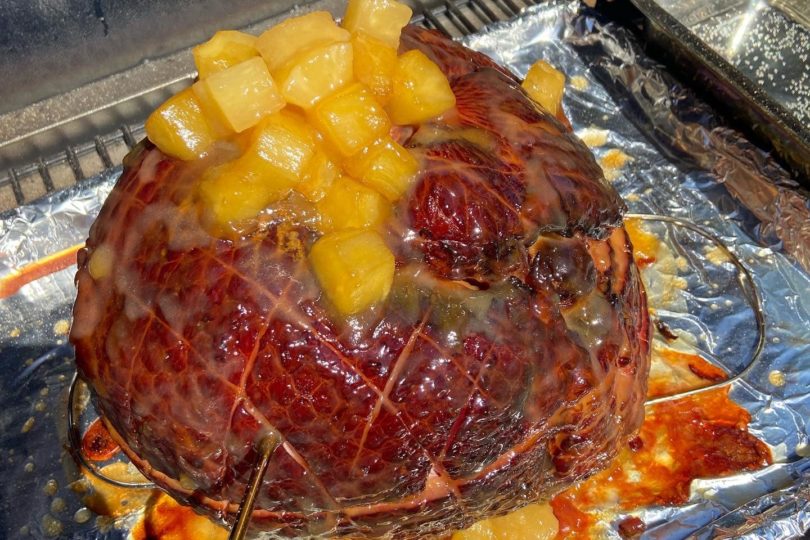 "I used this pineapple glaze recipe and it was awesome. Kept the temp low at 200° and smoked for 6 hours. Fed my entire extended family with leftovers for days."
Suzy Bates – Member, Traeger Women Facebook Group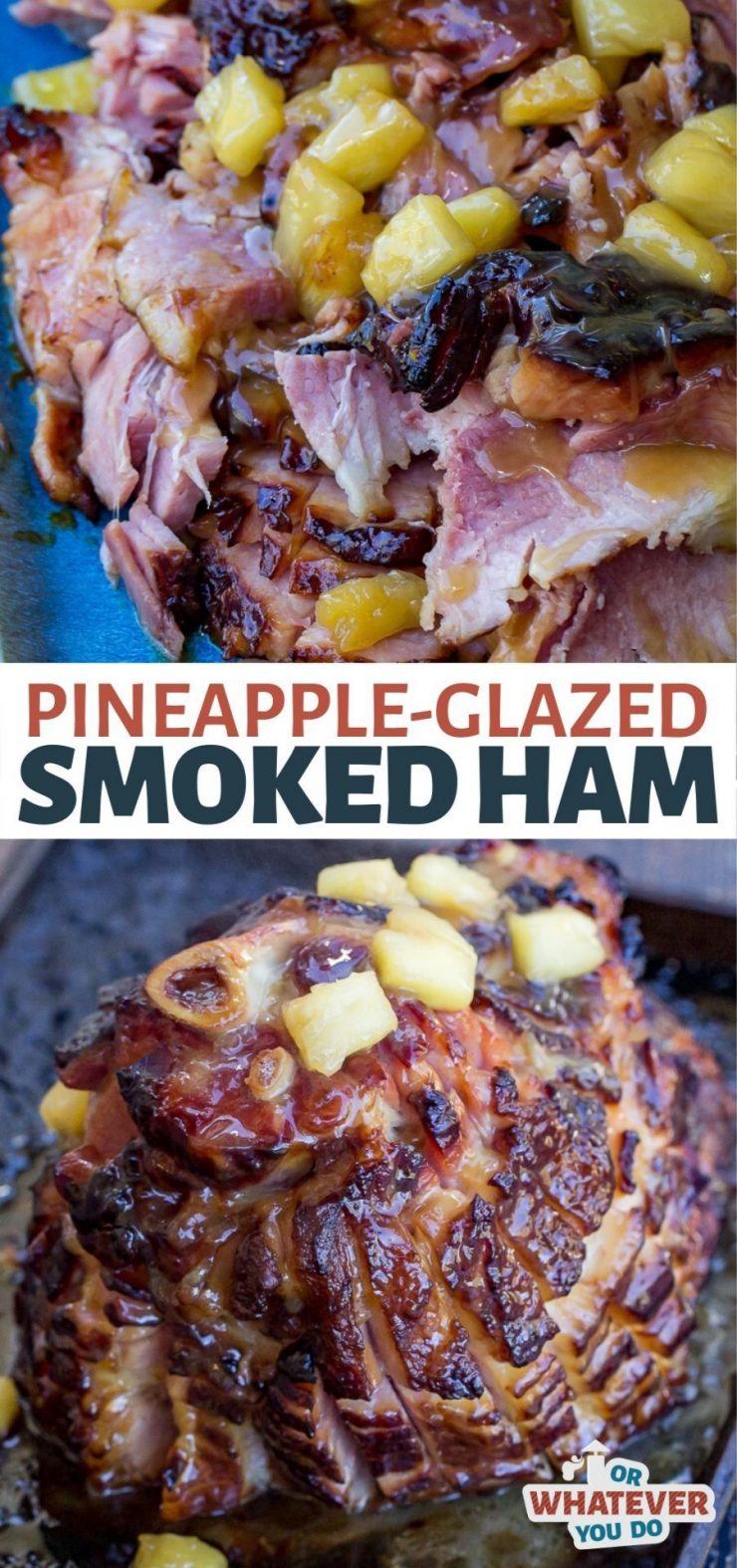 Yield: 12 servings
Pineapple-Glazed Double Smoked Ham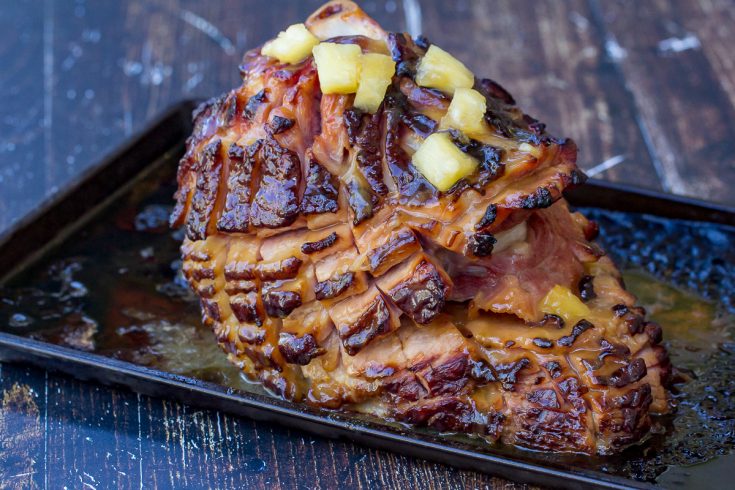 A Traeger Pineapple-Glazed Double-Smoked Ham is perfect for your next big holiday dinner, or any random weekend, really. This ham is delicious, and a crowd-pleaser too.
Total Time
3 hours
20 minutes
Ingredients
Glaze
1 20-ounce can of pineapple chunks
1 cup dark brown sugar
1/3 cup orange juice
1 1/2 ounce triple sec liquor
1 stick butter
2 tablespoons cold water
2 tablespoons cornstarch
Instructions
Fire up your grill according to manufacturer directions, and preheat to 325°.
Score the top of your ham in a criss-cross pattern, and place into a large baking pan that has been lined with foil.
Place the pan, uncovered, into the preheated grill, and cook for 1 hour.
While the ham is cooking, put the pineapple, butter, brown sugar, and orange juice in a medium-sized saucepan.
Place the saucepan on the stove on medium-high heat and bring to a boil.
When it begins to boil, add the triple sec.
Mix the cornstarch and water in a small container and add it to the boiling mixture.
The sauce should thicken enough to stick to a spoon.
Turn the heat off and remove the pan from the hot burner.
After the ham has been on the Traeger for an hour, brush it liberally with about half of the glaze.
Cook for an additional 30 minutes, and then brush with glaze again. Cook another 15-20 minutes, or until the ham reaches at least 135°.
Remove from the grill and let rest for 10 minutes.
Slice and serve with any remaining glaze that didn't get painted onto the ham.
Notes
If you want a smokier ham, you can use a lower temperature (180-200°) and smoke the ham for a couple hours before turning the temp up and doing the glazing.
Recommended Products
As an Amazon Associate and member of other affiliate programs, I earn from qualifying purchases.
Nutrition Information:
Yield:
12
Serving Size:
1
Amount Per Serving:
Calories:

188
Total Fat:

8g
Saturated Fat:

5g
Trans Fat:

0g
Unsaturated Fat:

2g
Cholesterol:

25mg
Sodium:

135mg
Carbohydrates:

25g
Fiber:

0g
Sugar:

23g
Protein:

2g
Nutrition data provided here is only an estimate.