Blackstone Ham and Pineapple Fried Rice puts another spin on our classic fried rice, and was one of the highlights of dinner last week!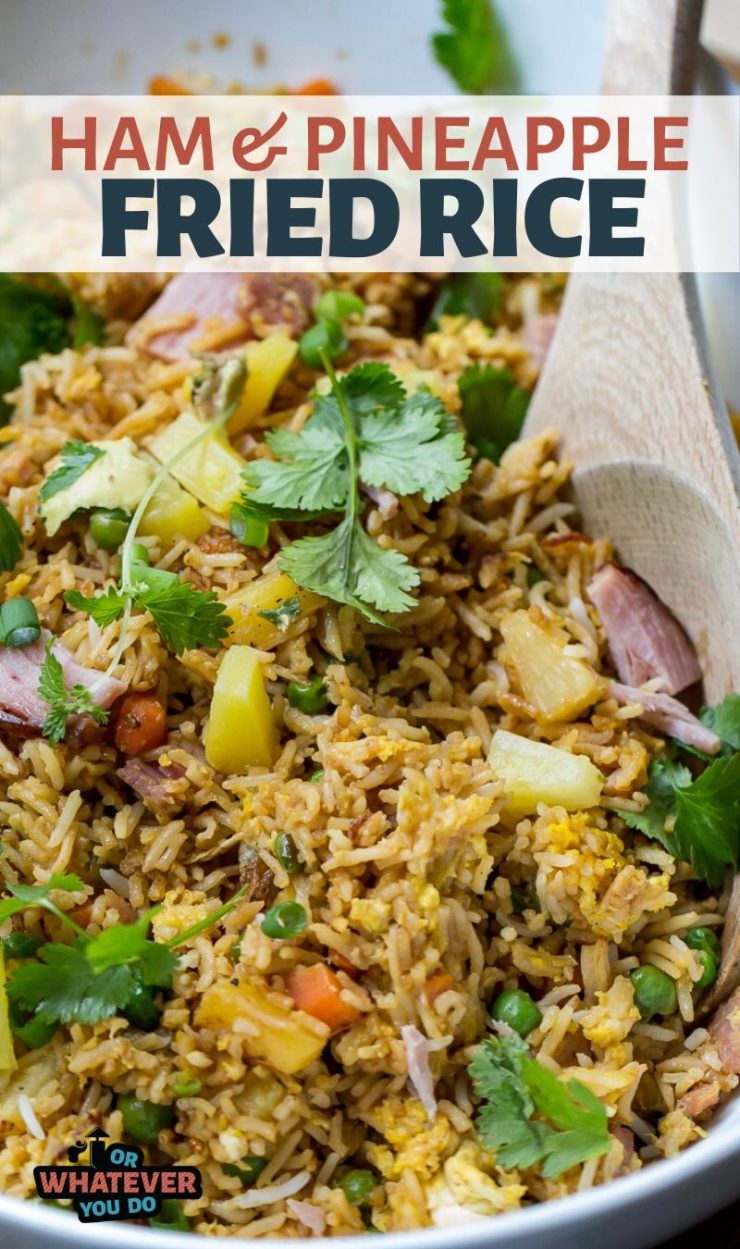 Blackstone Ham And Pineapple Fried Rice Recipe
Homemade Fried Rice has always been something I wanted to be really good at making, but never actually was. That is until we got our Blackstone.
Great fried rice depends on super high heat. The higher the heat the better when it comes to fried rice. You want the rice to crisp up just a bit but not become dry and crunchy.
You can use a wok or a frying pan, but just make sure to get the heat as high as possible first, and keep your expectations reasonable if you are using something like a flat-top stove.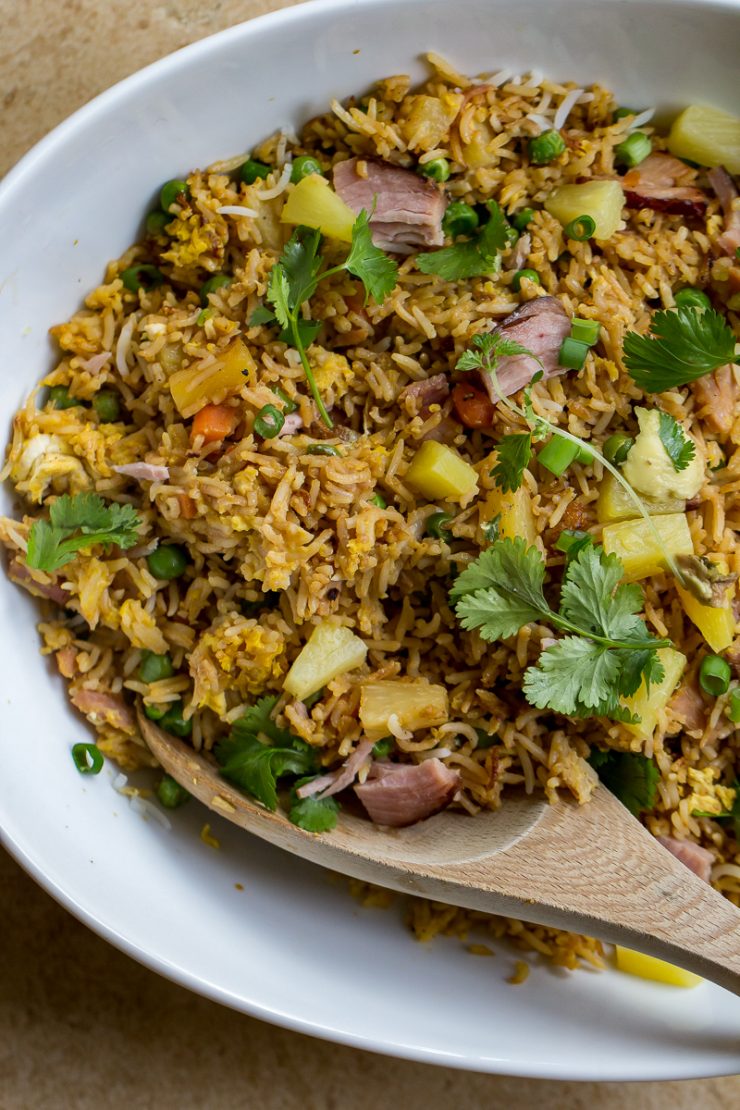 How do you make fried rice from scratch?
Making fried rice at home is easy! You just need the right tools and ingredients to make it truly restaurant-quality.
Have the right tools
Gas griddle
Large spatula
Squirty bottle of (the right) oil
Have the right ingredients
COLD rice (we use jasmine or basmati. Keep your Minute Rice away from this forever and always, amen.)
Prepped fresh vegetables (you can use frozen if you have to, but fresh is best!)
Have the right technique
PREP EVERYTHING. You cannot leave the griddle once you start cooking, so be prepared! You need a big tray for carrying everything, your spatulas, oil, finishing sauce, rice, vegetables, meat, beaten eggs, and a vessel to carry the finished rice back too.
Preheat your griddle.
Add the oil.
One one side of the griddle, cook the vegetables and sear the meat. When they are done, turn the heat down on that side of the griddle and cover to keep warm.
On the other side of the griddle, fry the rice. Don't let it burn and also don't move it too often!
Make a well in the center of the rice, turn down the heat slightly on the griddle, and scramble the eggs. Mix in with the rice, along with the meat and vegetables.
Add the sauce and continue stir-frying until it is absorbed.
Enjoy!
More Blackstone Recipes here!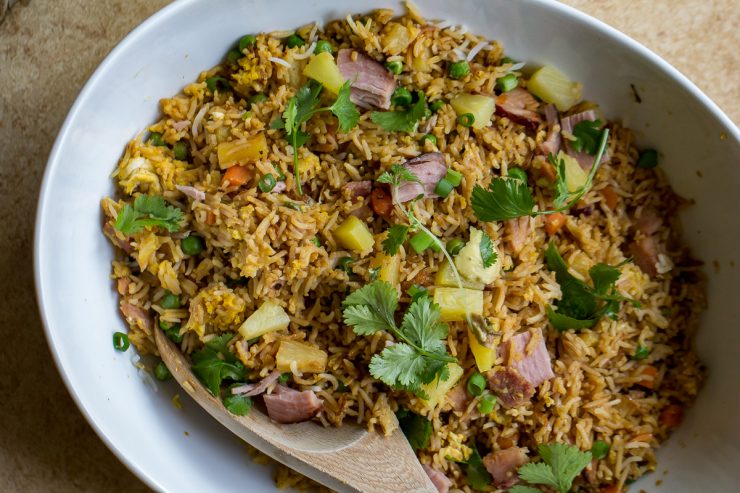 What oil is best for hibachi fried rice?
Since ideally, you'll be cooking this on a gas griddle which gets BLAZING hot, the oil you use needs to have a high smoke point.
Any oil that can withstand going to 400 degrees or higher is crucial. Oils like avocado, but also refined oils like peanut, safflower, canola, corn, grapeseed, and sunflower oil all can go as high as 450°.
It is hard to get that high a temp, even on a gas top range, but you can do it. You just have to be patient when the pan is preheating, and using a cast iron pan will be your best bet.
Check out our OWYD shop!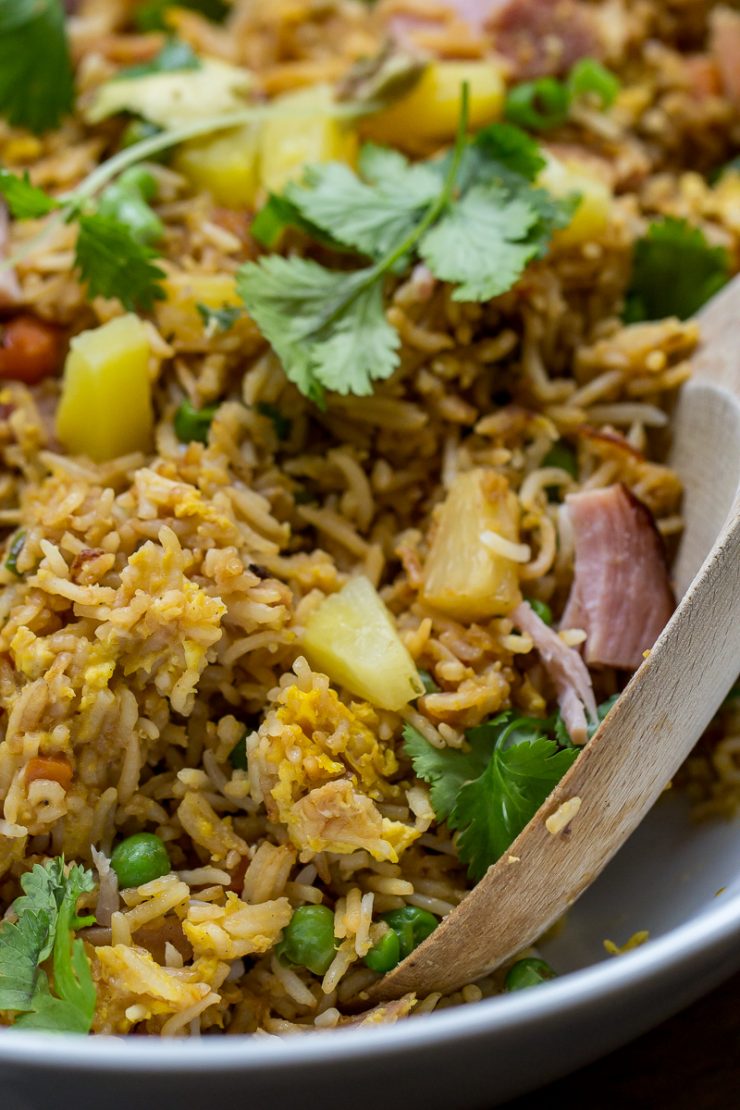 Tips for amazing ham fried rice
Here are some tricks to remember so your hibachi ham fried rice is always amazing.
CHILL YOUR RICE – The colder the rice is to start with, the better it fries and less mushy it becomes. If you start with warm or hot freshly cooked rice, then the outside cellulose wall of the rice breaks down. You end up with mushy rice. Using cold rice helps the outside of the rice to brown and caramelize. This is the cornerstone of great fried rice.
PREP AHEAD OF TIME – Make sure all your ingredients are prepped first and ready to go, and keep them within easy reach. The high heat and necessity for constant stirring to avoid burning means you can't be traipsing around the kitchen (or back and forth to the griddle) wondering what goes in next or where the knife and cutting board are, or anything like that.
KEEP IT MOVIN' – Use a consistent "stir and flip" movement with your spatula. Keep the lowest layers moving to the top. Use a figure-eight stirring motion to also make sure the outer edges are also moved constantly to the middle. This way you avoid burning and everything finishes together.
Have a Cocktail with dinner!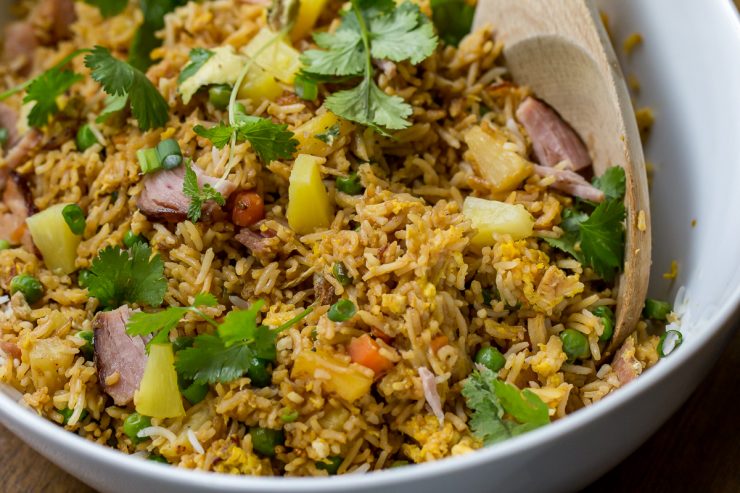 What is the best ham for ham & pineapple fried rice?
If you just baked a big ham, maybe my Smoked Pineapple Glazed Ham, even, then you probably have leftovers to cube up, and fried rice is a great way to repurpose leftover ham. My Traeger Double-Smoked Ham is also a good bet.
IF you don't have any ham leftovers then you might have to grab some ham at the grocery store.
You can find some smaller hams out there, but those are still a lot of ham. That's great if you have plenty of mouths to feed (like me), but not ideal if you don't.
In that case, look for the big round slices of "ham steak". They are typically found by the pork in the meat aisle. Usually, they come packed into a brine in a plastic package. Cheap, yet completely flavorful, you can avoid going overboard and use only what you need.
How to RE-SEASON your Blackstone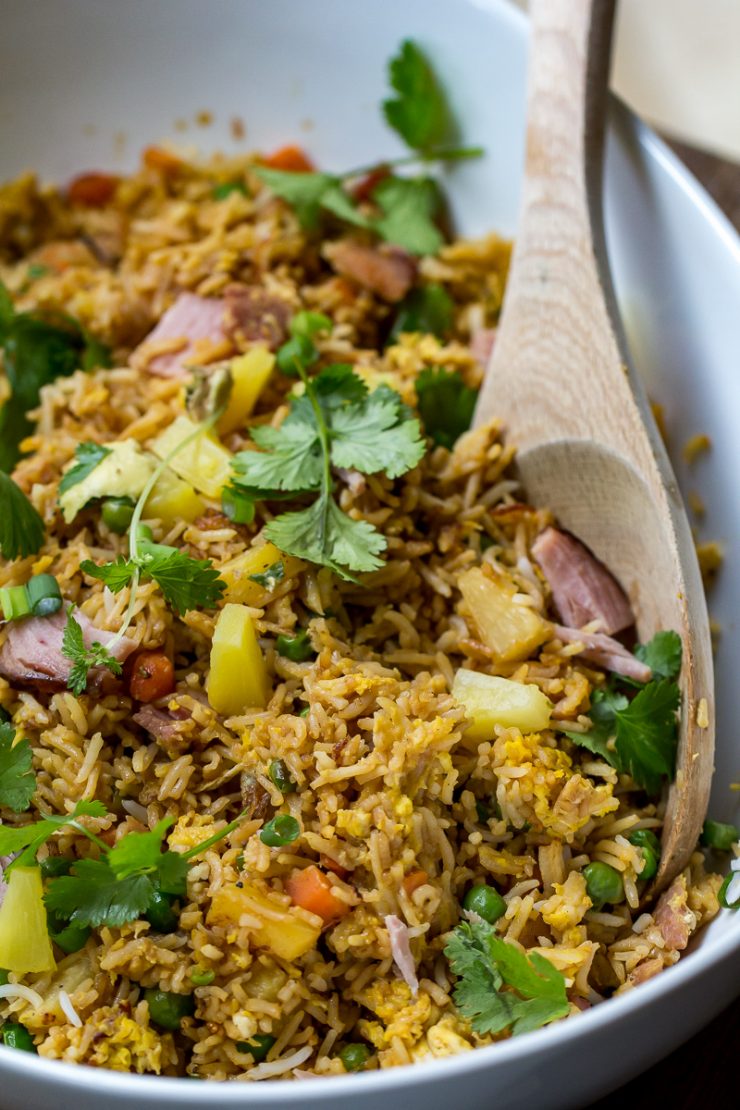 A few more Asian-inspired recipes to check out
Pineapple and ham fried rice can be your main course or have it as a side dish. Either way, you may be looking for more Asian-themed recipes to check ou: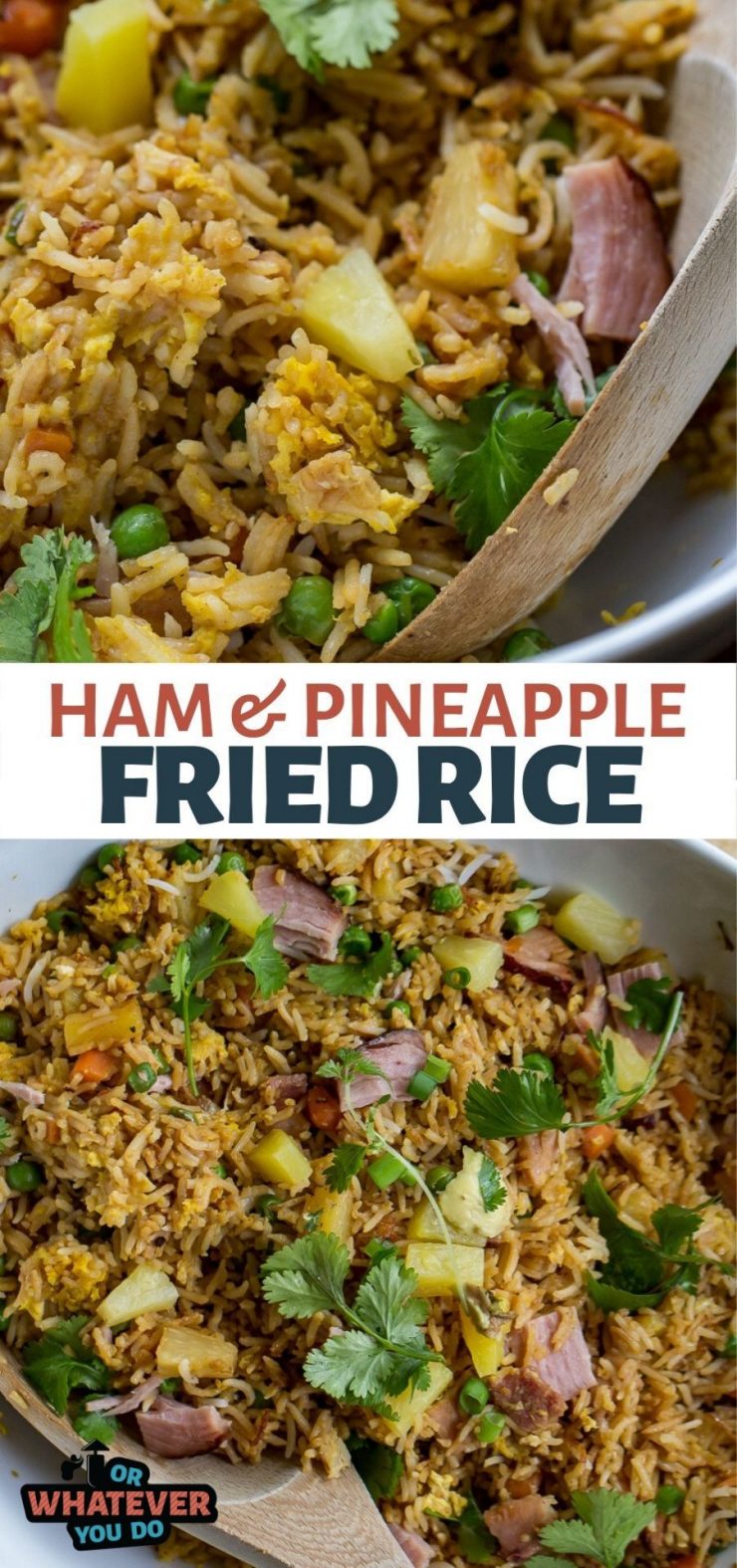 Yield: 8 servings
Ham & Pineapple Fried Rice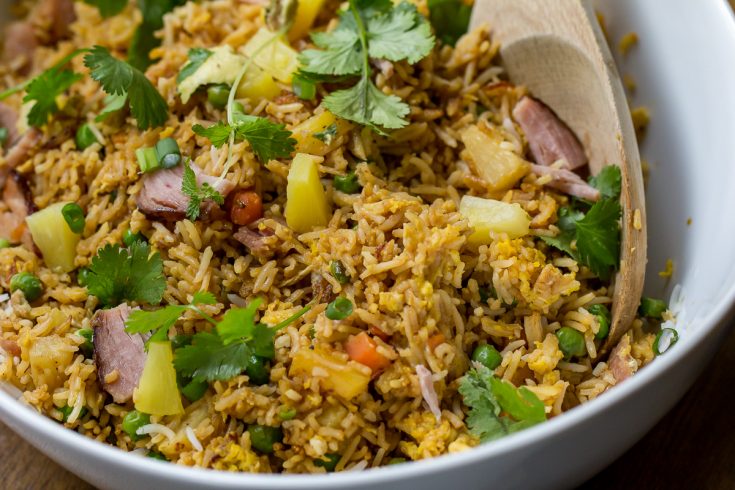 Blackstone Hibachi Ham & Pineapple Fried Rice is authentic hibachi-style fried rice at home, for a fraction of the cost. Make a meal out of this great meal!
Ingredients
4 tablespoons canola oil, divided
1 small onion, diced
1 cup diced ham
1 cup frozen peas and carrots
1 cup pineapple chunks
3 cups cooked basmati rice, chilled
4 eggs, lightly beaten
1/4 cup soy sauce
1 teaspoon sesame oil
salt and pepper
cilantro
green onion
Instructions
Preheat your griddle to medium-high or high heat (basically you just don't want to light the oil on fire), and place about a tablespoon of oil down.
Dump on the pineapple, vegetables, and ham on one side of the griddle and stir fry for about 2 minutes.
On the other side of the griddle, put down some more oil and let it heat up. Add the cold rice and break it apart with your spatula. Continue moving it around the griddle, evenly coating with oil and letting it get toasty. Add more oil as needed.
Combine the meat, vegetables, and rice together and stir and toss until they are evenly combined.
Make a hole in the middle of the rice and add a little more oil. Crack the eggs inside, stir with the spatula, and toss to combine with the rice.
Drizzle the soy sauce and sesame oil on top and continue to stir and cook until it is evenly distributed.
Top with cilantro and serve hot.
Recommended Products
As an Amazon Associate and member of other affiliate programs, I earn from qualifying purchases.
Nutrition Information:
Yield:
12
Serving Size:
1
Amount Per Serving:
Calories:

145
Total Fat:

7g
Saturated Fat:

1g
Trans Fat:

0g
Unsaturated Fat:

5g
Cholesterol:

38mg
Sodium:

296mg
Carbohydrates:

17g
Fiber:

1g
Sugar:

4g
Protein:

5g
Nutrition data provided here is only an estimate.
Current BBQ Deals
The latest deals and favorites from Or Whatever You Do!
Photo Credit: The Spice guy
Some of our most heavily utilized rubs and spices in the kitchen. Get some! Highly recommend the Midnight Toker and Roasted Garlic Blend!
Photo Credit: ThermoWorks
I use my Thermoworks favorites EVERY time I grill or griddle. Get one, and up your bbq game! This page links you to all of my "must haves". Use the code OWYD at checkout for 10% off!
Photo Credit: Grill Masters Club
The Grill Masters' Club is a monthly subscription box FULL of grilling favorites. Last month I got a killer hot sauce, bbq sauce, and rub. I have been a member of this club for several months now and have found some real winners! I can't wait for you guys to check it out.
Photo Credit: ButcherBox
We have been monthly ButcherBox subscribers for a couple of years now, and LOVE it! Hit the easy button for your beef, pork, chicken, fish, and seafood!
Photo Credit: spiceology.com
We LOVE Spiceology and use a ton of their products! This gift pack is a great way to sample some of their most popular blends.