Fire up your Traeger because we're going to infuse some wood-fired flavor into a classic recipe in our Traeger Bruschetta! Toasty baguette rounds, ripe tomatoes, fresh fragrant basil, and high-quality balsamic vinegar are the perfect taste of summer. Easy to make and incredibly delicious, this is a must-try dish that will impress both your taste buds and guests. Let's get grilling and savor the flavors of summer on a plate!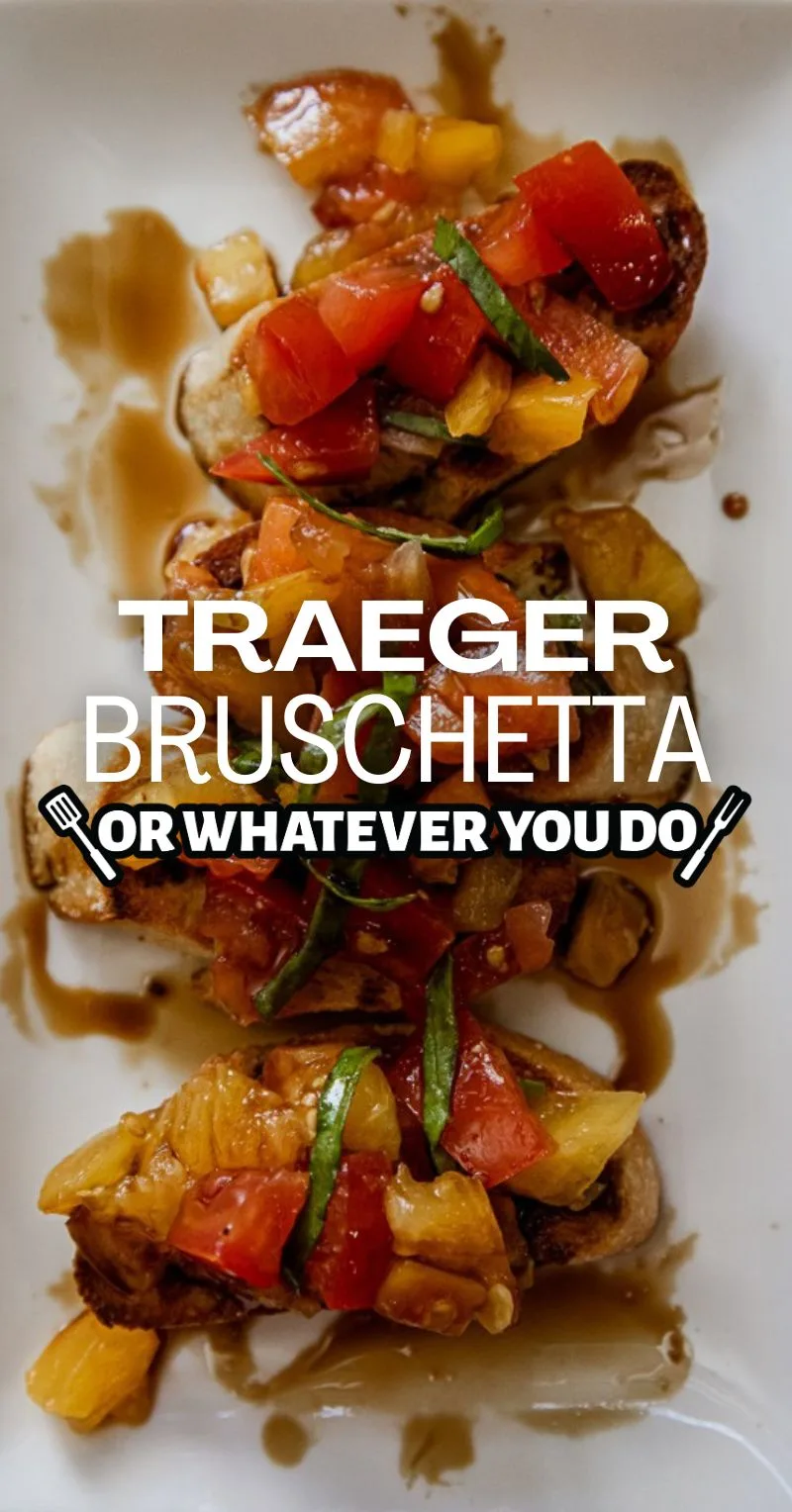 Traeger Bruschetta Recipe
When summer finally arrives and I can get my hands on the best tomatoes of the year, I love using them to make bruschetta! Typically bruschetta isn't cooked, but I wanted to give it a little wood-fired smoke for our Traeger Bruschetta, and I think it is definitely an upgrade.
It doesn't take much to add smoke flavor to some fresh diced tomato, so fire up the smoker and let them go for about 20-25 minutes, then put them in the fridge for a few hours before piling them as high as you can on some toasty baguette rounds, a little sprinkle of salt, plenty of fresh basil, and the very best balsamic you can find. It makes a difference!
Get all of my Traeger Recipes here!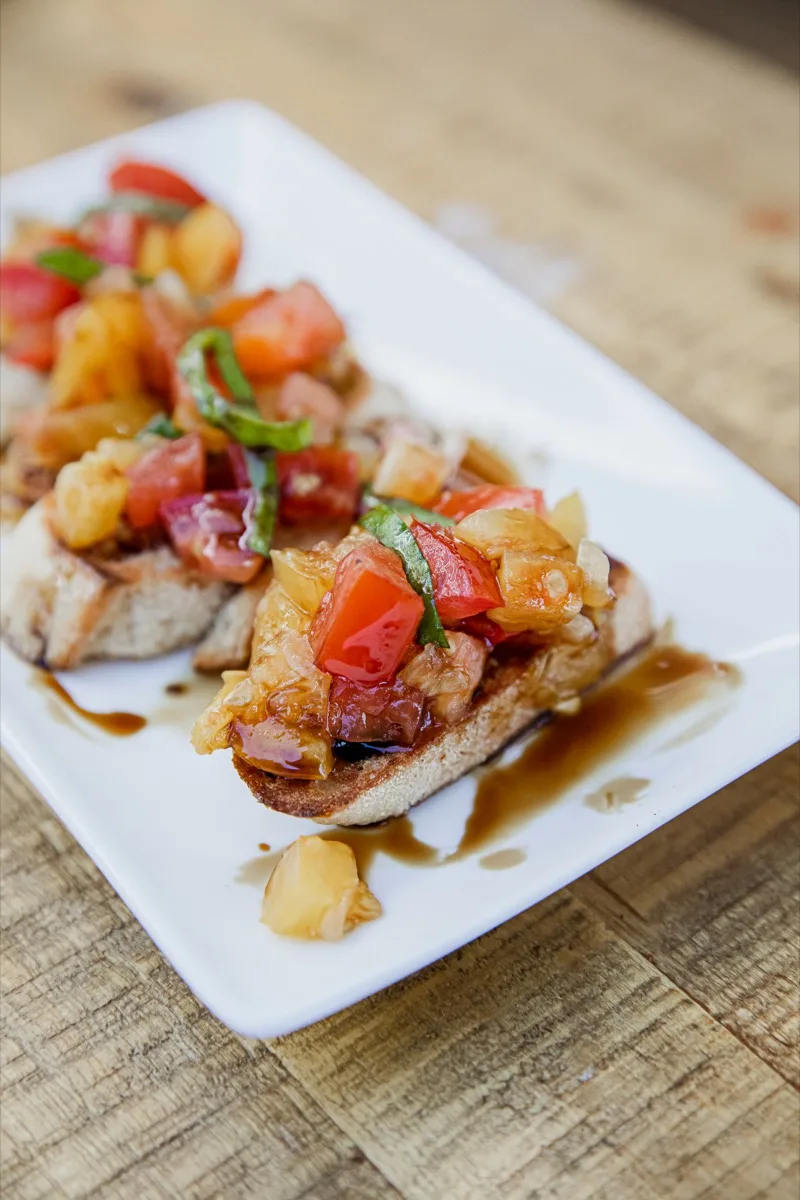 Traeger Bruschetta shopping list
Wondering if you have to hit the store? Here's the list of items you'll need to make this recipe. For specific amounts, please refer to the printable recipe card at the bottom of the post.
Heirloom tomatoes
Roma tomatoes
Himalayan Pink Sea Salt
Basil leaves
French Baguette
Olive oil
Balsamic vinegar
Get 75+ of my favorite Traeger Recipes here!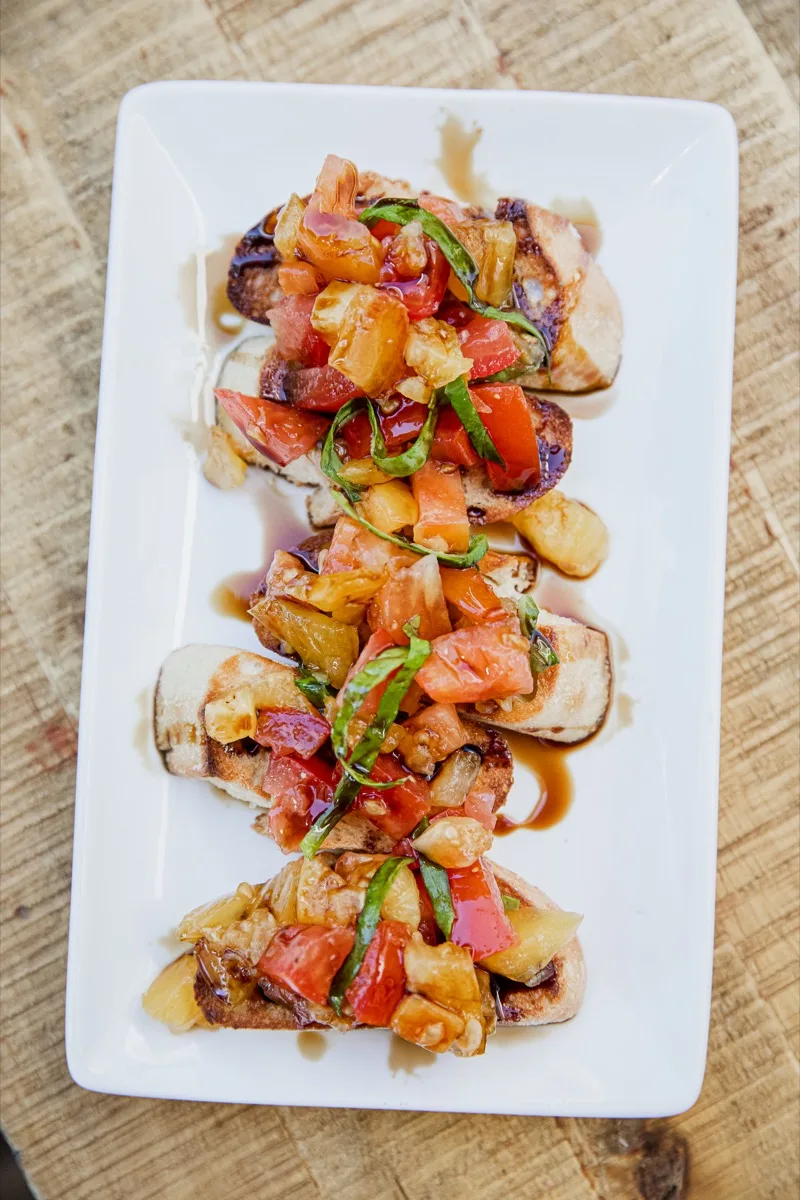 How to make Bruschetta on the Traeger
This is just the overview so you can see what you're actually getting into here. When you are cooking, you'll want to use the full recipe at the bottom of the page.
Preheat
Fire up your pellet grill to 225°F.
Prep
Dice up the tomatoes and get rid of all the watery seeds.
Smoke
Smoke the tomatoes for 20-30 minutes.
Chill
Refrigerate the tomatoes until they are room temp or cold. You just don't want them hot.
Finish
Toast your baguette rounds. Sprinkle some salt on the potatoes and chiffonade your basil. Mix both in with the tomatoes. Load up the tomatoes on the toasted rounds and drizzle with balsamic. Enjoy!
Have this with a Traeger Ribeye!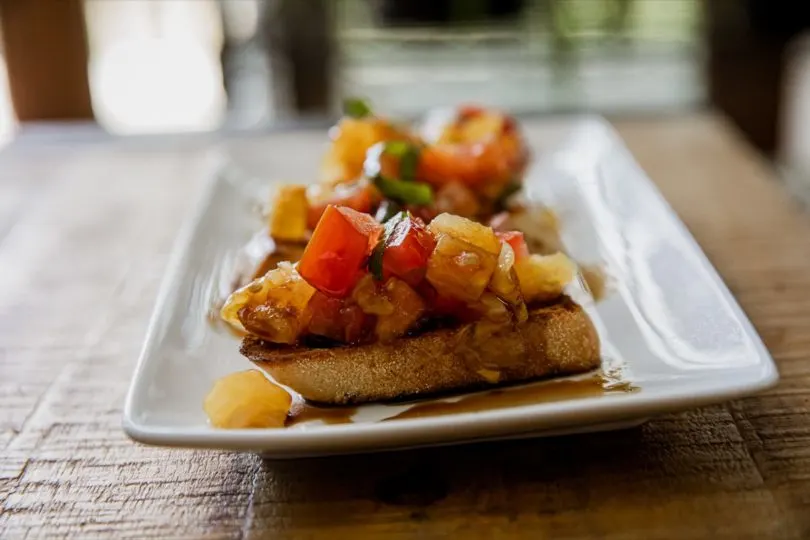 Traeger Bruschetta FAQ
Can this be made in advance?
It can be made up to a day in advance, but I wouldn't go beyond that. Fresh tomatoes are best as soon as you cut them as possible.
What's the best way to store the leftovers?
If you make more than you can eat in one sitting, make sure to store the baguette and the tomato separately so the bread doesn't get soggy. Then, just store the tomato in a baggie in the fridge for a day or two.
Are there any recommended substitutions or additions?
You can change this up however you'd like! My favorite way to add some extra flavor is to use a fancy salt, like this sriracha salt.
Love tomatoes? Try our Caprese Salad!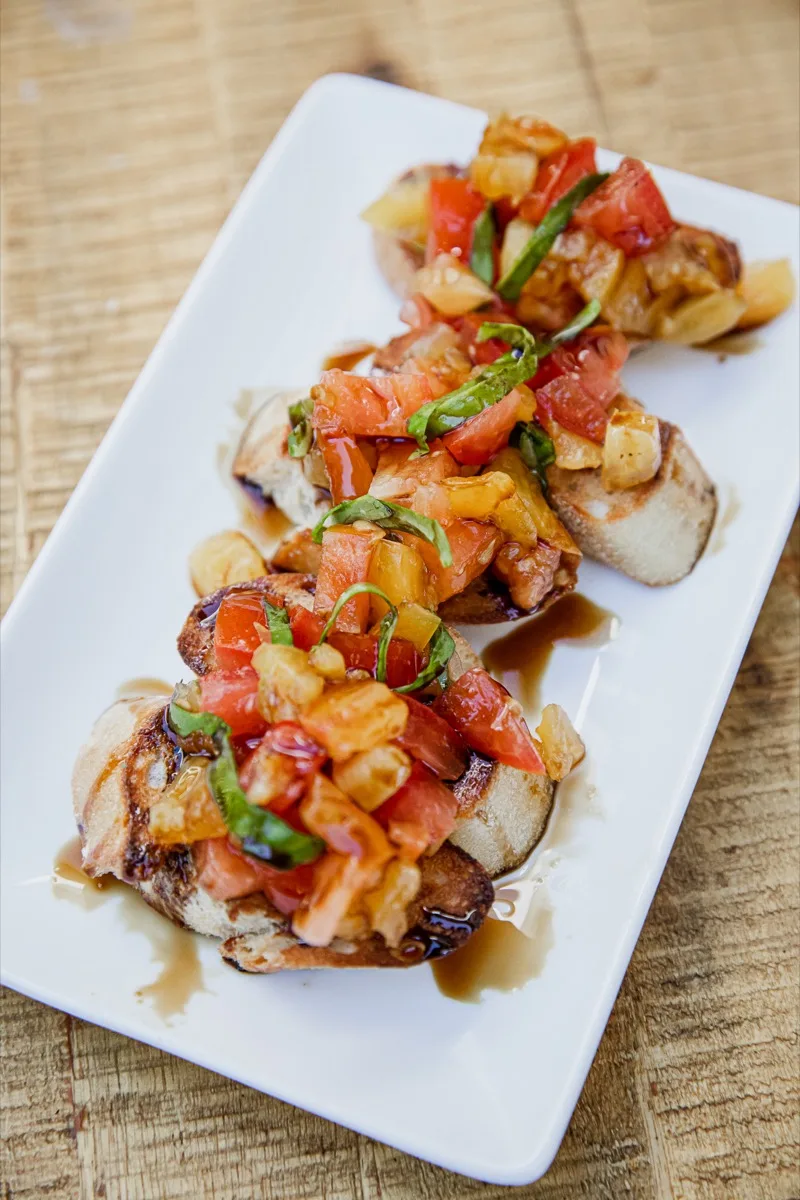 More great recipes featuring tomatoes to love!
Get our FREE Pellet Grill Appetizers Recipe E-Book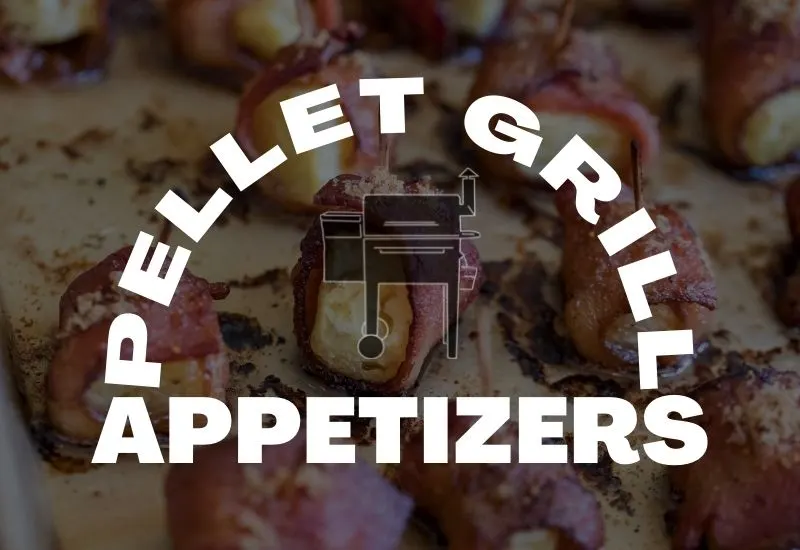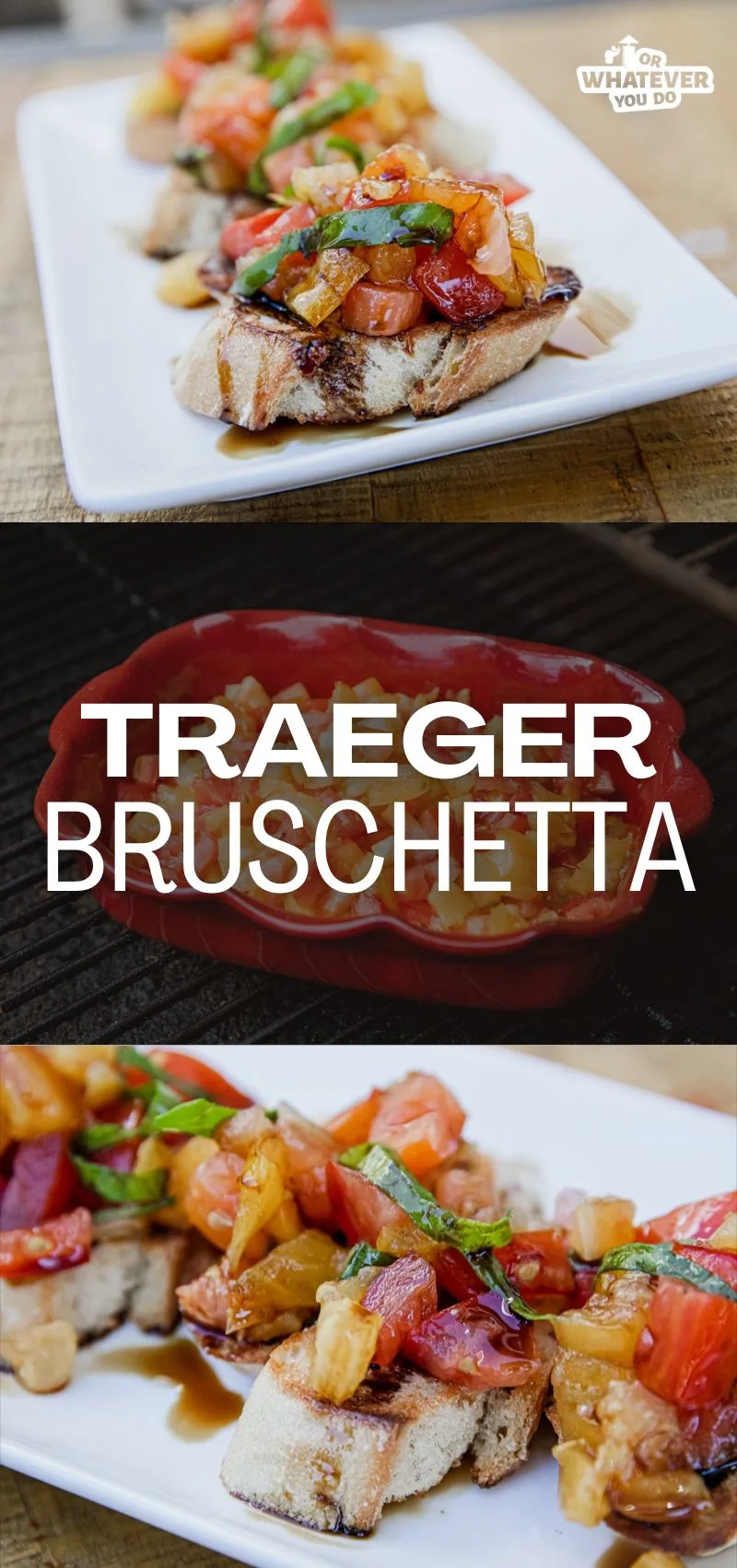 Yield: 8 servings
Traeger Bruschetta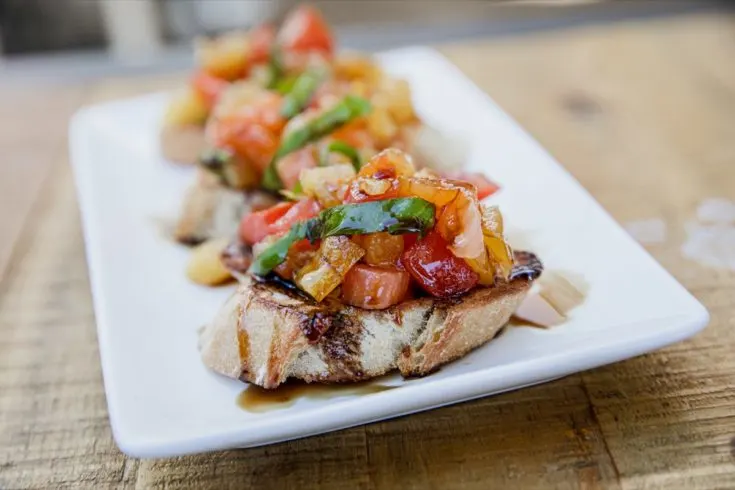 This incredible twist on a classic Bruschetta recipe is made with some lightly smoked tomatoes, fresh basil, Himalayan Pink Salt, and the best balsamic you can get your hands on for one of the tastiest bites that exist.
Ingredients
2 heriloom tomatos
3 Roma tomatoes
1 teaspoon Himalayan Pink Sea Salt
10 fresh basil leaves
1 loaf fresh French Baguette
3 tablespoons olive oil
3 tablespoons balsamic vinegar
Instructions
Preheat your grill to 225°F.
Dice your tomatoes and get rid of the watery seeds.
Place into a grill-safe baking dish and smoke on the grill for 20 minutes.
Remove from the grill and chill for at least 2-3 hours. Overnight is also fine.
Remove from the fridge and drain off the excess water that is released from the tomatoes.
Preheat a pan on the stovetop or griddle over medium heat with the olive oil in it.
Slice the baguette and toast it in the pan (or the griddle) on both sides until golden brown. If your Traeger is still heated, you can also brush both sides of the baguette with the olive oil and then toast on the grill.
Place all the basil leaves together, all facing uniformly. Roll them up staring at the short side. Slice, to chiffonade.
Mix the basil gently with the tomatoes.
Sprinkle the tomato basil mixture with the Himalayan Sea Salt.
Load up that tomato and basil mixture onto your toasted baguette rounds. Drizzle with generous amounts of the highest-quality balsamic vinegar you can find.
Eat immediately. Or as soon as possible after the drizzle. The crunch of the baguette is key to this experience.
Recommended Products
As an Amazon Associate and member of other affiliate programs, I earn from qualifying purchases.
Nutrition Information:
Yield:
8
Serving Size:
1
Amount Per Serving:
Calories:

220
Total Fat:

7g
Saturated Fat:

1g
Trans Fat:

0g
Unsaturated Fat:

5g
Cholesterol:

0mg
Sodium:

552mg
Carbohydrates:

34g
Fiber:

2g
Sugar:

5g
Protein:

7g
Nutrition data provided here is only an estimate.