Ignite your taste buds and indulge in the smoky, savory goodness of Smoked Beef Bacon Jalapeño Poppers, expertly cooked on a smoker. These mouthwatering appetizers combine the spiciness of fresh jalapeños, the creaminess of melted cheese, and the succulent richness of crispy beef bacon, all harmoniously infused with a delicate smoky flavor. Ideal for backyard barbecues, game day gatherings, or any special occasion, these poppers will surely be a hit with friends and family.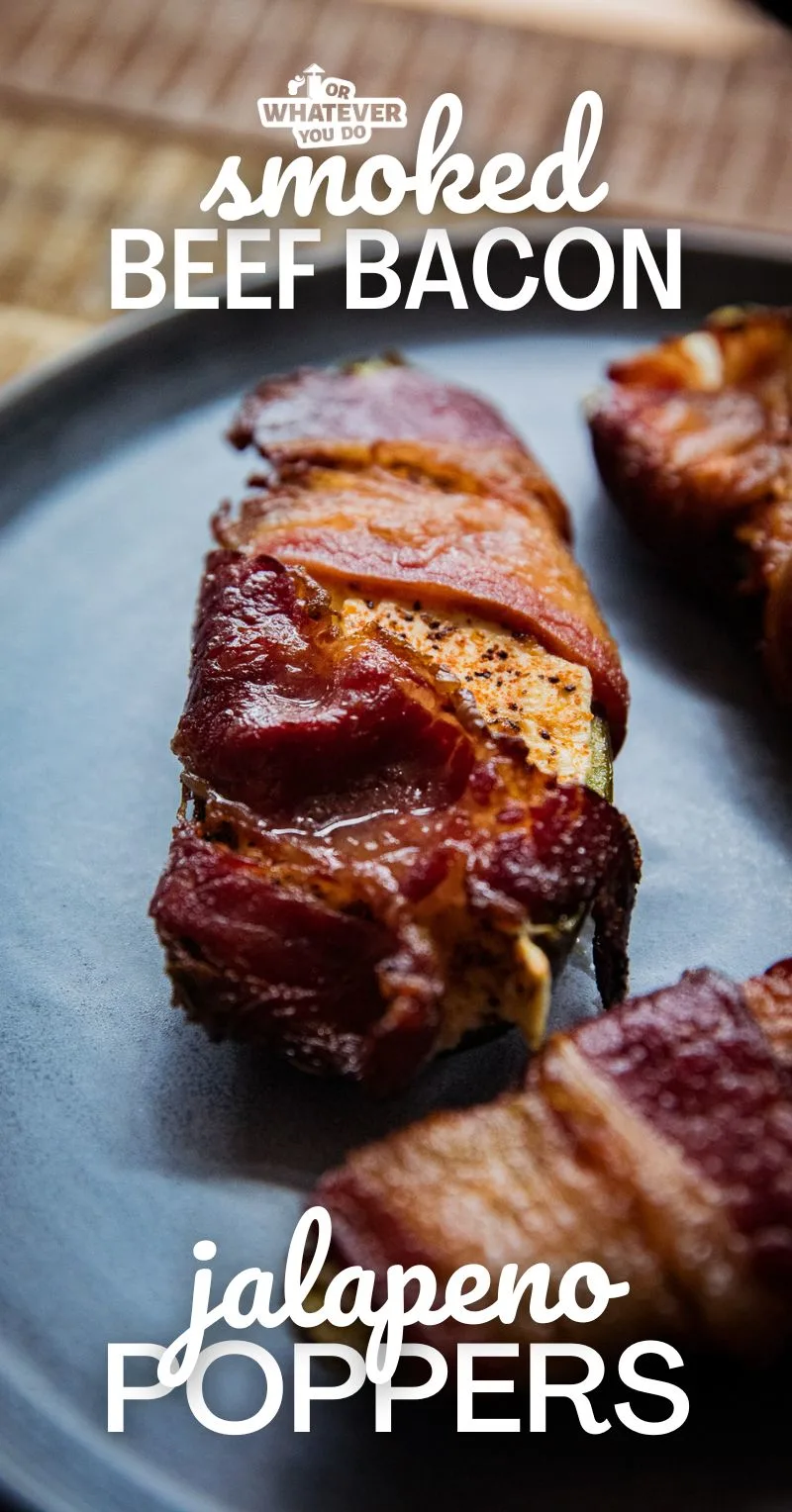 Smoked Beef Bacon Jalapeño Poppers
Tired of the same old appetizers? Add a touch of smoky sophistication to your bbq repertoire with our beef bacon wrapped jalapeño poppers, cooked on a smoker. This enticing recipe offers a delightful fusion of flavors and textures that will have everyone clamoring for the recipe (P.S. It is printable!)
With a spicy kick from fresh jalapeños, the velvety smoothness of cream cheese, and the rich, smoky essence of beef bacon, these poppers are the ultimate party food for those who crave a daring twist on classic favorites.
In today's world of endless recipe choices, what sets these smoked jalapeño poppers apart is their incredible flavor and the use of beef bacon. As a versatile appetizer, these poppers can be tailored to suit different tastes and preferences, making them an excellent option for gatherings with diverse palates. Preparing them on a smoker also lends an authentic barbecue feel to any outdoor event, be it a summer cookout or a cozy fall gathering.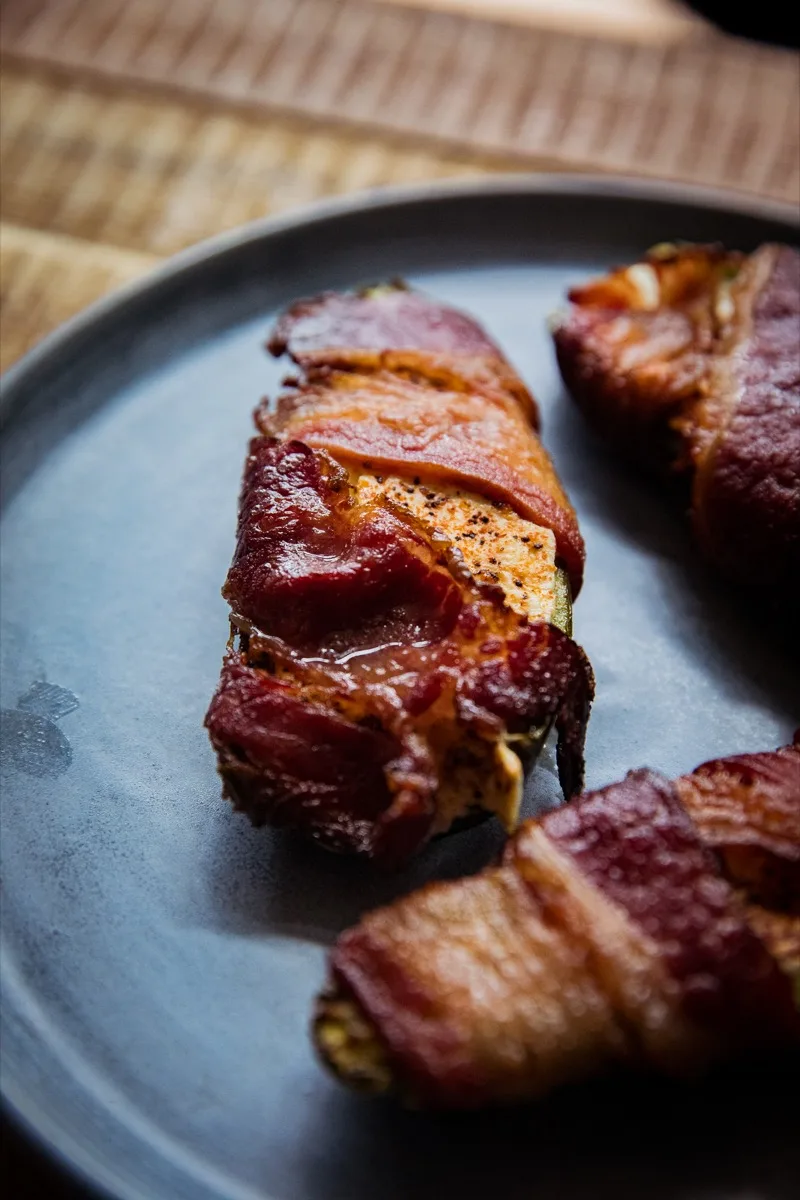 Beef Bacon Jalapeño Poppers shopping list
Wondering if you have to hit the store? Here's the list of items you'll need to make this recipe. For specific amounts, please refer to the printable recipe card at the bottom of the post.
Jalapeños
Cream cheese
Beef bacon
BBQ Rub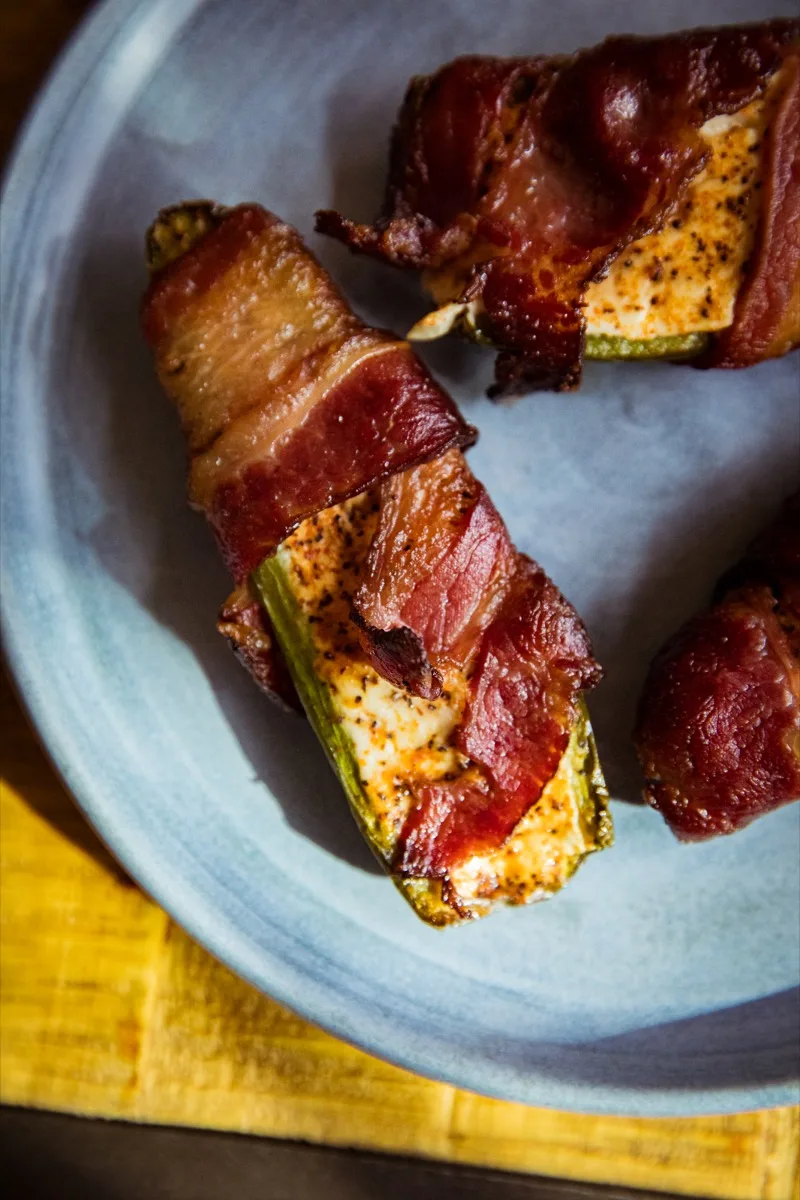 How to make Beef Bacon Jalapeño Poppers
This is just the overview so you can see what you're actually getting into here. When you are cooking, you'll want to use the full recipe at the bottom of the page.
Preheat
Fire up the smoker and let it preheat to 350°F.
Prep
Remove the tops from the peppers and slice in half the long way. Remove the membrane and the seeds with a spoon.
Fill the peppers with cream cheese and sprinkle with bbq rub.
Wrap the peppers with one or two pieces of beef bacon. Enough to cover in one layer. Secure with a toothpick. Sprinkle with a little more of your bbq rub.
Smoke
Grill the poppers for about 25 minutes, or until the bacon fat is rendered and the meat is cooked. It won't be "crispy" until it cools off a little bit, much like bacon you pay fry.
Cool
These will be like molten lava when you first pull them off the grill. Warn people away and defend with utensils if necessary. They need to cool for at least 10 minutes before you dig in. And even then, proceed with caution!
Enjoy
These won't last long, so get one while you can (and next time, make a double batch.)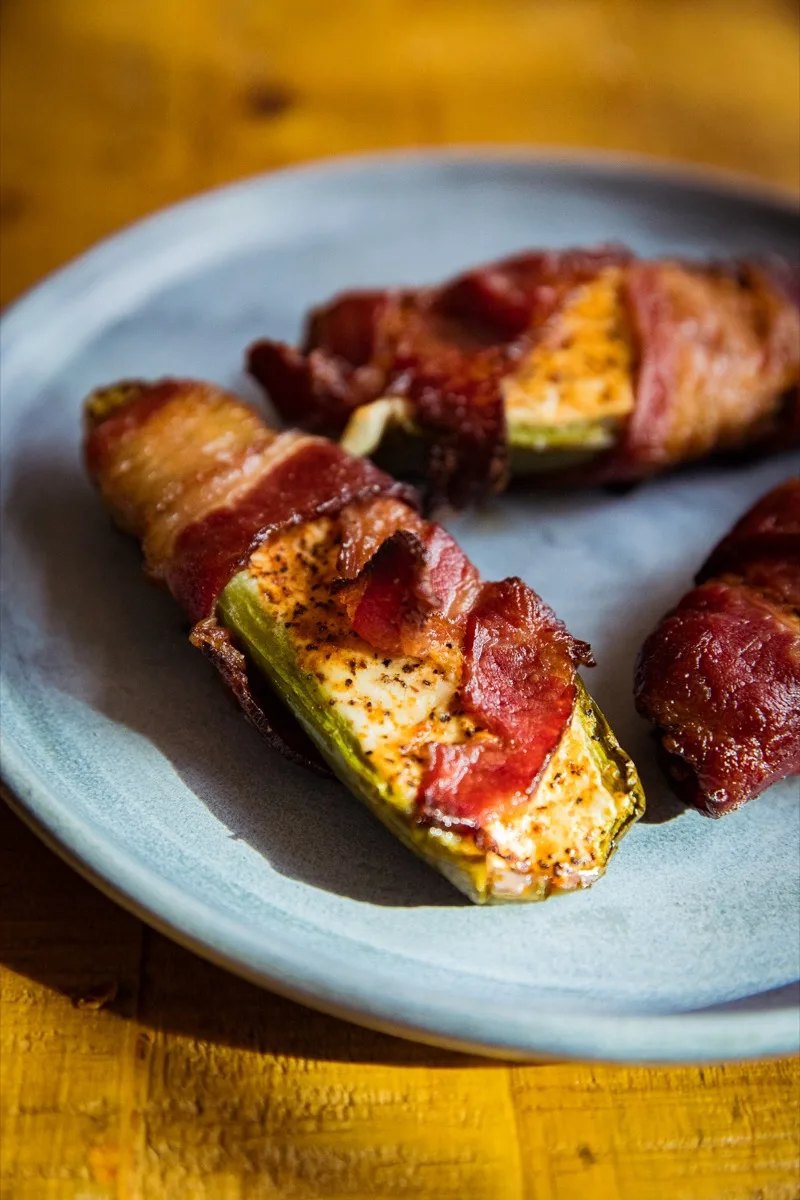 Beef Bacon Jalapeno Poppers FAQ
So, what is beef bacon?
Beef bacon, a lesser-known yet incredible alternative to its pork counterpart, is a savory and delightful option for those seeking a unique taste or adhering to dietary restrictions. This scrumptious, versatile ingredient is derived from the belly of the cow, specifically the plate primal cut, which boasts a perfect balance of lean meat and fat. The result is beautifully marbled and flavorful meat, ready to be transformed into something really delicious.
The process of crafting beef bacon is similar to that of traditional pork bacon. The beef belly is first cured, often using a combination of salt, sugar, and various spices to flavor the meat with its distinctive taste. Once cured, the meat is smoked over wood fire. Finally, the beef bacon is sliced, revealing the beautiful layers of meat and fat that will crisp up perfectly when cooked.
This appetizing alternative has been steadily gaining recognition among food enthusiasts for its unique taste and versatility. With a slightly bolder flavor and a firmer texture compared to pork bacon, beef bacon brings a new dimension to traditional dishes and contemporary culinary creations alike. Whether it's wrapped around jalapeño poppers, like this recipe, layered in a homemade Ultimate BLT, or simply enjoyed on its own for breakfast, beef bacon is a mouthwatering addition to any meal.
Can I make these beef bacon-wrapped jalapeño poppers in the oven instead of a smoker?
Absolutely! Although using a smoker adds a distinct smoky flavor to the poppers, they can still be delicious when prepared in the oven. Just preheat your oven to 400°F (200°C) and place the prepared poppers on a wire rack set over a baking sheet. Bake them for 20-25 minutes until the beef bacon is crispy and the jalapeños are tender. Keep an eye on them to avoid overcooking.
What type of cheese should I use for the jalapeño poppers, and can I experiment with different varieties?
Cream cheese is the most common choice for jalapeño poppers, as it provides a smooth, creamy texture that complements the spicy jalapeños and the rich beef bacon. However, you can experiment with different cheeses to suit your taste.
Consider using a blend of cream cheese and shredded cheddar, pepper jack, or even smoked gouda for added depth of flavor. Feel free to get creative and discover your favorite combination! We made some Goat Cheese Stuffed Mini Bell Peppers. They were incredible!
How can I make these less spicy for those who prefer milder flavors?
To reduce the spiciness of the jalapeño poppers, take extra care when removing the seeds and membranes from the jalapeños, as these are the primary sources of heat. You can also blanch the jalapeños in boiling water for 1-2 minutes before stuffing them, which can help tone down the heat. Alternatively, you may opt to use a milder pepper variety, such as Anaheim or poblano peppers, which still offer a hint of spice but are more palatable for those with low heat tolerance.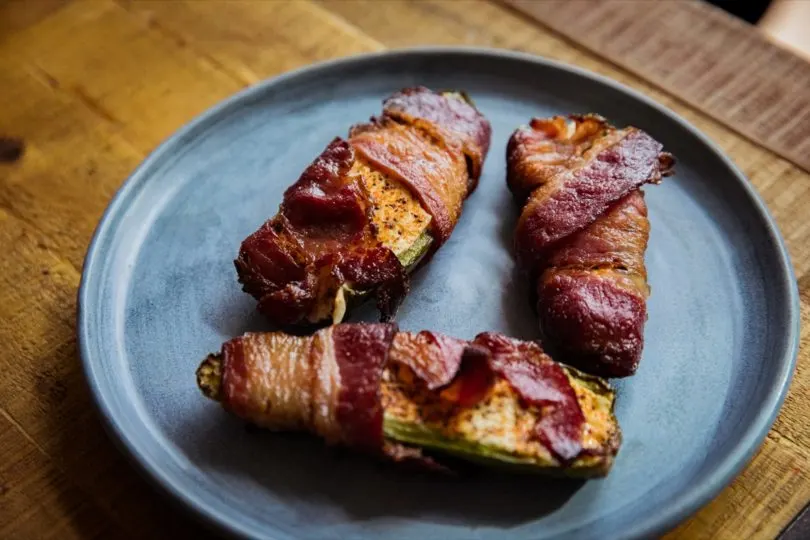 More great Smoked Appetizer recipes to love!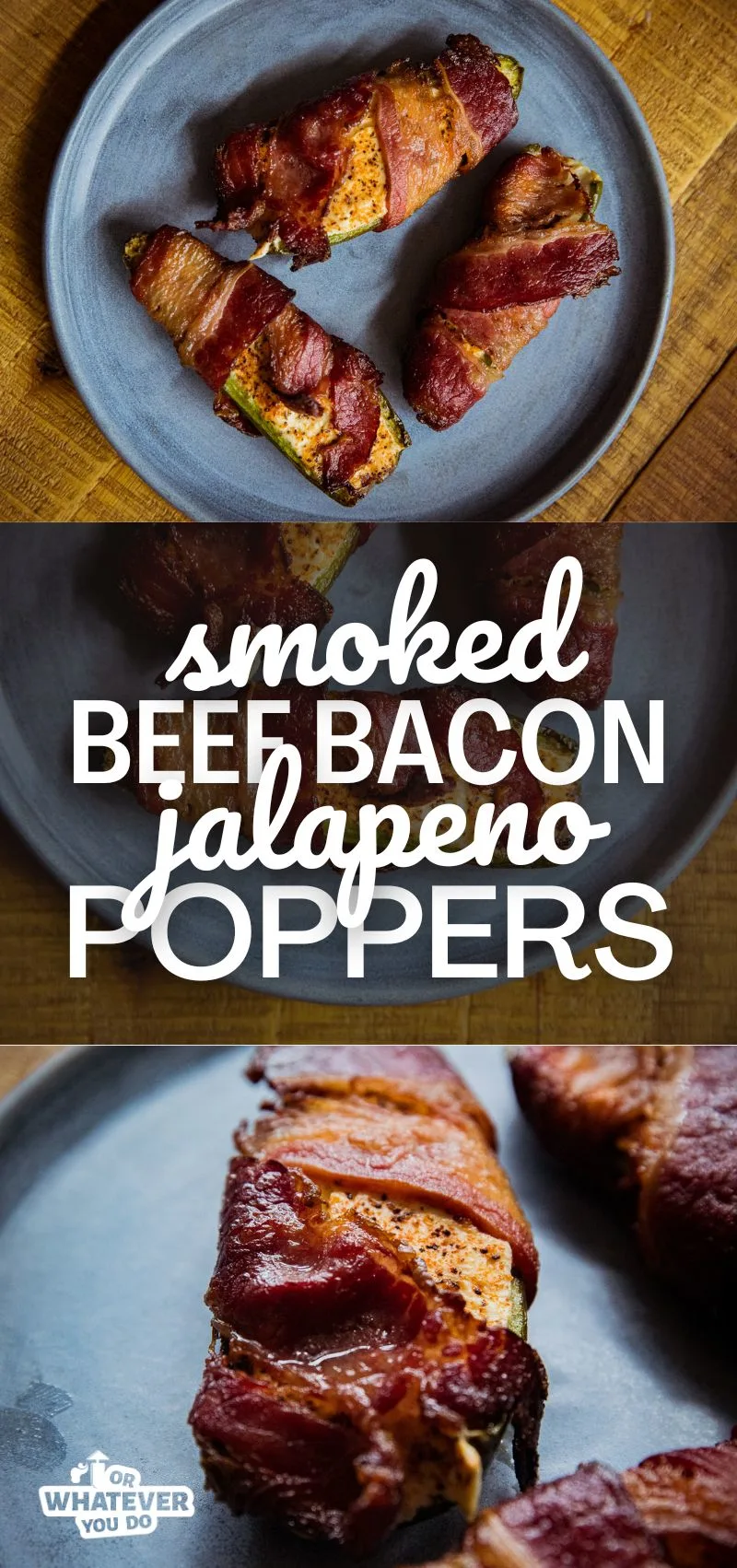 Yield: 8 servings
Beef Bacon Jalapeño Poppers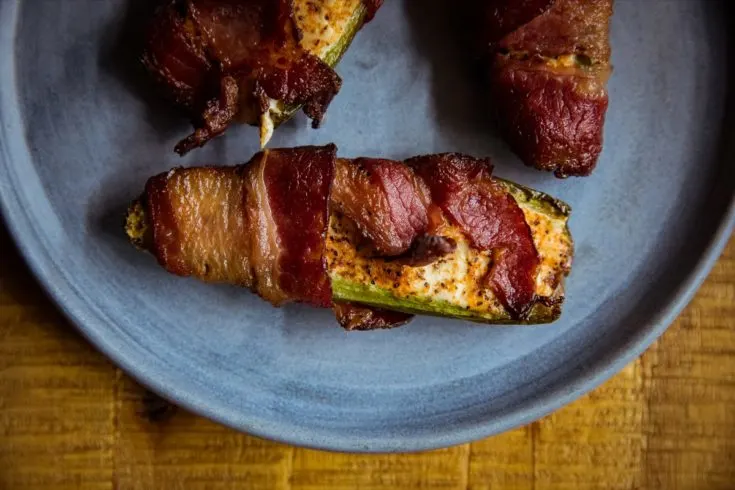 This delicious smoked appetizer packs some heat! Try our Beef Bacon Jalapeno Poppers for your next bbq or cookout and surprise all your guests!
Ingredients
4 jalapenos
1/2 cup softened cream cheese
2 teaspoons bbq rub, divided (your favorite is great here! If you don't have one, I have some suggestions below.)
8 pieces beef bacon
Instructions
Preheat your grill to 350°F.
Remove the stems and first 1/4 inch of the jalapenos, and then slice them in half lengthwise. Remove the seeds and membranes with a spoon.
Fill with softened cream cheese and sprinkle them all with 1 teaspoon of the bbq rub.
Wrap each popper with 2 pieces of beef bacon. Secure with a toothpick. Sprinkle with the remaining 1 teaspoon of rub.
Place into the smoker and cook for 25 minutes, or until the beef bacon fat is rendered and it is fully cooked.
Remove from the grill and let it cool for 10 minutes or so before enjoying. Be careful, they will still be hot!
Recommended Products
As an Amazon Associate and member of other affiliate programs, I earn from qualifying purchases.
Nutrition Information:
Yield:
8
Serving Size:
1
Amount Per Serving:
Calories:

267
Total Fat:

21g
Saturated Fat:

8g
Trans Fat:

0g
Unsaturated Fat:

11g
Cholesterol:

60mg
Sodium:

816mg
Carbohydrates:

2g
Fiber:

0g
Sugar:

1g
Protein:

16g
Nutrition data provided here is only an estimate.