Cherry Coke Ribs are a wonderful variation on my Traeger Smoked Ribs recipe. In this version, you take some of your favorite barbecue sauce base, add cherry coke and some Brown Sugar Bourbon (or regular bourbon if you can't find the BSB) to create one of the best barbecue sauces known to mankind.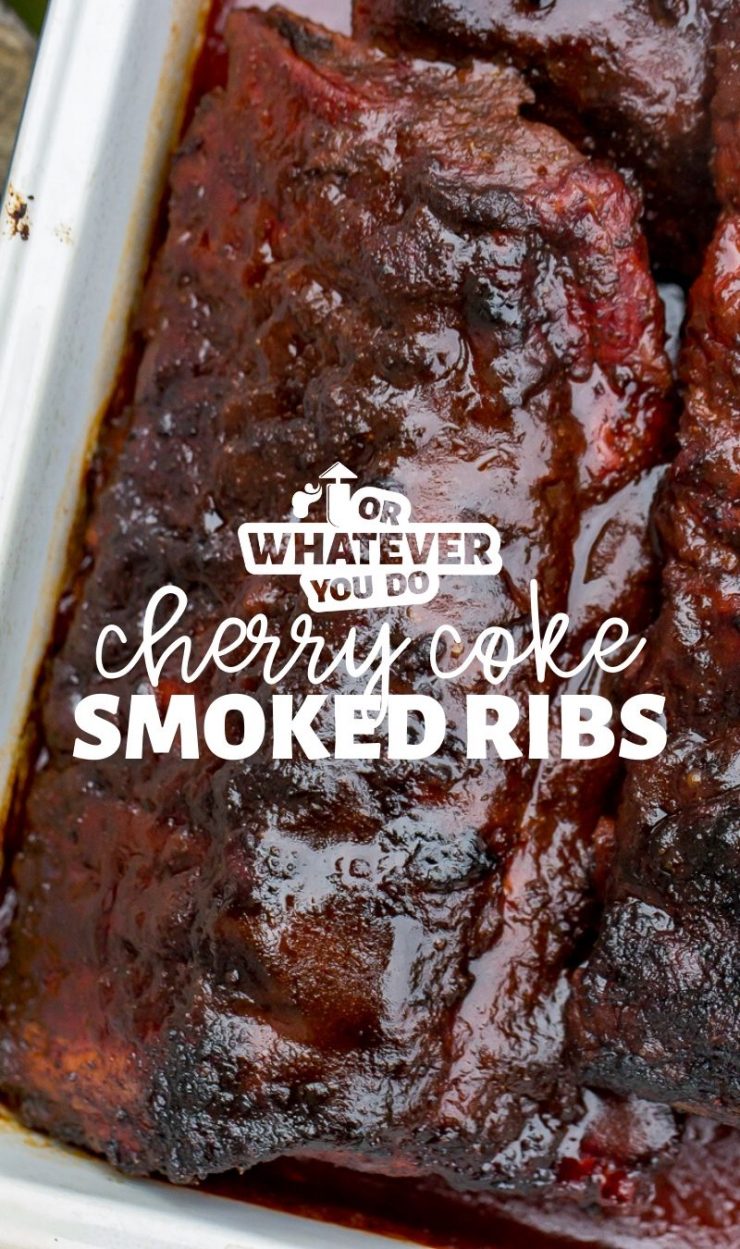 Smoked Cherry Coke Ribs
Cherry cola and bourbon together sound like a southern-fried cocktail that would rival a mint julep or a sazerac. They work together perfectly to turn a plain barbecue sauce into something else entirely.
By adding the Bourbon and cherry cola to any barbecue sauce you have handy, it makes it an easy one to turn out too.
As far as the barbecue sauce is concerned, try my homemade barbecue sauce recipe if you really want to go completely homemade.
Get our 75 ESSENTIAL Traeger Recipes here!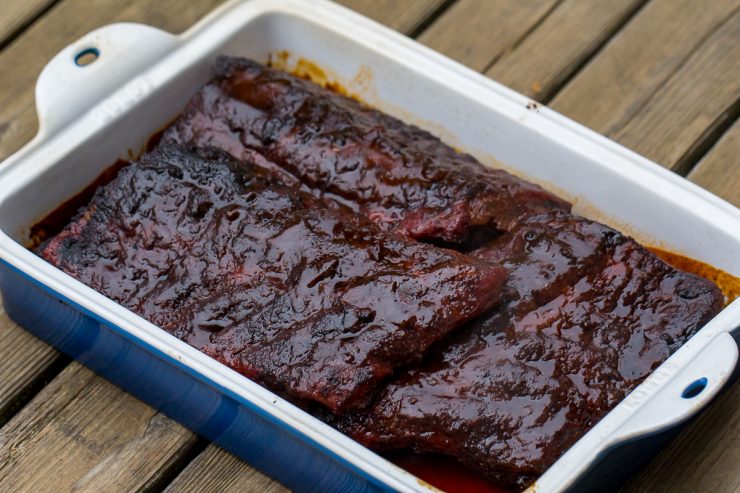 Why smoke your ribs?
In the Traeger groups on Facebook that I frequent, people sometimes seem to shy away from ribs because they've had a few less-than-ideal outcomes. I think the key here is knowing what you are after, as far as the end result is concerned.
Smoked ribs are amazing and you should make them because when they are done properly they are one of the best pieces of BBQ you can eat. SO flavorful, and you can't help but get down and dirty with a plate of ribs in front of you. Bring.on.the.napkins, and don't wear white.
I like my ribs TENDER. Like, so tender, you almost just need to grab a fork and grab forkfuls and you definitely don't need a knife to slice through these ribs.
Other people (aka, Jeremiah + a couple of the kids in this house) prefer them to have some bite. Not too much, as they like them to come off the bone clean, but enough bite so they are able to be picked up while on the bone.
We tried the VERY popular 3-2-1 method a few times when we first got our Traeger, and while I know they are the PERFECT rib for some people, they just weren't for me.
I started experimenting with times and landed on the 5-4-1 to be MY sweet spot, as far as getting the expected and ideal end result to make the perfect plate of ribs, for ME.
Obviously, your mileage may vary, so this was the long way to say that there are as many rib methods out there as there are pitmasters and Facebook groups, so as with all of my recipes please use your senses and go with your gut and cook YOUR way, too.
Get all my recipes for RIBS here!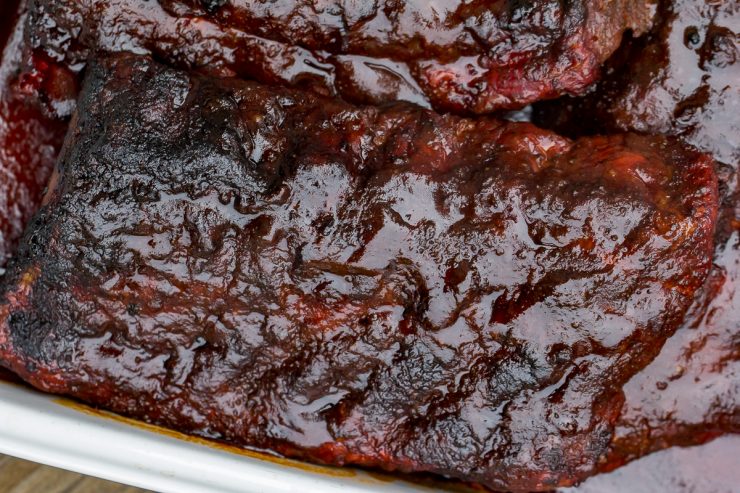 More ribs to love!
Since ribs are one of my favorite foods, especially when they are properly smoked. When we got our first pellet grill (a Traeger) that was one of the things on my list I really wanted to master and be able to throw down.
Through the years, Jeremiah and I have both taken stabs and come out with some pretty unique and delicious variations.
Our original Traeger Smoked Pork Ribs recipe is the pioneer of the 5-4-1 method. This is the base for almost all of my ribs recipes.
I even figured out how to speed up the process with my Faster Smoked Ribs by using an Instant Pot for part of the cook.
We smoked beef ribs, and beef short rib lollipops.
Then there are Jeremiah's Asian Sticky Smoked Ribs that have been blowing people's minds in the Facebook groups. Togarashi sales going through the roof, this week, I'm sure.
Don't even get me started on the short ribs. Those are a special kind of special and kind of deserve their own category. If you want to venture down that road though, I recommend the Braised Beef Short Ribs with mashed potatoes and the Korean Kalbi Beef Short Ribs with steamed rice.
All that to say if you make some of my ribs you are probably going to love them.
See all of my Ribs Recipes here!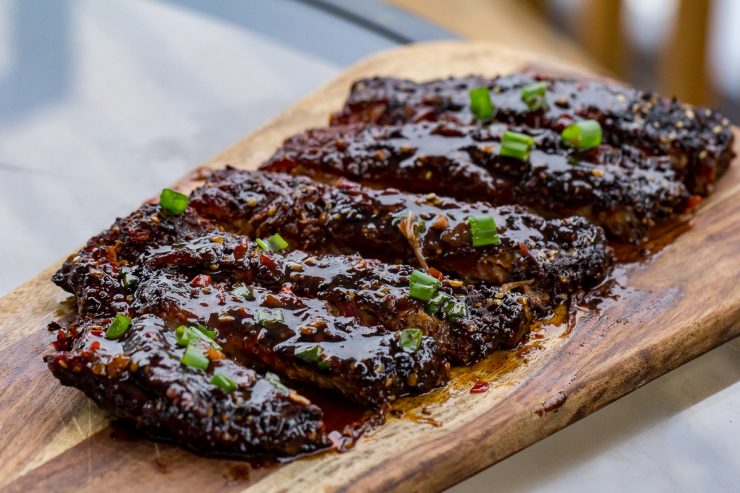 Cherry Coke Ribs Shopping List
Baby back ribs
barbecue sauce
your favorite rib rub
Brown Sugar Bourbon (or regular bourbon, if you must)
Join our Easy Traeger Recipes Facebook Group!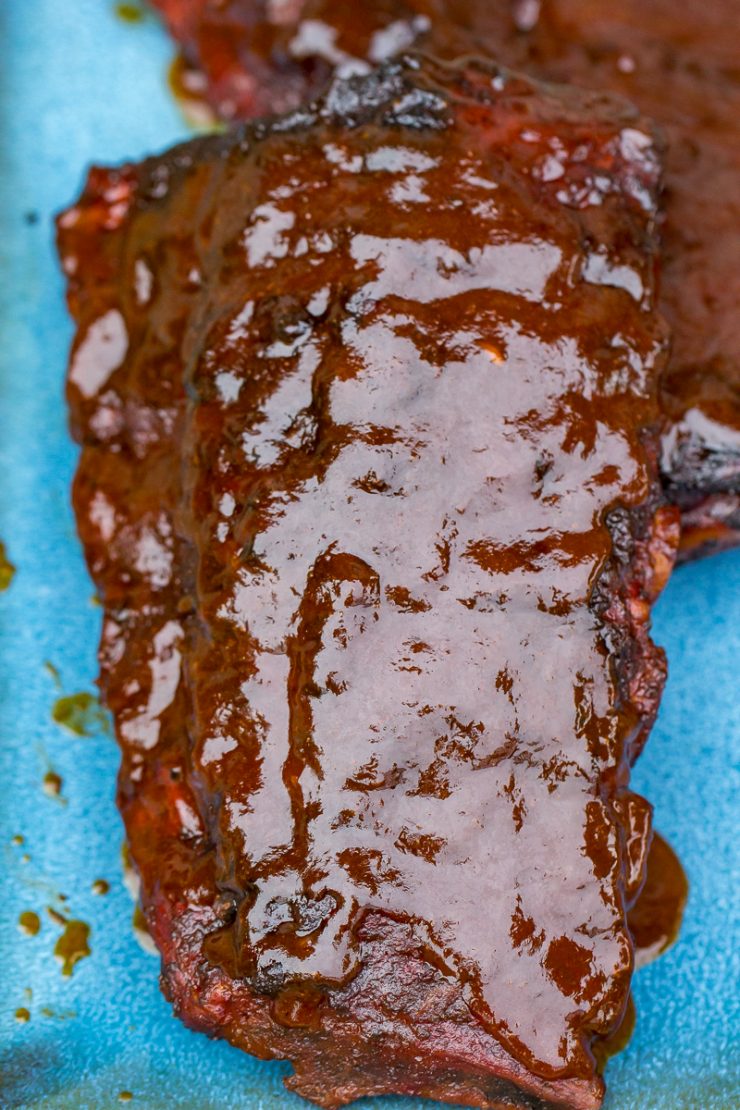 What kind of ribs work best with this recipe?
Ok, just to be clear, you could slather this sauce on a deflated football and it would still be tasty. I think cherry cola must've first been invented to use in barbecue sauce. Whatever the secret recipe is for Coca Cola also contains the secret to making amazing ribs.
I like to use baby back ribs for this recipe. It is my "go-to" when it comes to pork ribs.
More Easy Traeger Recipes here!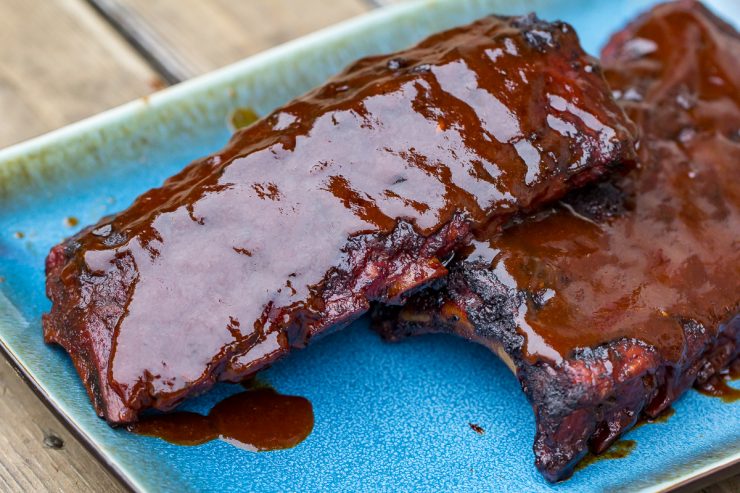 What kinds of pork ribs are there?
Even though I prefer baby backs, any style of ribs will do. Knowing the difference helps to make the final choice.
In essence, there are three main types of ribs. You can usually find each at any supermarket, and if you have any questions just ask the butcher at the meat counter to make sure you get what you are looking for.
Baby back ribs
Spare ribs
St. Louis ribs
Get my easy Side Dish recipes!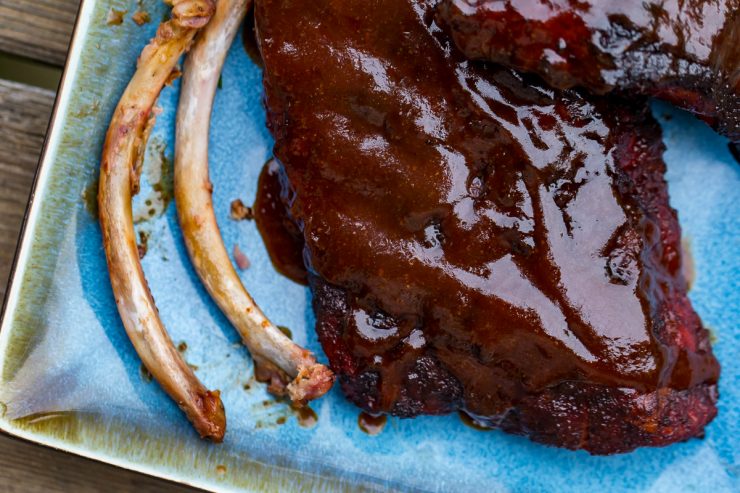 When is the right time for barbecue sauce?
For these ribs, your barbecue sauce is combined with the soda and bourbon and then they are cooked IN the sauce for the last several hours of cook time. You can finish them on the grill to glaze them up with a final basting of the sauce if you'd like, but most of the time I don't even find that necessary.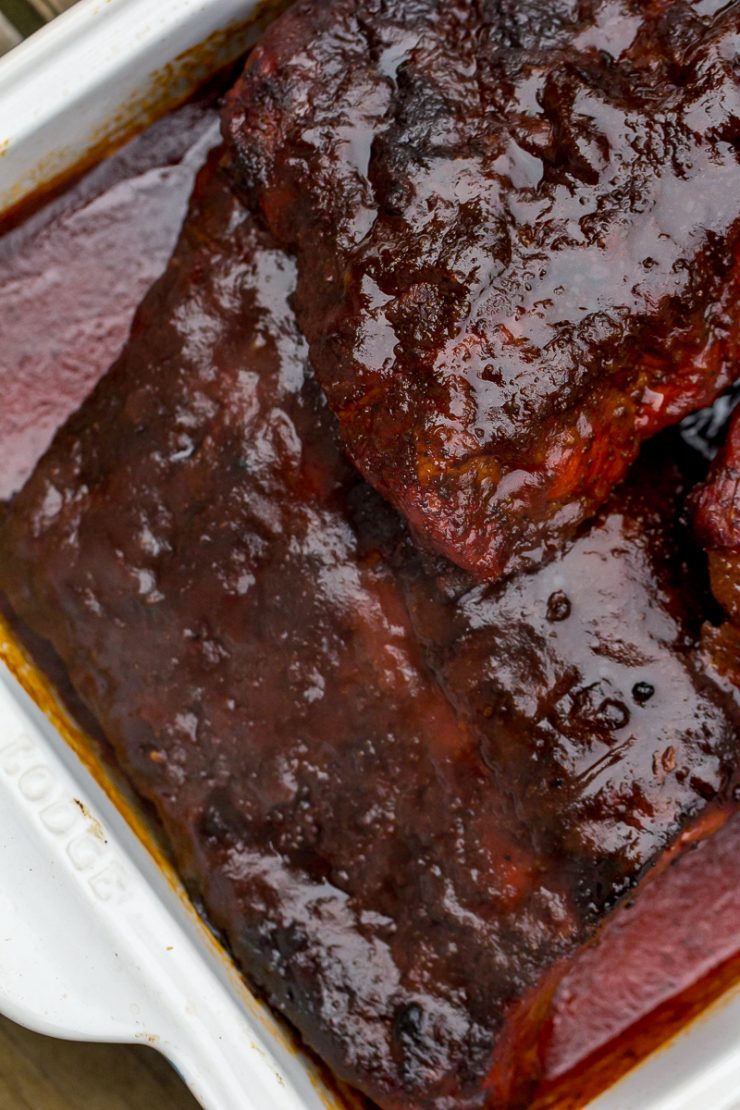 Why braise the ribs in the barbecue sauce?
Yes, talk about infusing the ribs with flavor! The space between the flavor of the smoked rib and the taste of the sauce becomes non-existent. Instead of being a smoked rib that has barbecue sauce on it, it becomes a barbecue rib. It's as if it actually came from a special kind of pig breed fed on barbecue sauce its entire life.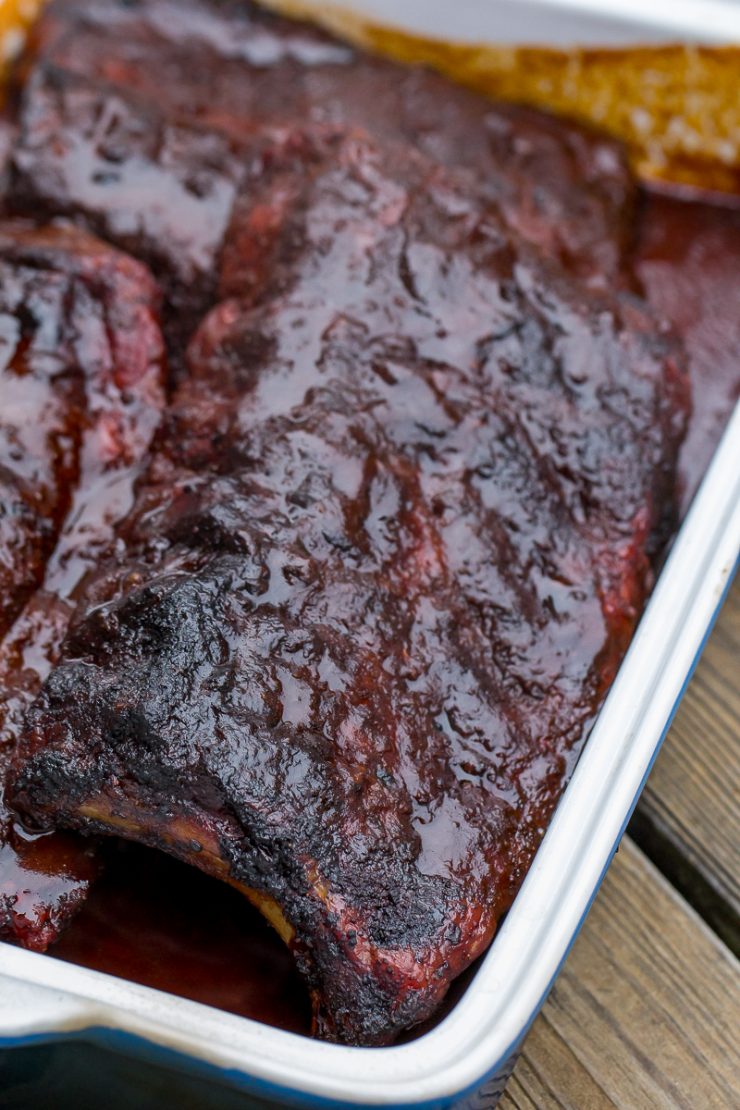 What should you serve with bbq ribs?
When it comes to bbq ribs, the sides are important.
First, they need the seasonings to make the ribs come alive. So, any style of potatoes from french fries to smoked baked potatoes should prop up the tangy-sweet ribs.
If you do slaw, then a bright vinegar coleslaw is the perfect thing to serve next to rich, sauce-covered ribs.
Here are a few more things to try if you are looking for some ideas:
More great recipes to love!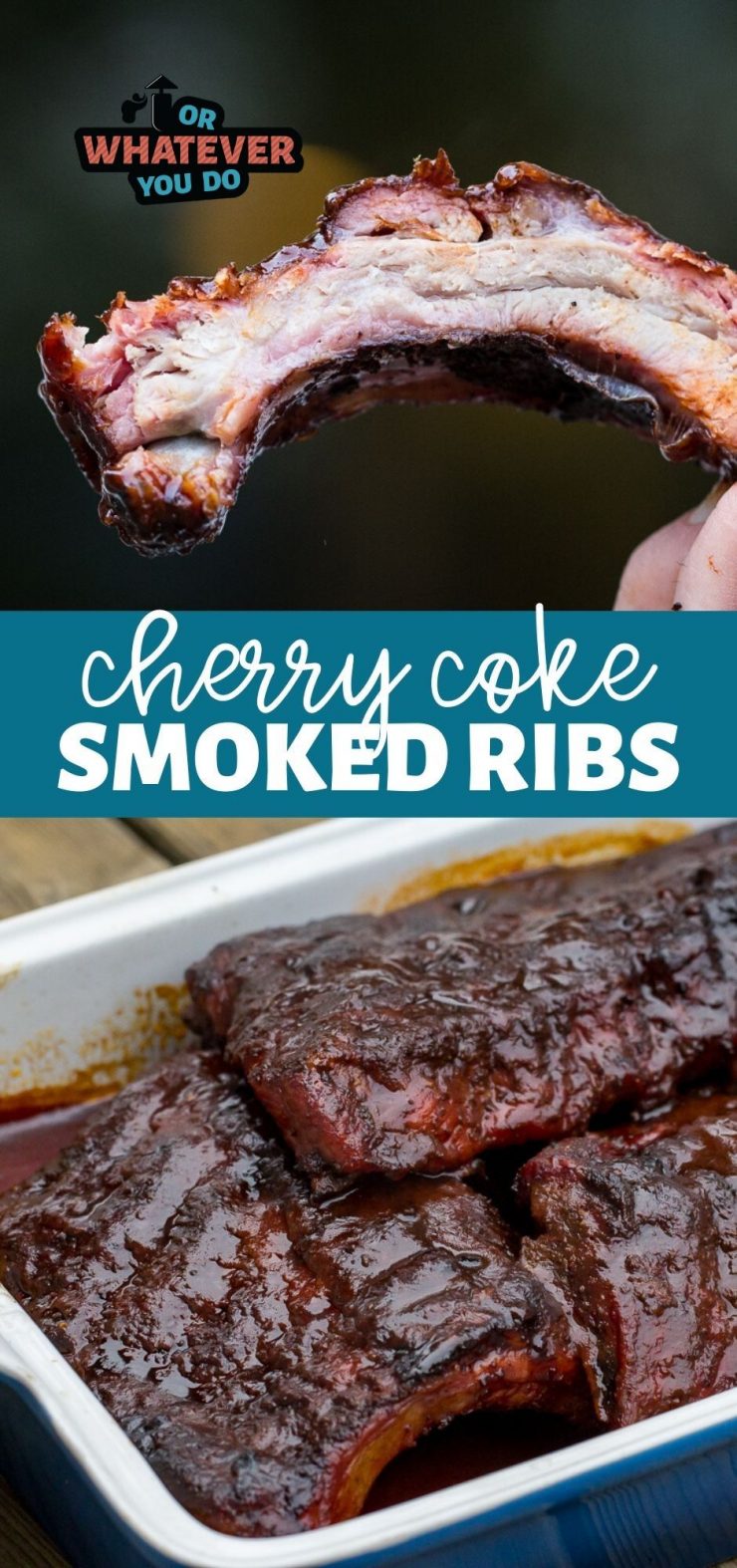 Yield: 4 servings
5-4-1 Smoked Cherry Coke Ribs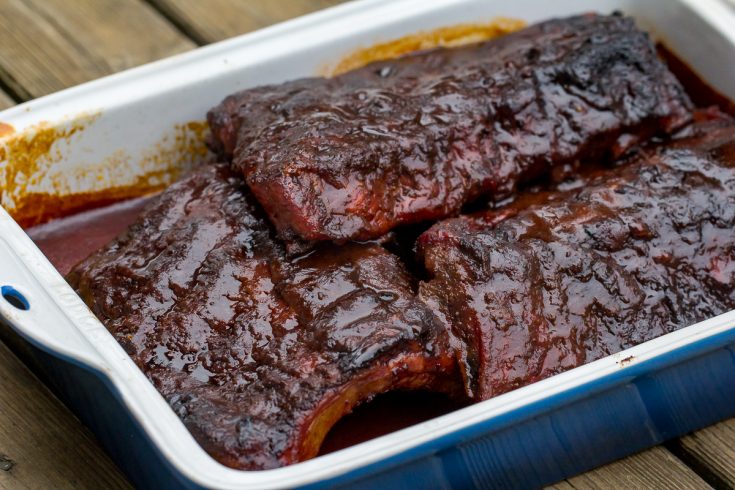 Smoked Cherry Coke Ribs are cooked on your pellet grill over low heat for 4-5 hours, and then they get put into a pan, slathered with a barbecue sauce + Bourbon & Cherry Coke mixture, and cooked for another 2-3 hours over medium heat. What you are left with is fall-off-the-bone tender ribs with a sauce that you'll all be fighting over.
Total Time
7 hours
15 minutes
Ingredients
2 racks baby back ribs
1/2 cup barbecue rub *homemade or your favorite variety is fine. I have some suggestions below!
Sauce
1 cup BBQ sauce
1 cup cherry cola
3 ounces Brown Sugar Bourbon (or regular Bourbon if you can't get BSB)
Instructions
Preheat your pellet grill to 180°-200° according to factory instructions.
Remove the membrane from the ribs, if applicable, and then coat liberally with the barbecue rub.
Place on the grill, and smoke for 4-5 hours.
Turn the grill up to 275-300°, and place the ribs into a large tin pan or an enameled cast iron pan.
Combine the sauce ingredients, and pour over the top of the ribs.
Cover tightly, and cook the ribs for 3-4 hours, uncovering and basting with the sauce once per hour before recovering, or until the ribs are as tender as you like them. You can cook these in the oven at this point if you are trying to save pellets.
If desired, you can throw the ribs back on the grill for up to an hour on 250-275°, to caramelize the sauce and continue cooking the meat, but we don't usually get to that stage and just scarf them after the covered portion of the cook.
Recommended Products
As an Amazon Associate and member of other affiliate programs, I earn from qualifying purchases.
Nutrition Information:
Yield:
4
Serving Size:
1
Amount Per Serving:
Calories:

805
Total Fat:

36g
Saturated Fat:

13g
Trans Fat:

0g
Unsaturated Fat:

21g
Cholesterol:

143mg
Sodium:

1339mg
Carbohydrates:

72g
Fiber:

1g
Sugar:

64g
Protein:

41g
Nutrition data provided here is only an estimate.