My faster smoked pork ribs let you have all the rib flavor and tenderness you crave, without devoting your whole day to the project.

Shortcut Traeger Pork Ribs
Do you want amazing smoked pork ribs but don't have 6+ hours to devote to it? Shave the time in half using my easy shortcut method that utilizes a pressure cooker for part of the cook to help tenderize the ribs without sacrificing the wood-fired flavor that pellet grills impart.
Shortcut Traeger Pork Ribs are slow smoked for 2 hours, pressure cooked in the Instant pot for 30 minutes, and then coated with barbecue sauce and put back on the Traeger to grill at 325° for 30-45 minutes.
It cuts down the cook time significantly, but the smoke and the final grill time still leaves behind the smoke flavor and grilled BBQ texture on the meat.
Click here to save this post for later!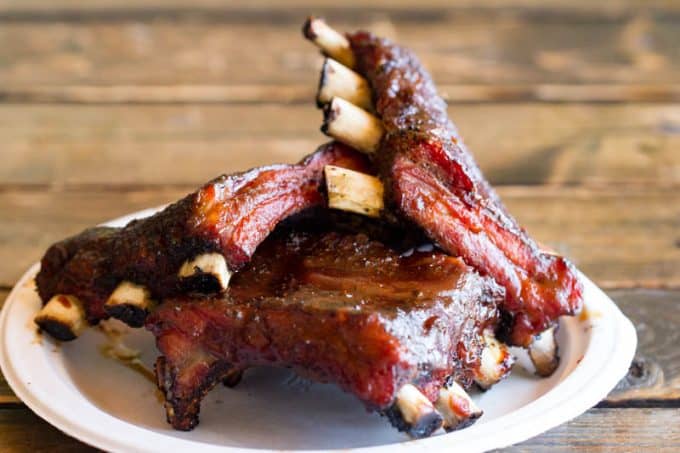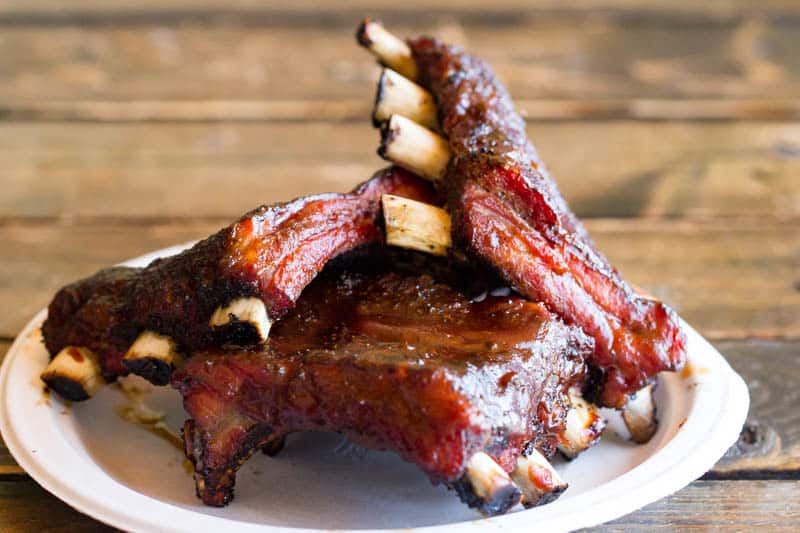 Take the shortcut on Traeger Pellet Grill Pork Ribs
Taking short cuts to cook pork ribs doesn't mean short cuts on flavor. You can achieve wonderfully smoky pork ribs in less than half the time it would take normally.
In terms of smoky flavor and grill marks, no one can tell the difference. For those times when considerations make low and slow impossible, then take this quick and easy path to creating great smoked pork ribs that have all the smoky flavor and juiciness you need.
More easy Traeger Recipes here!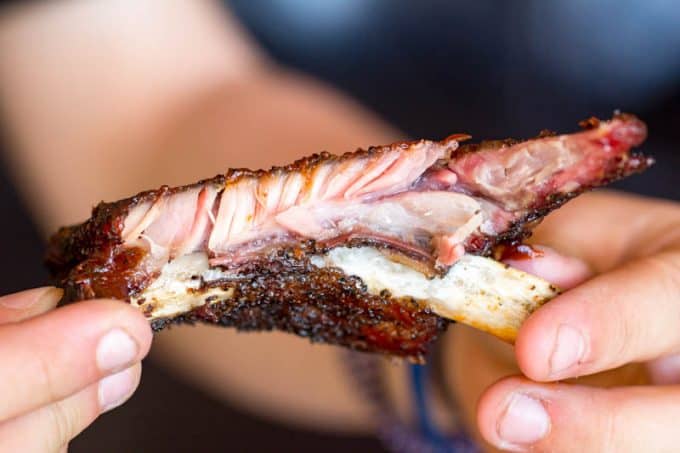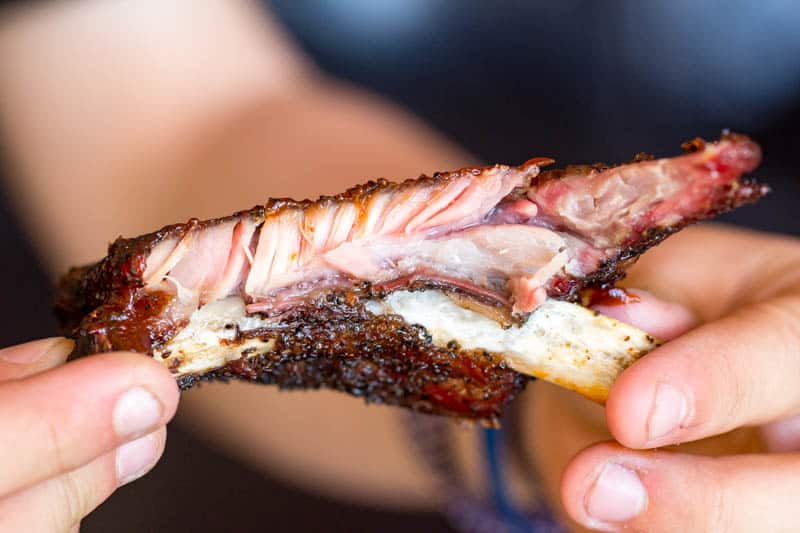 Have a lot of time on your hands?
Don't want a shortcut? You've got to try my super popular Traeger Grilled Ribs recipe! It takes a while, but if you've got the time it is worth the effort!
All my Pellet Grill Pork Recipes here!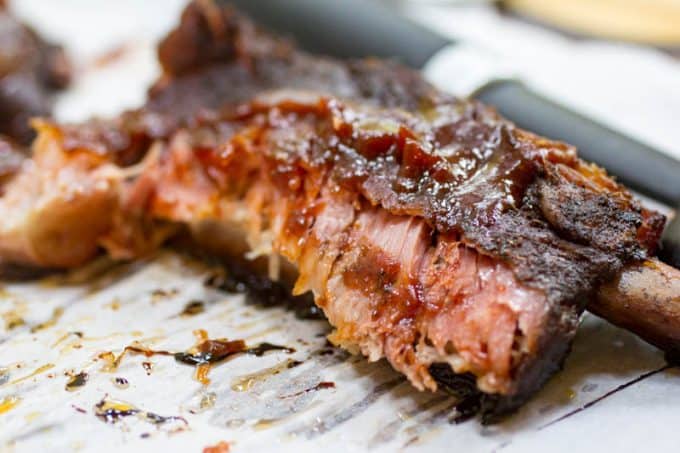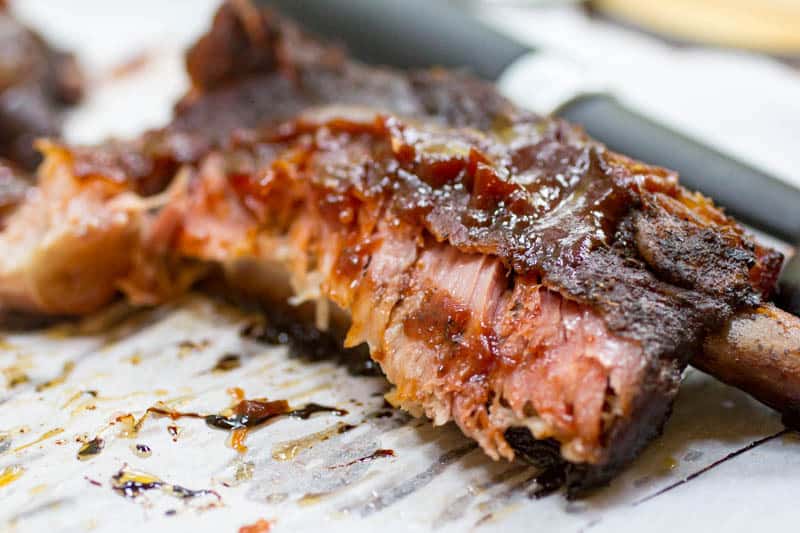 Faster (and more tender) than 3-2-1 Ribs
I know that 3-2-1 ribs are all the rage in the Facebook groups, but I've never personally found them to be tender enough for MY liking. I like my ribs JUST short of fall-off-the-bone, and if they do fall off the bone, I'm not complaining.
These ribs come out faster than 3-2-1 ribs with only about 3 hours on the grill and 30 minutes in the pressure cooker.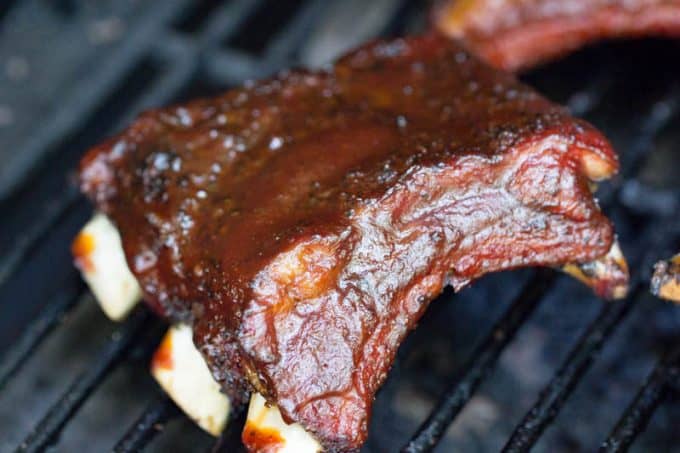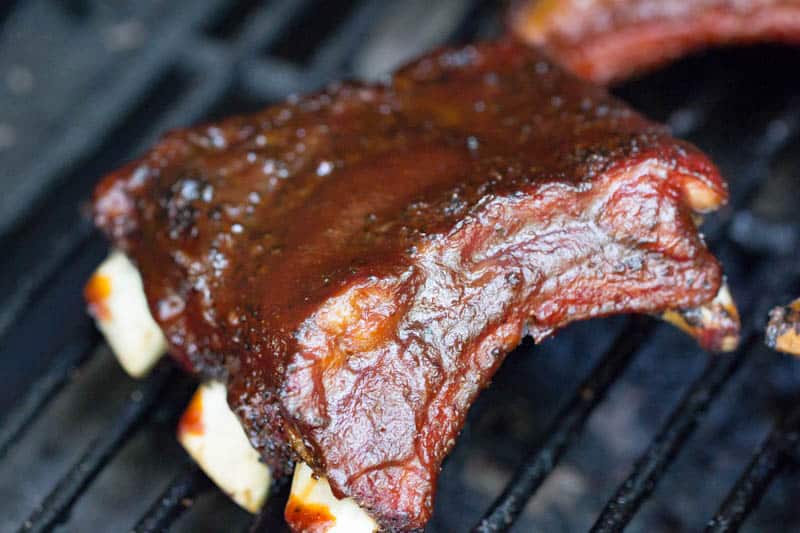 Which pork ribs are best for smoking?
There are a few types of ribs depending on where they come from.
Baby back ribs are the smallest. Then spare ribs which are larger. St Louis style ribs are the same type of rib, only cut slightly differently and they have more fat and less meat than spare ribs. Lastly, the country style ribs are large and have more meat on the bone.
You can use any type of ribs for this recipe. The cook time might be a bit longer or shorter depending on the ribs, but not by much. The type of rib is less important than what you do to prepare them first.
Try my dry barbecue rub recipe. It is easy and will work really well with these ribs.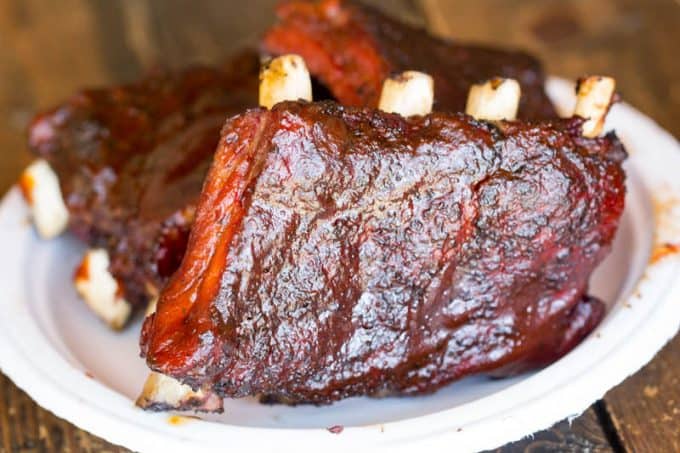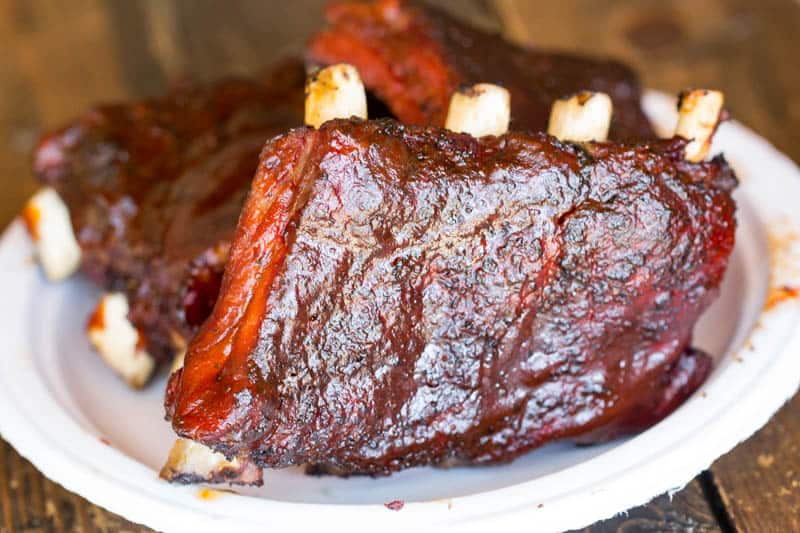 How to Grill Pork Ribs
First, make sure to remove that silver skin from the back of the rib. Some butchers or prepacked ribs have it already removed, but if it is there then you can easily remove it.
Just run a slim knife under one end and create a flap that you can easy grab and rip the whole thing off.
Next, smother the ribs in rub. The more you pack into the ribs the better. Not only does it add great flavor, but it also help retain the moisture to help the pork ribs stay nice and juicy. A grilled smoked rib that isn't juicy might as well be a piece of wood.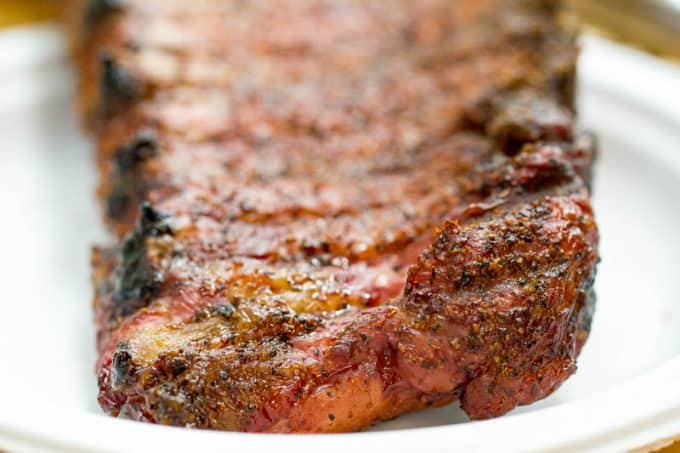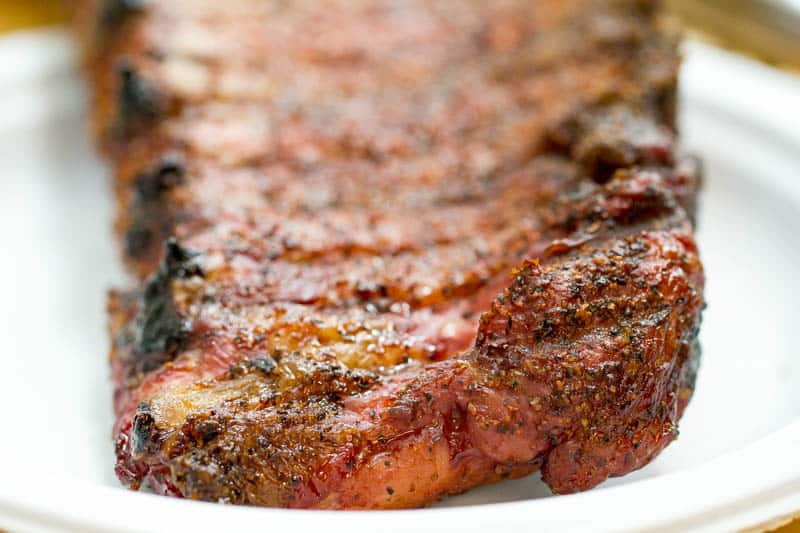 The quickest way to cook great pork ribs
Fire up your grill, and get the temperature to about 200-250°. Your primary goal during the first part of this recipe is to get that natural smoke flavoring into the meat.
With the grill ready to go and plenty of smoke to curl around your rack of ribs, set them in your smoker. The ribs cook in the smoke for about two hours. This may not be enough time to get that fall off the bone doneness, but it is plenty of time to impart enough smoke flavoring to the meat.
Once you pull them off the grill, you'll need to cut them into 3-4 bone sections before putting them into your Instant Pot.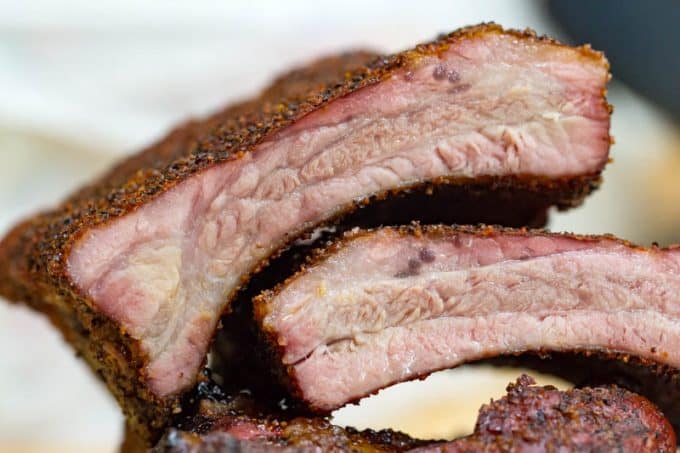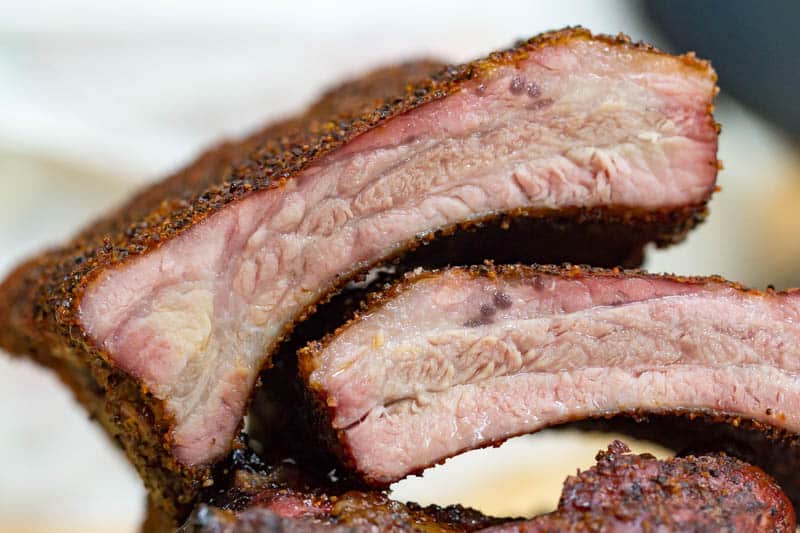 Use your Instant Pot for quick grilled ribs
At first it sounds counterintuitive.
How does anyone grill ribs in a pressure cooker?
Well, through the Instant Pot you find a shortened path to smoked and grilled barbecue ribs.
In the Instant pot (or other electric pressure cooker), use a trivet to keep your ribs out of the liquid you'll be putting into the pot. You don't want to brainse them, so this step is important.
I highly recommend beer or hard cider for the liquid in the pot, but if you don't have either you can use water or chicken broth. You'll need about a cup to a cup and a half depending on the size of your pressure cooker. Remember, you don't want the ribs submerged. You just want the liquid to help build that steam (and pressure).
Pull the ribs off the smoker after two hours, add them to the Instant Pot, and then set the pot for 30 minutes of cook time.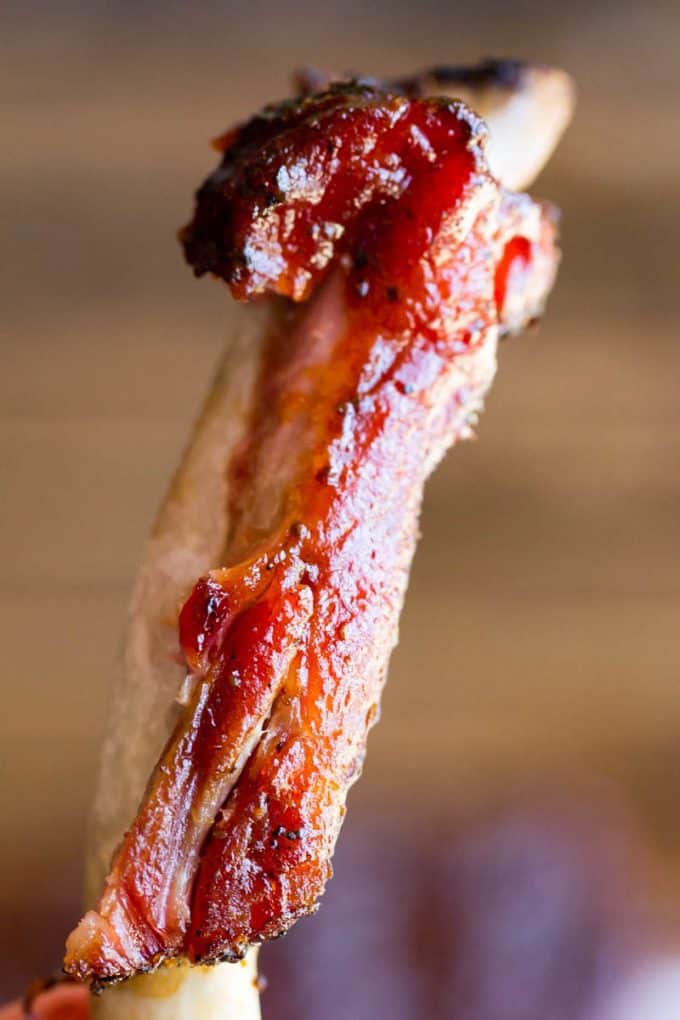 The best Barbecue Ribs in the shortest time
The last step is to carefully remove the ribs from the Instant Pot, and coat them with barbecue sauce.
I like my barbecue sauce recipe because I know it will work perfectly with the dry rub that we started with, and it is amazing. If you don't want to make your own, you can go with the bottled barbecue sauce of your choice.
Get the Traeger grill temperature up to about 325°, and then take your grilled ribs thick with sauce and lay them on the grill.
The ribs will finish in about an hour. You'll want to pull them when the sauce is bubbly and hot and the ribs are at YOUR desired tenderness level. That'll depend on your specific rack of ribs, so don't cook to time, cook to FEEL. Stick a skewer or fork in the meat to gauge tenderness.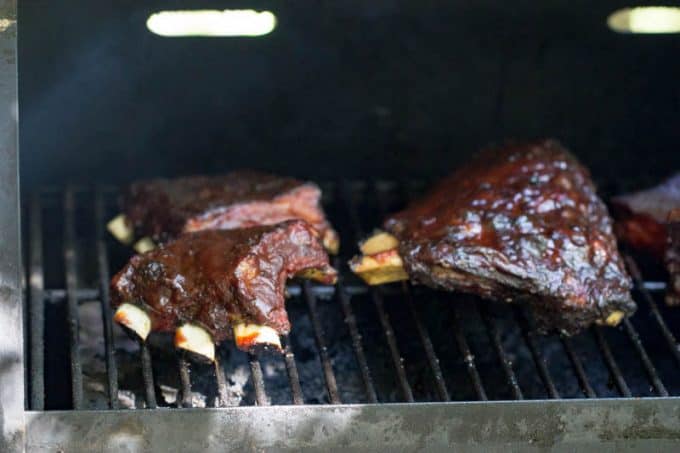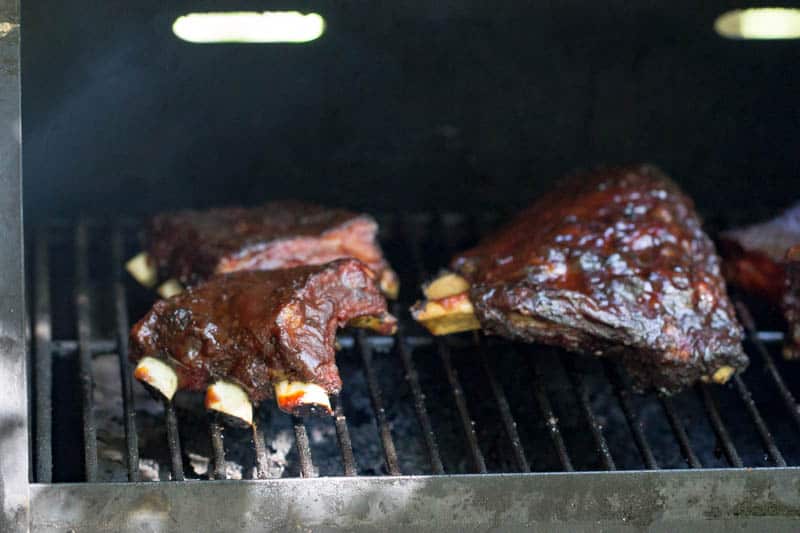 What goes great with smoked pork ribs?
Here are some dishes I recommend for sides and salads that go great with smoky grilled ribs hot off the pellet grill. You can find these and more recipes on my site: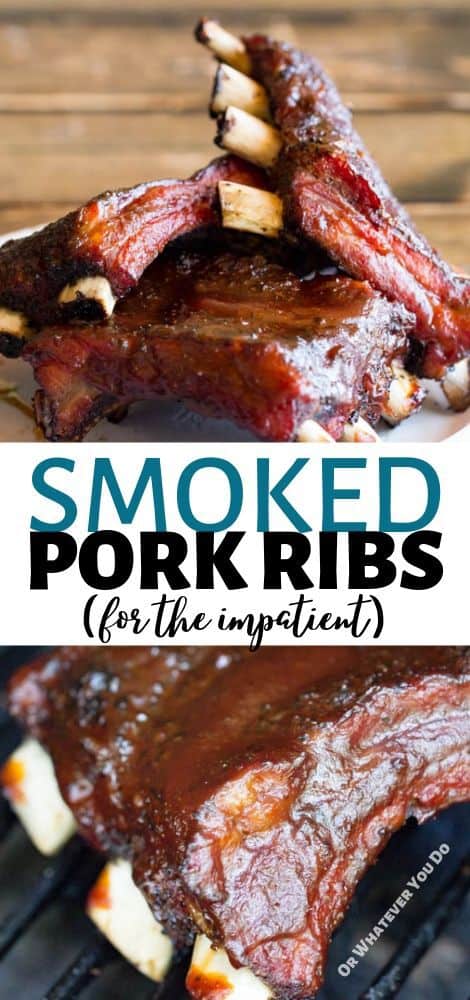 Yield: 4 people
Shortcut Traeger Grilled Pork Ribs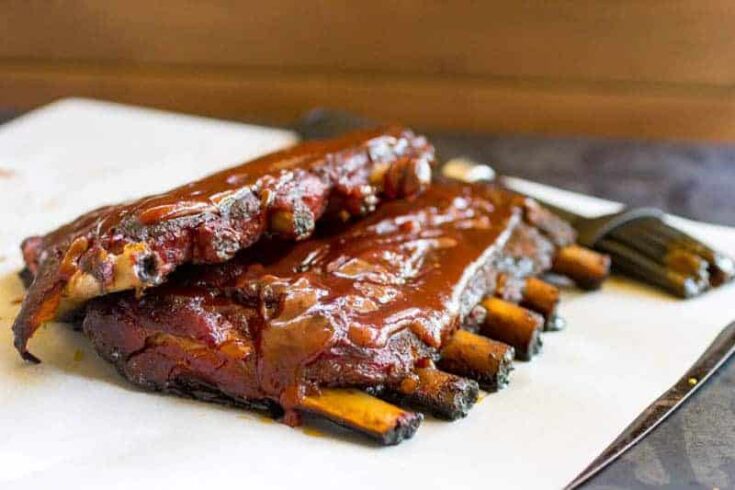 My Shortcut Traeger Grilled Pork Ribs are faster than my 5-4-1 and the 3-2-1 rib methods but aren't lacking in flavor or tenderness, at all. Great way to put ribs on the table in less time!
Total Time
4 hours
15 minutes
Instructions
Turn your grill to smoke (or 180-200 degrees if you don't have a smoke setting.)
Remove the membrane from the rib, and then coat with the barbecue rub.
Smoke for 2 hours between 180-200 degrees.
Remove the ribs from the grill, place them into your Instant Pot that has a trivet in the bottom to keep the meat out of the liquid. Place enough hard cider into the pot to create the pressure but not cover the ribs.
Run the pot on high pressure and set the time to 30 minutes. Let it naturally release pressure for 10-15 minutes before venting the excess and removing the ribs.
Turn your grill up to 325° (or there-abouts, exact temp isn't important) and place the ribs on. Coat with BBQ sauce and cook for an hour, turning occasionally and recoating with sauce.
Remove from grill and eat!
Notes
Your ribs might take a little longer than an hour during that final cook, depending on the makeup of your meat and what type of ribs you chose. Cook them until they reach your desired tenderness.
Recommended Products
As an Amazon Associate and member of other affiliate programs, I earn from qualifying purchases.
Nutrition Information:
Yield:
4
Serving Size:
1
Amount Per Serving:
Calories:

753
Total Fat:

40g
Saturated Fat:

14g
Trans Fat:

0g
Unsaturated Fat:

23g
Cholesterol:

176mg
Sodium:

1231mg
Carbohydrates:

44g
Fiber:

2g
Sugar:

36g
Protein:

53g
Nutrition data provided here is only an estimate. If you are tracking these things for medical purposes please consult an outside, trusted source. Thanks!